Chef Bui Bui at Lau Pa Sat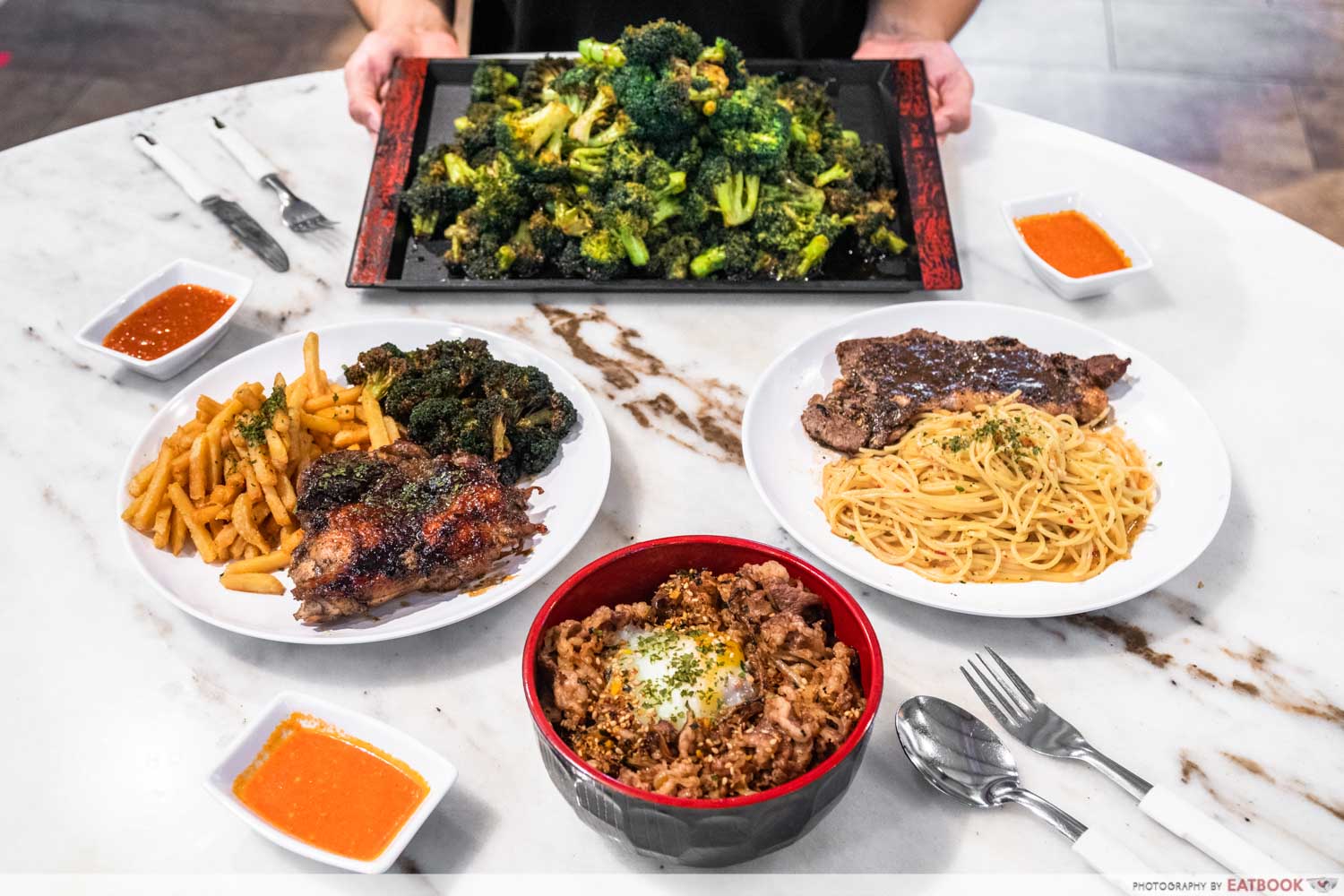 The same people behind Tittle Tattle introduced the well-loved Malaysian lok lok trend right into downtown Singapore with Chef Bui Bui at Lau Pa Sat. The stall serves up a fusion of dishes, from look look to Western fare.
Tittle Tattle Review: 24-Hour Bistro-Bar At Selegie With Waffles And Mentaiko Lobster
Food at Chef Bui Bui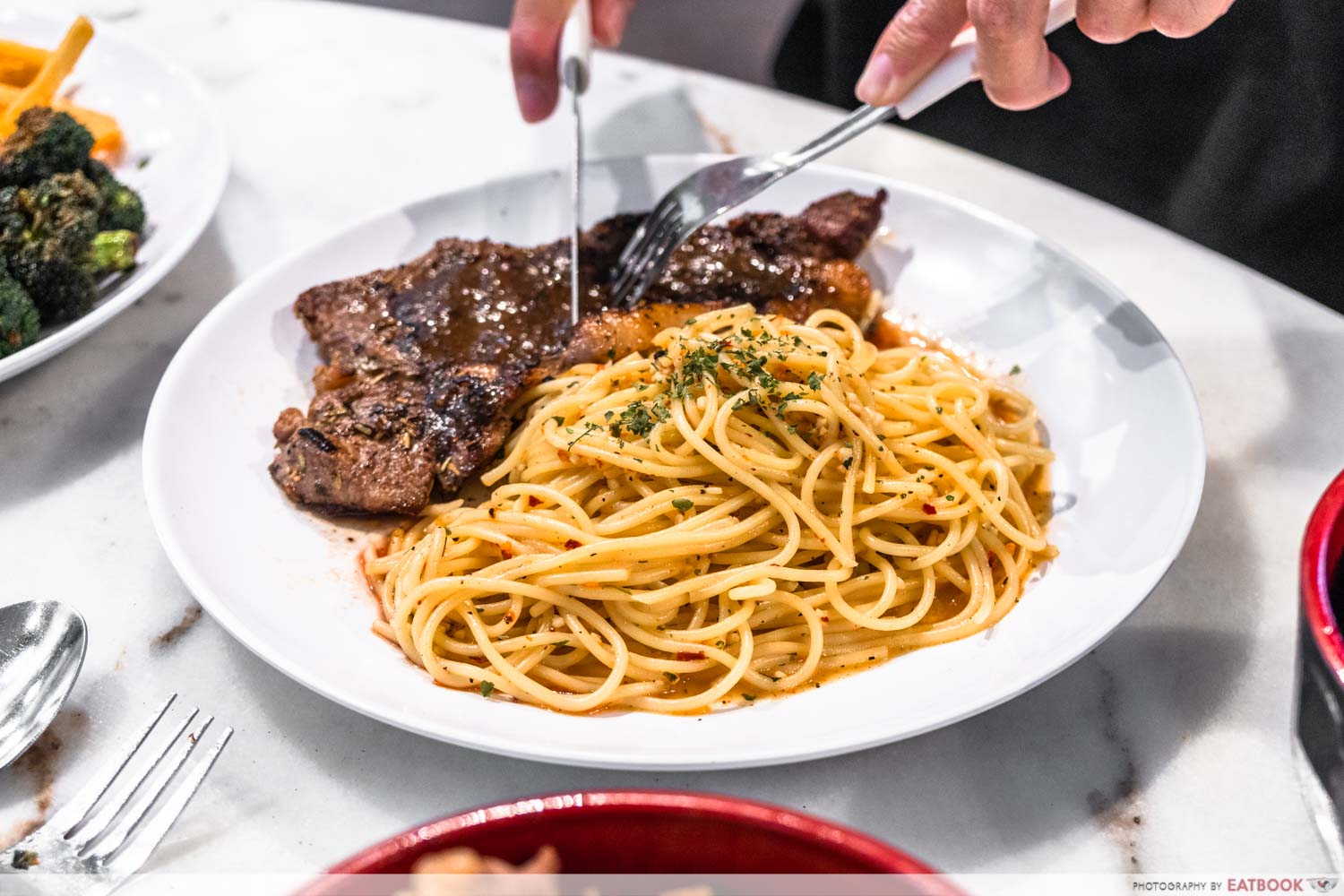 For $14.90, my Sirloin Steak Pasta came with a huge steak, which I guesstimate to be one and a half times the size of my palm, along with an even larger portion of spaghetti.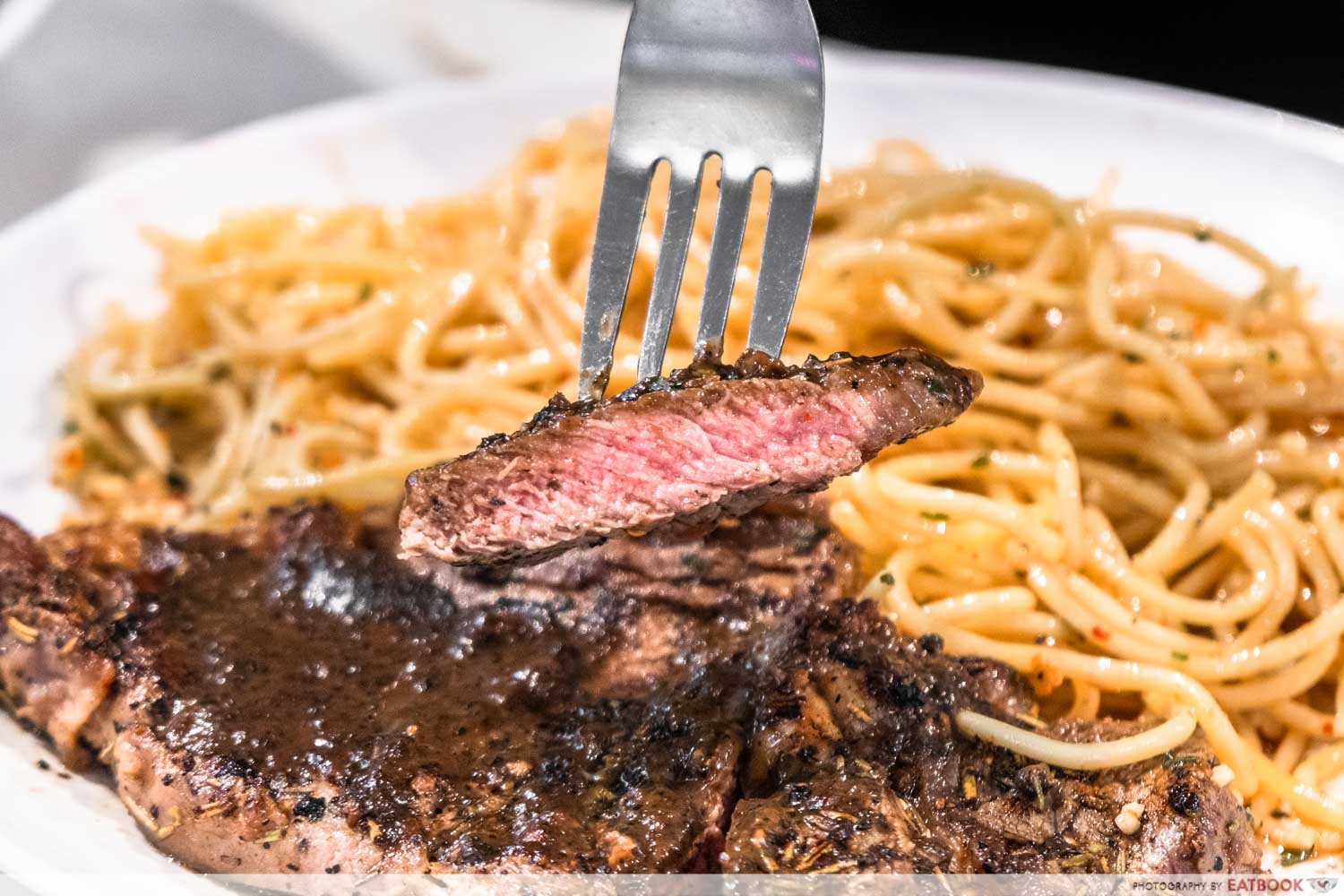 I began slicing up the steak and was impressed by how easy it was to do so. The slightly pinkish interior was well reflected in the tender bite it gave, it was accompanied by a sauce that leaned towards the sweet side.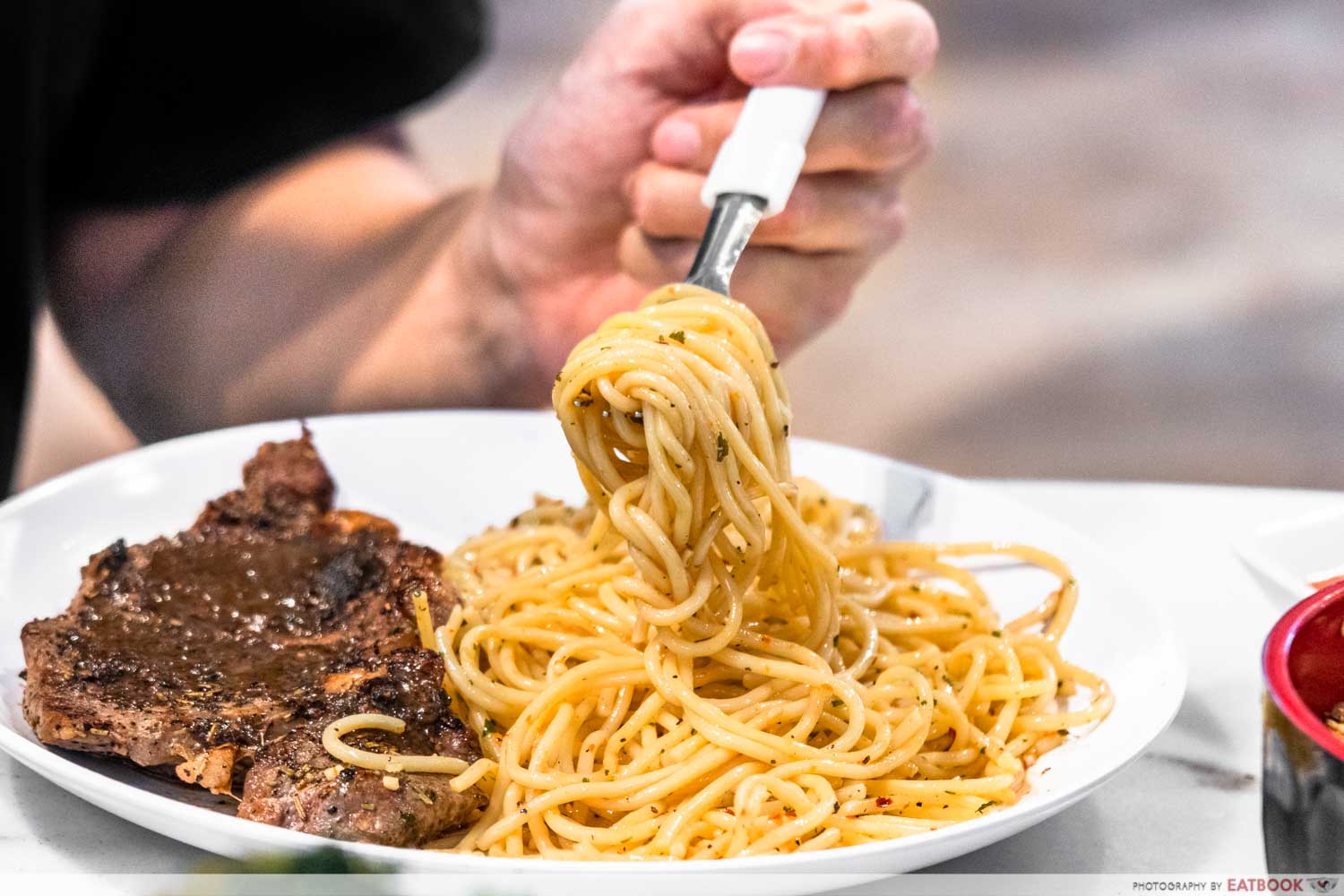 The only let down here was the pasta, which was sitting in a slightly watery sauce, possibly from water and cooking oil that did not emulsify well. This might have diluted the intended flavours of pasta, resulting in slightly bland and oily flavours.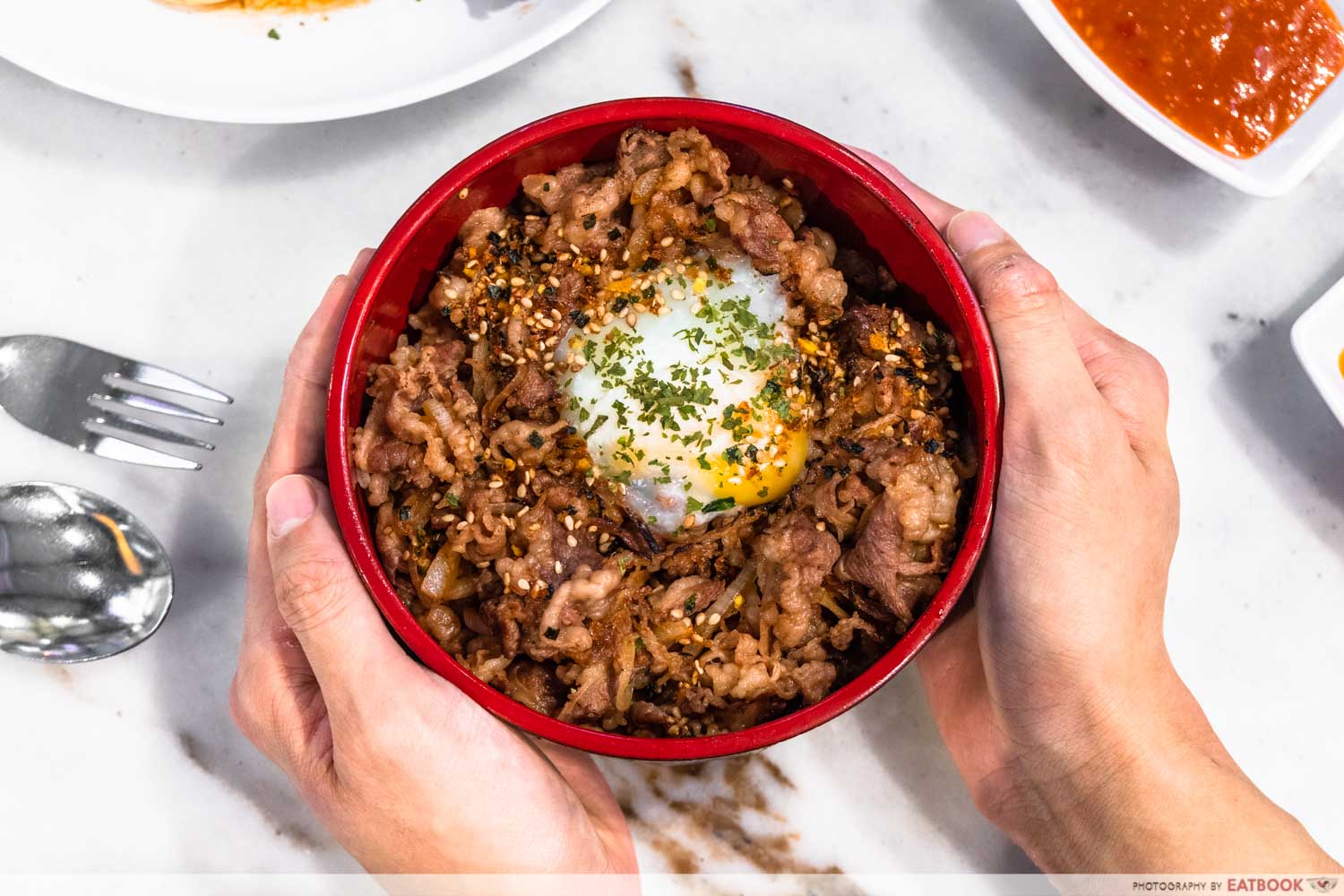 Served in a Japanese-style red and black bowl, their Beef Donburi ($9.50) was generously filled with beef slices—so much so that you won't see the rice until you dig in.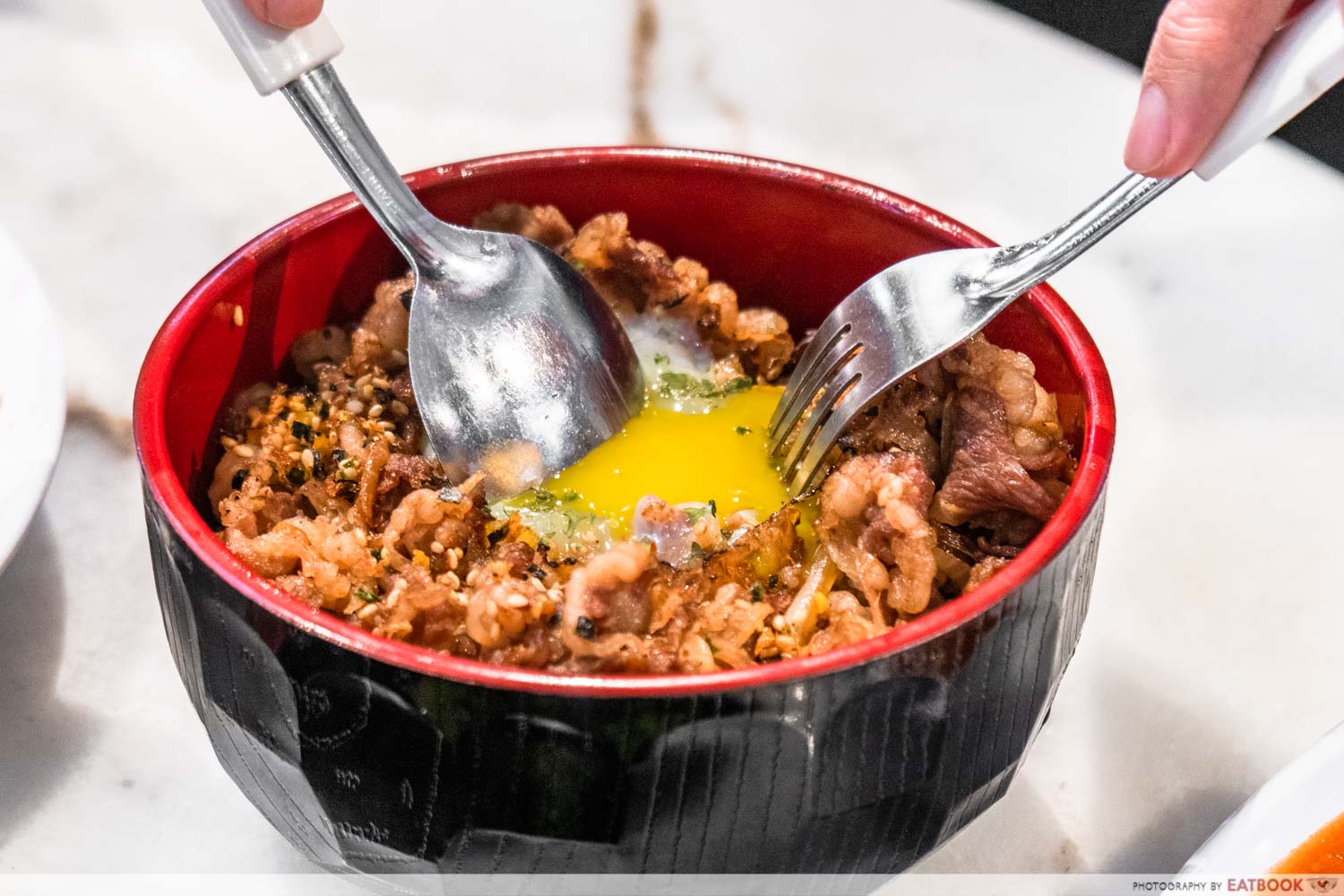 It was Instagram-boomerang time when it came to the unleashing of soft-boiled yolks. I proceeded to coat the entire bowl of rice and beef slices with the runny yolk, giving the dish an overall silkier texture.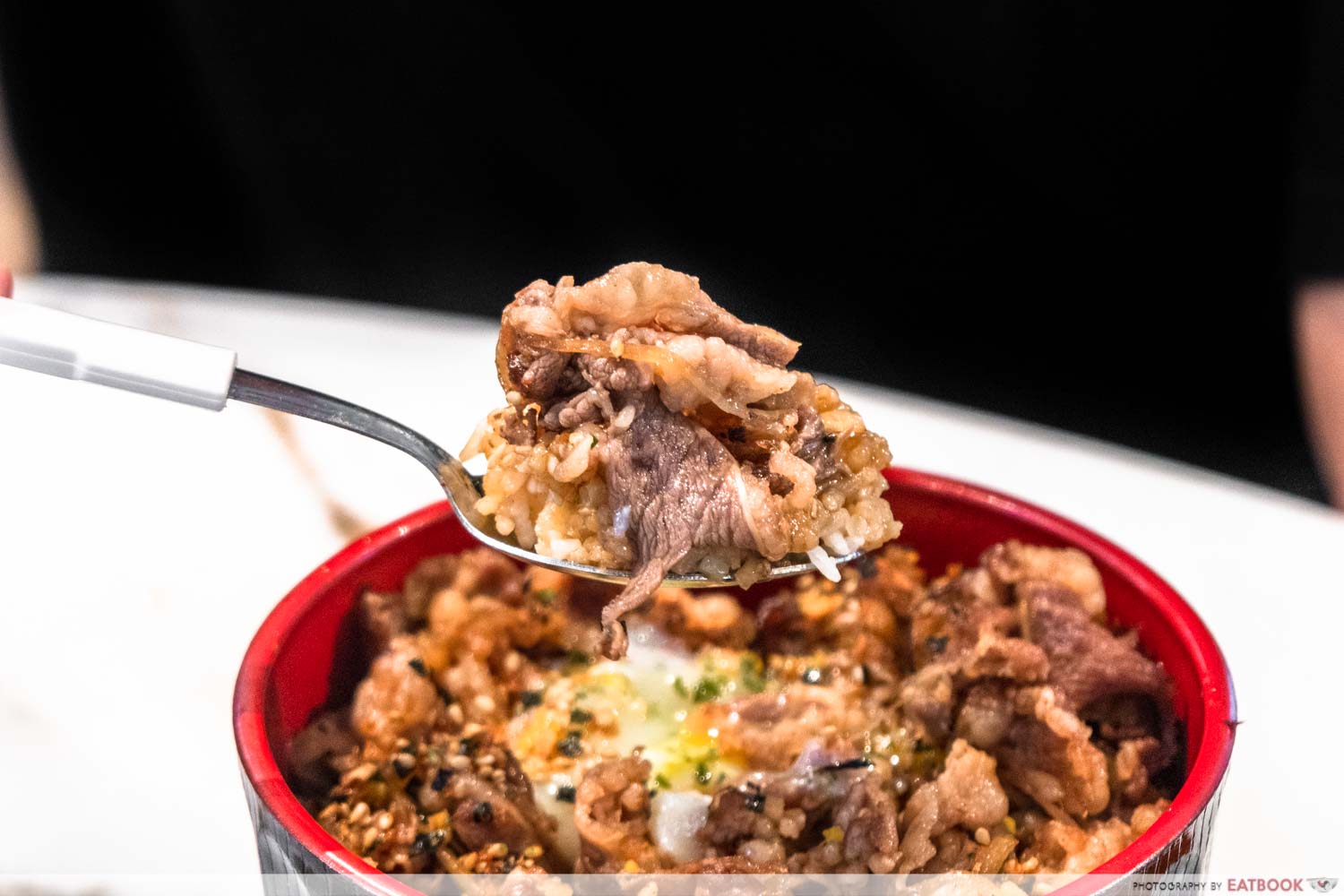 The slices of beef resembling the ones used in shabu shabu came interlaced with beef fat. Well marinated in the typical dashi, mirin sauce, and soy sauce combination, this classic Japanese flavour is hard to go wrong with.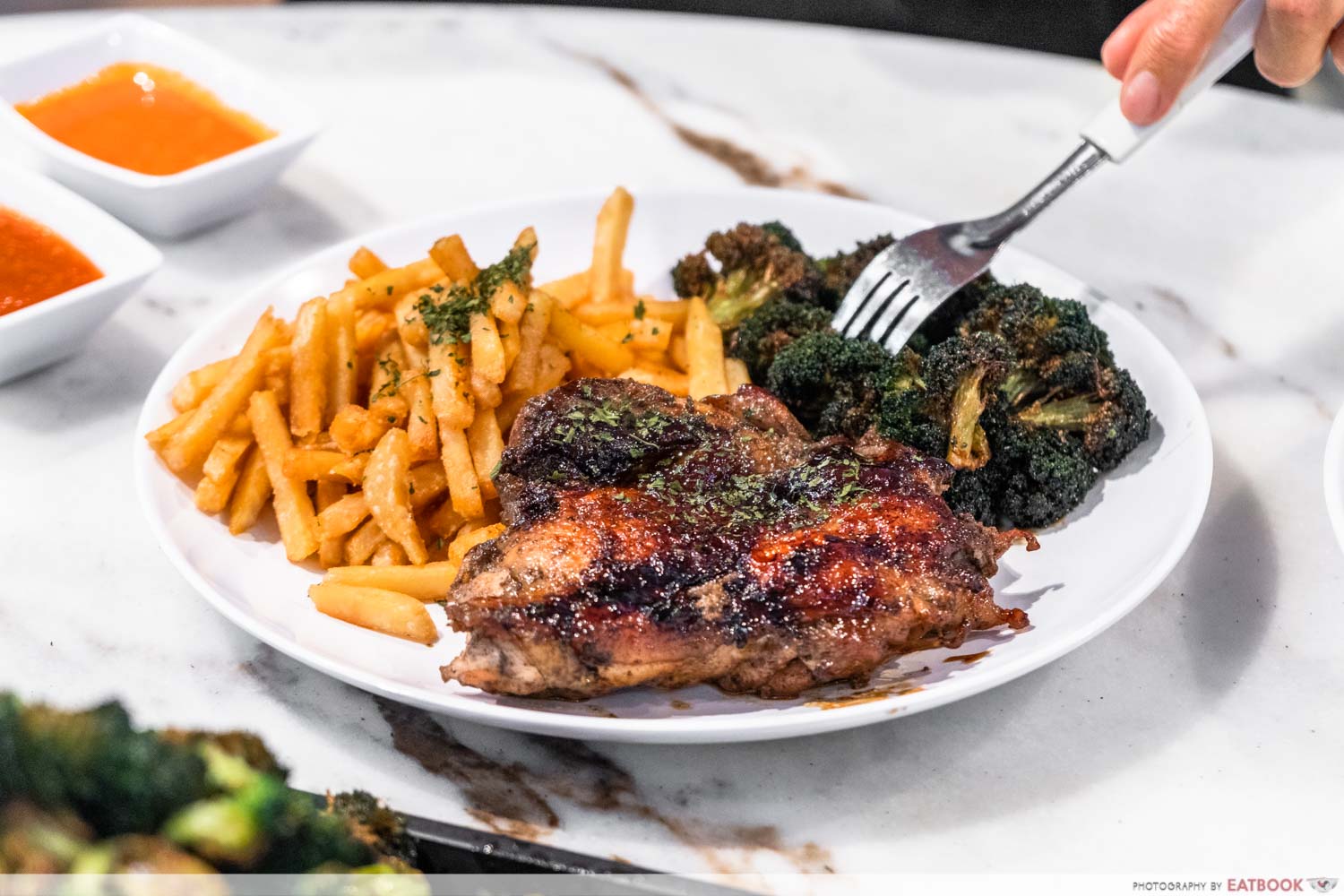 I see chicken chops as a staple for hawker Western stalls, and unlike most stalls, their Signature Chicken Chop ($10.90) came with a side of their popular broccoli.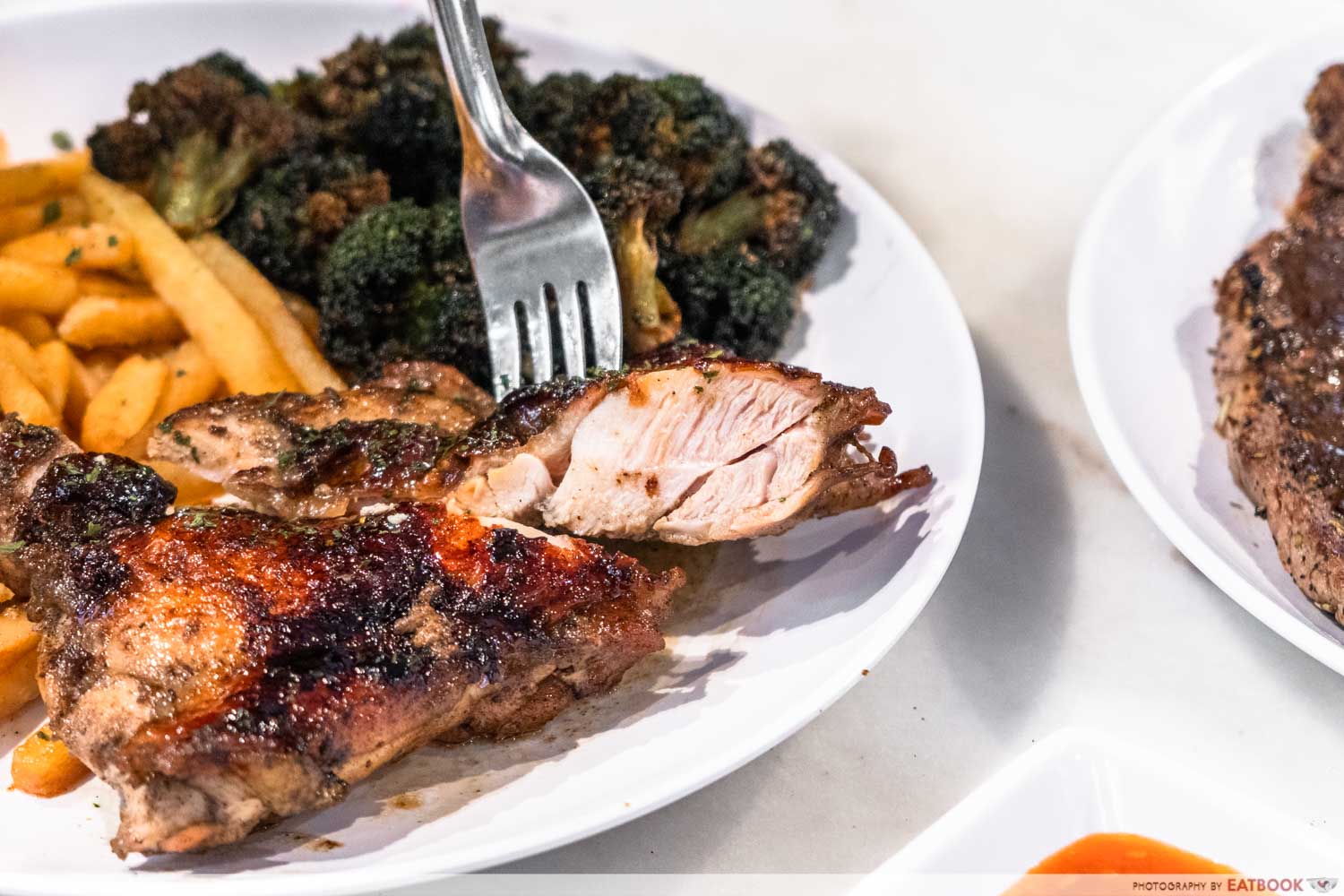 The outside of the chicken was cooked to a seared finish. It was, however, disappointing to find that the salty and smokey flavours were only skin-deep. The actual meat of the chicken was a tad bland, further overshadowed by the addictive broccoli.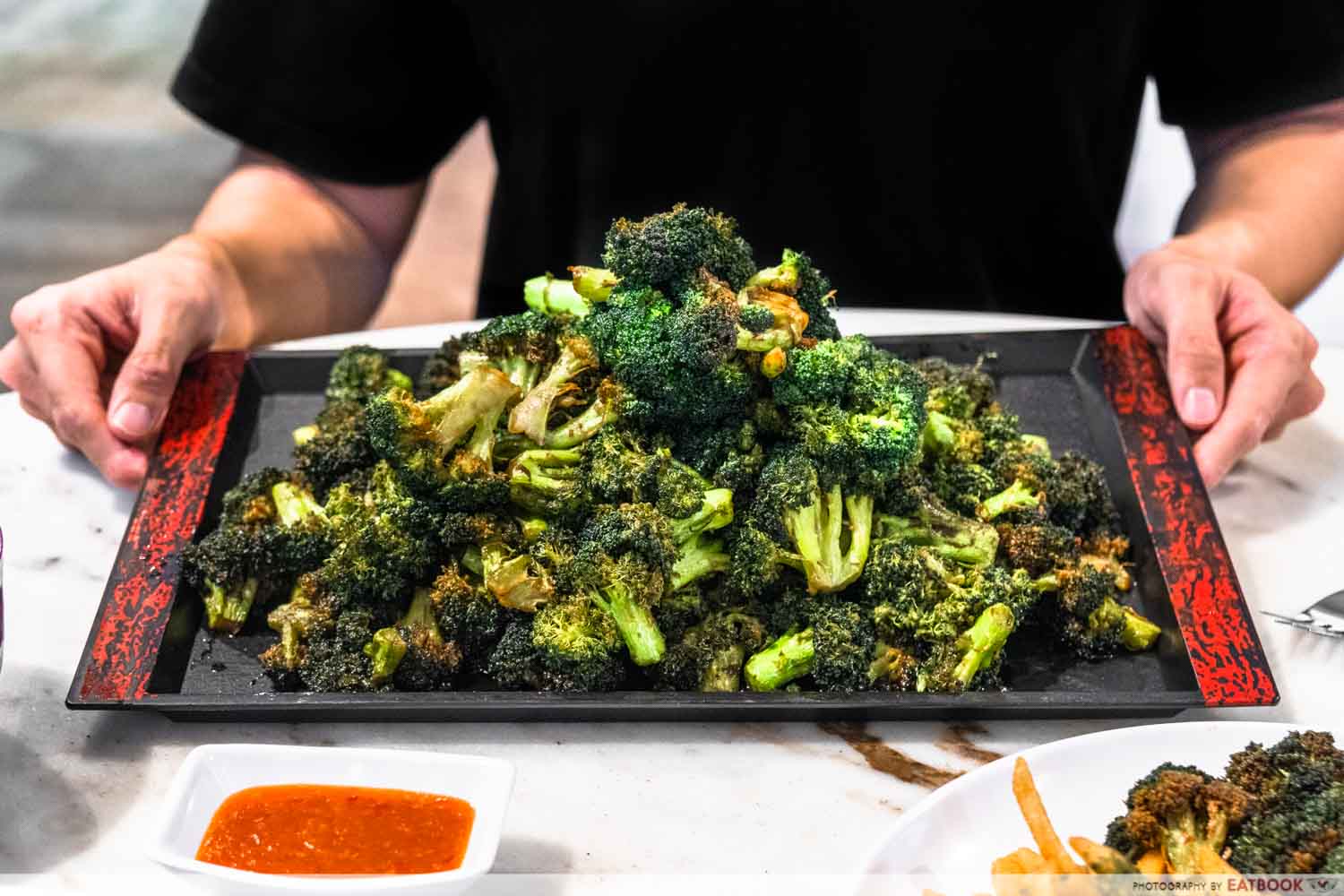 Given how good the broccoli was, and also having been similarly bewitched by the lok lok broccoli at DLLM Lok Lok, I went straight for their Broccoli Mountain ($118 for 200 pieces). 
For those who have yet to fall into the rabbit hole of fried broccoli, let me tell you about the anatomy of the broccoli florets. The thick forest of buds makes for one of the best vessels to trap the lok lok seasoning and oil. Along with some charred bits, the flavours from the marinade will definitely charm you.
DLLM Lok Lok Review: Lok Lok Stall With $1 Skewers And Salted Egg Sauce That Opens Till 4am
Ambience at Chef Bui Bui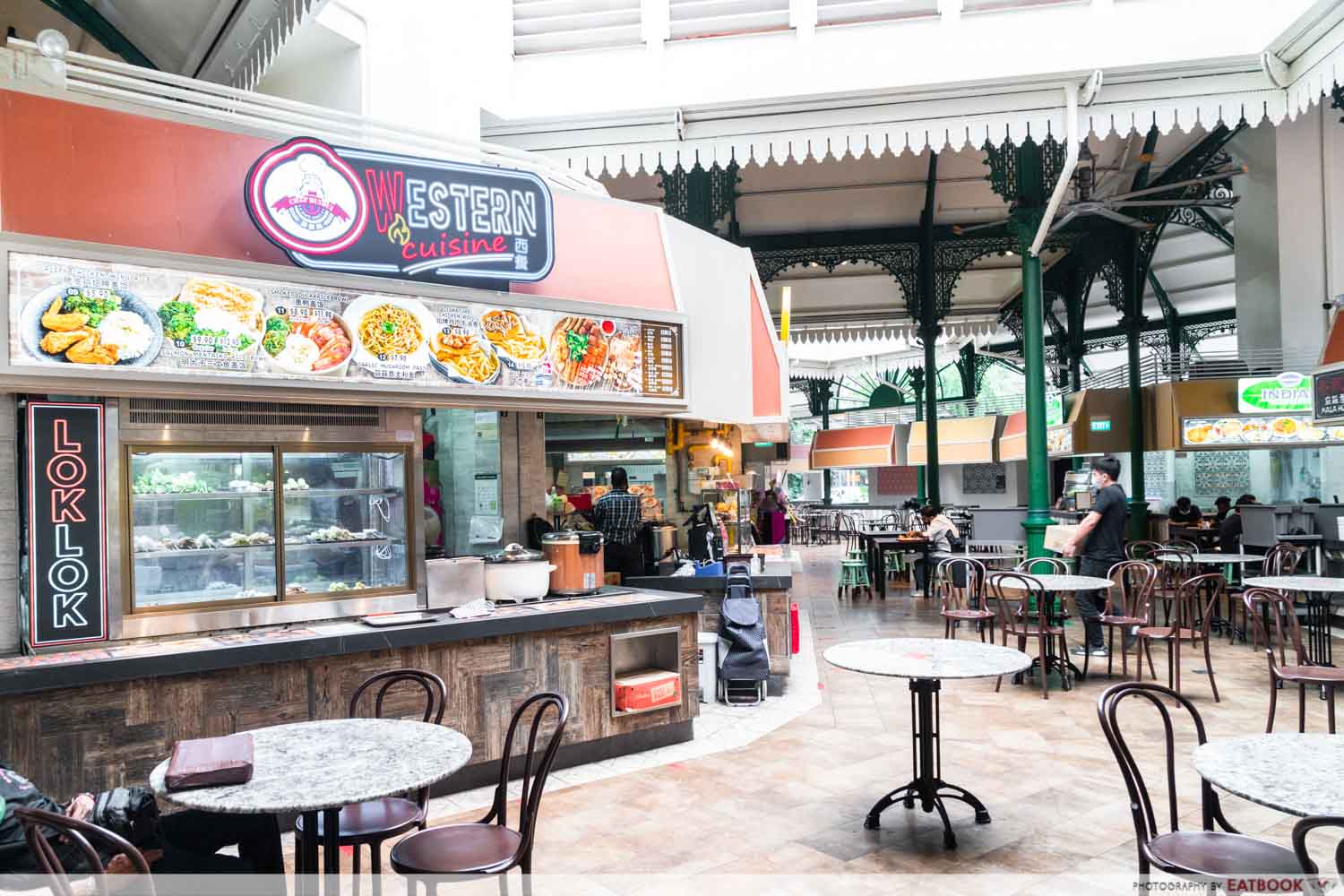 At a five-minute walk away from Raffles Place MRT Station, Lau Pa Sat bears an irreplaceable presence in the heart of Singapore's financial district.
With its large seating capacity and multiple industrial-sized ceiling fans, the Victorian-styled hawker centre is not only airy and comfortable, but it is also quite a sight to behold. That being said, pigeons seem to have also taken a liking for dining in at Lau Pa Sat. So, do not leave your food unattended!
Raffles Place Food Guide: 15 Food Spots That Are Great For Weekday Lunch On Any Budget
The verdict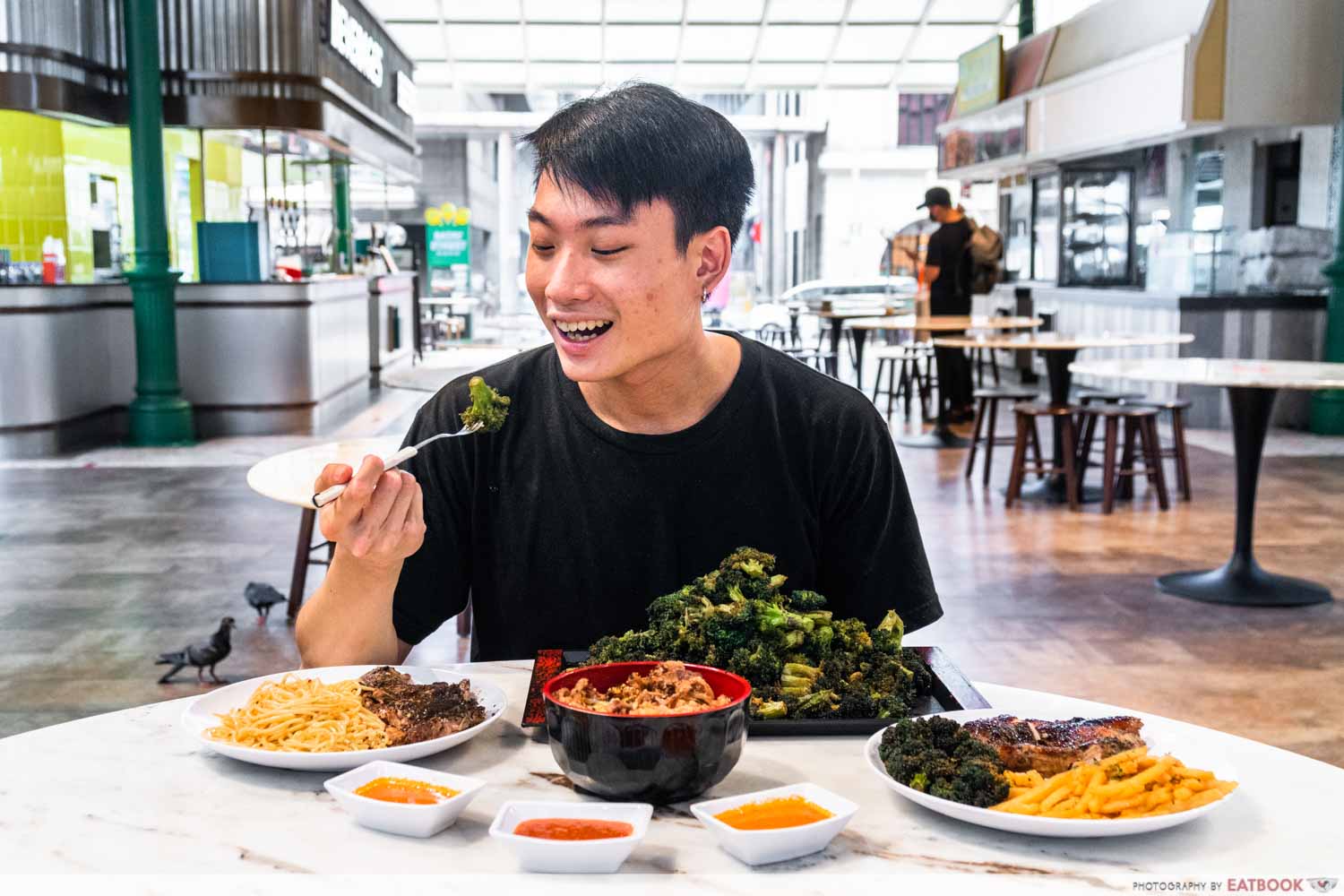 I admire Chef Bui Bui's determination to be a one-stop destination for popular dishes in Singapore. The stall is after all situated in a building of historical significance and is sure to attract tourists when times are better. Though better options await those willing to venture into the heartlands, it would be unfair to pit Chef Bui Bui against those who specialise.
If you are looking for more food around the area, check out our Raffles Place food guide, for lobster mac & cheese, salmon bowl and more. Otherwise, if you are a fan of lok lok, check out our lok lok guide, for free-flow mala skewers, Chinese-style skewers and more.
Address: 18 Raffles Quay, Stall 12, Lau Pa Sat, Singapore 048582
Opening hours: Daily 10am to 10pm
Website
Chef Bui Bui is not a halal-certified eatery.
Photos taken by Chew Yi En
This is an independent review by Eatbook.sg.
The post Chef Bui Bui Review: New Hawker Stall At Lau Pa Sat Selling Lok Lok And Western Food appeared first on EatBook.sg – New Singapore Restaurant and Street Food Ideas & Recommendations.