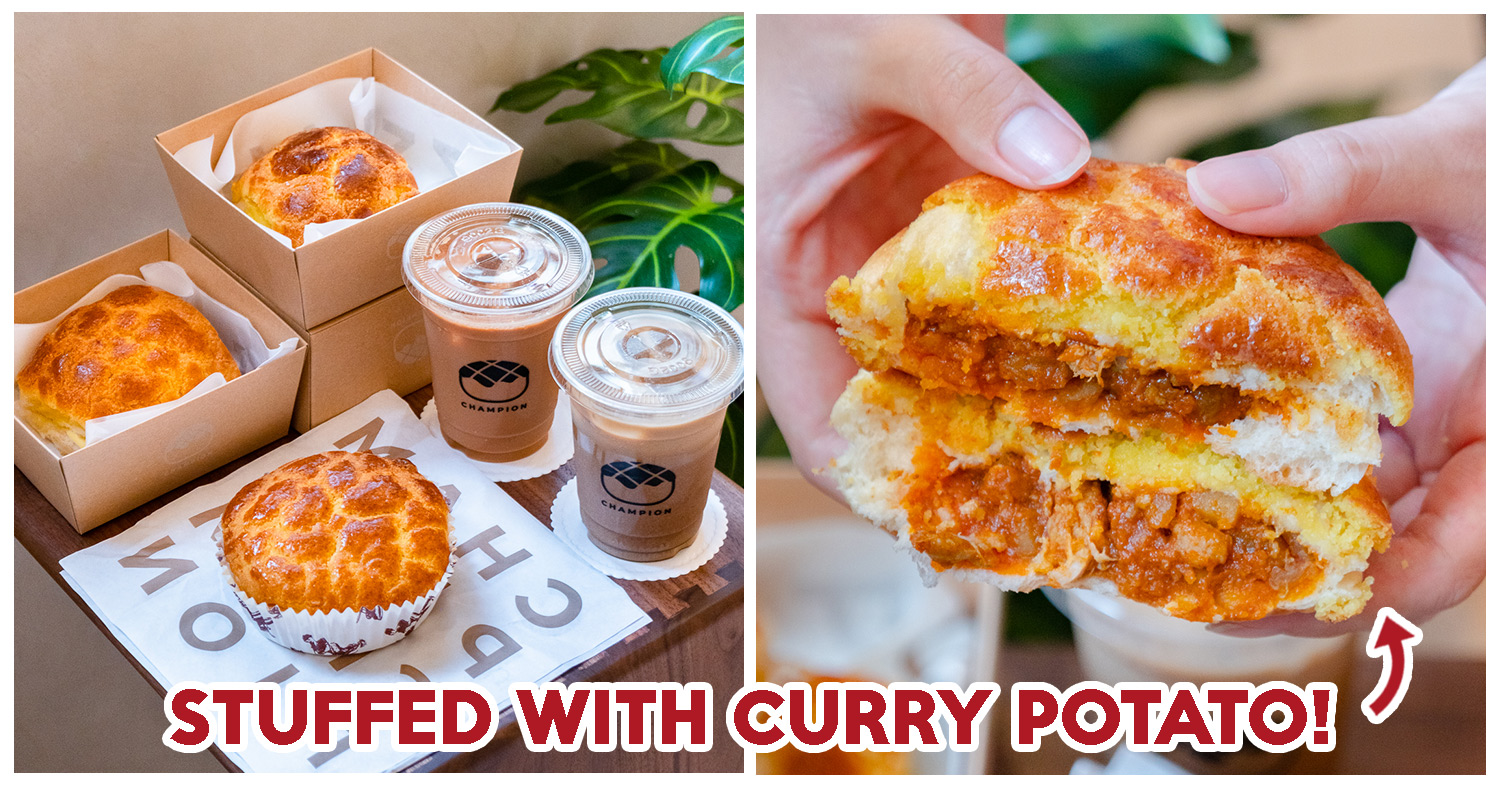 Champion Bolo Bun in Tanjong Pagar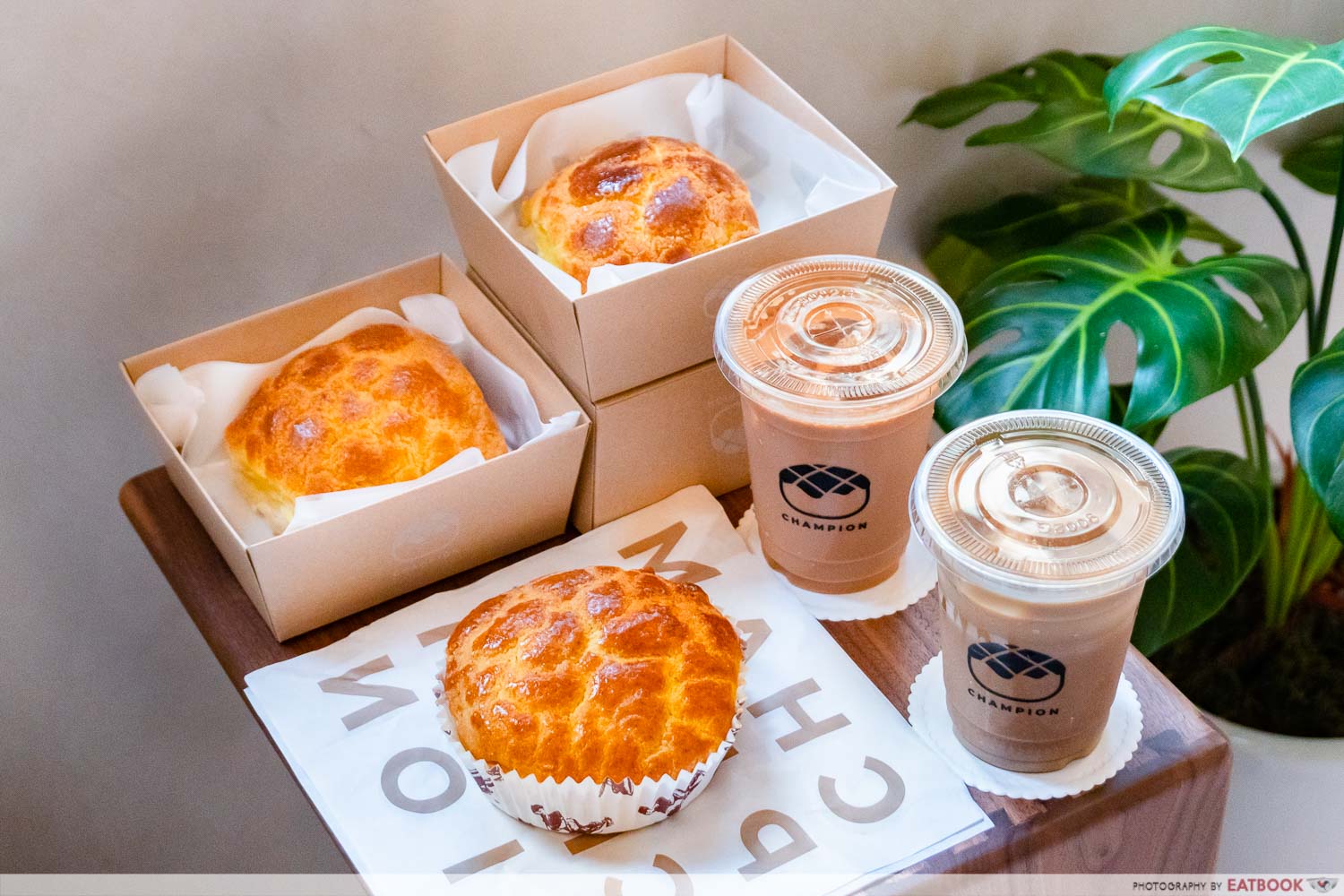 Amidst the numerous Korean eateries lined along Tanjong Pagar Road, a new three-storey contender has popped up to much fanfare, selling Hong Kong bolo buns and milk beverages. Right before P2HA, my colleague and I headed down to Champion Bolo Bun, braving the queue to get a taste of their specialty buns, hoping to relieve a cha chaan teng experience that we can't get during these travelless times.
Champion Bolo Bun took some time during P2HA for repair works, and has recently reopened. Walk-in takeaways are available, though we recommend preordering these bolo buns on their website to avoid any disappointment. Do note that there's a minimum order of 10 buns for each preorder.
Food at Champion Bolo Bun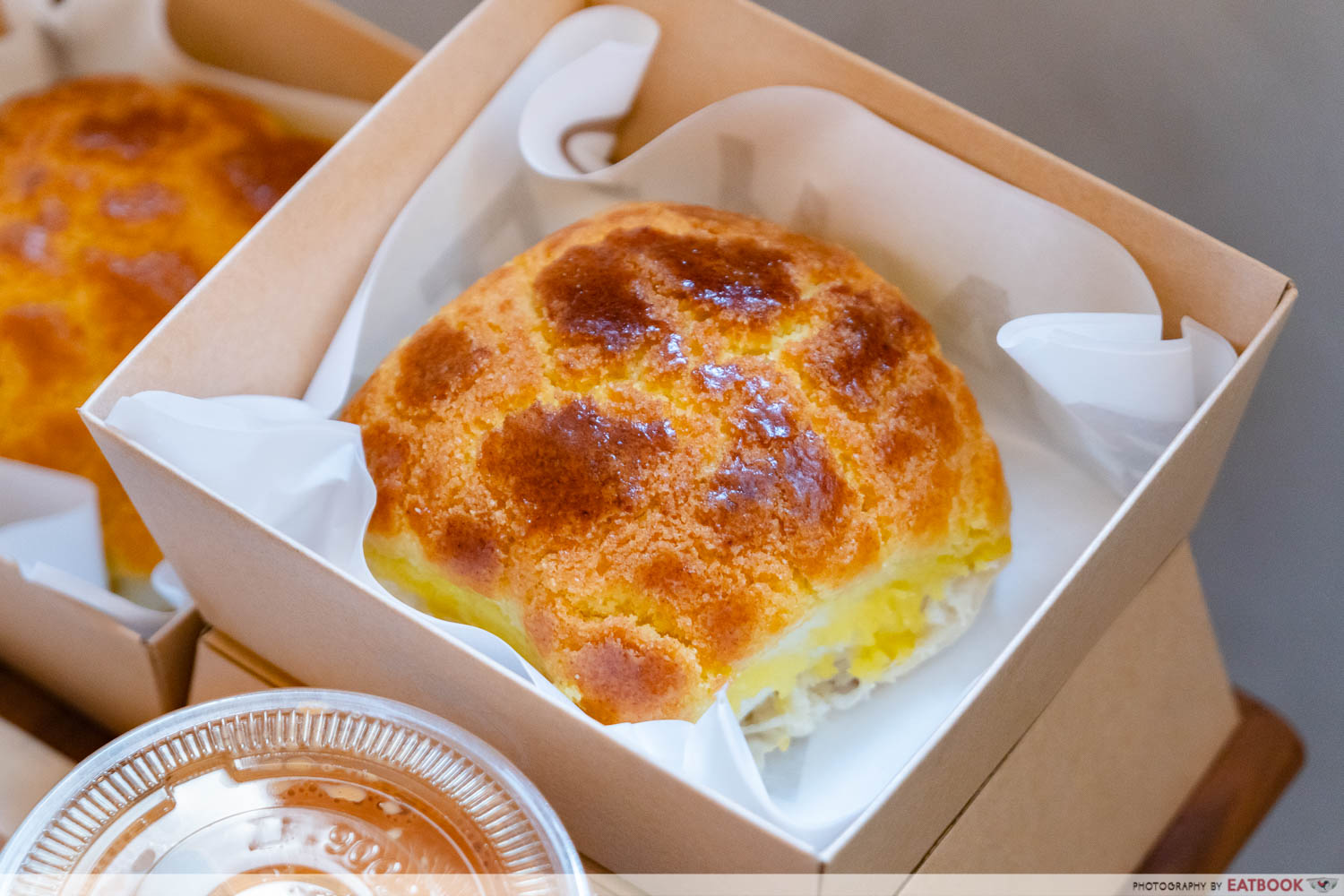 Their bolo buns come out in small batches, freshly baked every 15 minutes. It's also recommended to consume them within 20 minutes, and if you don't, you can bring your bun back with the physical receipt for a swap!
To start our meal, we had to go back to basics with their Classic ($4.50) bolo bun. Fun fact of the day: there isn't any pineapple in a bolo, or pineapple, bun. It's named as such because of the crust on top—golden-brown, and hatched with marks that appear like the exterior of a pineapple.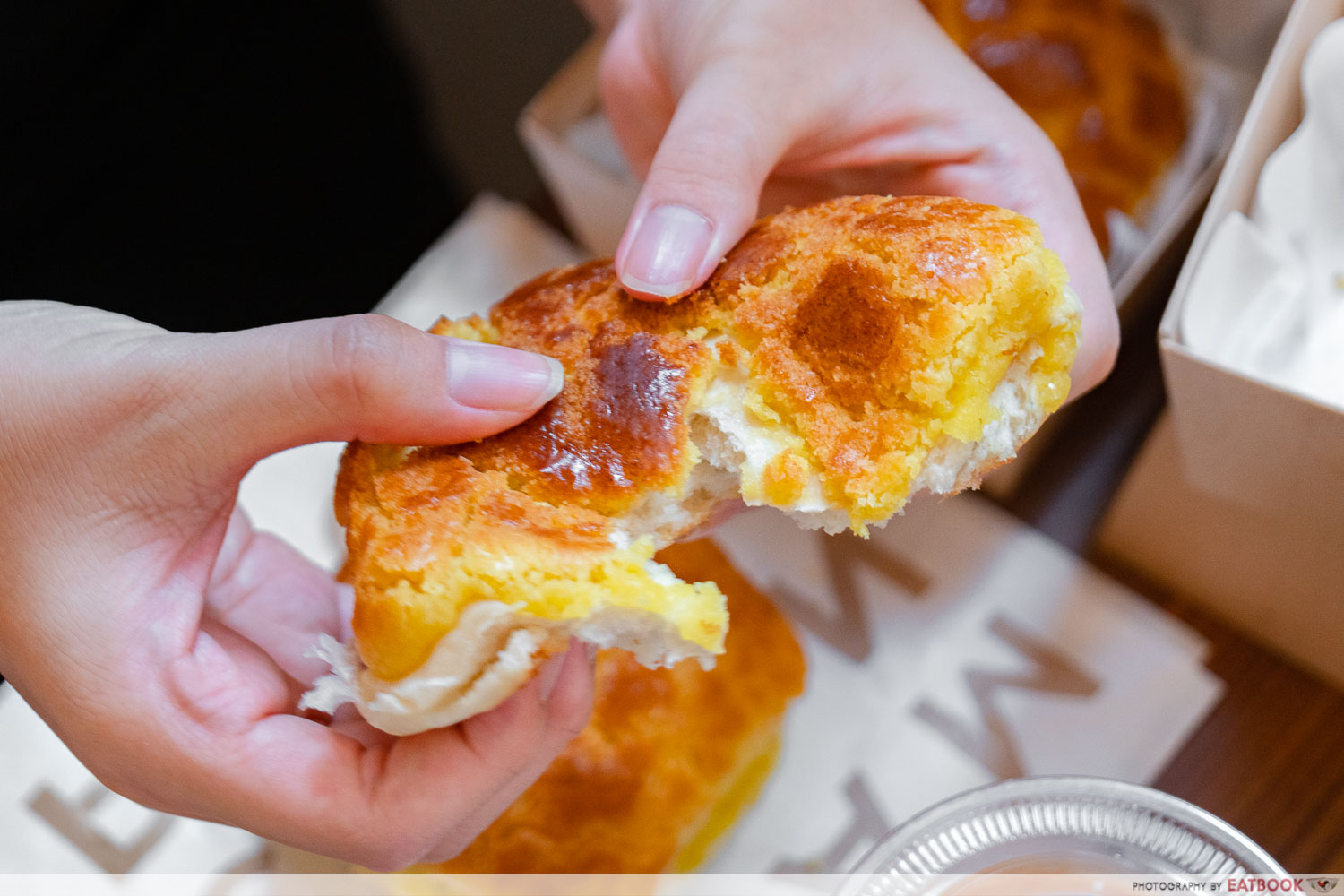 The bolo bun was remarkably fluffy within, a cloud-like pillow in my mouth. This contrasted well against the crisp, sugary cookie crust on top. Flavour-wise, the bun was predominantly sweet, enhanced with a slight butteriness.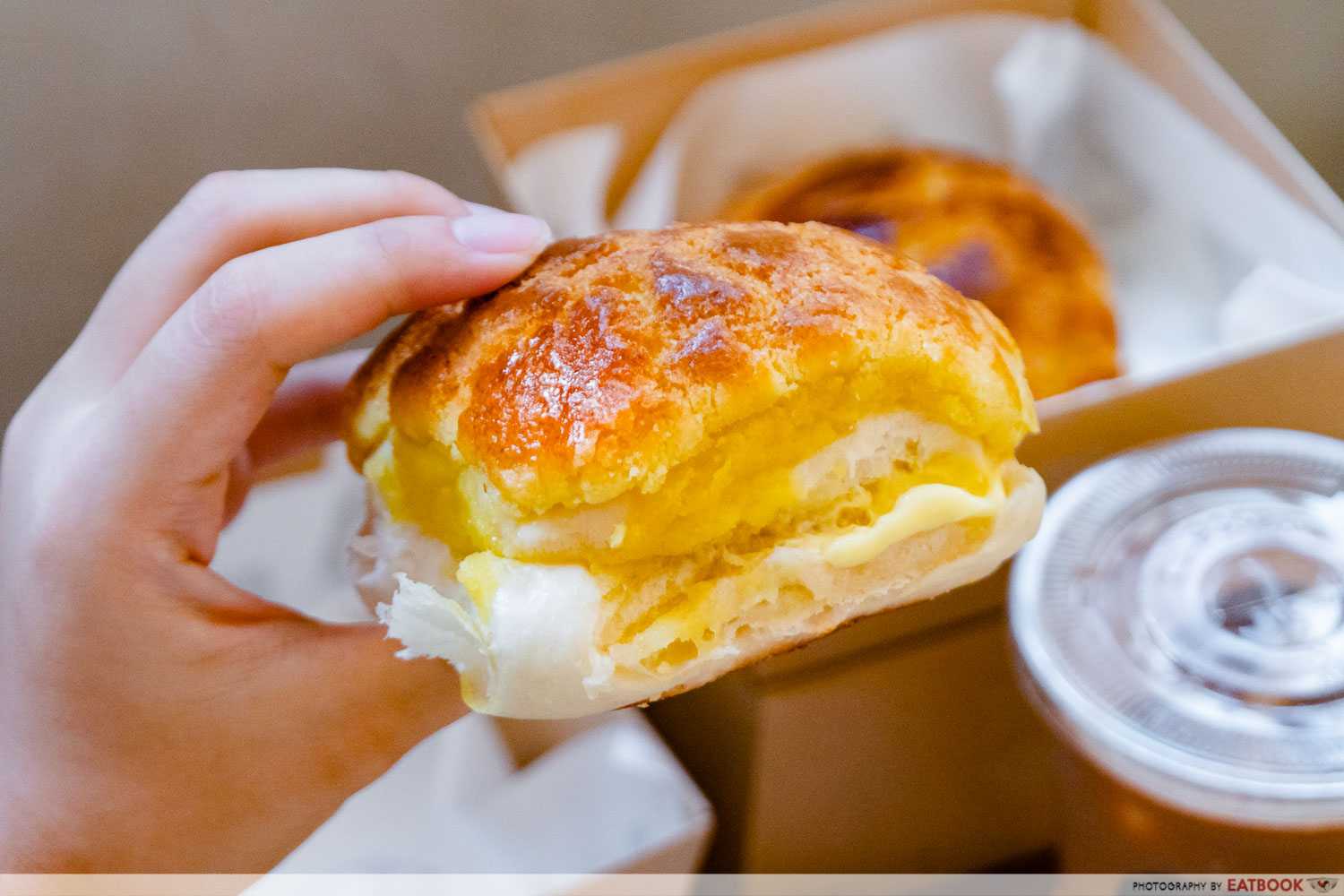 We moved on to the Classic With Butter ($5), essentially the classic bolo bun stuffed with a slab of cold butter. If this isn't enough, you can opt for additional butter slices, priced at $0.50 each.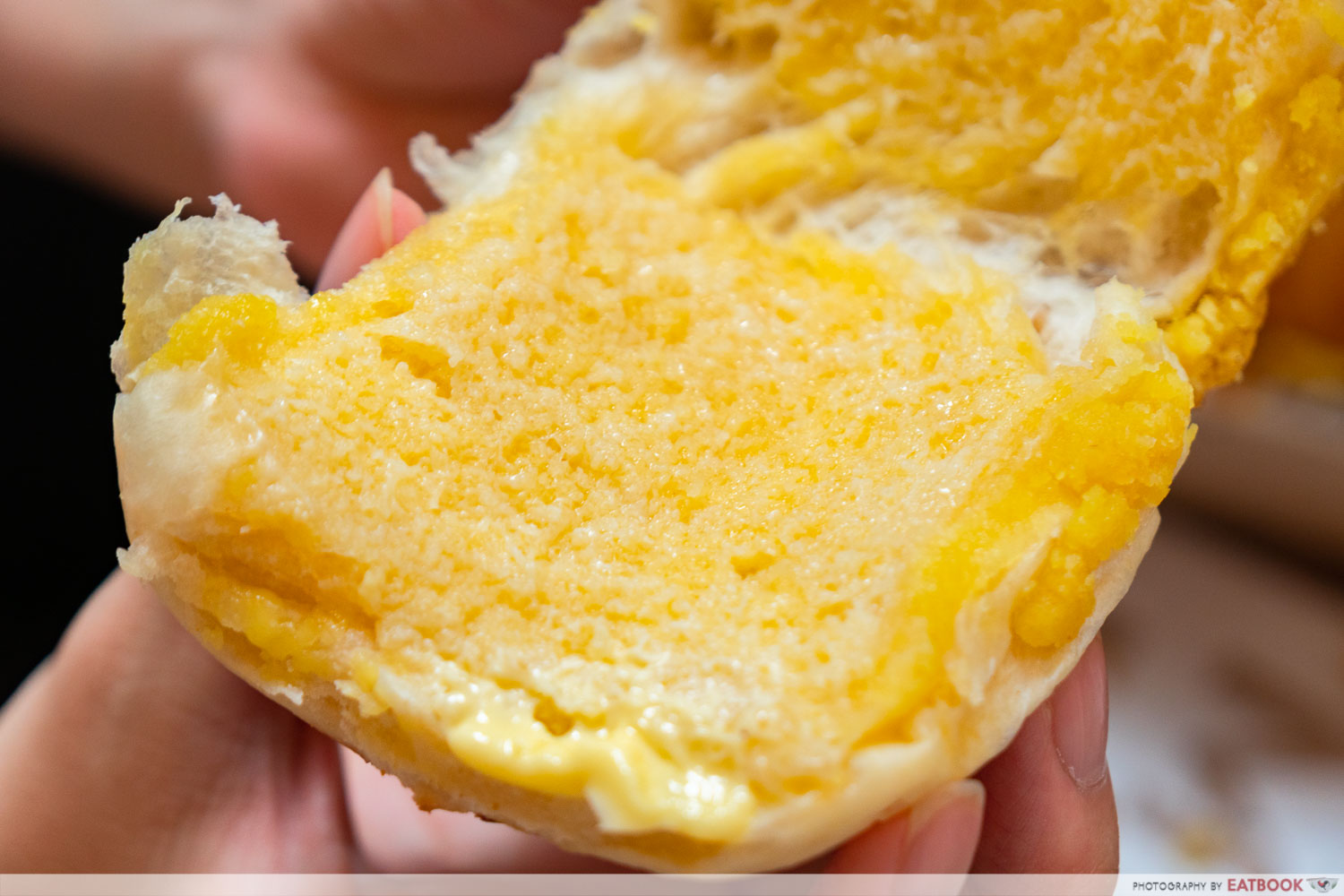 The butter melted quickly, covering the bun in a greasy, yellow-hued blanket. It was seriously fragrant, giving that much-needed touch of savouriness to the otherwise sweet bun, without being cloying. I personally prefer this combination over just having the plain bolo bun.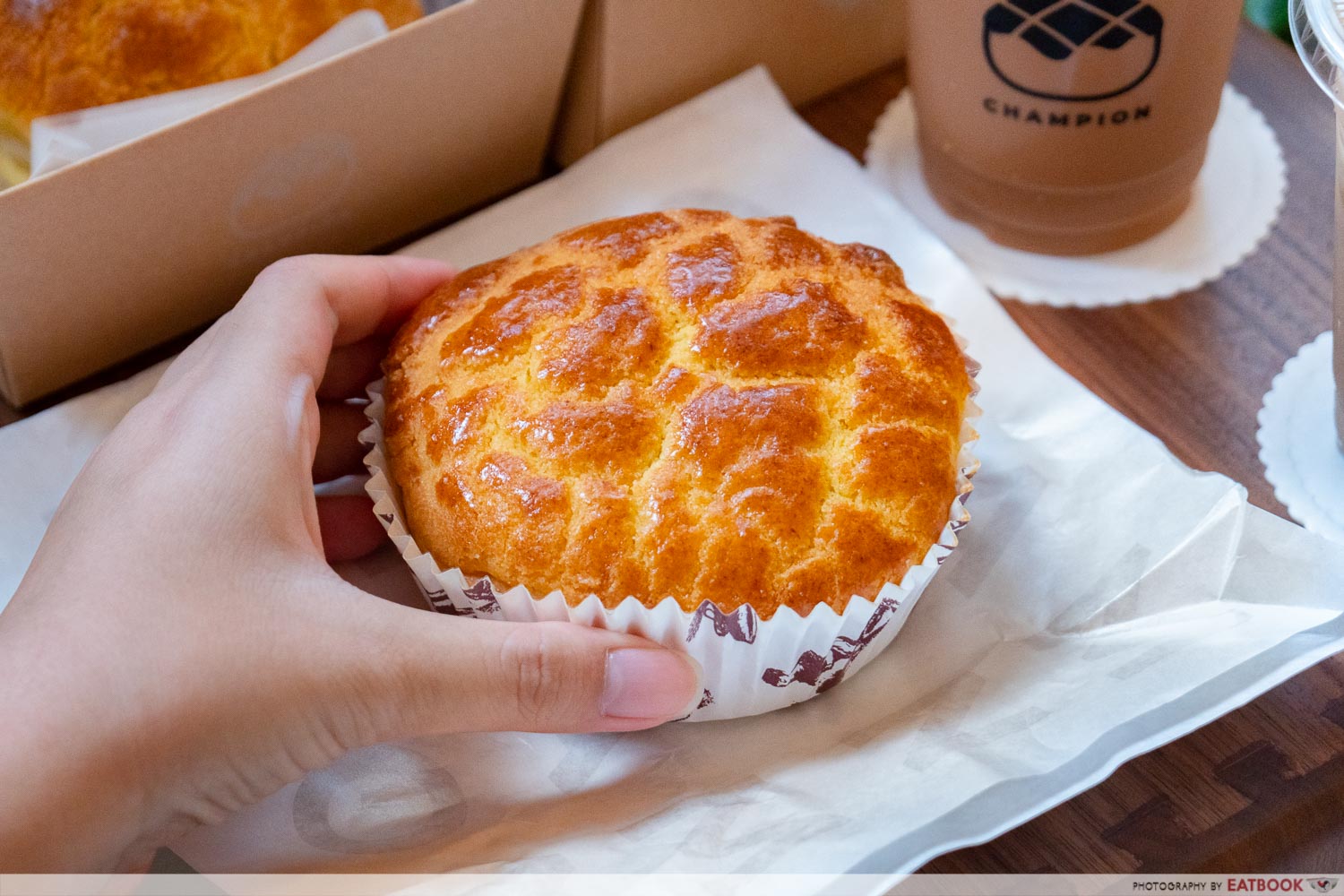 The last bolo bun that we tried on our visit was the Curry Potato ($6), which appeared rounder in shape and larger in size than the previous bolo buns.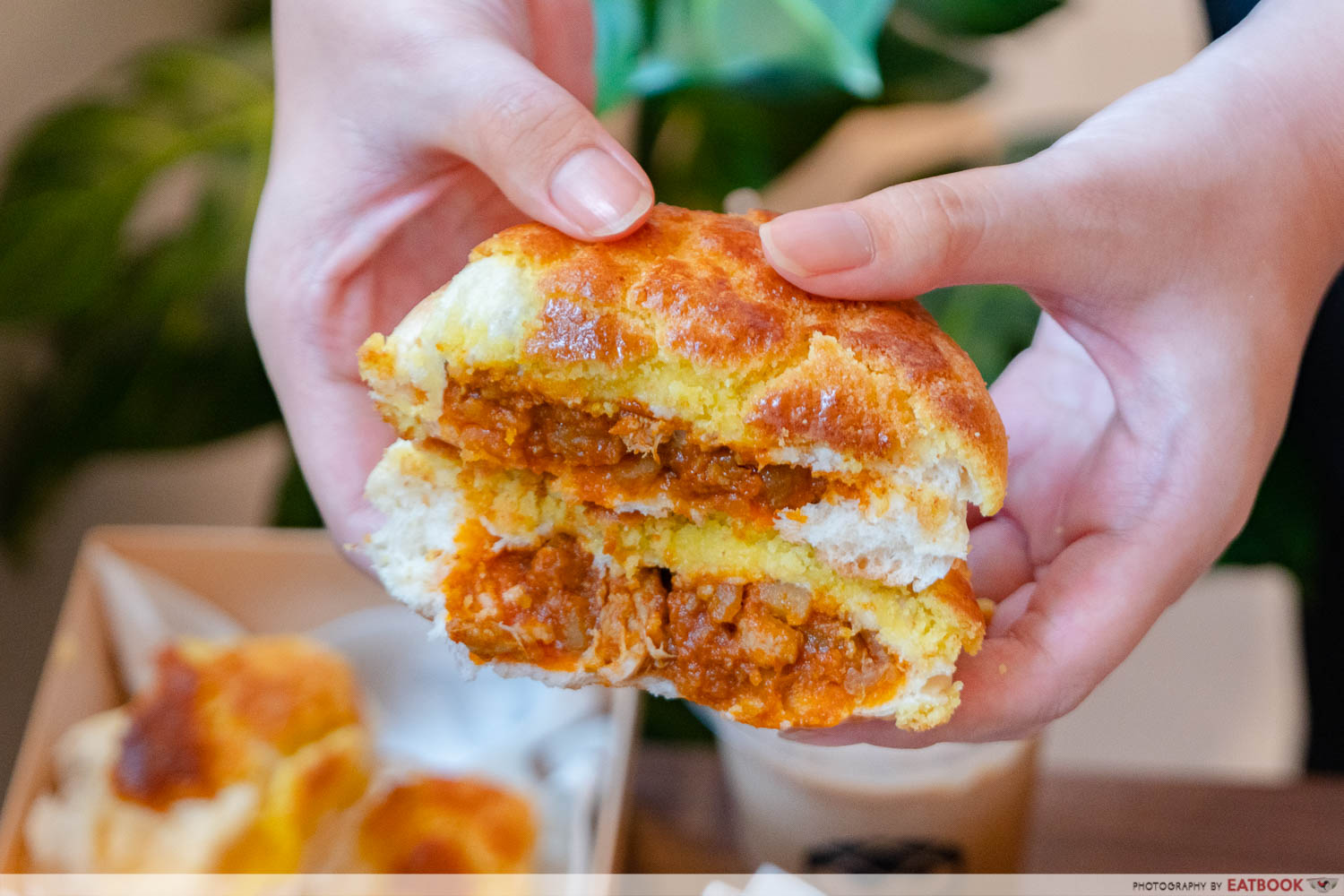 My colleague and I were seriously impressed with the curry filling, as it was immensely aromatic, and packed a ton of heat. However, I can see how this might taste too heavy for some.
Apart from the soft potatoes, there were also chunks of meat inside the curry, which made this more savoury and substantial. Meanwhile, the sweetness of the cookie crust cut through the spice of the curry, which helped balance the bun.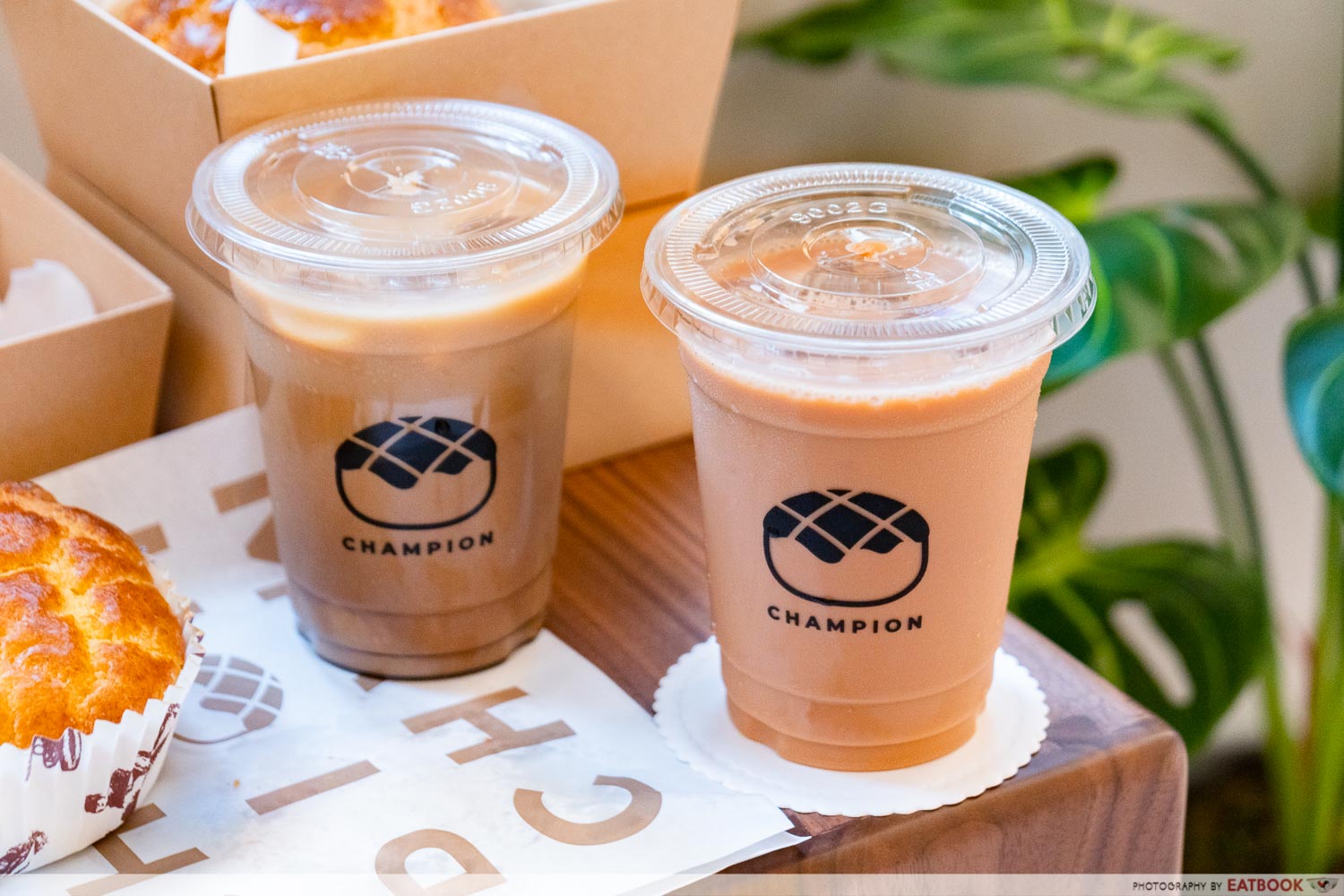 For drinks on the side, we had to get their Iced Champion's Milk Tea ($6) and Iced Champion's Coffee ($6), to stimulate a pseudo cha chaan teng experience.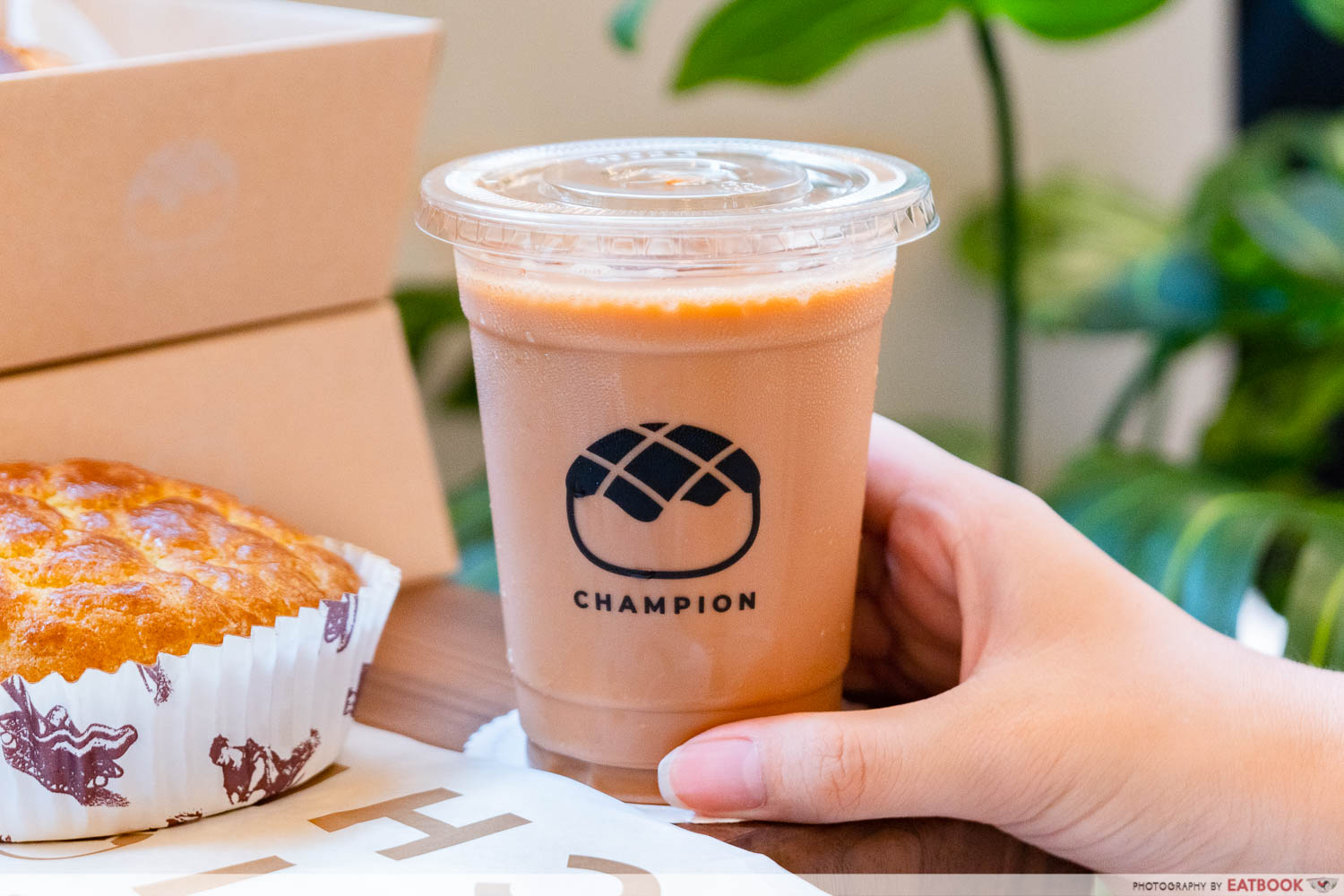 This Champion's Milk Tea is not your typical teh bing, made using Sri Lankan tea leaves, laced with a pronounced tea fragrance. I liked that it wasn't overly sweet as well, so you can truly focus on the flavour of the leaves. The evaporated milk gave this iced tea a creamy finish, and the drink did not taste diluted even after we had spent some time photographing the dishes.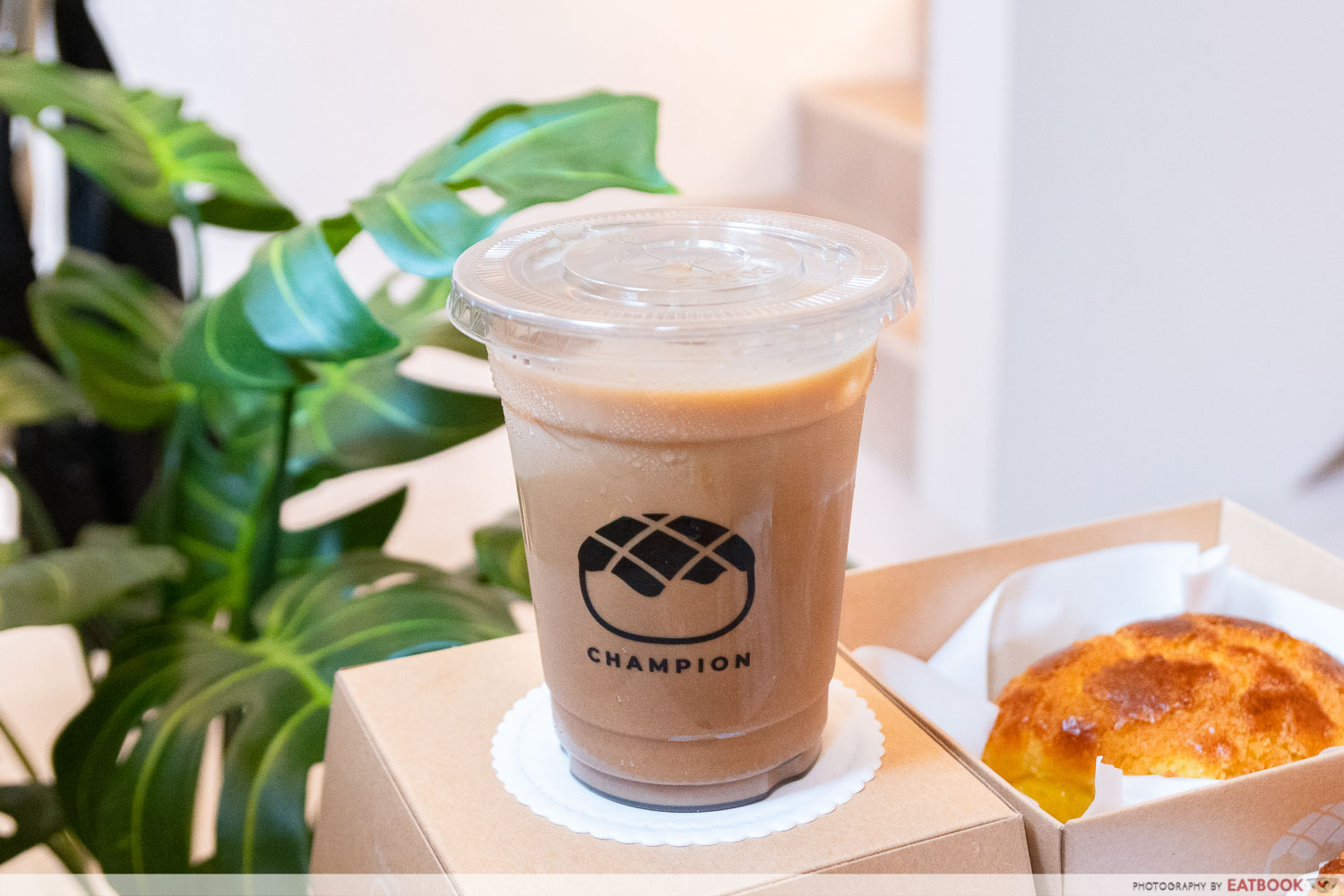 Meanwhile, the Champion's Coffee could afford to dial down on the sweetness. I did enjoy the Indian beans used here, which perfumed the coffee with a rich aroma.
Ambience at Champion Bolo Bun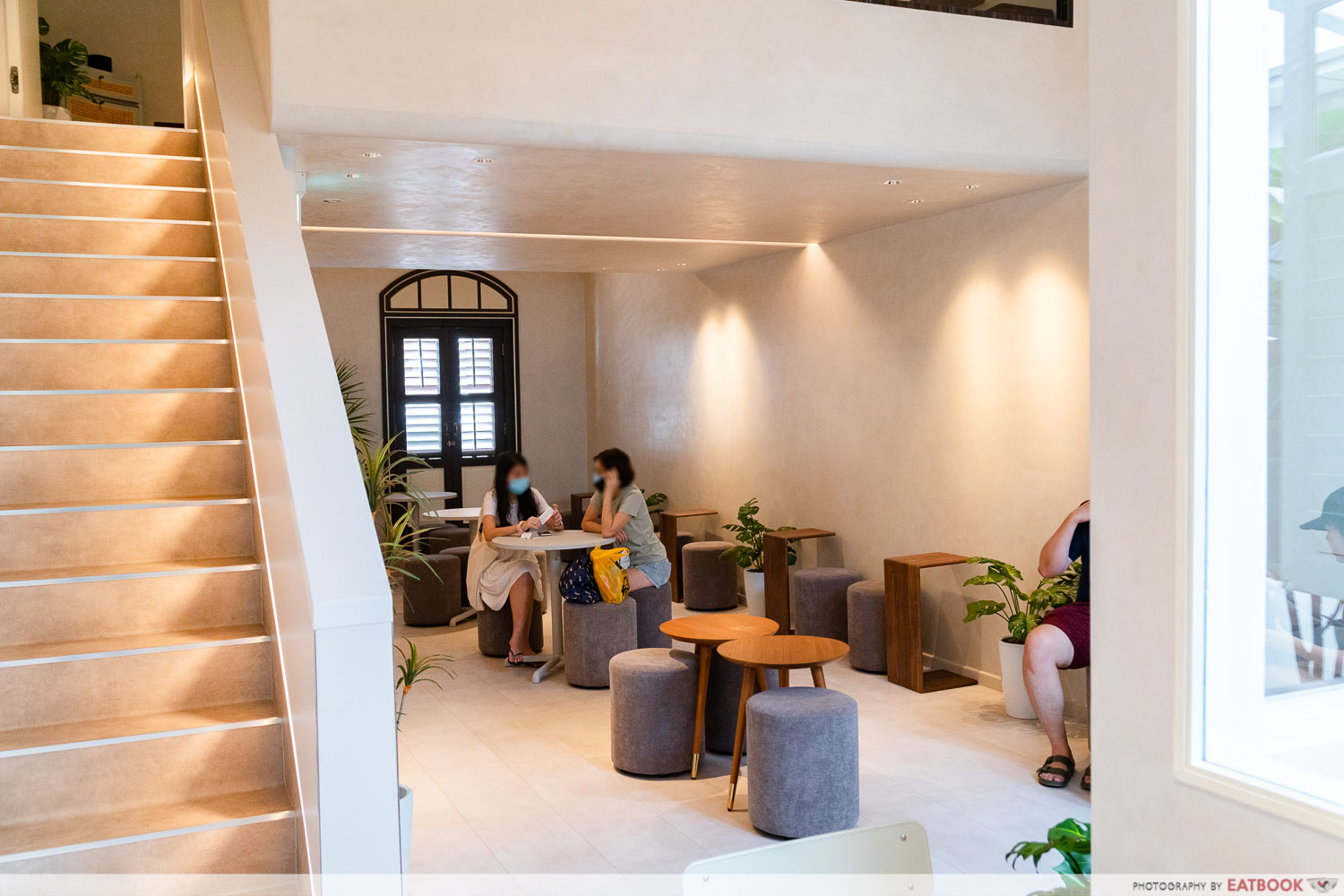 The aesthetic at Champion Bolo Bun is right up my alley, well-balanced with rattan and wooden fixtures, industrial grey tones, warm lights, and potted botany. There are three storeys in this cafe, with the largest seating capacity on the second floor. I also loved the chill music they played here, so much that I asked the staff for their playlist.
Location-wise, Champion Bolo Bun is extremely convenient to get to, taking only five minutes to walk from Tanjong Pagar MRT Station.
The verdict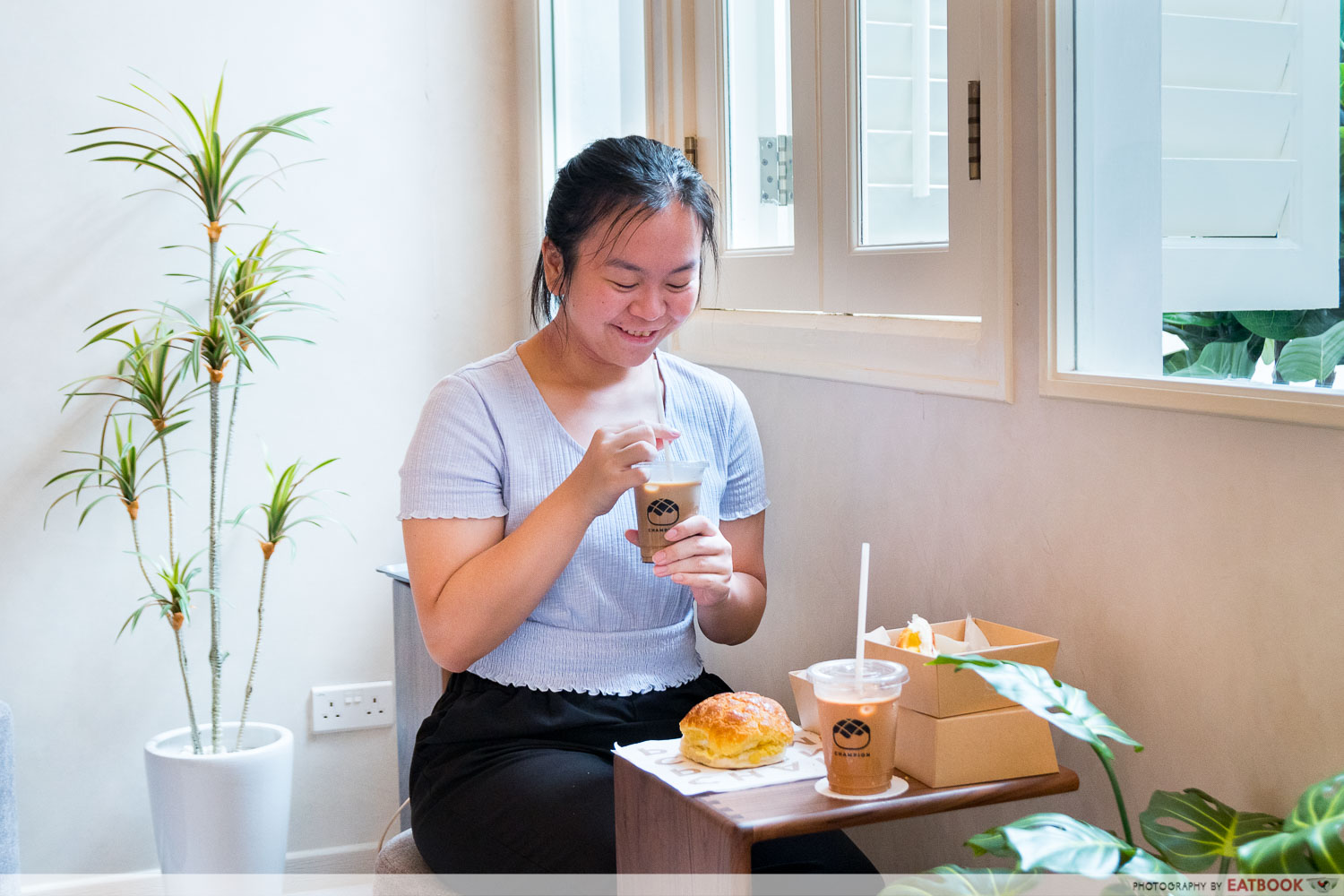 Champion Bolo Bun prides itself as a bolo bun specialty store, and for good reason. Their menu may be limited, but every bun and drink is thoughtfully executed. The chic ambience is a plus, and I can't wait to return just to chill over milk tea and buttered bolo buns, when we're allowed to dine in again.
While you're here, read our La Vie review, a minimalist cafe in Jalan Besar with lychee boba cake and Baileys tiramisu. There's also our PICKLE Bakery review, for buckwheat chocraunts and burrata sandwiches in Everton Park.
Address: 92 Tanjong Pagar Road, Singapore 088513
Opening hours: Tue-Sun 11:30am to 4pm
Website
Champion Bolo Bun is not a halal-certified eatery.
La Vie Review: Minimalist Dessert Cafe At Jalan Besar with IG-Worthy Lychee Boba Cake, Baileys Tiramisu And More
Photos taken by Keith Kok.
This is an independent review by Eatbook.sg.
The post Champion Bolo Bun Review: Three Storey-Cafe With Curry And Butter Bolo Buns appeared first on EatBook.sg – New Singapore Restaurant and Street Food Ideas & Recommendations.