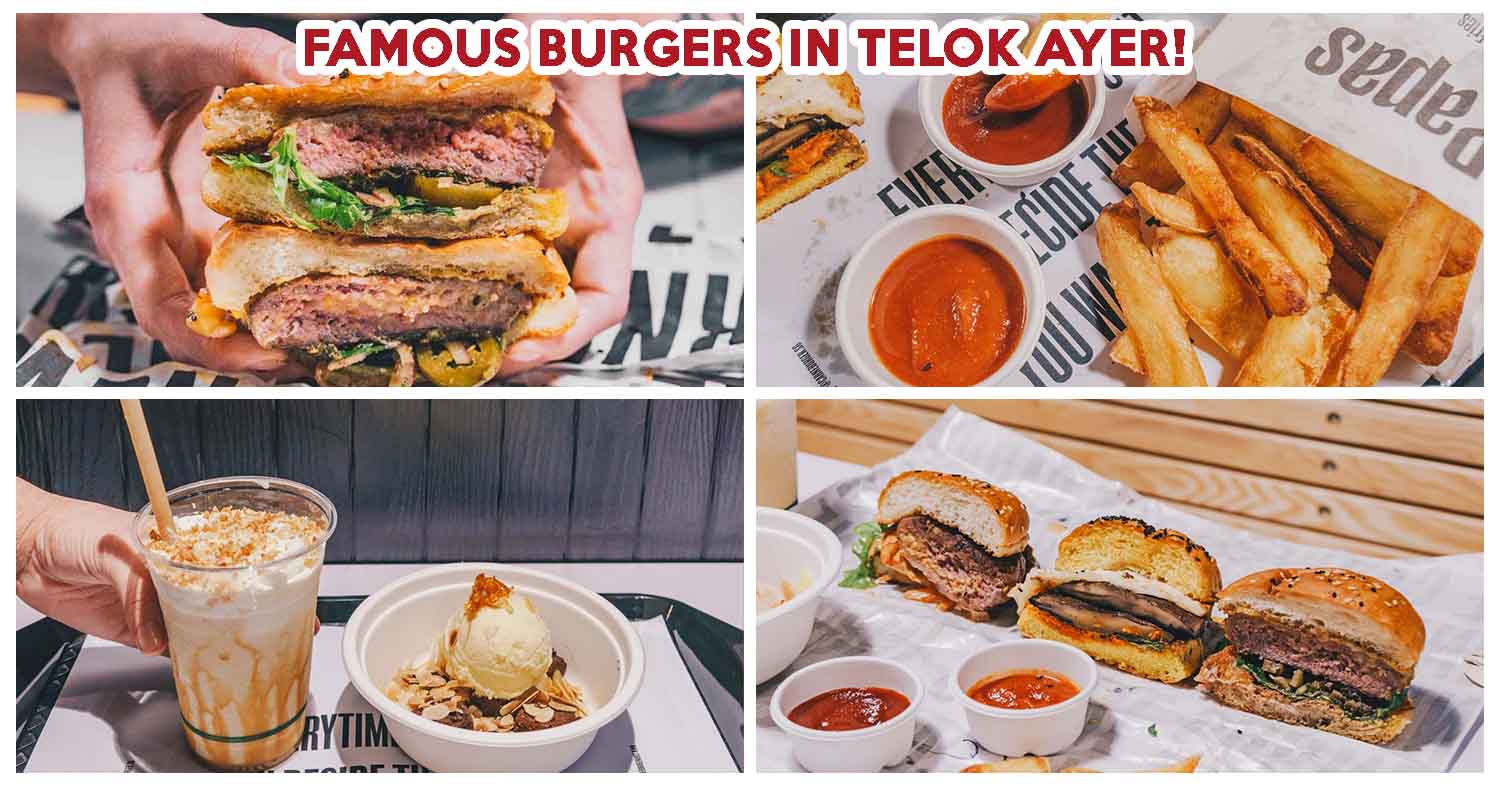 CARNE Burgers opens in Amoy Street
The cup doth overflow when it comes to Singapore's burger scene, but there's definitely room to be made when a joint like CARNE comes to town. The all-day burger diner has recently opened on Amoy Street, and while its facade seems like a casual notch up from Shake Shack, the calibre behind its name is next level.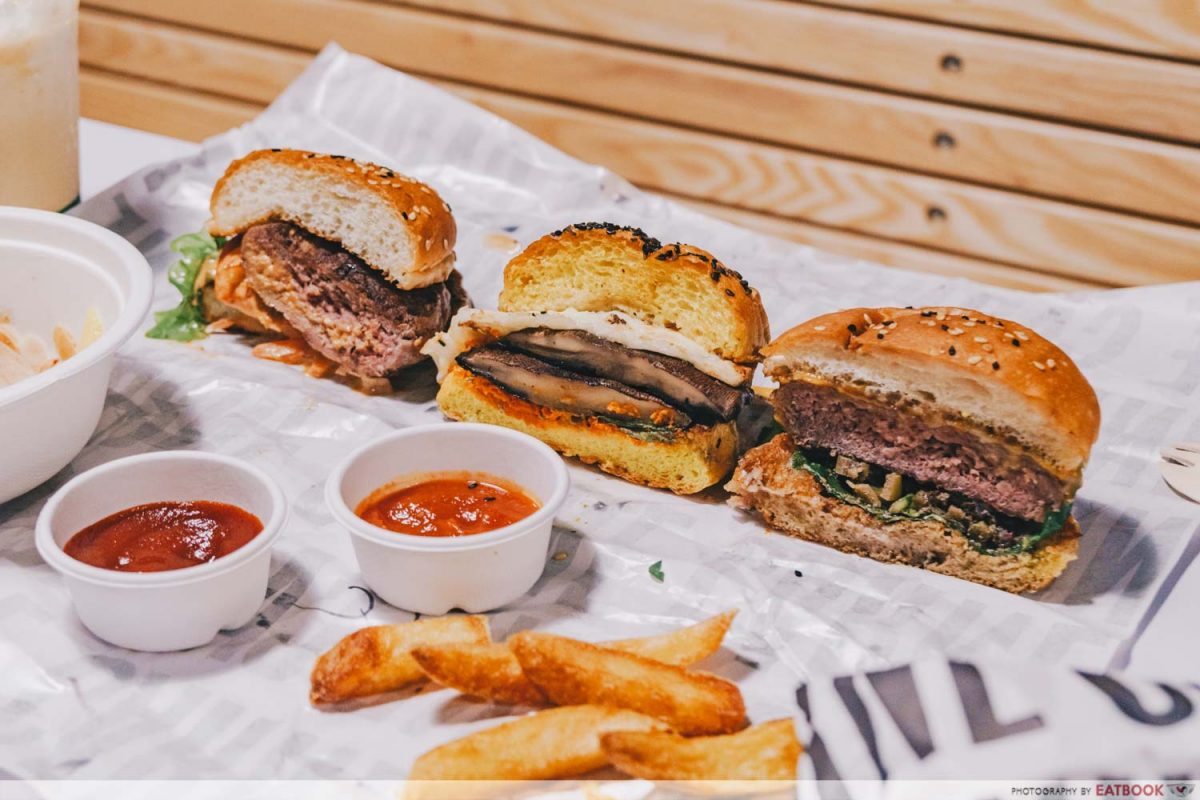 CARNE Singapore is run by Chef Mauro Colagreco, an Italian-Argentine chef behind the World's Best Restaurant in 2019, Mirazur, in France. His Michelin-minted status doesn't mean his fare is all fancy—CARNE is his casual passion project, where gourmet burgers meet sustainability. The Telok Ayer outlet is his first CARNE flagship outside of Argentina too.
Lured by the prospect of juicy, chunky burgers, we swung by CARNE Singapore to eat our way through their menu.
Food at CARNE Singapore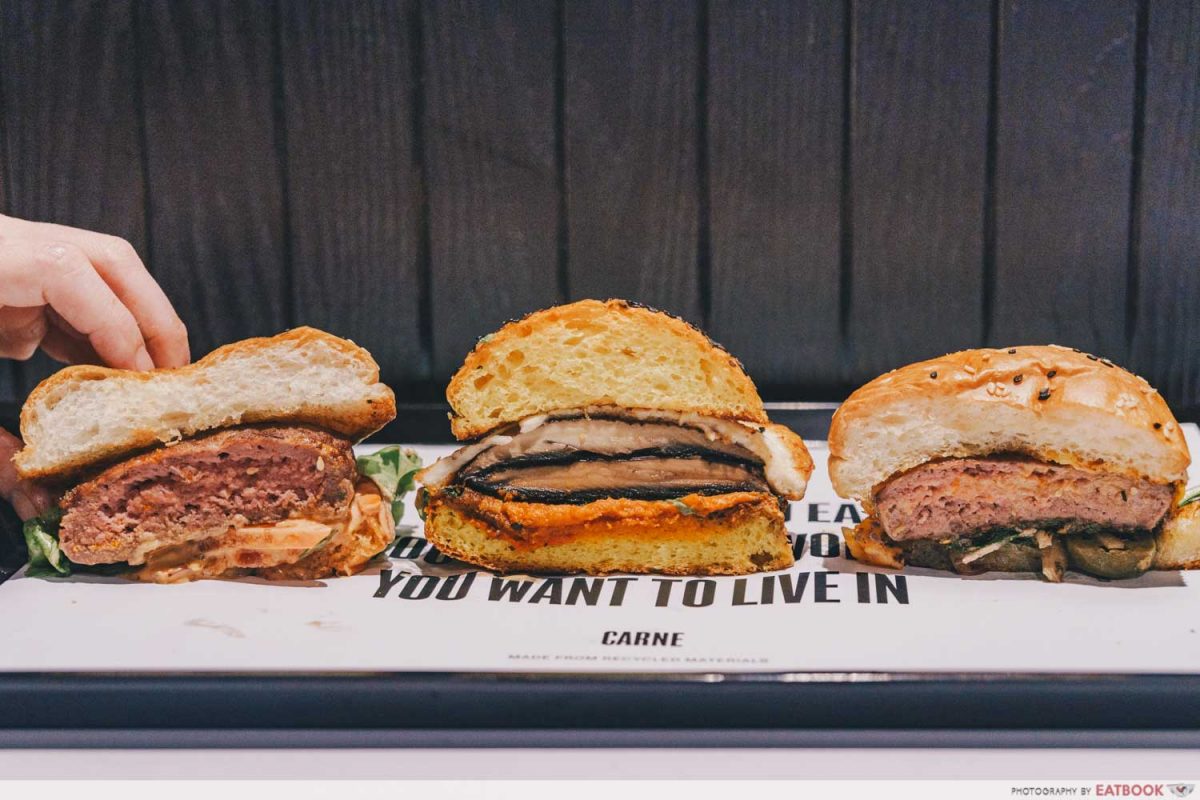 The simple menu at CARNE charts a dedication to sustainable produce. All the burgers here are made with 100% grass-fed meat, cage-free eggs, as well as organic vegetables sourced locally where possible. Fruits found in their sweets and drinks are also seasonal.
Their menu comprises seven burgers, thrice-cooked fries, two sides, one salad, one dessert, and a handful of breakfast items, as well as drinks, and milkshakes. 
Since we were there for dinner, we tried a trio of their signature burgers.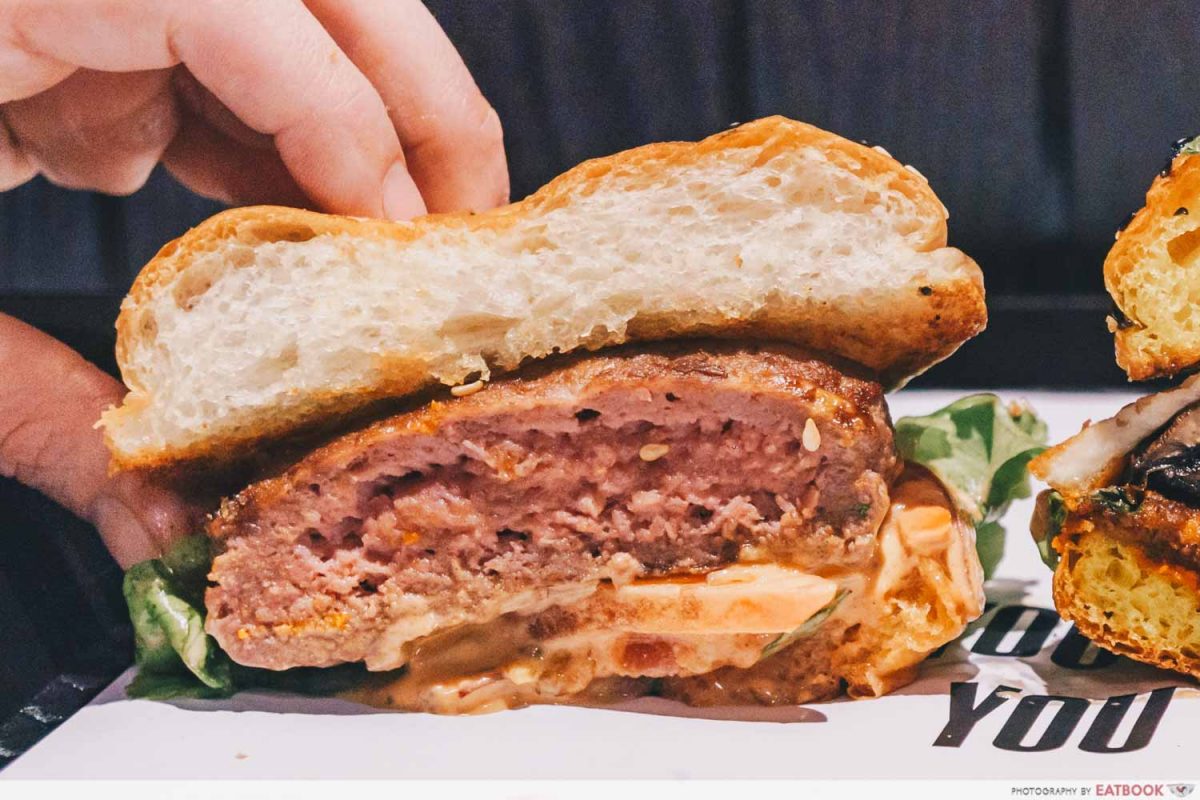 Living up to its namesake, the Classic Burger ($19.50) is the meeting of a seriously substantial 106g Angus beef patty with freshly baked brioche and organic greens. I'm so used to gourmet burgers coming with patties that dissolve on the tongue thanks to a higher ratio of fat to lean meat, so I was thankful that CARNE's version retained its bite, especially against the buttery soft buns.
Grilled to medium-rare, the beef was juicy, though it could do with just a touch more salt.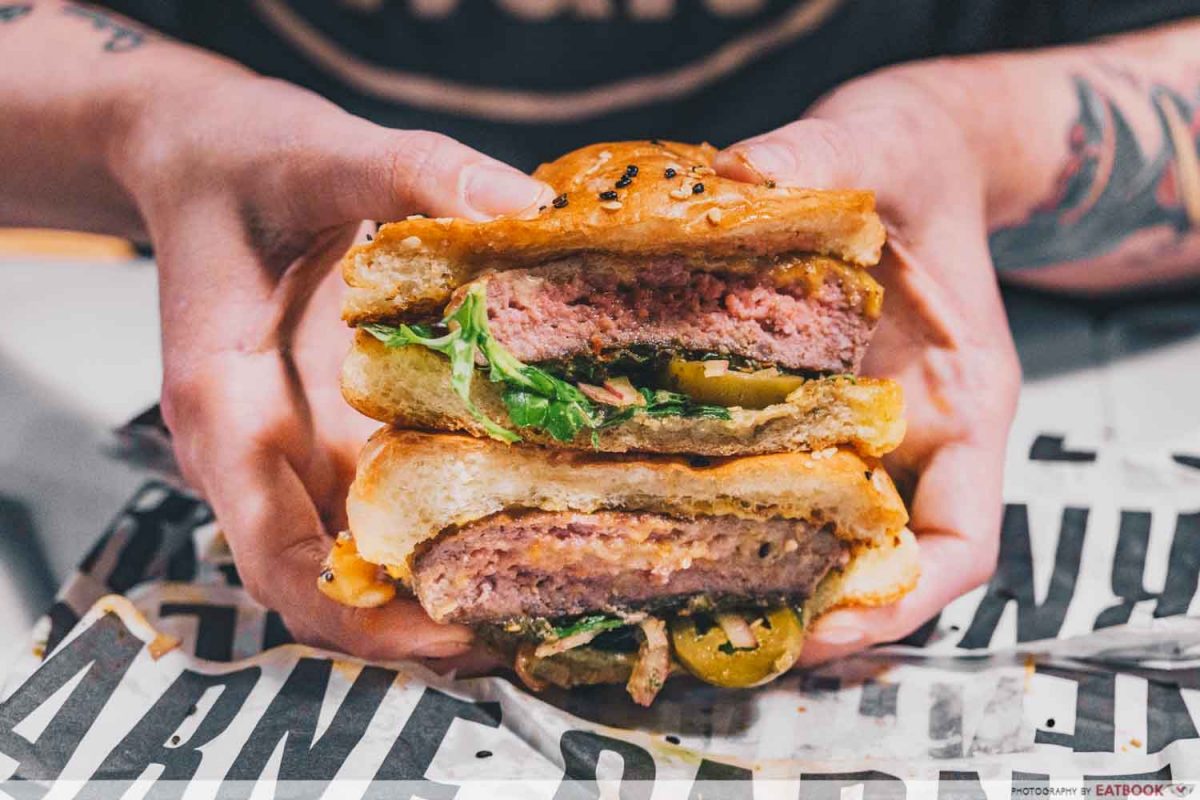 The Classic set the stage for my personal favourite item on the CARNE Singapore menu: the Beef and Chimichurri Burger ($24), also a local exclusive. The same Argentinian beef patty gets a flavourful upgrade with a housemade chimichurri sauce, as well as some jalapeño rounds. 
Chimichurri, a combination of garlic, vinegar, herbs, and chilli, is a natural accompaniment to beef. CARNE's sauce is tangy and green, brightening the heaviness of the beef and cheese. The pickled jalapeño slices were a magic kick of spice, bringing both brine and heat to the burger. 
One downside, though, to both buns, was the fact that we had to tuck in immediately once they came to the table. Letting them sit for a while to snap photos were a mistake, as these juice-packed parcels get soggy pretty quick.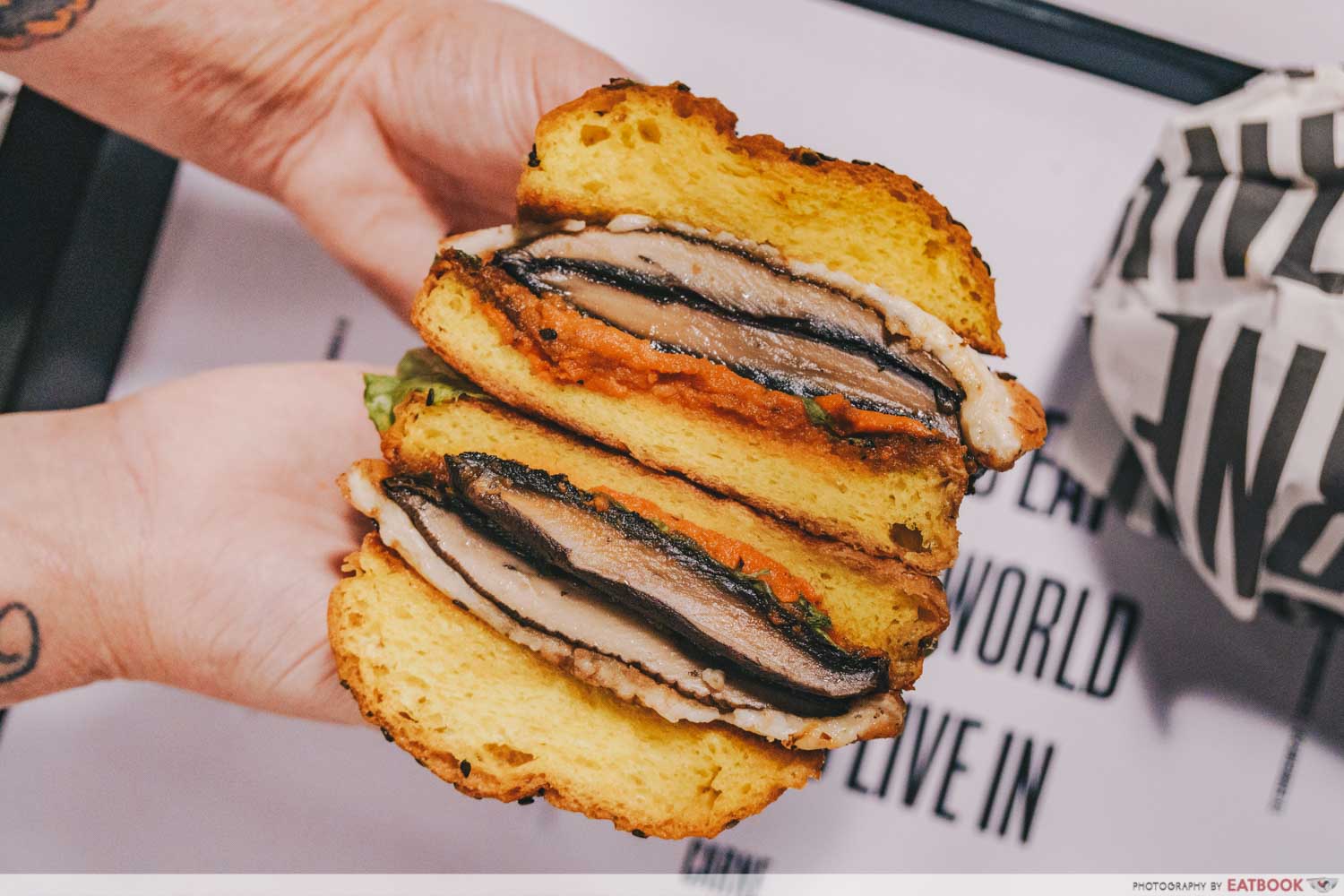 Plant-based diners will be happy to know that CARNE's Veggie Burger ($16) was a crowd-pleaser. Instead of going down the mock meat route, this burger sported a grilled portobello and charred halloumi cheese in the centre.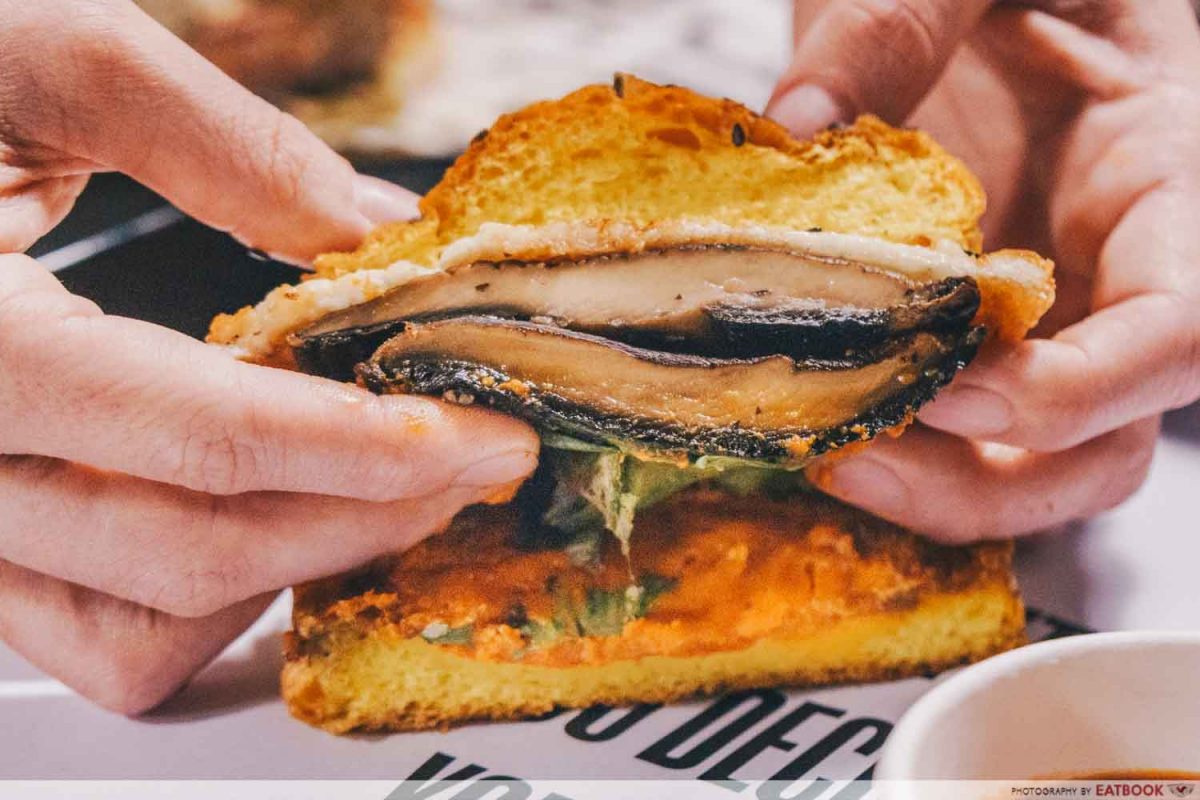 The earthy mushroom and salty halloumi cheese made for a flavourful yin and yang, while the turmeric bun and tomato tapenade dialed up both the spice and tang.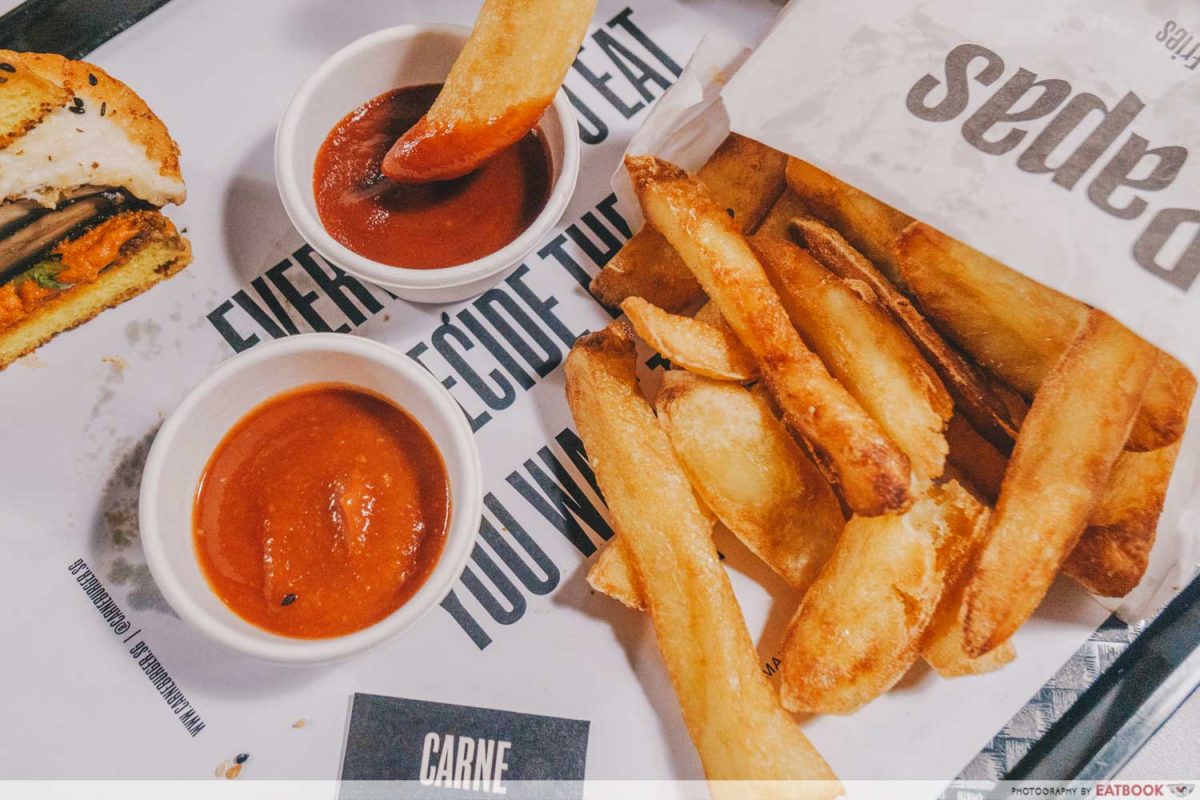 We were told not to skip over CARNE's proprietary Triple Cooked Agria Fries ($8.90) as a side. Thick cut steak fries made with Argentinian potatoes are steamed, frozen, then deep-fried for an extra crisp, almost-battered exterior, and pillowy middles. These are accompanied by housemade ketchup and hot sauce.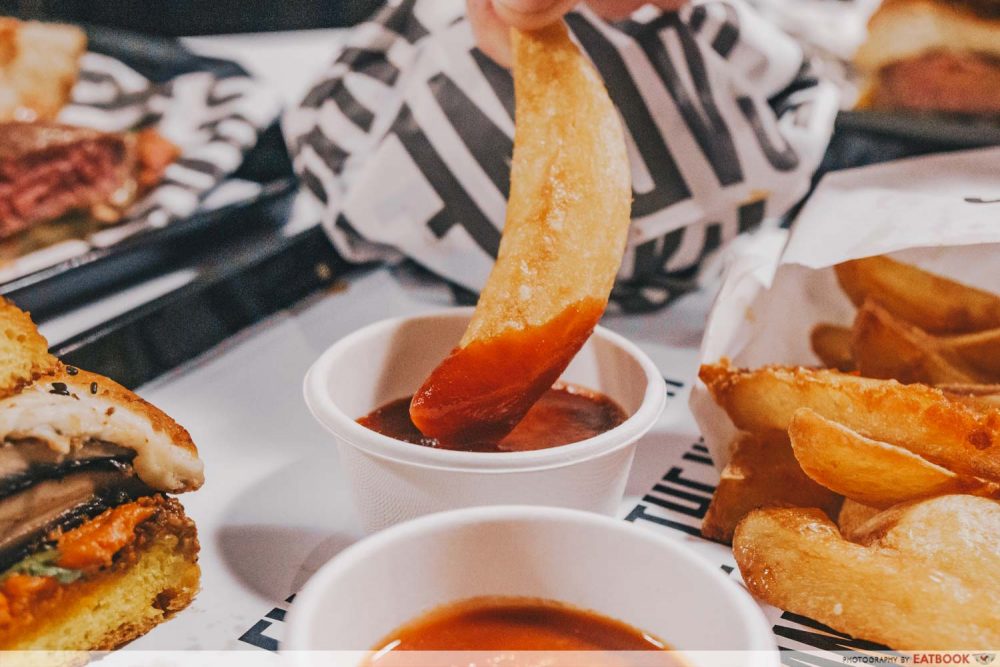 I'm still on the fence as to whether the triple-cooking made for better fries or just a novel experience, but what I am certain of is that the dips that come with the fries are worth the extra effort to make them. 
The hot sauce is especially delicious, with a sharp, vinegary kick that kept me going back for more.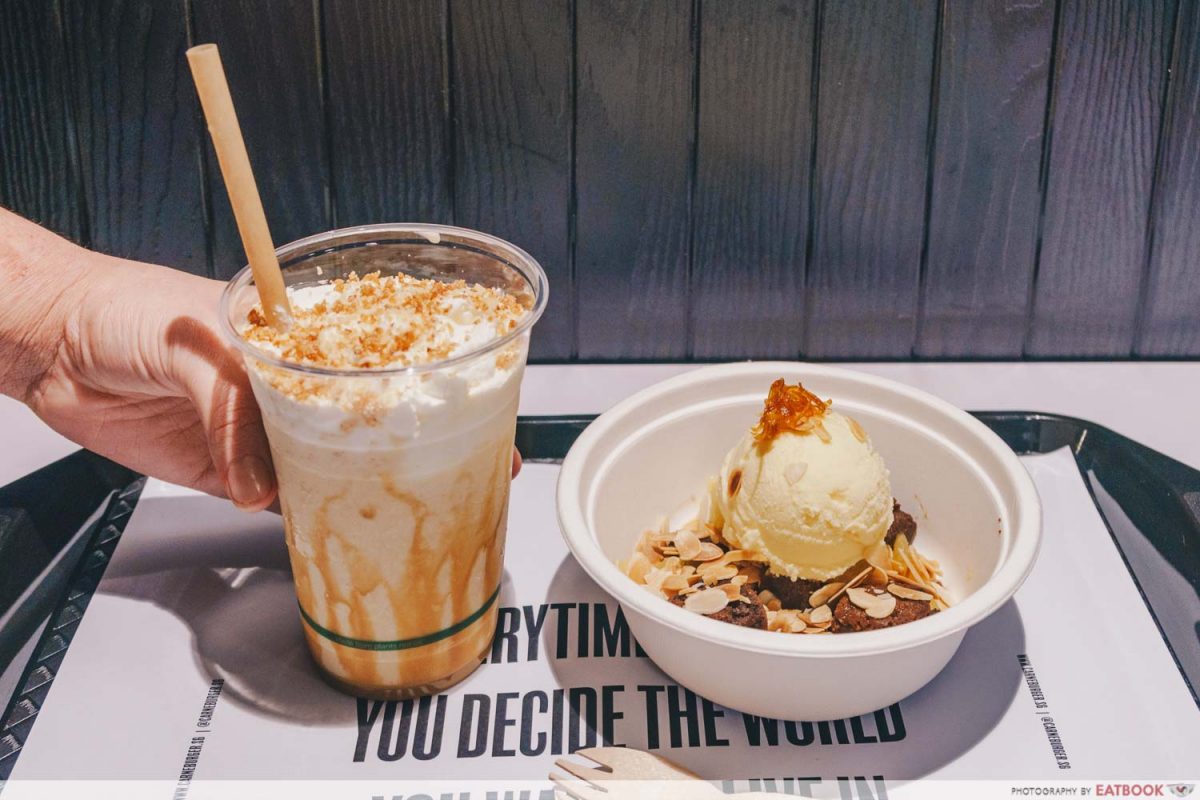 For dessert, there is only the Orange and Chocolate Sacher Torte ($12). Sachertortes are famously dense chocolate cakes, and CARNE's take is doubly intense, with dark single origin chocolate used. The bittersweet cake squares are then topped with a refreshing orange gelato—a classic combination of chocolate and citrus.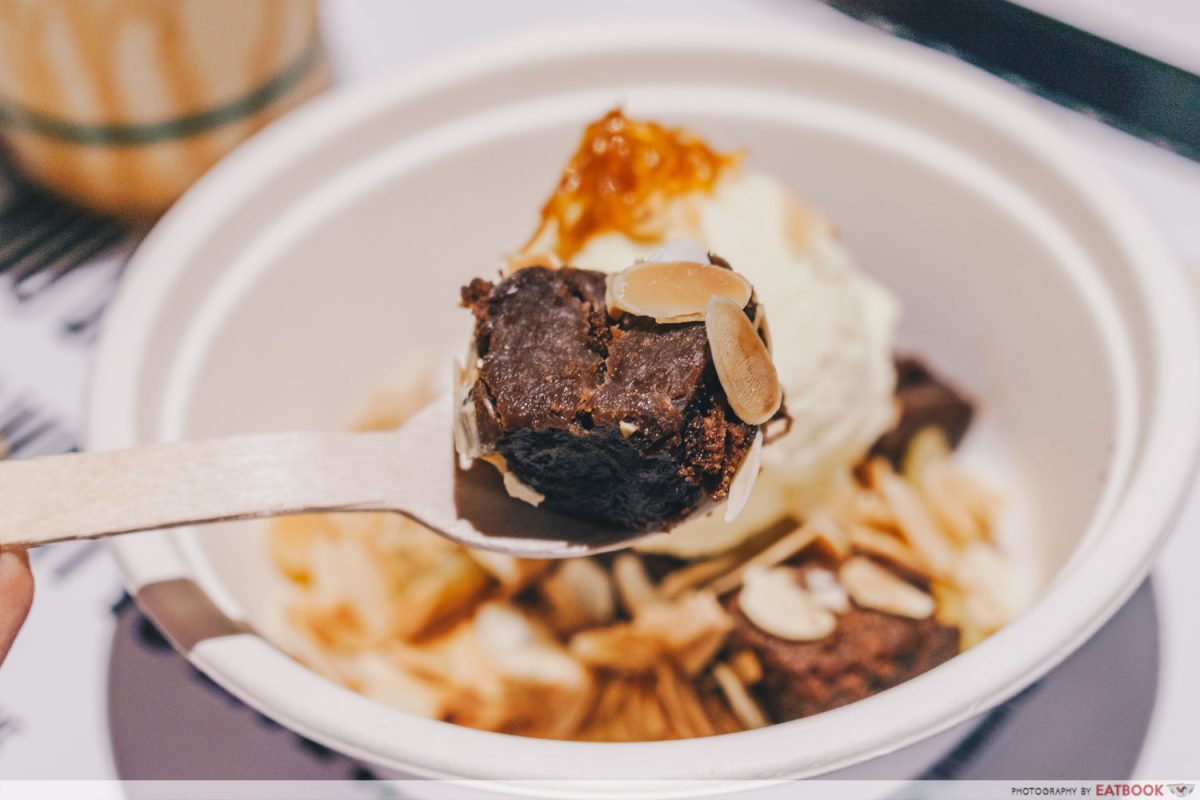 While my bet is on the sachertorte for sweets, those who want something to-go can get a milkshake. Five flavours are available, of which I had the Salted Caramel ($10). Made with salted caramel ice cream, dulce de leche, praline, and fresh milk, this cup was cloyingly sugary, with barely any salt discernable.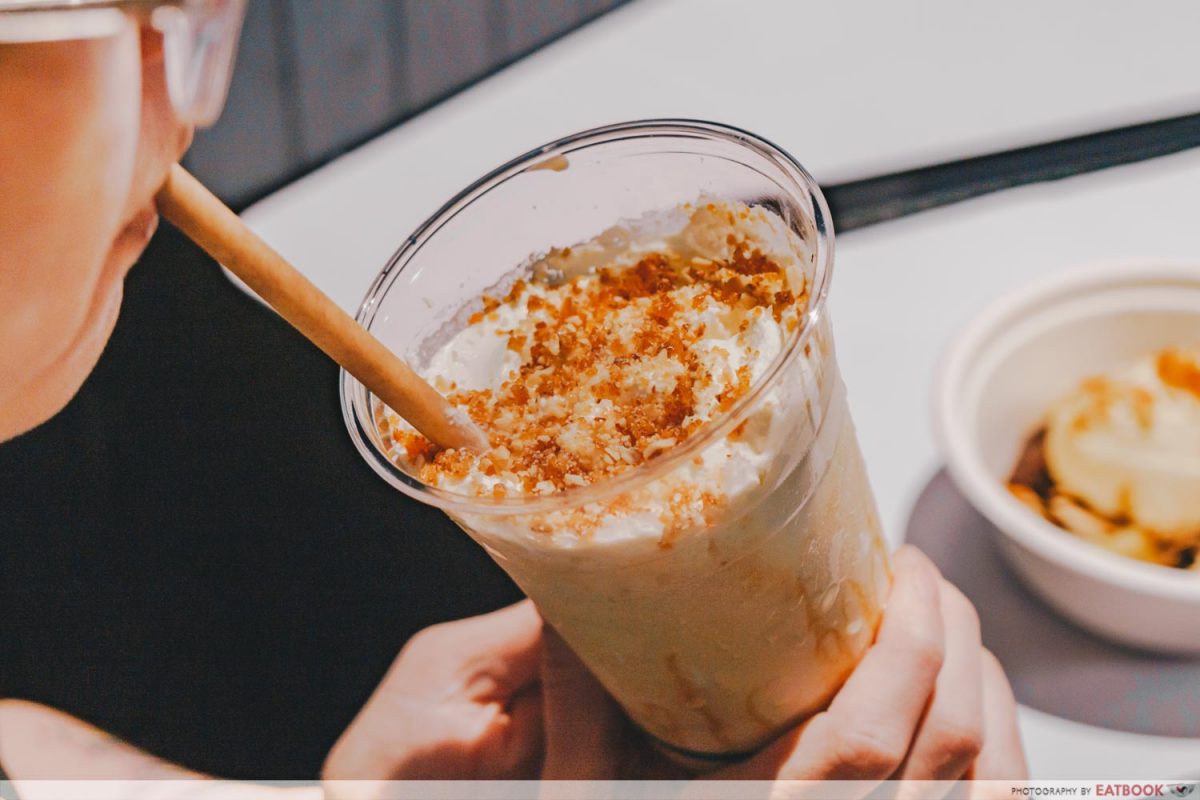 CARNE also has breakfast items available, as they open early in the morning. Instead of burgers, though, the menu is all about toasted sandwiches and yoghurt.
11 Telok Ayer Cafes Serving French Crepes And Fried Chicken Sandwiches For Brunch
Ambience at CARNE Singapore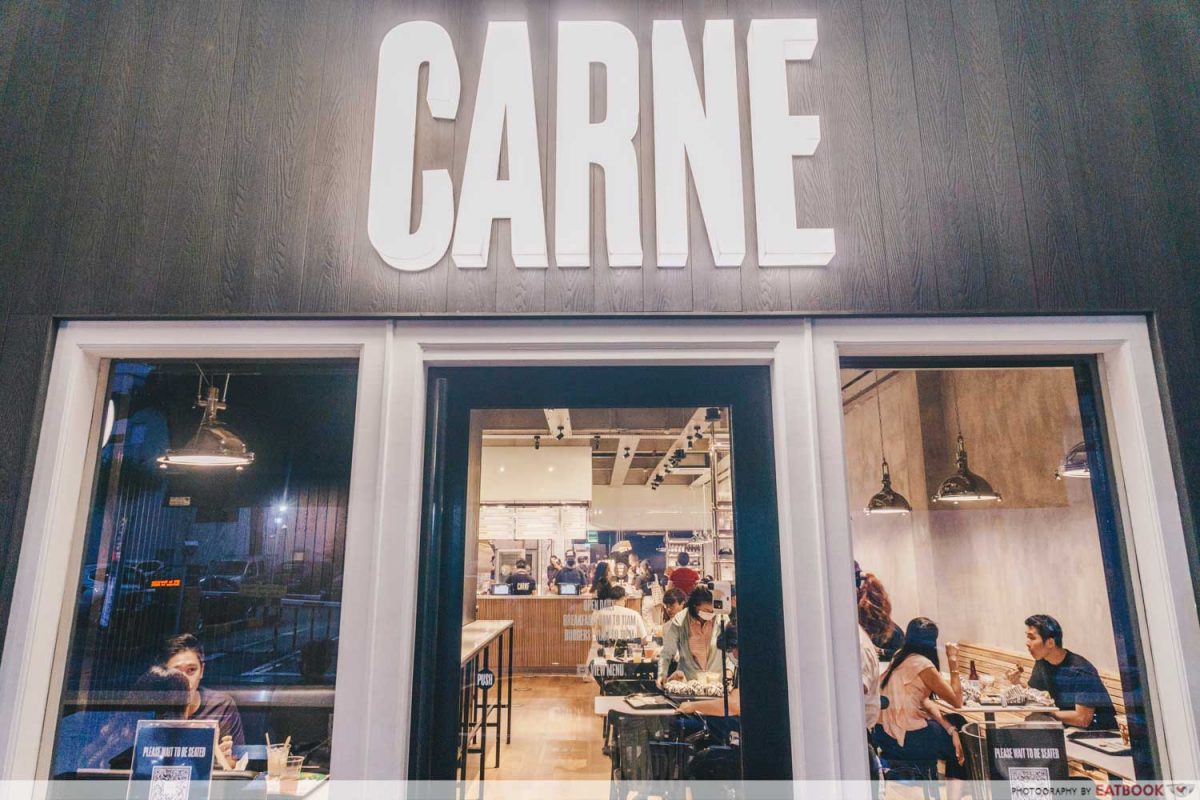 With high ceilings, light wood, and monochromatic accents, CARNE feels like a breezy, casual burger joint ideal for a grab-and-go meal.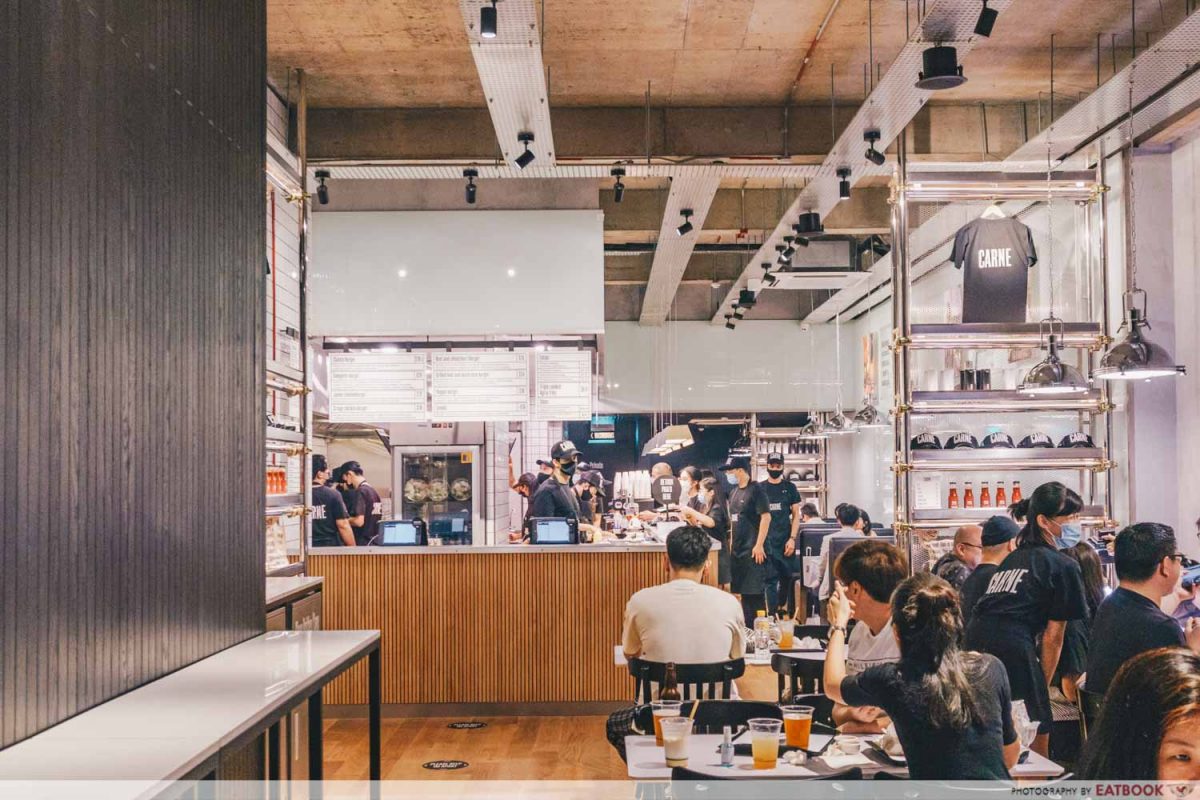 For convenience, orders can be done at the counter, fast-food joint-style, or via QR codes at the tables.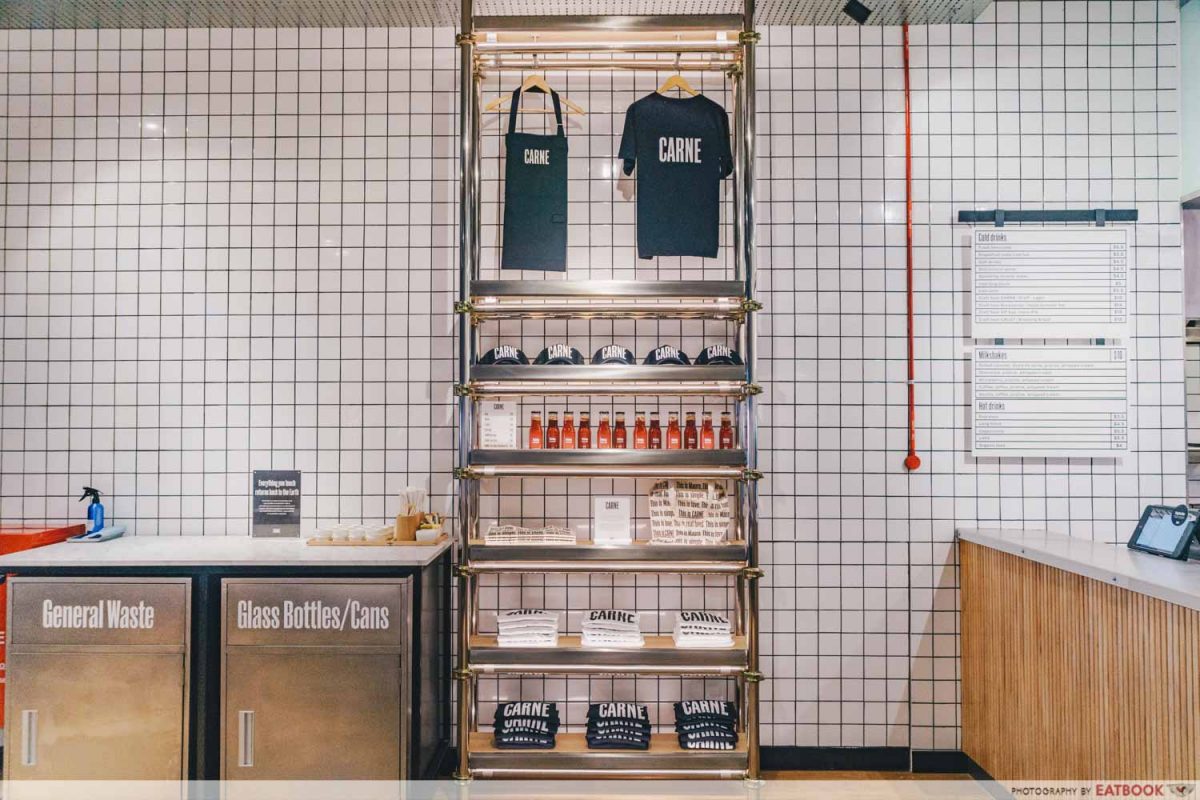 Located near Telok Ayer MRT Station, it's a convenient dining option for people who work in the area, or are around the CBD. 
City Donut: New Doughnut Cafe With Flavours Such As Orh Nee, Ondeh-Ondeh, Milo And More In Telok Ayer
The verdict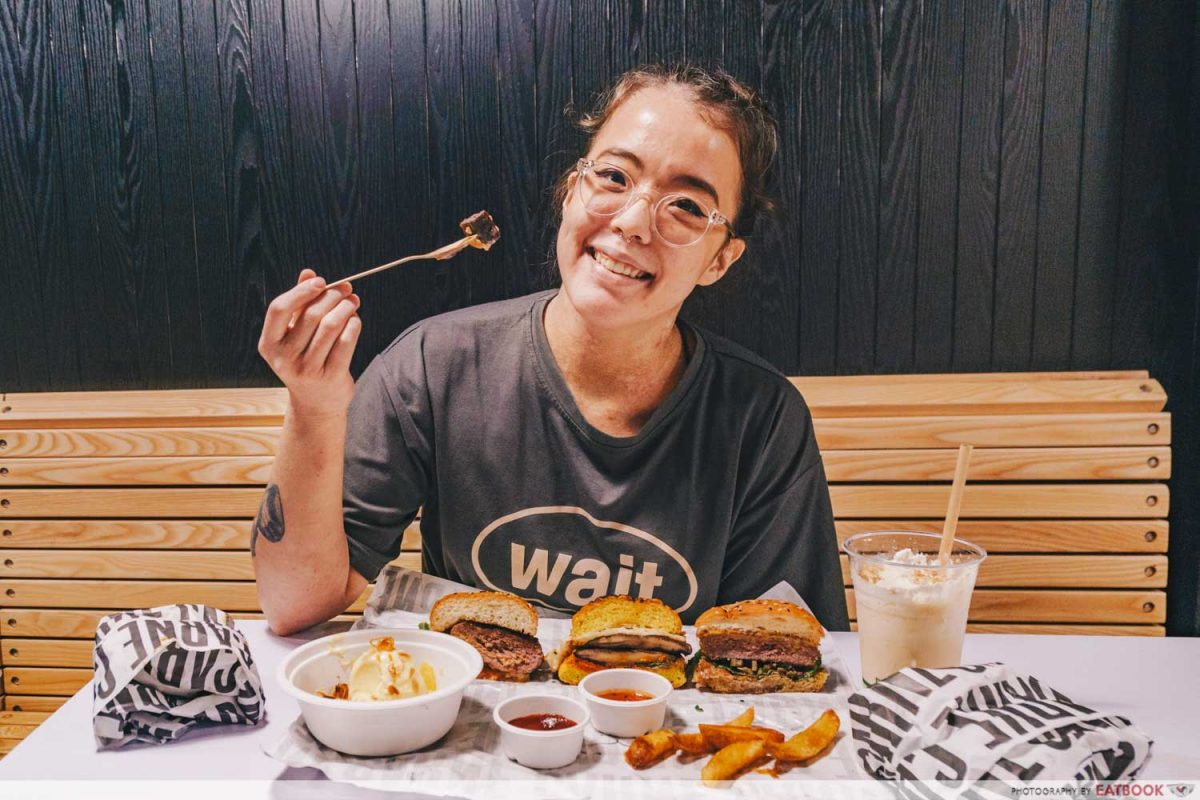 CARNE definitely pulls its weight as a new entrant into our city's crowded burger scene, especially considering the quality and quantity diners get at competitive price points. I also thoroughly appreciated how #thicc the beef patties were, even if it could do with a tad more seasoning when in the Classic.
If you're someone who doesn't mind forking out an upwards of $20 for a burger, then CARNE is right up your alley. Included in the price tag is the fact that the meats and greens are all sustainably farmed, so there's the feel-good factor in the mix too.
For more food in the area, read our Mizon review, where we try pitas from the world-famous casual Israeli diner. Otherwise, read our City Donut review, where we try locally-inspired doughnuts from this new local cafe.
Address: 88 Amoy Street, Singapore 069907
Opening hours: Daily 8am to 11pm
Website
CARNE is not a halal-certified eatery.
Miznon Review: New Pita Bistro By MasterChef Judge In Telok Ayer Draws Long Queues
Photos taken by Chew Yi En.
This was a media tasting at CARNE.
The post CARNE Review: Burger Bar By Chef Behind World's Best Restaurant Now In Singapore appeared first on EatBook.sg – New Singapore Restaurant and Street Food Ideas & Recommendations.