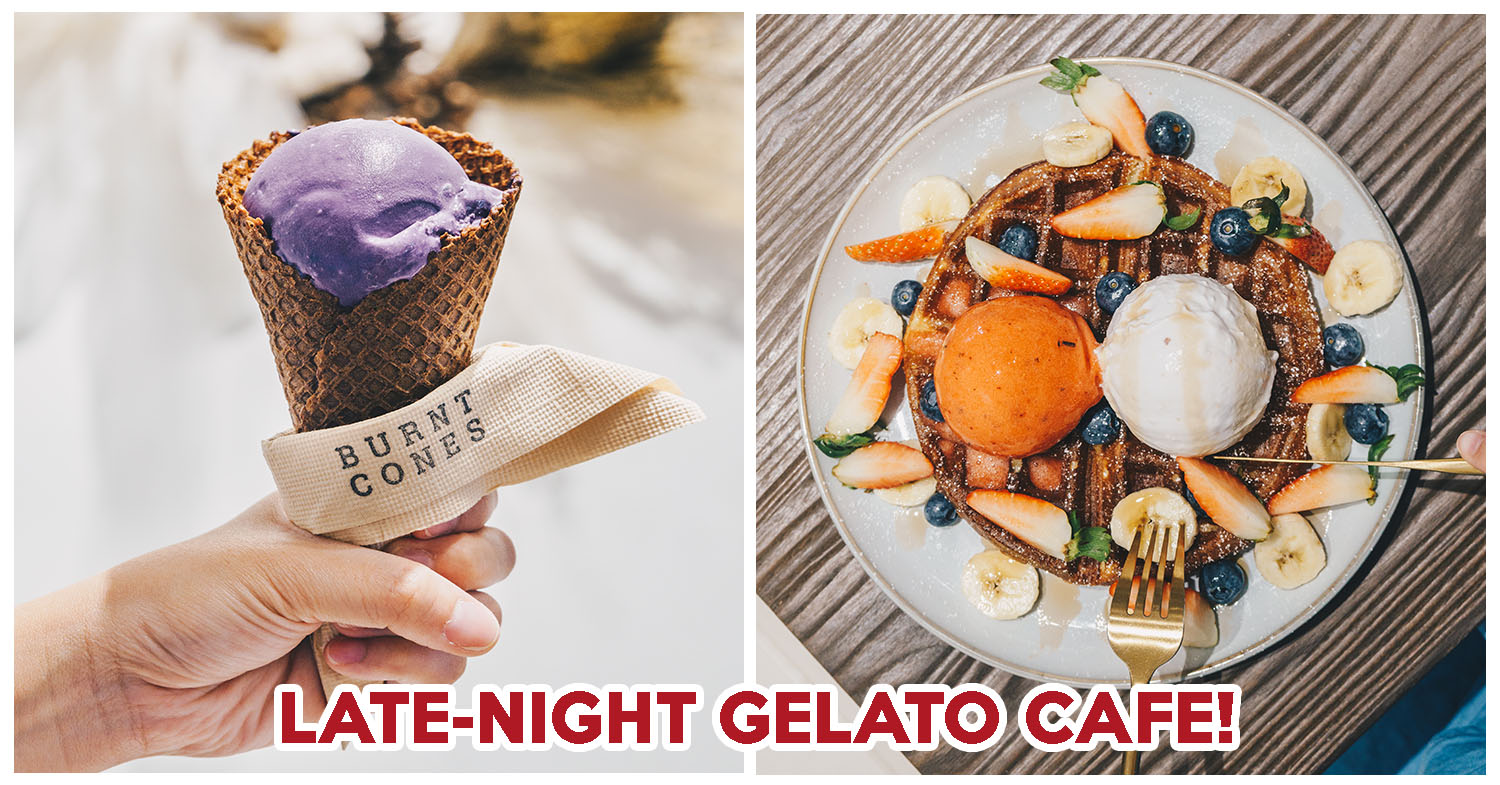 Burnt Cones for ice cream and brunch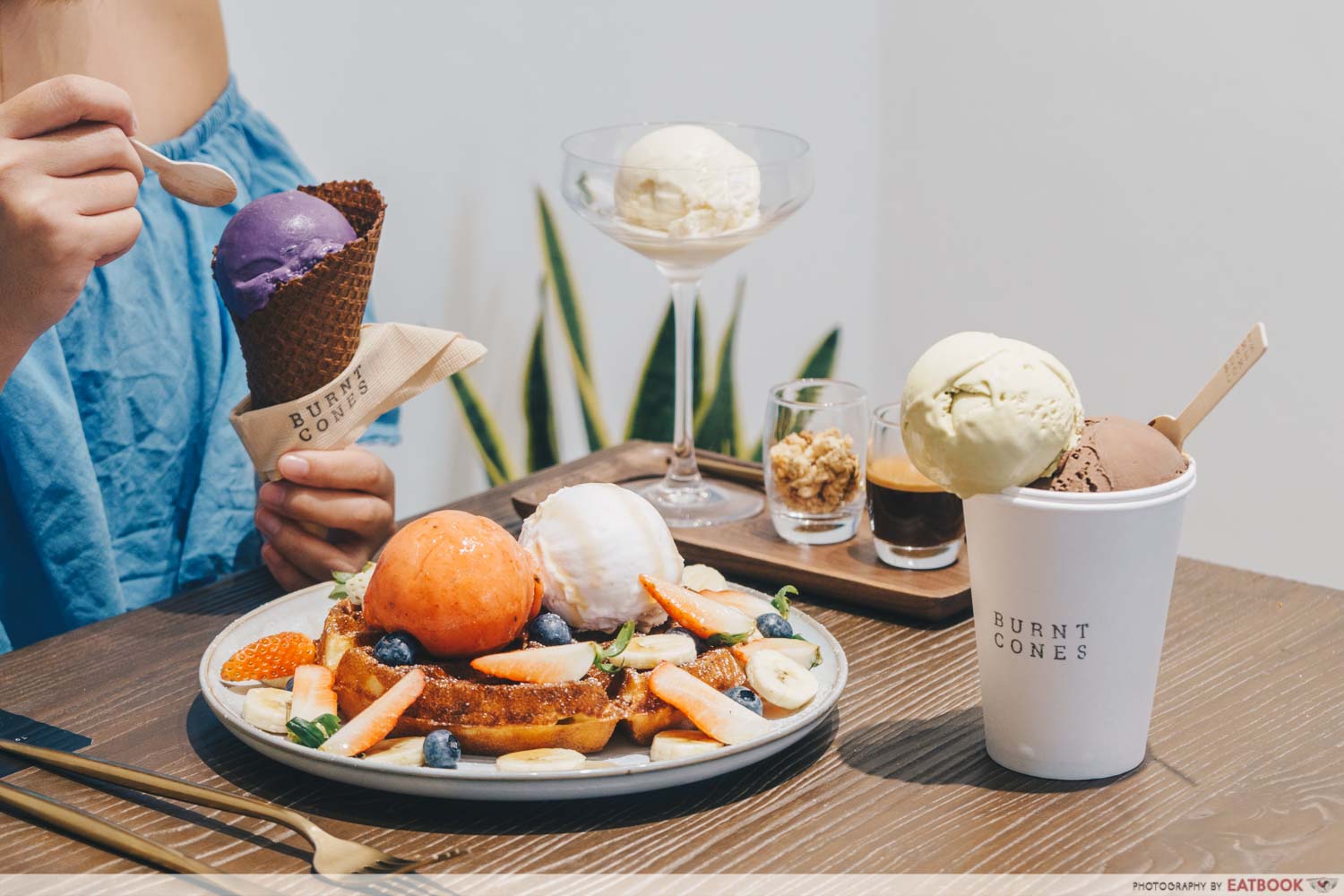 In recent months, Westies have been getting lucky with the opening of new cafes that are highly worth a visit. There was Simple Cafe, and now Burnt Cones at Clementi has also come up on our radar. Serving both a slew of gelato flavours, waffles, coffee, and brunch food, this cafe opens till midnight.
Simple Cafe Review: New Minimalist Cafe Hidden At West Coast With IG-Worthy Cakes
Food at Burnt Cones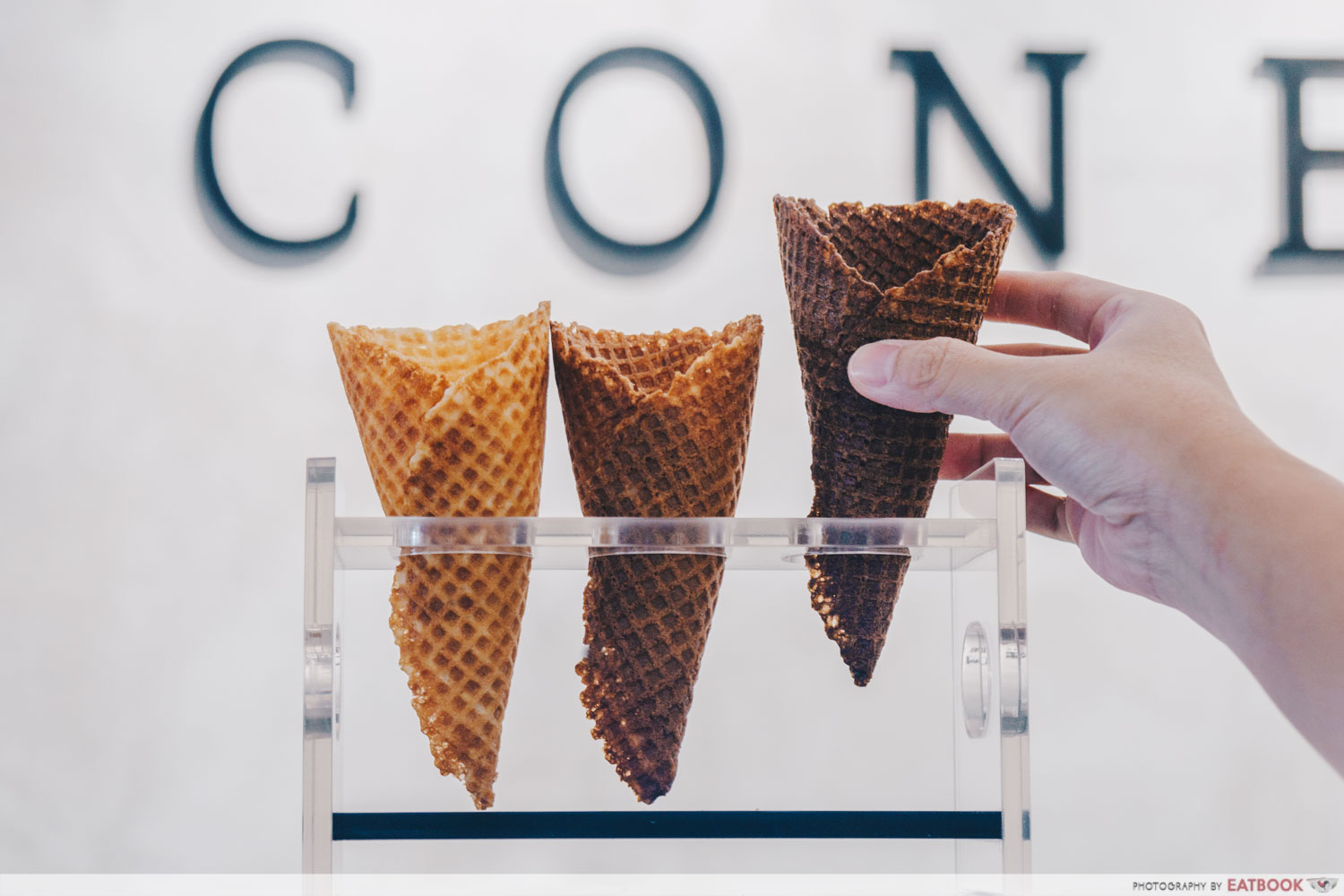 Something interesting about this new ice cream cafe is the choice of cones ($1) they offer. Take your pick from the light, medium, or dark cones when you get a scoop of ice cream.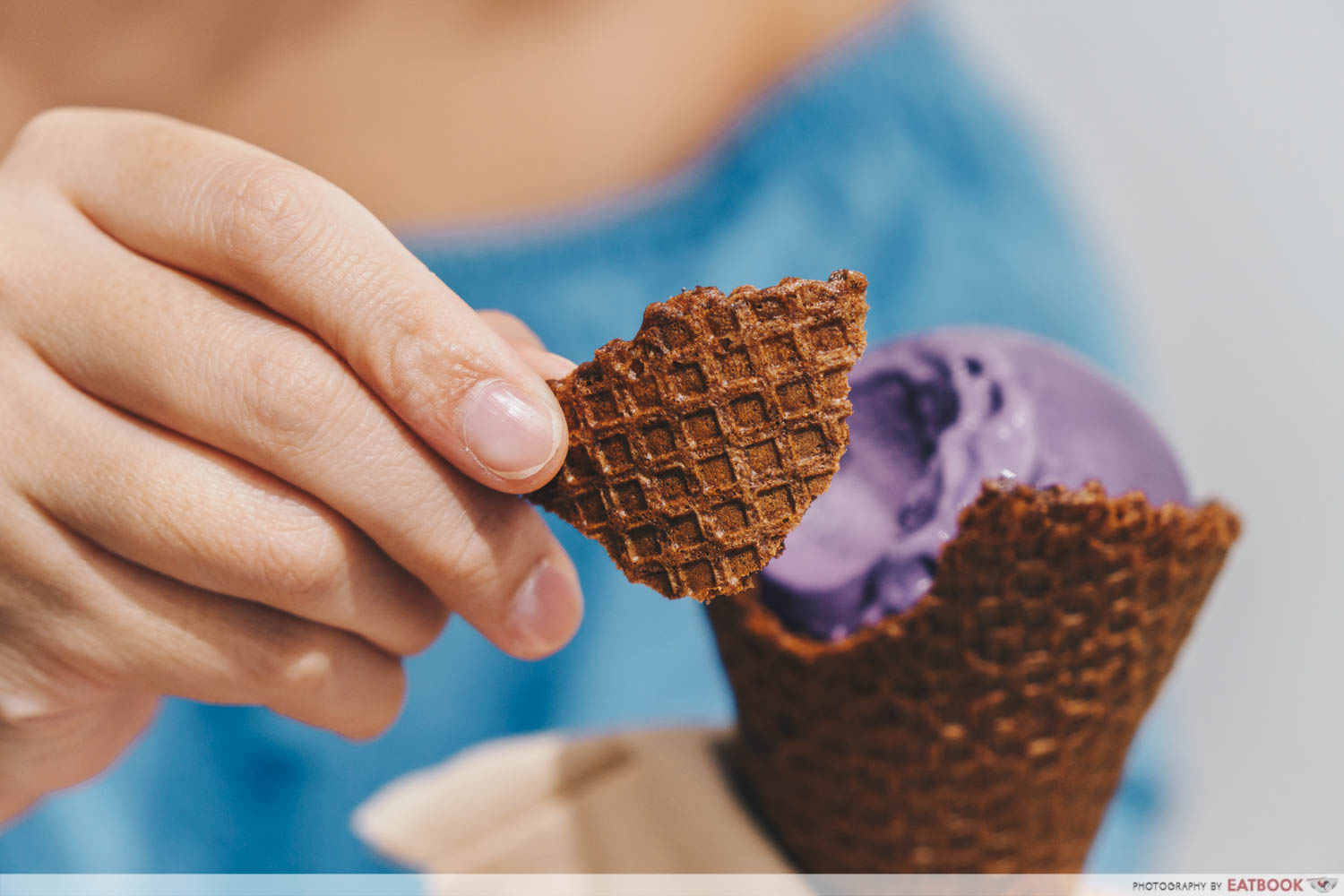 Light, my favourite of the bunch and the first of the trio being the least 'burnt', boasts eggy and buttery undertones and a crunchy texture. The medium one would be your regular waffle cone, while the dark one is bitter-sweet, yielding a crispier texture instead.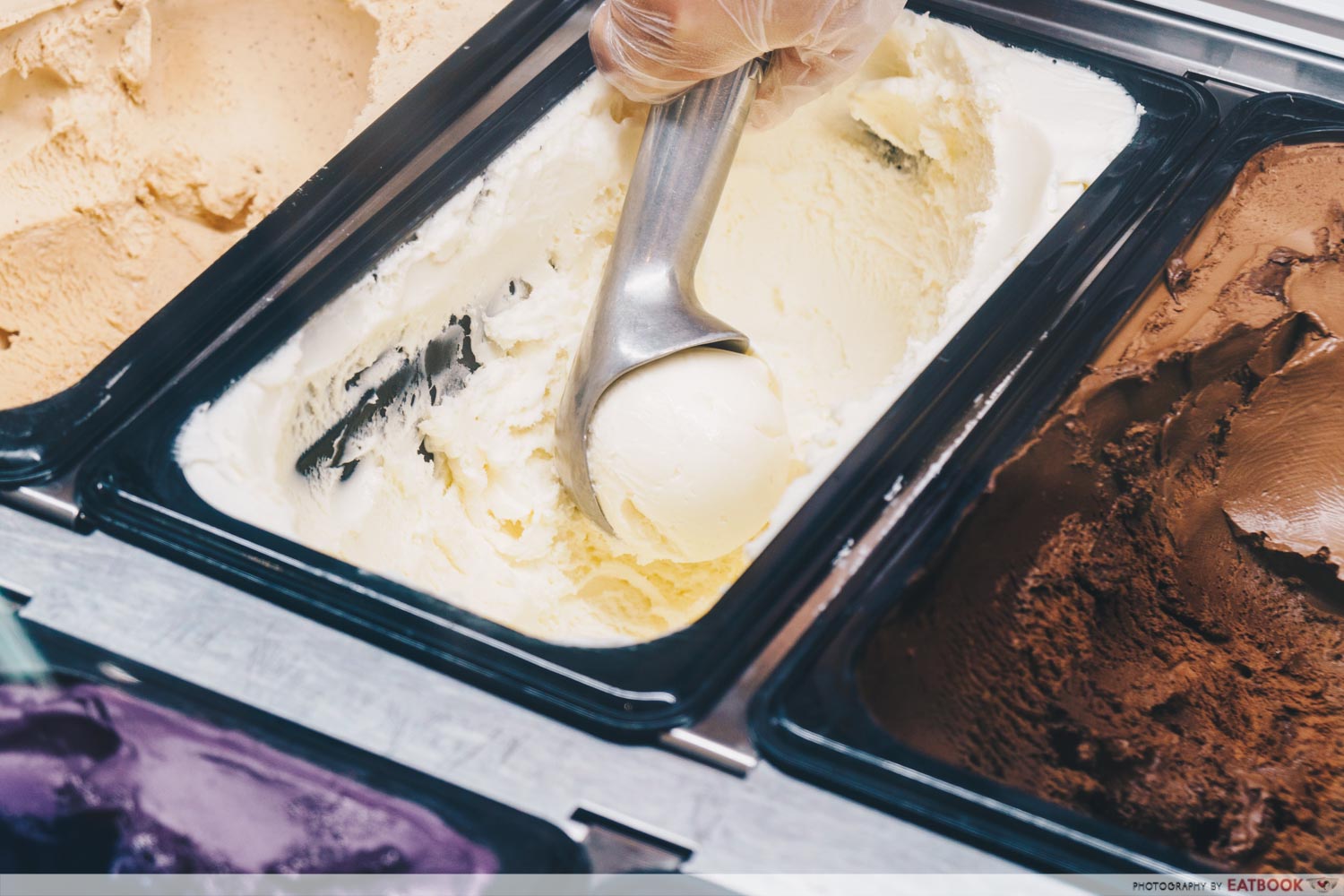 Pair the cones with a selection of 12 gelato flavours on rotation. A Premium Single Scoop is priced at $5, Double at $9, and Signature Scoops would set you back an additional $1 each. 
Other than classics such as Madagascan Vanilla, Oreo, 85% Dark Chocolate, and Pistachio, there are also notable novel flavours featuring Scamorza and Ube. It is also note-worthy that though this cafe is not halal-certified, their food contains no pork, lard, or alcohol.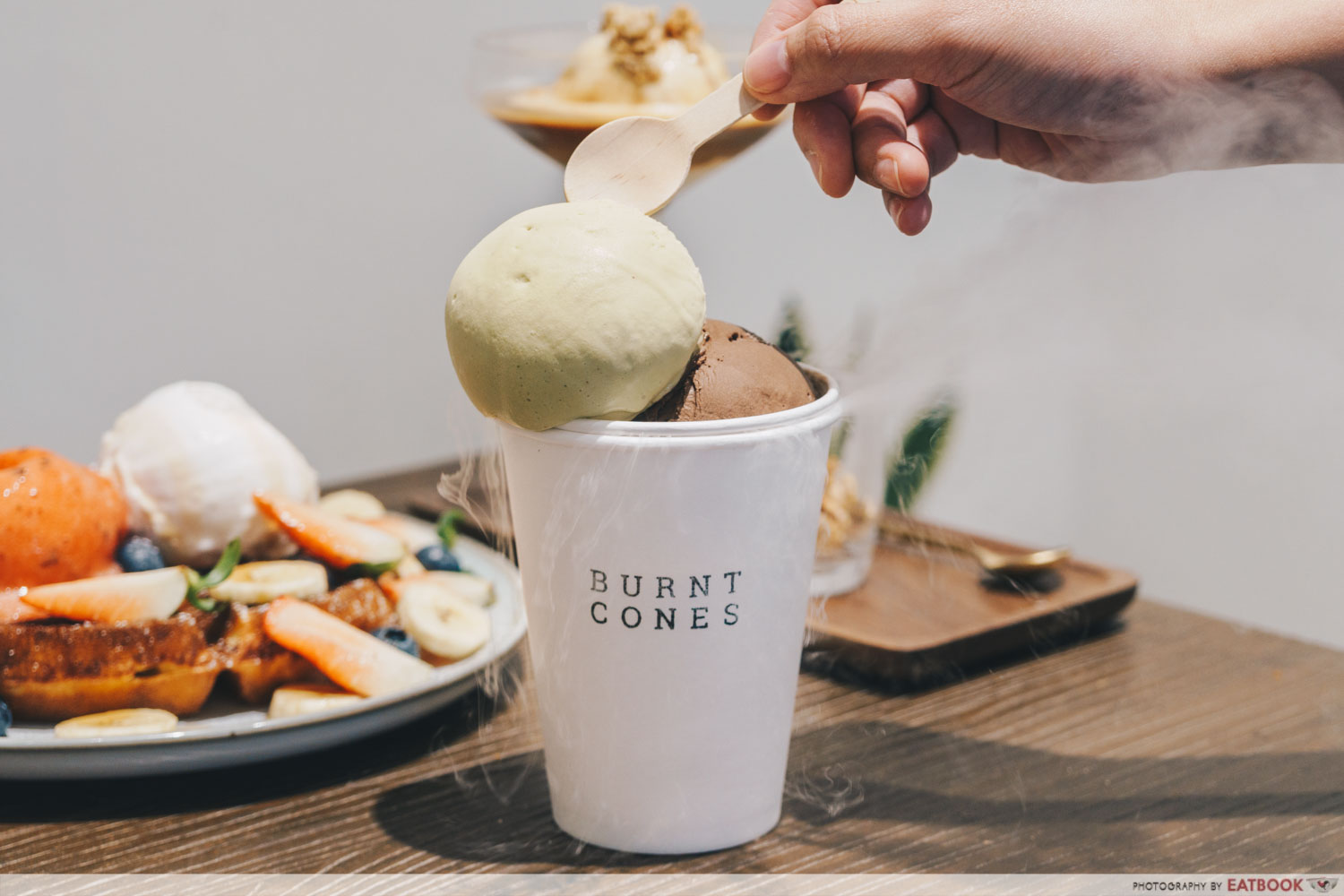 For me, the mark of a good gelato shop is how good its Pistachio ($6) flavour is. We got it in a double scoop cup with Bacio ($5) (chocolate and hazelnut), which automatically comes in a whimsical 'dragon's breath' effect, giving out smoke at the brim.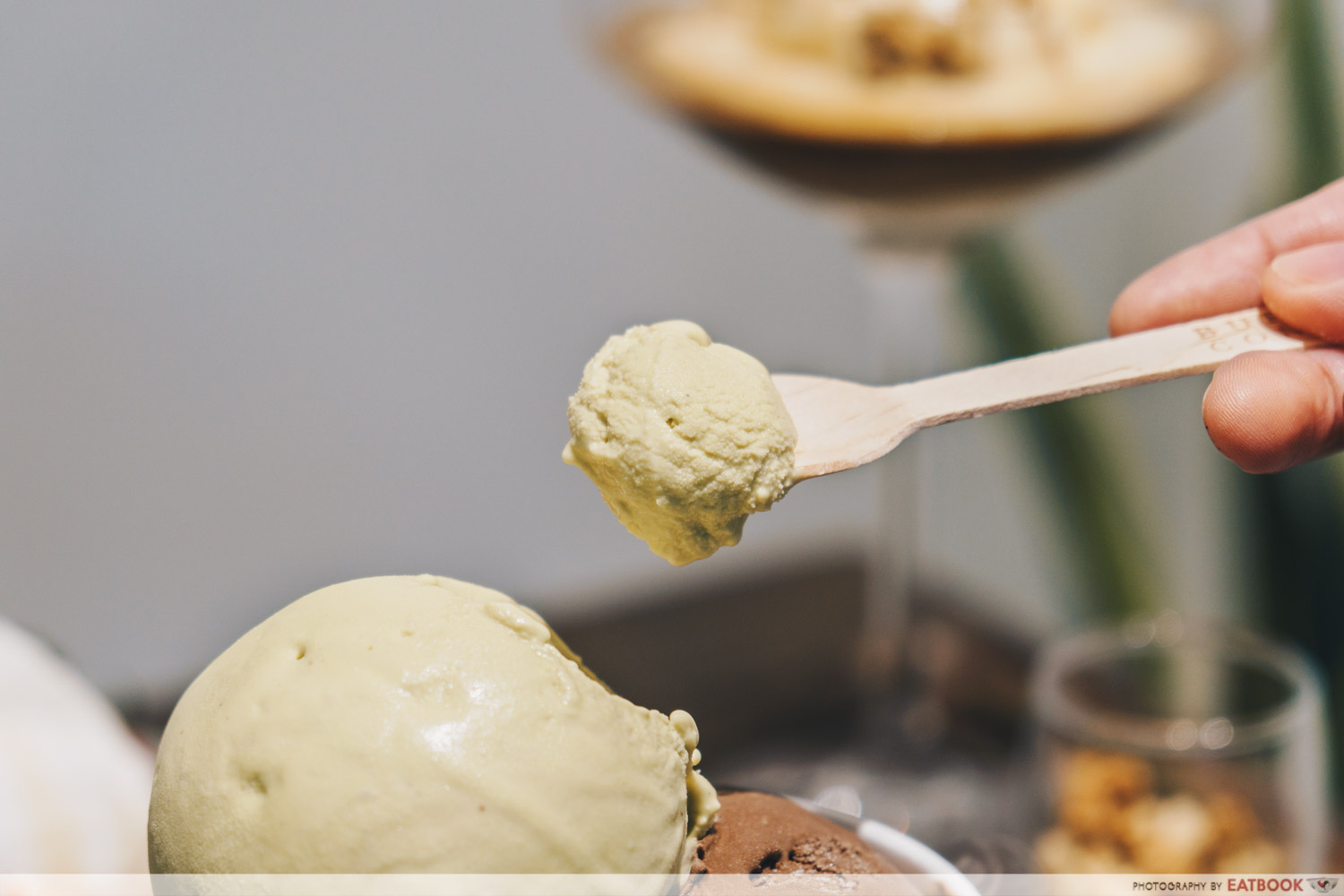 The Pistachio gelato ticked all the right boxes. It was smooth, creamy, and thick with a roasted nutty aroma. The robust notes of pistachio are rounded off with a milky finish, making each lick pure bliss.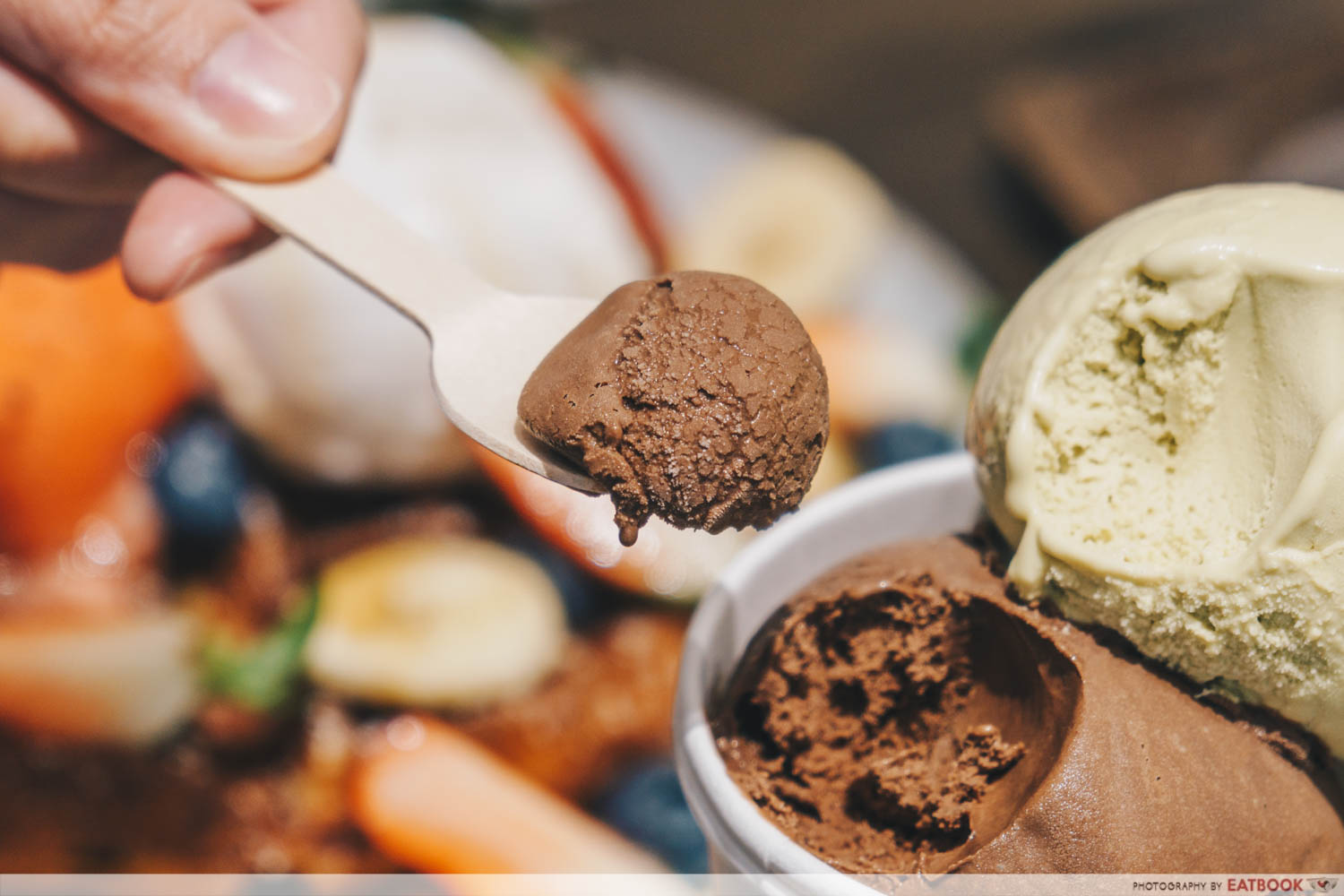 The intense Pistachio, however, made the Bacio pale a little in comparison. I was expecting a good balance of hazelnut and chocolate flavours, but the overly sweet hazelnut sent the gelato a tad off-kilter.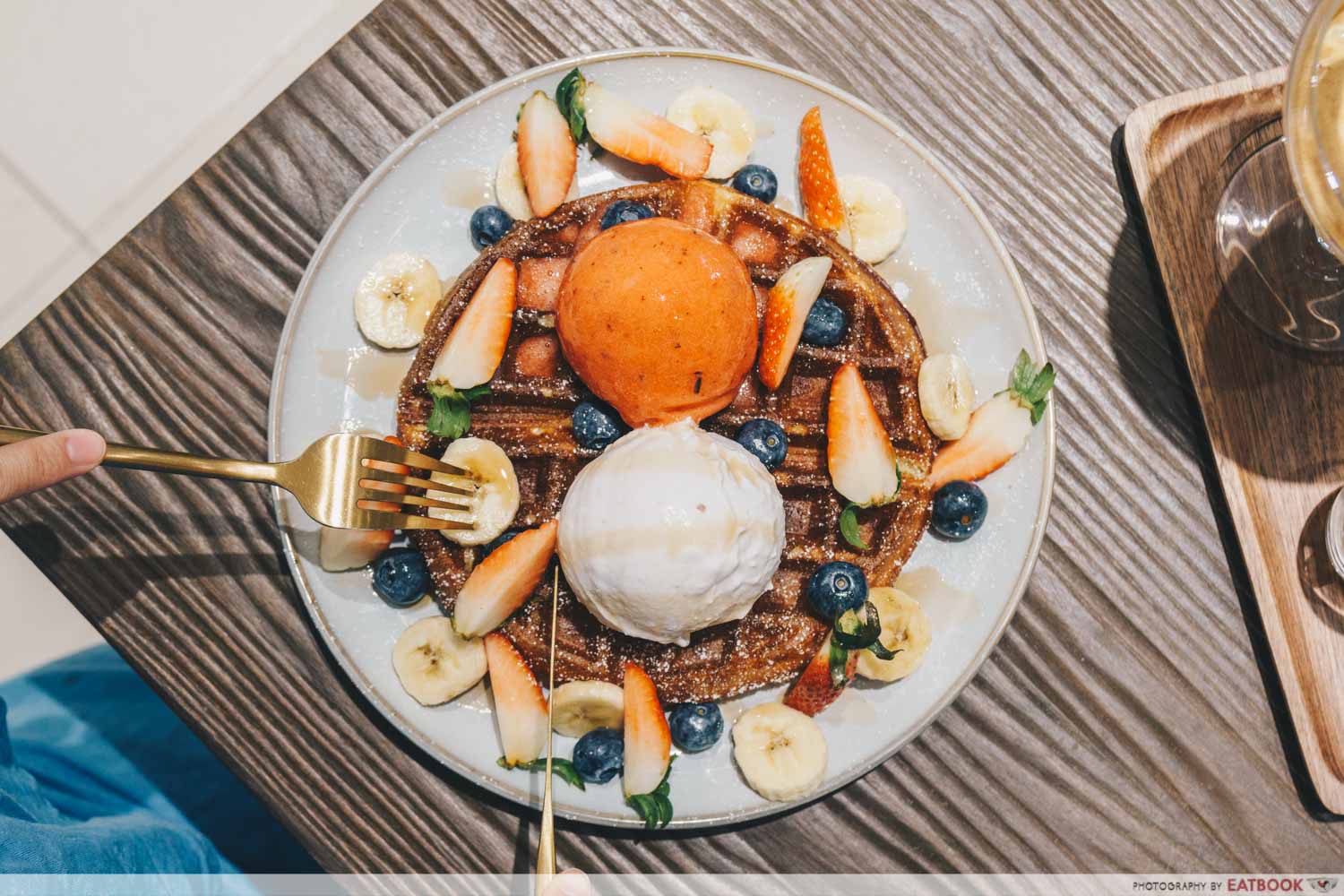 The Buttermilk Waffles ($6) here is a definite must-try, something worth standing in line for. I've personally been back for this slightly charred yet fluffy waffle too often than I would like to confess.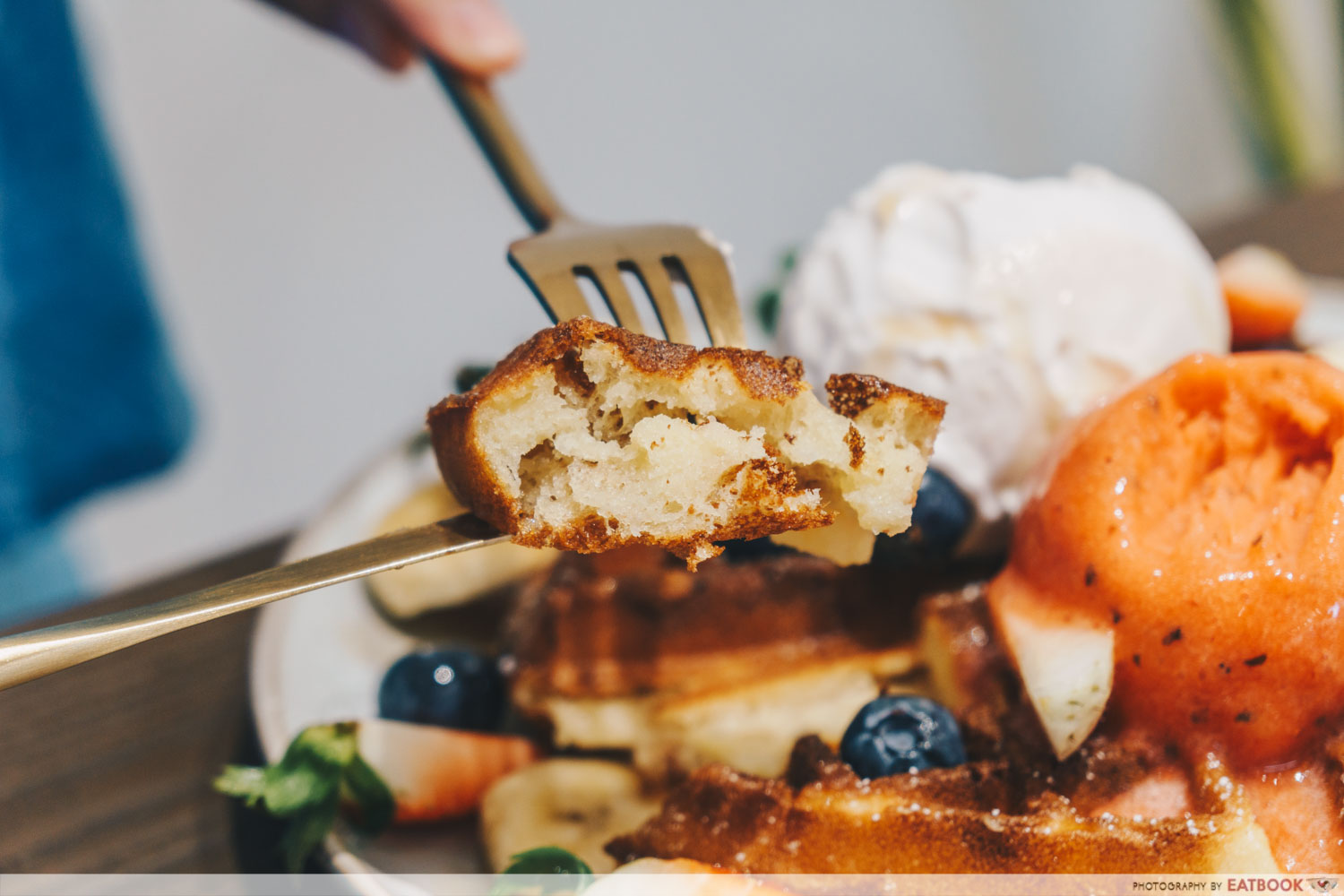 Burnt Cones' waffles sport a darker hue than typical waffles. This Maillard browning—hopefully done purposefully by the staff in the kitchen—gave each piece a beautiful contrast of outer crispiness and inner fluffiness. Slightly burning the waffles is a clever move, as the delicious caramelised crust was a nice touch for this buttery treat.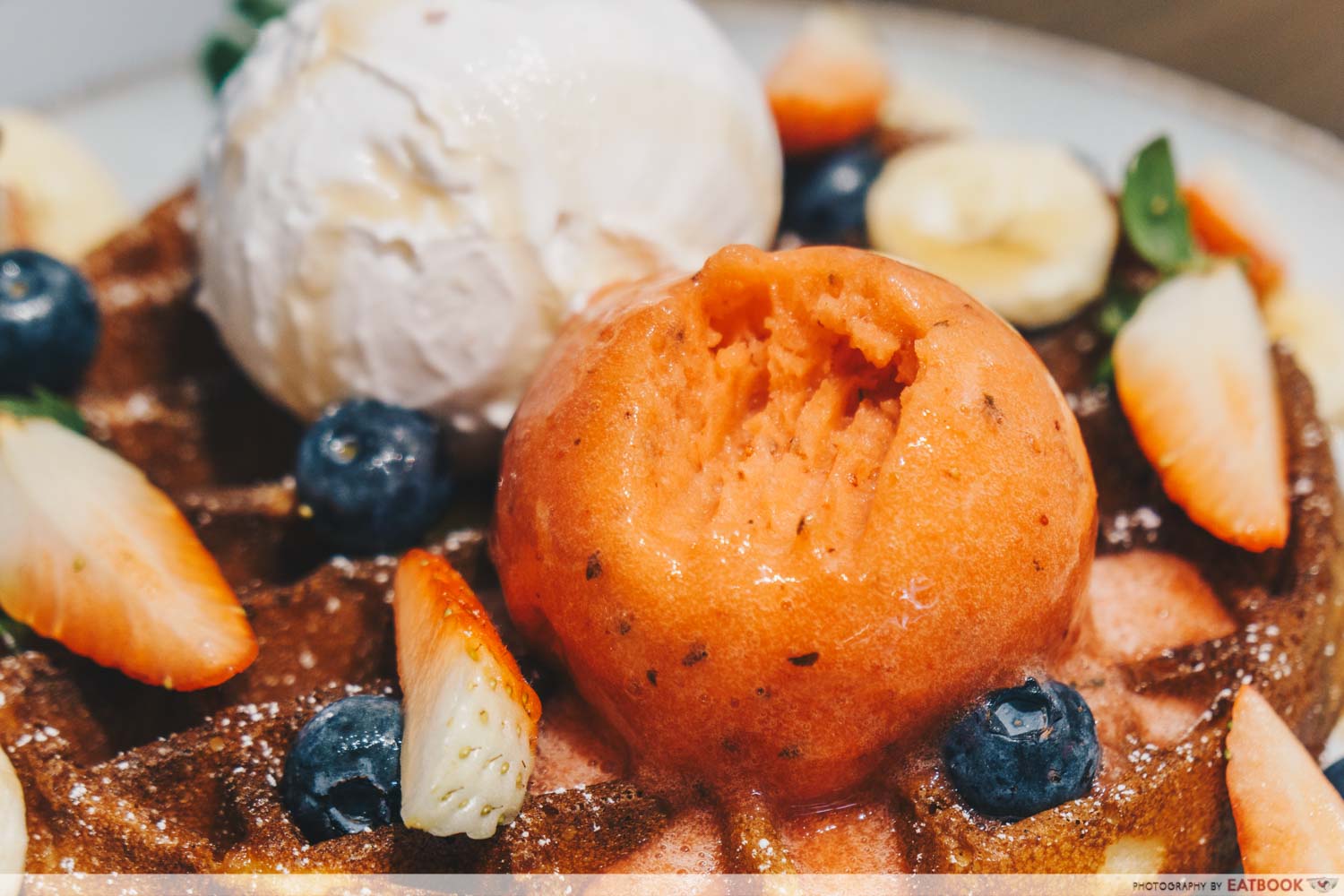 There are also vegan-friendly sorbets such as Strawberry Basil ($5) and Mango Passion ($5), which are brighter flavours that will go well with the indulgent waffles. While I found them to be a little too sweet, my sweet-toothed colleague thoroughly enjoyed her share.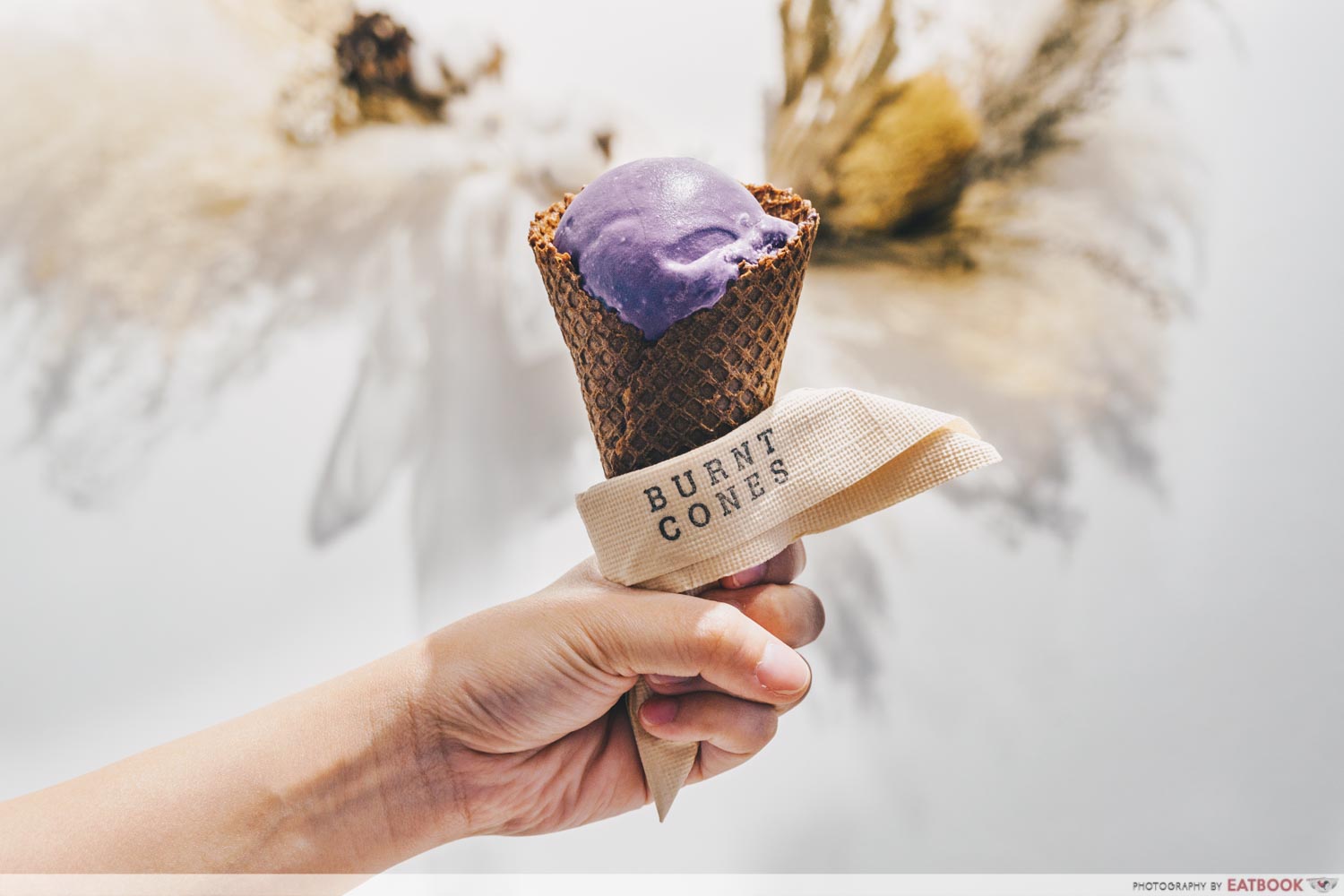 For those who are more adventurous, there is Ube ($5), or purple yam, which tasted like a sweetened orh nee dessert in ice cream form. There is also Scamorza ($5), or smoked cheese, which reminded us more of a super creamy smoked ham served cold.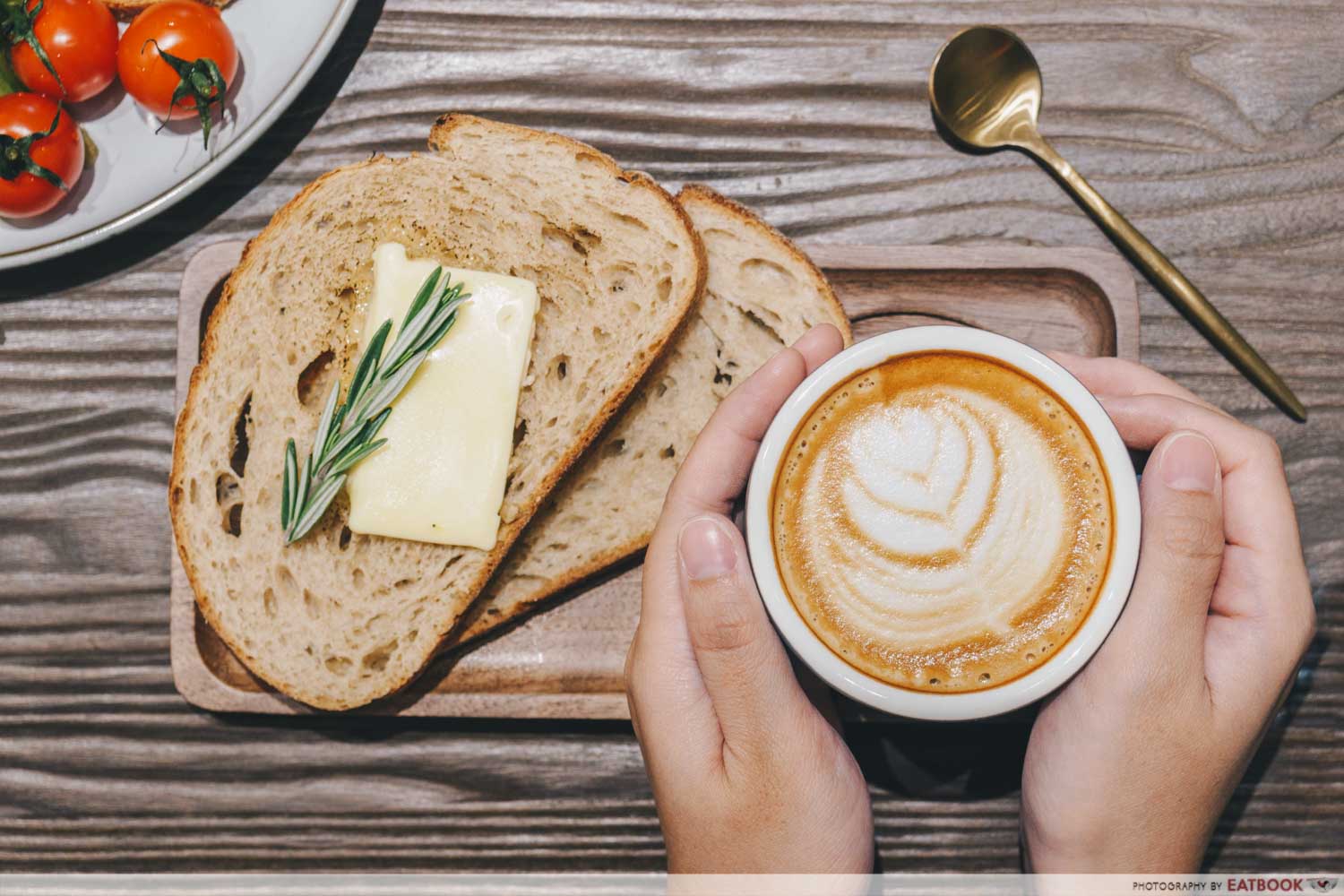 Burnt Cones also serve coffee, tea, and a menu of savoury brunch items from 9am to 1pm. Start the morning with a simple Sourdough Toast w/ Butter ($6), with bread sourced from local bakeries in the area.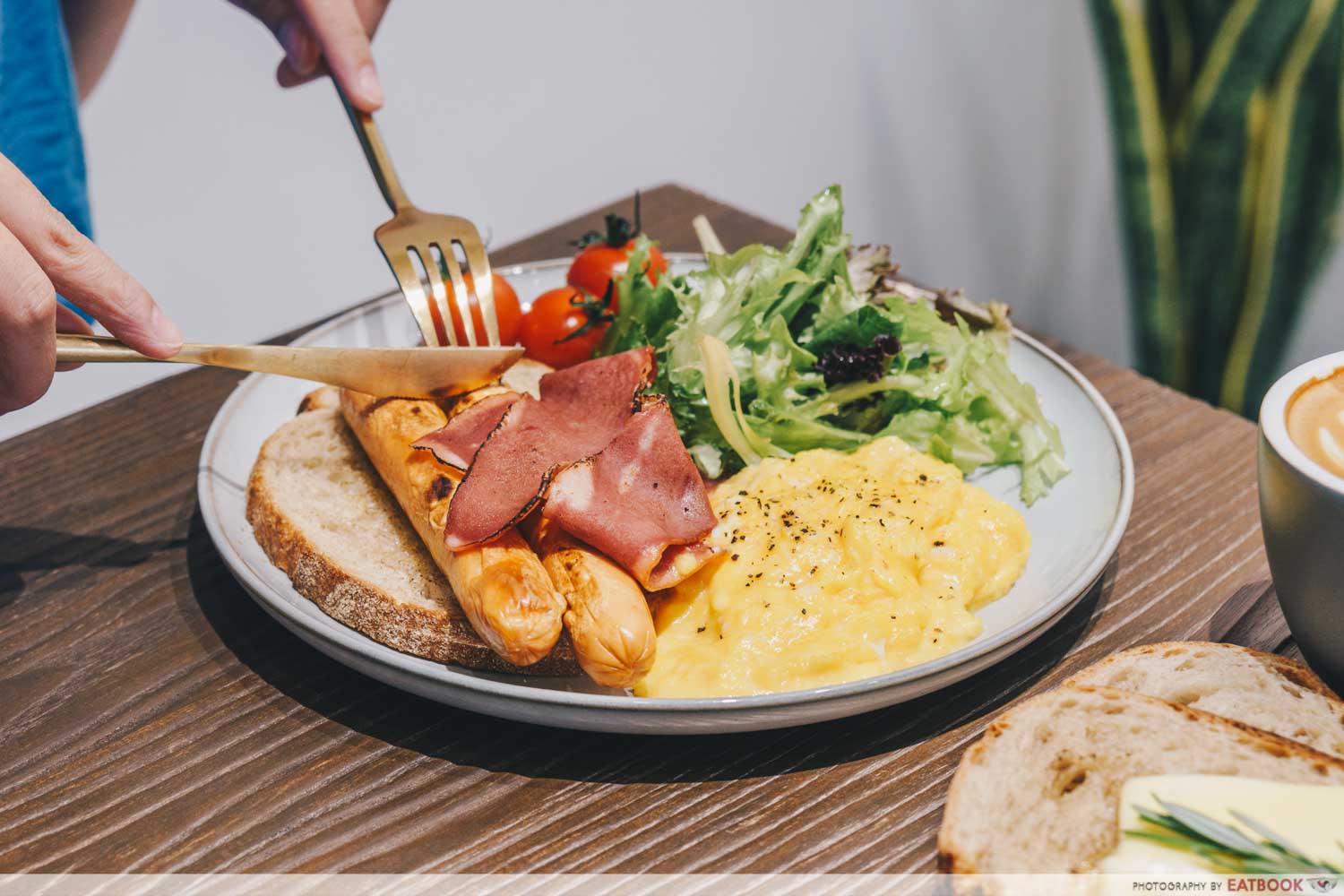 For something more hearty and mom-approved, The Lot ($16) is a balanced breakfast featuring toast, chicken sausages, turkey bacon, salad, and a bed of luscious, soft scrambled eggs.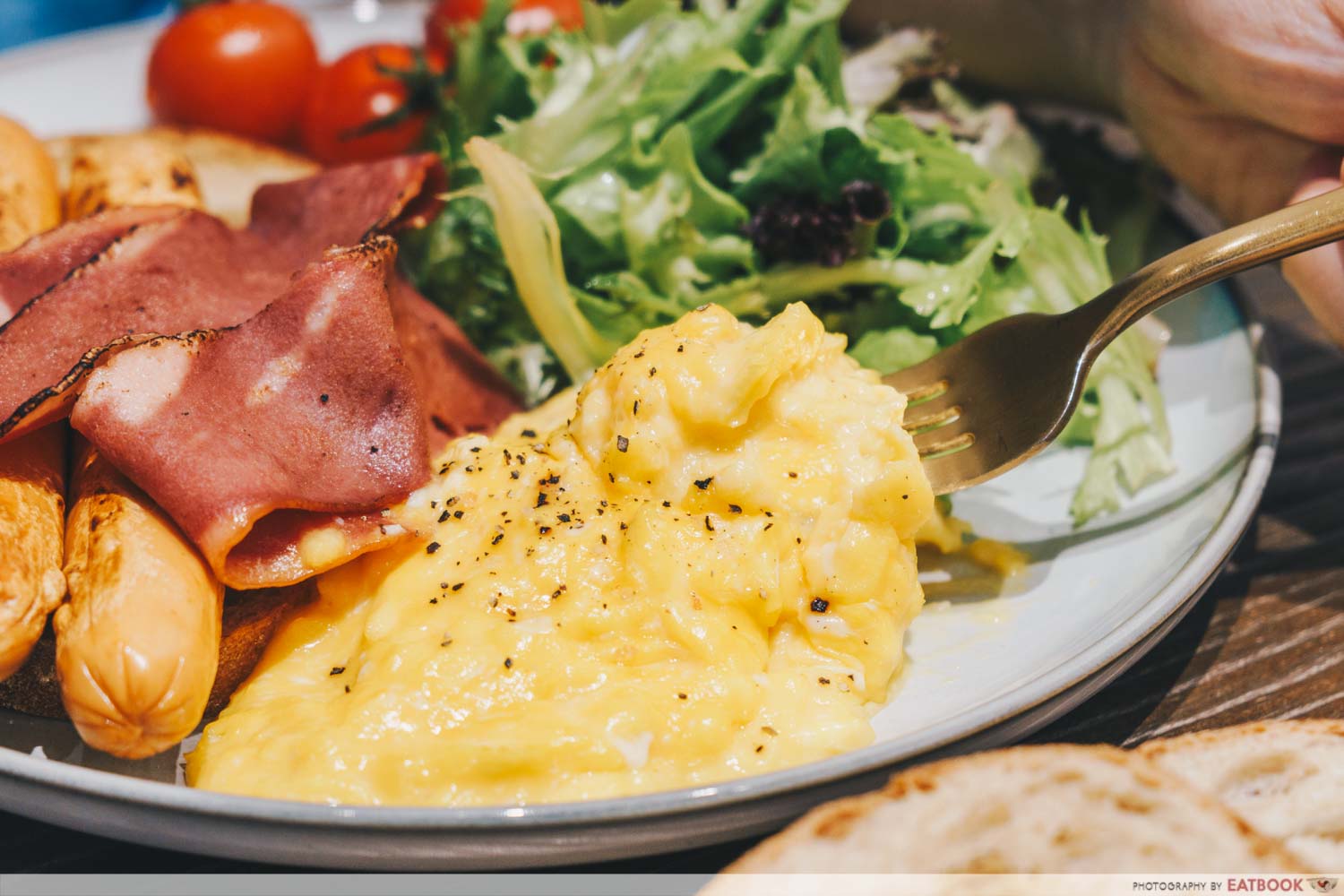 I'm not usually in favour of ordering breakfast platters in cafes as they are just made up of processed food, vegetables, and eggs—something one can easily put together at home. Thankfully, The Lot's scrambled eggs were expertly whipped into a creamy consistency. It was dreamy and delicious, perhaps due to a generous amount of butter used in the process.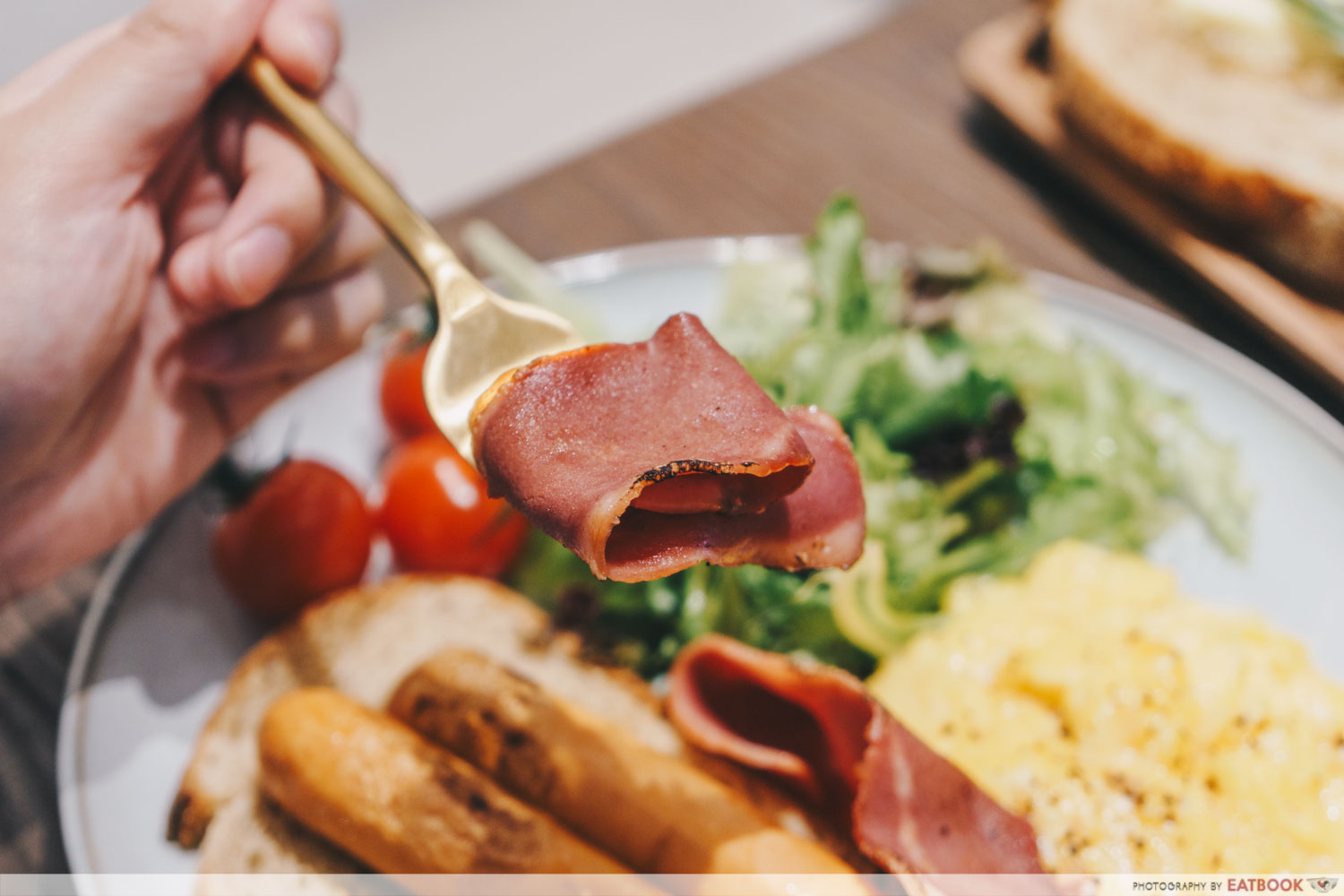 The turkey bacon and sausages are slightly charred and also on the salty side, but nothing the bread and eggs can't counter. 
Ambience at Burnt Cones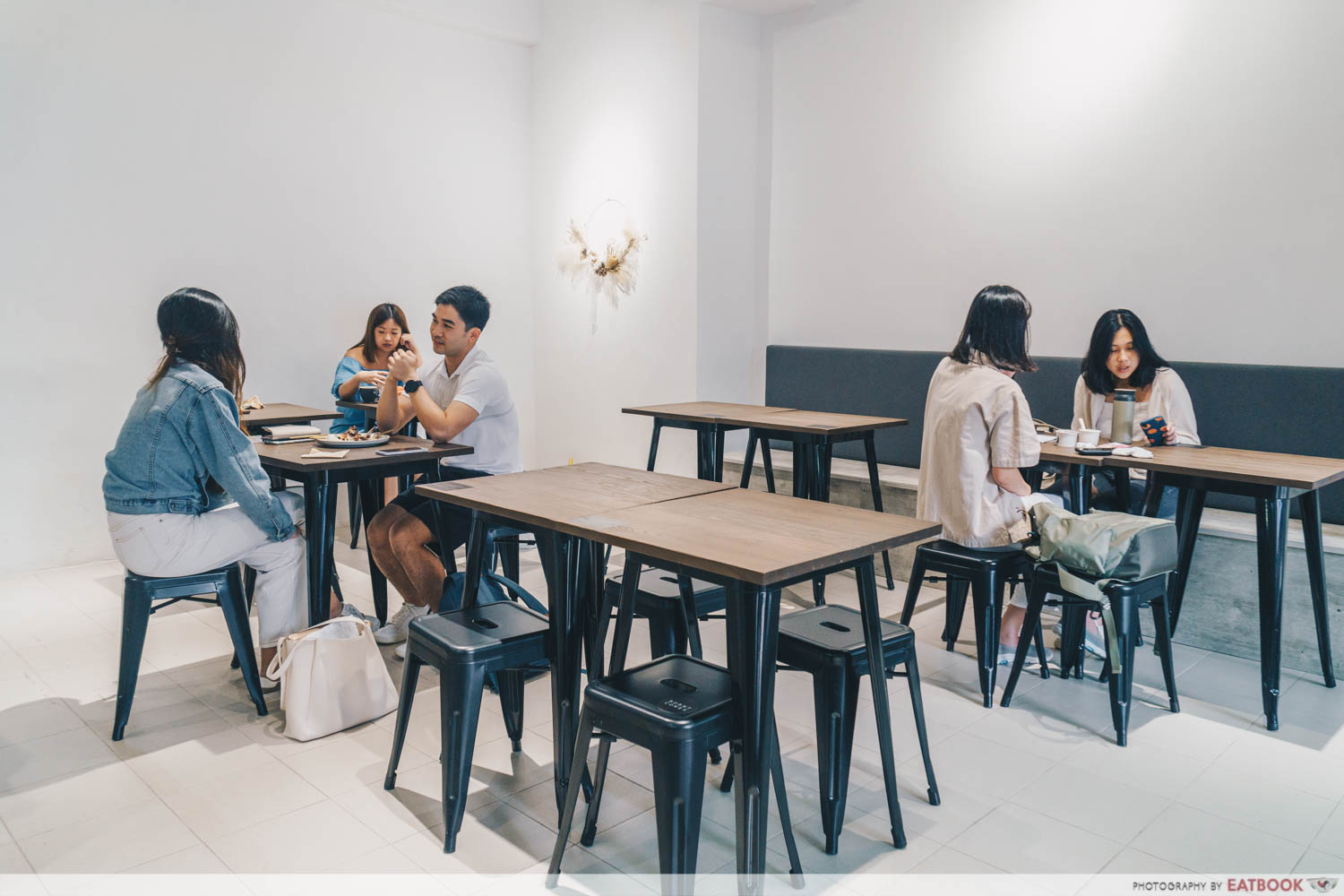 Though small and minimalist, Burnt Cones sits approximately 20 indoors, and more at their alfresco spot outside. There is always a perpetual queue at meal times, so be ready to wait for a table. I highly recommend just ordering scoops for takeaway, as the area has a nice park nearby, with sightings of otters and slow tortoises bobbing about in the lake.
The verdict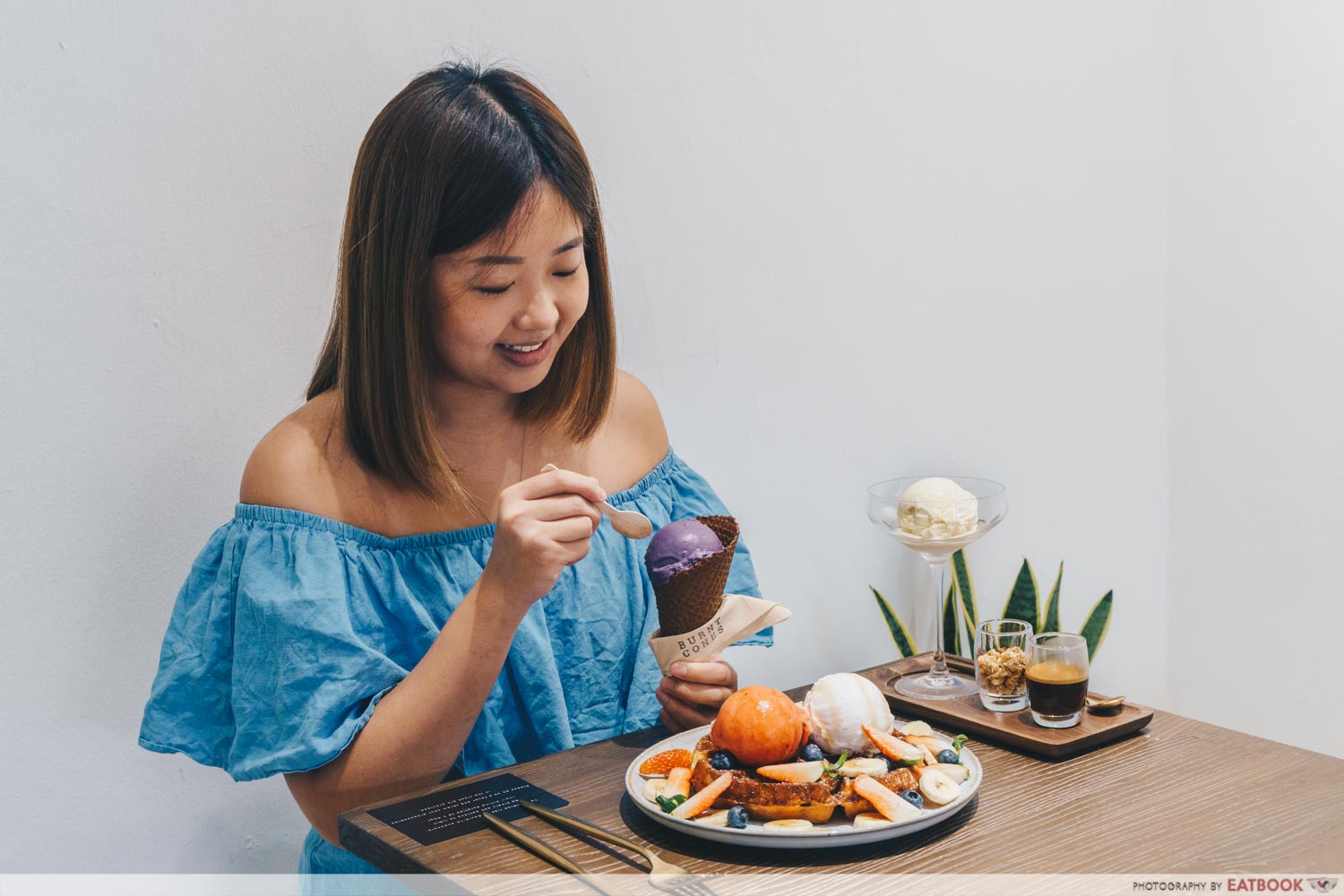 The unique concept of this ice cream cafe, along with friendly staff, good food, and dessert got me vowing to return. The only gripe I have about Burnt Cones would have to be how cloyingly sweet some flavours were. 
The cafe is opened by the same people behind TORCHED, which is a hawker stall located just a stone's throw away. They serve value-for-money rice bowls and meat platters that you can visit just before heading to Burnt Cones!
If you're looking for more sweet treats, check out our Porcelain Cafe review for some IG-worthy acai bowls, or our Rabbit & Fox review for customisable BBTs and brunch food in town. 
Address: 105 Clementi Street 12, #01-02, Singapore 120105
Opening hours: Daily 9am to 12am
Tel: 9711 1097
Website
Burnt Cones is not a halal-certified eatery, but their food contains no pork, lard, or alcohol.
Photos taken by Lim An.
This was a media tasting at Burnt Cones.
TORCHED Review: New Hawker Stall With XXL Meat Platters, Mentaiko Salmon Don And More At Clementi
The post Burnt Cones Review: New Clementi Cafe Open Till 12am For Waffles And Gelato Such As Yam And Pistachio appeared first on EatBook.sg – New Singapore Restaurant and Street Food Ideas & Recommendations.