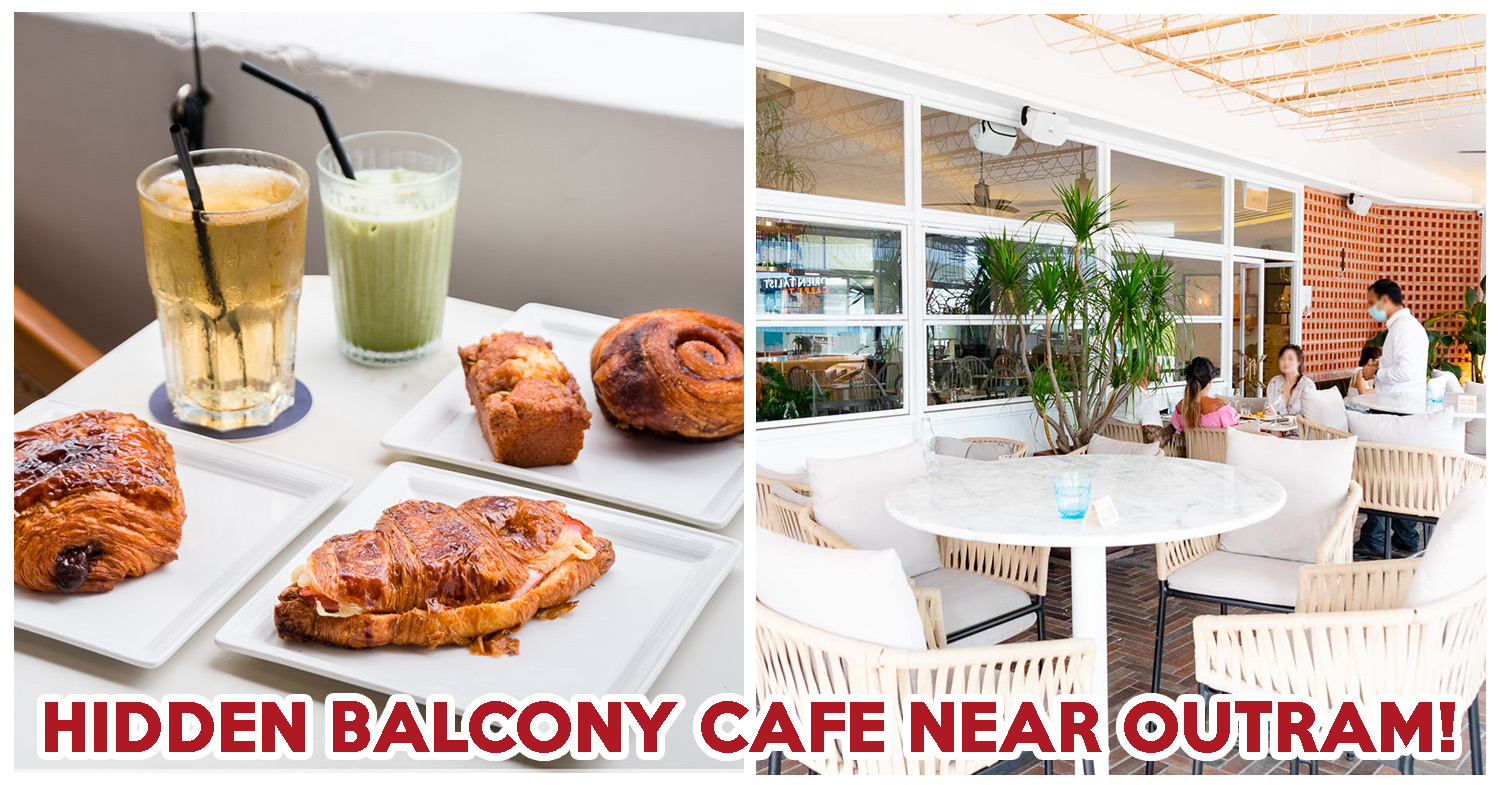 Anther by Glasshouse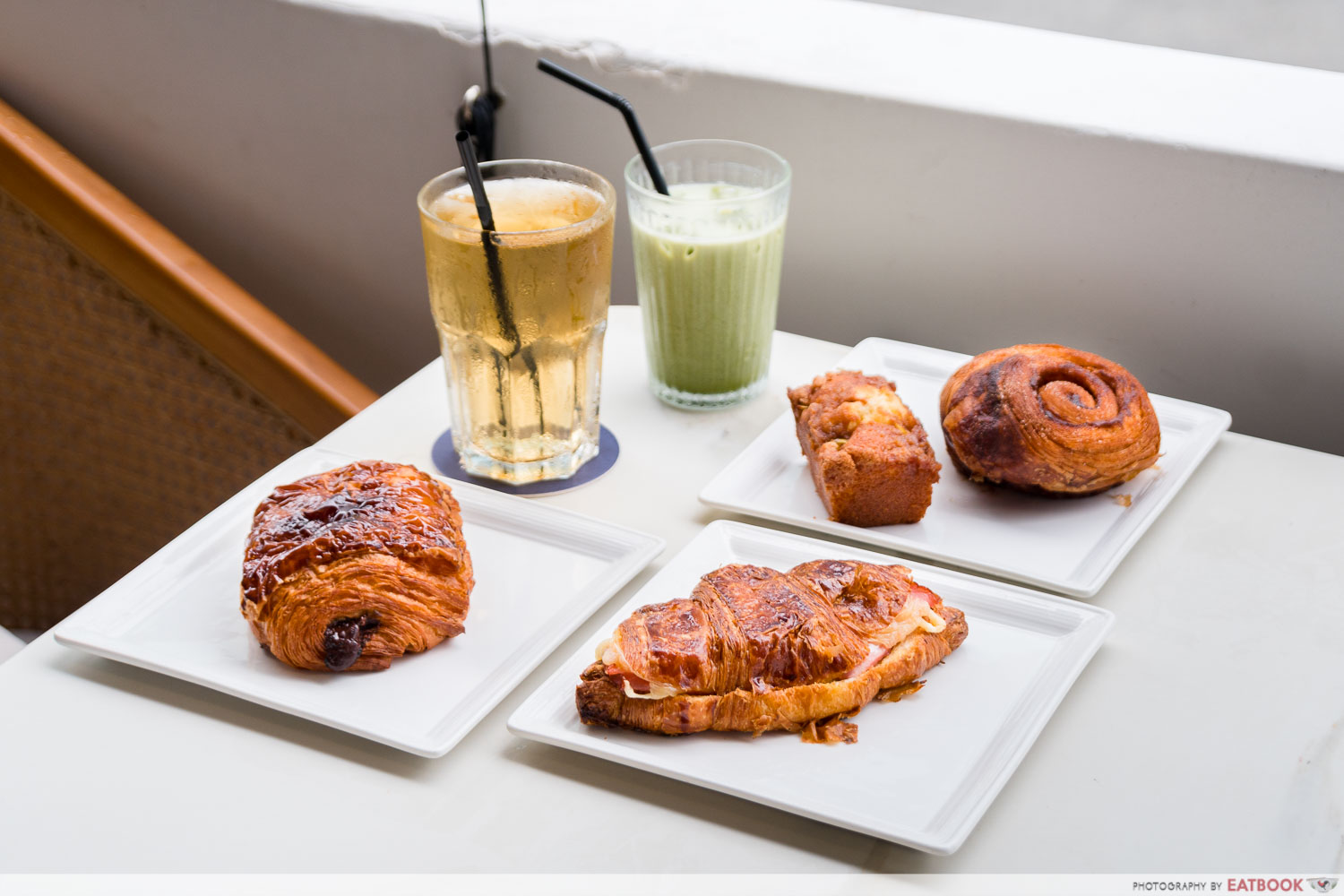 I first chanced upon Anther by Glasshouse on TikTok, and its promise of immaculate Singaporean tai tai vibes,with the cafe's balcony views of the surrounding HDB estate. There's a shroud of mystery surrounding this cafe—it's relatively hidden, sharing space with Angie's Oyster Bar, in an ulu area with no nearby MRT station. Despite that, my colleague and I soldiered on and zipped down, eager to see if it was worth making a trip to. 
Do note that takeaways are currently available at Anther by Glasshouse, in light of Phase 2 (Heightened Alert).
Sweetea Caffe Review: IG-Worthy Rustic Cafe Has Afternoon Tea On A Balcony With Chinatown Views
Food at Anther by Glasshouse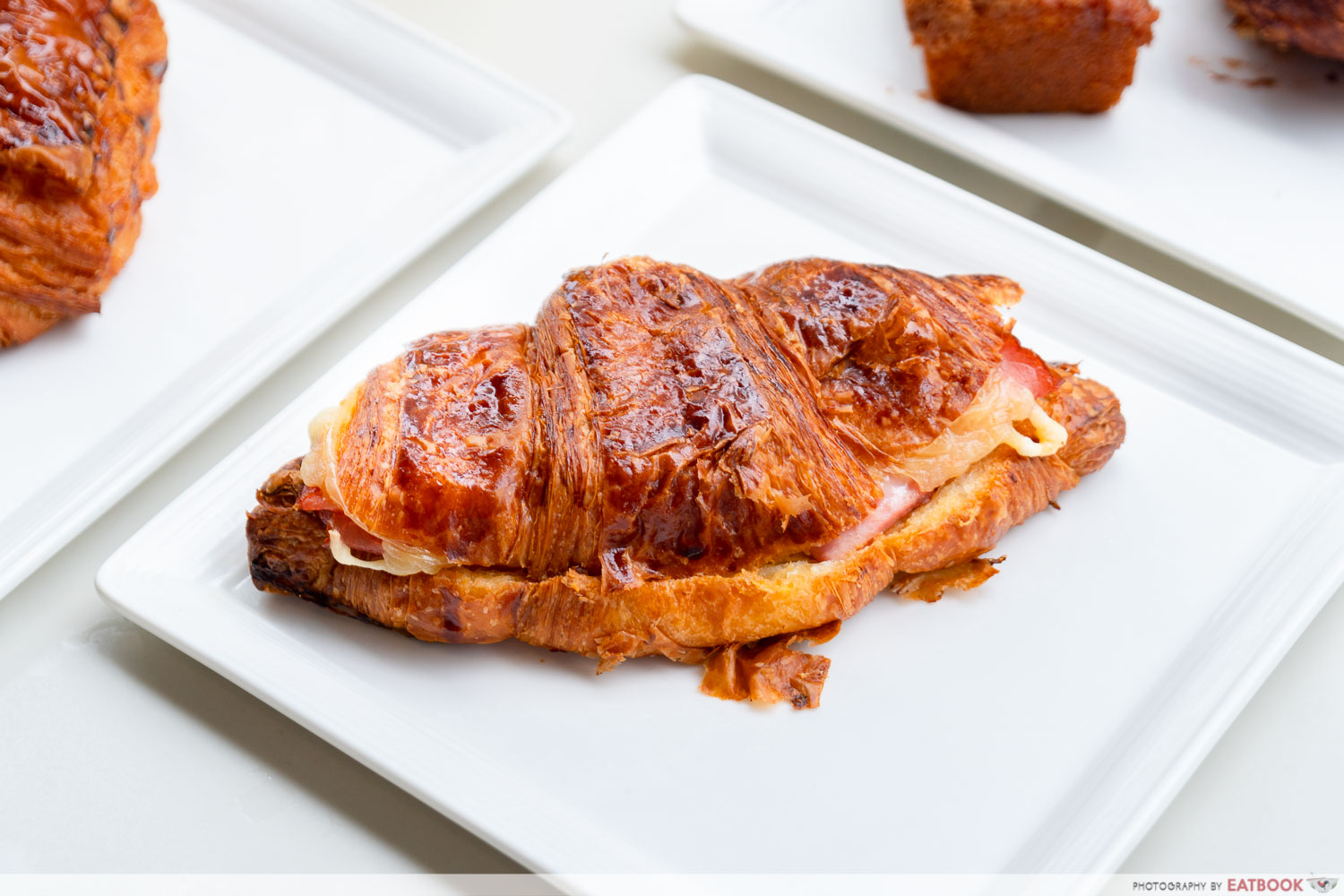 Anther by Glasshouse offers a rather small selection of pastries and beverages, though you're free to supplement your meal with the menu from Angie's Oyster Bar. 
We started our meal with Ham & Cheese Croissant ($8++), one of the only two savoury options on the list.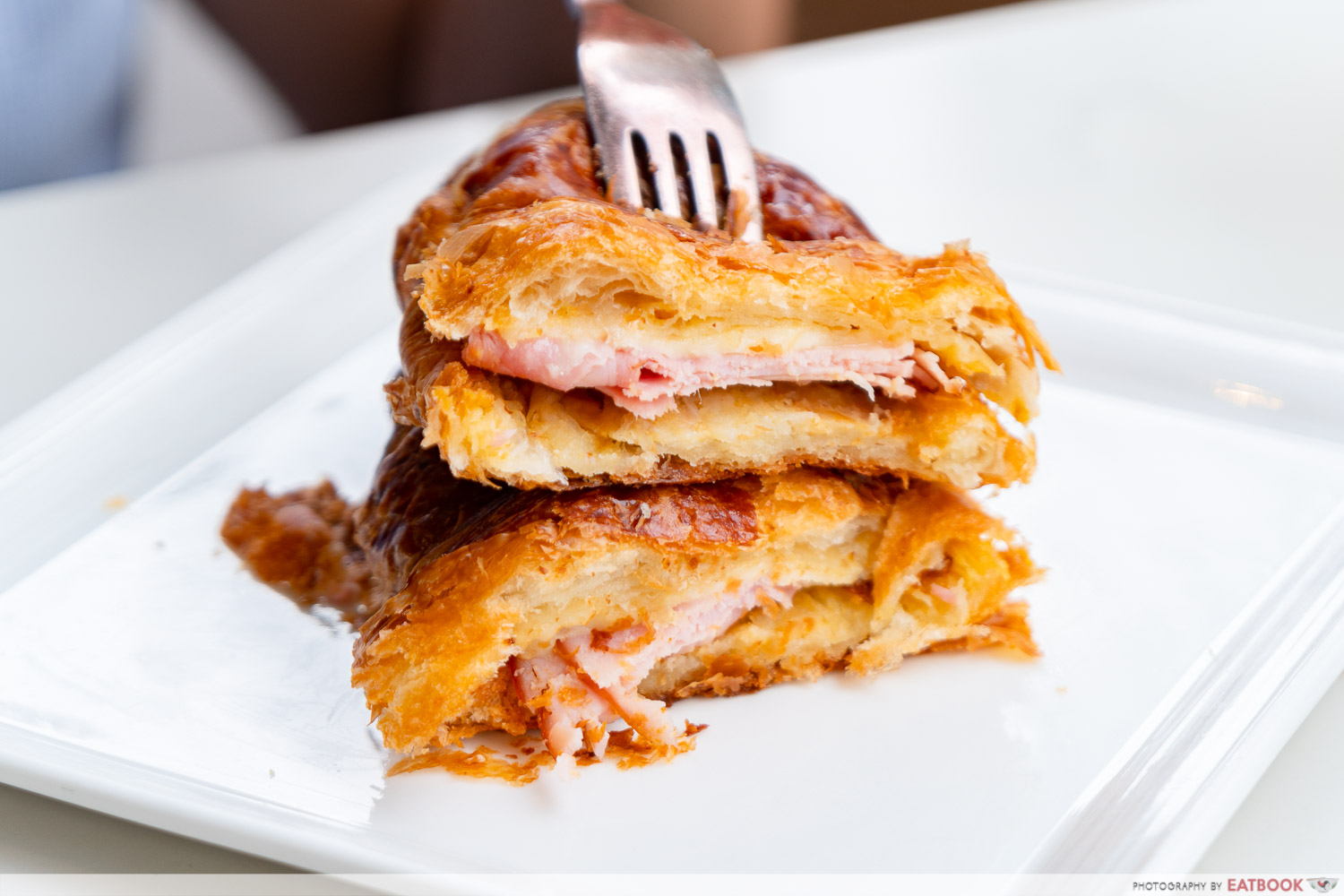 The croissant did not tick my boxes for crispiness and flakiness—elements that I personally believe a good croissant should have. However, I enjoyed its laminated exterior, as well as its buttery flavour. Meanwhile, the cheese here was rather mild-tasting, pairing well with the tender slices of ham.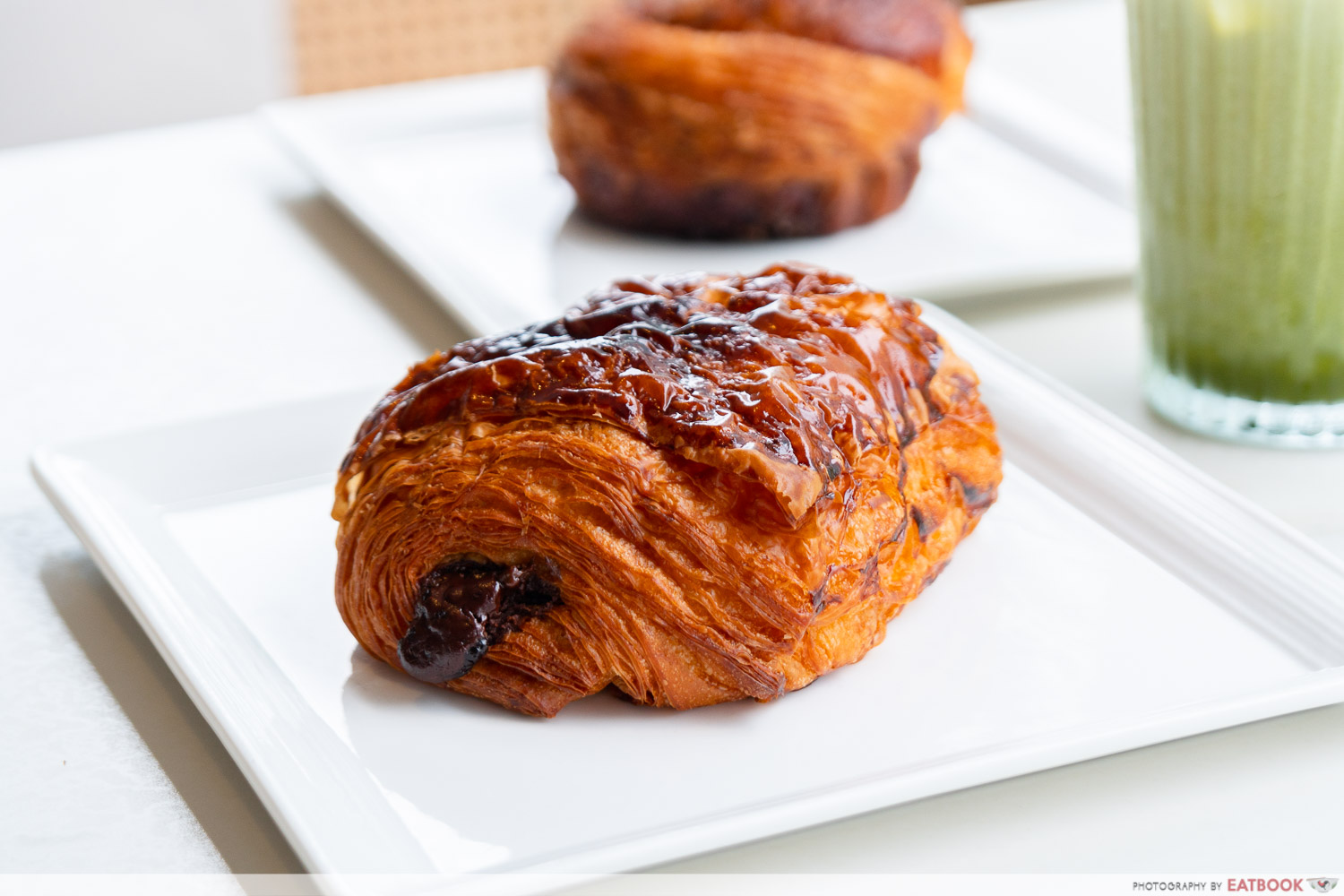 We quickly moved on to a bunch of sweets, starting with the classic Pain Au Chocolat ($6++), where a croissant enwraps a block of melted chocolate.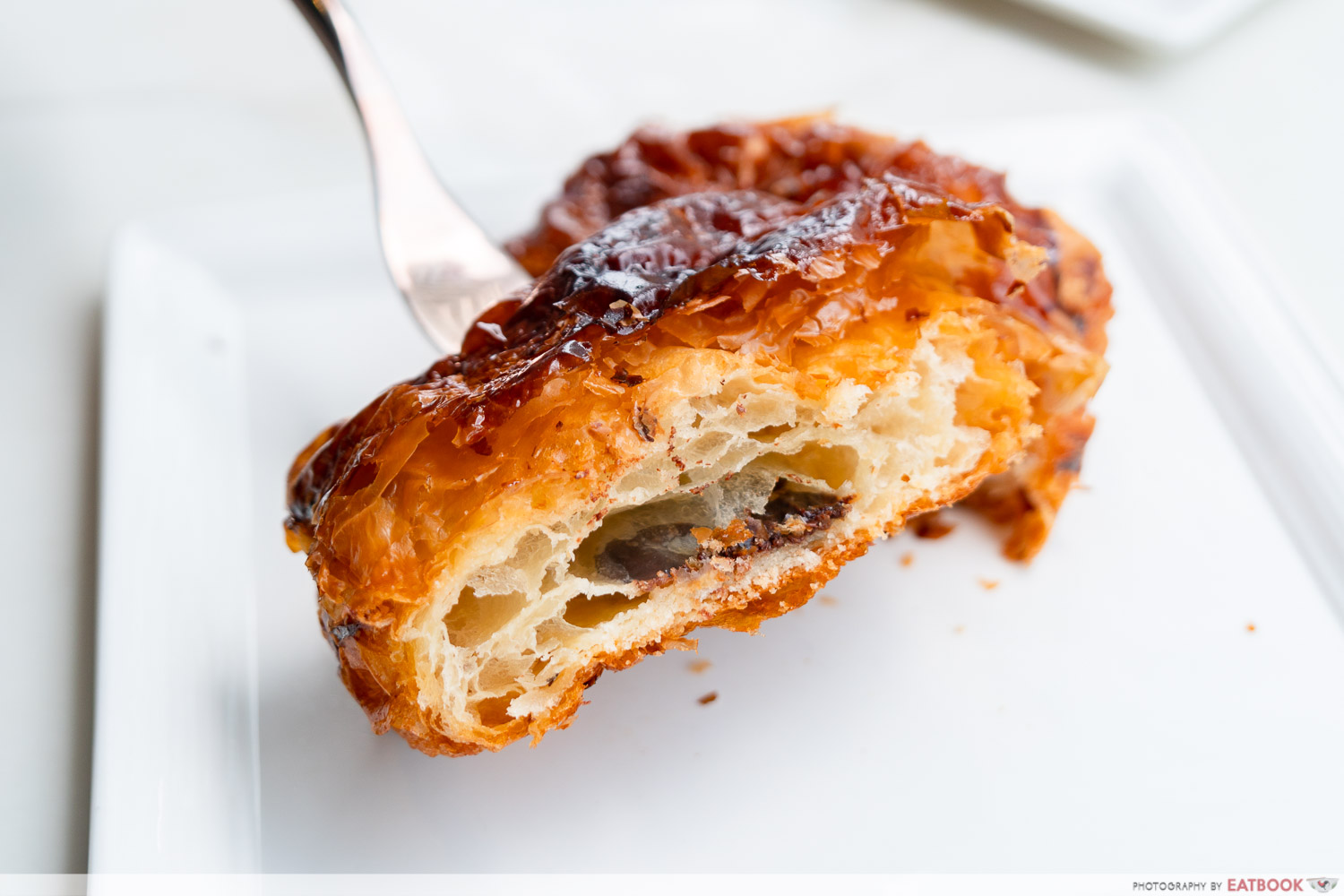 Once again, the pastry here was missing that crispiness and flakiness. It was also a tad chewy for my liking, and difficult to bite through. Meanwhile, the chocolate filling was sorely lacking,  with too little present for me to thoroughly enjoy its rich sweetness.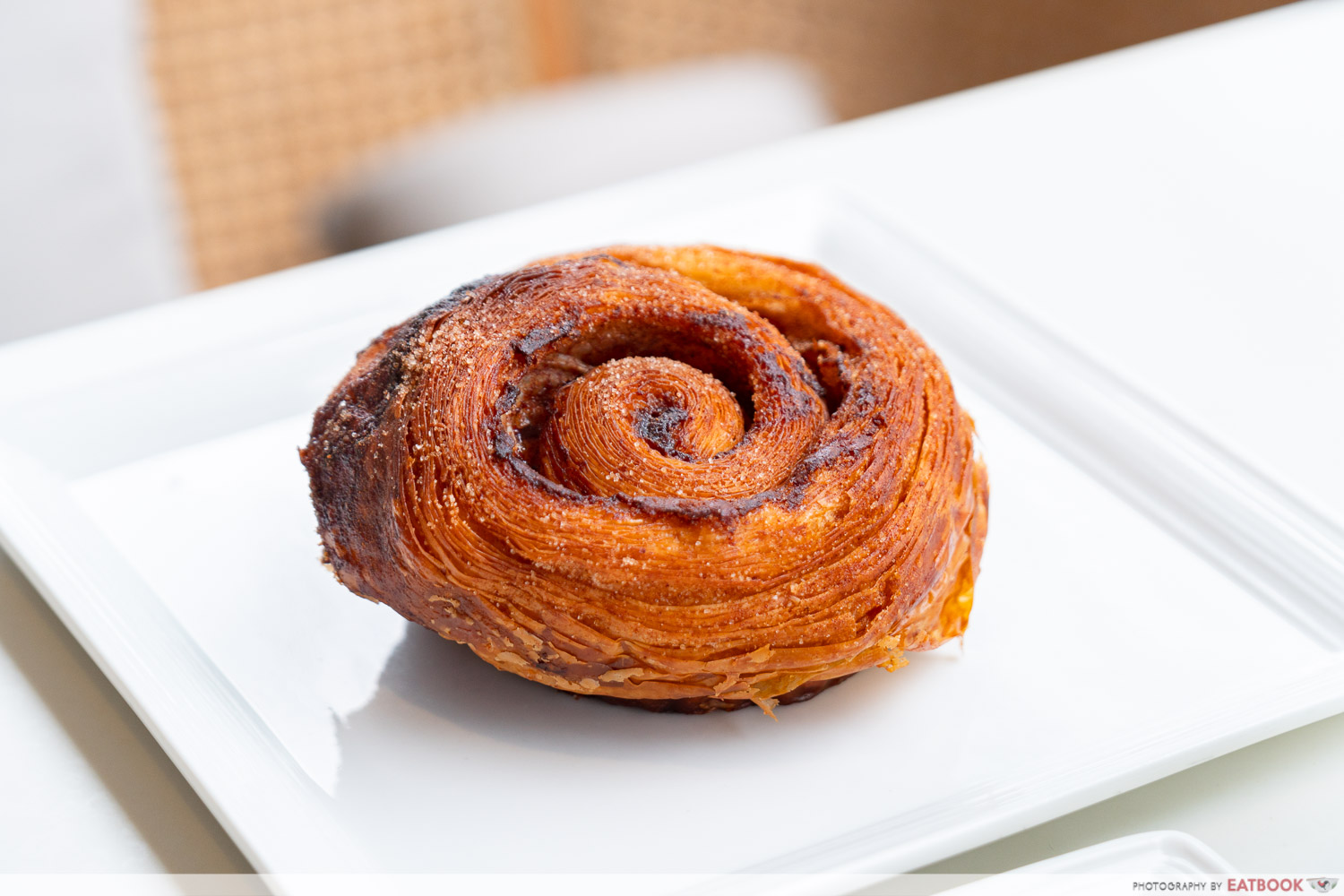 The next item on our list was the Cinnamon Roll ($6++), a circular pastry that's laced with swirls of cinnamon.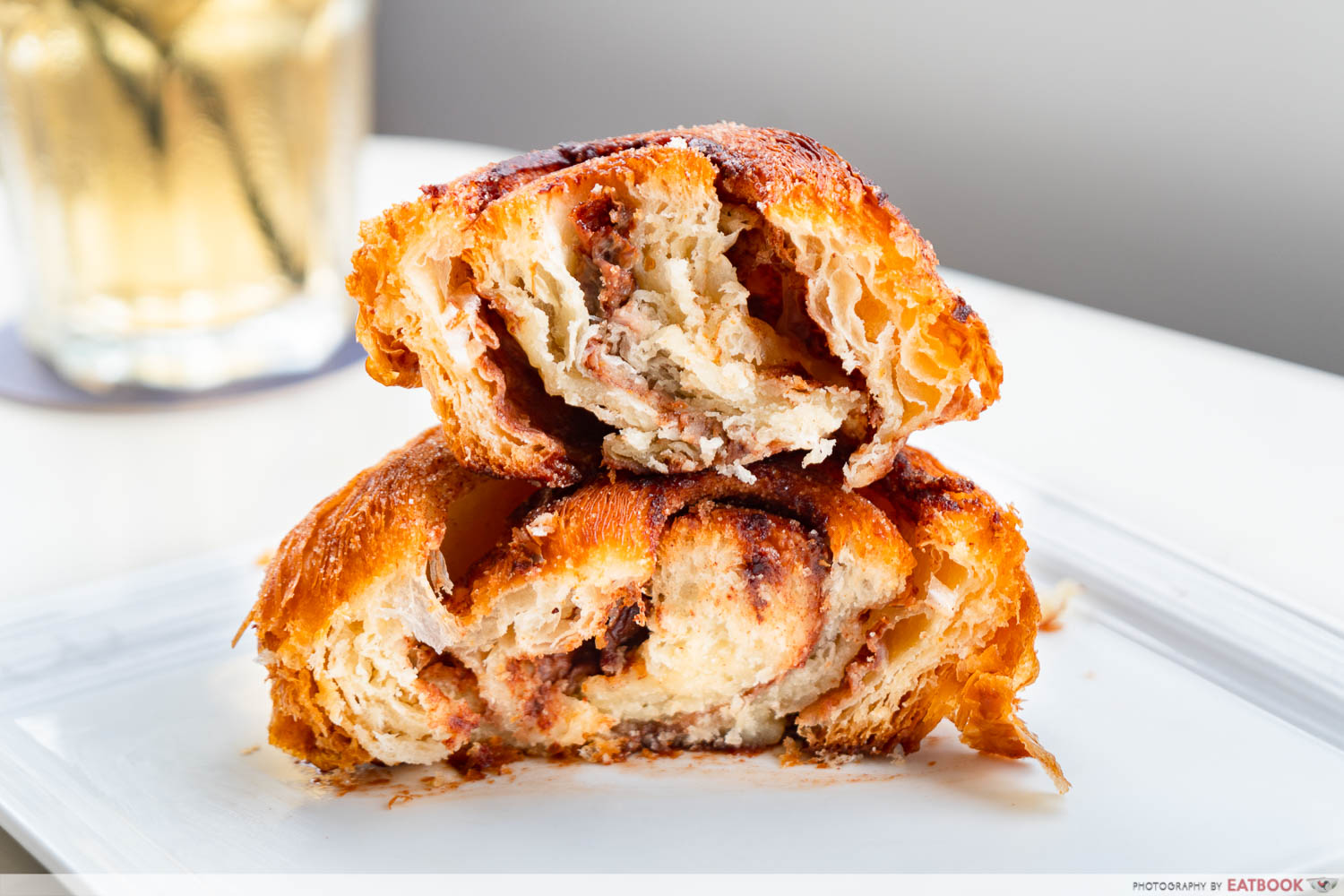 While the pastry felt a touch too doughy, I liked that the exterior of this cinnamon roll remained crisp, unlike the previous items that we tried. The cinnamon was also very fragrant, without being overly sweet, and brought some stickiness for textural variation.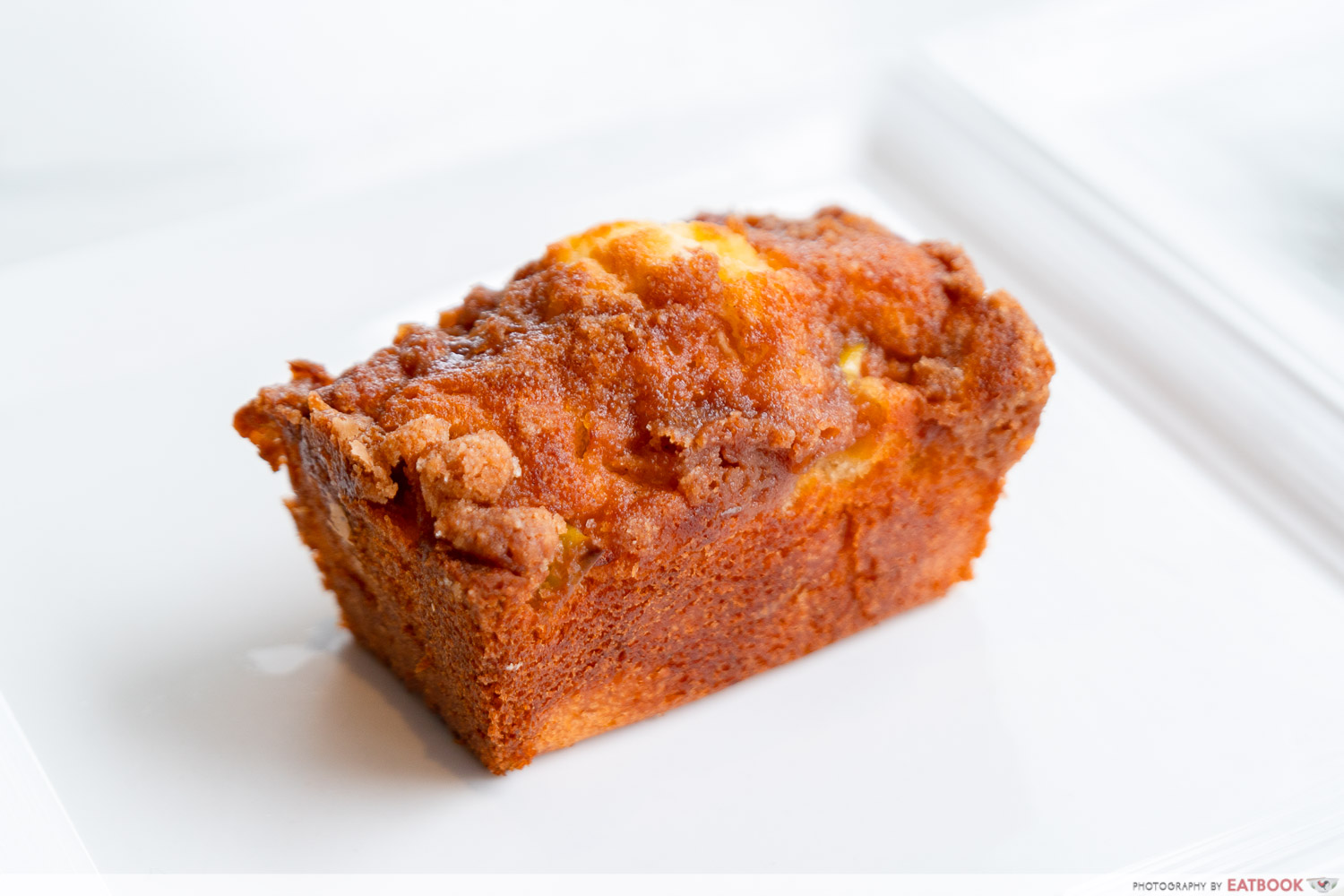 We rounded off our slew of sweets with the Apple Loaf Cake ($6++), which happened to be my favourite item of the ones that we tried that day.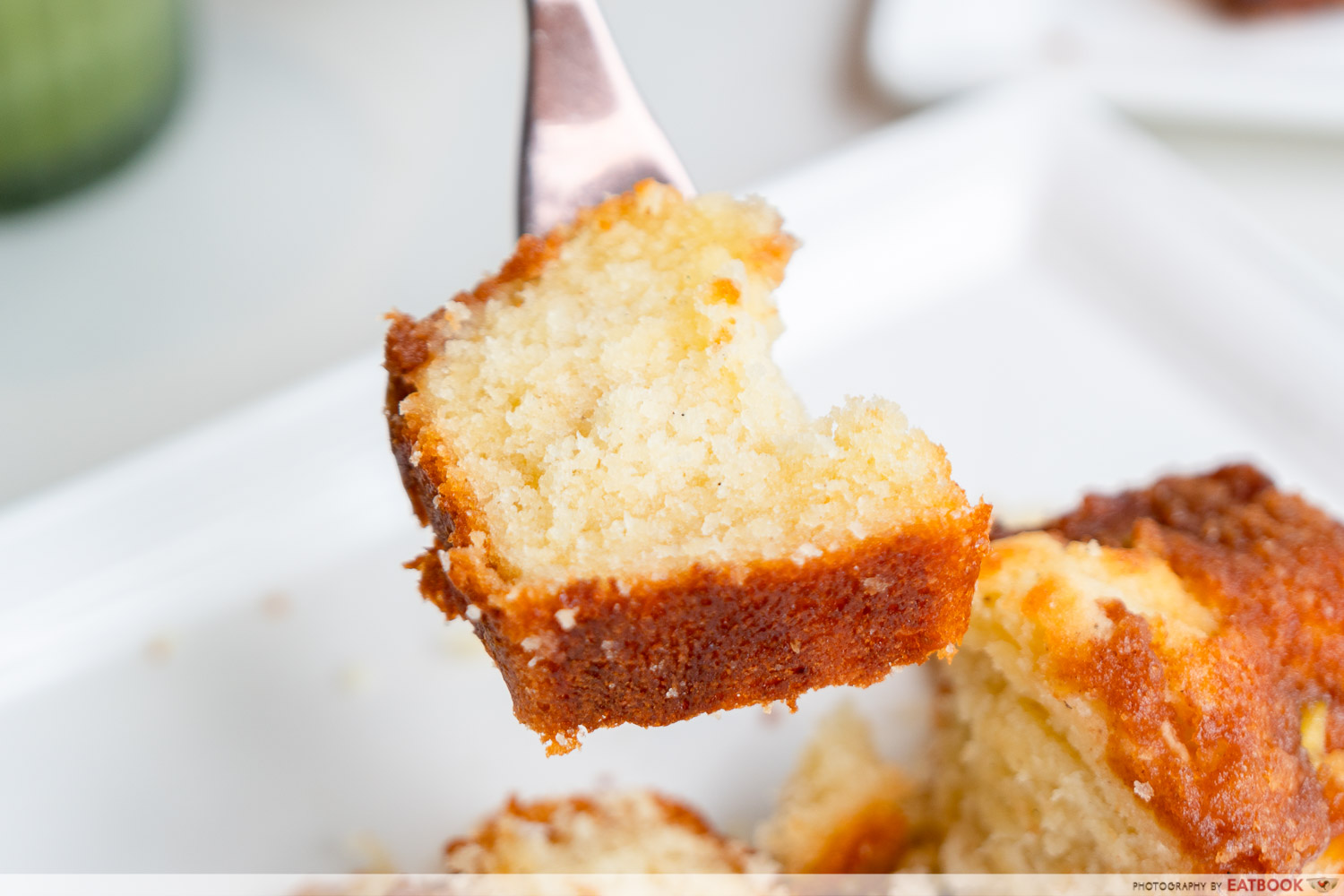 The cake was soft and moist, falling right between fluffy and dense, while the little bits of streusel on top provided a complementary crunch. You can really taste the sweetness of apples here as well, perfuming the buttery cake with a light, fruity fragrance.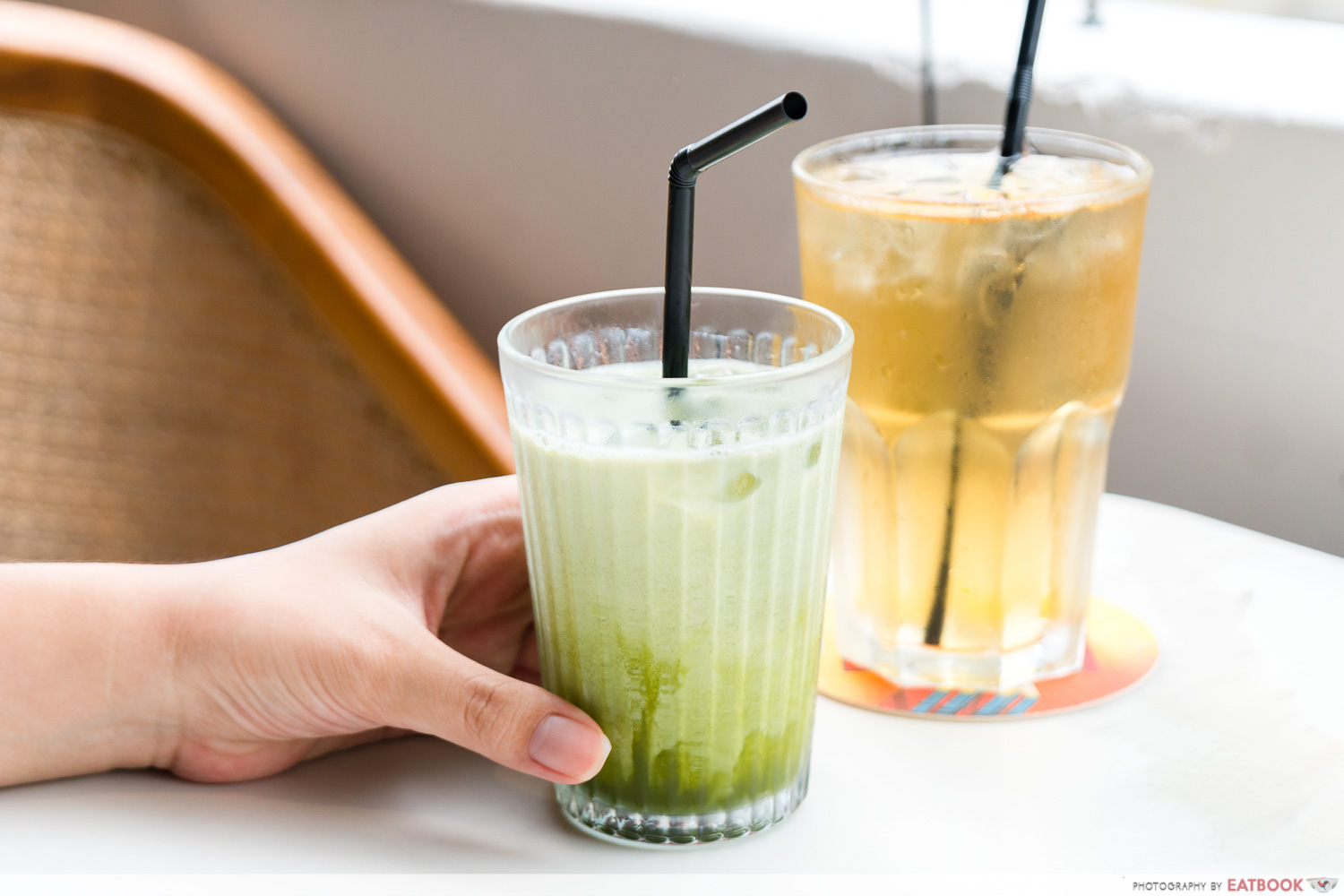 To wash down our pastries, we ordered the Iced Matcha Latte ($8++) and Earl Grey, Bluepea & Bergamot Blend ($7++). The former was a tad too milky, stealing the limelight from the bitter, earthy matcha. I also found the serving too small for its $8++ price tag.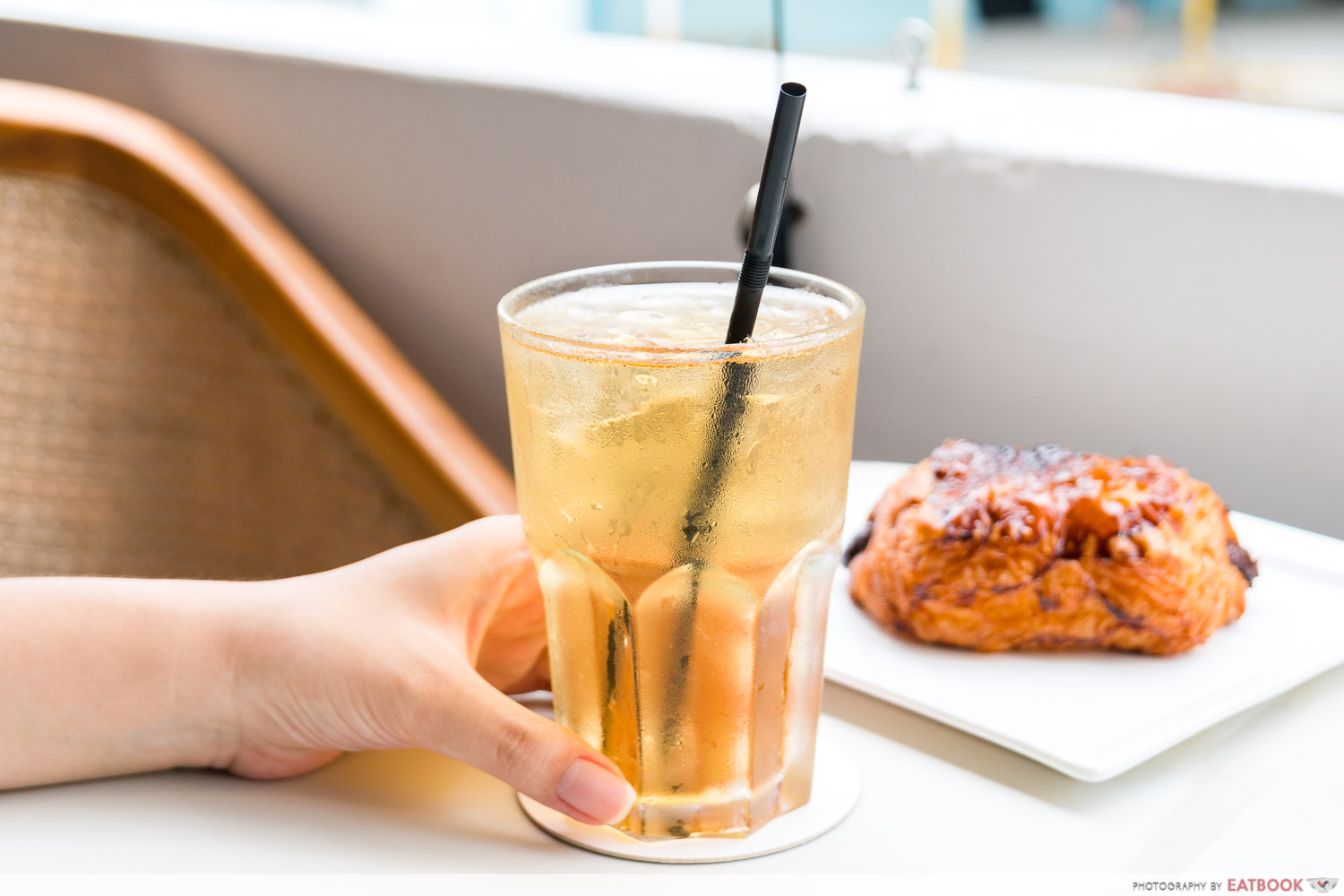 Meanwhile, the latter is a brew of black tea, vanilla beans, blue pea flower, blue cornflower, and bergamot. Here, you get the sharp, floral tones of earl grey, which I felt overpowered the other elements in the blend. We also recommend having this drink hot instead, as the ice diluted its flavour quickly.
15 Best Coffee Cafes In Singapore, Including Local Roasters To Get Coffee Beans From
Ambience at Anther by Glasshouse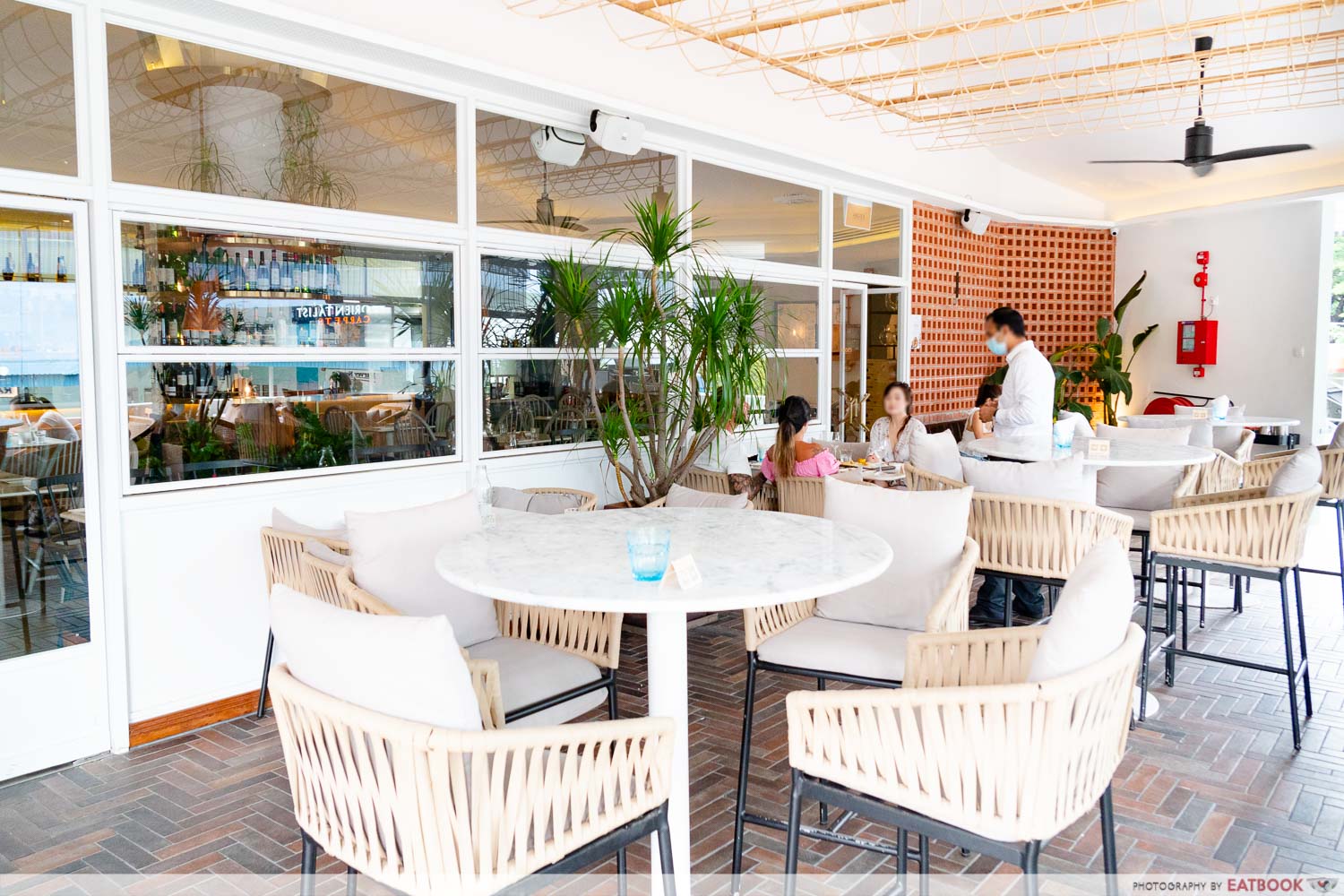 Anther by Glasshouse is furnished with a clever mixture of marble tables and rattan chairs, complete with cushions and potted botany that add to the chill vibes of the place. Here, you also get a nice balcony view to go along with your pastries and tea, perfect for whiling your afternoons away and living out your tai tai fantasies. 
That being said, the location is rather ulu, requiring a 15-minute walk from either Tiong Bahru MRT Station or Outram Park MRT Station.
Okada Coffee And Sweets Review: Japanese-Inspired Cafe With Coffee Jelly, Mont Blanc And Sweet Potato Latte
The Verdict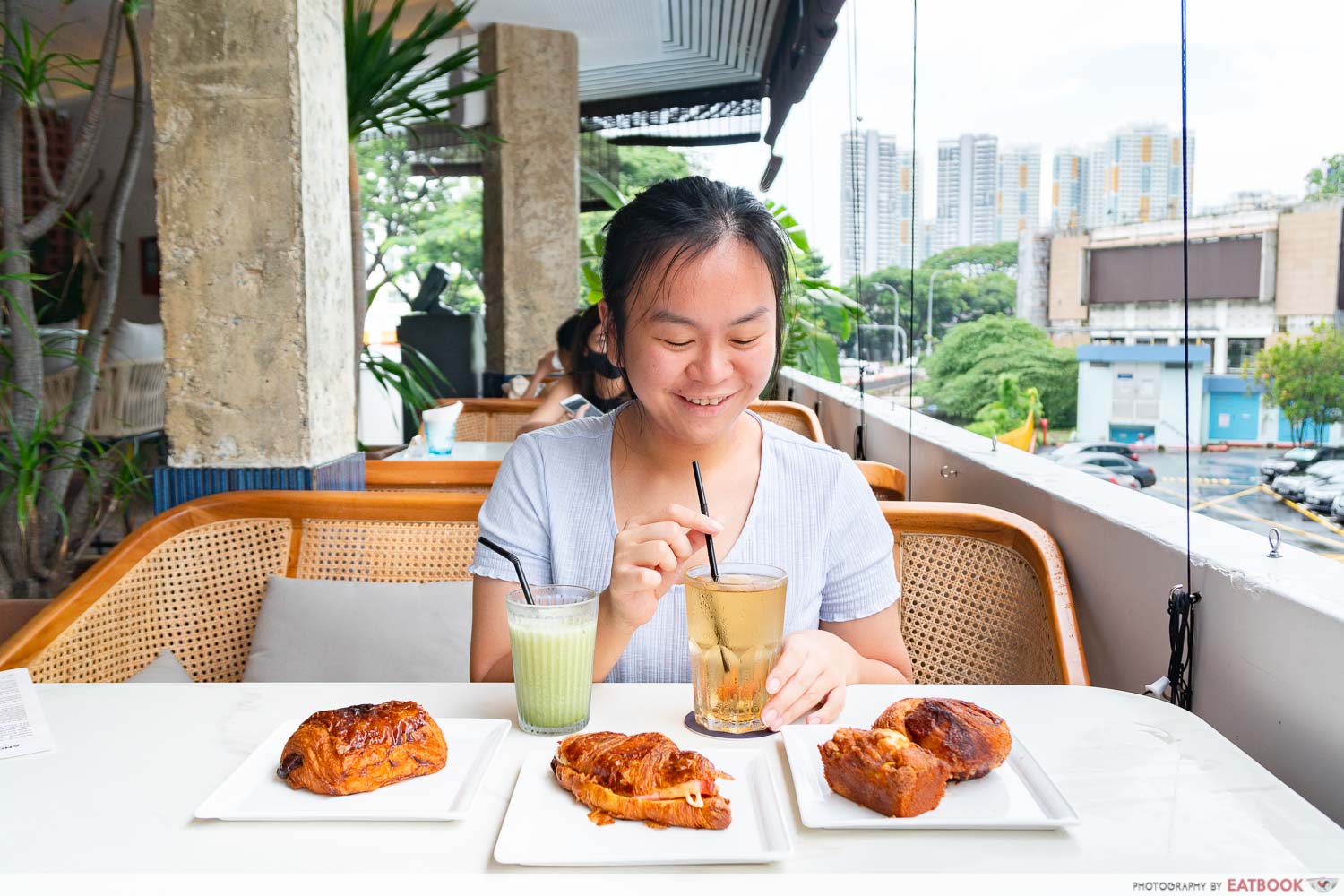 All in all, the food sadly did not match up to the vibes, which is a pity, as I genuinely loved the chill ambience of this cafe. I did enjoy the Apple Loaf Cake though, so I'm inclined to get that if I make a return trip. Prices also lean towards the steeper end, and I can think of many other places with better and more affordable pastries. With that being said, Anther by Glasshouse does make for a good place to wind down and hang with friends or family, if the food is not your priority. If not, you can always order from Angie's Oyster Bar.
While you're here, read our Wanton Seng's Eating House review, for pork belly wonton mee and bourbon mussels. There's also our Creation Cafe review, for affordable seafood truffle pasta that's cooked by an ex-hotel chef.
Address: 313 Outram Road, #02-01, Tan Boon Liat Building, Singapore 169073
Opening hours: Mon-Fri 12pm to 6pm, Sat-Sun 9am to 6pm
Website
Anther by Glasshouse is not a halal-certified eatery.
Wanton Seng's Eating House Review: Pork Belly Wonton Mee And Bourbon Mussels At Millenia Walk
Photos taken by Keith Kok.
This is an independent review by Eatbook.sg.
The post Anther By Glasshouse Review: Hidden Balcony Cafe With Cinnamon Roll And French Pastries appeared first on EatBook.sg – New Singapore Restaurant and Street Food Ideas & Recommendations.