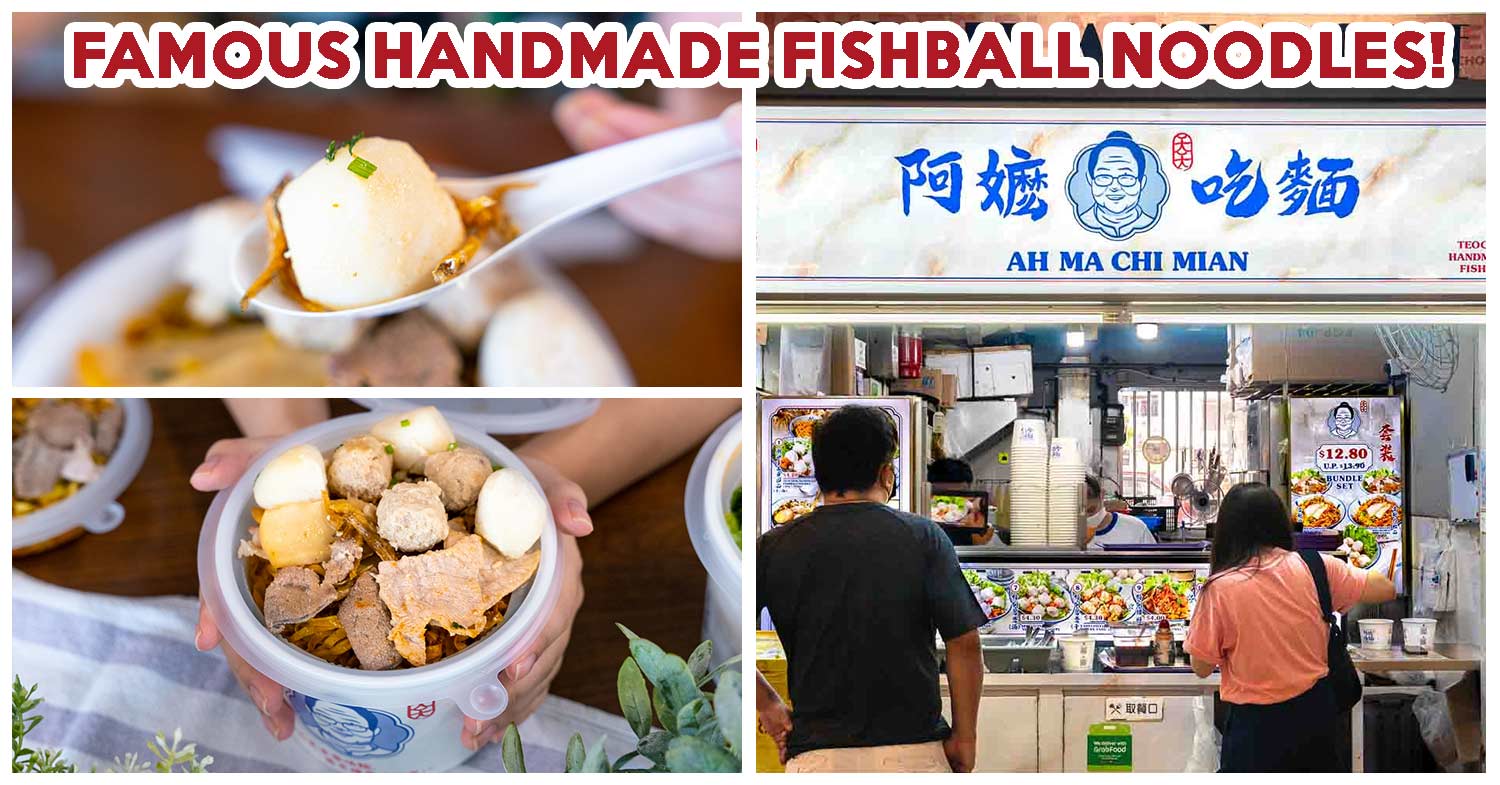 Ah Ma Chi Mian in Hougang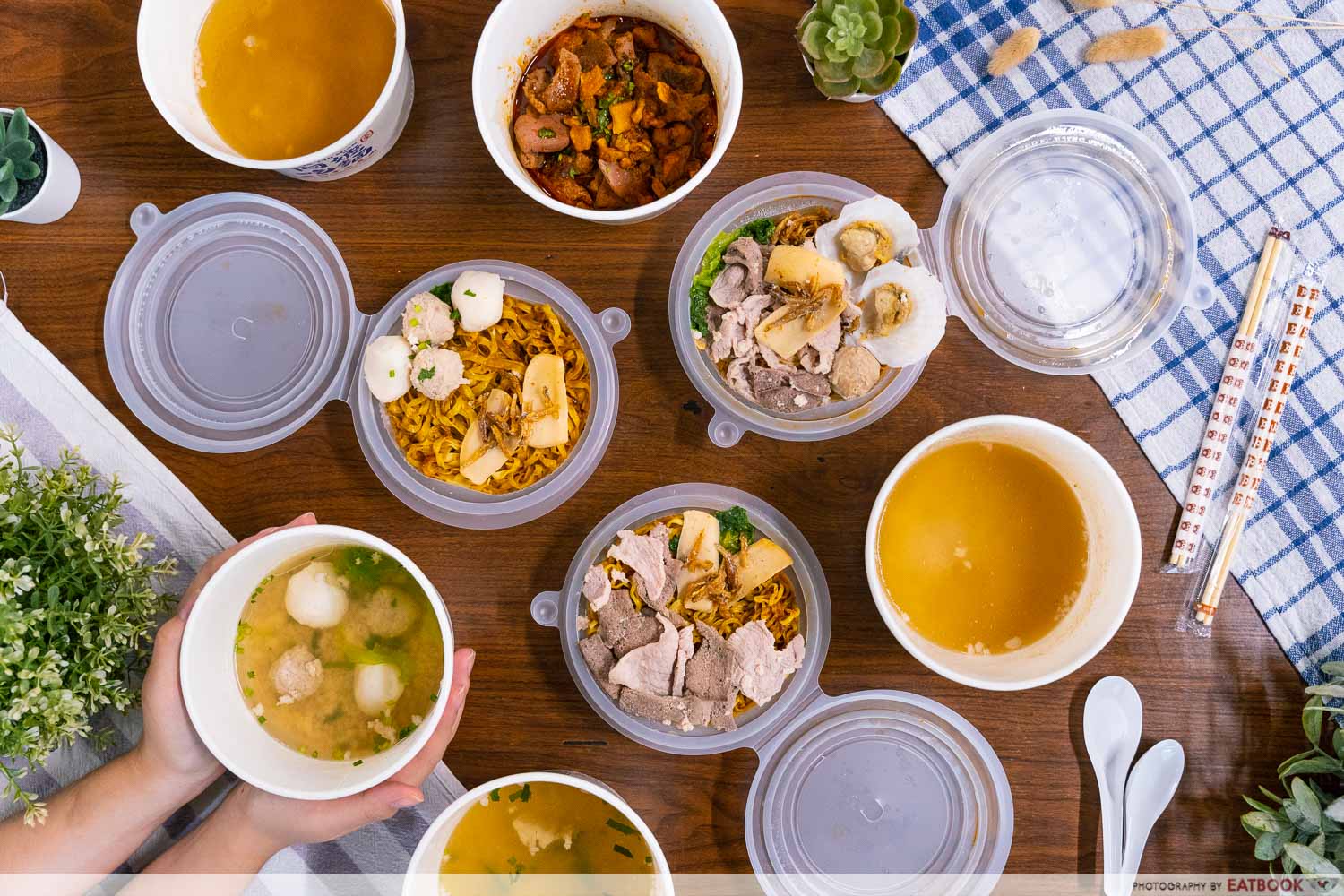 With nine stores spread out all over Singapore, Hougang is where Ah Ma Chi Mian's story began. They are known for their poached liver, bak chor mee, handmade Teochew-style fishballs and more.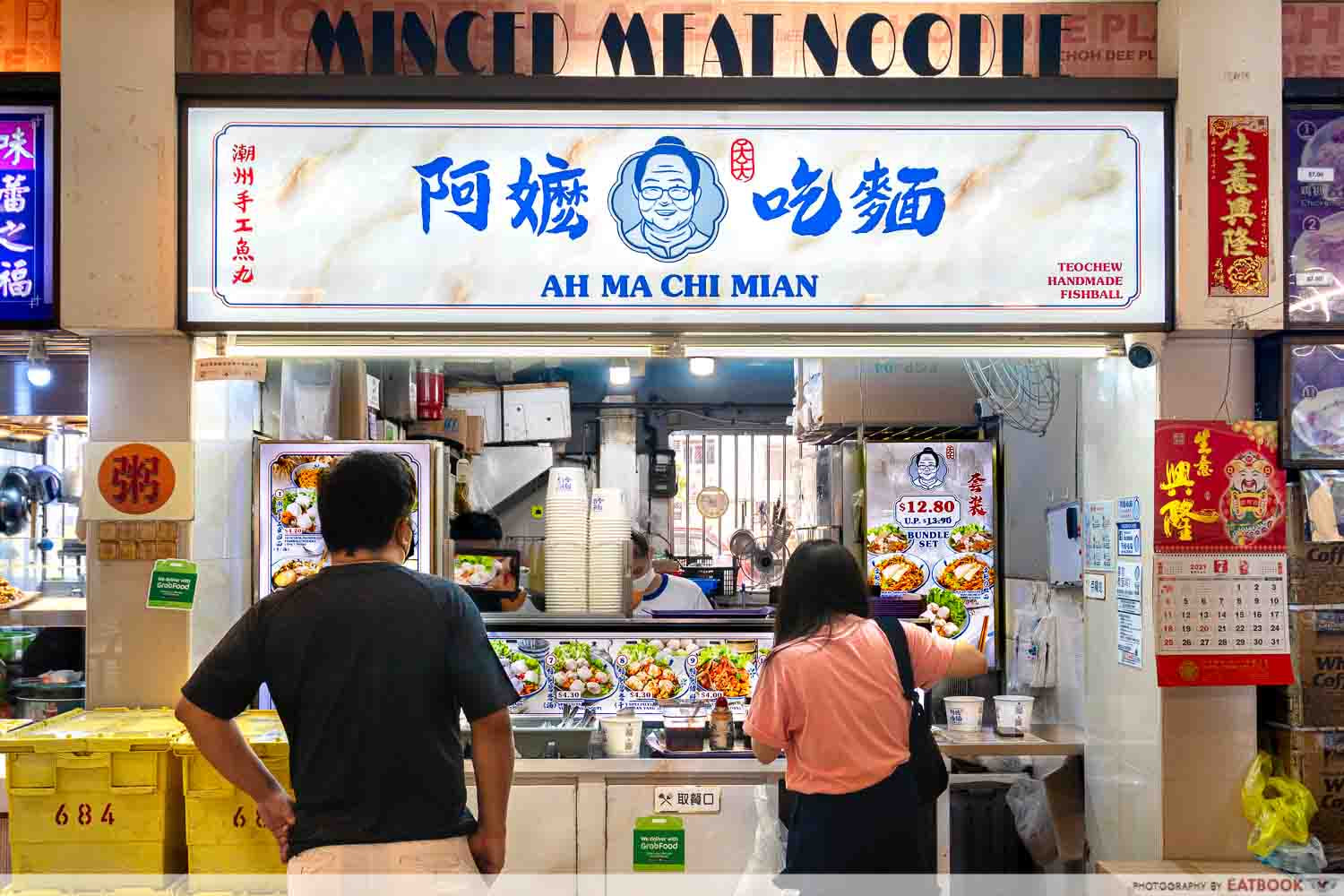 With their rapid expansion around Singapore and a snaking long queue at every new outlet, my colleague and I decided to visit their first and main outlet to see what the hype is all about. 
Food at Ah Ma Chi Mian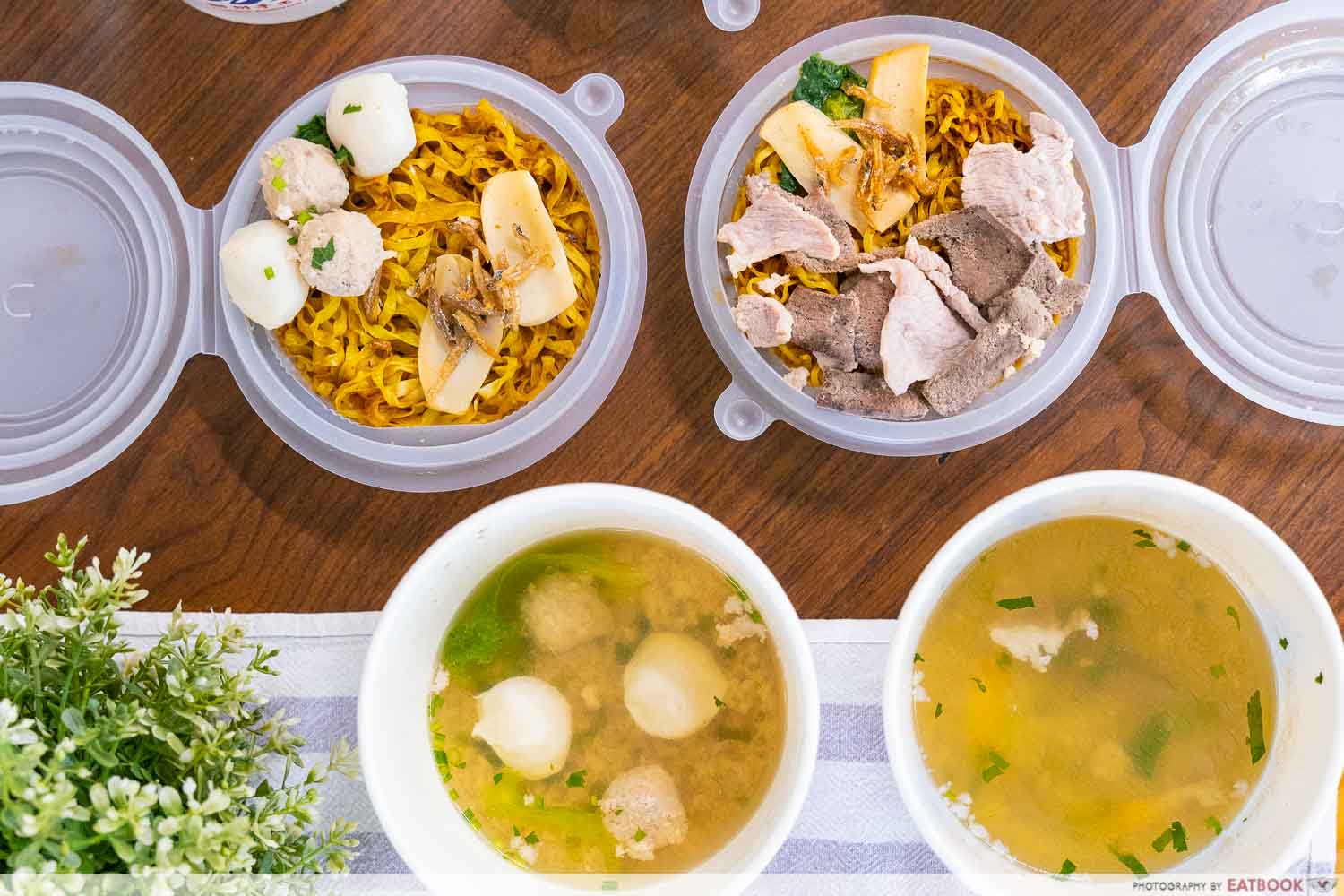 The Bundle Set ($12.80) at Ah Ma Chi Mian, which includes two bowls of Sliced Abalone Minced Meat Noodle and a Specialty Yuan Yang Soup, caught my attention at first glance for the value it offered.
Each bowl comes topped with a few slices of liver, pork, and mock abalone. Both BCM, which you can choose to go with mee pok or mee kia, were tossed evenly in a chilli-vinegar sauce, finished with lard oil for that mouth-watering shine.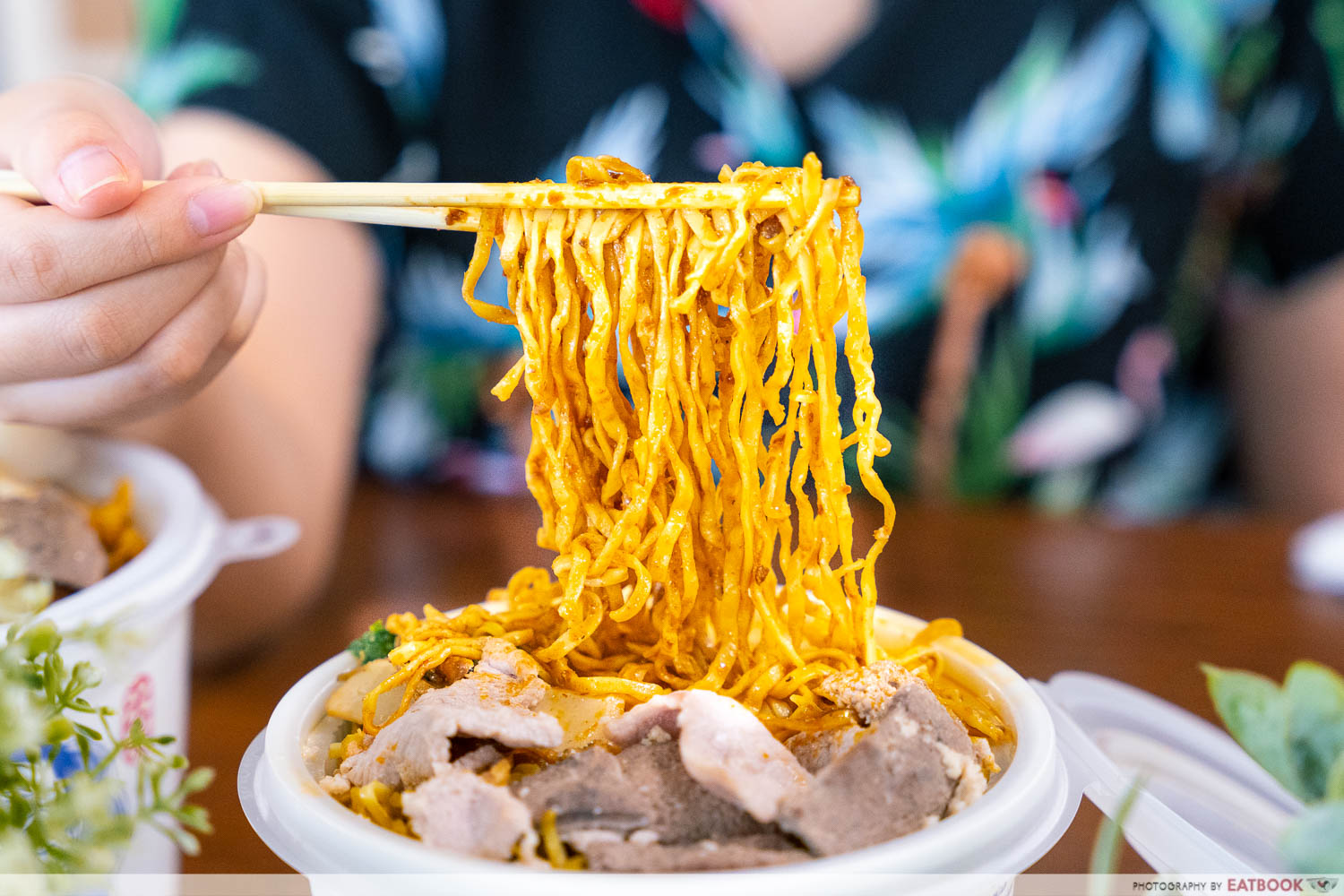 The sauce had a mild kick, followed by a faint sourness from the vinegar, complementing the springy al dente noodles. I was impressed by how the noodles were able to hold its moisture and flavour throughout the meal, as mee pok is usually known to dry up quickly.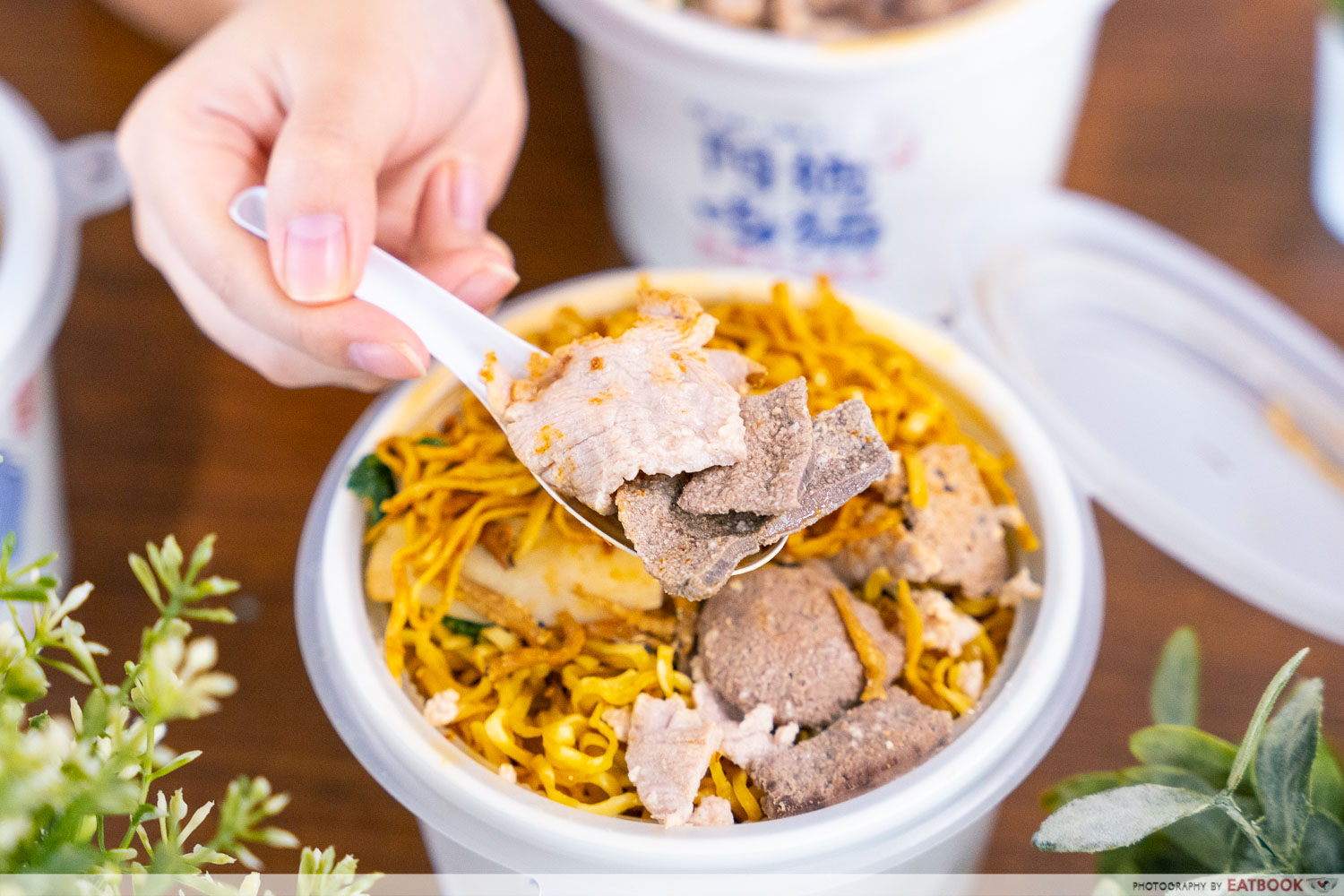 The pork and liver came in extremely thin slices, which made me slightly sceptical about the texture. But to my surprise, the pork was soft and tender, melting in my mouth with every bite. It had a meatiness with a slight hint of sweetness, contrasting against the spice from the noodles. My only gripe is that they could have been slightly more generous with the ingredients, as I found myself left with spoonfuls of noodles that didn't have any accompaniment.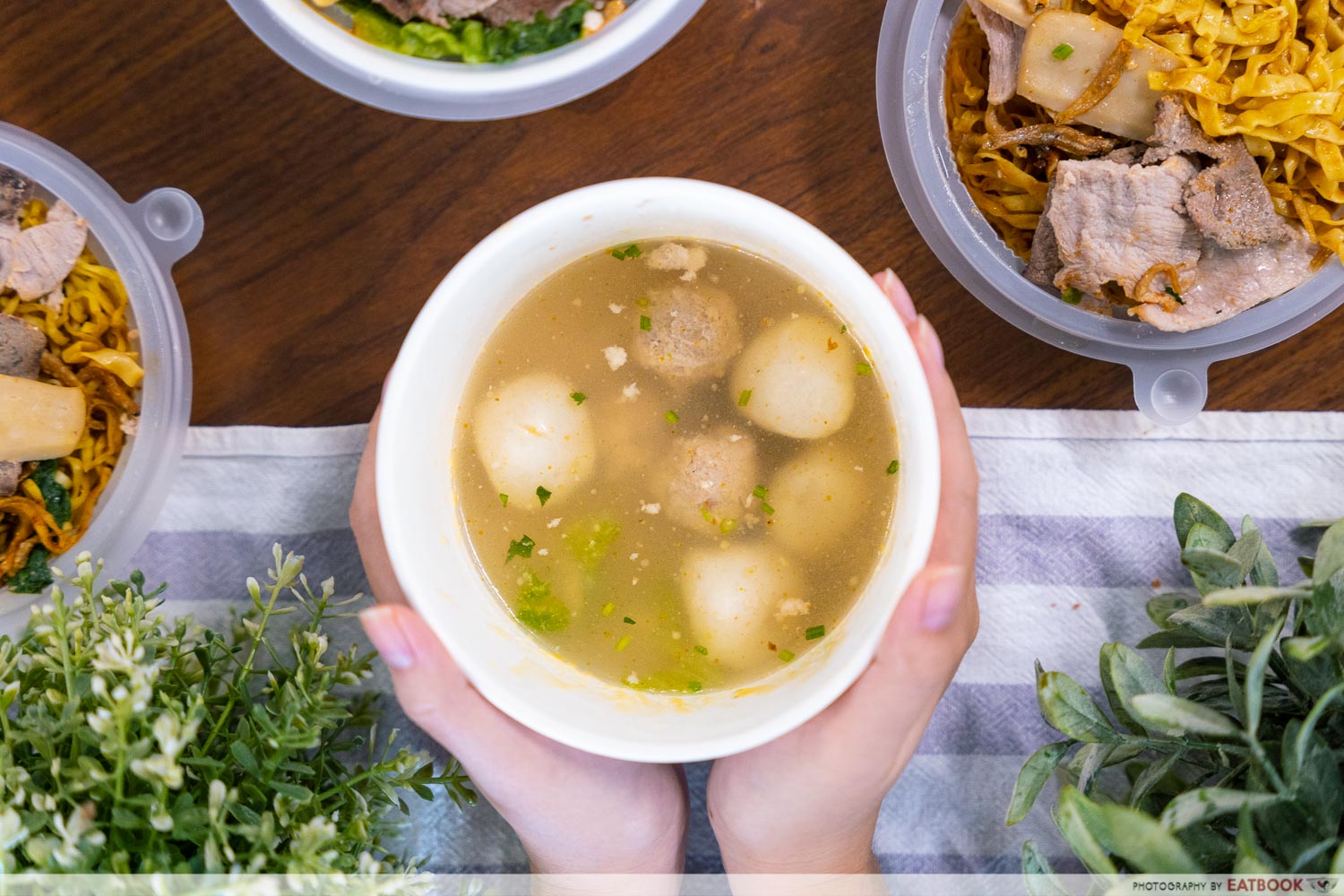 The Specialty Yuan Yang soup comes with a generous amount of chunky, bite-sized minced meat, and a handful of fishballs and meatballs, swimming in a clear base soup. With the assumption that a clear soup would be light on the palate, I was surprised by how rich and meaty it was. However, the umami of the soup gave way to a dry roughness in the mouth that I usually associate with MSG, which was unable to quench the spice from the noodles. Nevertheless, I did enjoy the depth of flavours in the soup.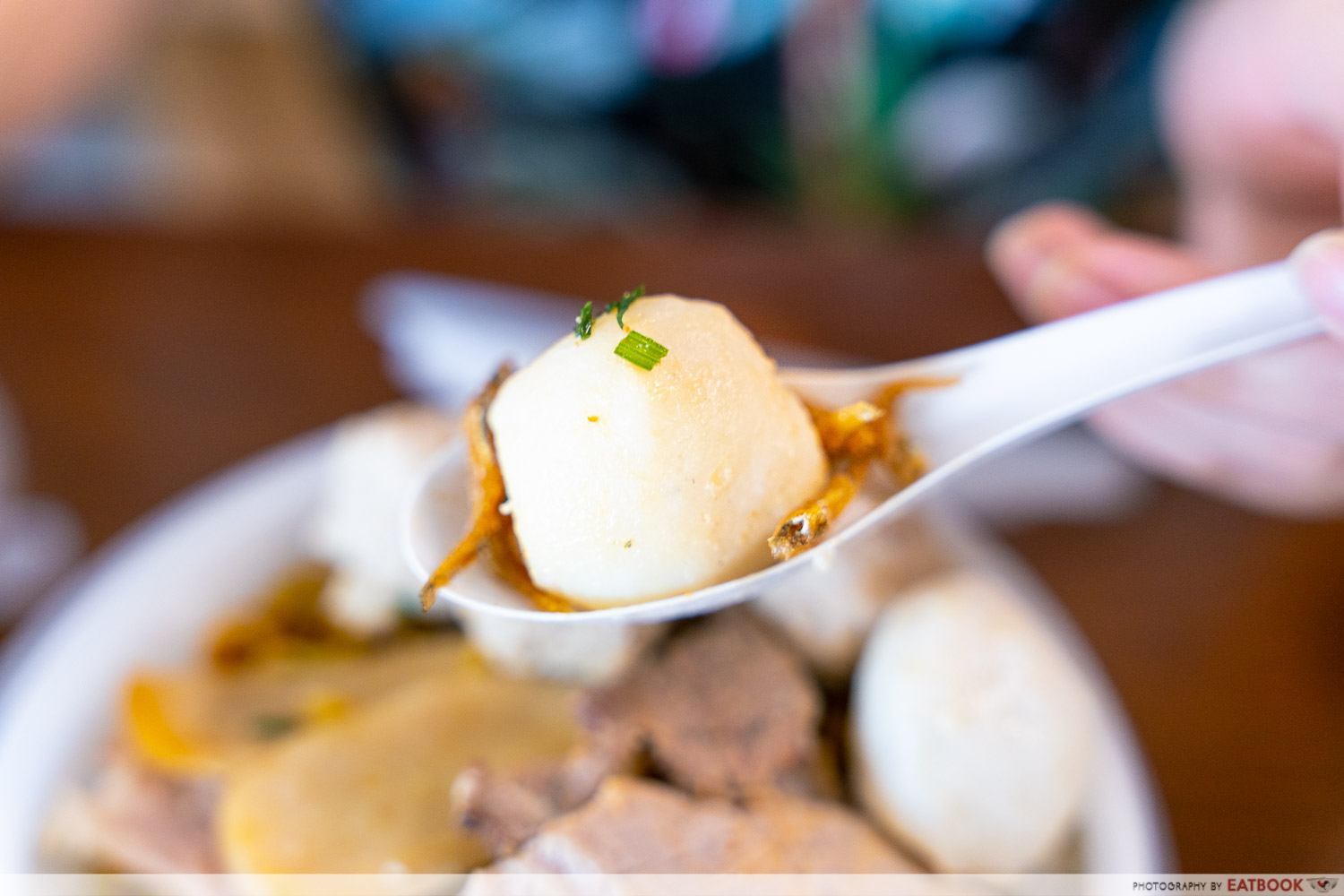 The fishballs were definitely the star of this dish. I have to admit, I am not a fan of fishballs due to their texture and briny aftertaste, but these handmade fishballs won my heart. Unlike commercially made fishballs, these leaned towards having a softer bite, while retaining a springy texture. They had a sweetness from the fresh fish used.   
Their meatballs, on the other hand, were slightly dense and chewy. In contrast to the lightly seasoned fishballs, these were bursting with umami flavour. However, for individuals with lighter taste buds, this might be slightly on the saltier end.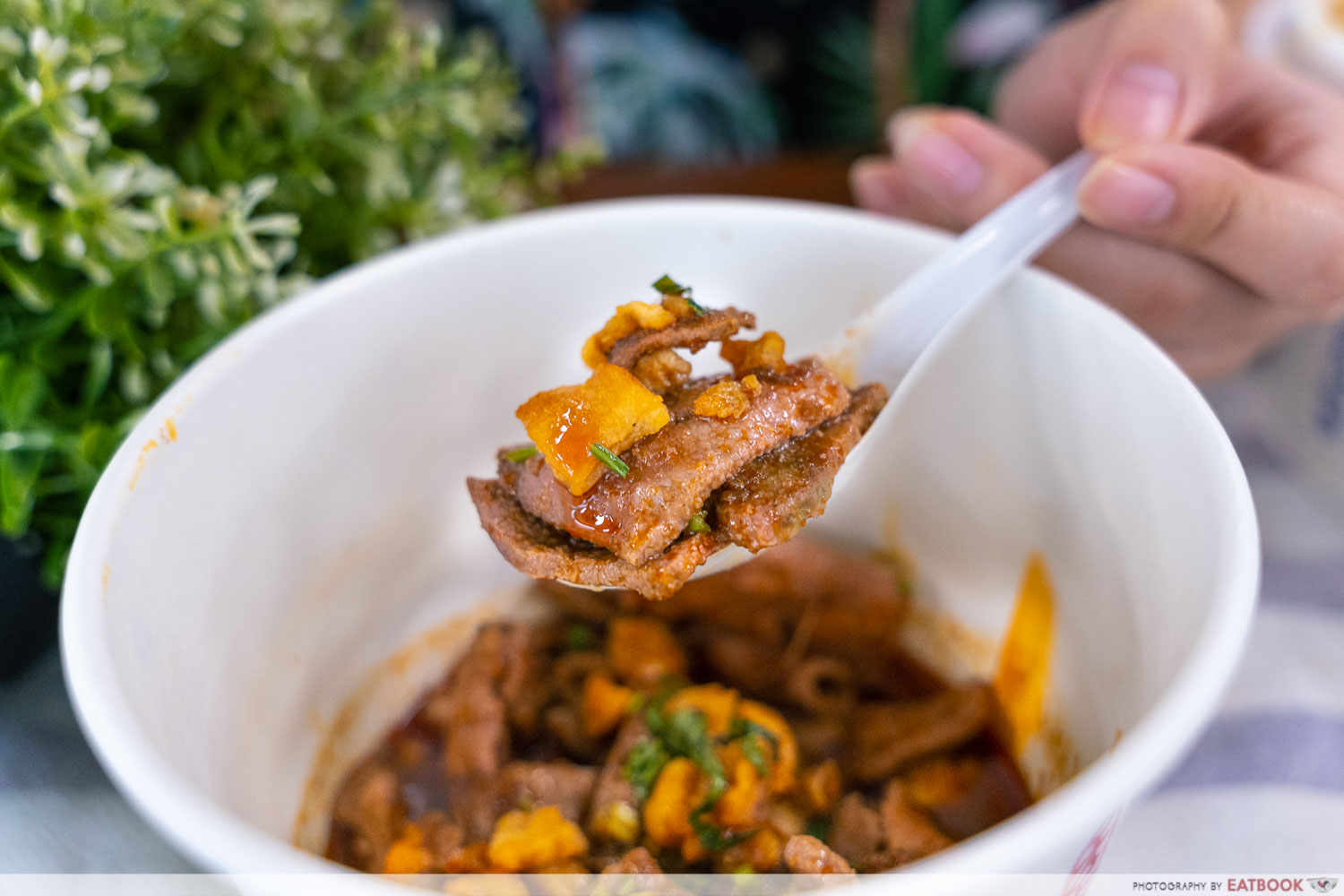 Known for their foie gras-like liver, Ah Ma Chi Mian's Specialty Pork Liver comes in a dry ($4) or soup ($4.30) option. I opted for the former as I prefer a little spice to pair with my liver. 
Similar to the bak chor mee, this bowl of liver came in thinly cut slices. My liver-loving colleague was expecting it to be tough and rubbery, owing to the thin slices, and because we had dabao-ed it for our shoot. However, she found each slice of liver cooked perfectly, without tasting overly gamey or metallic, contrasting nicely with the crunchy, fragrant lard sprinkled on this dish. The addition of their Ah Ma chilli made it even more addictive.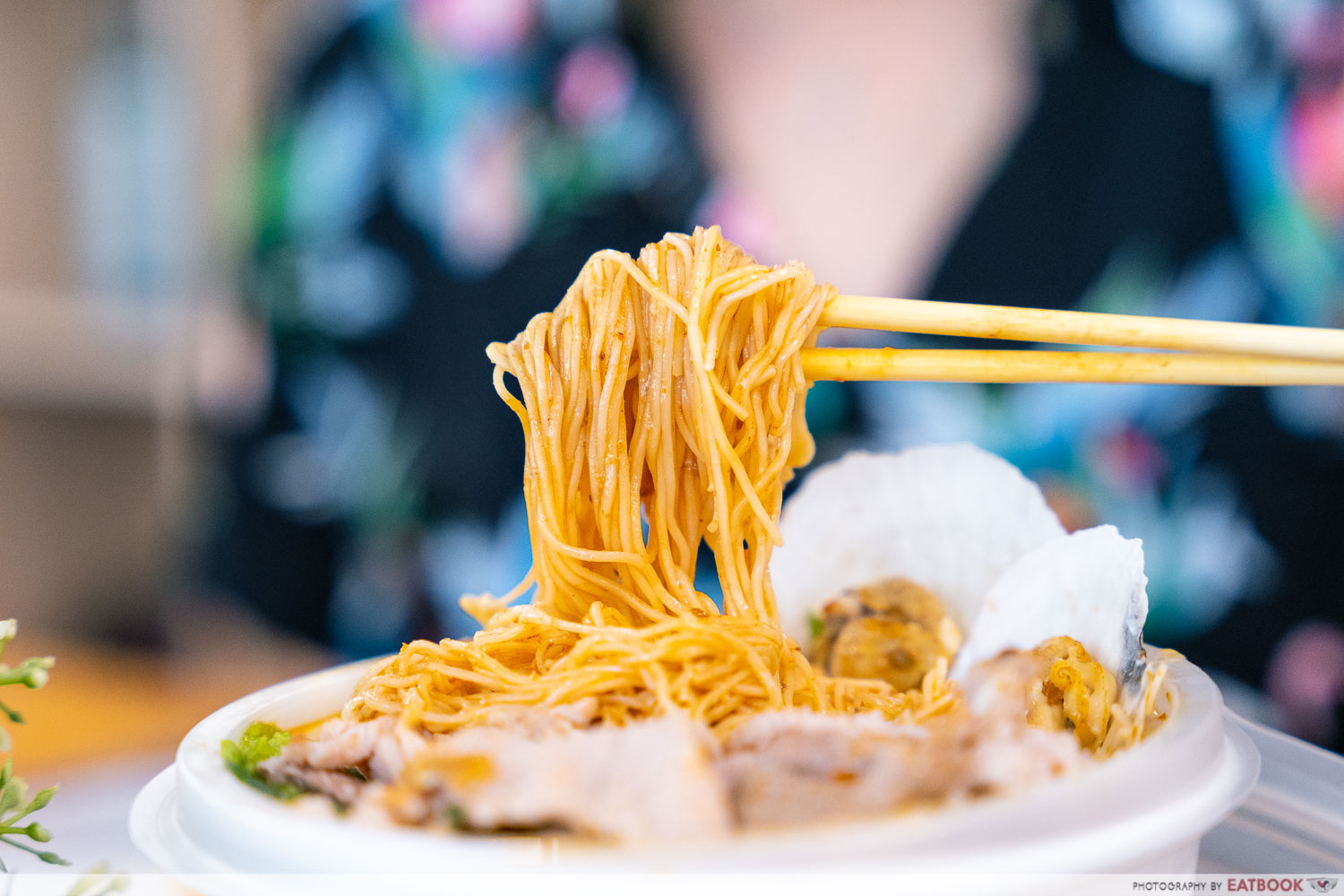 The Signature Dried Mee Sua ($6) was recommended by their staff as an Ah Ma Chi Mian signature, and crowd favourite. It came with all the same ingredients, with the addition of two miniature scallops on their shells. 
The sourness from the vinegar felt overpowering at the first bite, but was later subdued with a hint of sweetness, enticing me to keep eating. The delicate noodles held up well to the vinegary goodness, without losing its bite. This combination of flavour and texture made the dish appetising and easy on the stomach, unlike the jelak feeling I sometimes get after a bowl of bak chor mee. I've never been a fan of mee sua, but consider me hooked.
Gimee Face Review: Abalone Bak Chor Mee With Hanjuku Eggs At Boon Keng
Ambience at Ah Ma Chi Mian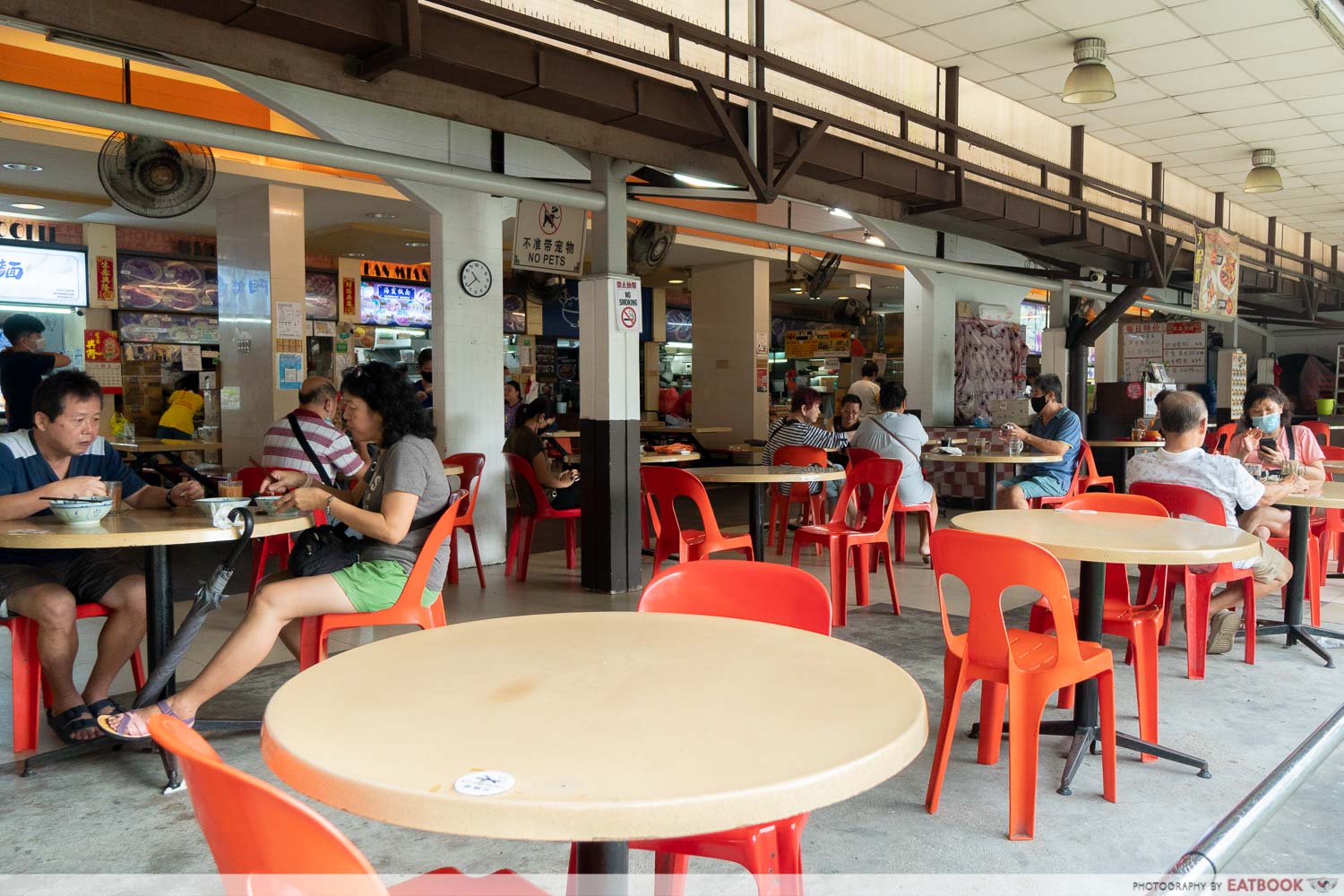 Located a 10- to 15-minute walk from Hougang MRT Station, Ah Ma Chi Mian is situated in a small coffee shop, nestled within a residential estate. 
As there are a few other eateries in this confined area, it can get a bit crowded during lunch hours, so we would recommend seating closer to the road to avoid feeling cramped. The area receives lots of natural lighting and wind, and is well-ventilated by ceiling fans, making it a comfortable dining experience.
The verdict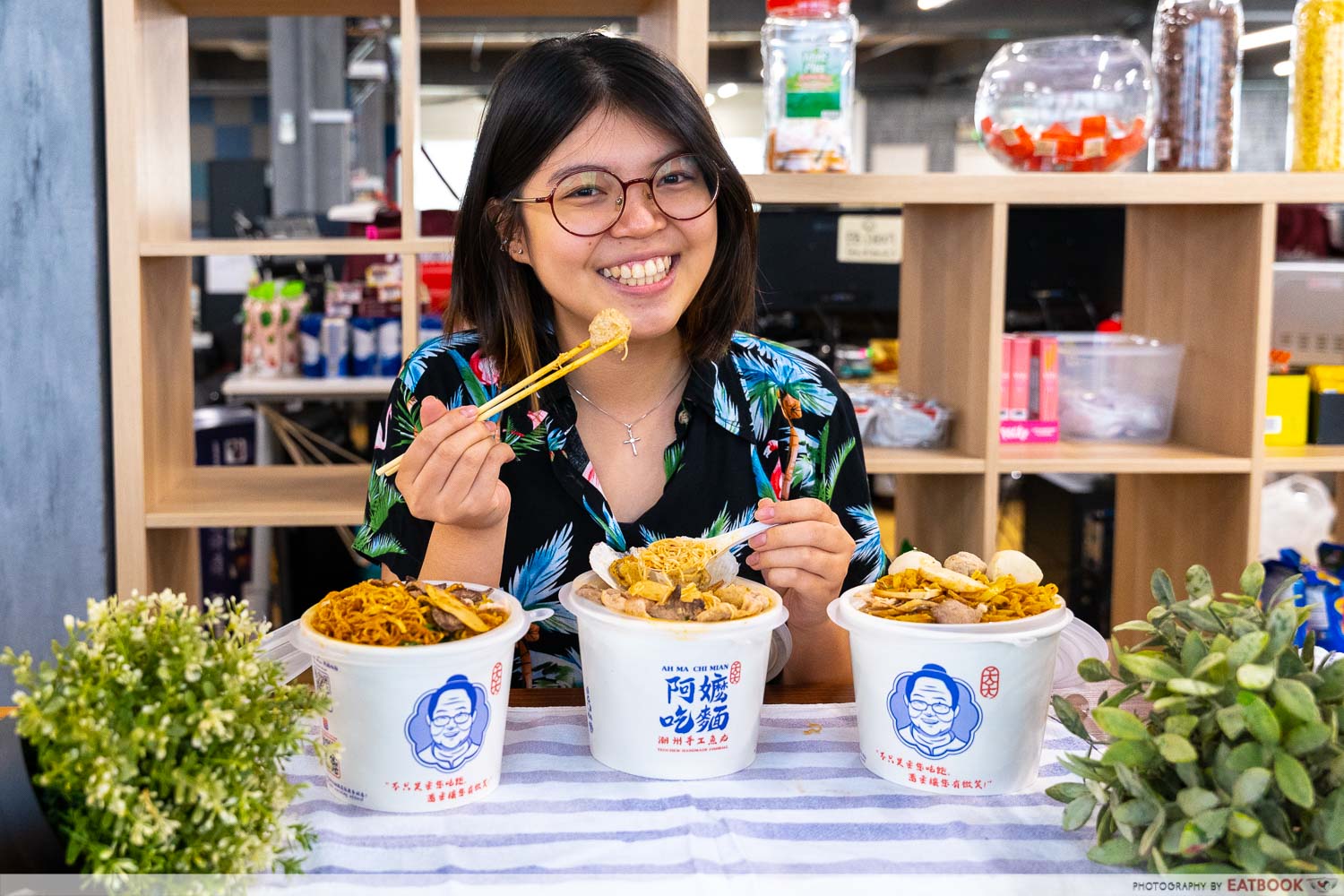 Overall, Ah Ma Chi Mian executed their dishes well, leaving me with a satisfied belly. The dishes may be a tad bit overpriced for the portion of ingredients given, but the flavour of the dishes made up for it. 
Although their bak chor mee did not differ from the norm, at least for me, every element of the dish was done well. So if you were to pass by an outlet or looking for something new, I would highly recommend Ah Ma Chi Mian. 
Instead of a calorific burger or dim sum for supper, you can consider opting for this warm and comforting meal, which is available around the clock in their Hougang outlet.
Do read our review on Gimee Face if you are looking to try an unconventional bak chor mee. You can also check out our review on Song Heng Fish Ball Noodle—a 54-year-old hidden hawker gem.
Address: 684 Hougang Street 61, Singapore 530684
Opening hours: Daily 24 hours 
Website | Full list of outlets
Ah Ma Chi Mian is not a halal-certified eatery. 
Song Heng Fishball Noodle Review: 54-Year-Old Fishball Noodle Stall At Telok Blangah
Photos taken by Benjamin Chin.
This is an independent review by Eatbook.sg.
The post Ah Ma Chi Mian Review: 24H Bak Chor Mee Stall With Mee Sua And Spicy Liver appeared first on EatBook.sg – New Singapore Restaurant and Street Food Ideas & Recommendations.