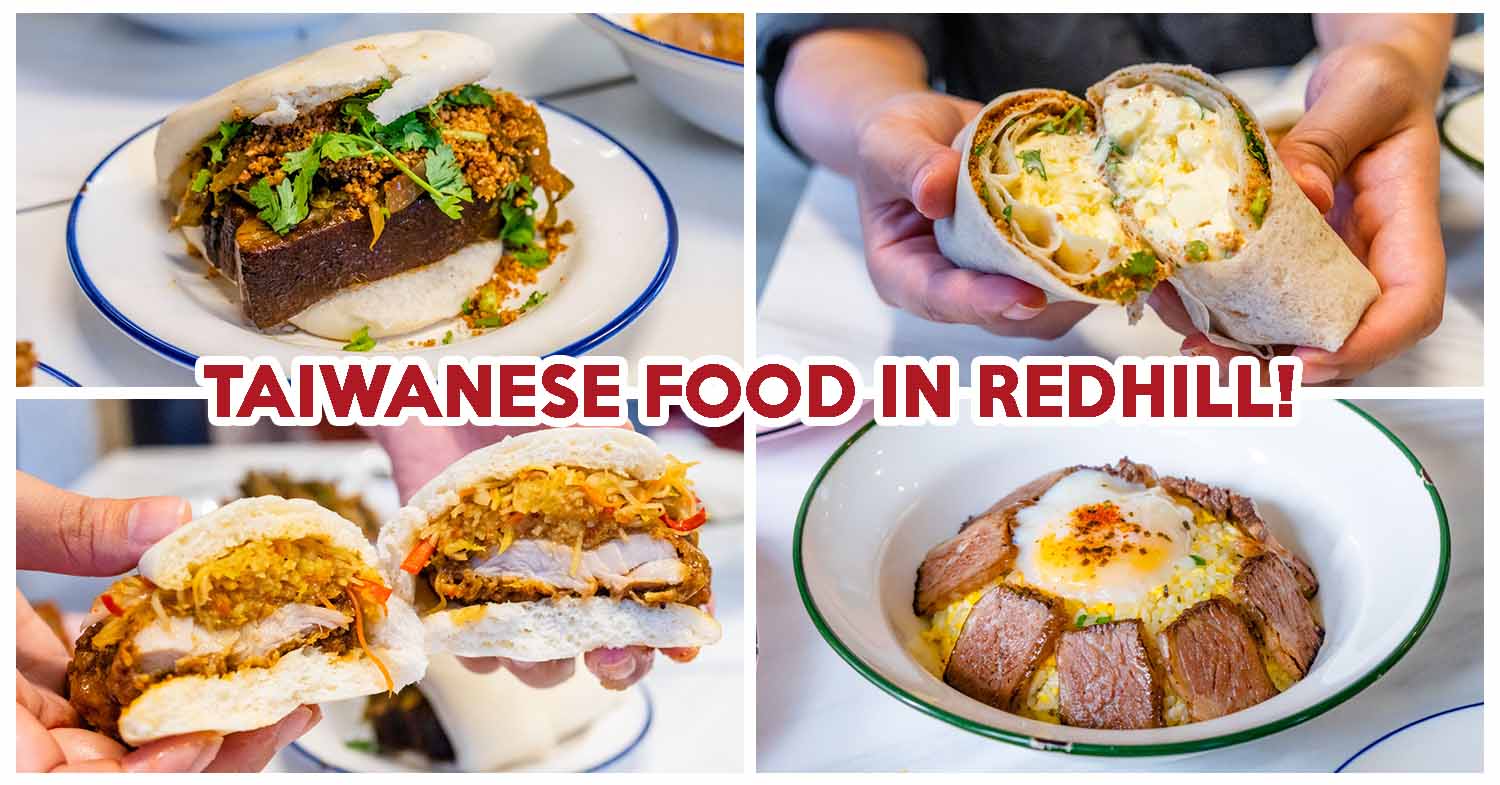 Abundance at Redhill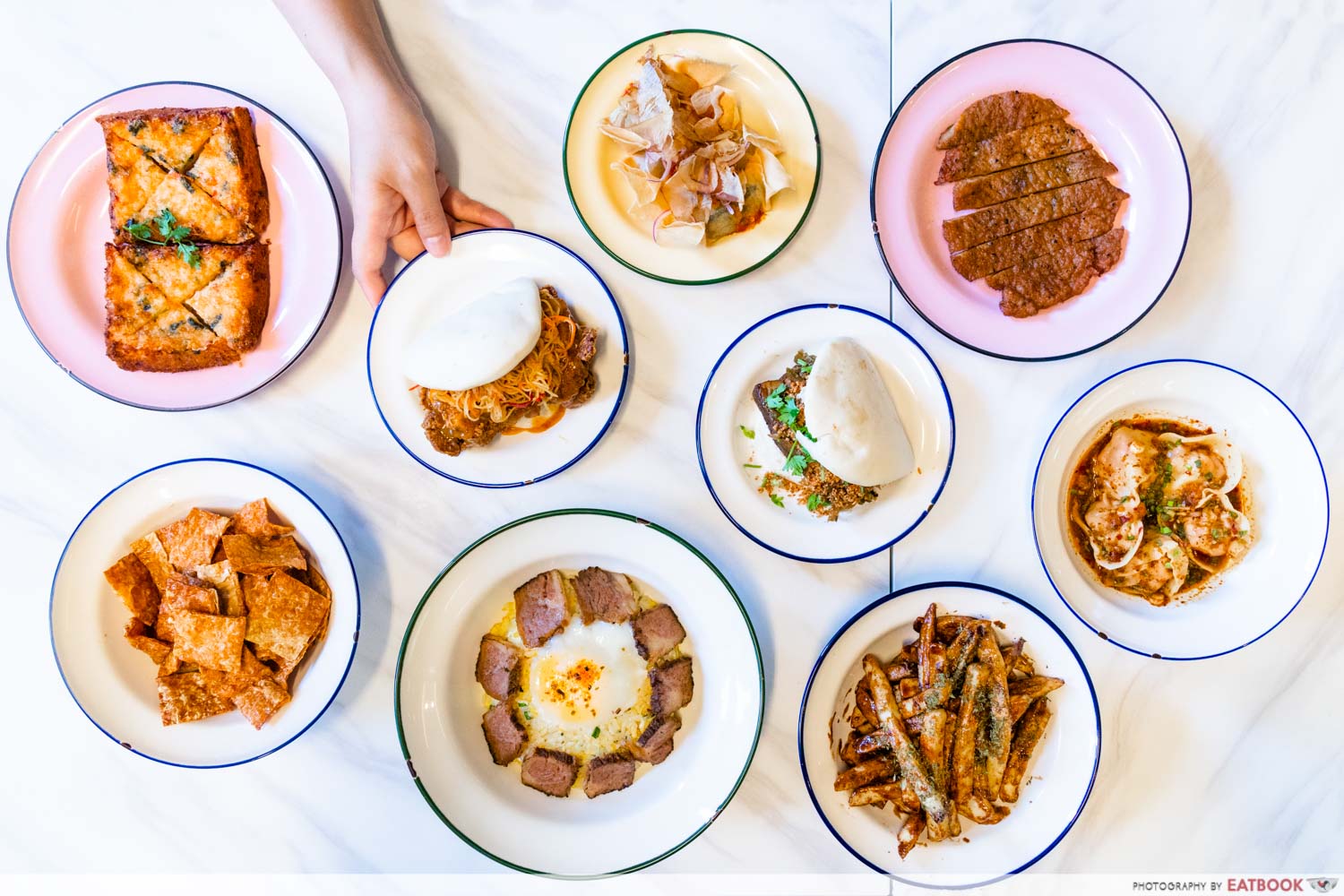 I'd always heard my mum mention Lengkok Bahru as one of the places she used to stay at as a child, yet I'd never been to the area. All at once, I've been to the neighbourhood thrice in the last six months: once to Maison Sucree, and twice in the last week to the newest hangout in the 'hood, Abundance.
I was drawn to the massive gua bao that I'd first seen on their socials last year, when they were a delivery-only, home-based operation, and was excited to head down to sample their expanded range of offerings.
Food at Abundance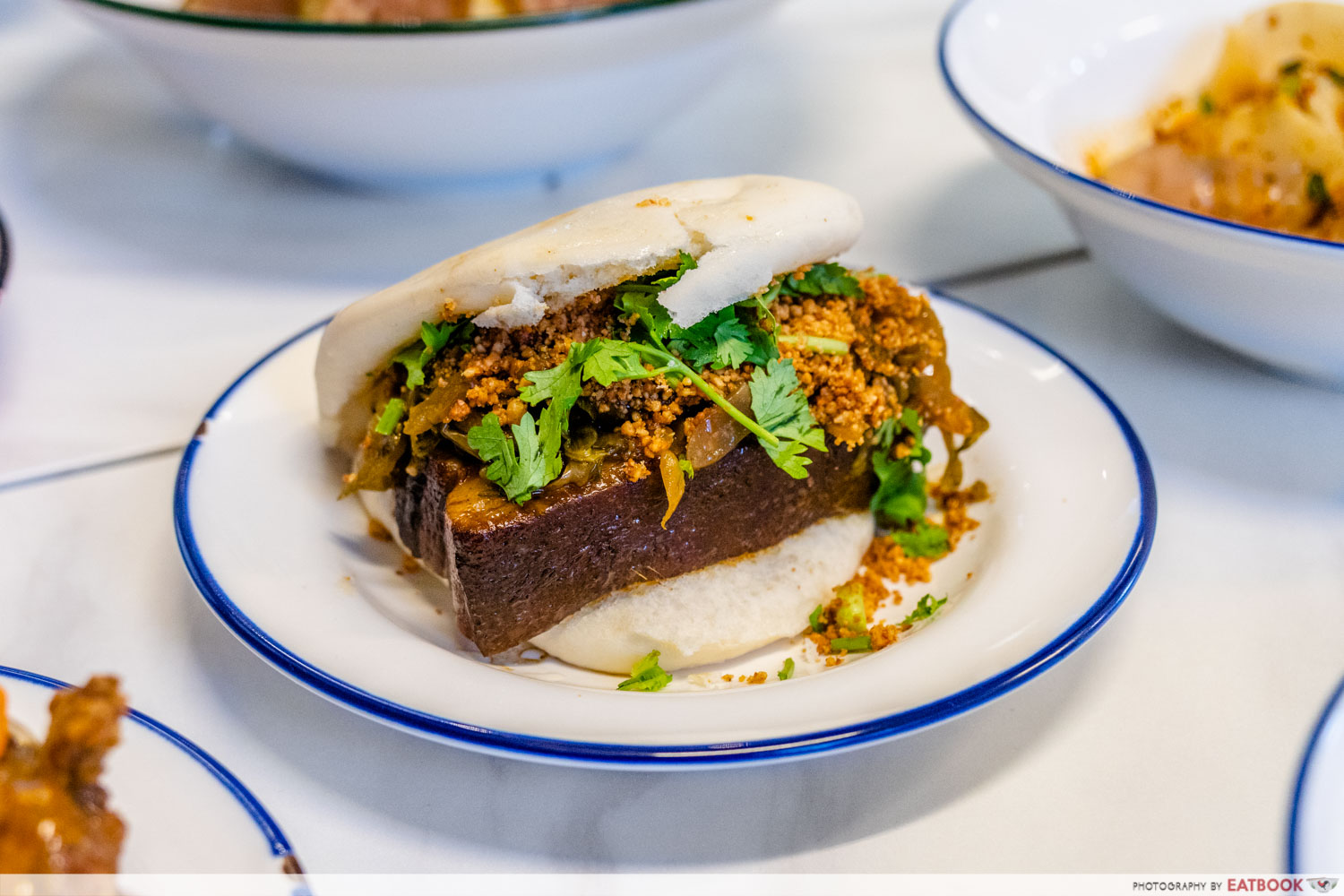 The Gua Bao ($6.90+) was a hefty showstopper, the dull brown of the chonky pork belly slice enlivened by sprigs of fresh coriander. The chefs here used to make the lotus buns in-house, but had to turn to factory-made ones to meet demand, due to manpower issues. For the same reason, these are only available at dinner time as well.
It's the same story with the selection of noodles at Abundance, which I'd had on my first visit and loved for their extra-smooth, chewy texture. The noodle dishes have temporarily been taken off the menu, but here's to hoping they make a return soon.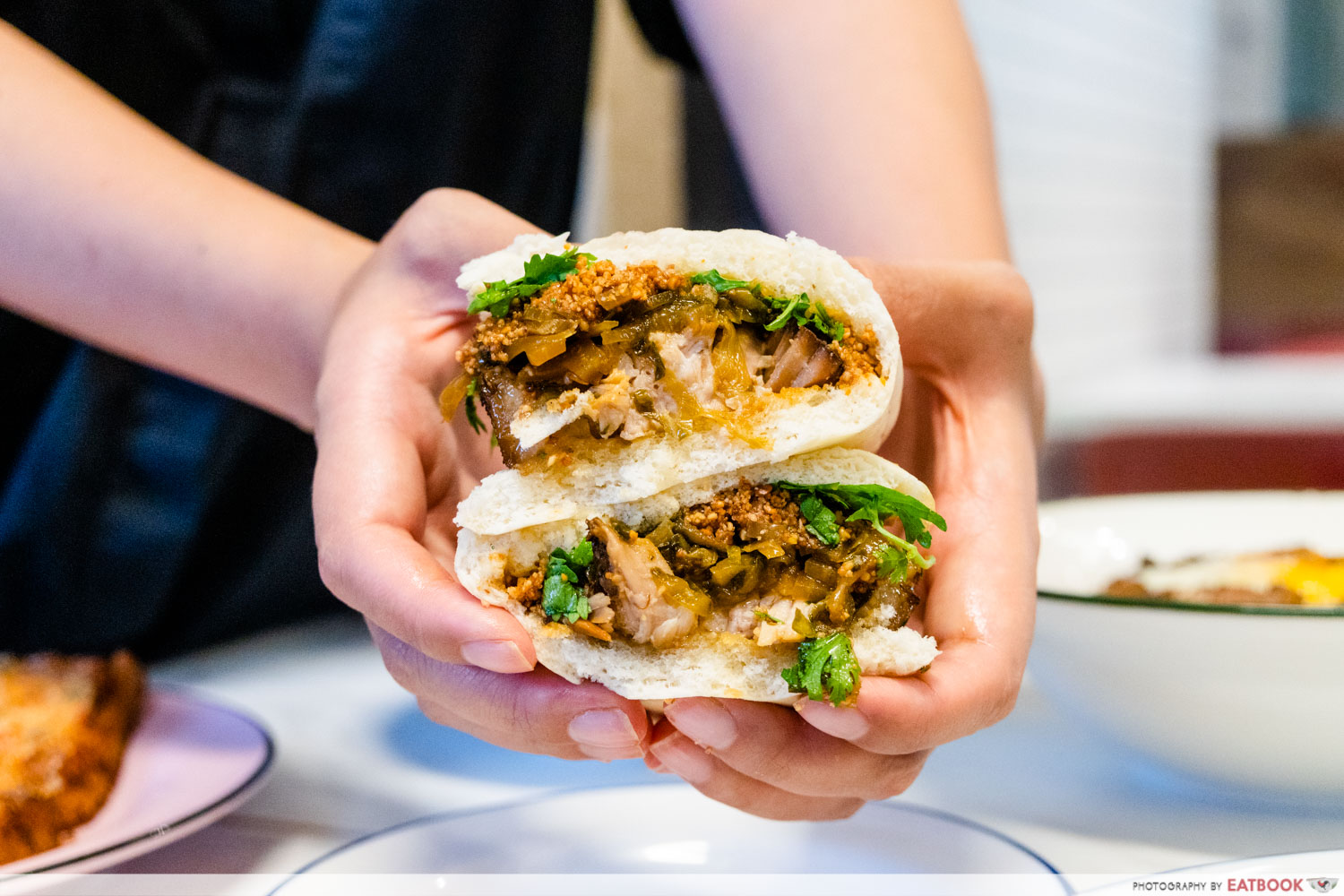 Biting into the Gua Bao was soul-satisfying bliss, if not only because of how thicc the slab of pork belly was. It was savoury, without being overly salty, with melt-in-your-mouth layers of fat.
I didn't find it jelak, but just in case, there are pickles, coriander, and roasted, ground peanuts that provide acidity, crunch, and aromatic nuttiness. Here's fair warning that eating these baos are a messy business, so arm yourself with wipes.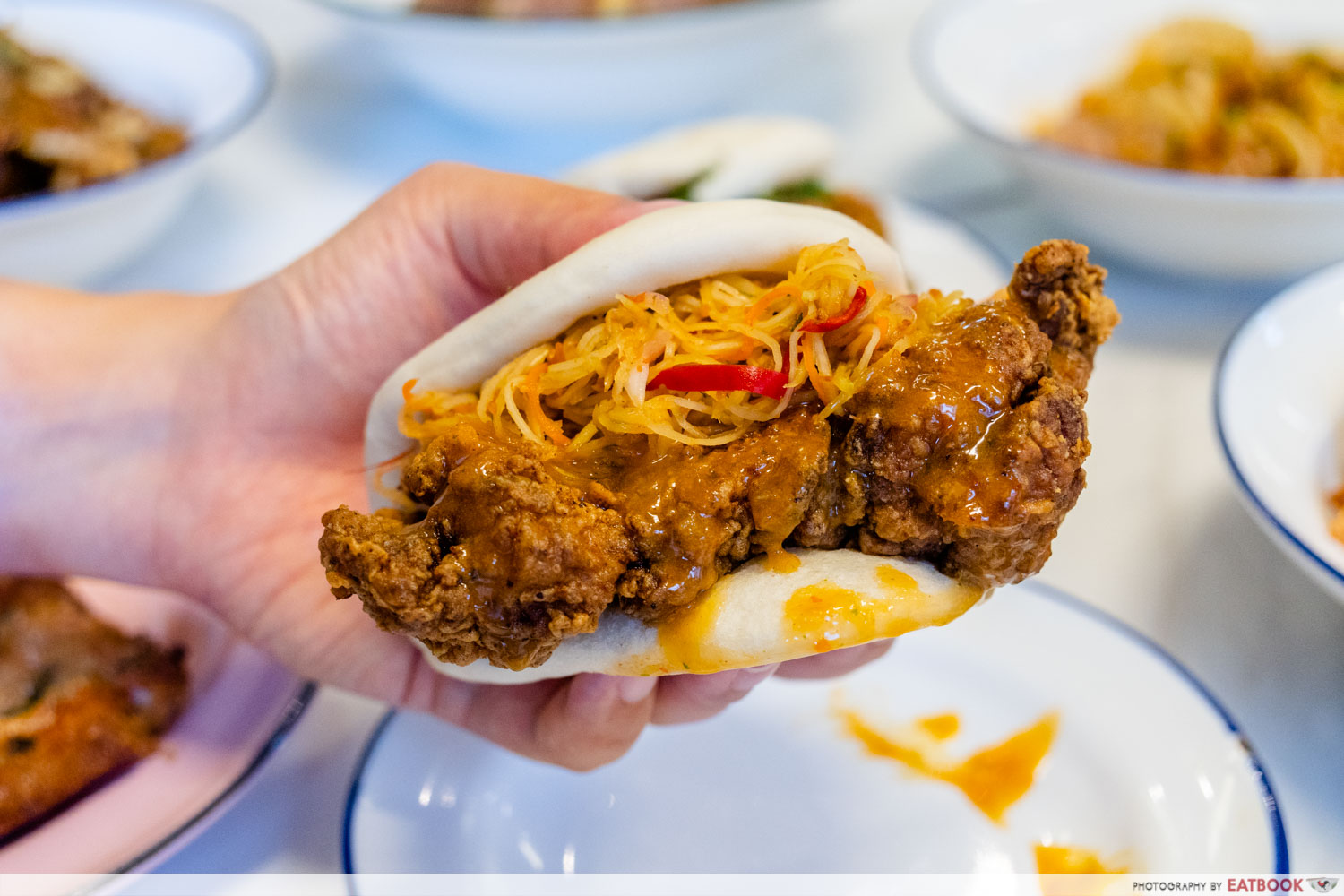 The same lotus bun, notable for its soft fluffiness, sandwiches a whole fried chicken thigh in CCB ($7.50+), three letters the menu clarifies are short for Crispy Chicken Bun, just in case you thought otherwise. We liked that each of these baos had almost more filling than the buns could possibly hold, which here included papaya slaw, peanut butter Thai sauce, both of which are house-made.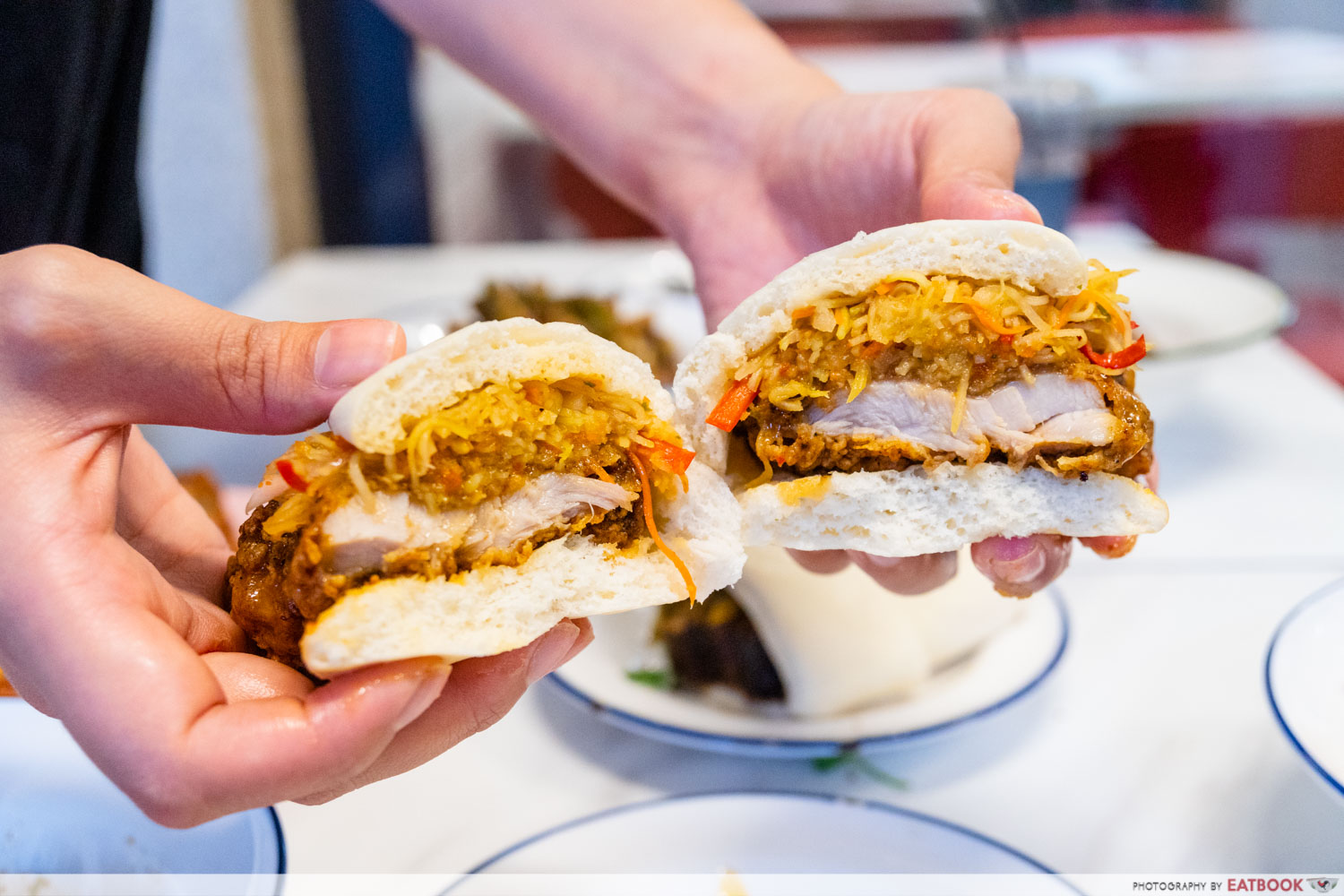 Again, the flavours in this bao were deftly balanced─the papaya slaw was reminiscent of Thai green papaya salad, though a lot less tart, evening out the sweetness of Thai sweet chilli. The addition of peanut butter to this sauce lent it a touch of creaminess, while mellowing out the brighter tastes of the slaw and sweet chilli. As with the Gua Bao, these accompaniments cut through the potential greasiness of the chicken, which remained juicy even after deep frying.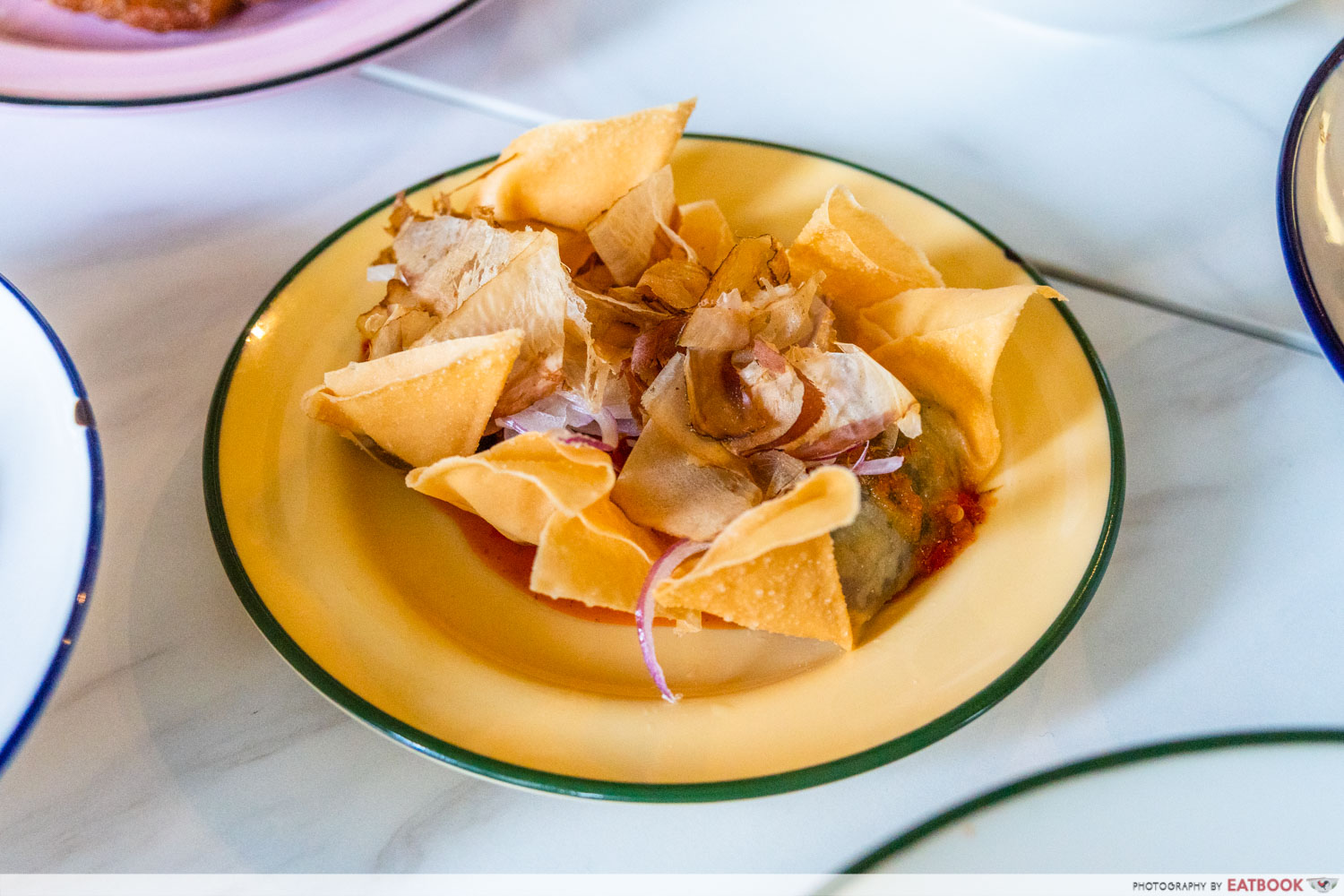 A similar sauce features in Golden Egg ($6+), although the one here is minus peanut butter. It sees quarters of century eggs wrapped in wonton skin and deep-fried, topped with bonito flakes and the house-made Thai sweet chilli sauce.
Of the dishes we sampled, this was my least favourite, simply because I don't quite like century eggs, although I imagine it's a great beer snack for fans of the preserved egg. What would make this dish extra IG-worthy is if they manage to get their hands on century eggs with molten yolks.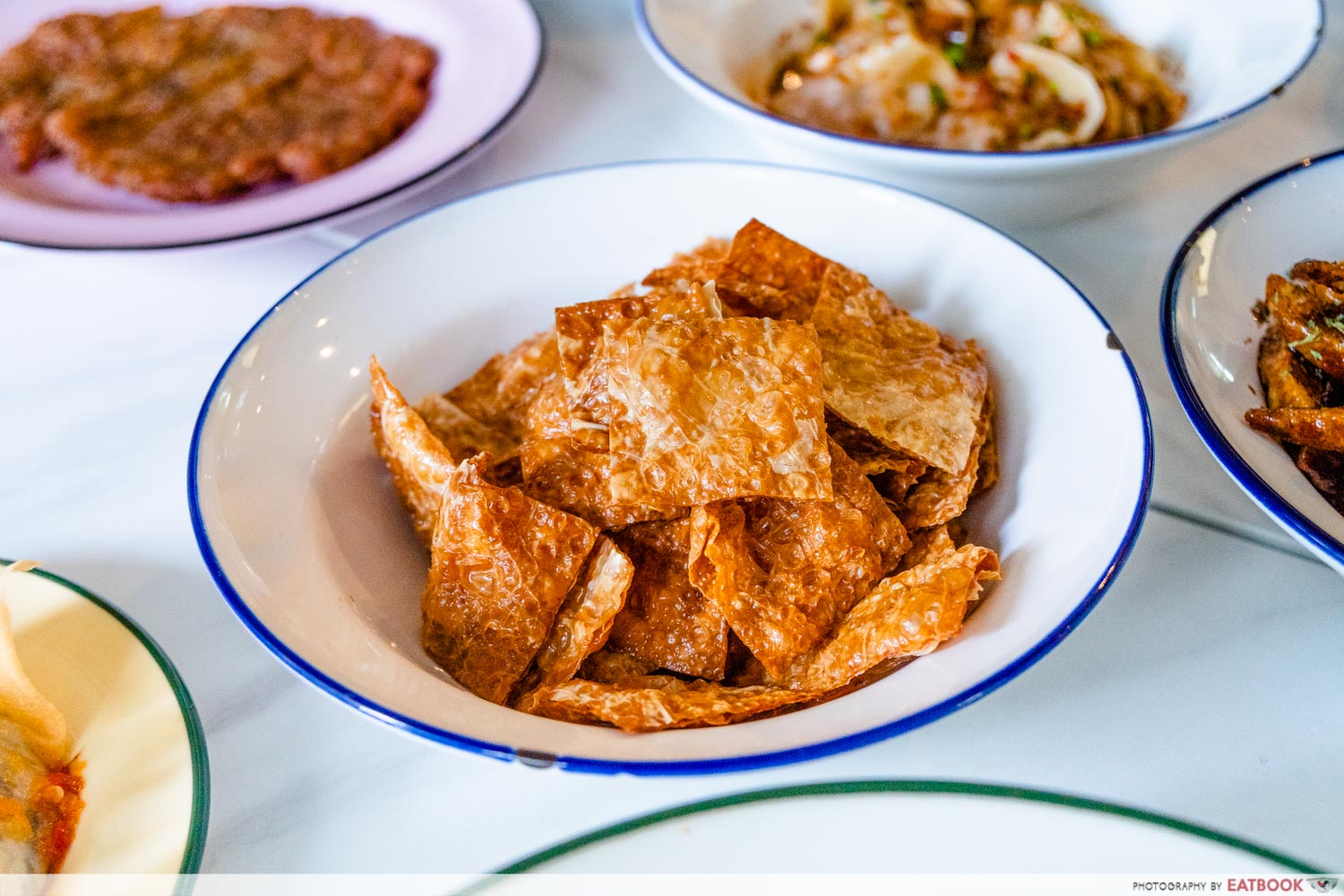 My choice of beer snack goes to Fried Beancurd Skin ($4+), or $2+ as an add-on to any fried rice, while my colleagues much preferred the Balsamic Vinegar Fries ($9+).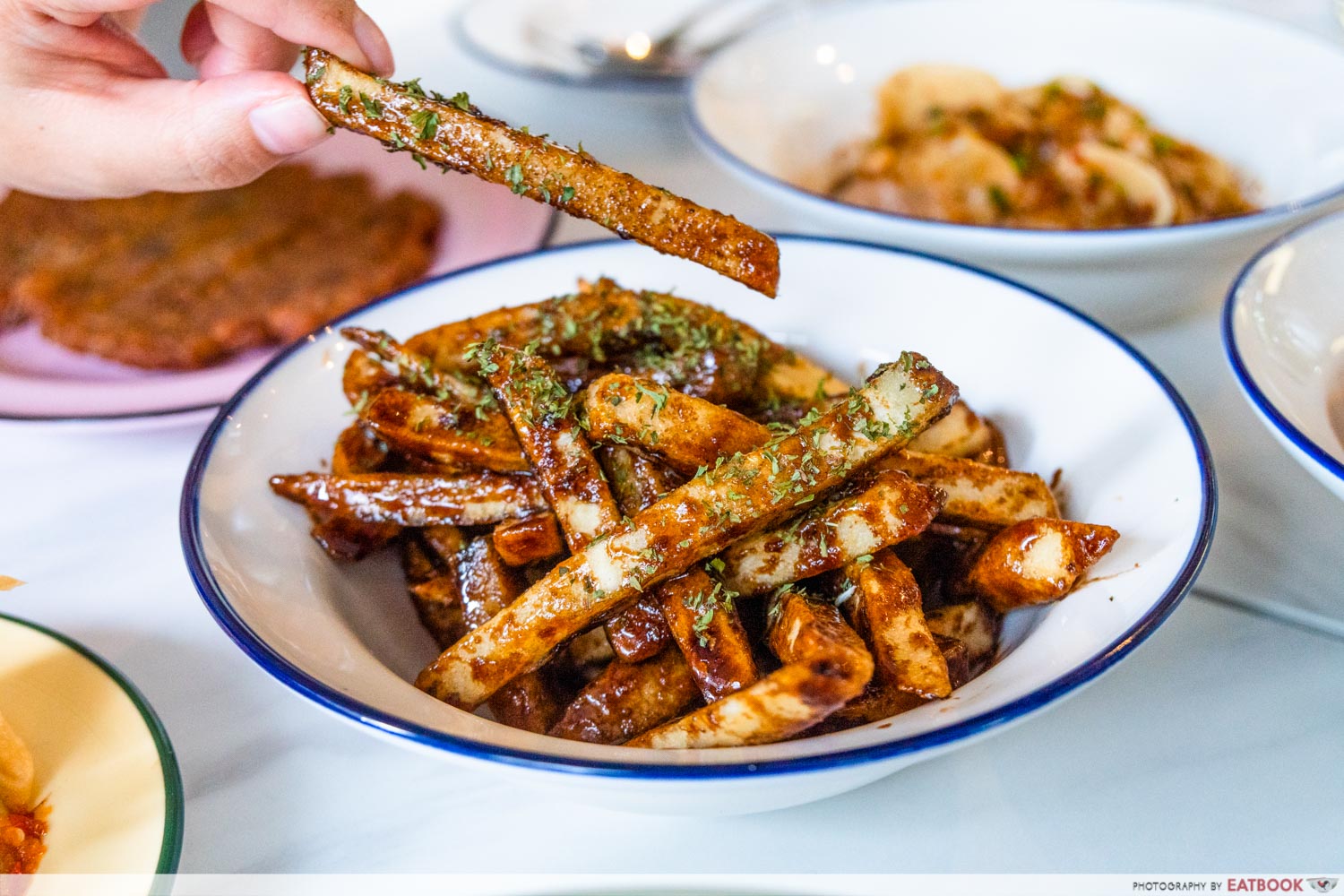 These come coated in a sticky, sweet-sour balsamic vinegar reduction glaze, dusted with chopped parsley. For a more conventional snack, Truffle Fries ($10+) are available on the menu too.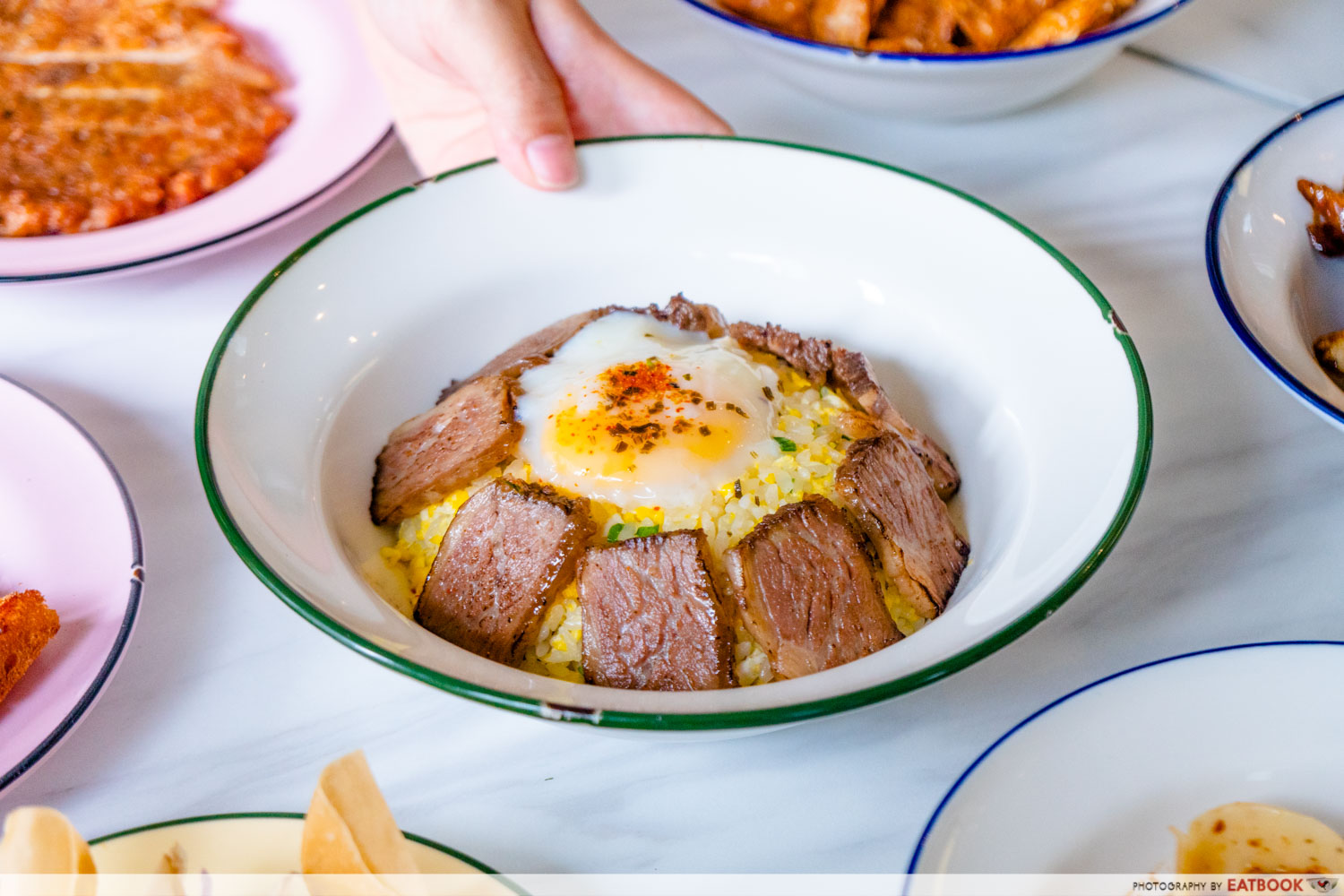 Another highlight was Niu Yolk Fried Rice ($18+), the most expensive dish on the menu, but which comes topped with slices of short rib. I recommend mixing the onsen egg into the egg fried rice for a creamy finish.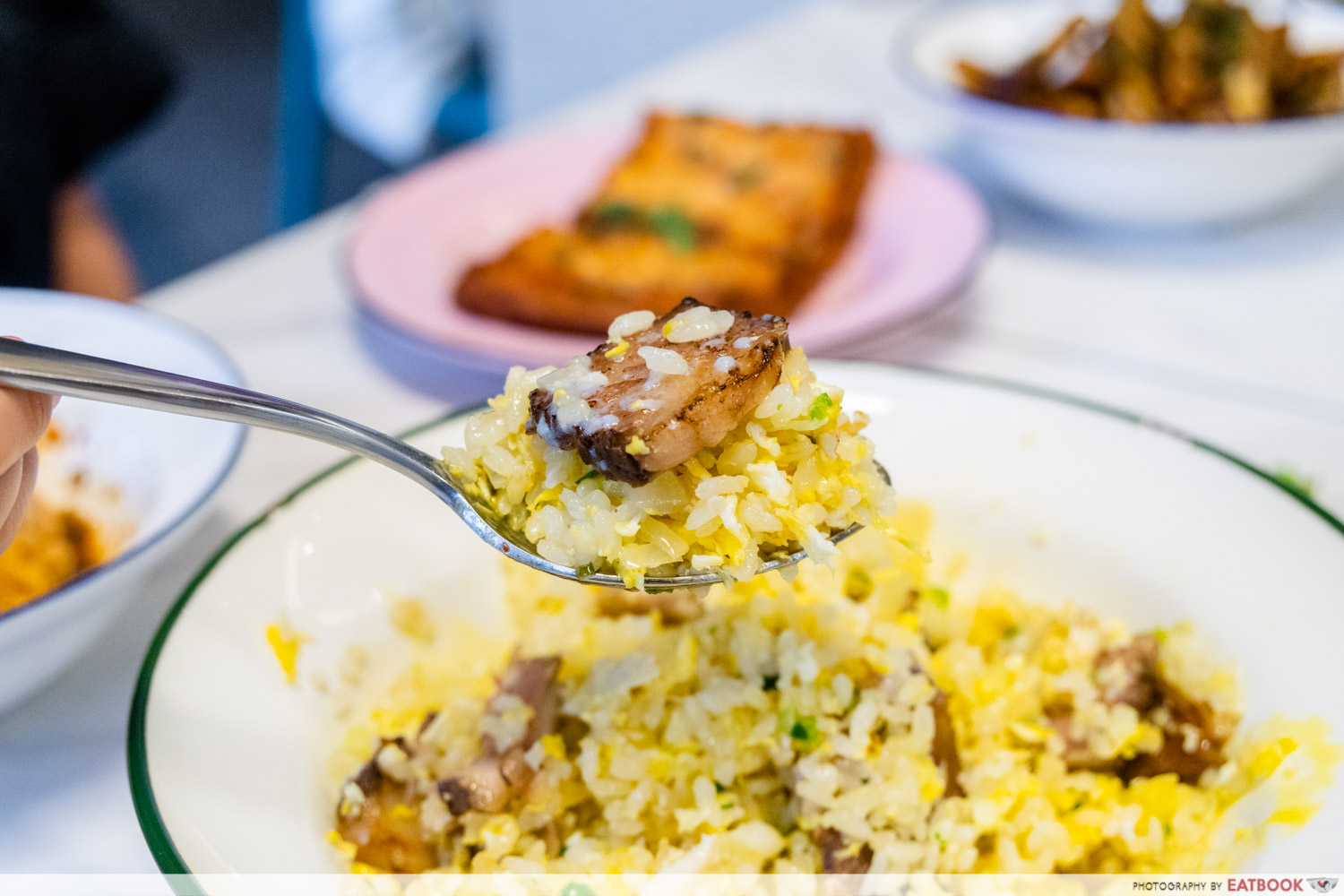 They use high quality Japanese short-grain rice here, fried with plenty of eggs for that Din Tai Fung-esque golden finish. Full as we were, we could not stop digging into this. The sous vide, torched slices of short ribs were meltingly tender, with a smoky finish.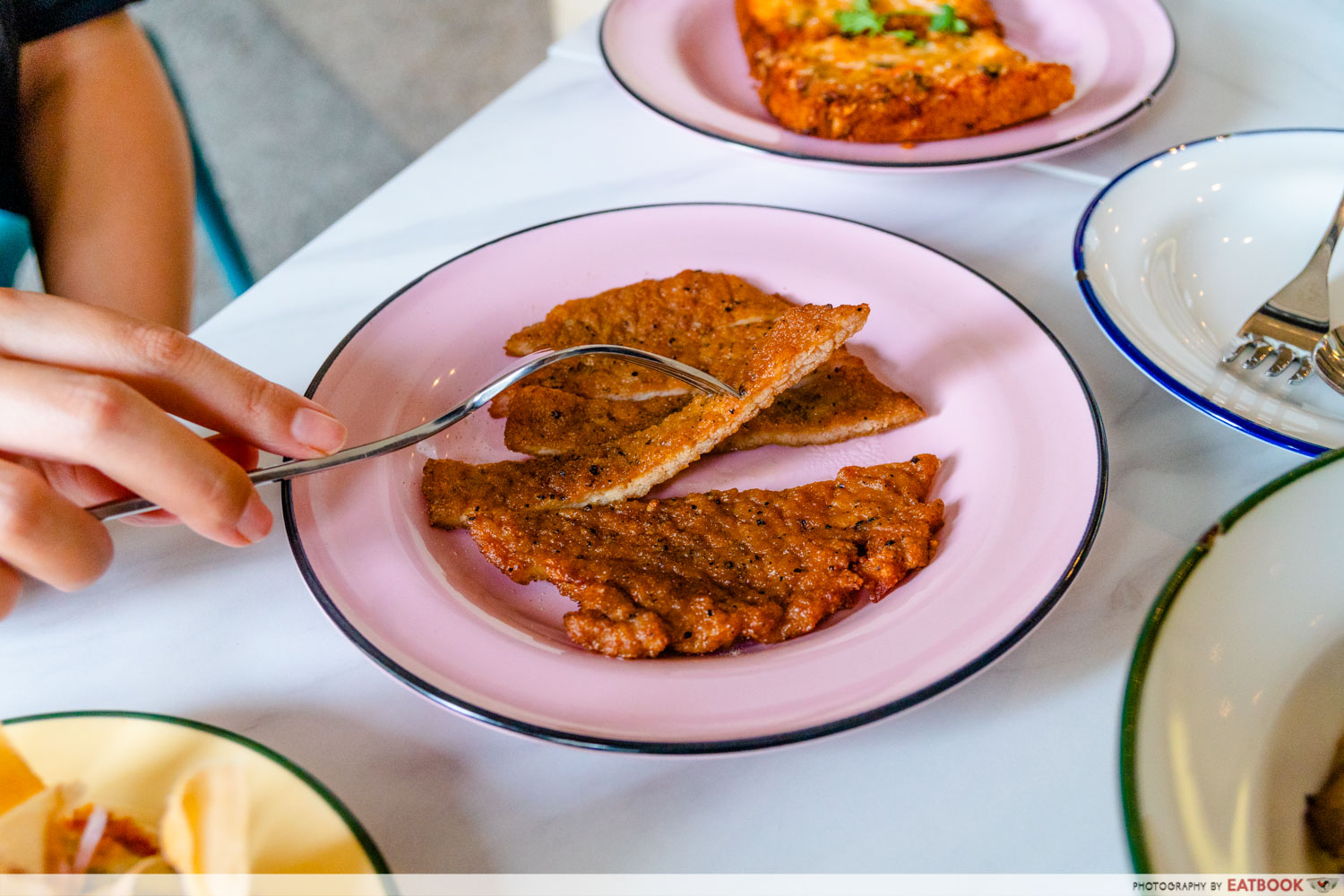 We also added on a Pork Chop ($3.80+) on the side, which taste-wise we felt was comparable to the ones at Din Tai Fung.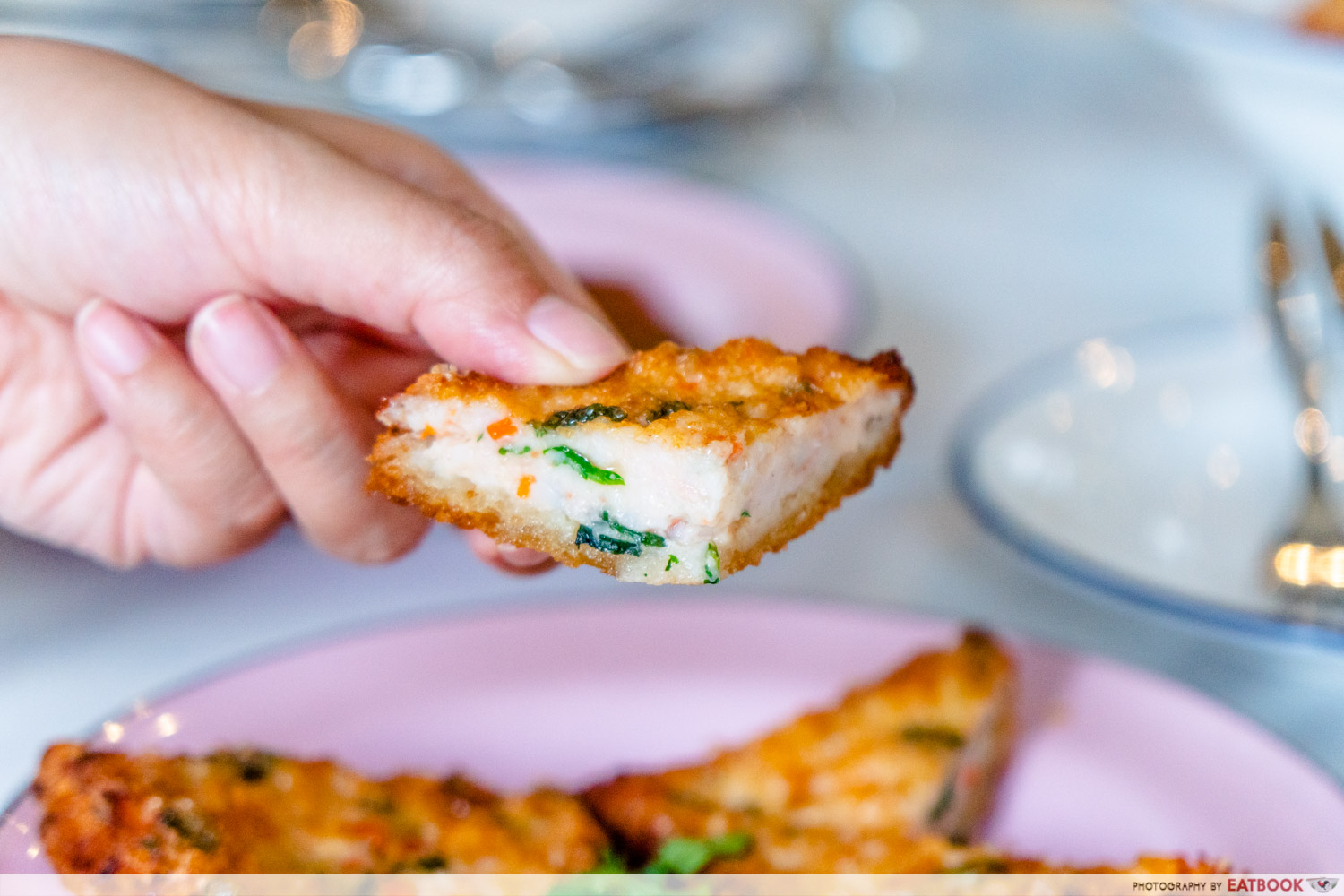 Prawn Toast ($9.50+) is more commonly found in Western-Chinese cuisine, so to find it here was a small surprise. Lots of arm muscle goes into this, because minced prawn in the tens of kilos are hand-thrown to attain this consistency. The sweetness of the prawn paste is accentuated with shredded carrot, with lashings of coriander, before its thickly slathered on toast and deep-fried.
I had this both fresh and hot, and cold after photo-taking, and it was astonishingly crisp even when cooled.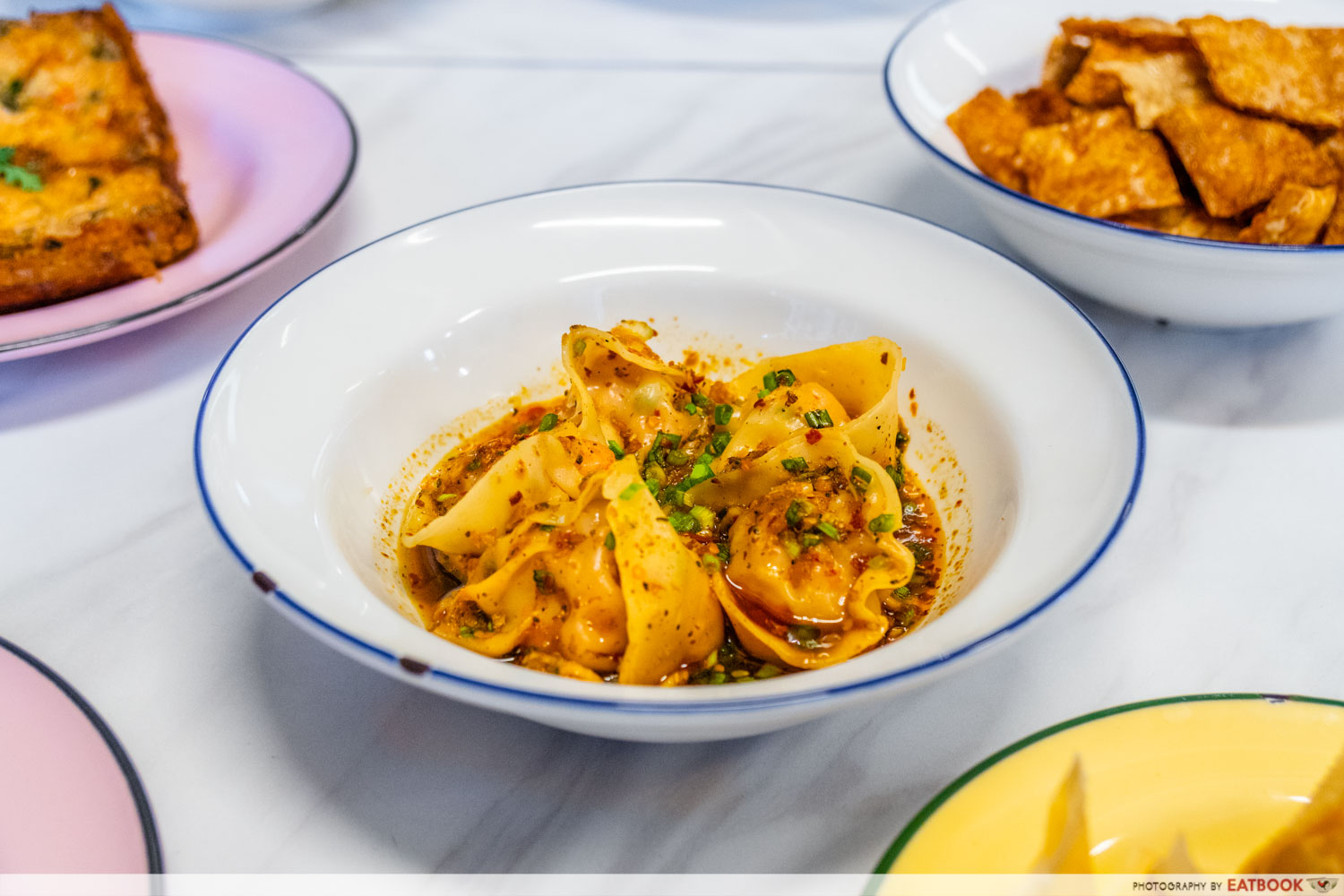 "This is better than Din Tai Fung's," my colleague announced, upon eating the Red Hot Chilli Dumplings ($8.90+), since we were on the topic of comparisons after eating the fried rice. It's a bigger, more meaty and prawny dumpling; the dressing a touch spicier, and with a bit more Sichuan pepper, if you ask me.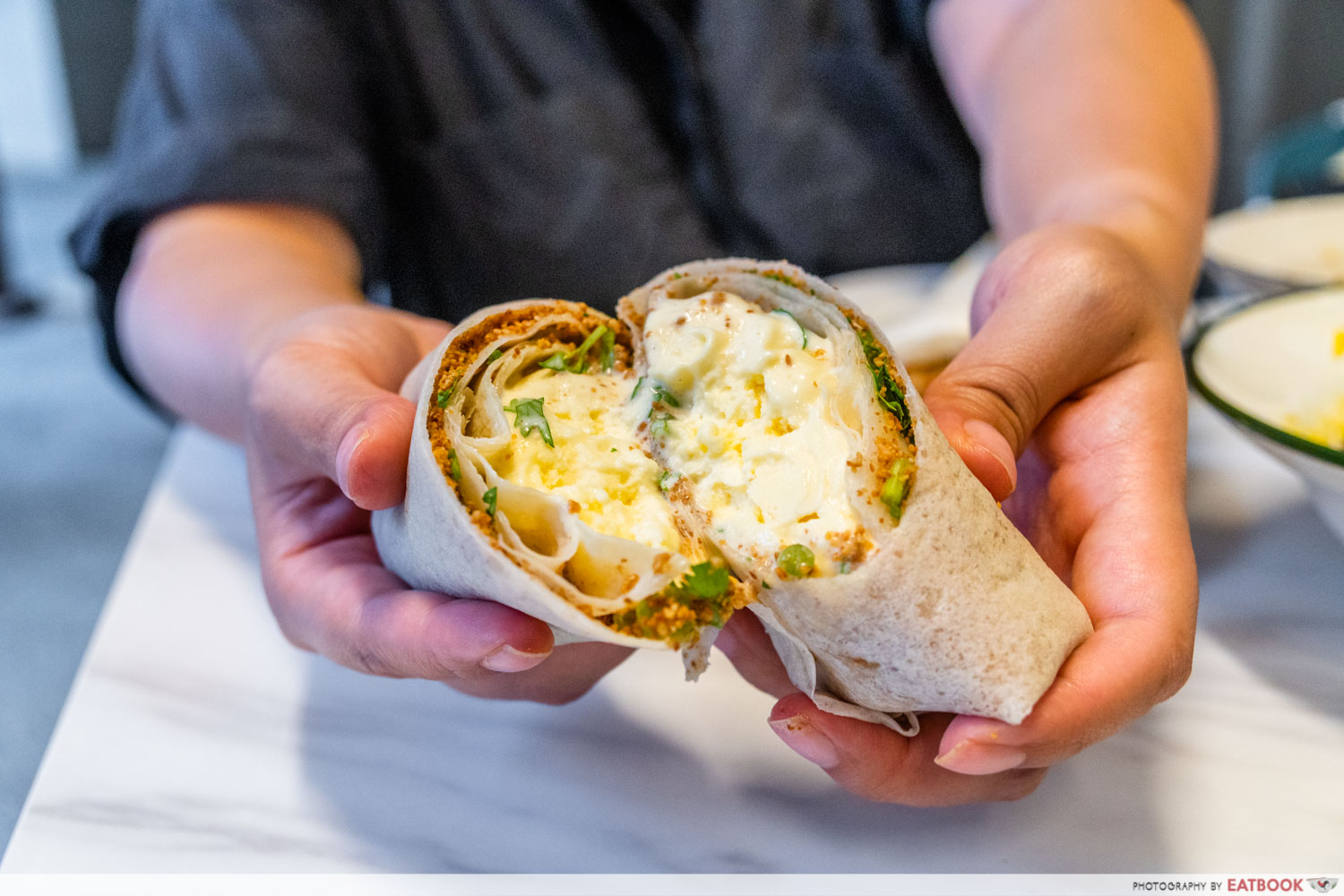 Like the Gua Bao, Peanut Ice Cream Roll ($6+) is a famous Taiwanese street food. If you're unfamiliar with the concept, it's vanilla ice cream, wrapped popiah-like, with lots of crushed, roasted peanuts, and fresh coriander. It's a flavour combination that works well, with the fresh taste of coriander complementing the savoury notes of roasted peanuts, which in turn add textural contrast to the smooth, sweet ice cream.
Braving his coriander aversion, my colleague took a bite, and promptly moaned in delight, until of course, he got remnant bits of coriander in his mouth. Personally, I'd prefer vanilla bean ice cream, but that wouldn't be as legit.
Ambience at Abundance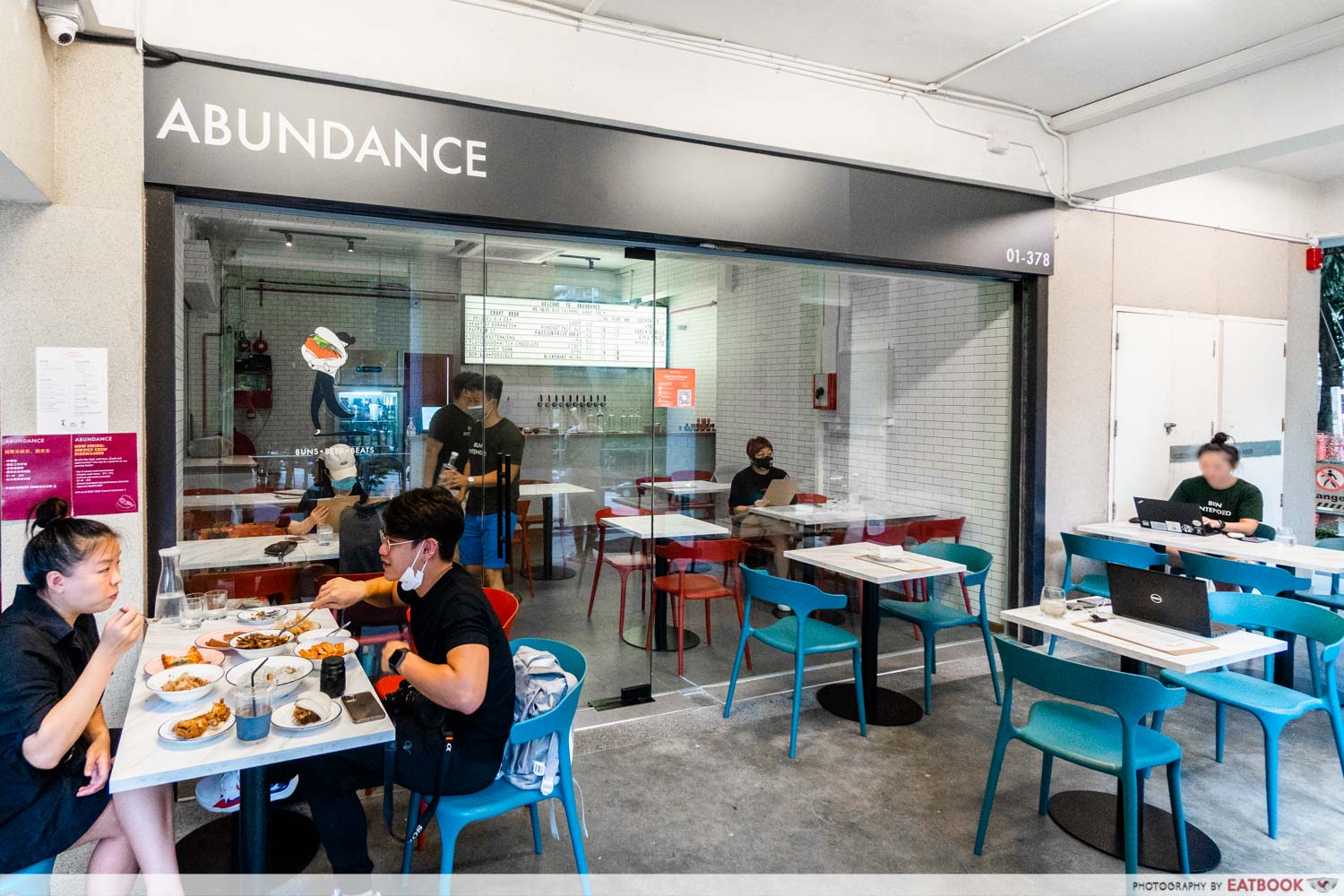 Located a short two-minute walk across the road from Redhill MRT Station, Abundance is elevated and removed from the main road thanks to a small outdoor amphitheatre of sorts. There are indoor, and outdoor, seats here, although the outdoor seats are reasonably cool as well, thanks to the mounted fans.
They've also installed blinds that can be lowered to block the outdoor tables from direct sun, pelting rain, or nosy pedestrians, if it comes to that. The Leng Kee offices nearby mean that lunch hours get pretty crowded here, so it's a good idea to come at at off-peak hours if you can spare the time, or be prepared to wait.
Maison Sucree Review: New Bakery-Cafe With Almond Croissants, Salted Caramel Chocolate Tart And More In Redhill
The verdict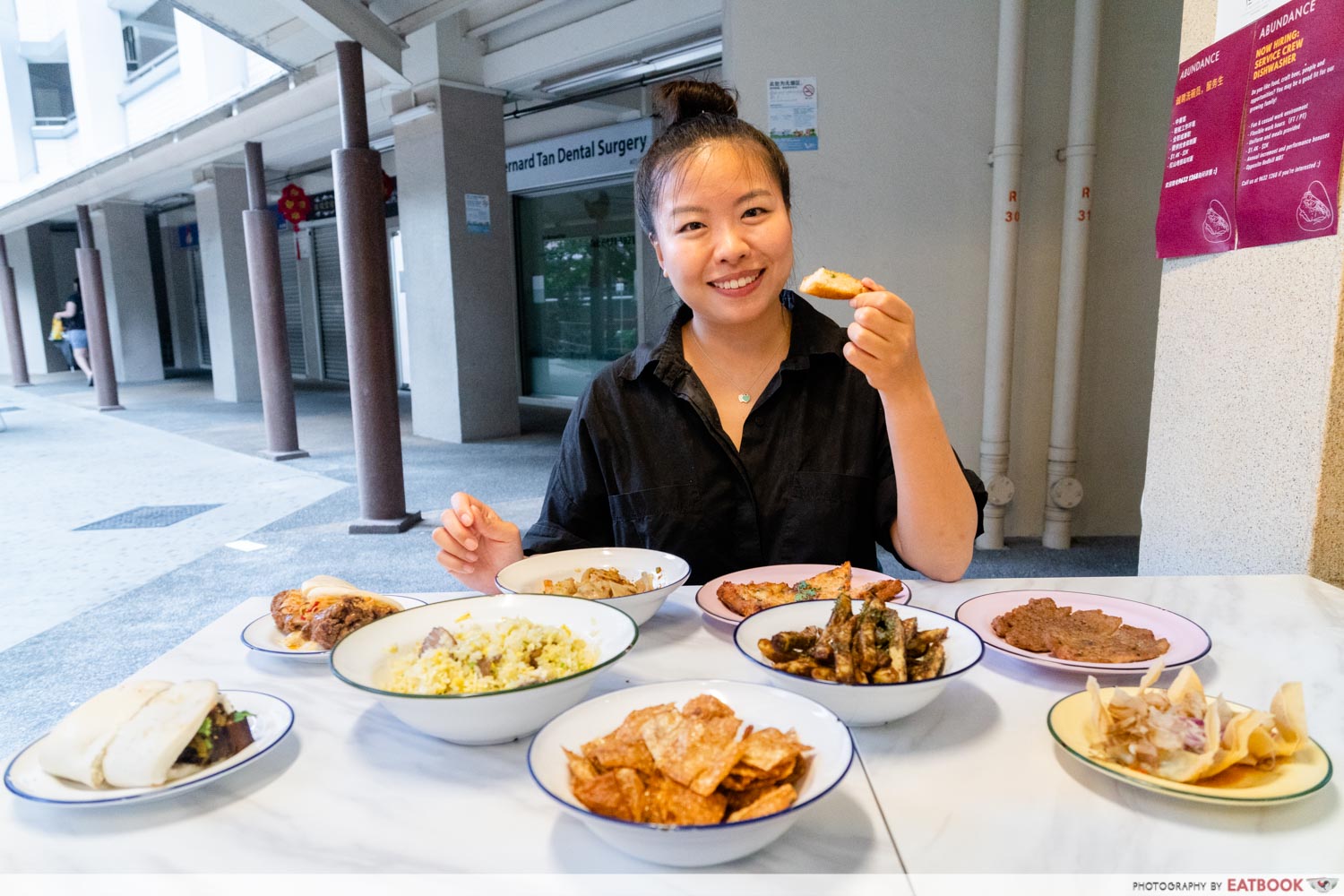 We were wowed by the food at Abundance, more so for its humble location in an HDB estate. The prices might err a little bit on the pricey side, but it's a small operation, and the quality of the ingredients used, which correspondingly costs a little more, is something they pride themselves on. They're still pretty new at this, so do forgive them the occasional hiccup while they get into the swing of things. The friendly staff, tasty grub, and wide selection of craft beers on tap more than make up for it.
While Abundance sorts out their operations, do note that their kitchen is not open every day. Do refer to their Instagram page, where they'll update the week's schedule every Monday. When the kitchen is closed, the taps are still pouring, and you're invited to BYOF, or Bring Your Own Food!
Just around the corner is Maison Sucree, a Muslim-owned bakery-cafe whose lemon meringue tart we loved! Otherwise, Tian Tian Curry Rice is a fabled Redhill institution that's been around since 1973.
Address: 63A Lengkok Bahru, #01-378, Singapore 151063
Opening hours: Tue-Sun 11am to 3pm, 6pm to 10:30pm
Tel: 9632 1268
Website
Abundance is not a halal-certified eatery
Photos taken by Melvin Mak.
This was a media tasting at Abundance.
Tian Tian Hainanese Curry Rice Review: Famous Redhill Hawker Stall That Has Been Around Since 1973
The post Abundance Review: New Taiwanese Cafe At Redhill With Gua Bao And Peanut Ice Cream appeared first on EatBook.sg – New Singapore Restaurant and Street Food Ideas & Recommendations.