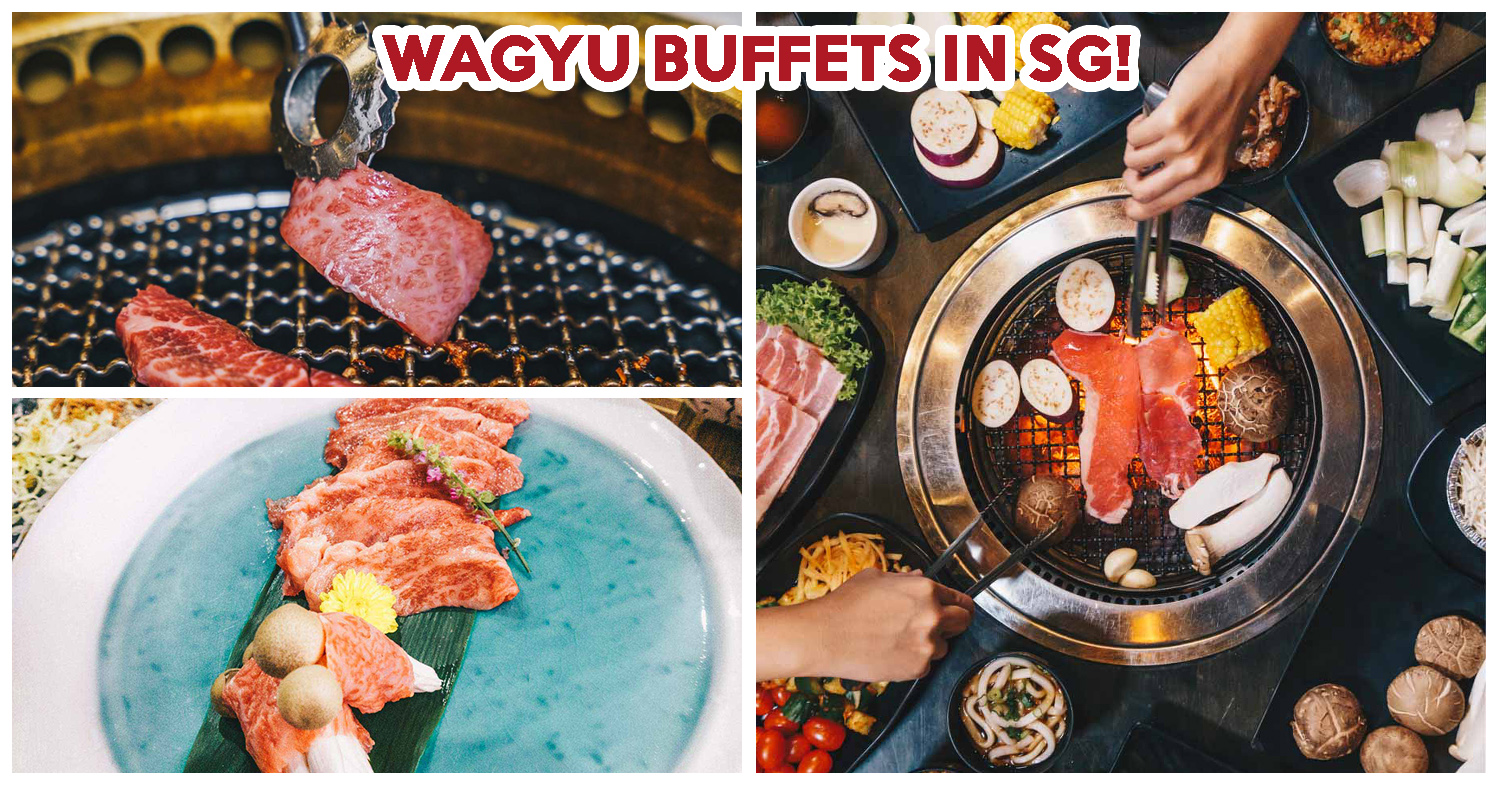 ---
Wagyu buffets that aren't out of reach
---
Wagyu beef is proof that fat isn't always a bad thing. With its intense marbling, wagyu comes with a melt-in-your-mouth texture, and it makes our mouths water just thinking about it. Because of its limited quantity, wagyu beef has a reputation for being priced out of the reach of us common folk. Except the cattle has seen its price drop dramatically over the years. We rounded up 9 wagyu buffets with free-flow wagyu beef that you can relish to your heart's content. 
---
1. Gyu-Kaku
---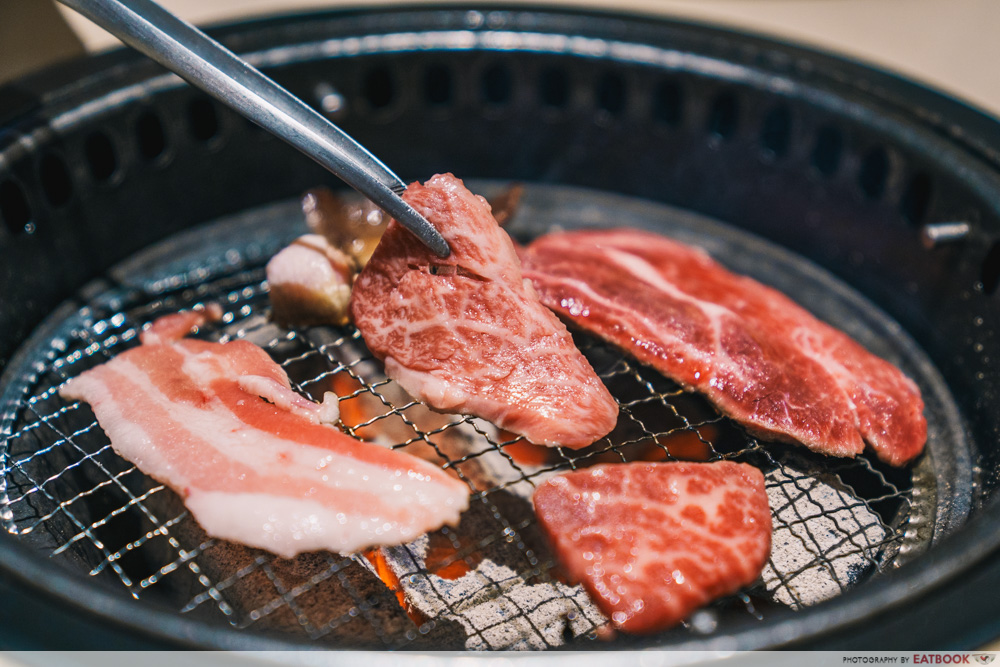 Gyu-Kaku offers free-flow wagyu in an assortment of cuts in their Australian Wagyu Course ($66.80++). The 90-minute buffet is done BBQ-style, complete with appetisers and a substantial seafood collection, featuring butter scallops and aburi prawns. By cooking on a charcoal grill attached to your table, you'll get to choose the doneness of your beef, and enjoy that smoky aroma that escalates the red meat to a whole new level.
If you are feeling extra indulgent, upgrade your buffet to their Japanese Wagyu Course ($86.80++), which has everything in the Australian Wagyu Course, with additional premium cuts.
---
2. Tajimaya
---

Image credit: @jessfwy
Our second Japanese charcoal grill place is also one of the more pocket-friendly buffet options. Tajimaya offers a Premium Wagyu Buffet ($54.90++ for weekday lunch, $64.90++ for weekday dinner), featuring kurobuta pork, tiger prawns and sashimi, on top of wagyu beef. At such a price, just going for the wagyu and sashimi is enough to make your money's worth. Top up $3++ to the buffet price when you're dining on Friday to Sunday, or on public holidays.
---
3. Tenkaichi Yakiniku Restaurant
---

Image credit: Tenkaichi Yakiniku Restaurant
Tenkaichi Yakiniku Restaurant offers two choices of buffet: premium and deluxe. The Premium Buffet is the one with wagyu. It features an assortment including Wagyu Beef Yukke, Wagyu Tataki, Wagyu Beef Sashimi, Wagyu Beef Ox Tongue, and more. Don't skip their Wagyu Karubi (short ribs), which comes from Hokkaido and Australia, and packs a marbling score of 7+.
Their current promotion features weekday lunch at $69.90++ (U.P. $114.80++) and dinner at $79.90++ (U.P. $119.80++) with free-flow drinks.
Website
Full list of locations
---
4. Shaburi & Kintan Buffet
---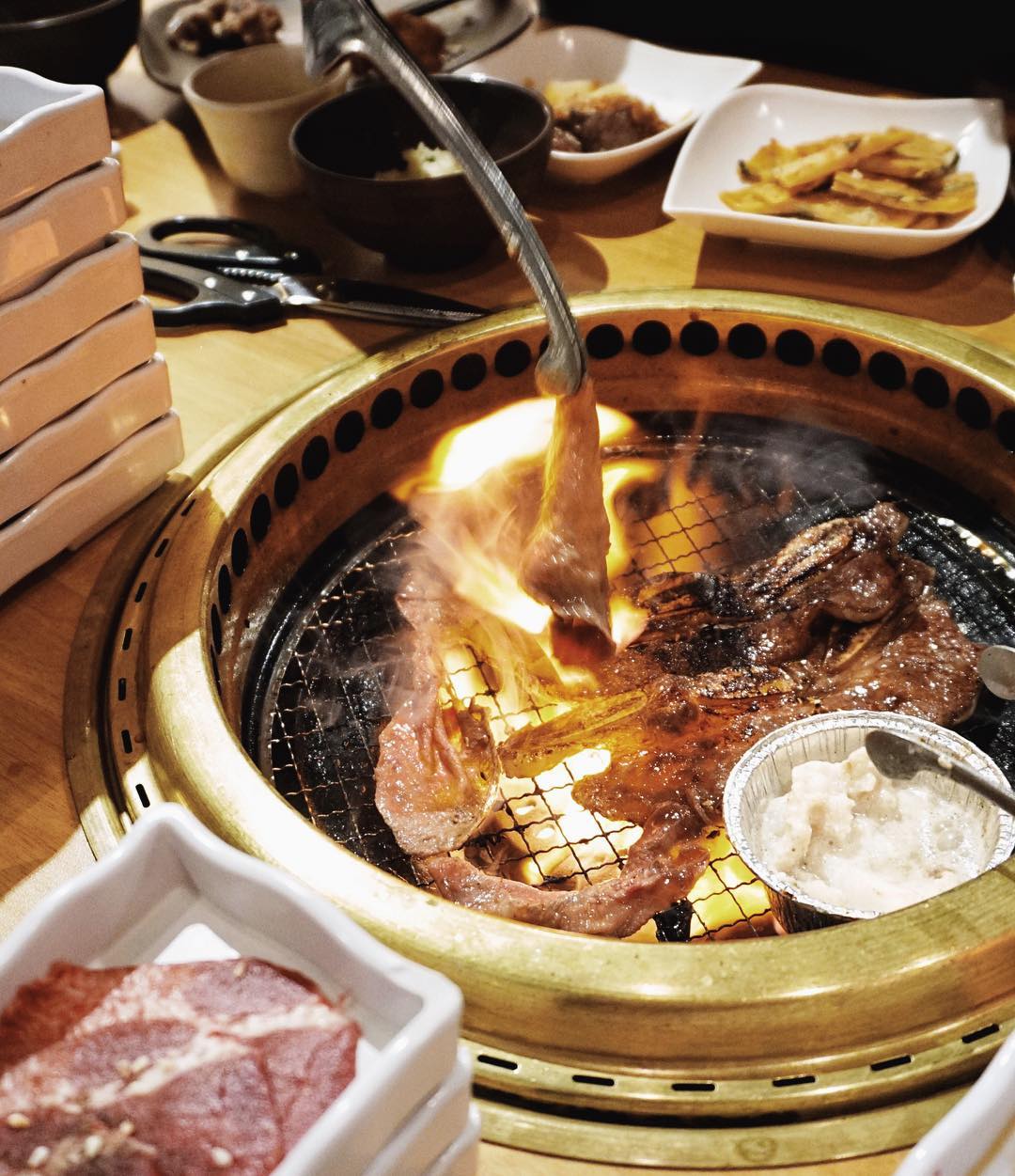 Image credit: @gnohznaij
Shaburi & Kintan is made up of two separate restaurants under one roof. Shaburi features shabu-shabu and Kintan offers Japanese BBQ. Kintan has a Premium Wagyu Buffet featuring more than 50 items, priced at $54.80++ for weekday lunch and $59.80++ for dinner, weekends, and PH. This option entitles you to wagyu steak and wagyu karubi, amongst many other items. If you want to get extra decadent, they also offer a Seasonal Japanese Wagyu And Hokkaido Pork Buffet, priced at $89.80++ per adult.  This entitles you to a variety of prime Japanese wagyu, including A4 cuts, to barbecue to your heart's content. 
Address: 50 Jurong Gateway Road, #03-11, JEM, Singapore 608549
Opening hours: Daily 11:30am to 10pm
Tel: 6262 4329
Website
---
5. Azmaya

---

Image credit: @foodiejacque
Azmaya closes after midnight, which makes it a great hangout for supper. For a shabu shabu sesh, their Japanese Wagyu & Shabu Shabu Pork Combo goes for $85, while their premium option of the same buffet is priced at $110.
If you prefer yakiniku, then opt instead for their Aussie Wagyu BBQ Combo, for $85. The fancier counterpart to this is their Japanese Wagyu BBQ Combo, priced at $105. Prices are all nett to boot.
Address: 30 Robertson Quay, #01-12, Riverside Village, Singapore 238251
Opening hours: Mon-Thur 6pm to 1am, Fri 6pm to 2am, Sat 5pm to 2am, Sun 5pm to 1am
Tel: 6737 6863
Website
Menu
---
6. Tokyo Yakiniku Heijoen
---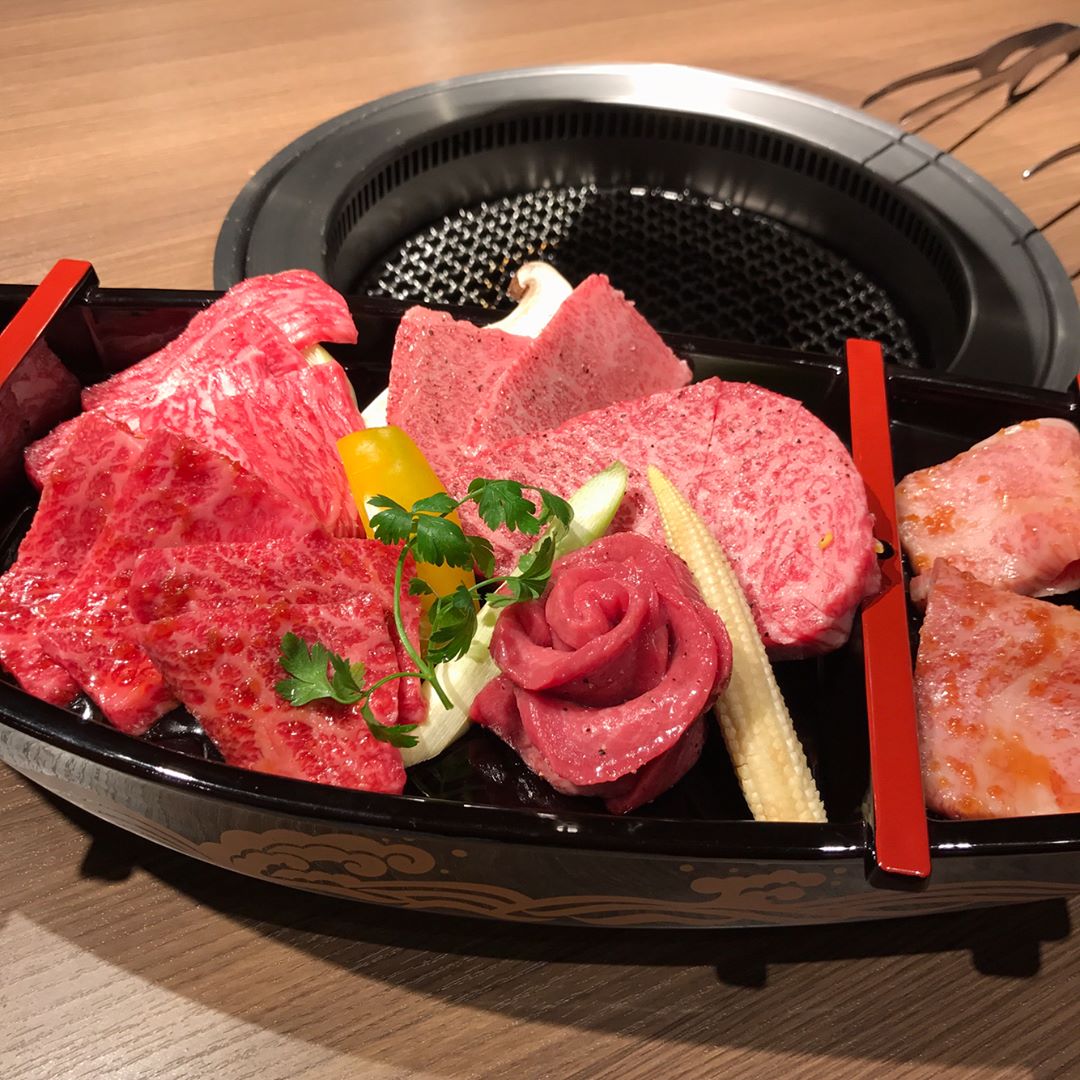 Image credit: @shane.liuw
Yakiniku Heijoen is famous for their A5 Japanese Wagyu beef, which is flown in from Japan. They offer three buffet options, but Premium Wagyu Buffet ($70++ per adult) is the one to go for. With wagyu beef skirt steak and short ribs, along with various other cuts, seafood, and sides, this is a buffet you'll be happy to pay for.
Address: 100 Tras Street, #03-11, 100AM, Singapore 079027
Opening hours: Mon-Fri 11am to 3pm, 6pm to 10pm, Sat-Sun 11am to 3pm, 5:30pm to 10pm
Tel: 6538 2981
Website
---
7. Wagyu More

---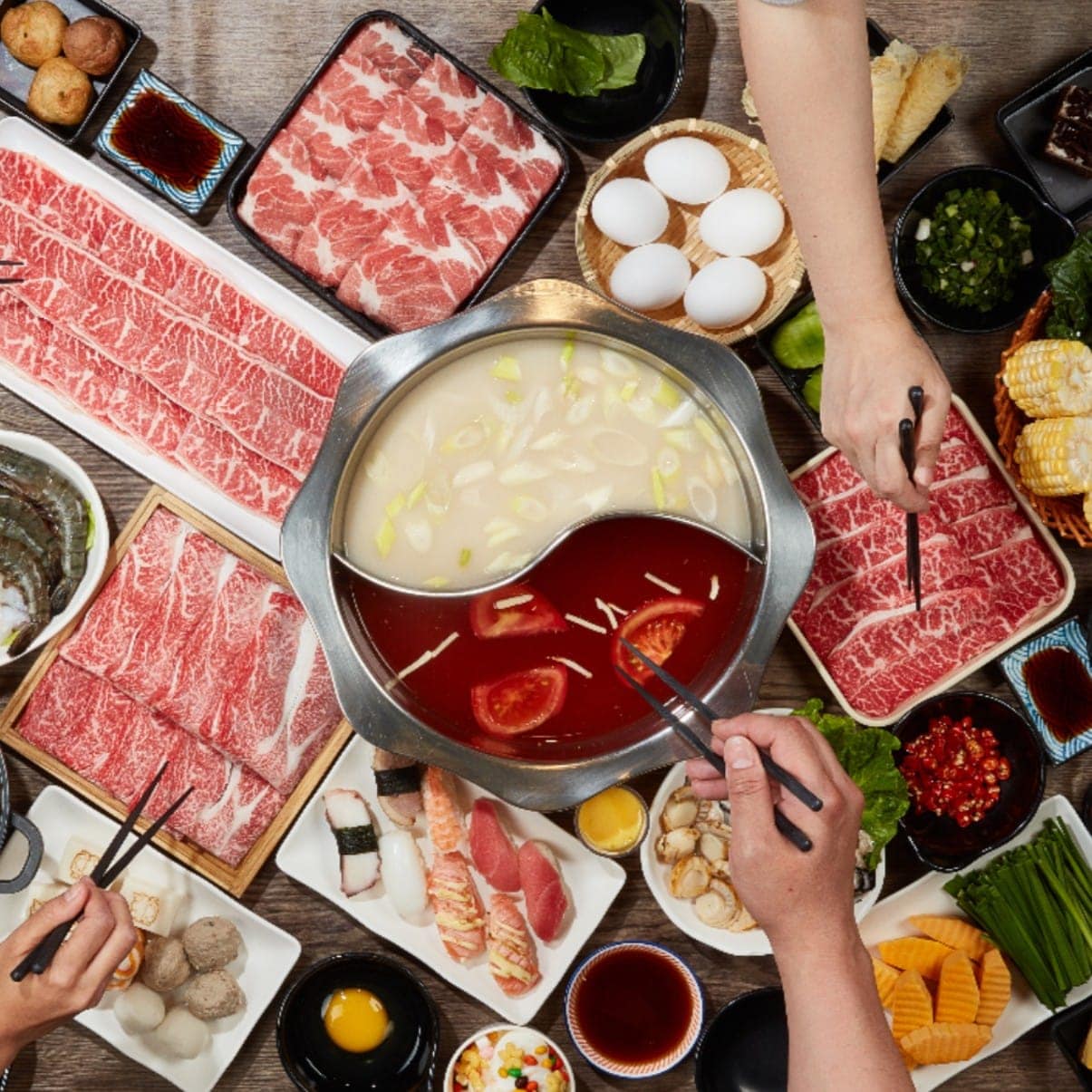 Image credit: Wagyu More
Hong Kong's famous shabu shabu chain, Wagyu More, offers an all-day All-You-Can-Eat Australian Wagyu Beef Buffet for $46.90+ per person, on top of all the offerings you can get from their standard buffet fare. Choose from soup bases to go with your beef, ranging from collagen chicken to spicy pork bone broth. If you want an upgrade, the Japanese A5 Wagyu Buffet is also available, priced at $118.90+ per person instead.
Address: 200 Victoria Street, #02-47/48, Bugis Junction, Singapore 188021
Opening hours: Daily 11am to 10pm
Tel:  8028 2868
Website
---
8. Syohachi Yakiniku

---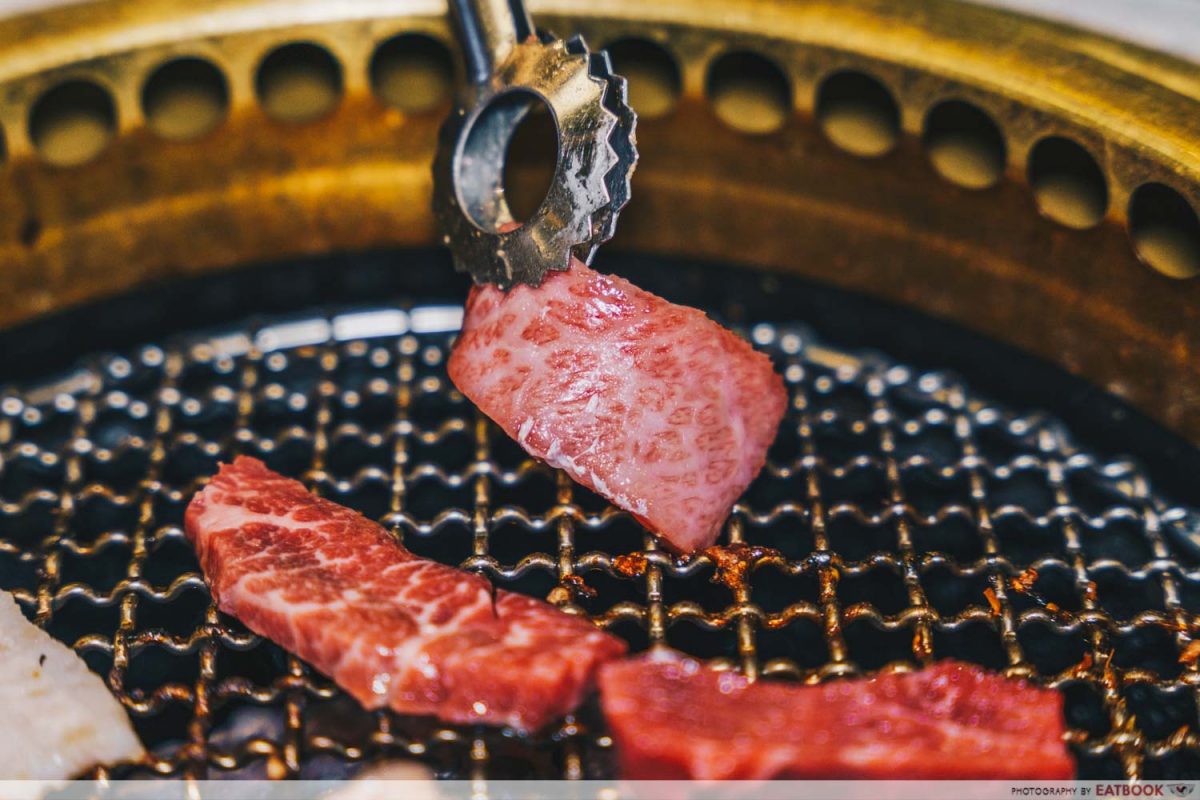 Another popular chain from Hong Kong offering wagyu buffets is Syohachi Yakiniku, sister restaurant to Syohachi Wagyu Hamburg. This yakiniku buffet offers two hours of A5 wagyu from $70++ on weekdays, from 5pm to 7pm. Choose from the likes of wagyu tri-tip, chuck, brisket, cubes, and more, as well as marinated wagyu bites. Top up $26++ per person to enjoy free-flow draught beer too!
Read our Syohachi Yakiniku review.
Address:  5 Wallich Street, #01-13, Guoco Tower, Singapore 078883
Opening hours: Sun-Thurs 11:30am to 3pm, 5pm to 11pm, Fri-Sat 11:30am to 3pm, 5pm to 1am
Tel: 9431 8804
Website
Syohachi Yakiniku Review: Yakiniku Buffet With Wagyu Tasting Platter For $30++ Per Person
---
9. Rocku Yakiniku
---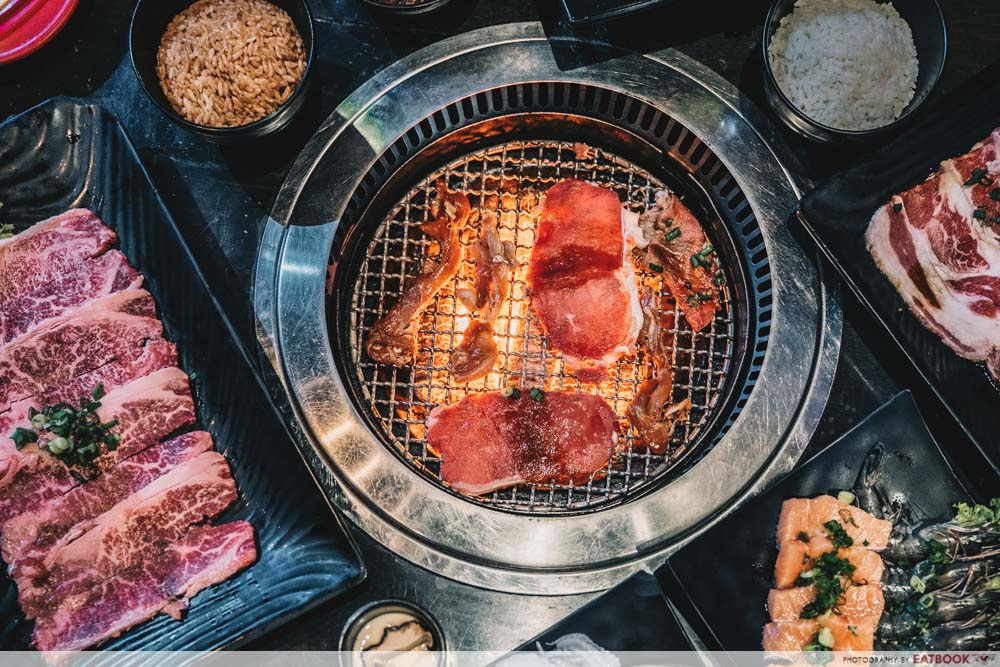 Rocku Yakiniku is a casual yakiniku joint that offers a Wagyu Buffet with free-flow Australian wagyu, from just $39.90++ for lunch, and $42.90++ for dinner from Monday to Thursday. Each buffet slot lasts for 100 minutes, and includes over 50 items off their regular buffet offerings too. If you're dining over the weekend or on public holidays, expect to top-up $3++ to each buffet price.
Address: 201 Victoria Street, Bugis+, #04-06, Singapore 188067
Opening hours: Daily 11:30am to 10pm
Tel:  6634 3313
Website
---
Wagyu buffets that are worth the splurge
---
Bookmark this list for date night, your next birthday celebration, or days you feel like you need to pamper yourself. The unlimited meaty goodness at these restaurants definitely lets you get your money's worth. For more buffets in Singapore, check out these durian buffets, dim sum buffets, and porridge buffets!
Featured image taken from Instagram user @gnohznaij's post.
This article was originally written on 18 July 2017.
The post 9 Wagyu Buffets In Singapore With Free-flow Wagyu Beef Starting From $39.90++ appeared first on EatBook.sg – New Singapore Restaurant and Street Food Ideas & Recommendations.