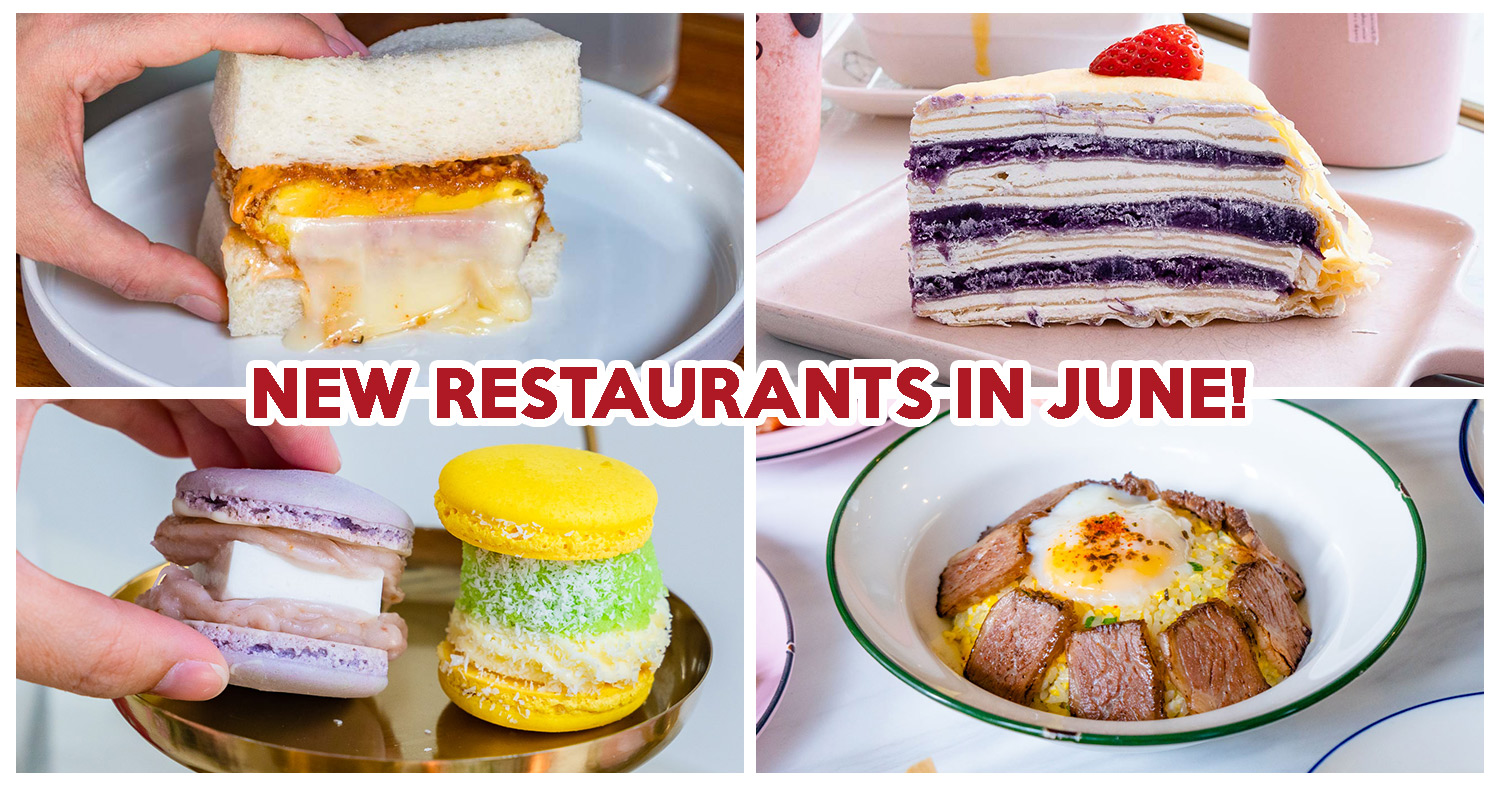 ---
New restaurants this June 2021
---
Even amidst P2HA, as F&B businesses scramble to adopt takeaway or delivery services, the food scene in Singapore remains just as vibrant. With that being said, here are nine new restaurants to try this June 2021 for us to #SaveFnBSG, especially during these turbulent times.
These restaurants provide delivery and takeaway options too, so you can enjoy their fare in the safety of home.
---
1. Wanton Seng's Eating House
---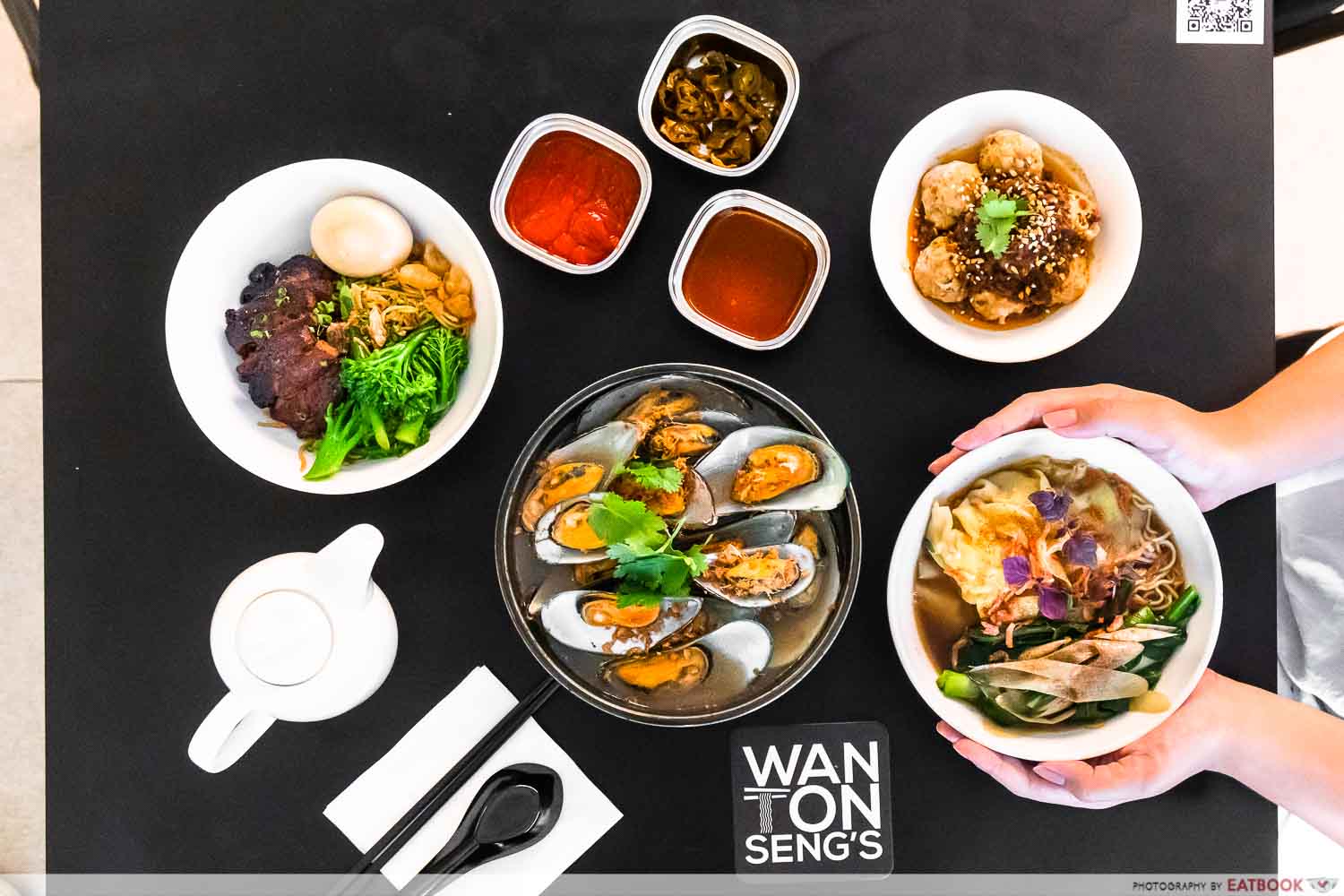 Run by the folks behind the now-defunct Wanton Seng's Noodle Bar is Wanton Seng's Eating House, located conveniently at Millenia Walk. This new concept boasts a comprehensive menu of noodle bowls, sides, sharing plates, and alcoholic beverages. Currently, their dishes are available for pick up and delivery.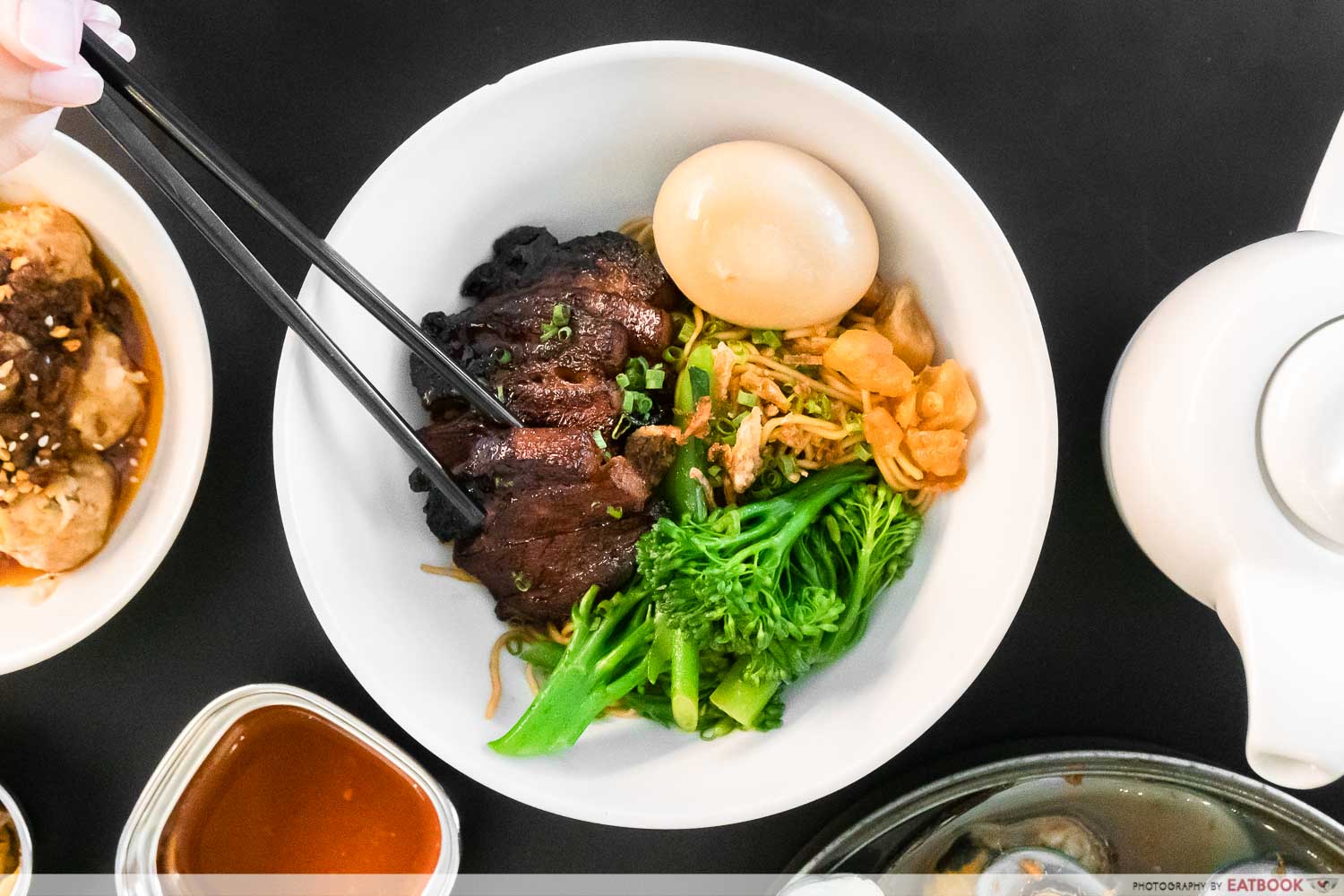 Here, you can expect popular items from their previous noodle bar, such as the Signature Char Siu Noodles ($12.80++). This is a modern play on our local favourite wonton mee, topped with flame seared pork belly, a soft-centre egg, and copious amounts of crisp, airy lard. Other noteworthy dishes include their Mala Lion Head's Meatball ($10++), dressed in an XO mala sauce, and the Ah Hua Kelong Mussels ($17++), flavoured with garlic and Jim Beam bourbon whisky.
Read our Wanton Seng's Eating House review!
Address: 9 Raffles Boulevard, #01-11/12/13, Millenia Walk, Singapore 039596
Opening hours: Daily 11:30am to 10:30pm
Tel: 9772 2587
Website
Wanton Seng's Eating House Review: Pork Belly Wonton Mee And Bourbon Mussels At Millenia Walk
---
2. Haengbok Cakeyo
---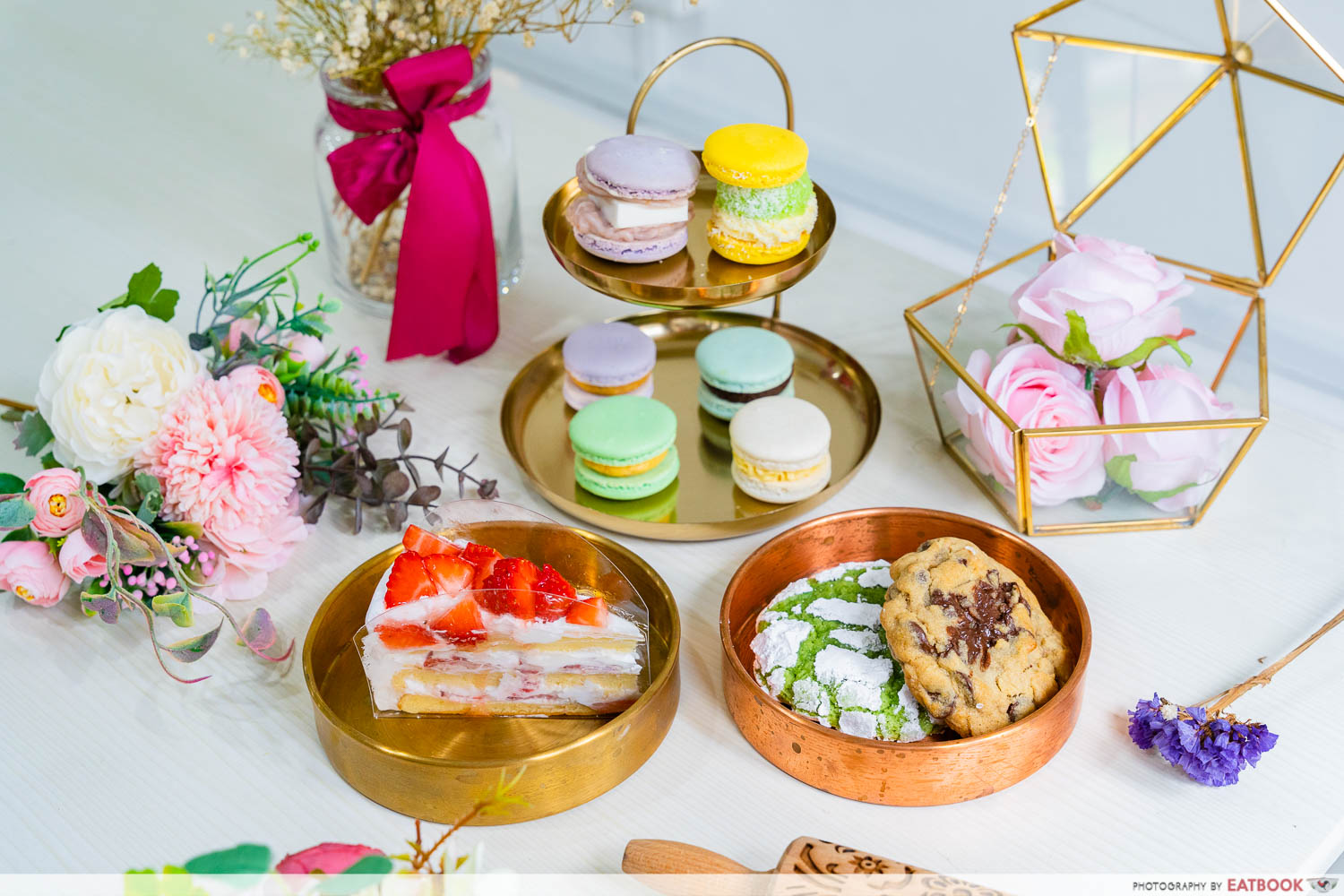 Haengbok Cakeyo is a play on the Korean word for happiness, sure to delight you with its array of Korean-inspired sweet treats, which span lunch box shortcakes, Levain-style cookies, thicc macarons, and more! In light of P2HA, these items are available for takeaway in-store, and delivery on their webpage.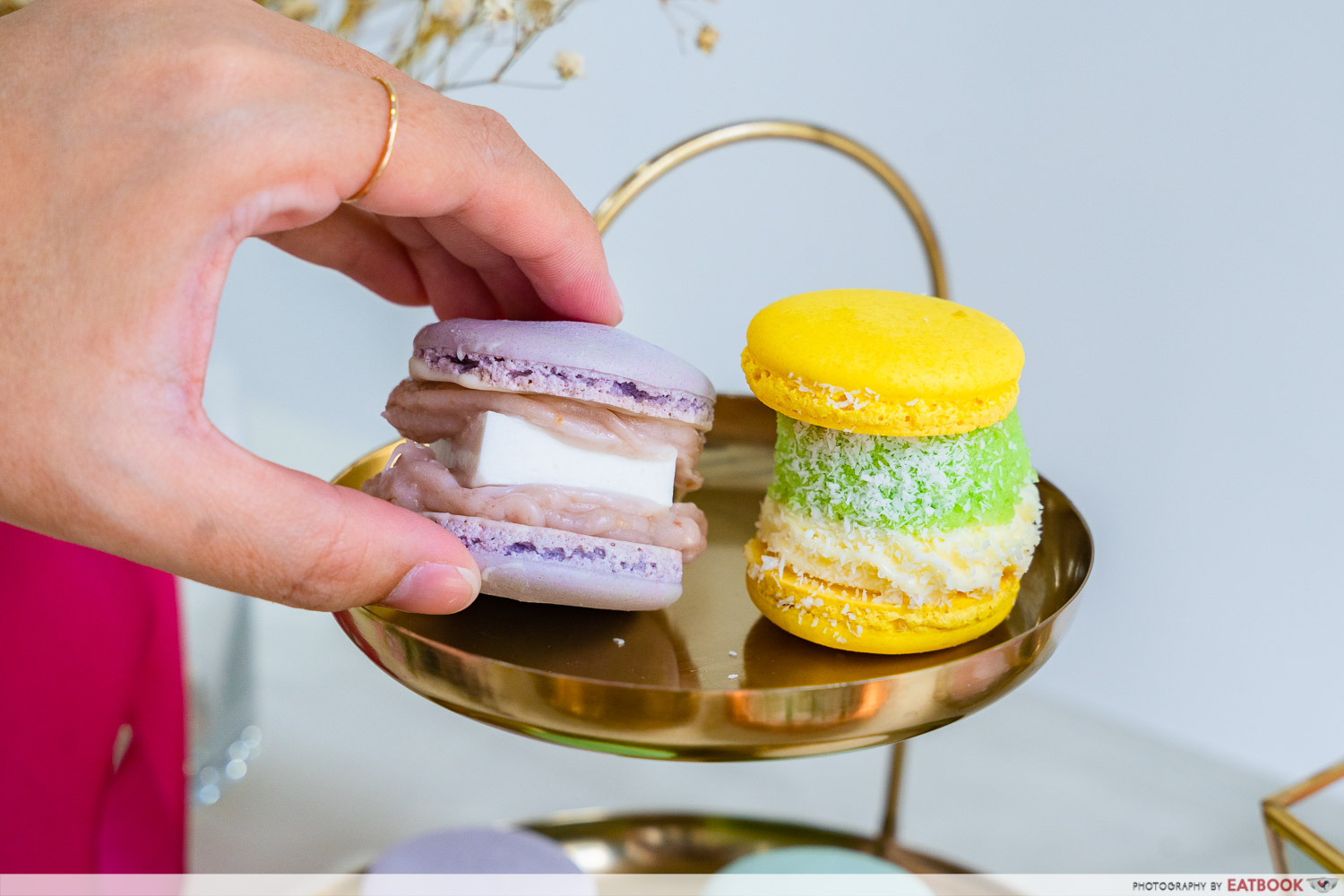 These thick macarons, known as Fatfatcarons, are priced at $5.80 each, and feature localised flavours such as Orh Nee and Ondeh Ondeh. In line with the thicc theme, Haengbok Cakeyo also has Chubby Cookies for sale, with flavours such as Pandan Gula Melaka and Red Velvet. These are priced at $5.80 each.
Read our Haengbok Cakeyo review!
Address: 41 Kampong Bahru Road, Singapore 169358
Opening hours: Thurs-Mon 11am to 7pm
Tel: 9388 4068
Website
Haengbok Cakeyo Review: New Korean Bakery For Thick Cookies, Bento Chiffon Cakes, And Fat Macarons
---
3. Abundance
---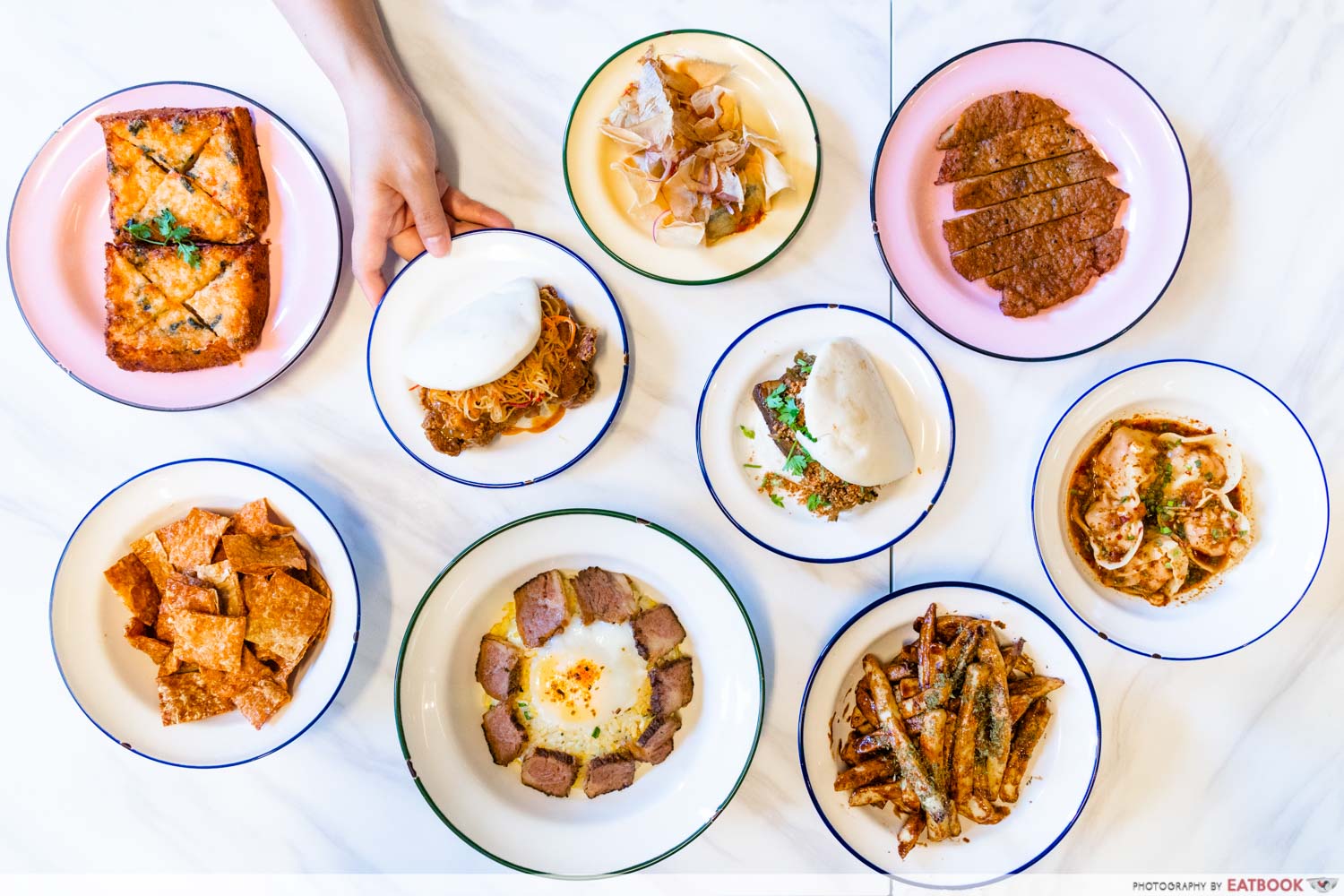 Tucked away in the unassuming neighbourhood of Lengkok Bahru is Abundance, a home-based business turned physical eatery, best known for their hefty gua baos. They also offer an assortment of Taiwanese-style dishes, which are now available for preorder and pick up.
Their Gua Bao ($7.50+) features a hefty, melt-in-the-mouth pork belly, dressed with pickles, coriander, and roasted peanuts. There's also the CCB ($7.90), or Crispy Chicken Bun, which sees a deep-fried chicken thigh, mango slaw, and peanut butter sauce, sandwiched in a lotus bun.
Meanwhile, if rice is your preferred carb, consider the Niu Yolk Fried Rice ($18), fried in beef fat, then topped with tender short rib slices and an oozy onsen egg.
Read our Abundance review!
Address: 63A Lengkok Bahru, #01-378, Singapore 151063
Opening hours: Tue-Sun 11am to 3pm, 6pm to 10:30pm
Tel: 9632 1268
Website
Abundance Review: New Taiwanese Cafe At Redhill With Gua Bao And Peanut Ice Cream
---
4. Smile Dessert
---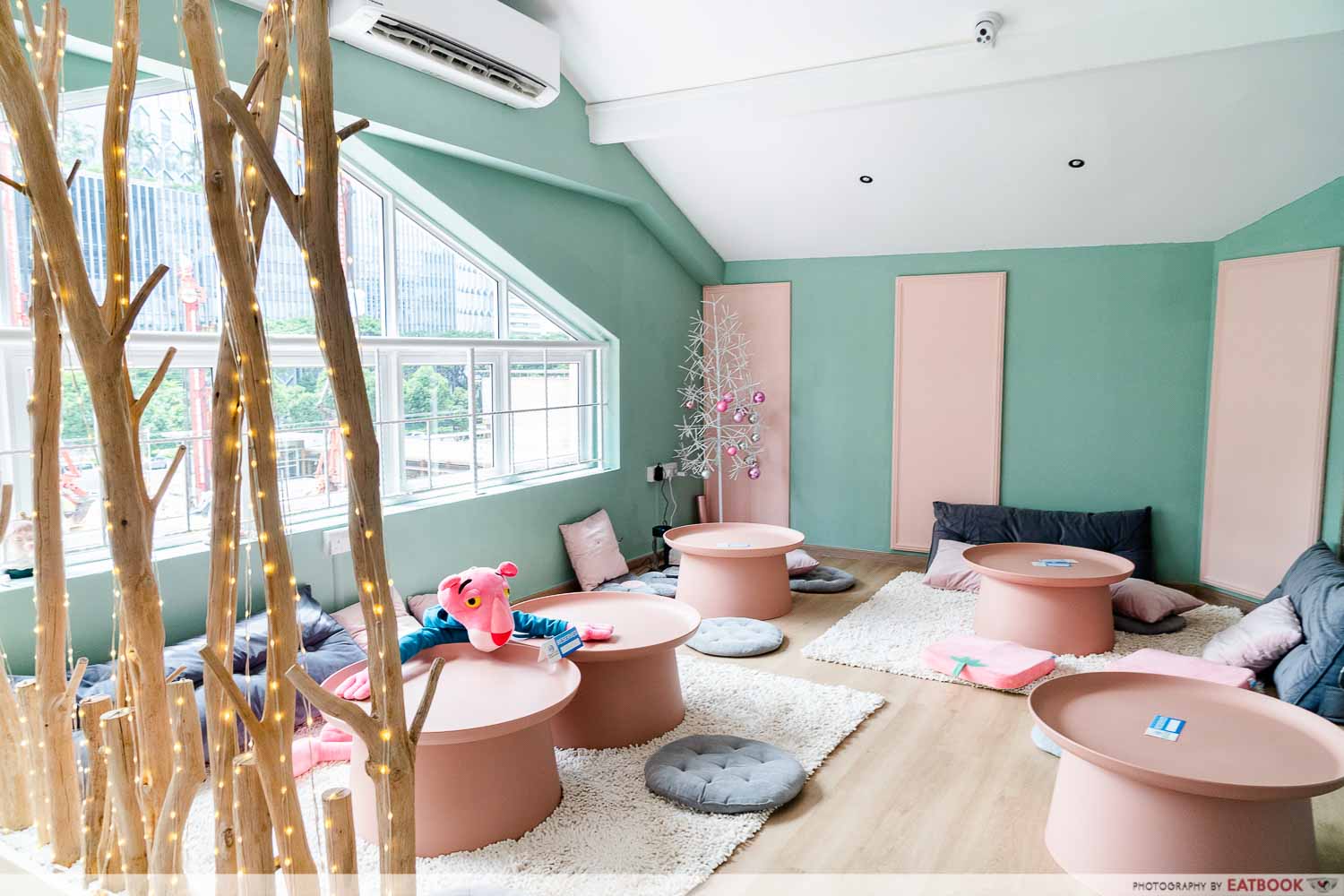 Taking over the space where Nunsongyee Korean Dessert Cafe used to be is Smile Dessert, a pink-themed, four-storey dessert cafe in Bugis. This cafe is easily the prettiest one I've been to, decked with an IG-worthy ball pit, as well as sleepover-esque furniture on the top floor. Due to P2HA, Smile Dessert is currently open for takeaways.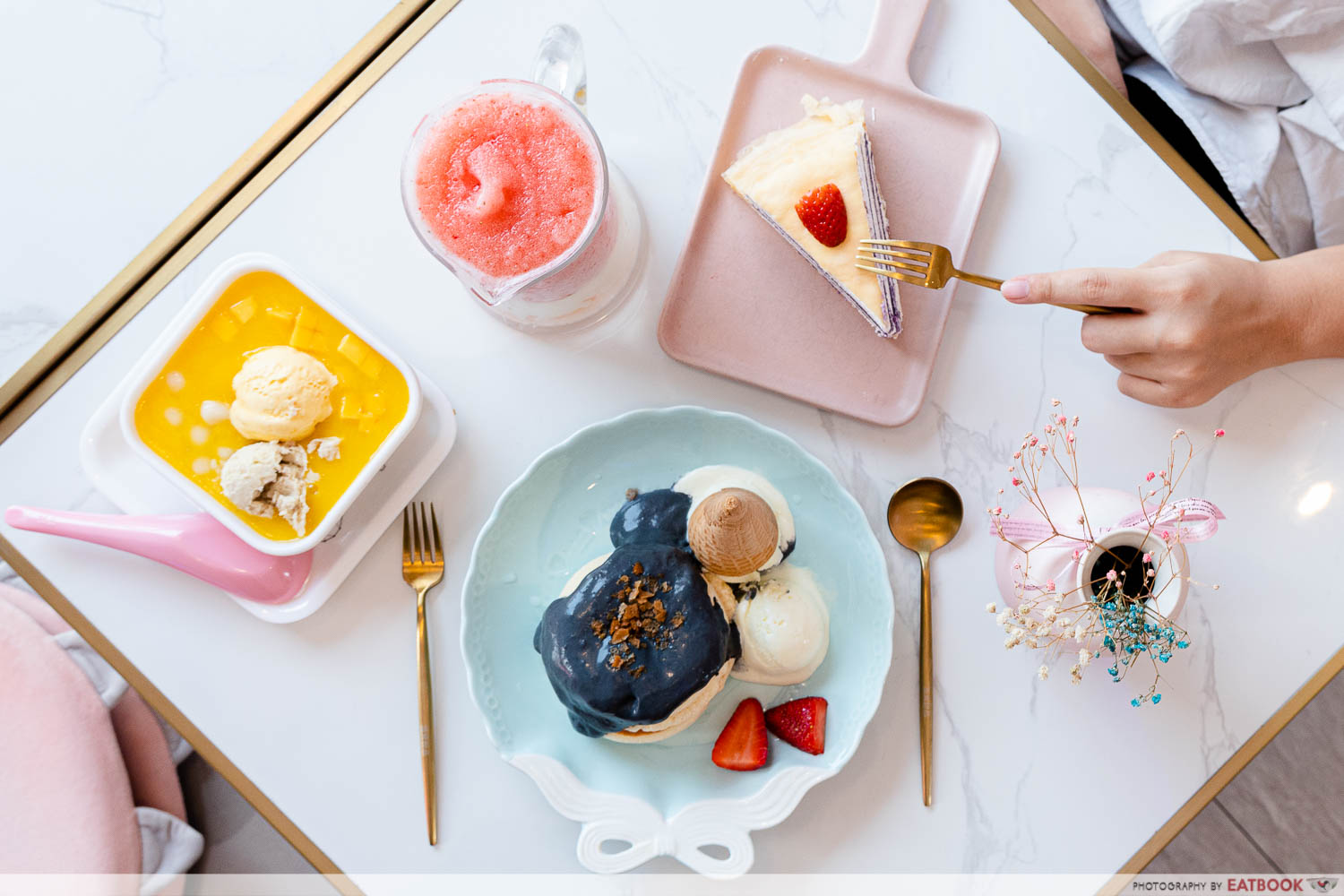 Matching the aesthetics of the space are their beautifully curated desserts, such as the Black Swan Souffle ($15.90). This souffle pancake dish is dressed with black sesame cream, alongside an upside-down vanilla ice cream cone. There's also the Multi-Layer Sweet Potato Cake ($6.90), stacked with crepes, cream, and purple-hued sweet potato.
Read our Smile Dessert review!
Address: 534 North Bridge Road, #01-01, Singapore 188749
Opening hours: Daily 11:30am to 11:30pm
Tel: 6232 7801
Website
Smile Dessert Review: Pink Cafe With Black Sesame Souffle Pancakes And Sweet Potato Crepe Cake
---
5. Park Bench Deli
---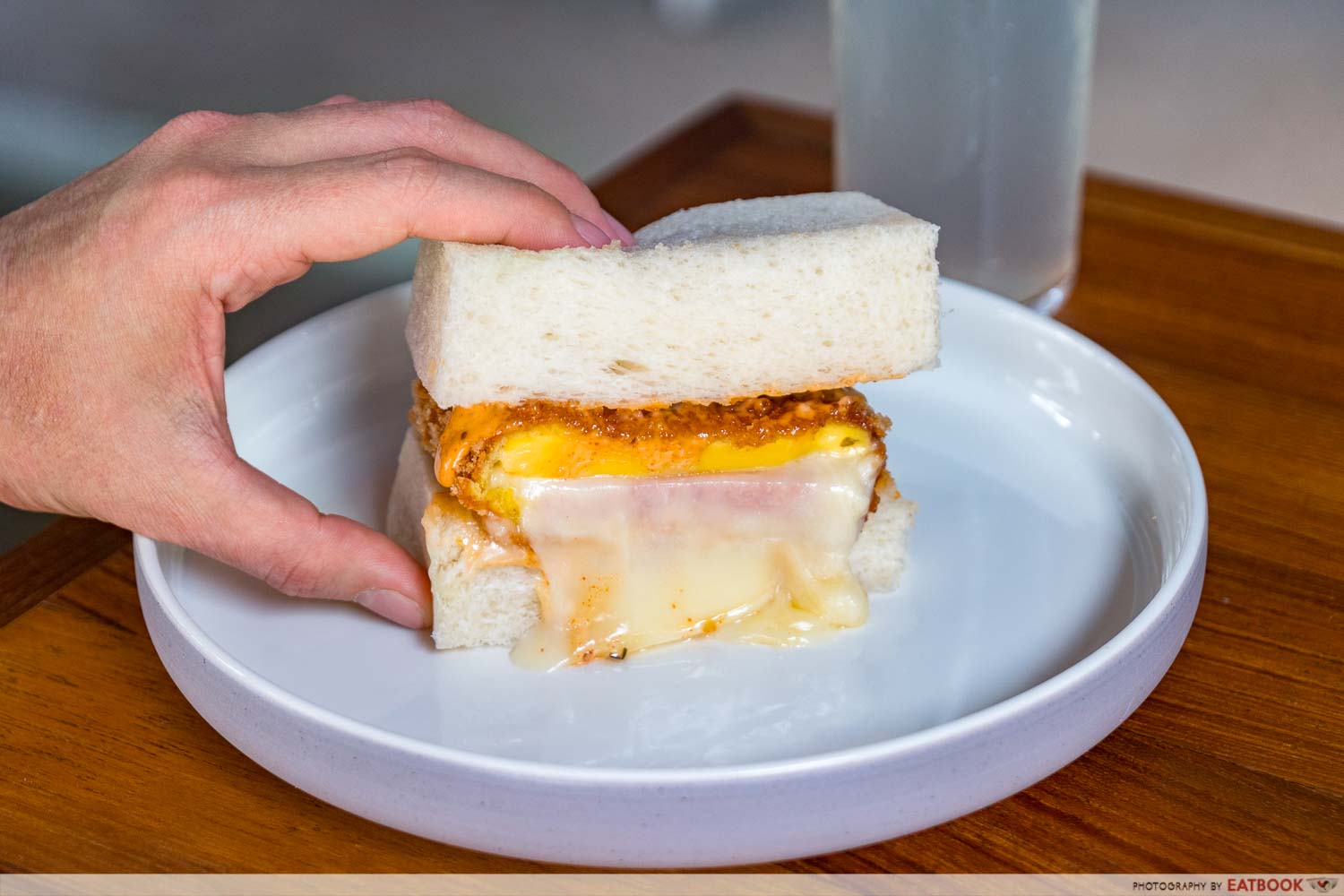 Park Bench Deli has recently reopened at Telok Ayer, with a slate of brand new menu items  that span all-day sandwiches, breakfast items, hearty salads, and more! These are currently available for takeaway and islandwide delivery.
To start your day right, consider the Breakfast Sandwich ($15++), which features a deep-fried Spam cutlet, stacked with Swiss cheese and an omelette, then sandwiched between Japanese milk bread. There's also the Grilled Cheese ($15++), made with blue cheese, cheddar, and mozzarella, alongside pickled red onions and slices of prosciutto.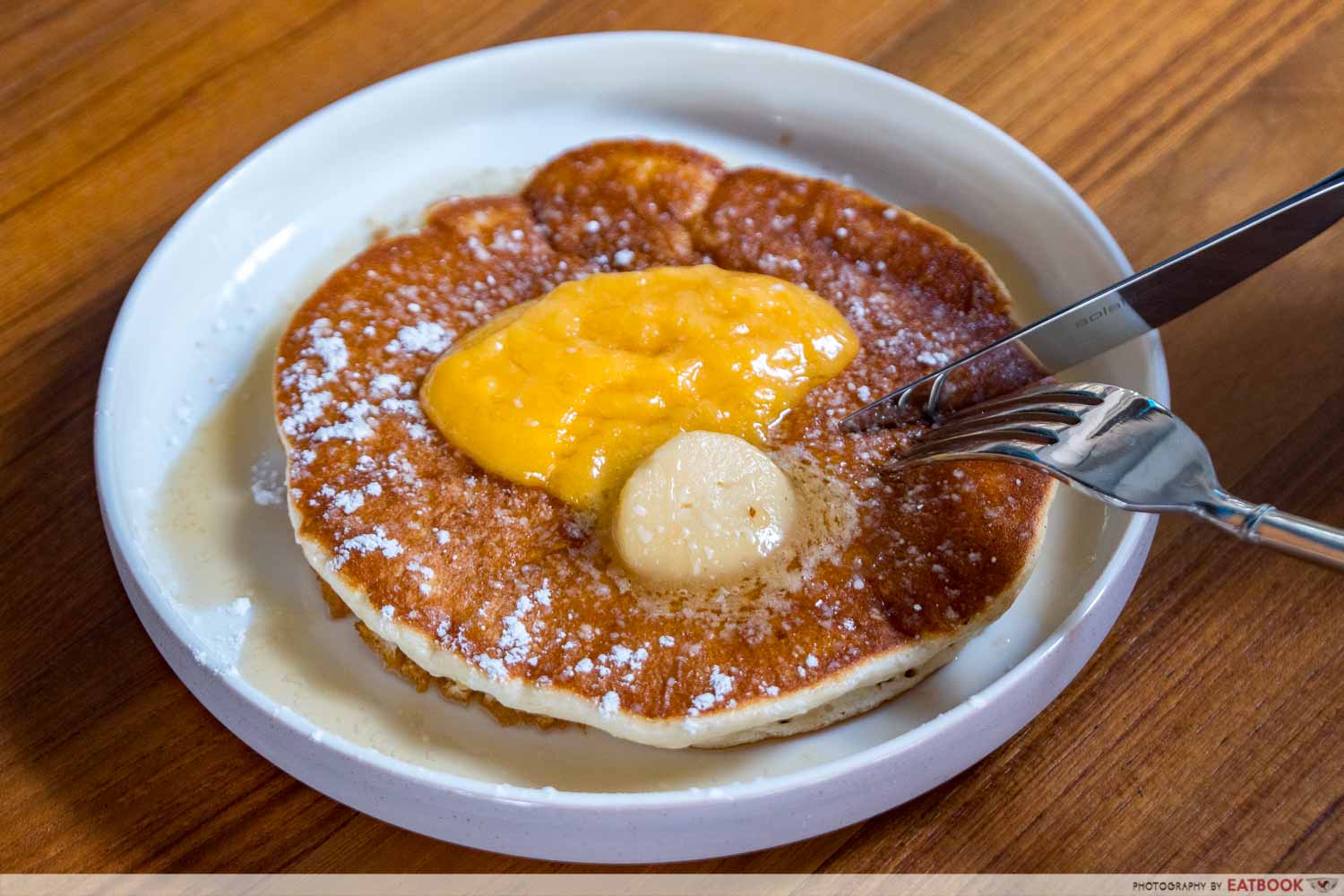 Another favourite of ours were the Lemon Ricotta Hotcakes ($20++), which sees fluffy pancakes topped with house-made ricotta, lemon curd, and drizzles of maple syrup.
Check out our first look at Park Bench Deli!
Address: 179 Telok Ayer Street, Singapore 068627
Opening hours: Tue-Sun 9am to 3:30pm, 5pm to 10pm
Tel: 6815 4600
Website
Park Bench Deli Reopens In Telok Ayer With Ricotta Pancakes And Grilled Cheese Sandwiches
---
6. Crayon Shinchan Cafe
---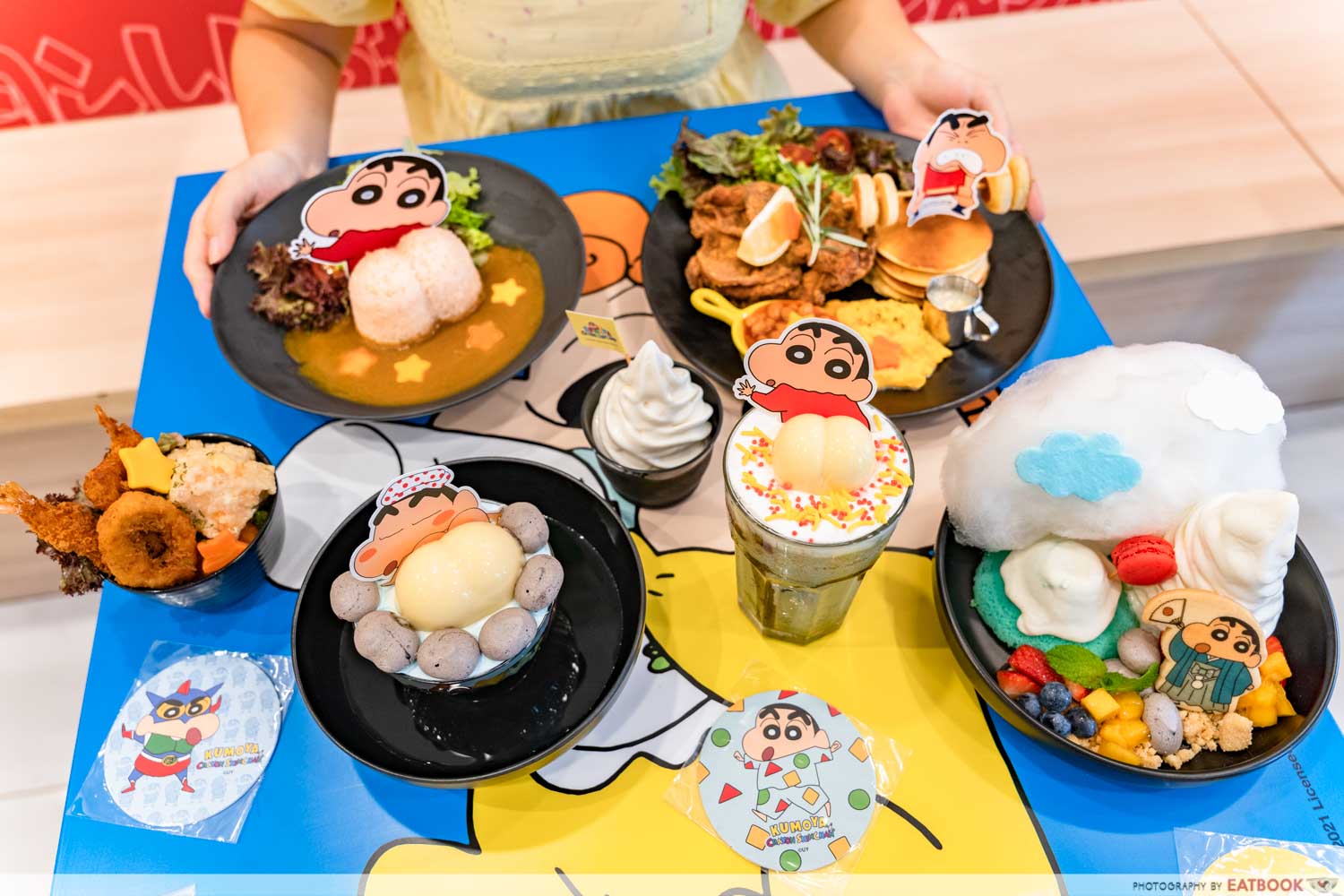 The most recent of Kumoya's pop-up cafe ventures is their Crayon Shinchan Cafe, themed after an iconic cartoon that Singaporeans know and love—Crayon Shinchan, aka la bi xiao xin. 
Here, you can expect a slew of Crayon Shinchan-themed dishes, along with specially imported merchandise. These are currently available for in-store takeaway, with a 20% discount on usual prices. It's also noteworthy that while they're not halal-certified, ingredients here are sourced from halal-certified distributors.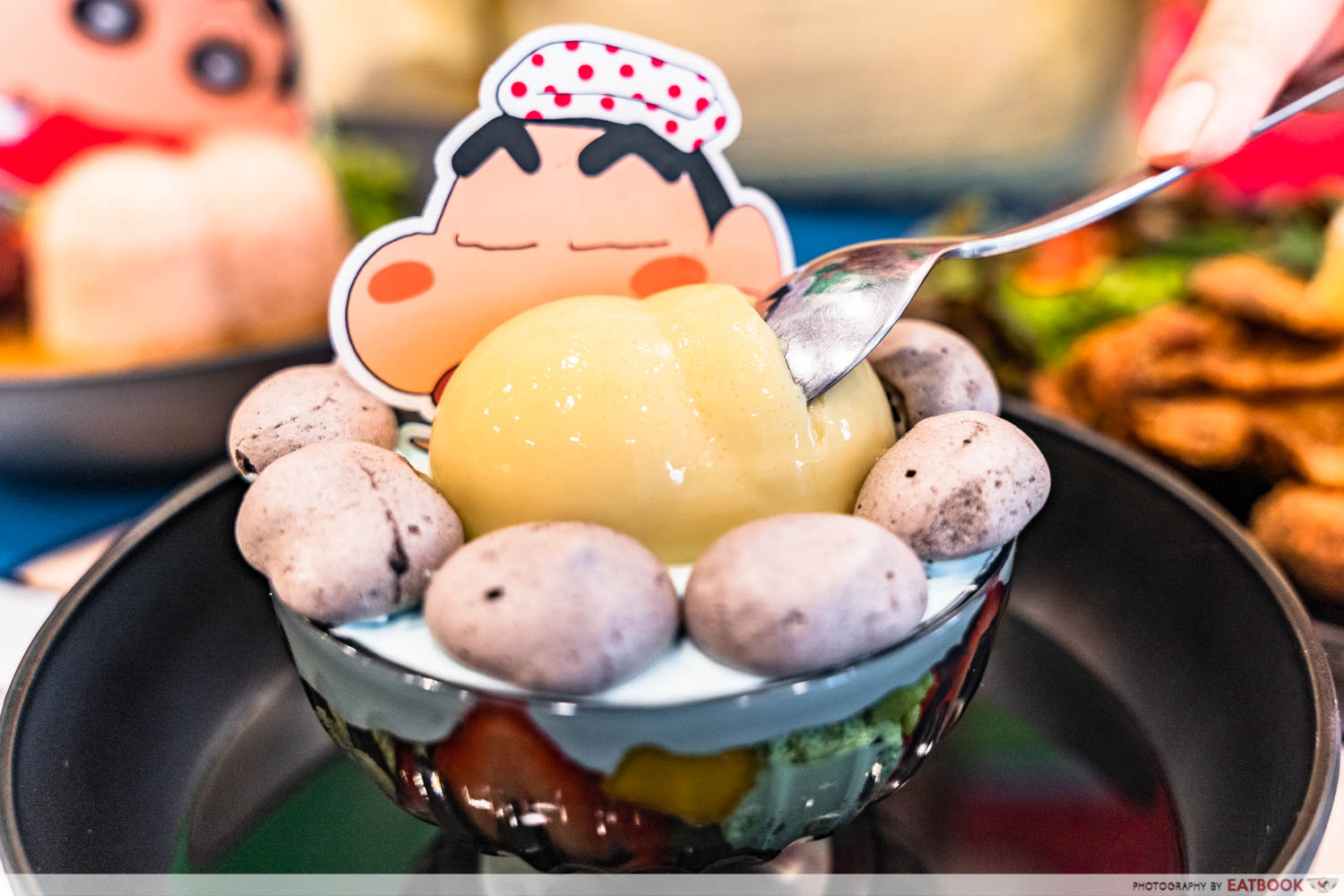 Food-wise, there is a variety of savoury mains available, such as the So Mischievous Japanese Seafood Curry Rice ($26.90+), which features a rice mould shaped after Crayon Shinchan's buttocks, alongside Japanese curry and an assortment of seafood tempura. For a sweet finish to your meal, there's the Relaxing Onsen Pudding Parfait ($22.90+), layered with matcha sponge cake, fruit, and rice puffs, then topped with meringue pebbles, and a custard pudding shaped like the character's backside.
Check out our first look at Crayon Shinchan cafe!
Address: 8 Jalan Klapa, Singapore 199320
Opening hours: Tue-Sun 12pm to 7:30pm
Website
Crayon Shinchan Cafe Opens In Bugis With IG-Worthy Fried Chicken Pancakes And Pudding Parfait
---
7. So Pho Marina Bay Sands
---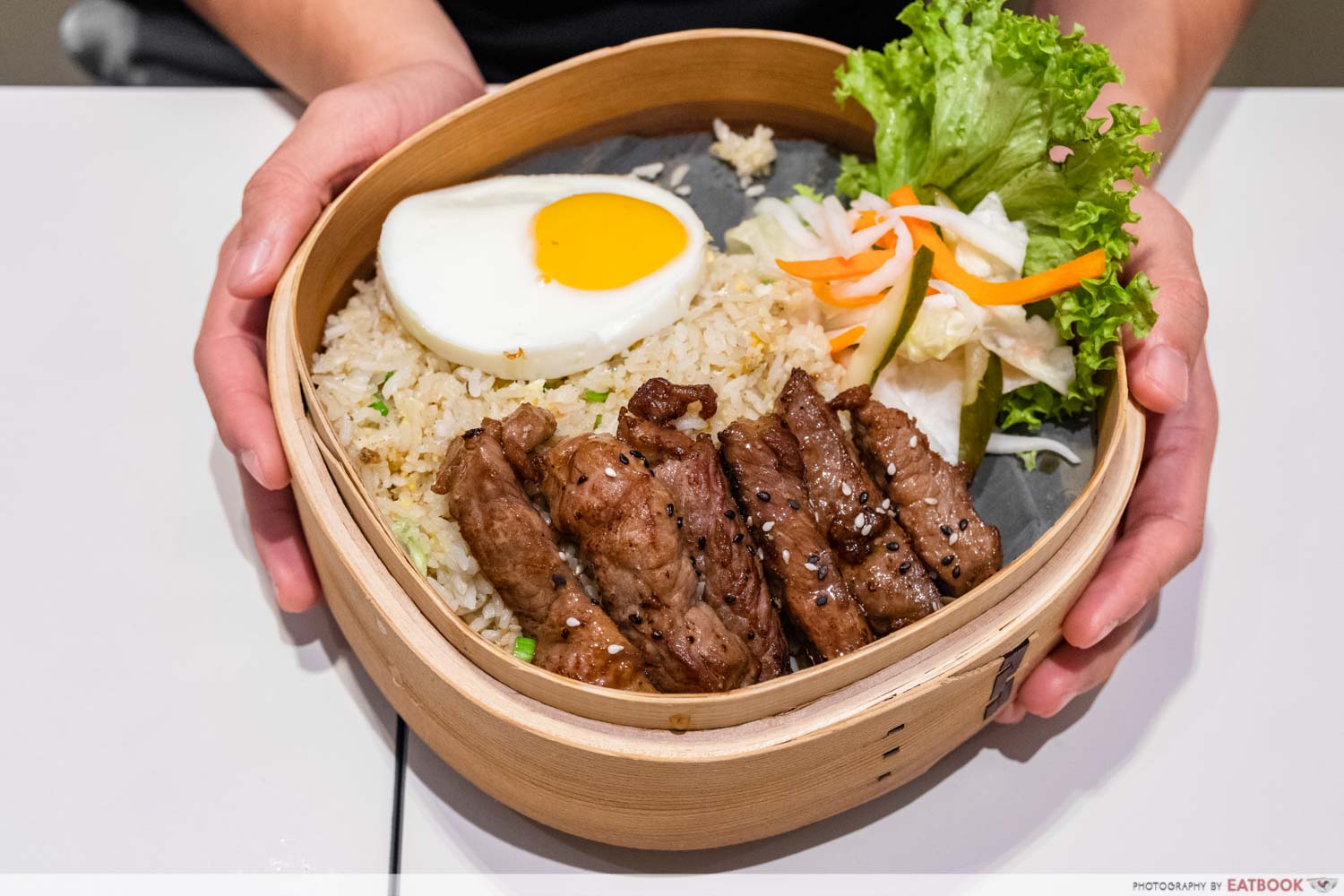 A perennial favourite for Vietnamese food in Singapore is So Pho, which has recently opened their 18th outlet at Marina Bay Sands. To commemorate their opening, the restaurant has come up with over 20 outlet-exclusive dishes, available for takeaway and delivery.
These include the Egg Fried Rice With Premium Marbled Beef ($19.50++), which comes topped with an oozy sunny side-up egg.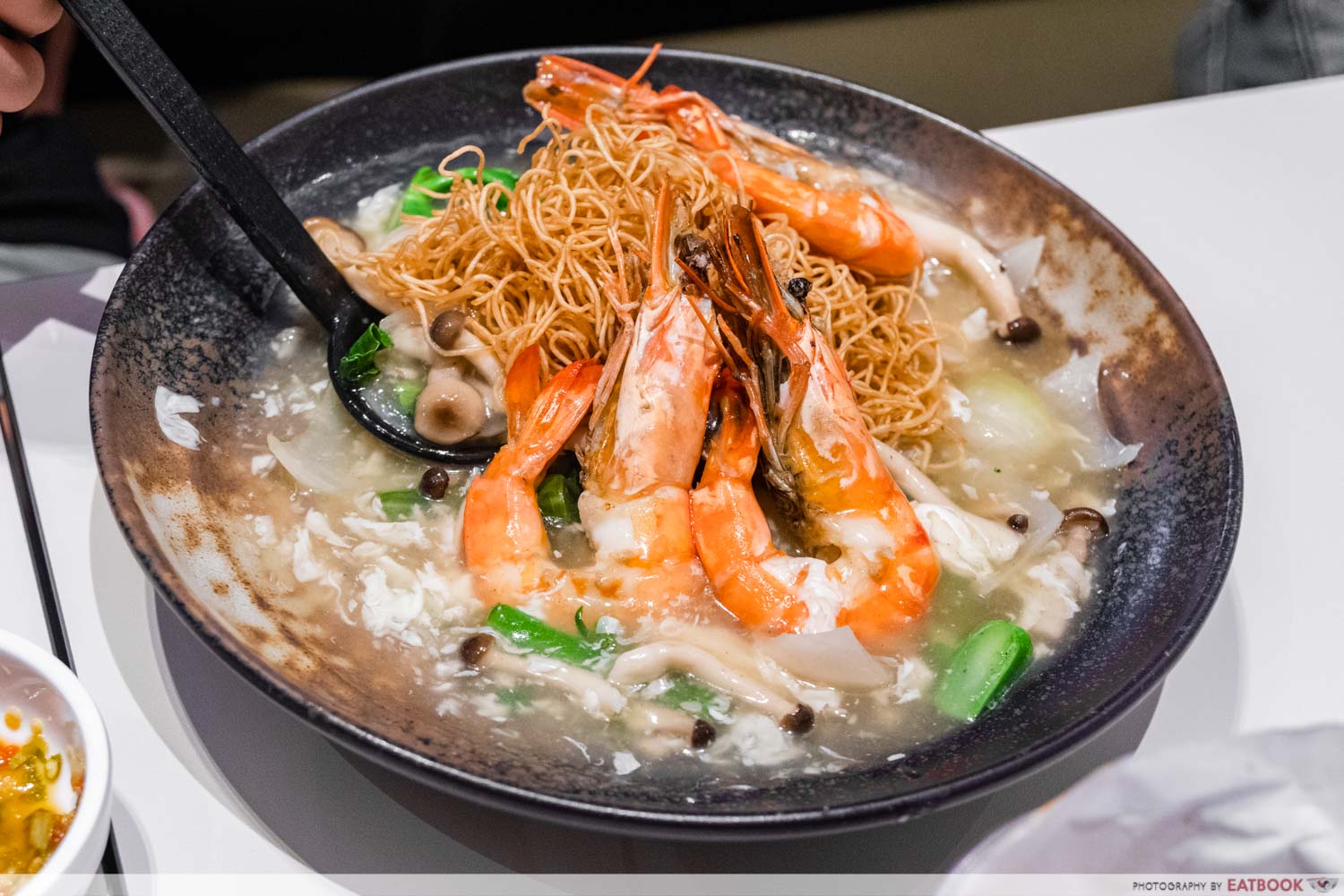 For seafood-loving readers, there's the Crispy Vermicelli & Fresh King Prawns With Superior Stock Gravy ($16.50++), with crispy fried noodles doused in a savoury broth, then topped with succulent king prawns. There's also the Crispy Fried Fresh Oyster ($11.80++), which makes for a good side to your mains.
Address: 2 Bayfront Avenue, #01-03/04, The Shoppes At MBS, Singapore 018972
Opening hours: Daily 11am to 10pm
Tel: 6688 7044
Website
---
8. PizzaExpress
---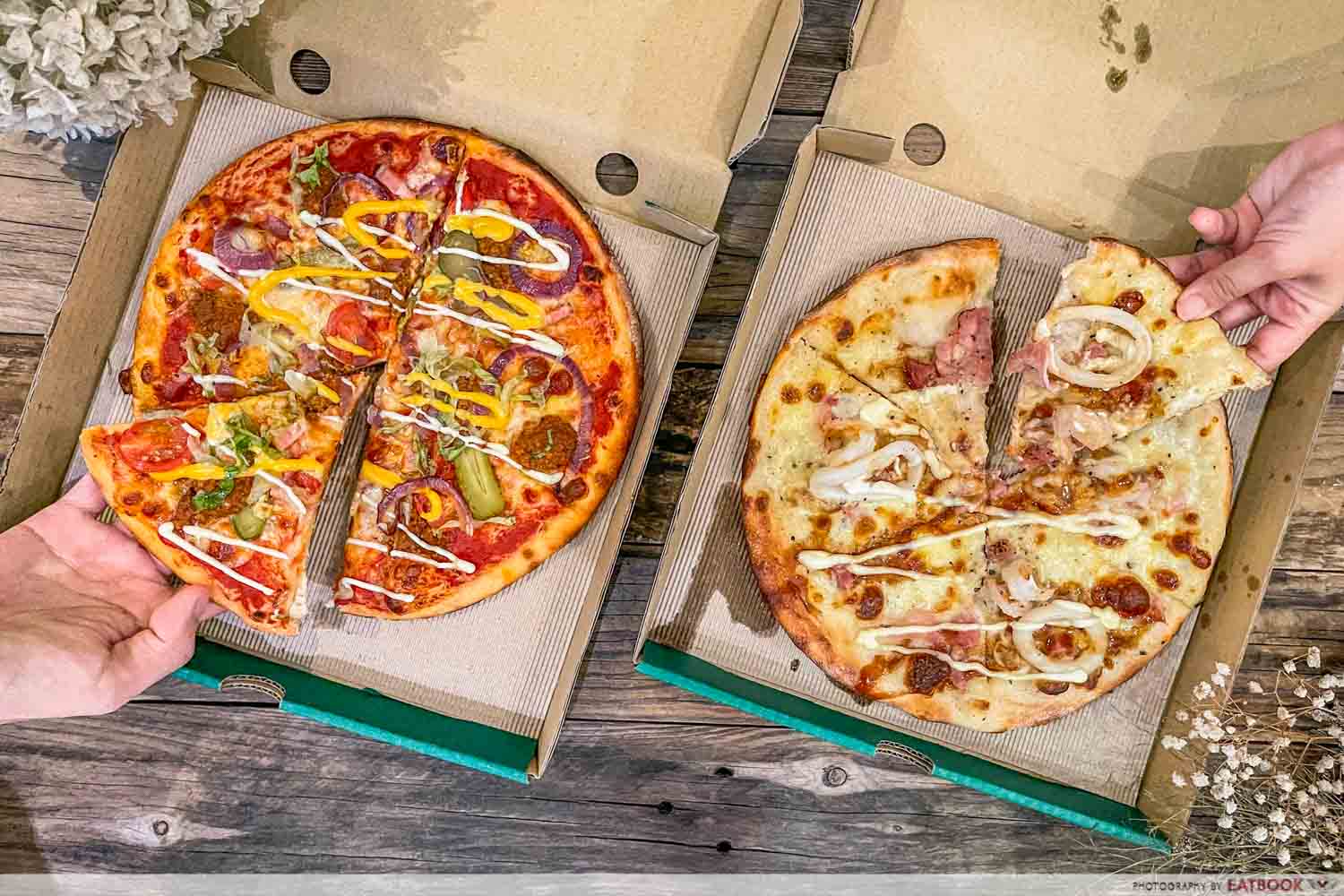 PizzaExpress has launched a series of brand new pizza flavours, inspired by countries around the world. While we can't travel right now, you can enjoy these travel-inspired pies in the comfort of home, as these are available for delivery and takeaway. 
To make things sweeter, takeaway orders are entitled to 15% off the total bill. Meanwhile, PizzaExpress is also giving away one free USA-inspired pizza with every $60 spent on delivery.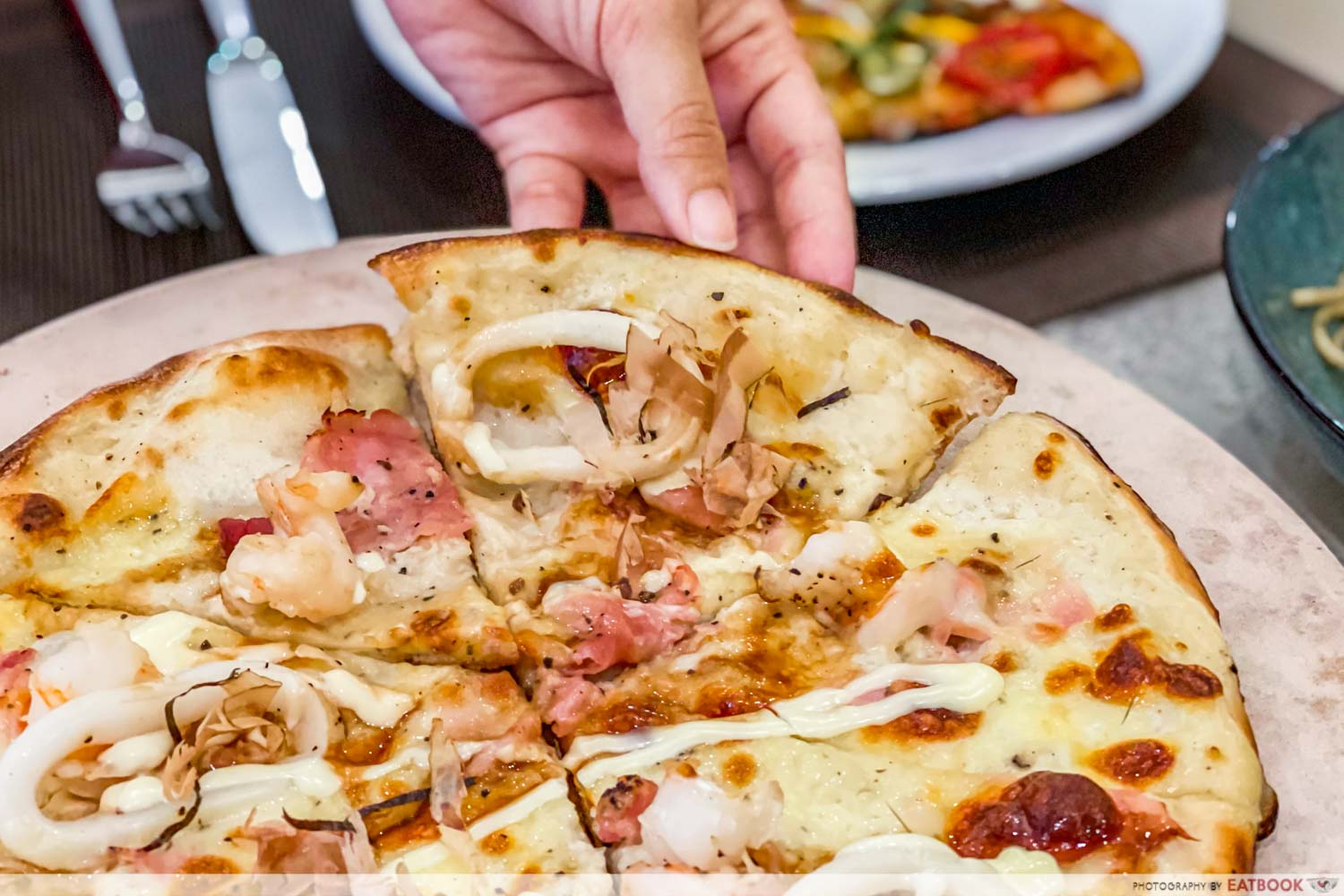 An interesting creation to try out is the Okonomiyaki Pizza ($26), inspired by the Japanese classic. This pizza is topped with ham, pancetta, squid, and prawns, then finished with seaweed, bonito flakes, takoyaki sauce, and Japanese mayo. There's also the Chilli Beef Pizza ($26), a Mexican-style pie that's dressed with chilli con carne, jalapeno, kidney beans, and crushed nacho chips.
Full list of outlets | Opening hours
Website
---
9. Menbaka Ramen
---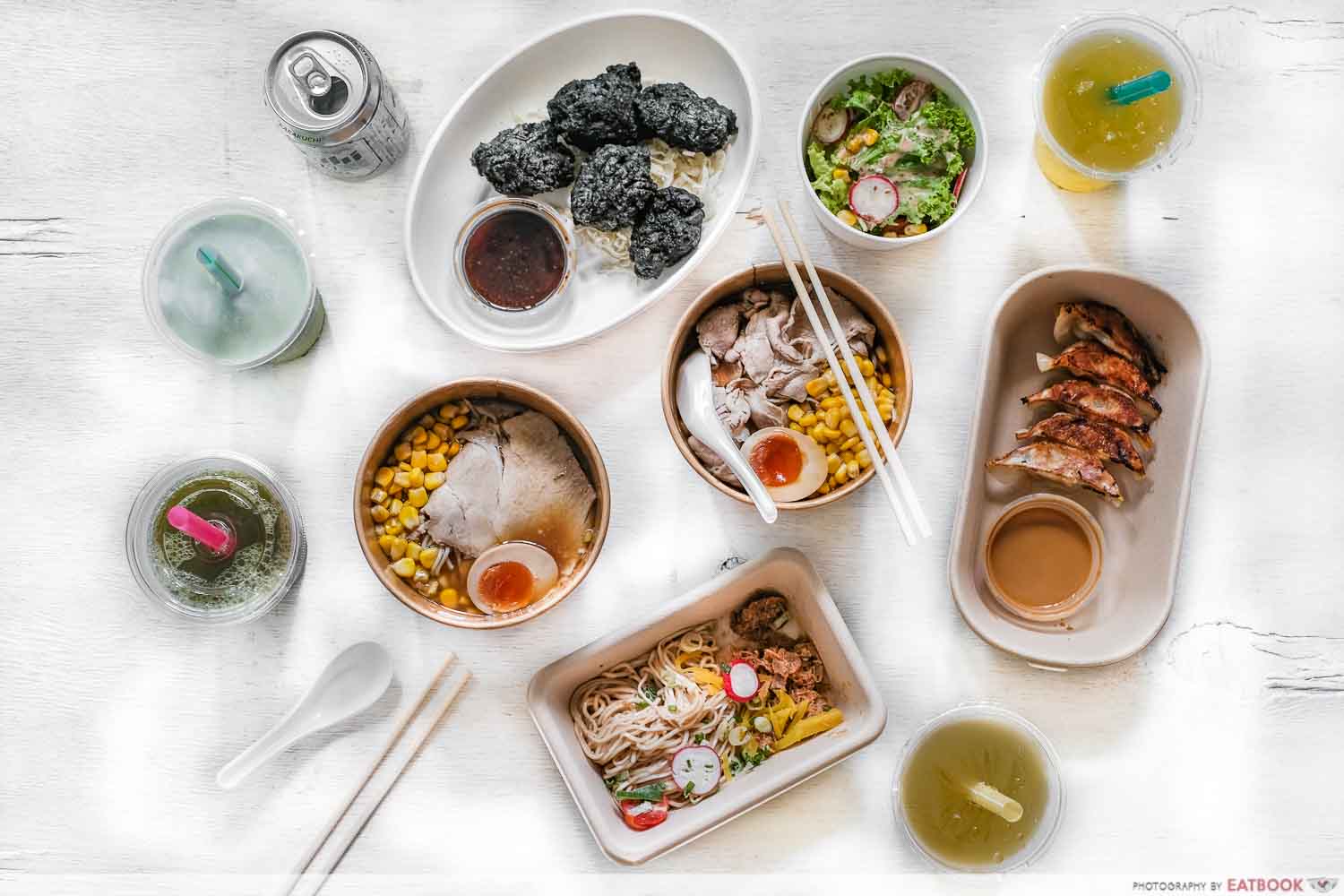 Hailing from Kyoto is the famed Menbaka Ramen, best known for its fire ramen, that comes with a spectacular fire show. They are currently offering islandwide delivery and drive-thru pick up, with a new addition to their menu—the Nijo Dry Ramen (from $16.70). This ramen dish is tossed in a Japanese sesame dressing, then topped with their house-made teriyaki chashu ragout. 
They're also offering a 50% discount on their Shoyu Fire Ramen (from $18.70), with the promo code '50OFFSR', available until 13 June with a minimum spending of $60. If you're looking for a complete meal with sides, such as their Charcoal Karaage and Pork Gyoza, there are family bundles available, priced from $34.90.
Read our Menbaka Ramen review!
Address: 8 Grange Road, #05-03, Cineleisure Orchard, Singapore 239695
Opening hours: Mon-Thur 12pm to 3pm, 5pm to 9pm, Fri-Sat 11:30am to 3:30pm, 4:30pm to 10pm, Sun 11:30am to 3:30pm, 4:30pm to 9pm
Tel: 8218 9236
Website
Menbaka Ramen Review: Famous Kyoto Fire Ramen Shop Comes To Cineleisure
---
Try these new restaurants this June 2021
---
We have curated a list of nine new restaurants to try this June 2021, with takeaway and delivery options available during this stay-home period.
For more interesting eats, check out our BBBurgers review, a hidden kiosk in Punggol that sells Korean smashed burgers. There's also our Mocchi review, for matcha crepes and seared cheesecake in Chinatown.
BBBurgers Review: New Hidden Kiosk In Punggol Serves Korean Smashed Burgers And Sodas
The post 9 New Restaurants In June 2021—Black Sesame Souffle Pancakes, Thick Orh Nee Macarons And More appeared first on EatBook.sg – New Singapore Restaurant and Street Food Ideas & Recommendations.