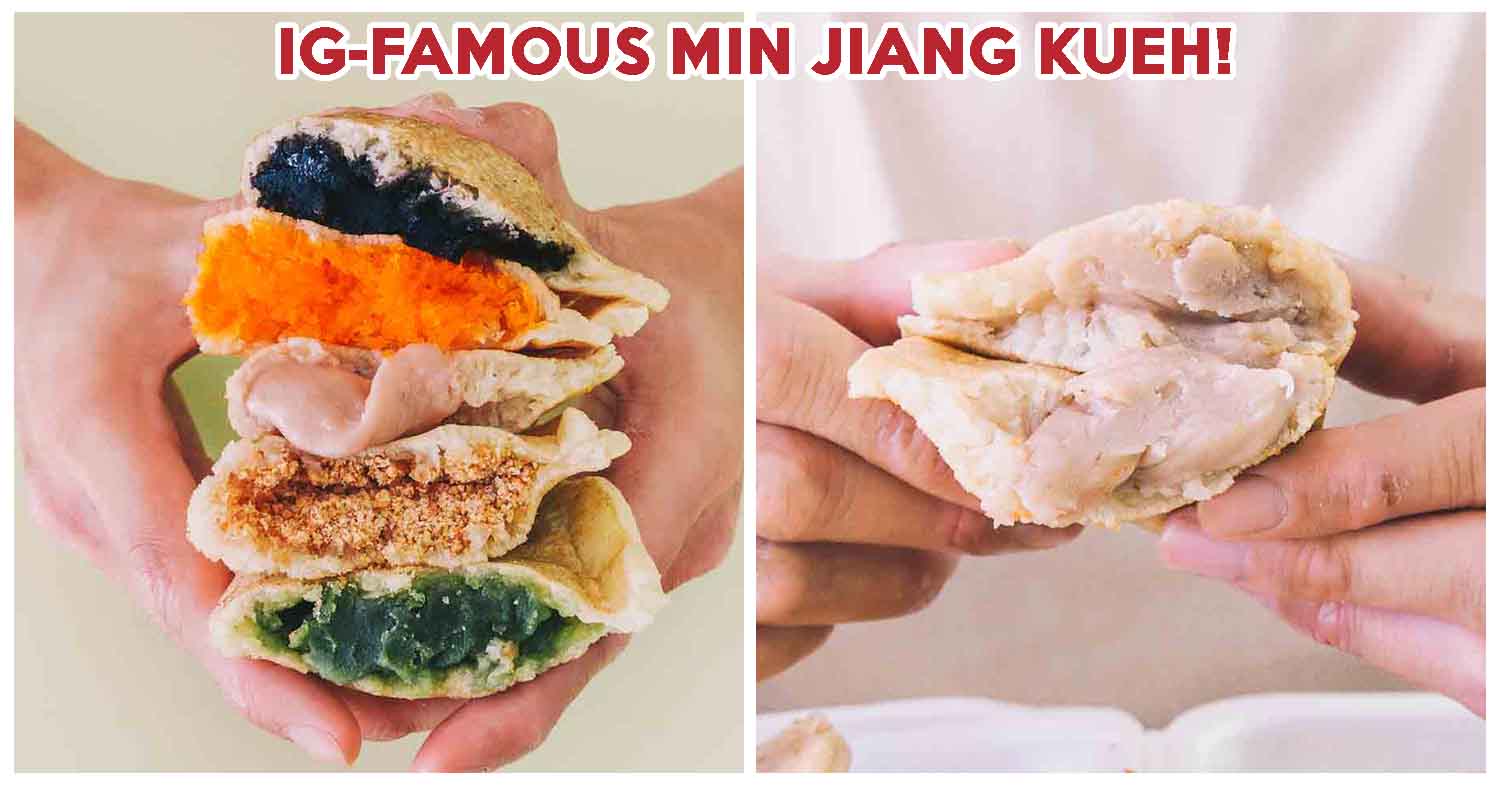 682 Min Jiang Kueh At Hougang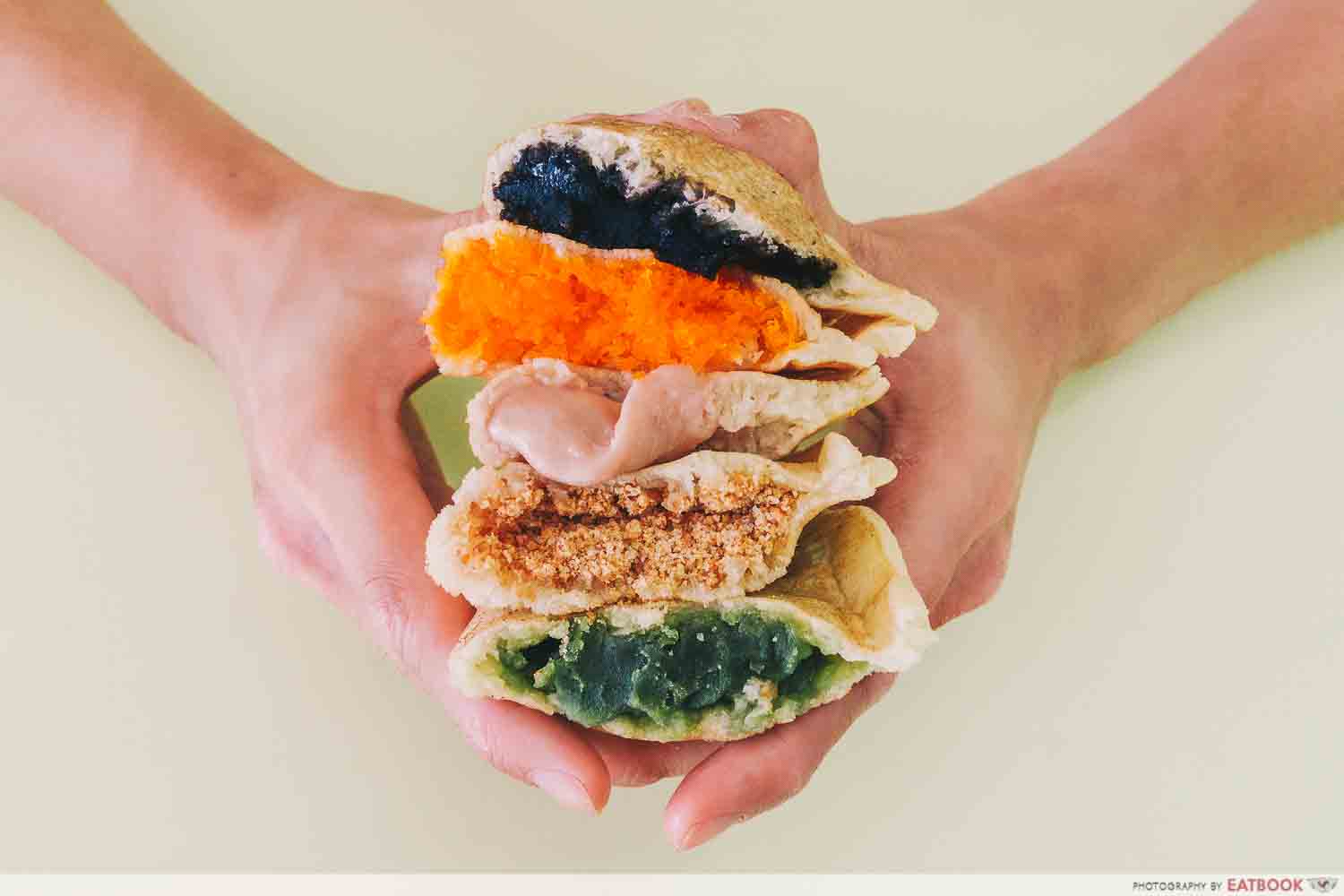 The origin of min jiang kueh dates back to ancient China, where they were originally made with just peanut fillings. Fast forward to the 21st century, 682 Min Jiang Kueh at Broadway Food Centre carries on the popularity of this dessert all the way to the Instagram feeds of Gen Zs with their IG-worthy  min jiang kueh.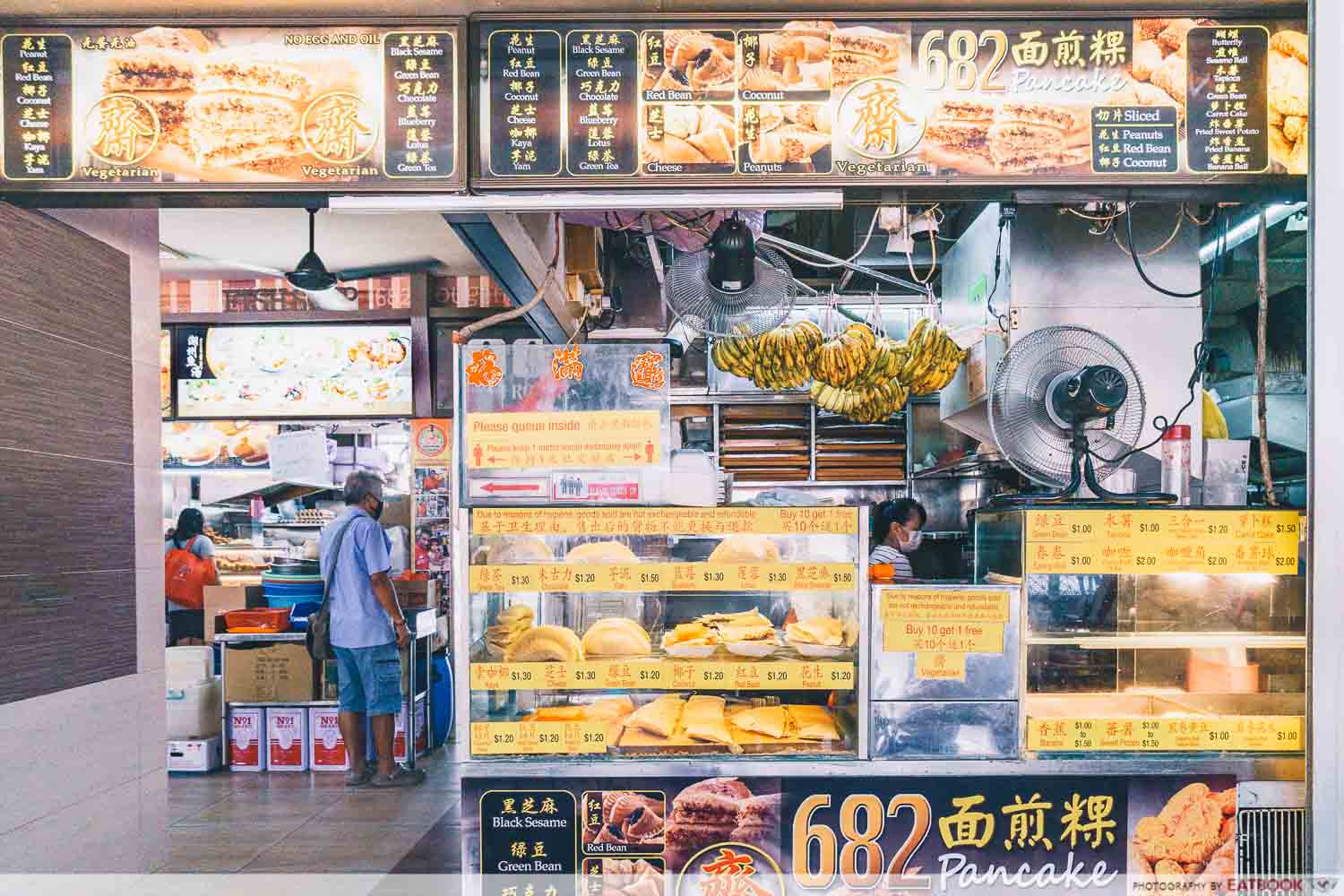 Being stuffed with boldly coloured fillings, 682 Min Jiang Kueh ignited a new found love for this traditional dish among the Hougang breakfast crowd.
12 Kaya Toast Stalls In Singapore To Get Your Traditional Breakfast Fix
Food at 682 Min Jiang Kueh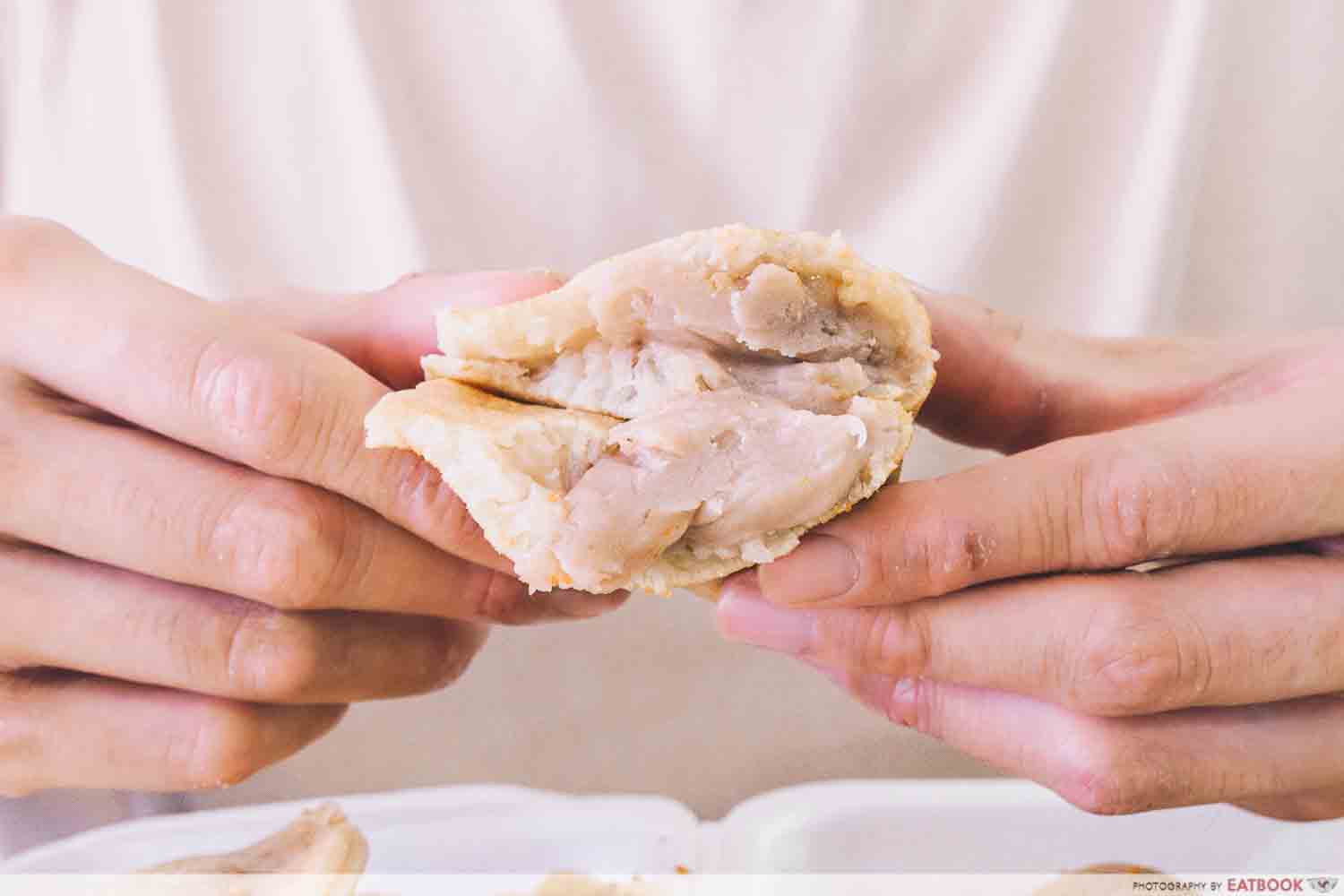 By this point, the internet's obsession with orh nee is almost a given and it's a sin to not begin this review with this almighty yam paste. 
The aromatic and nutty Yam (1.50) min jiang kueh had a silky smooth texture, and bore resemblance to the orh nee bread filling from Roti Bakery. The paste itself was also slightly sticky and made for some short-lived fun before you get texture fatigue from all the chewing.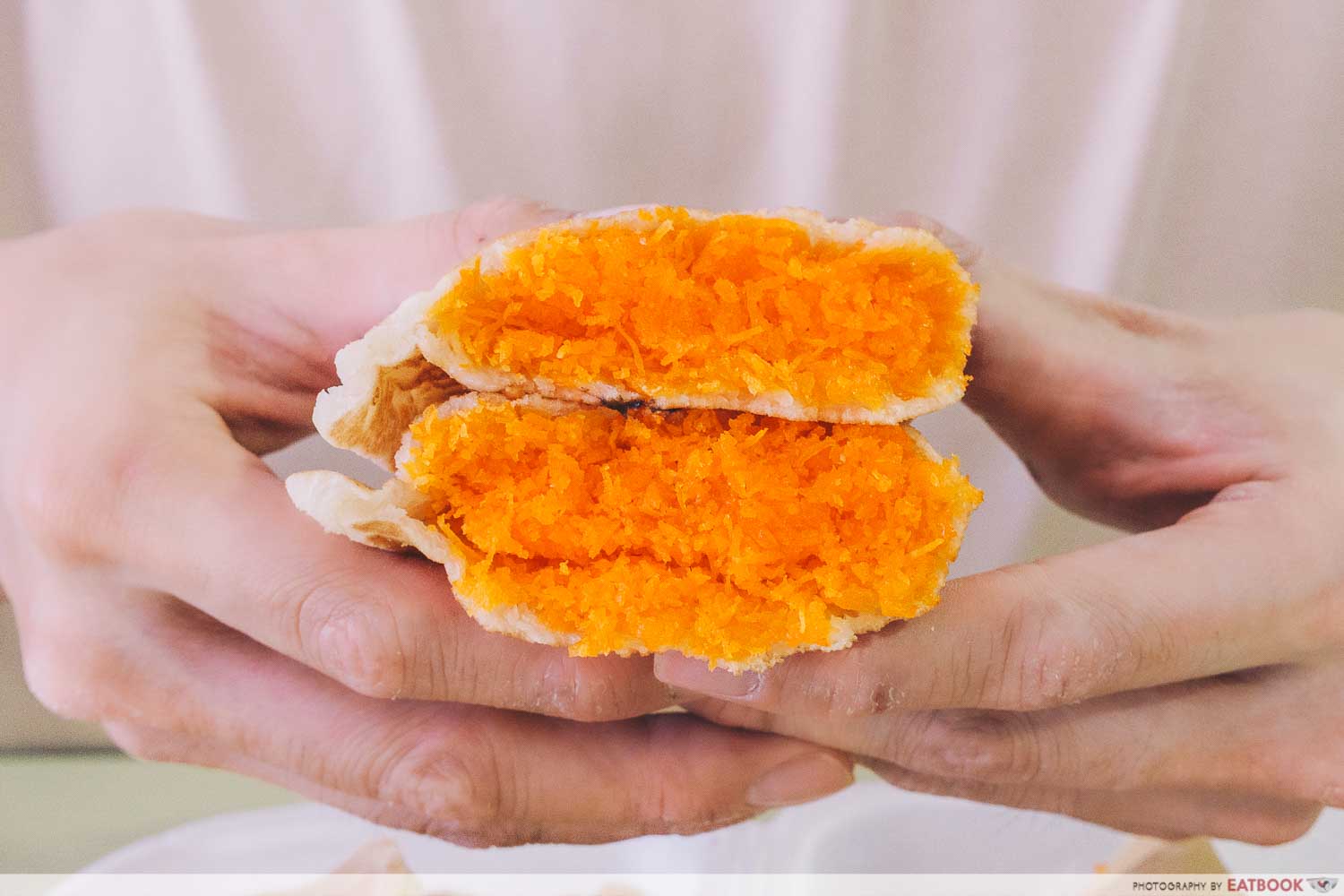 Moving along the colour wheel, I was convinced the Coconut ($1.20) might actually glow in the dark. Encased in a fluffy brown pillow, the desiccated coconut was soaked in orange sugar that contributed to the bright hue.
The sweet crunch of the coconut flakes complemented the chewy exterior well. Do ensure you are prepared to catch the fillings that seemed too eager to escape from the pancake.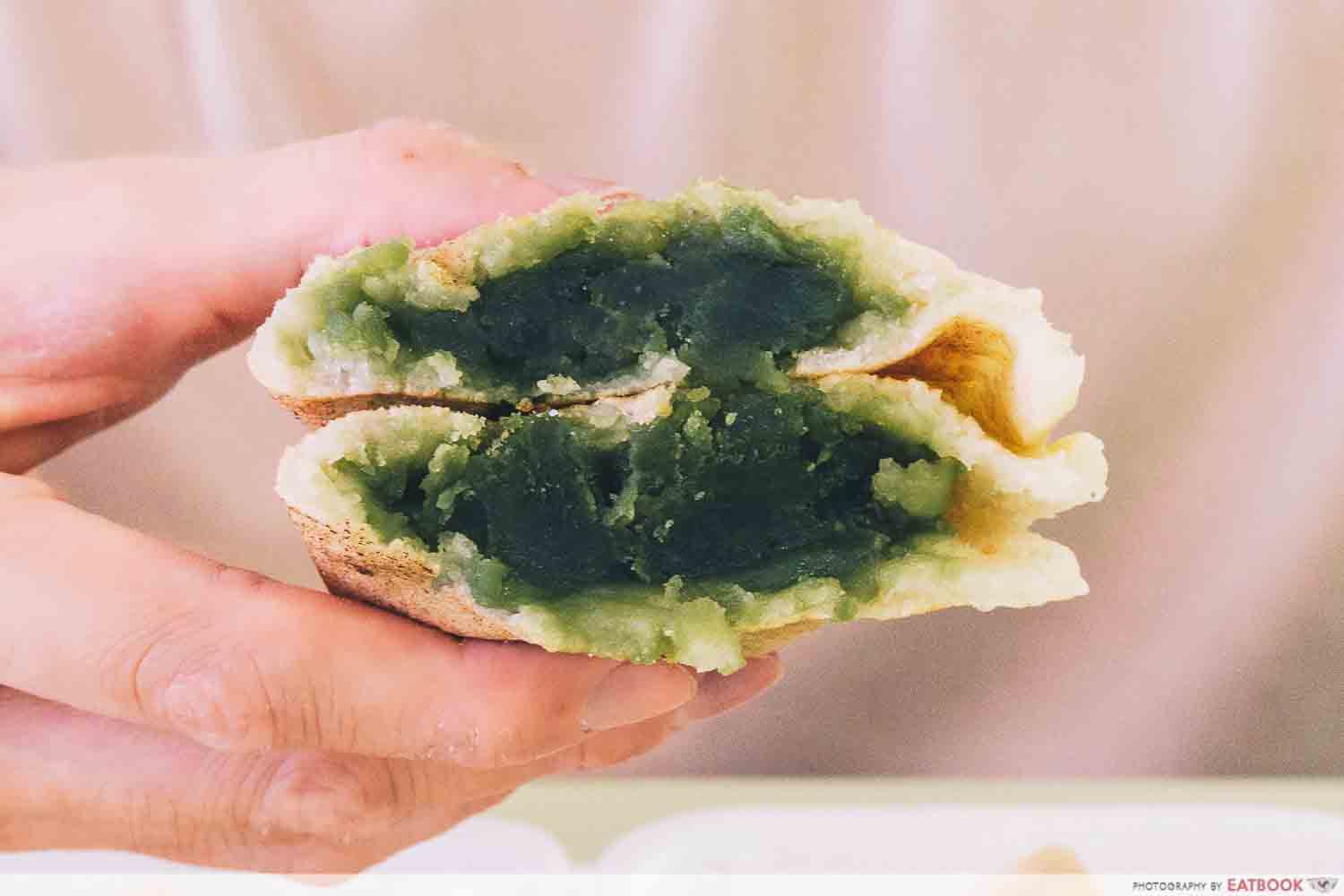 Despite the dark green paste of the Green Tea ($1.30) that strongly suggested the use of food colouring, I still went ahead to order this pancake for the sole reason of adding more colour to my IG feed. The paste bore light bitter green tea flavours and a bit of strange aftertaste, which begged to be washed down with a drink.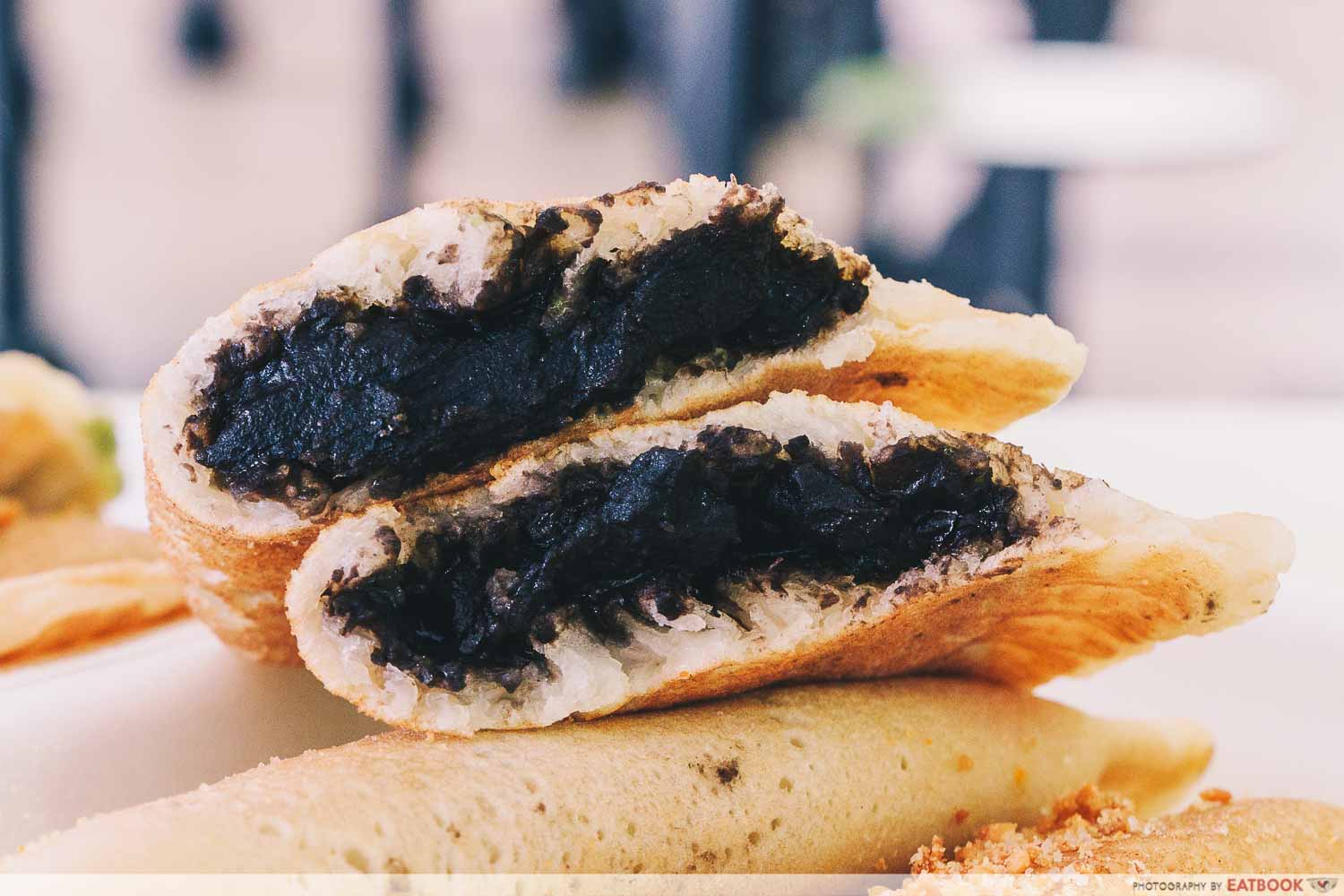 Their Black Sesame ($1.50) flavour housed a smooth and sweet sesame paste, which may have made for a few pleasant bites—till it gets too jelak. I tend to prefer a grittier and slightly bitter black sesame paste that maintains the natural aroma of the seeds.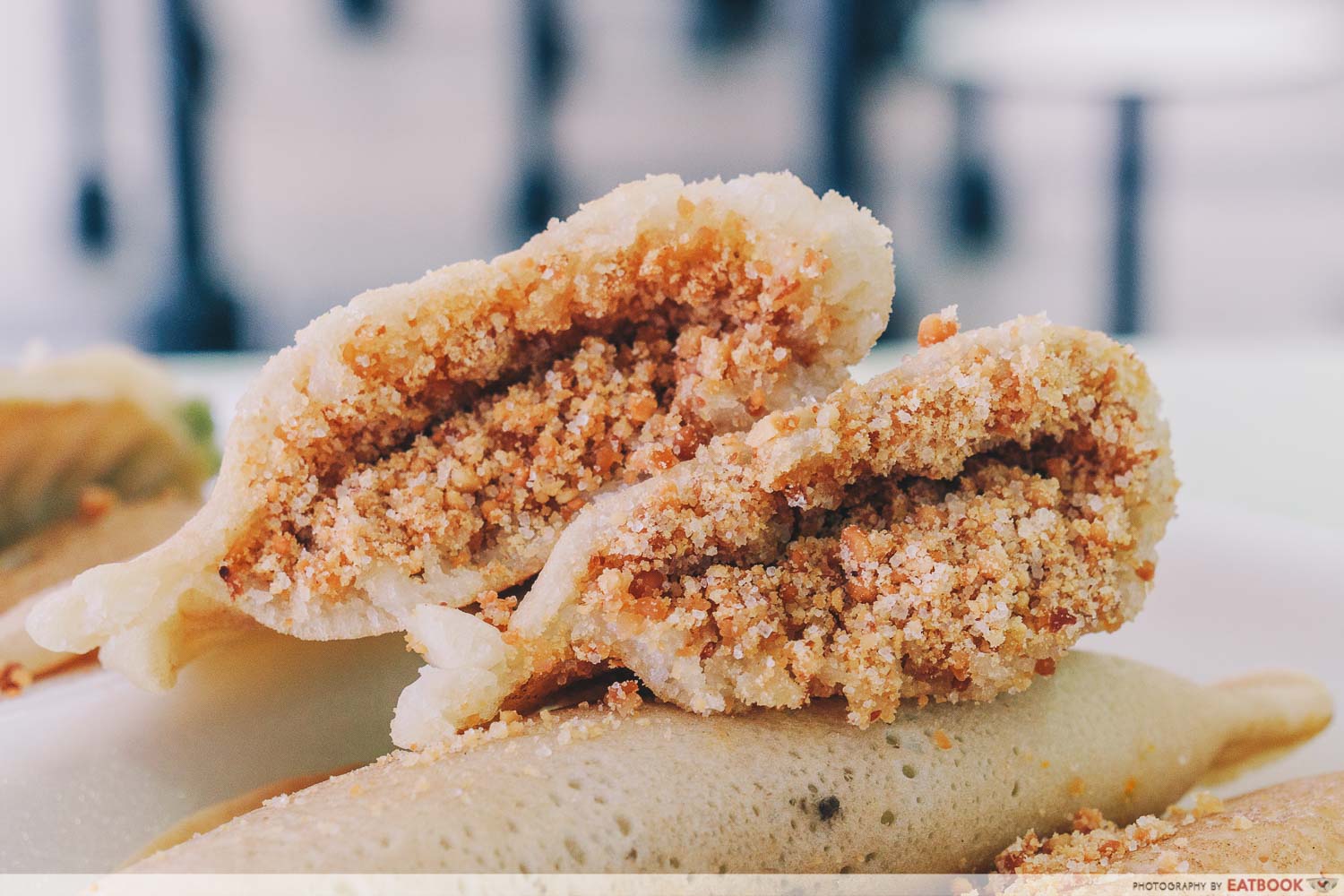 There is no better standardised test for a min jiang kueh stall than their Peanut ($1.20), which is the OG of all min jiang kueh fillings.
The salty peanut fillings had a good mix of powdery and crunchy bits that were distinct from the pillowy soft exterior. Do have a drink on hand as the flaky texture can get quite dry as you eat.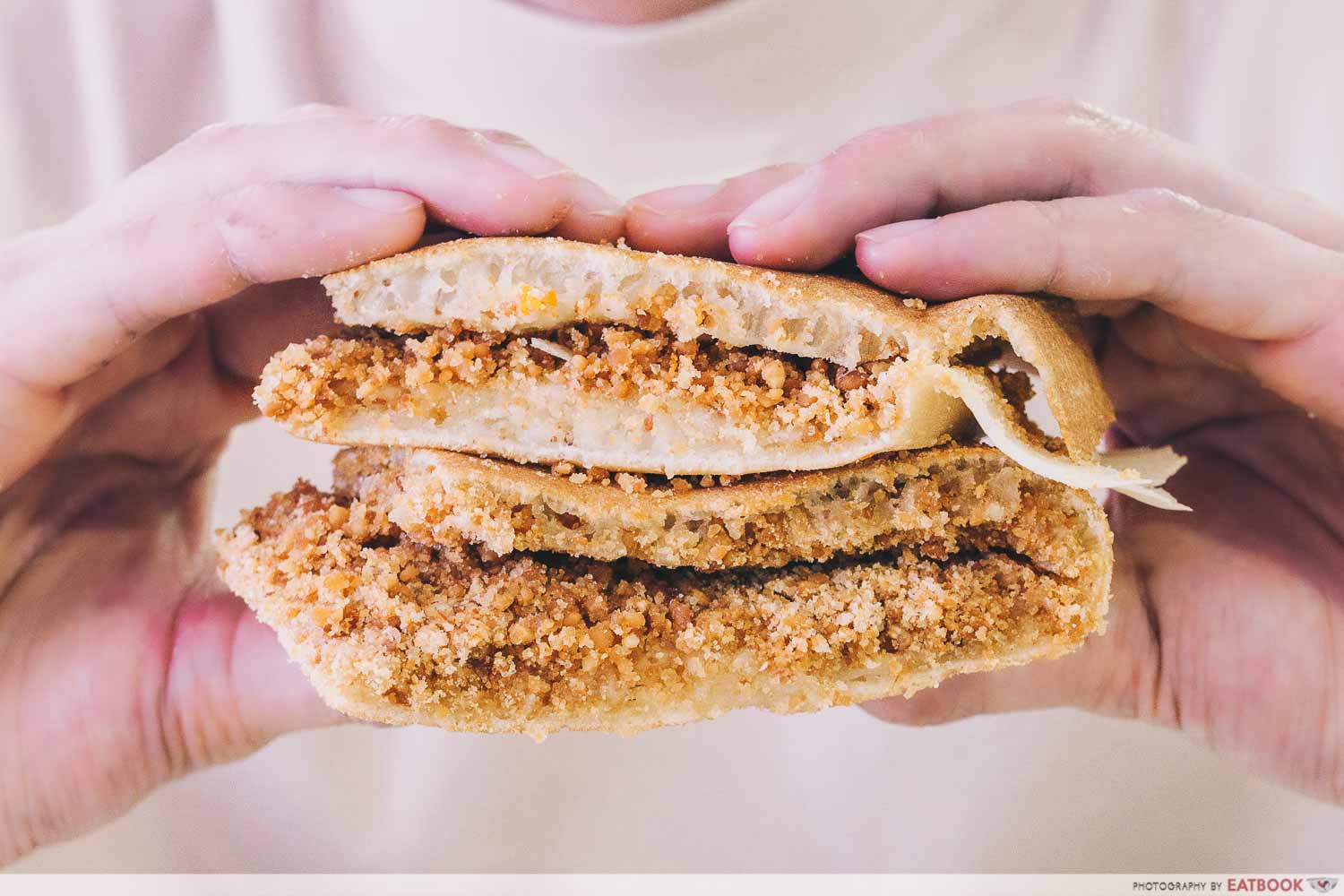 Paying homage to tradition, the stall carries Peanut Slice ($1.20), which is the more traditional form of MJK. Instead of a fluffy exterior, it was thin and a tad tough to bite. I preferred the previous modern fluffy curry puff-shaped pillows that cushioned my bites.
Munchi Delights Review: Chunky Charcoal And Matcha Min Jiang Kueh At $1.20 Each
Ambience at 682 Min Jiang Kueh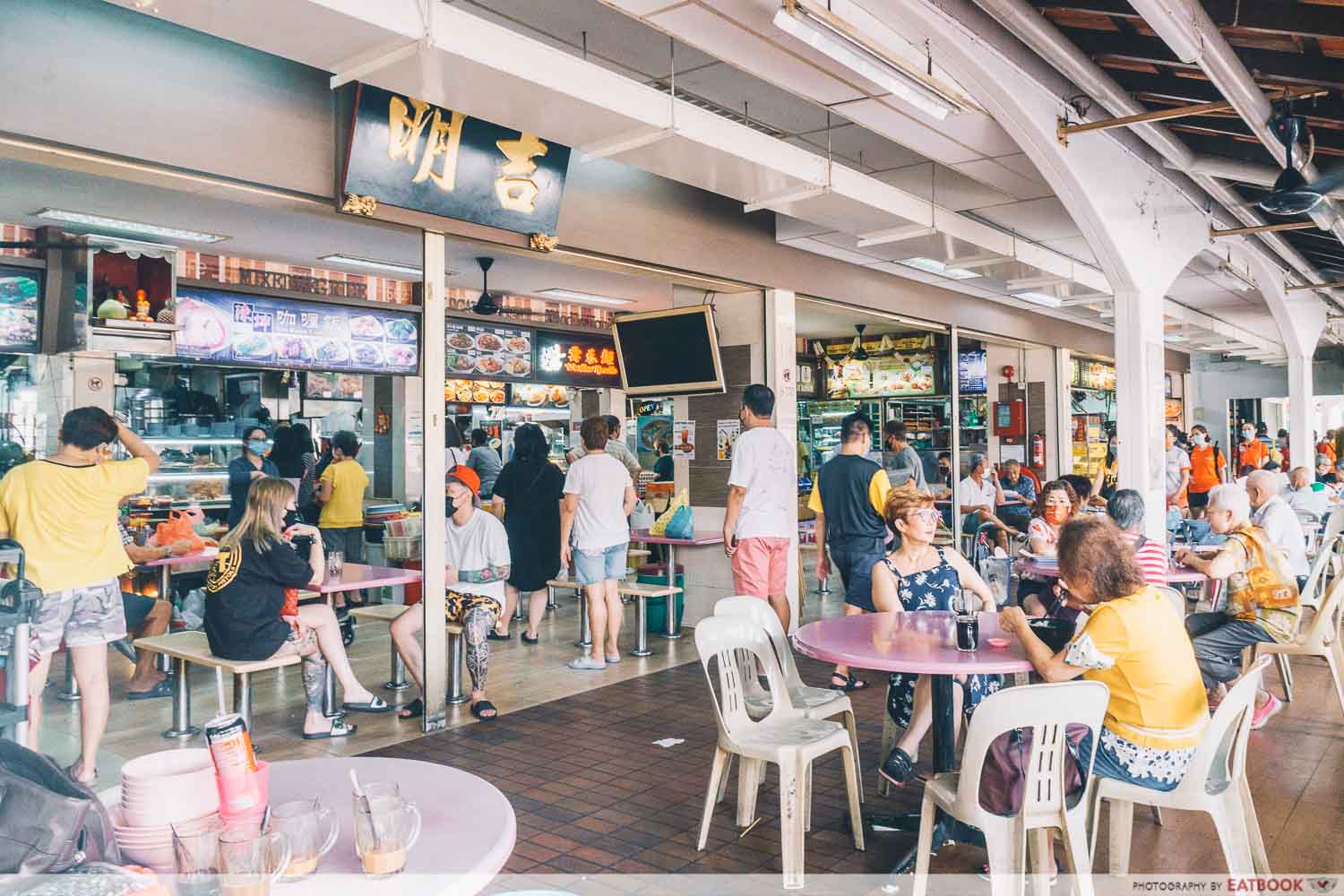 Located at a 15-minute walk from Hougang MRT Station, Broadway Food Centre is extremely popular during breakfast hours. Do ensure you arrive early at 682 Min Jiang Kueh, as it's truly a game of early bird catches the worm.
16 Unique Yam Desserts To Try, Including Orh Nee Mille Crepe And Taro Croissants
The verdict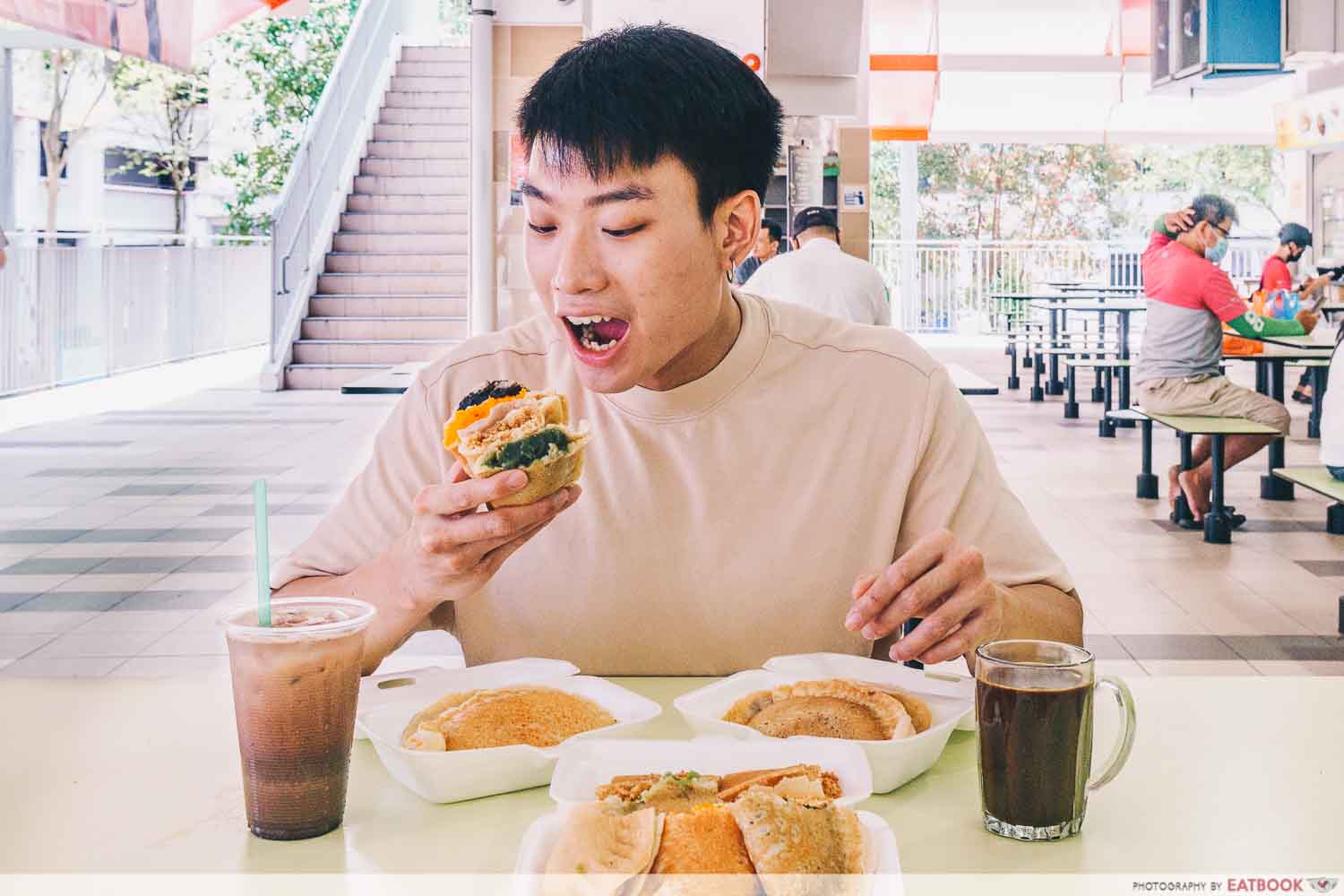 Their min jiang kueh here definitely sparks an interest for Gen Z as it panders to their desire for photogenic food. Their substantial IG-worthy fillings makes it a value-for-money snack that will fill your stomach.
To continue your Hougang food adventures, check out our Ci Yuan Hawker Centre food guide for yam roll lor mee, prawn noodles, and satay. Otherwise, check out our Just Dough review, for steamed buns that also come with IG-Worthy fillings.
Address: 682 Hougang Ave 4, 682 Ming Jiang Kueh, Broadway Food Centre, Singapore 530682
Opening hours: Daily 5am to 12pm
Just Dough Review: Cheap And IG-Worthy Steamed Buns With Generous Fillings At Suntec City
Photos taken by Syamira Rohaizad.
This is an independent review by Eatbook.sg.
The post 682 Min Jiang Kueh Review: IG-Worthy Min Jiang Kueh With Orh Nee, Green Tea, And Coconut Fillings appeared first on EatBook.sg – New Singapore Restaurant and Street Food Ideas & Recommendations.