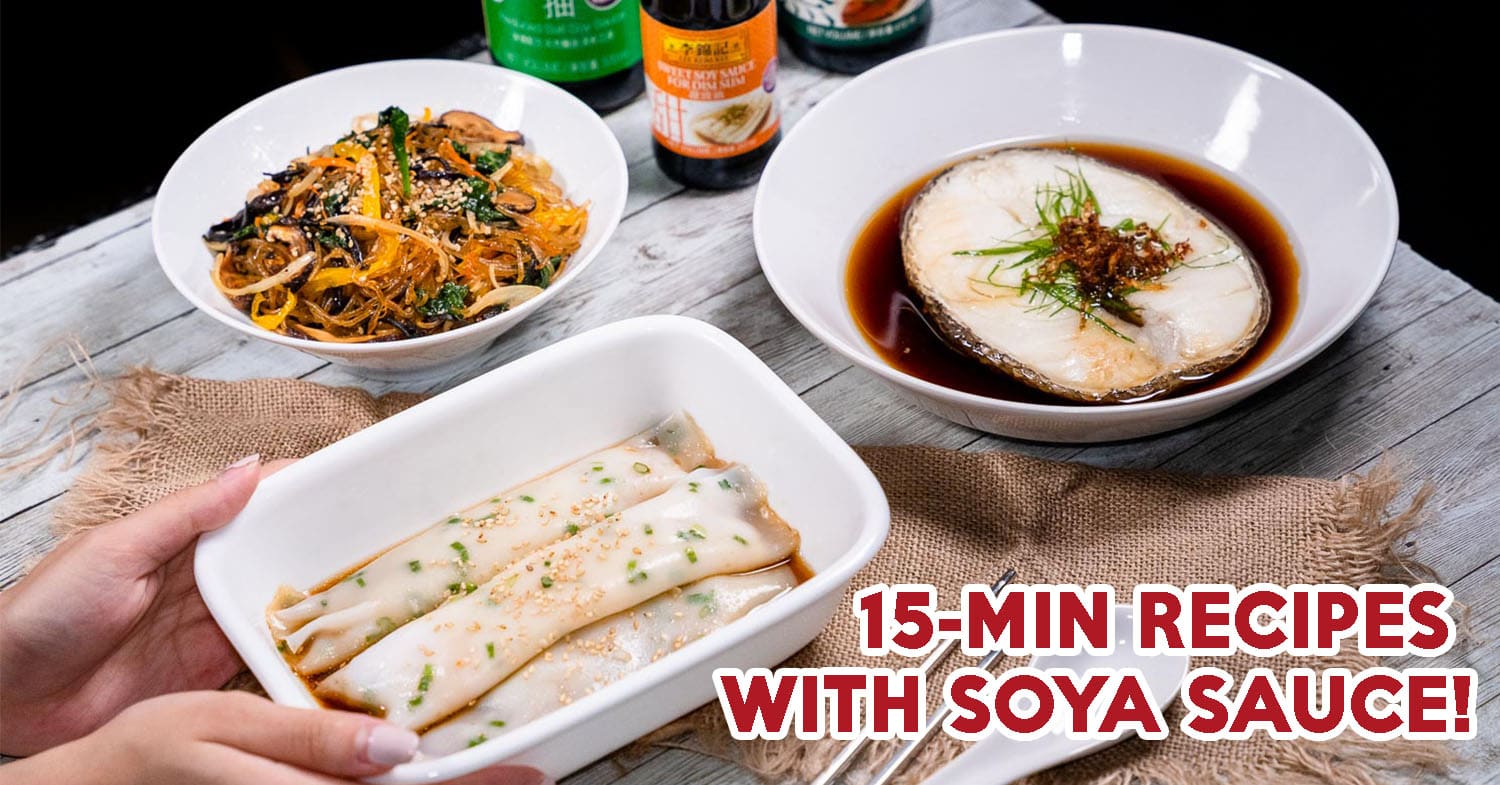 ---
15-minute dishes using Lee Kum Kee soya sauces
---
Cooking for lunch at home is never a quick 1-hour affair and running out of ideas always seems to signal impending doom. To give you some inspiration, here are 3 easy and delicious soya sauce dishes that only require 15 minutes of cooking time! From one-pan recipes to trendy nosh such as your own hand-rolled chee cheong fun, we've got you covered.
---
1. 15-minute Chee Cheong Fun
---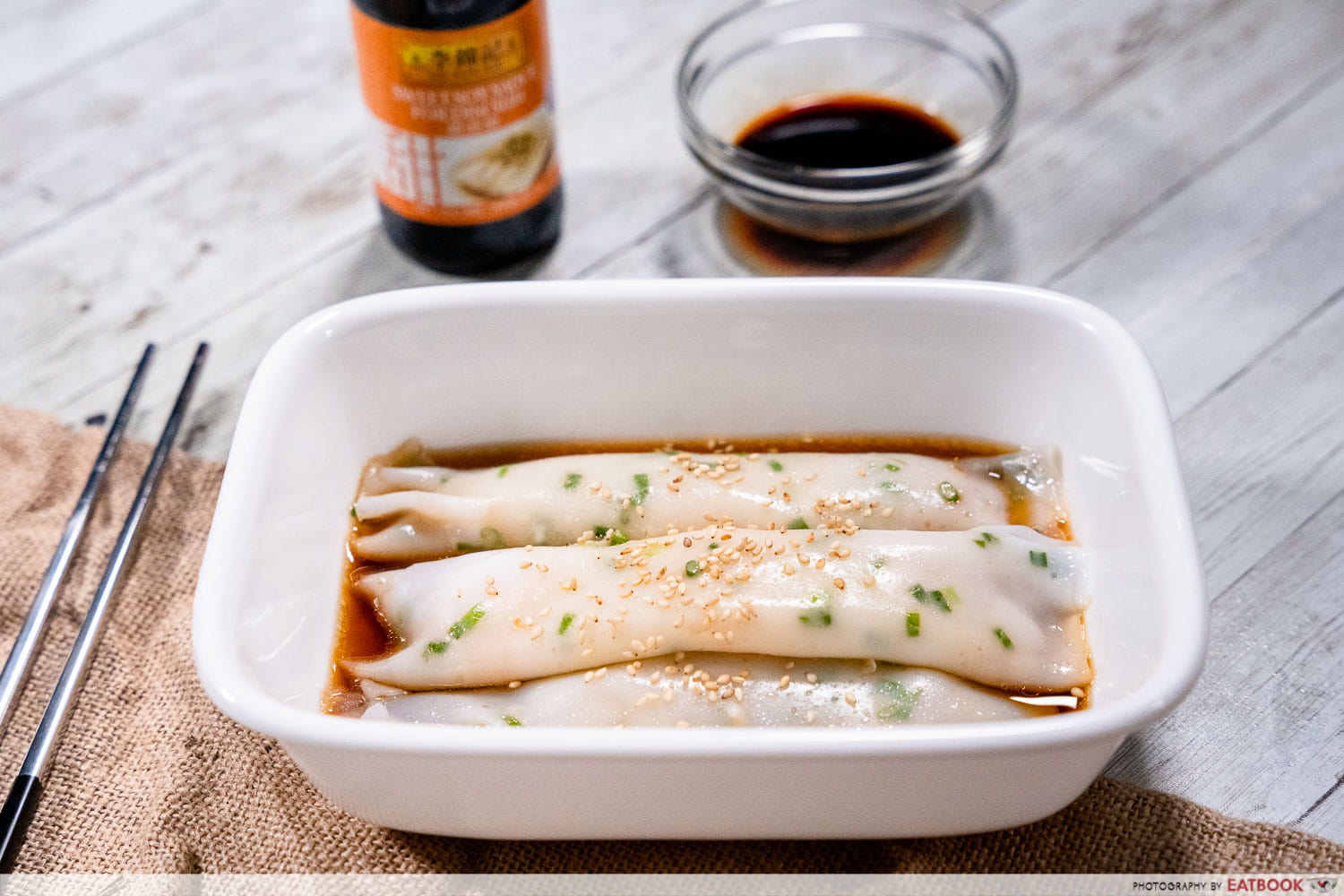 This hand-rolled 15-minute Chee Cheong Fun recipe is so simple yet satisfying. Pairing thin, almost translucent chee cheong fun skin with a dash of sweet-salty Lee Kum Kee Sweet Soy Sauce for Dim Sum, this is one soya sauce dish you must try at home.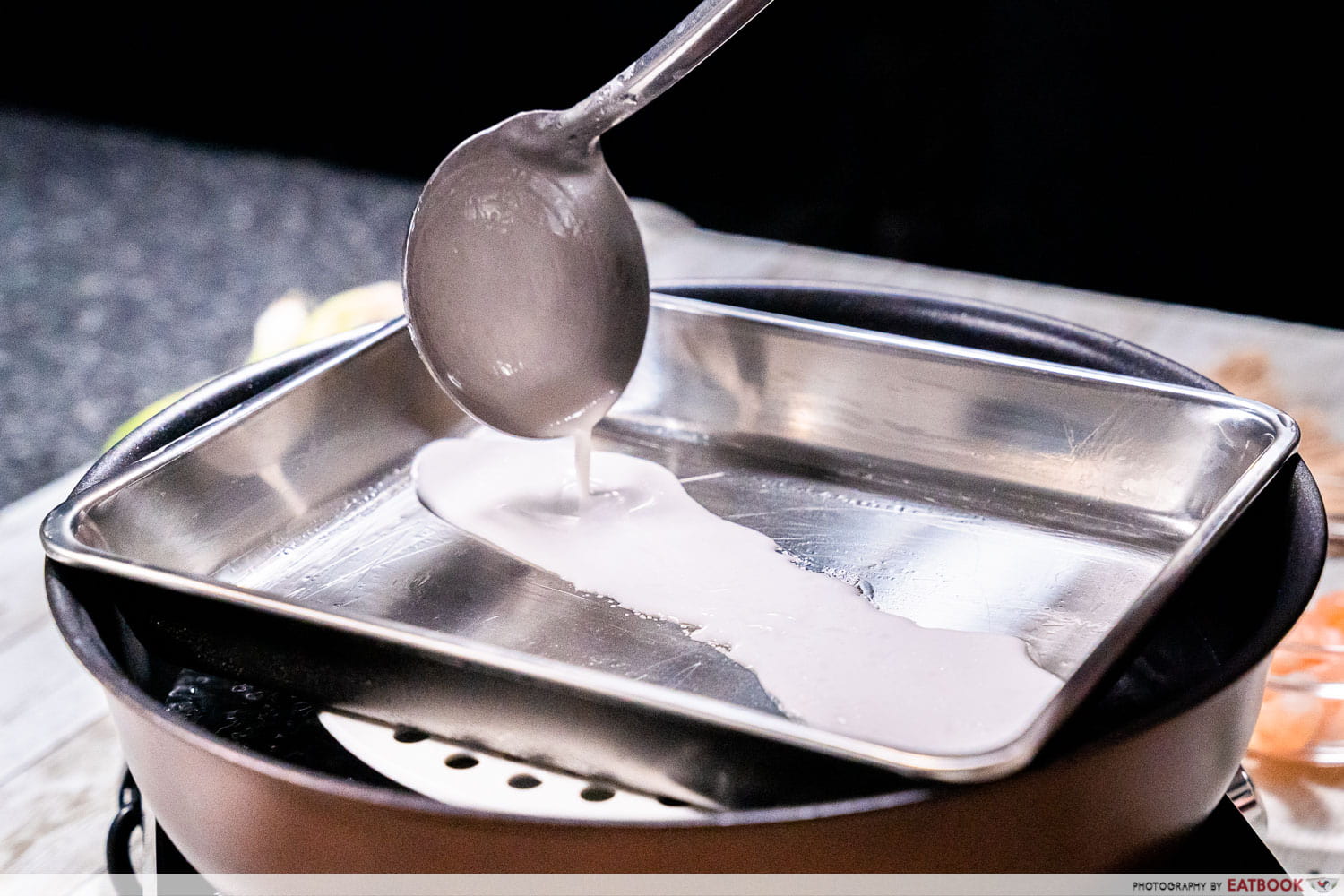 There are two fundamental components to this chee cheong fun recipe—the rice noodle roll and the savoury light soya sauce. We will start off with the preparation of the rice flour mixture first, and make use of its 2-minute cooking time to whip up the soya sauce dressing by multitasking.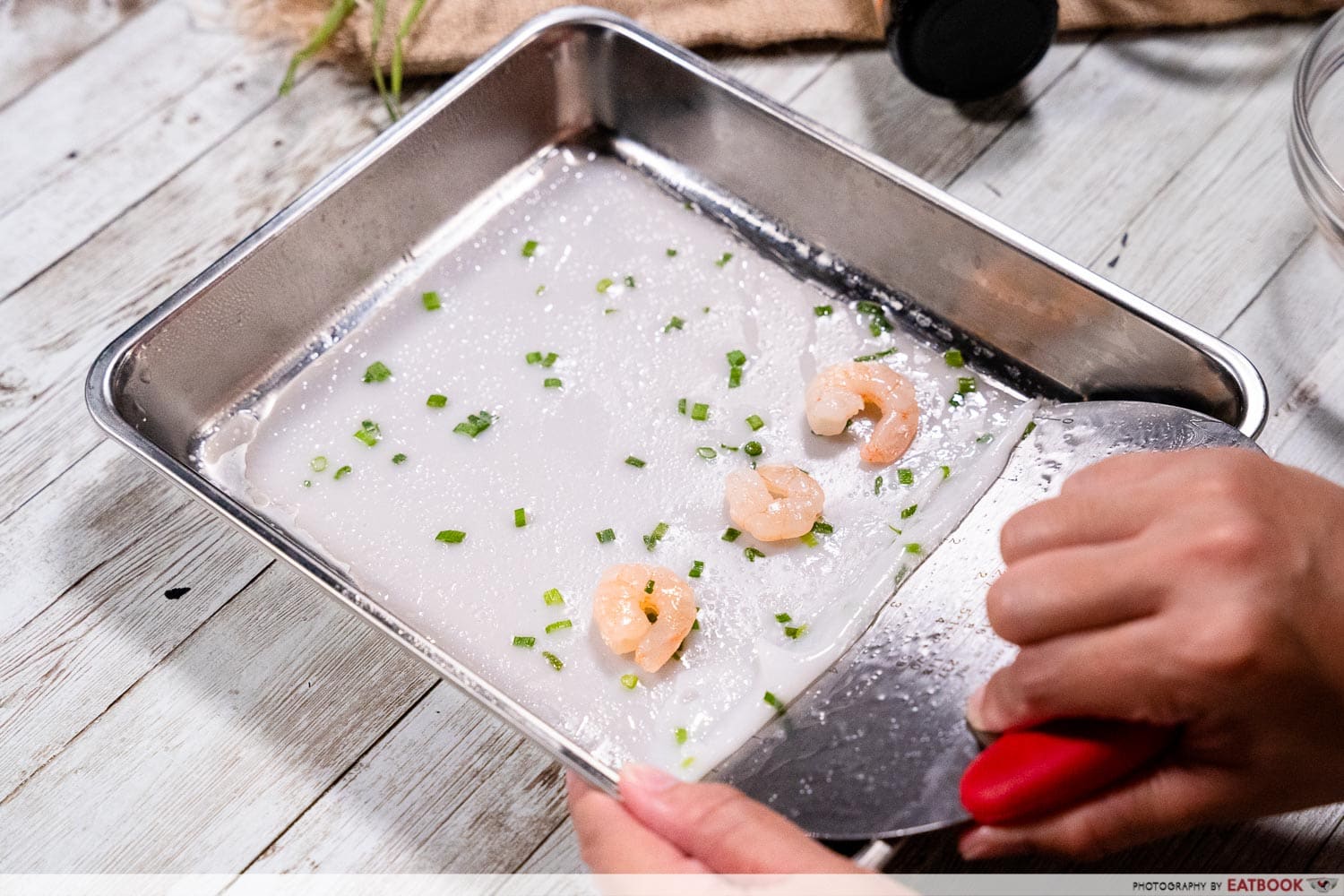 While many recipes online call for a combination of rice flour and a starchy flour like cornflour or tapioca starch, we are using a mixture of rice flour, tapioca starch, as well as wheat starch for a stretchier instead of firm consistency.
Feel free to use your choice of fillings. We chose pre-cooked prawns for ease, but the possibilities are endless! Even leftover roast chicken or a breakfast youtiao would pair well with the thin and slippery rice rolls.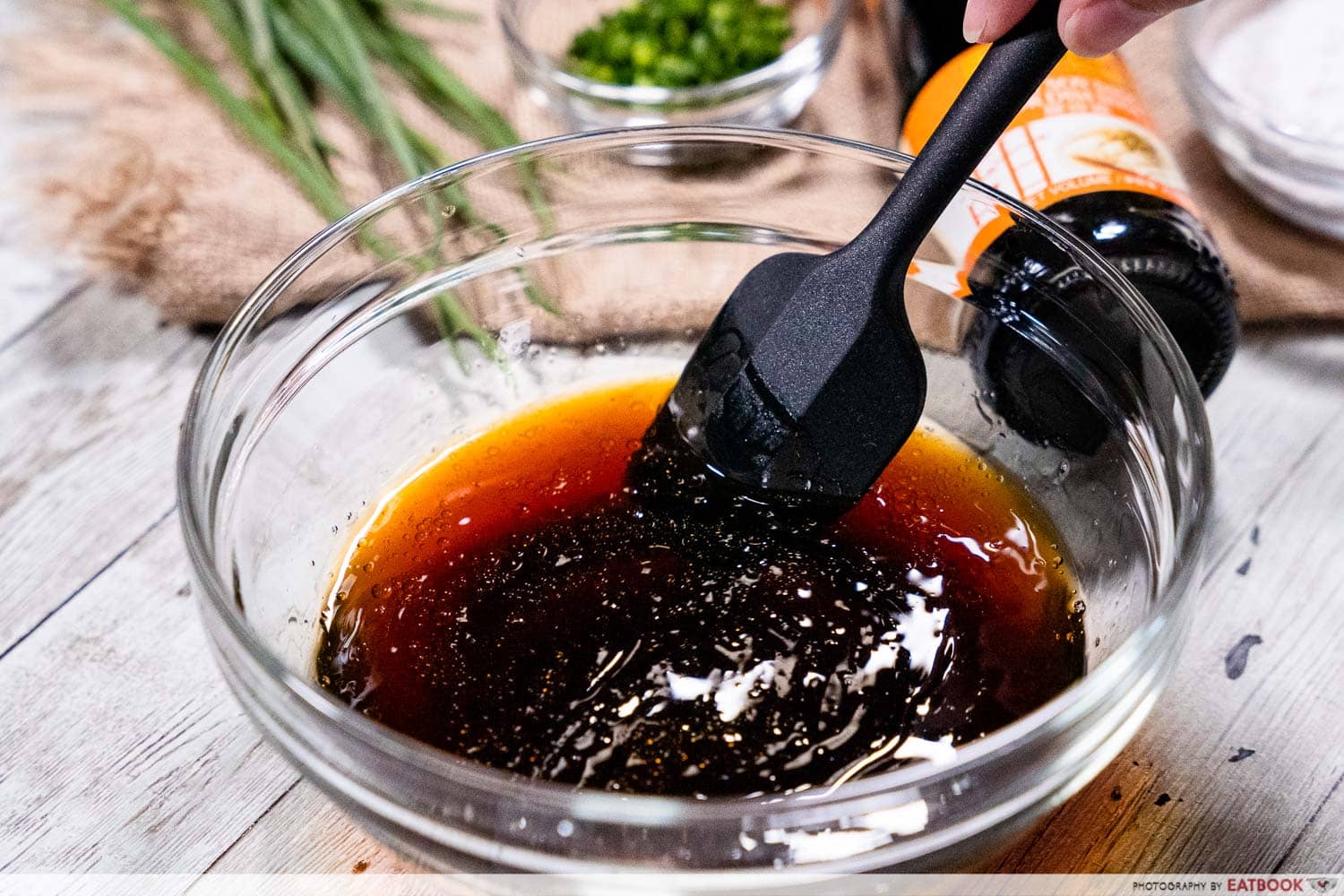 For the sauce, we are making use of Lee Kum Kee Sweet Soy Sauce for Dim Sum for an umami kick that's also slightly sweet. Along with a dash of chicken stock for extra savouriness to compensate for the plain rice rolls, this sauce can be easily prepared while waiting for the rice roll to steam up. 
Yield: Serves 6 rolls
Cooking time: 15 minutes
Ingredients: 
Chee cheong fun skin
120g rice flour
10g tapioca starch
10g wheat starch
2 cups water
1 tbsp cooking oil
Spring onion, chopped (optional)
Prawns, cooked (optional)
Chee cheong fun sauce
3 tbsp Lee Kum Kee Sweet Soy Sauce for Dim Sum
1 cup hot water
½ tbsp concentrated chicken stock
1 tbsp Lee Kum Kee Pure Sesame Oil
Directions:

In a bowl, whisk together rice flour, tapioca starch, wheat starch, water, and oil in a bowl, and set aside.

On a steamer, heat up a metal pan and spread a thin layer of cooking oil to all edges. 

Pour a thin layer of flour mixture onto the heated metal pan, spreading it evenly to all edges. Though optional, sprinkle some chopped spring onions for more colour on the rice rolls.

Cover the steamer and let it cook for two to three minutes.

Remove the pan from heat and let cool. Add prawns or any choice of filling and roll using a bench scraper.

In a bowl, combine Lee Kum Kee Sweet Soy Sauce for Dim Sum, hot water, chicken stock, and Lee Kum Kee Pure Sesame Oil. Pour the sauce over the rice rolls and serve warm.
---
2. Hong Kong-Style Cod With Ginger And Soya Sauce
---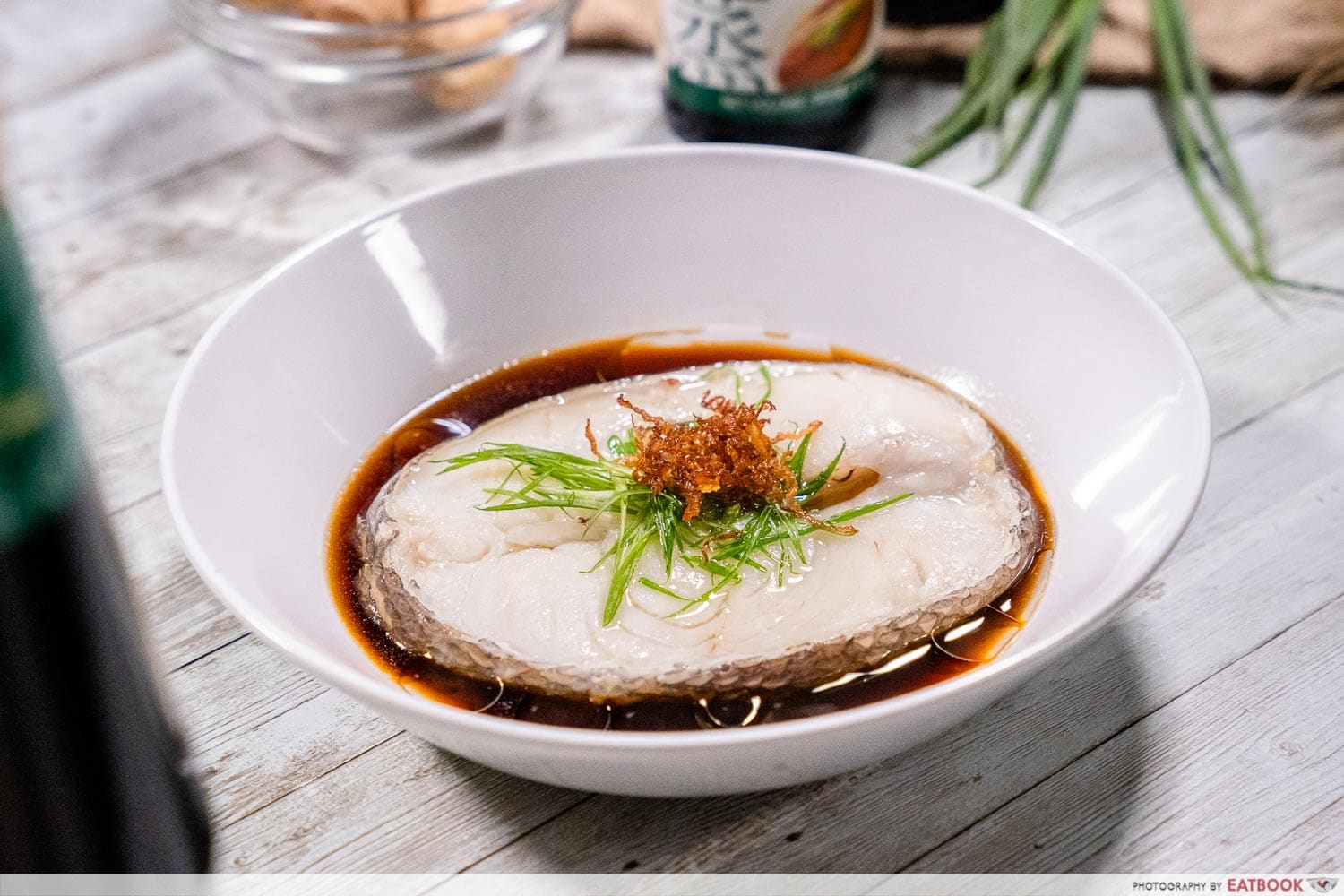 This Hong Kong-Style Cod With Ginger And Soya Sauce can single-handedly make me fall in love with home-cooked food once again. This dish alone is super fragrant, when served with plain white rice, it is savoury enough to make sure I finish them to the last grain.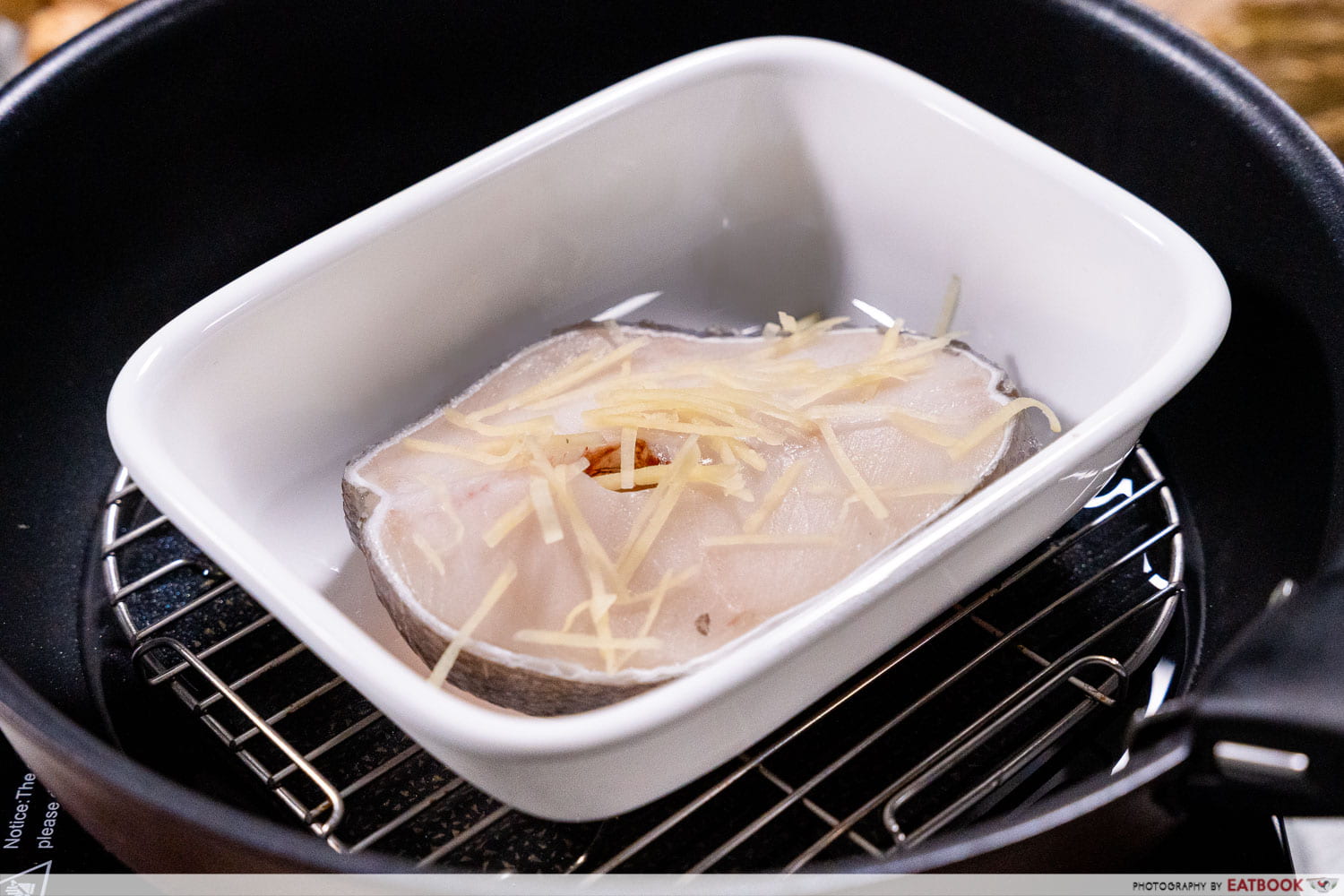 The effort-to-reward ratio of the dish is off the charts, as the simple steaming of this fish and five other ingredients can be done with little supervision. Steam a thick cut of codfish on high heat along with slivers of spring onion and sliced ginger to rid it of any unpleasant fishiness.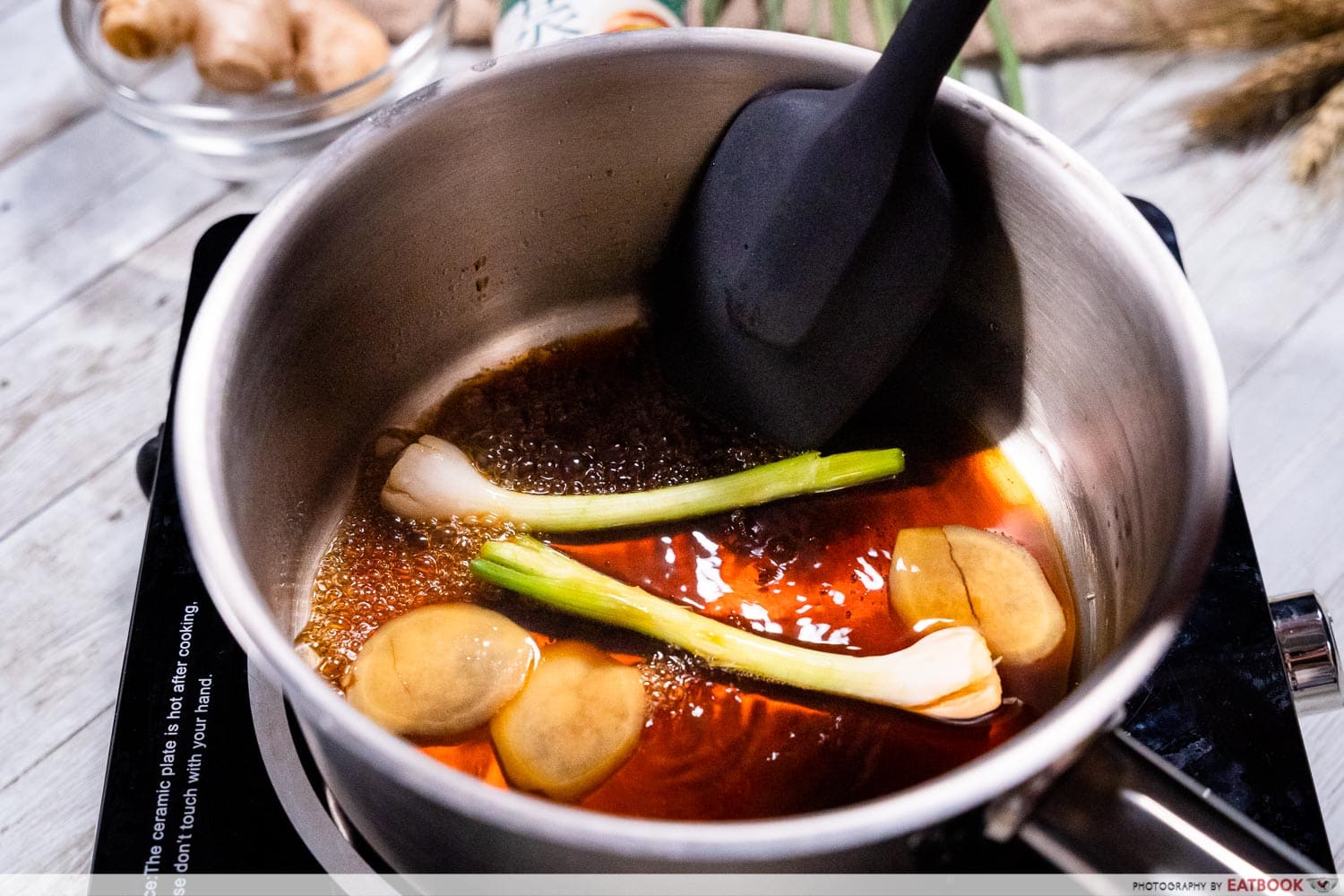 After the fish is cooked, prepare both the soya sauce and hot ginger oil at the same time. These are essential parts of the dish that will transform the cod steak from 'Plain Jane' to a level up on the umami scale thanks to the sauce and oil that are both perfumed with spring onions and ginger.
It is also ASMR galore when you pour the hot oil over thinly sliced spring onions, Canto-cooking style.
Yield: Serves 1
Cooking time: 12 minutes
Ingredients: 
1 codfish steak
3 tbsp Lee Kum Kee Seasoned Soy Sauce for Seafood
3 tbsp water
⅓ tsp sugar
4 stalks of spring onion (white parts only)
Spring onion, thinly sliced
Ginger, thickly cut
Ginger, thinly sliced
¼ cup cooking oil
Directions:

Steam cod fish steak with two spring onion stalks and ginger slices on high heat for eight to 10 minutes, depending on the thickness of the fish. 

Combine Lee Kum Kee Seasoned Soy Sauce for Seafood, water, sugar, two spring onion stalks, and thickly cut ginger slices and stir on low heat until sugar dissolves.

Plate the soya sauce, fish, and thinly sliced spring onion, and prepare the hot oil. Heat up cooking oil and thinly sliced ginger until ginger turns light brown.

Pour hot ginger oil onto the dish and serve immediately.
---
3. One-Pan Japchae
---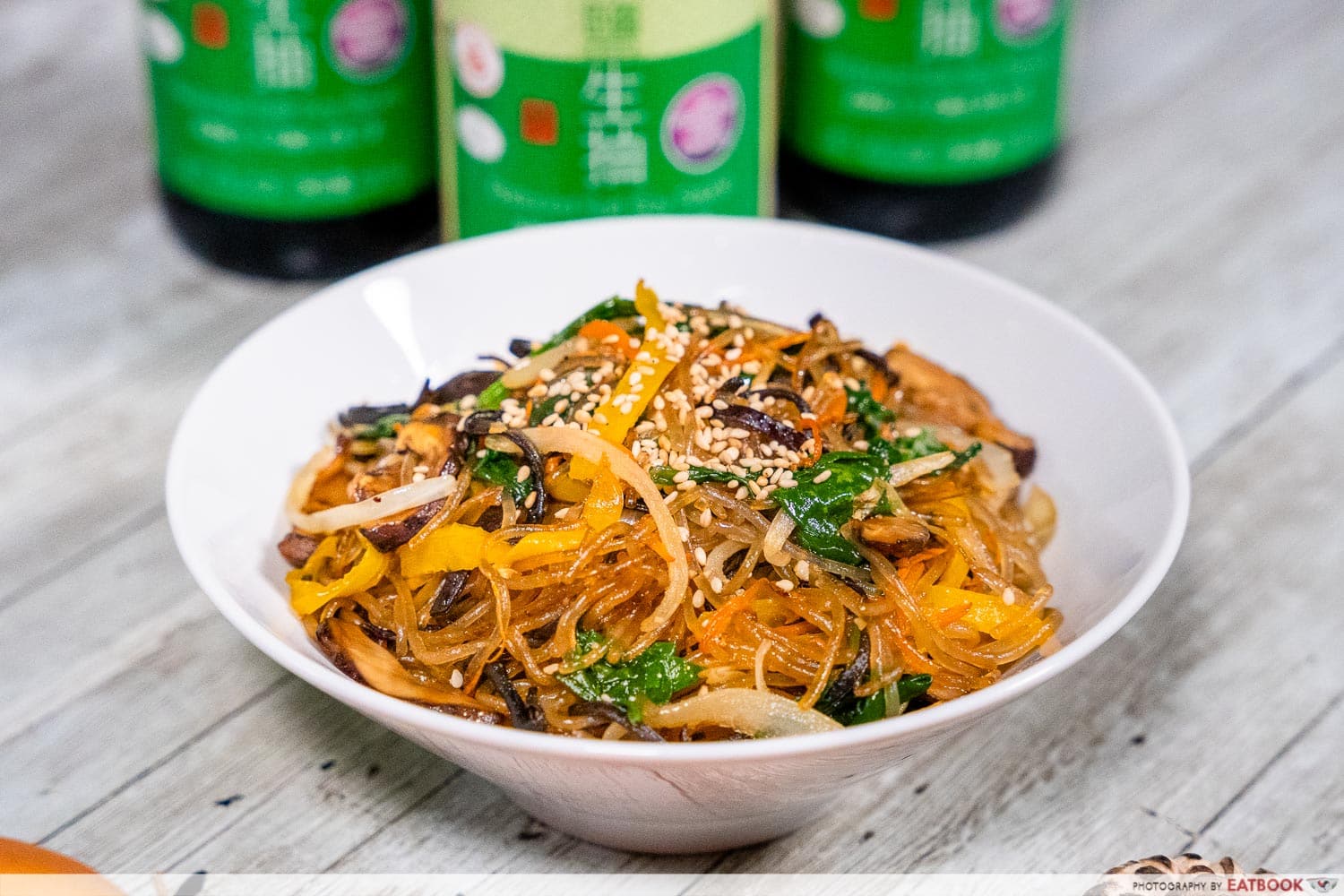 Another unbelievably easy and also healthy dish is the One-Pan Japchae. Throw in a medley of your favourite vegetables to create a colourful and tasty one that's great for the 'gram. The trick to this is to arm yourself with the knowledge of how long different vegetables take to cook.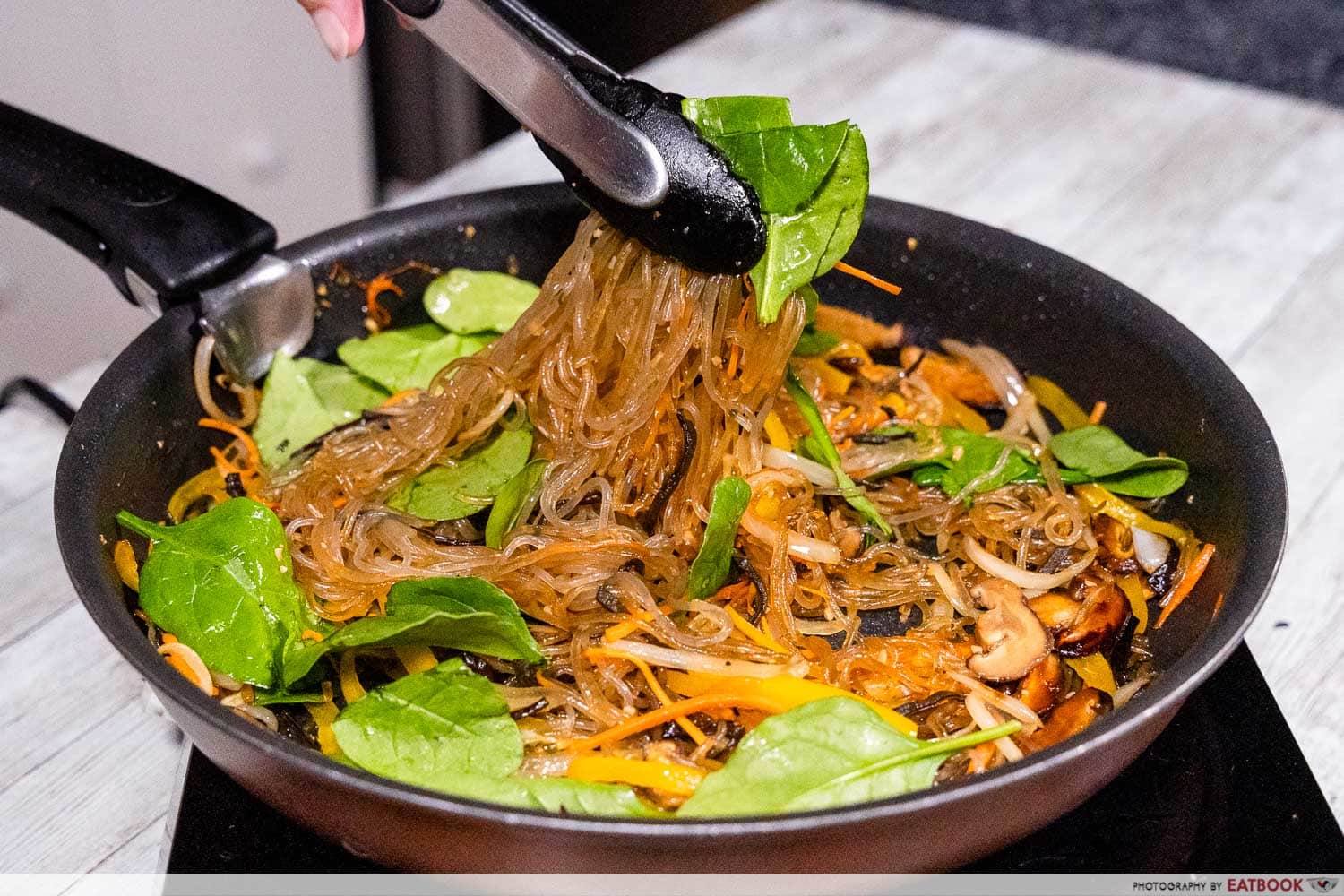 Spinach, for example, cooks with a touch of heat, and is thus best added into the pan at the very last step with residual heat.
For vegetables that are similar, simply slice them up into equal thickness and cook them all at the same time.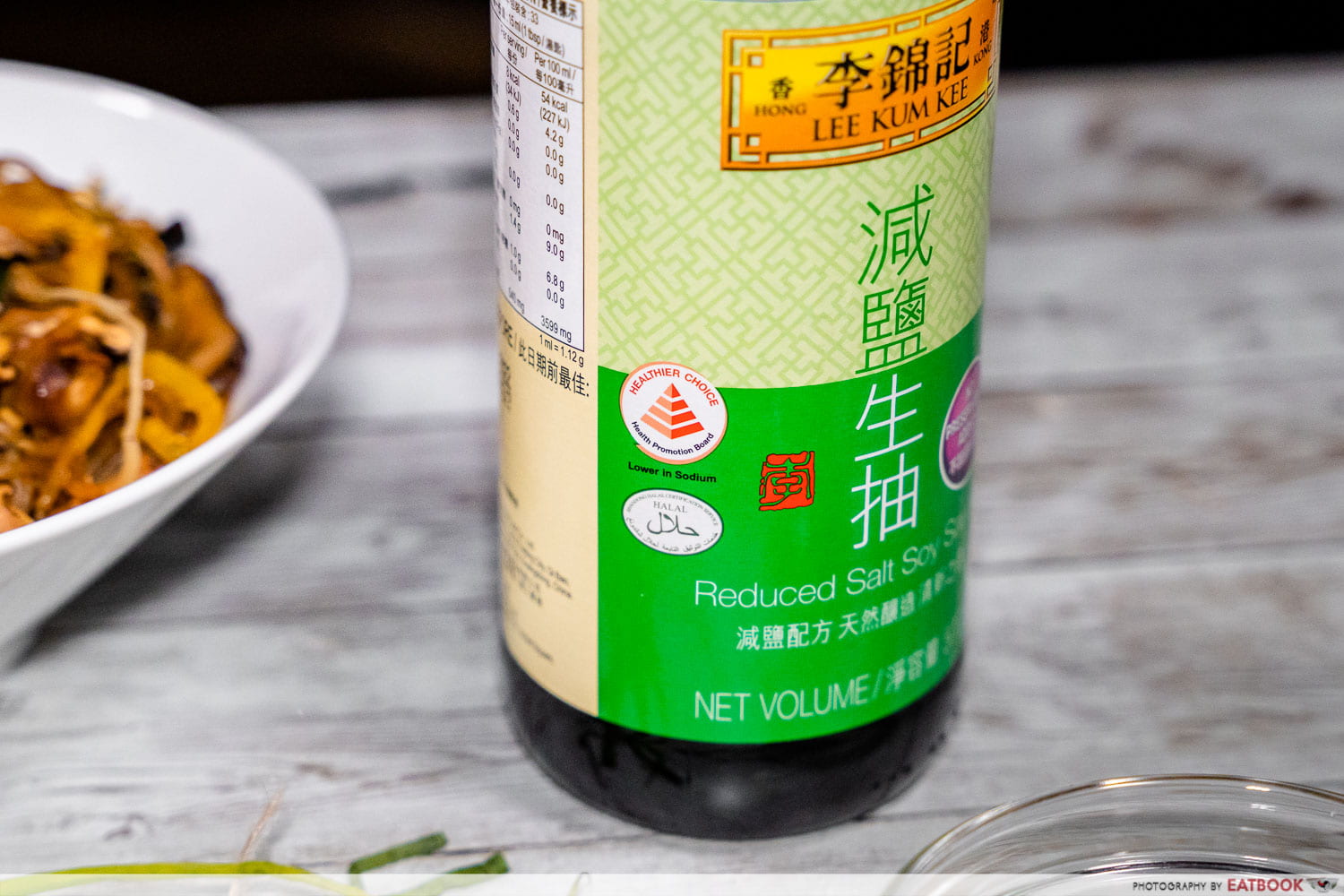 While the dish is predominantly noodles, the star component is actually a well-seasoned japchae sauce. For this recipe, we are going towards healthy eating by using Lee Kum Kee's Reduced Salt Soy Sauce instead of regular soya sauce. This is lower in sodium thus less salty, allowing the plethora of fresh vegetables to shine instead. 
Yield: Serves 2
Cooking time: 15 minutes
Ingredients: 
Japchae sauce
2 tbsp Lee Kum Kee Reduced Salt Soy Sauce
1 tbsp water
½ tbsp sugar
½ tbsp Lee Kum Kee Pure Sesame Oil
1 tsp garlic, minced
1 tsp spring onions, chopped
Pepper to taste
Japchae noodles
100g glass noodles, soaked
2 dried shiitake mushrooms, soaked and sliced
2 dried black fungus, soaked and sliced
½ cup onions, julienned
½ cup carrots, julienned
½ cup bell peppers, julienned
½ cup spinach 
Directions:

In a bowl, combine Lee Kum Kee Reduced Salt Soy Sauce, water, sugar, Lee Kum Kee Pure Sesame Oil, garlic, chopped spring onions, and pepper to make the japchae sauce. 

Stir fry glass noodles, shiitake mushrooms, black fungus, onions, carrots, and bell peppers with an oiled pan on medium heat.

Add japchae sauce into the pan and stir fry till everything is well cooked. 

Take the pan off the fire and use residual heat to cook spinach.

Garnish with sesame seeds and serve. 
---
Delicious and fuss-free soya sauce recipes
---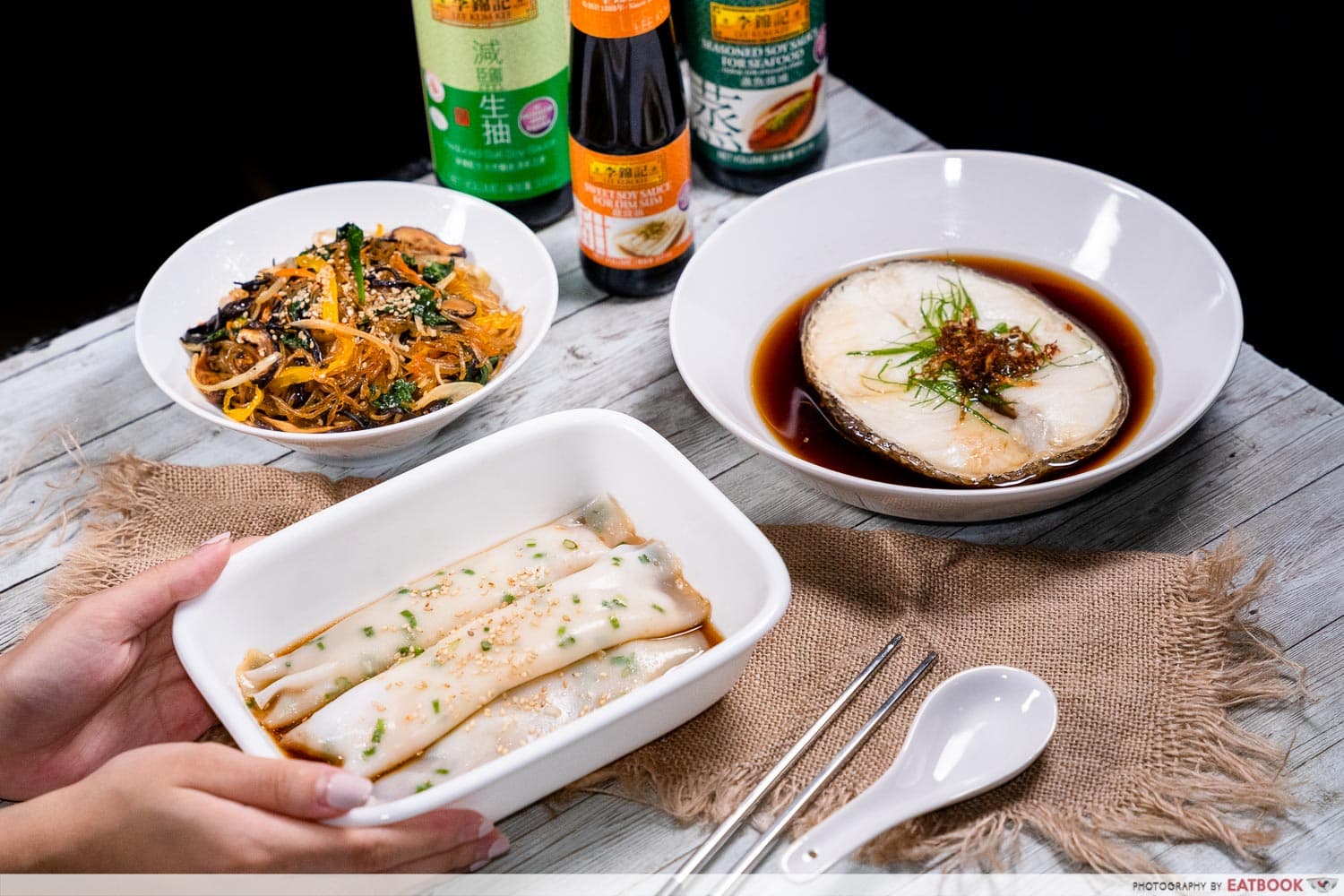 Achieve umami, a super sought after flavour profile, by incorporating Lee Kum Kee's range of soya sauces into your dishes. While we have featured only three dishes, feel free to try your hand at these zhnged-up instant noodles recipes such as Indomie pizza and fried sesame noodles that are laced with a dash of soya sauce too.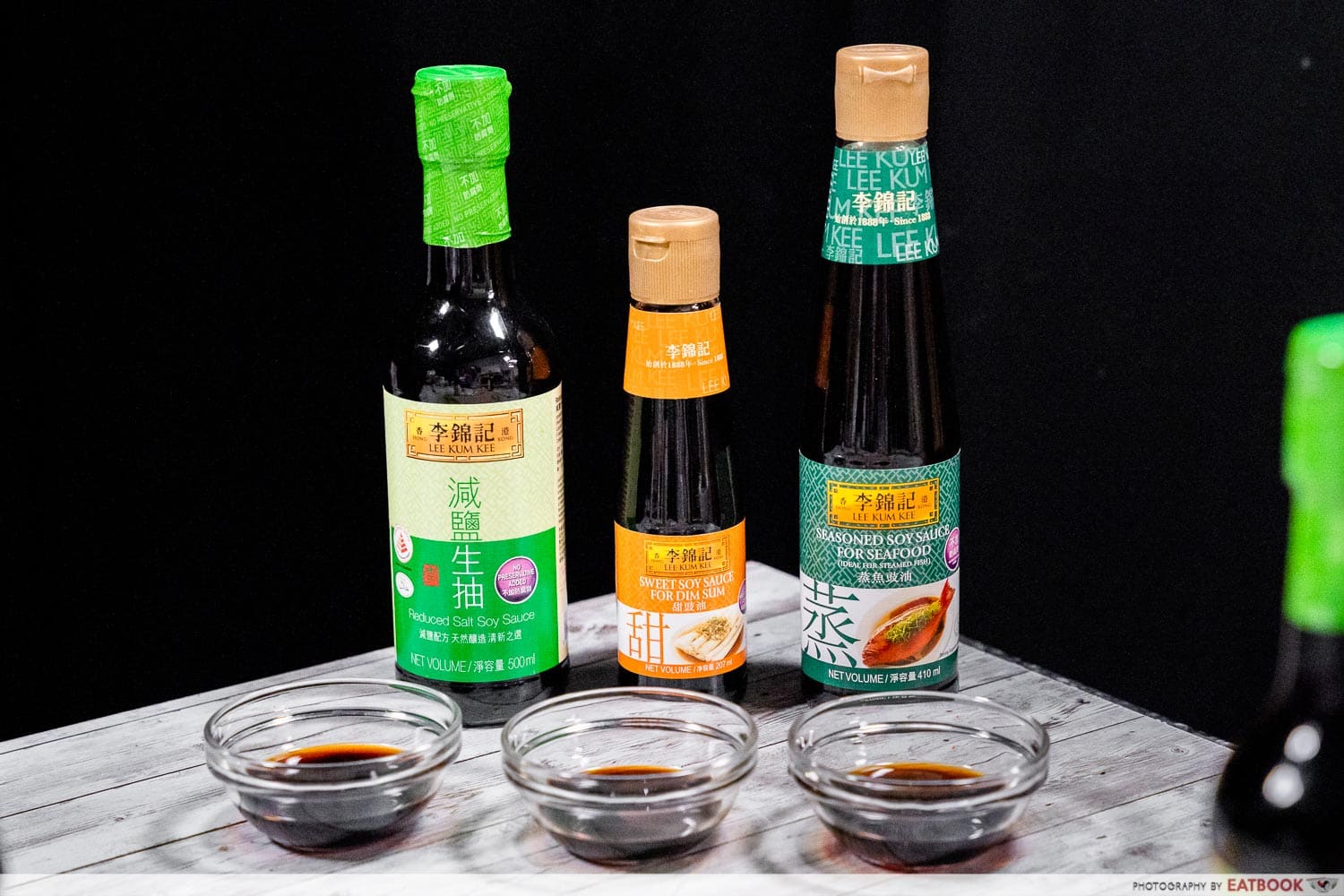 Other than the soya sauces featured in our recipes above, Lee Kum Kee also offers a variety, ranging from organic to even a gluten free one. They are made with non-GMO soybeans, are naturally fermented, and contain no preservatives. 
From now till 31 August 2021, spend a minimum of $20 on Lee Kum Kee products plus a bottle of Lee Kum Kee Soy Sauce to redeem their heat-proof kitchen glove by submitting the single receipt at lkkredemption.com. Not only that, there will be eight submissions chosen to receive a 2D1N staycation worth $600!
Photos taken by Chew Yi En.
This post is brought to you by Lee Kum Kee.
The post 3 Easy And Delicious Soya Sauce Dishes Such As Chee Cheong Fun Under 15 Minutes appeared first on EatBook.sg – New Singapore Restaurant and Street Food Ideas & Recommendations.