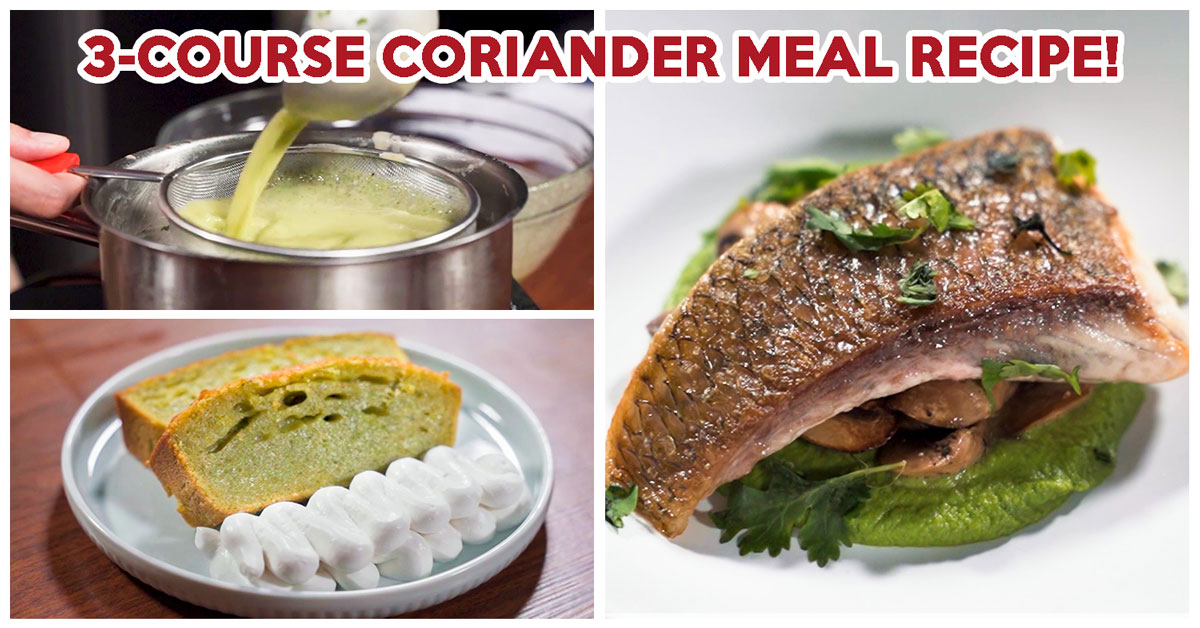 ---
3-course coriander meal recipes
---
Despite its nutritional benefits, coriander tends to be a pretty divisive topic between those who adore it and those who hate it, causing most of us to label it as an acquired taste. However, we're here to open your eyes more to the wonders of this antioxidant-rich herb, with our very own 3-course coriander meal recipe, including a soup, main, and finishing off with a sweet treat.
---
1. Cream Of Coriander Soup
---
A rich, savoury starter would be the Cream Of Coriander Soup, a refreshing addition to the usual types of cream-based soups we get. We've also included a range of ingredients such as chicken stock, cooking cream, and minced onions among others to further enhance the robust and sharp flavours of this soup.
Take note that you want to separate the coriander stems from the leaves before starting to cook as well.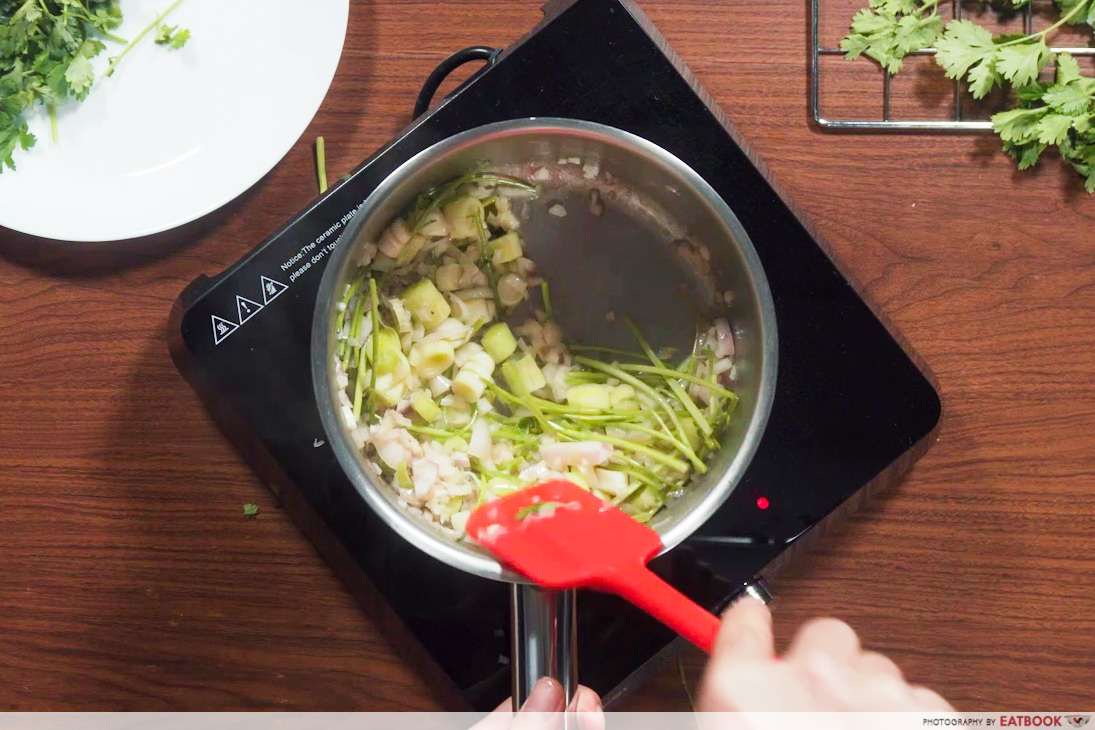 Begin by adding your butter to a pot and just let it melt at a really low heat. Then, slowly throw in your onions and leek as well and let them cook. Add the coriander stems in, cooking them at a comfortable low temperature that ensures they don't turn brown and more importantly to bring out the sweeter and fragrant tastes of the herb well.
When the vegetables start to look limp and soft, season them with salt and then slowly coat them with flour, in order to increase the thickness of the soup. Do continue cooking the flour for a while so it doesn't become too starchy and raw. After that, fill the pot with chicken stock or water to the brim, and a clove of garlic. Leave it to boil for about 30 minutes.
Eventually, blend the soup mixture together with more fresh coriander and a dash of lemon juice. Make absolutely sure you don't cook the coriander leaves as they're instrumental in giving your soup its mint-green colour.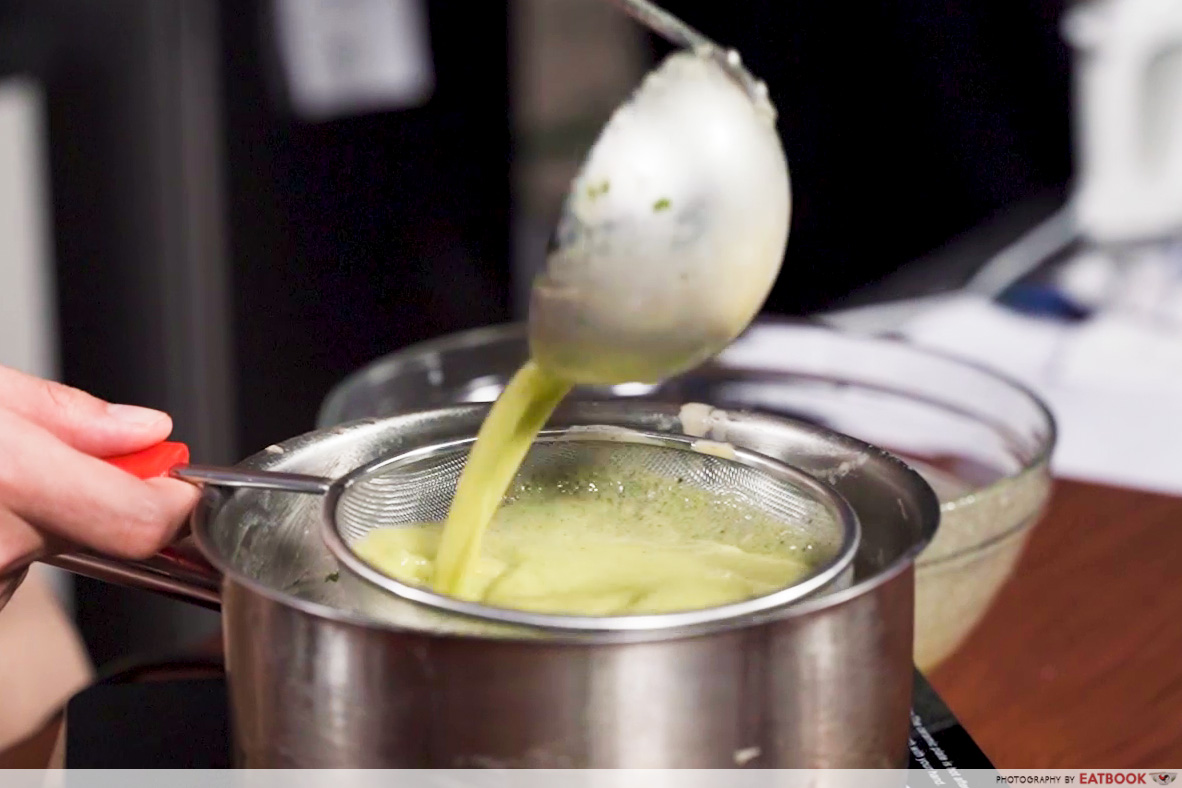 Lastly, introduce the cooking cream by sieving it into your pot of soup mixture so as to make your creation silky smooth. Slowly heat the soup up into a bare simmer, being very careful to not over-boil it and end up burning the cream.
When you have your finished product, do add a bit of olive oil and cream to further improve its richness, if you wish. And of course, end it off with a sprinkle of coriander as garnish. 
Yield: Serves 1
Cooking time: 45 to 60 minutes
Ingredients:
2 cups fresh coriander
1/2 cup cooking cream
1/2 lemon
1 clove garlic
2 tbsp butter
3 tbsp flour
1 onion (minced)
1 leek (chopped)
4 cups chicken stock
Salt
Directions:
Melt butter in a pot at low heat. Prepare coriander stems at the same time.


Cook onions, leek, and coriander stems in the same pot. When the vegetables soften, season with salt and slowly add in flour.

Fill the pot with chicken stock to the brim, adding a garlic clove too. Leave the mixture to boil for about 30 minutes.

Blend the soup mixture together with fresh coriander and lemon juice. Then, sieve the cooking cream into your blended mixture and heat it up to a bare simmer.

Pour the soup out onto a soup plate, adding some olive oil and cooking cream. Sprinkle some coriander as garnish and serve after.
---
2. Pan-Seared Sea Bass With Coriander Pea Puree
---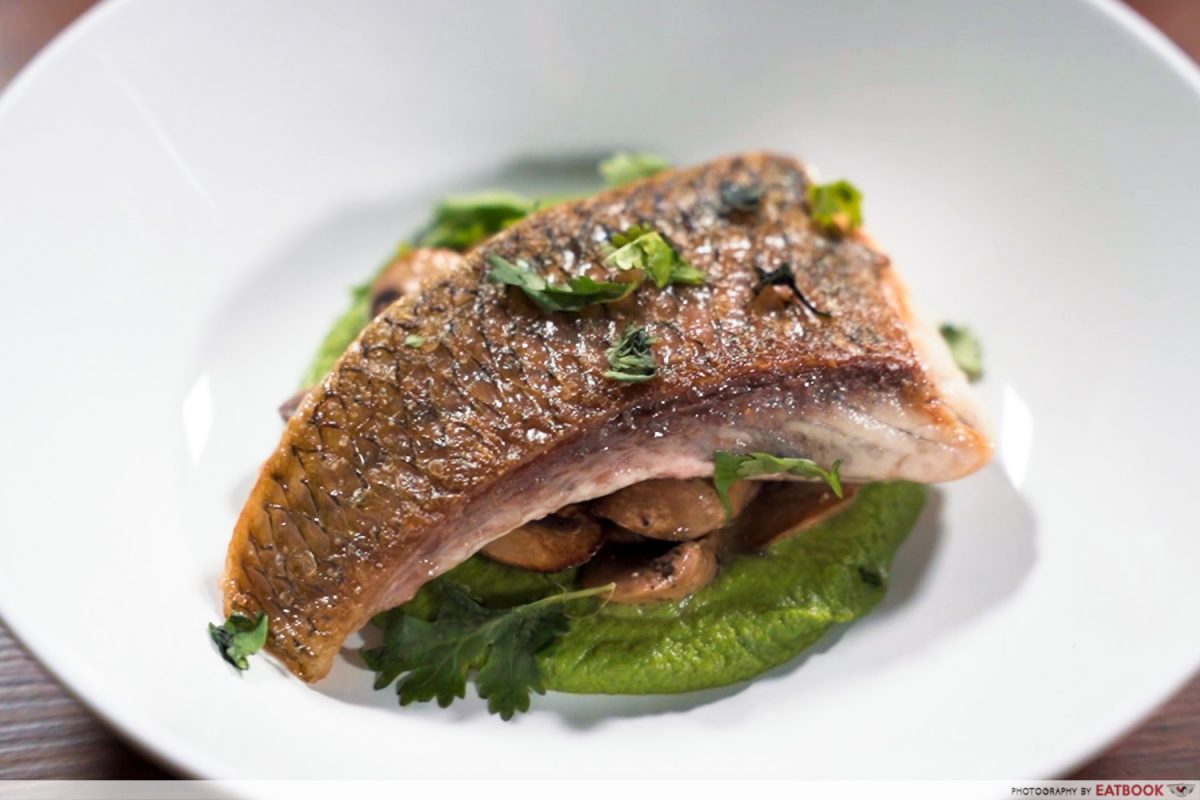 Well-suited for a date night restaurant setting, the Pan-Seared Sea Bass With Coriander Pea Puree is an interesting main dish that might help win your date over even more. This version also comes with sauteed mushrooms for extra juiciness too.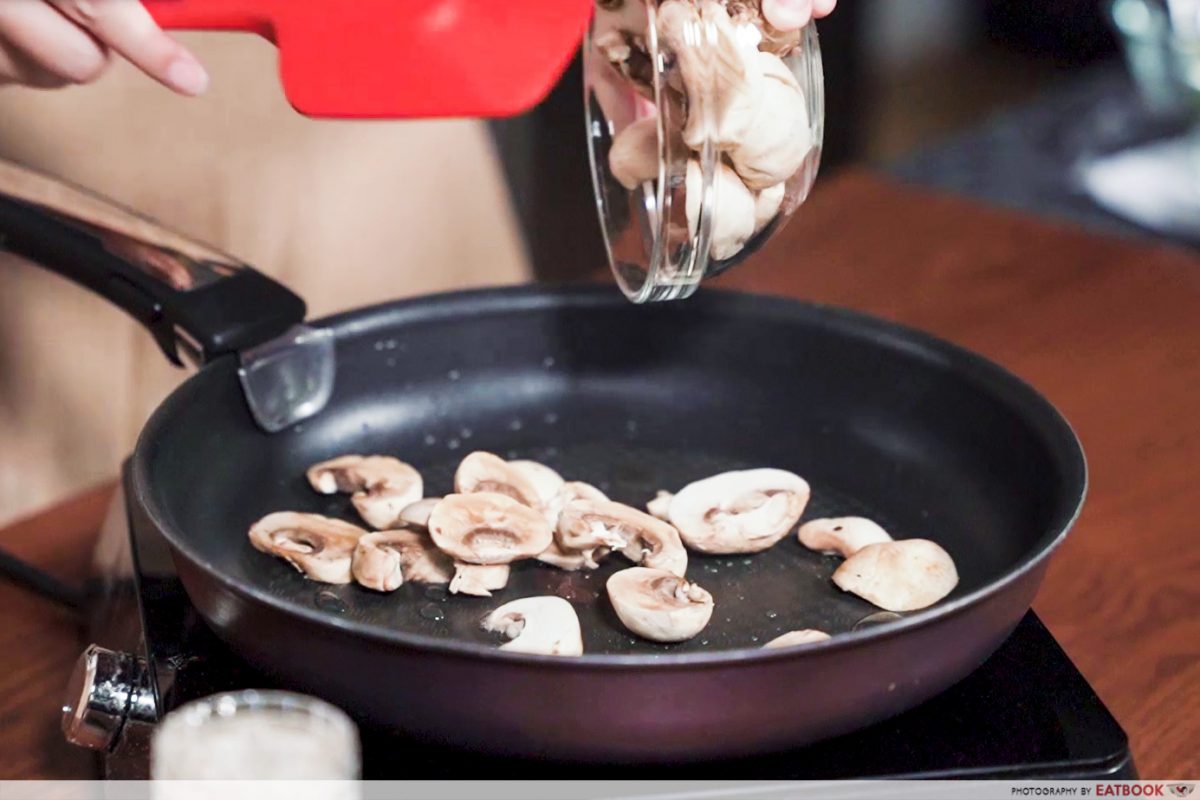 Firstly, you'll want to saute your button mushrooms on a pan at high heat until you start to see a nice sear. Start lowering the heat when you see a larger amount of smoke generating from the pan. 
Be sure to season the mushrooms with salt and pepper only when they're almost done cooking, absolutely not at the start so that it won't pull out all the moisture from the mushrooms.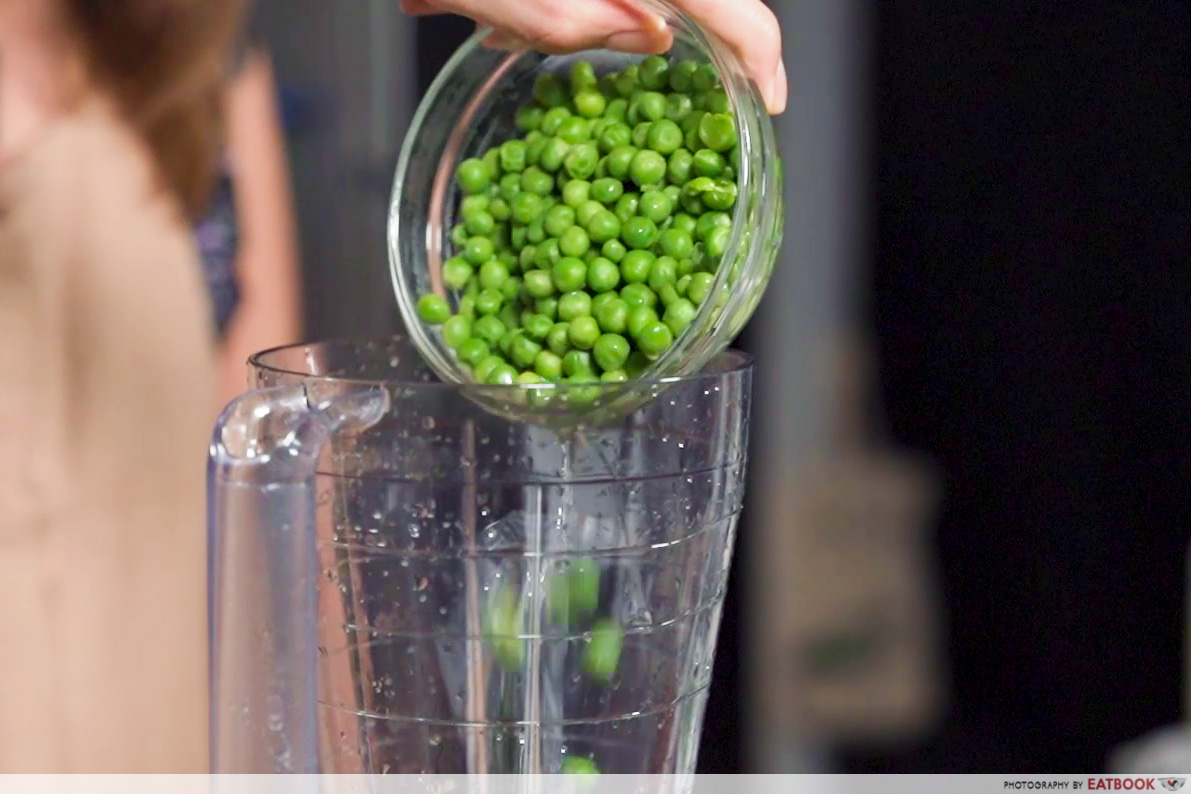 Moving on to the pea puree, begin by boiling the green peas. After that, you'll be adding the peas, together with fresh coriander, butter, and a sprinkle of salt to a blender to let it do its magic. Similar to the previous dish, you'll want to pass the resulting puree through a sieve, to give it its smooth texture.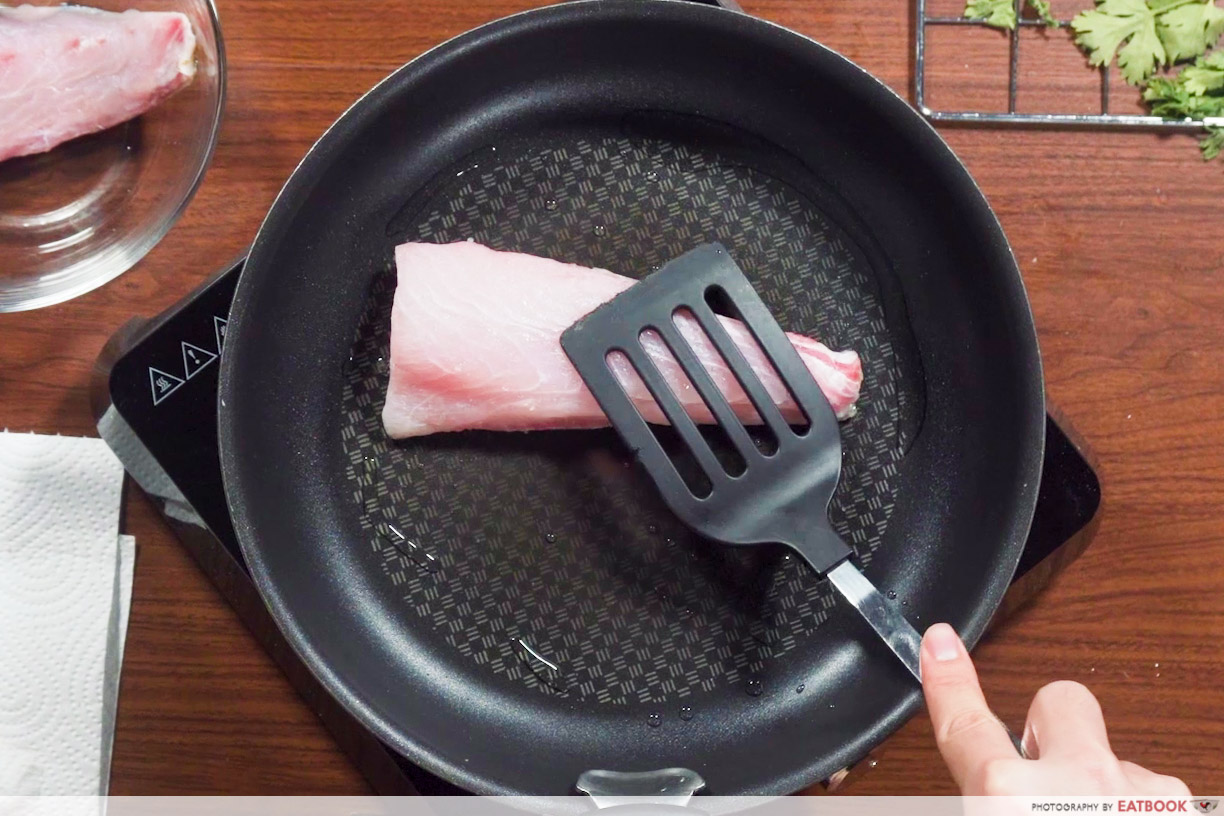 As for the sea bass, remember to season it with salt first and ensure the pan is set to a higher heat before putting the fish in. However, you'll subsequently need to lower the temperature to medium-low heat and make sure you give the fish a gentle press while cooking so you get to maximise its exposure to the pan. Ensure the sea bass is cooked by checking if it flakes easily and loses its raw appearance throughout.
Yield: Serves 1
Cooking time: 30 to 45 minutes
Ingredients:
2 sea bass fillets
1 cup fresh coriander
1 cup frozen peas
100g white button mushrooms (sliced)
1 tbsp butter
Salt
Black pepper
Directions:
Saute the button mushrooms on a pan to a nice sear at high heat. Season with salt and pepper when almost done cooking.

Boil green peas and blend together with fresh coriander, butter, and salt. Sieve the resulting mixture to get a smooth coriander pea puree.

Season sea bass with salt and place the fish on a pan set to high heat. Cook the fish at medium-low heat, making sure to give it a light press at times. Plate together with mushrooms and pea puree and serve.
---
3. Coriander Butter Cake
---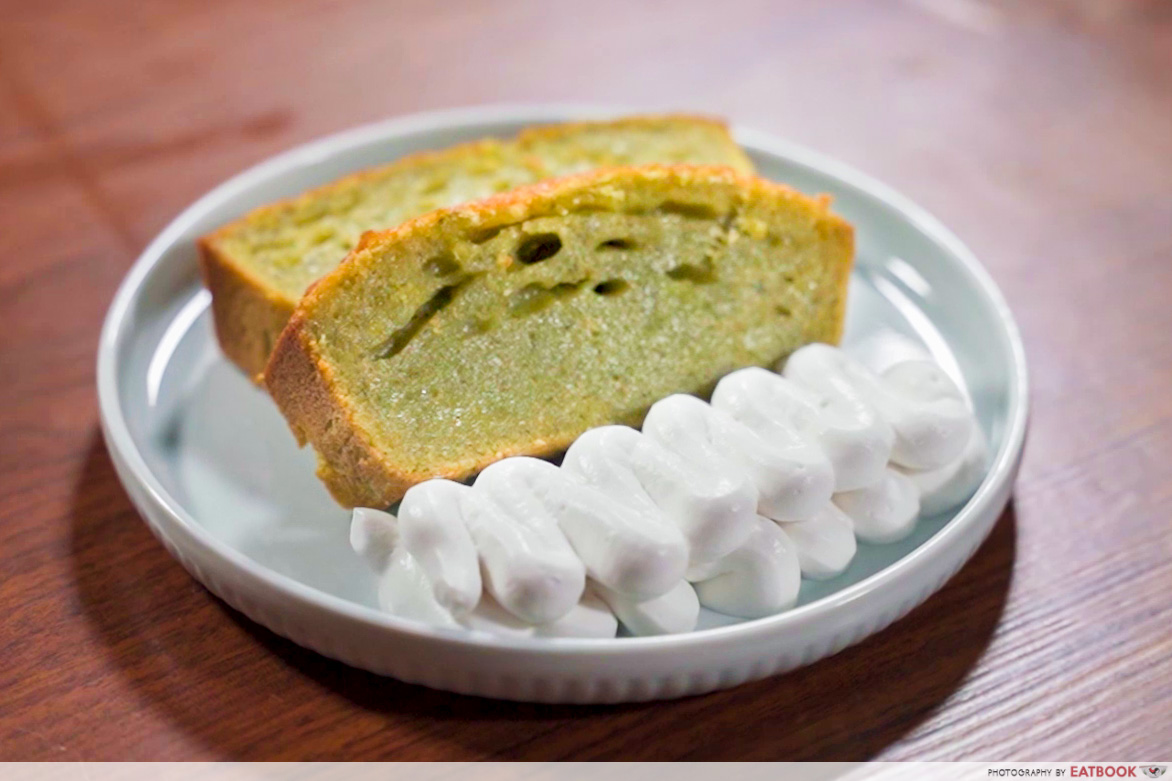 What better way to end your coriander-filled meal with even more in the form of the Coriander Butter Cake, zhnged-up with a side of coconut cream. If you haven't already seen our full recipe already, this will be a slightly different version of the interesting dessert creation.
Start by preheating the oven to 175 degrees Celsius. Get the coriander into a blender and add a small amount of water so as to prevent the coriander from getting too soggy. Then, blitz the coriander, making sure to cut them up beforehand to speed up the process.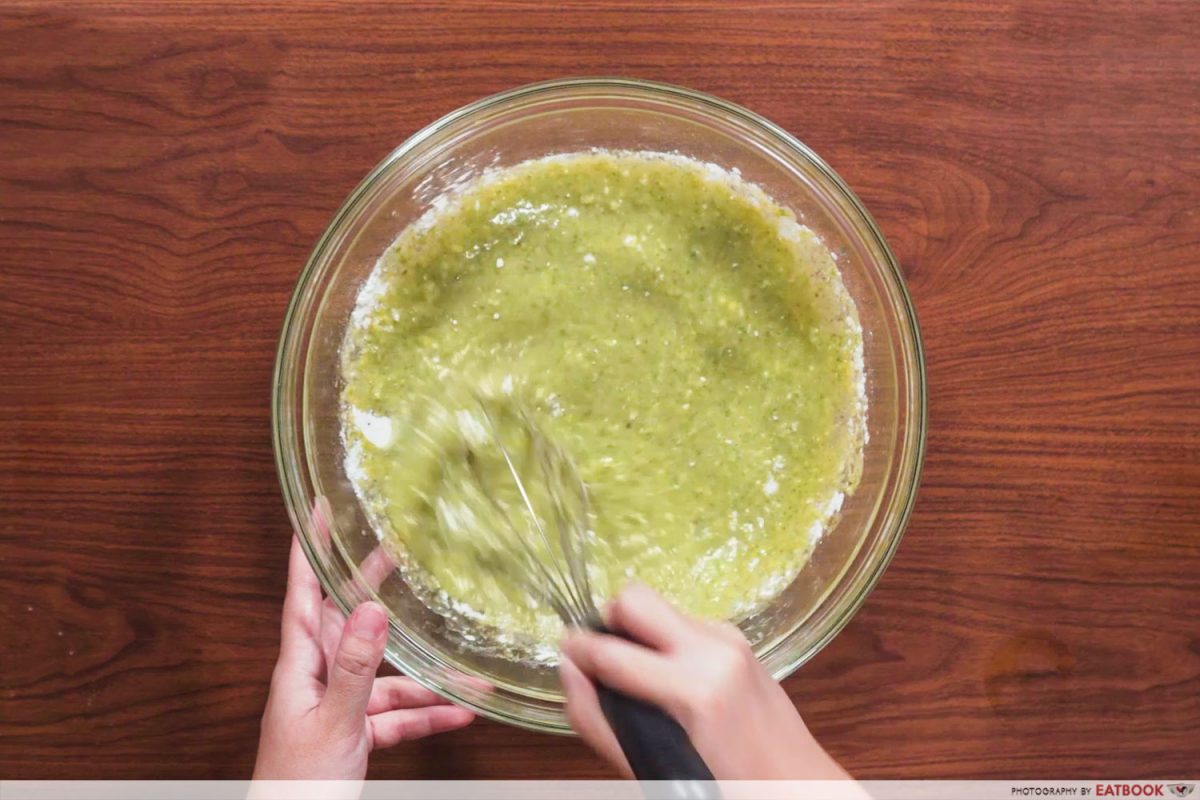 Sift the flour and sugar into a large bowl. Following that, add your milk, butter, and coriander pulp into the bowl as well, mixing the contents together until it reaches a uniform consistency.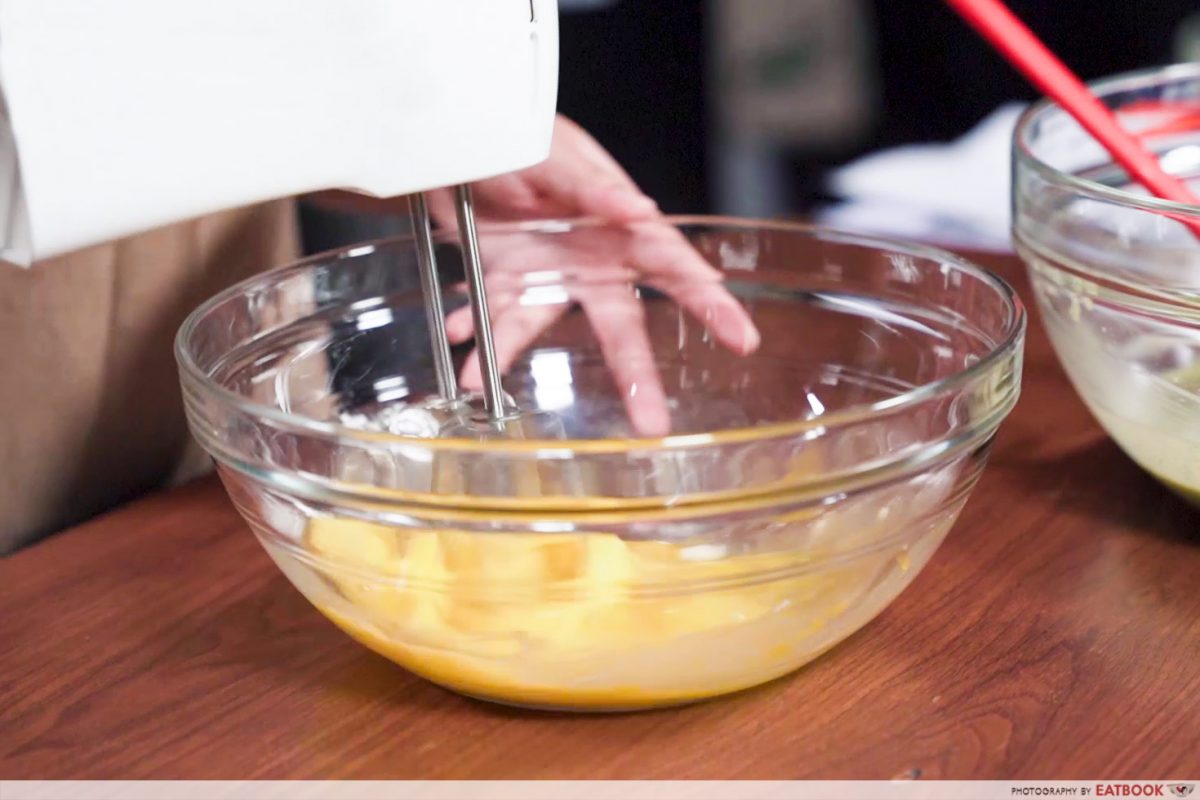 Crack your eggs into a separate bowl, before adding the vanilla essence, salt, and baking powder too. After that, whisk the bowl's contents, only stopping when you start noticing more air bubbles so as to prevent the cake from becoming overly dense.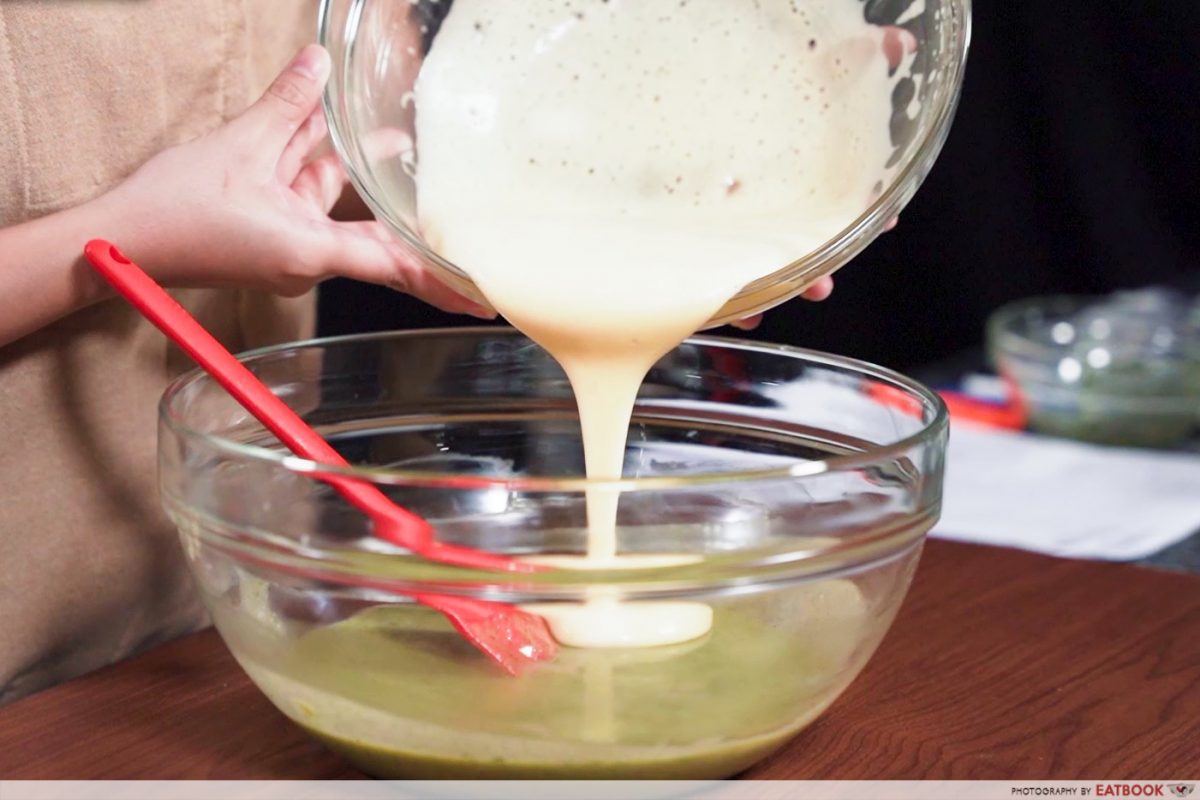 Subsequently, you'll want to add this egg mixture to the coriander dry mix, but in batches. On the side, standby a cake tin and grease it up first if you wish. Pour your resulting cake batter into the tin and pop it in the oven for about 30 minutes.
In case it slipped your mind, we still have the coconut cream to make. Before all this, remember to freeze up a bowl and leave the box of coconut cream in the freezer overnight so as to form a separation between the thicker and thinner layer of cream.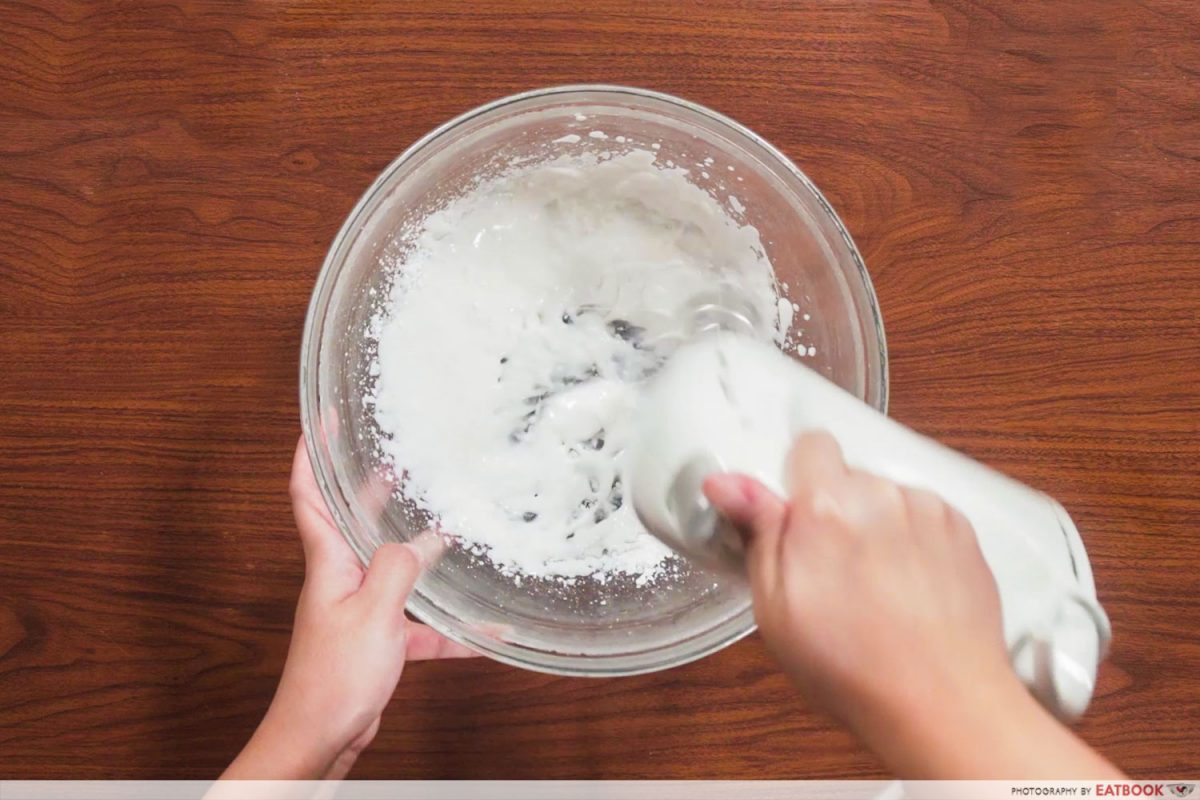 Scoop out the thick layer of coconut cream into the bowl, after which you'll add in powdered sugar and vanilla essence. Whip all of the ingredients together until you achieve a smooth consistency and there you have it, an ideal accompaniment to your cake.
Yield: Serves 2 
Cooking time: 45 to 60 minutes
Ingredients:
2 cups coriander
1½ cup flour
1 cup sugar
¾ cup milk
½ cup butter (melted)
3 eggs
1½ tsp vanilla essence
¼ tsp salt
1½ tsp baking powder
200ml coconut cream
⅓ cup powdered sugar
1 tsp vanilla essence
Directions:
Preheat the oven to 175 degrees Celsius. Blitz the fresh coriander together with water.

Sift flour and sugar into a mixing bowl. Add coriander pulp, butter, and milk into the same bowl. Mix contents until a smooth consistency is achieved.

In a separate bowl, add eggs, vanilla essence, salt, and baking powder. Whisk until visible air bubbles form.

Add egg mixture to the coriander dry mix in batches and fold gently until they are well mixed. Pour the resulting cake batter into a greased-up cake tin and place in the oven for about 30 minutes.

Scoop out a thick layer of coconut cream into a frozen bowl. Whip the cream with powdered sugar and vanilla essence until smooth. Serve alongside the freshly baked coriander cake.
Coriander Butter Cake Recipe: Quick And Easy Recipe For #TeamCoriander
---
Delicious 3-course coriander meal recipes for any occasion
---
As we've shown through our recipes, the taste of coriander can indeed be made a lot more bearable for those who utterly dislike it, especially when it's not too in-your-face and infused well into the dish. 
What makes the recipes even better would be the fact that it doesn't take a MasterChef to cook them as the preparation process is pretty straightforward and accessible for most beginner and amateur cooks. 
For more such recipes, check out our 3-course meal recipe that works out to cost just under $10 per person, and includes dishes such as chawanmushi and laksa linguine. Alternatively, read our 3-course Ribena meal recipes that you can make at home too, including pork chops and a tie-dye roll cake.
Easy 3-Course Meal Recipe Under $10 Per Person With Laksa Linguine, Chawanmushi And More
The post 3-Course Coriander Meal Recipe With Cream Of Coriander Soup And Coriander Butter Cake appeared first on EatBook.sg – New Singapore Restaurant and Street Food Ideas & Recommendations.