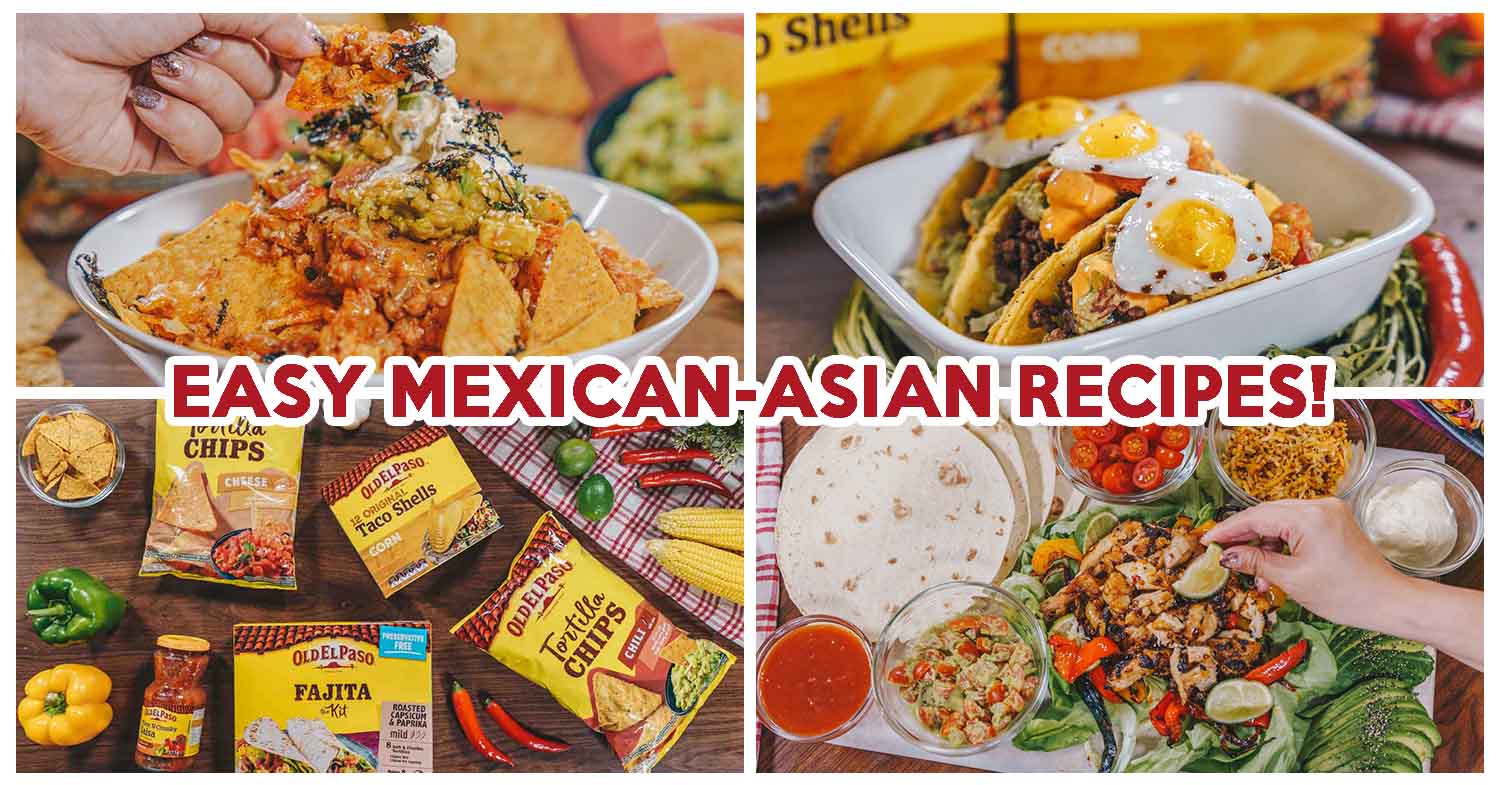 ---
Mexican food recipes with an Asian twist
---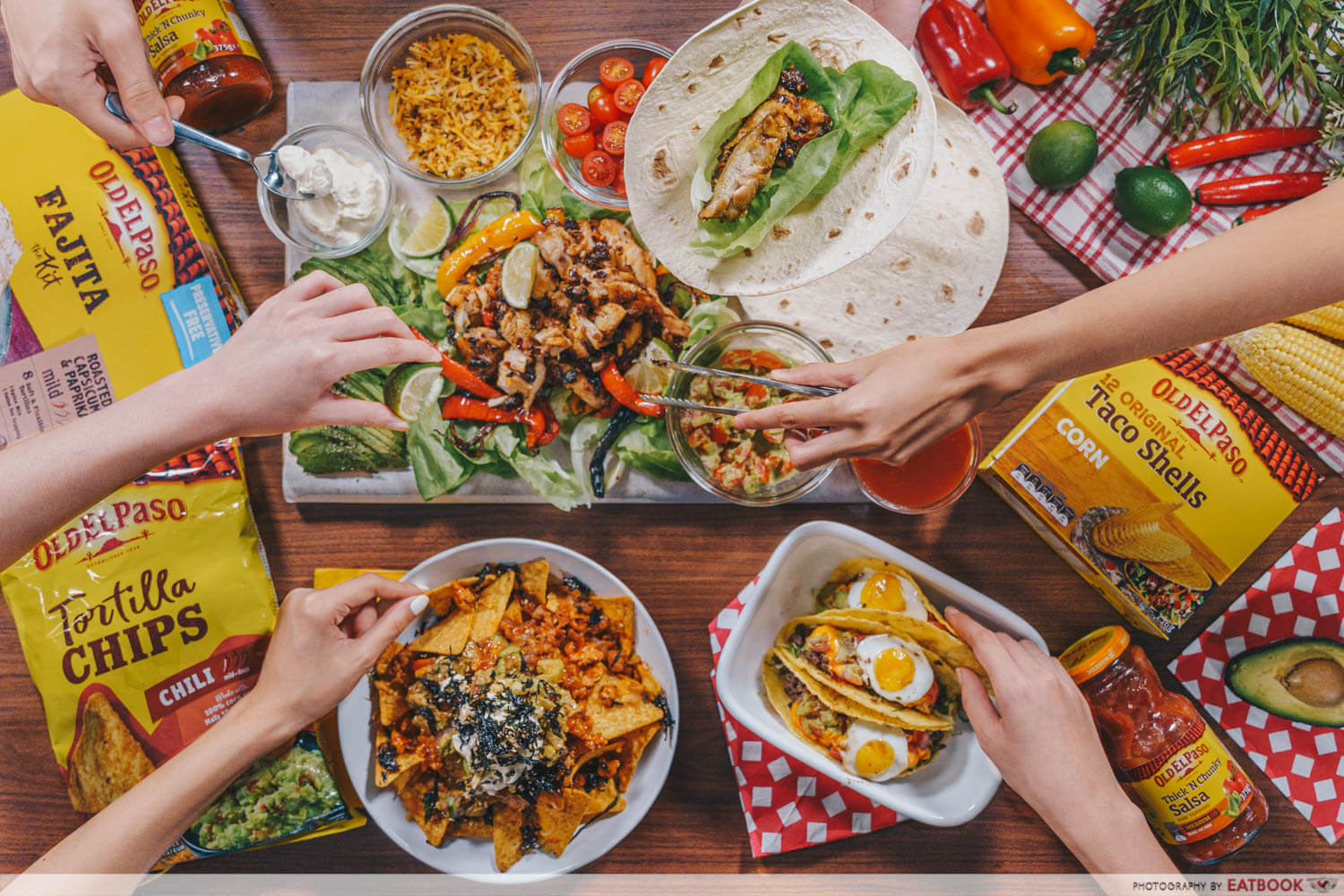 My initiation to Mexican food was late in life, long after Taco Bell had left Singapore shores, and Mexican cuisine began gaining popularity amongst the globetrotting youth. Even then, it never occurred to me that the DIY nature of Mexican food could lend itself so well to meals at home with family and friends. 
Then, I discovered Old El Paso's fuss-free range of Mexican products. These gamechangers are the base of so many Mexican dishes, which you can experiment with as you please. Simply prepare a selection of garnishes, and fillings, and allow your friends and family to assemble their own meal. To jazz this experience up, and bring the flavours closer to local palates, here are 3 recipes for Asian-inspired Mexican feasts at home!
Old El Paso Has Tacos, Tortilla Chips And Even A Fajita Kit For DIY Mexican Feasts At Home
---
1. Korean Chilli Cheese Nachos
---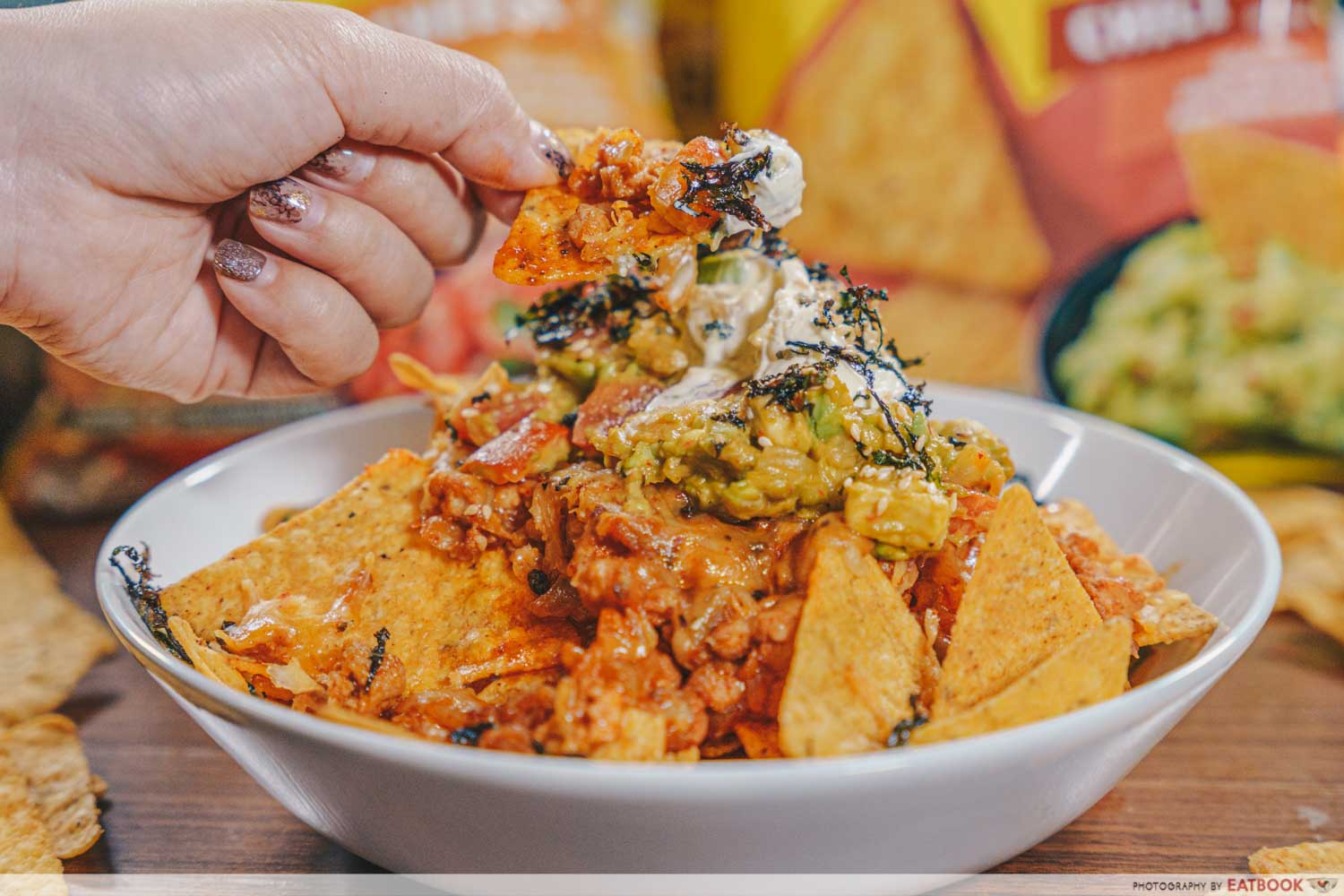 Chilli con carne is as Tex-Mex as they come, but as a fun spin, we decided to adapt an Asian favourite, turning to spicy Korean bulgogi for a kick, although it's tempered here with the dollop of sour cream. The beauty of this recipe is that you may use any meat you like in the chilli, or even firm tofu for a vegetarian dish.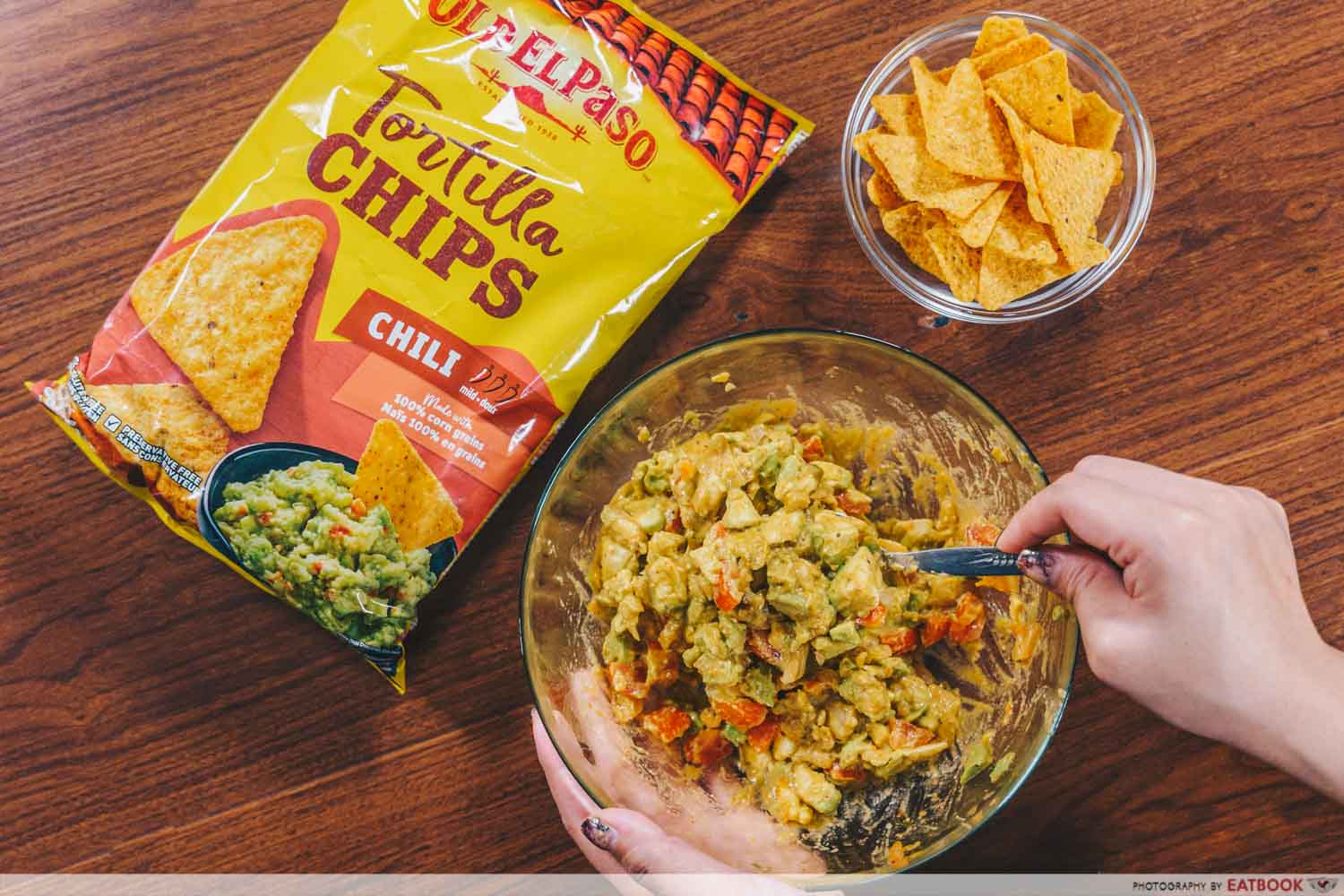 Instead of raw onion and garlic, key ingredients in traditional guacamole, I subbed them with kimchi, which lends the smashed avocado a fermented acidity. With a simple switch of ingredients, this rendition is accented with this Korean superfood, adding umami, savouriness, and spice, without losing the jazz of guac.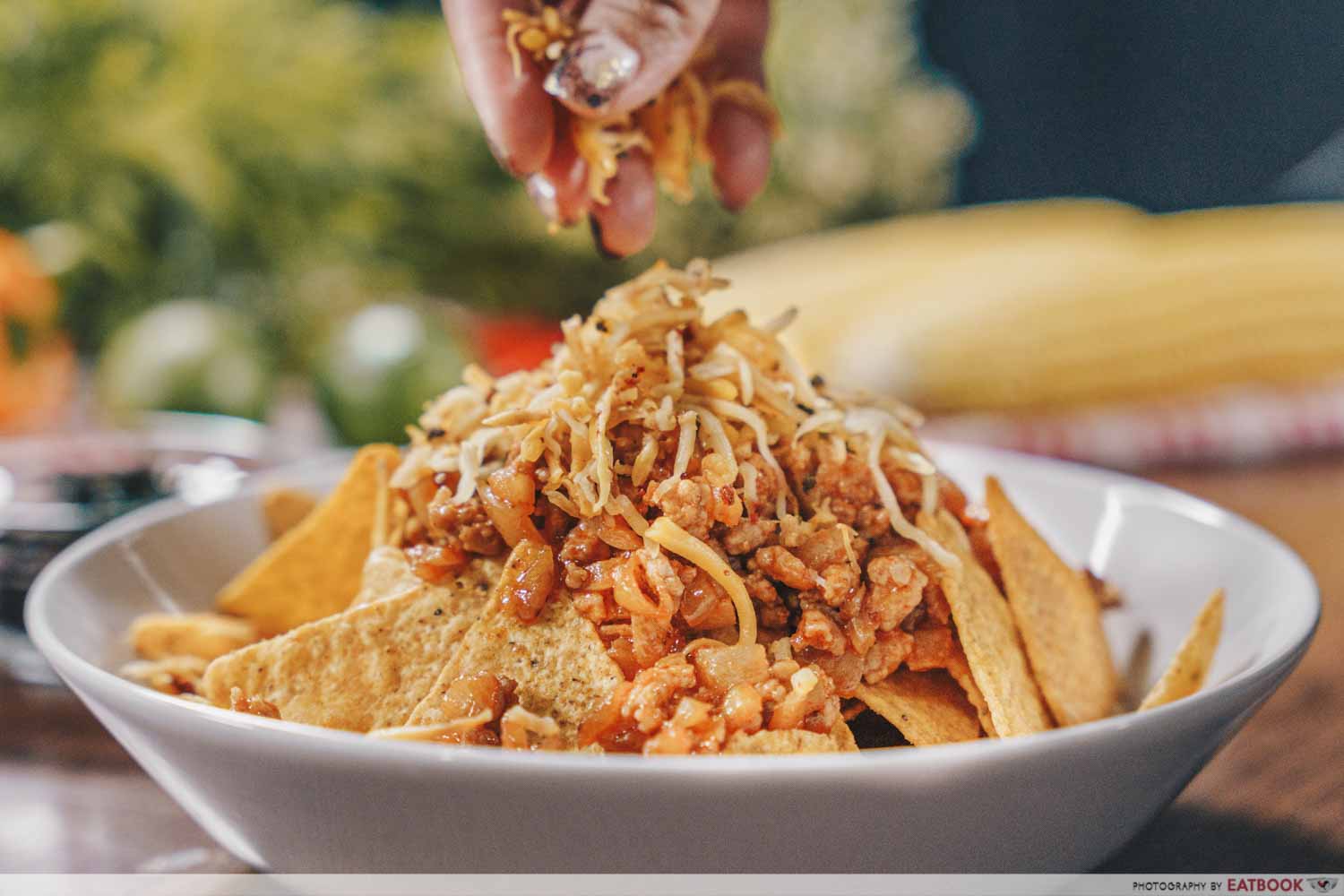 Before dolloping on the sour cream and guacamole on the top, though, I've also added a generous lashing of Tex-Mex cheese. This duo of cheddar and mozzarella round off the spice in the meat, give the dish a tantalising cheese pull, and meld into the tanginess of sour cream and guac.
Yield: 1 large platter
Cooking time: 30 minutes
Ingredients:
½ pack Old El Paso Tortilla Chips, Cheese
½ pack Old El Paso Tortilla Chips, Chilli
Bulgogi mince:
2 tbsp oil
1 onion, diced
⅓ cup spicy bulgogi sauce
300g minced meat
Kimchi guacamole:
½ cup kimchi, chopped
2 avocados, diced
15 cherry tomatoes, quartered
1 lime, juiced
Salt
Pepper
Toppings:
1 cup Tex-Mex cheese
1 generous dollop of sour cream
Korean seaweed topping
Sesame seeds
Directions:
Preheat broiler function in the oven to 200°

C.

Heat up oil in a shallow frying pan, and add diced onions to fry till softened.

Add minced meat, and fry till brown.

Pour in spicy bulgogi sauce, toss to combine, and fry to desired consistency.

To make guacamole, combine diced avocado, tomatoes, and kimchi in a mixing bowl. Smash it up.

Add salt, pepper, and lime juice to taste.

Arrange chips on an oven-proof serving plate. Spoon bulgogi mix on chips, and top generously with cheese.

Pop into oven for six minutes, or till cheese is gooey and melted.

Top with guacamole, a dollop of sour cream, seaweed, and sesame seeds.
---
2. Pad Krapow Tacos
---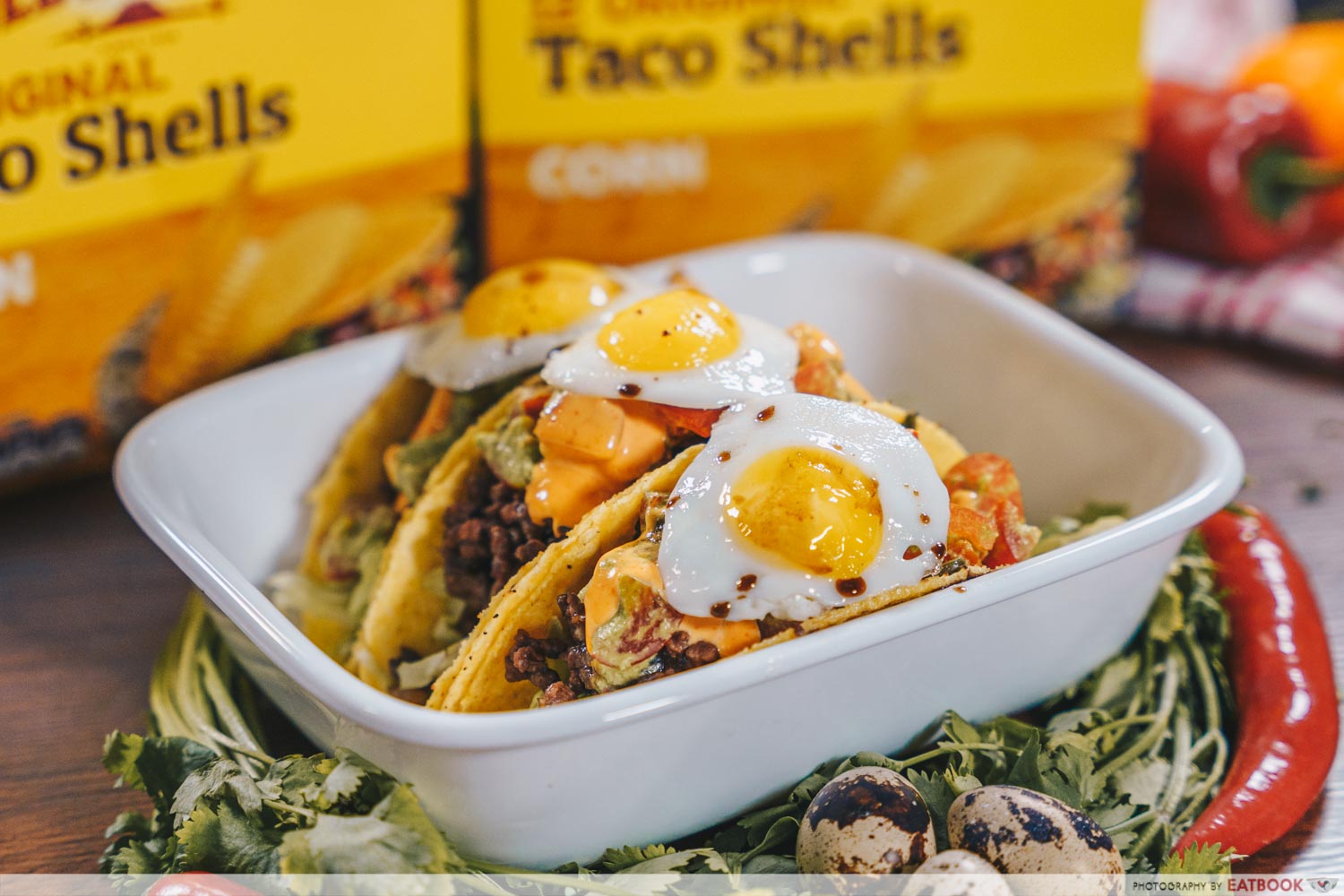 Pad Krapow, better known as Thai basil chicken, is one of my favourite go-tos for a quick meal, with steaming white rice, and a runny egg to top. Like the previous recipe, you can use any minced meat you like. I've also used a mix of red and green chilli padi, but this is purely decorative.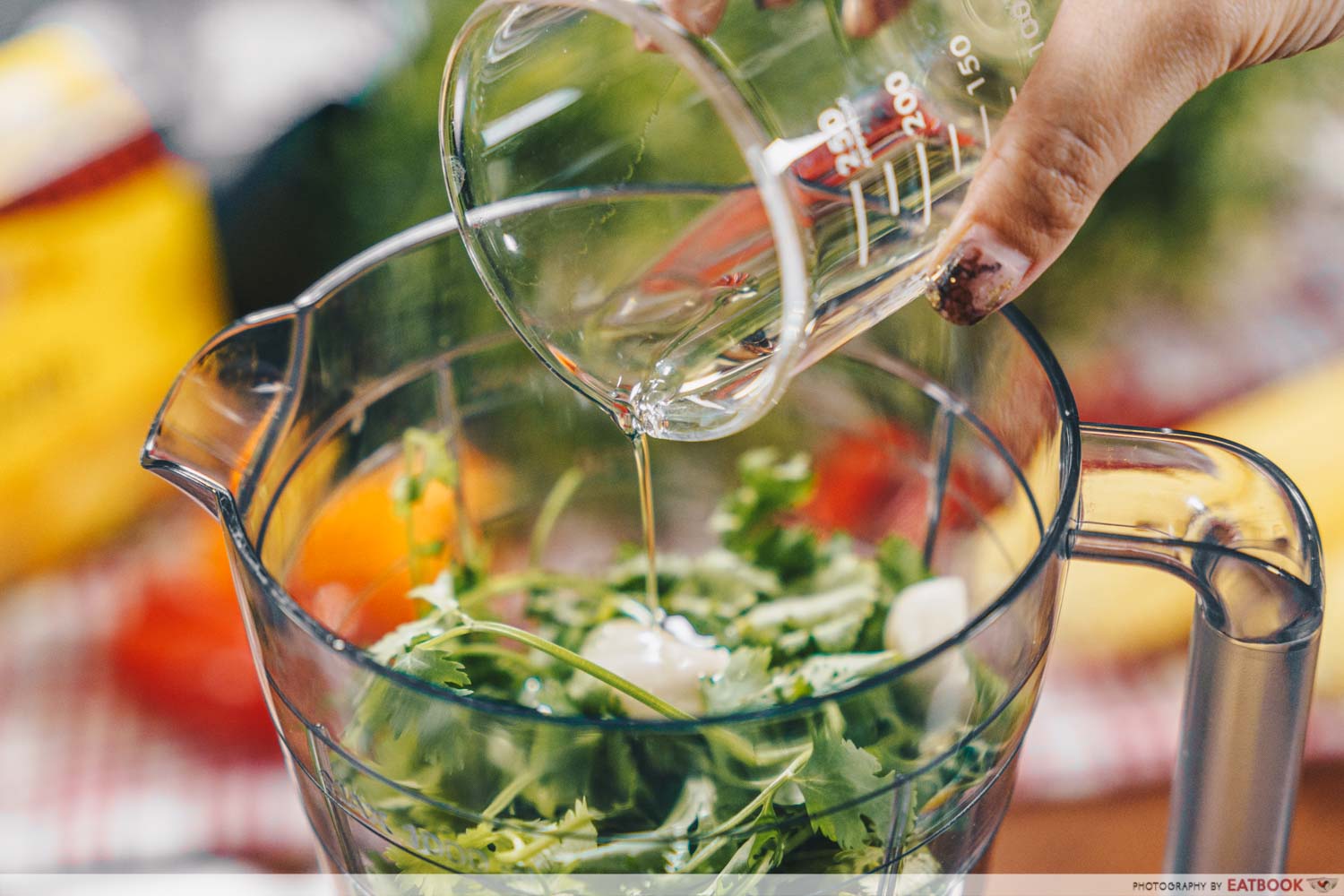 A traditional pico de gallo calls for chopped peppers, coriander, and tomato. Instead, I've blended the peppers and coriander into a sauce with which I toss chopped tomatoes. Make this ahead, and keep it in the fridge till you're ready to serve. 
In frying the meat filling, I've also swapped out Thai holy basil for the more commonly available sweet basil to finish off the pad krapow. This is milder, and a little more floral. Only stir the torn leaves in after you've turned off the heat, so they don't wilt and lose their fragrance.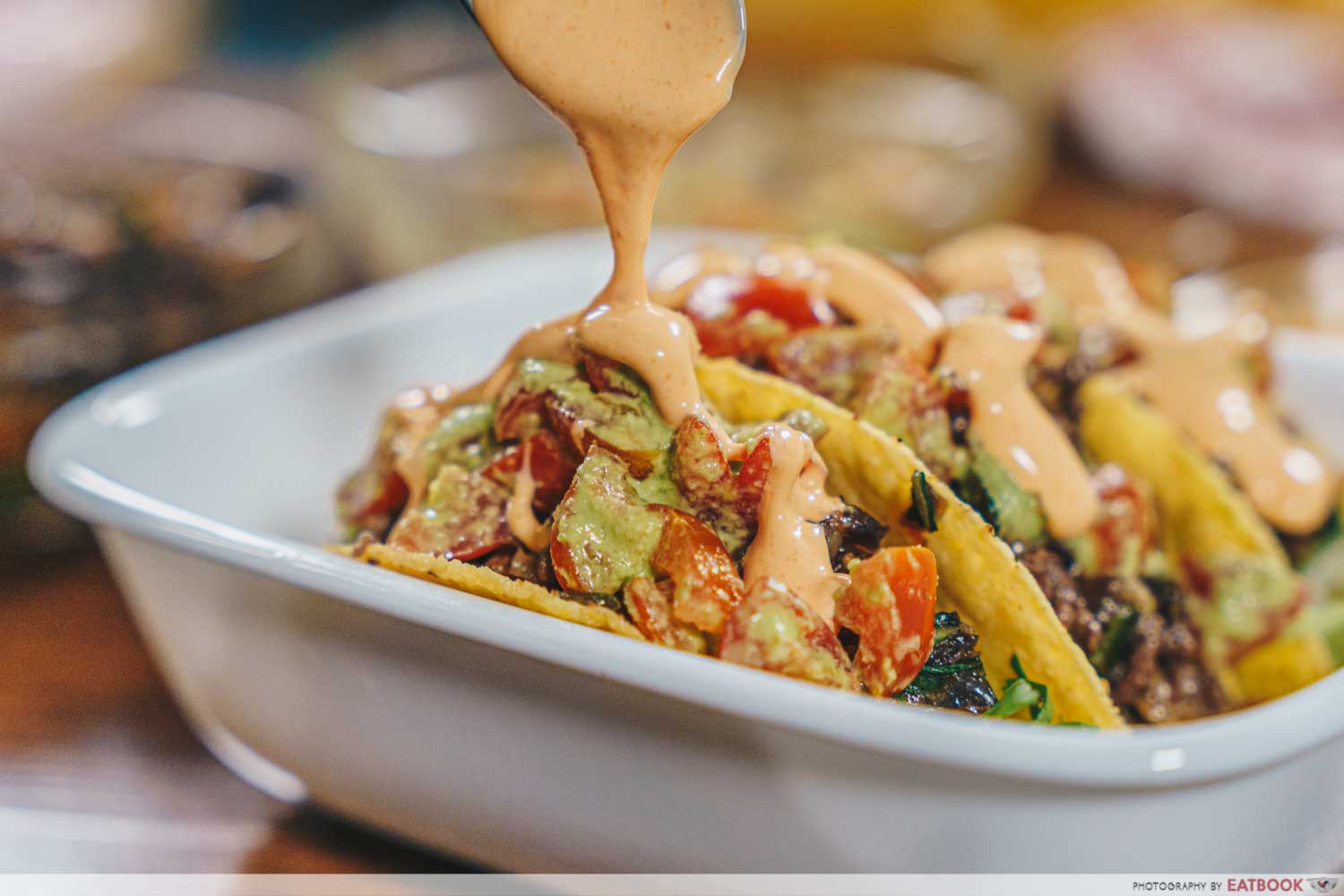 To tie up the flavours, I've also made a Sriracha mayonnaise dressing, brightened with a dash of lime juice. My preferred mayonnaise is Japanese, but you may use any other mayo. If you'd like some cheese in your taco, you could sprinkle some and pop it in the oven for a bit, before adding the cold toppings.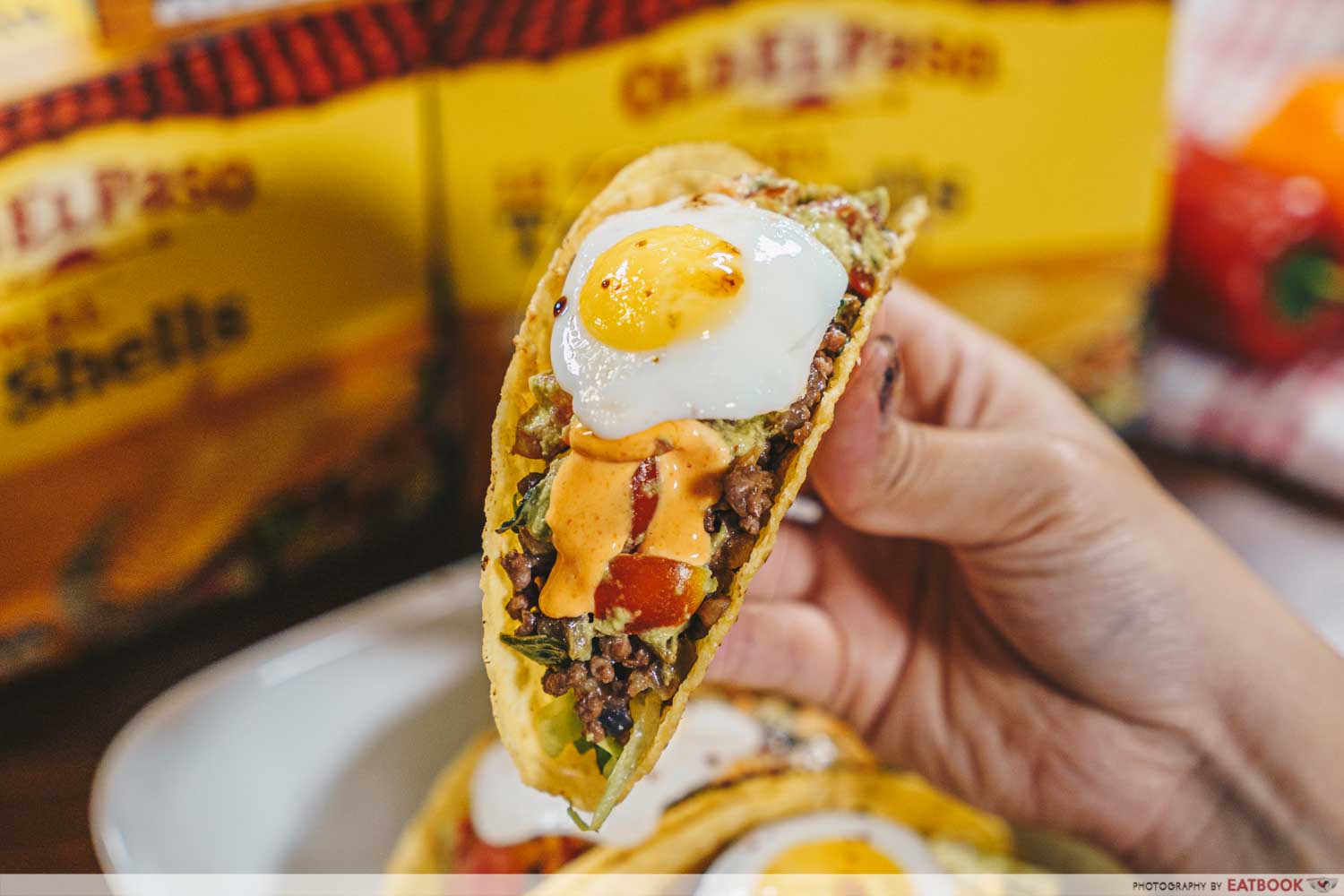 Tacos don't offer as much real estate as a plate of rice, so instead of topping the tacos with fried chicken eggs, I went with fried quail eggs, a street food staple in the Land of Smiles. For that legit finish, you have to dash some drops of seasoning sauce on the top.
Yield: 6 to 8 tacos
Cooking time: 40 minutes
Ingredients:
8 Old El Paso Taco Shells
Pad Krapow:
300g minced meat
6 cloves of garlic, minced
6 red and green chilli padi, seeds removed
½ tsp salt
4 tbsp vegetable oil
1 onion, diced
2 tbsp fish sauce
2 tbsp oyster sauce
2 tsp sugar
1 cup Thai holy basil or sweet basil, roughly torn or chopped
Sriracha mayo:
¼ cup Japanese mayonnaise
1 tbsp Sriracha
1 tsp lime juice, or ½ lime
Pico de gallo:
1 green capsicum, diced
1 bunch coriander
⅓ cup vegetable oil
2 cloves of garlic, minced
2 cups cherry tomatoes, quartered
1 lime, juiced
Pinch of salt
Toppings:
1 cup lettuce, finely shredded
6 quail eggs
Seasoning sauce, or light soya sauce
Directions:
In a bowl, stir together oyster sauce, fish sauce, and sugar. Separately, combine sriracha, mayonnaise, and lime juice and keep in the fridge till you're ready to serve.

To make the pico de gallo, blend

green capsicum, garlic, and coriander with oil, then dash with salt, and lime juice. Mix in the chopped tomatoes. Set aside in the fridge.

Finely mince garlic and chilli with salt. Alternatively, pound them together with a mortar and pestle. You may leave the chilli seeds in, or add more chilli, for extra spice.

In a shallow pan or wok, heat oil and fry diced onion till translucent. Toss in the garlic-chilli mix, and fry till fragrant.

Add minced meat and saute till browned, then pour in the oyster sauce mix. Stir fry till it all comes together, and the sauce is sizzling. Turn the heat off, roughly tear the basil and stir into the meat to wilt.

Fry quail eggs as sunny side-ups.

To serve, fill hard tacos with lettuce, meat, pico de gallo, slather with Sriracha mayo, and top with a fried quail egg. Dash a few drops of

seasoning sauce

to serve.
---
3. Mala Chicken Fajitas
---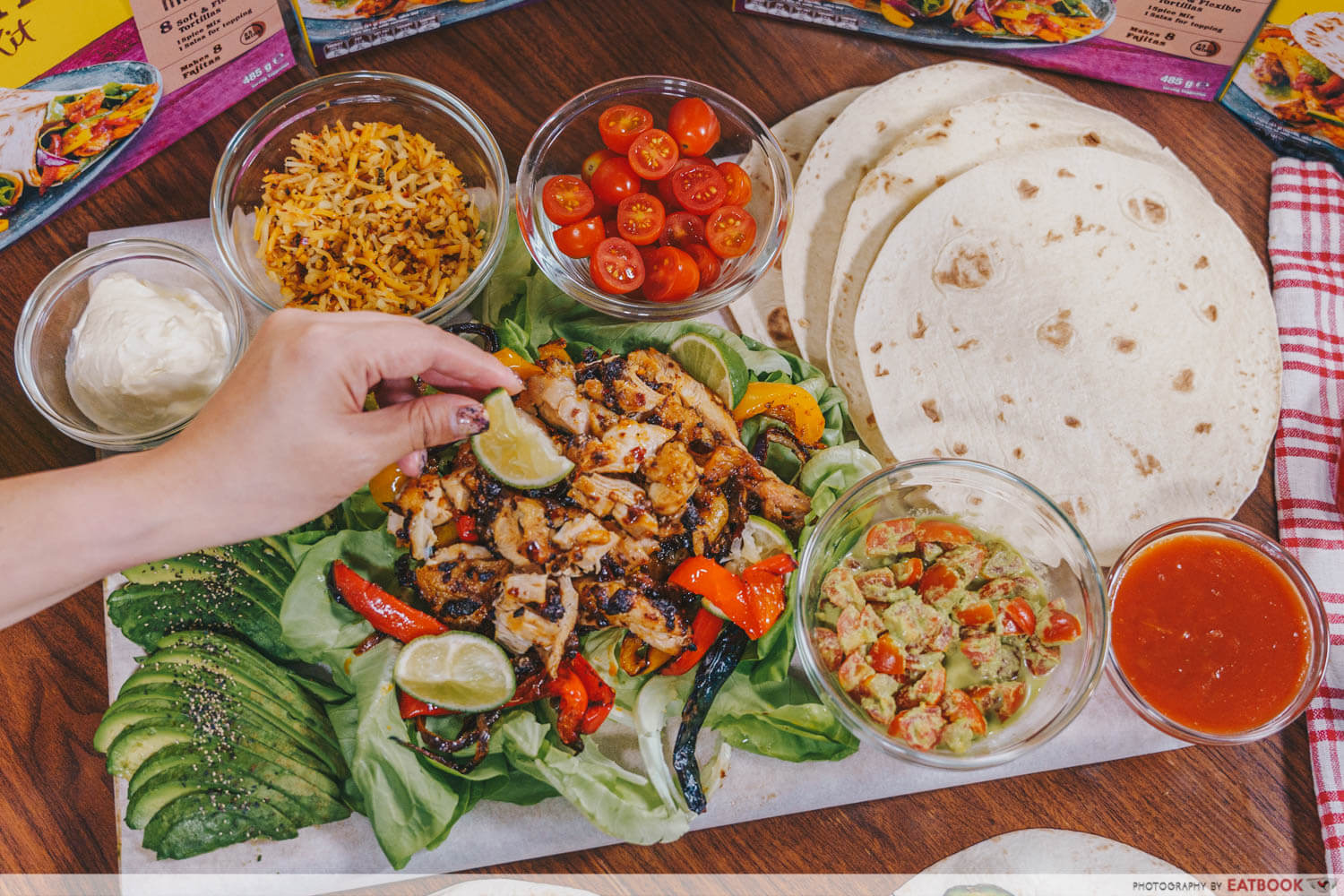 Old El Paso makes meal prep a breeze with their kits, such as this Fajita Kit. You could simply marinate meat and vegetables in the fajita spice kit before roasting, by following the simple steps on the packaging. Have it with the accompanying salsa, or zhng it up as I did, with mala chicken─a local favourite.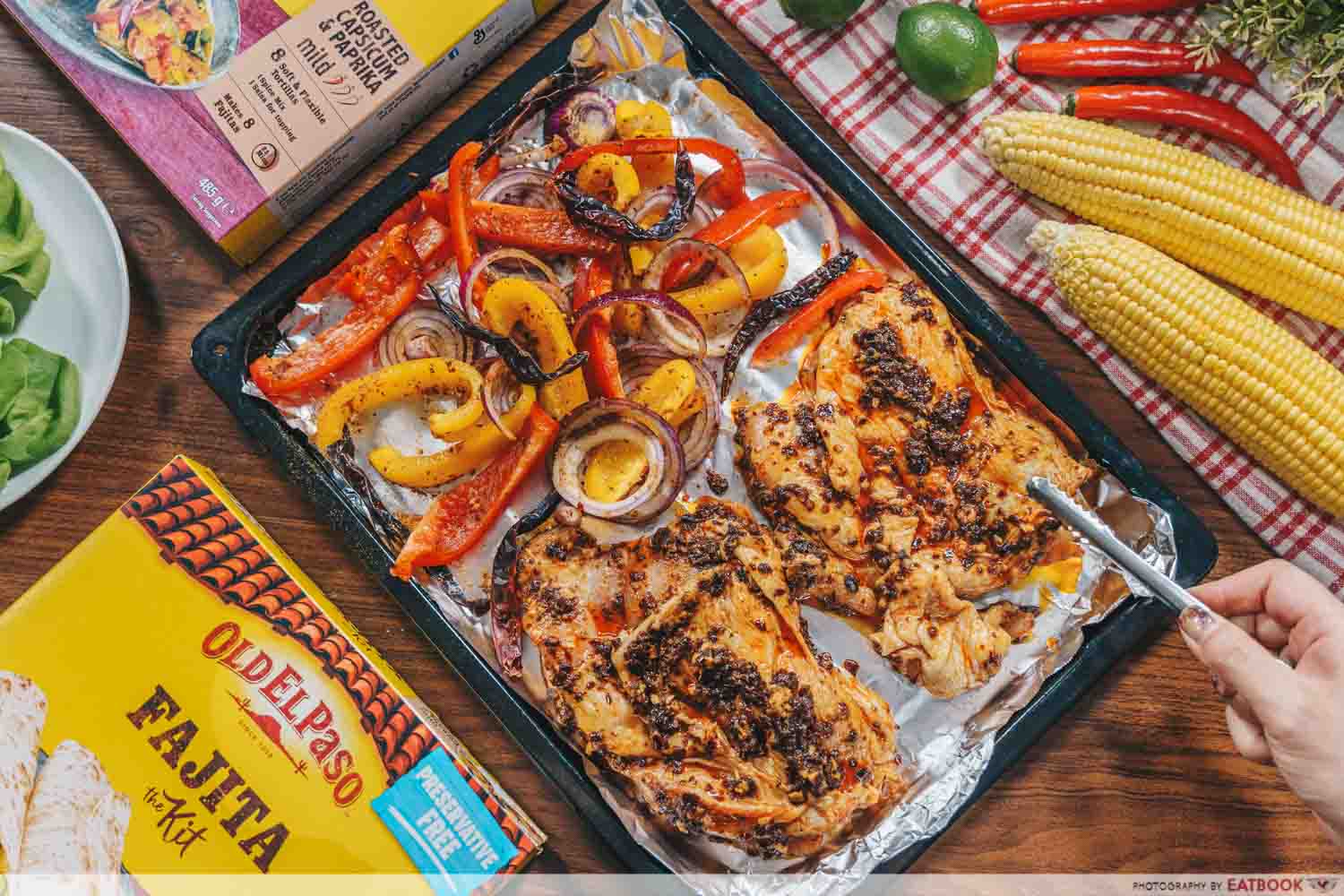 By baking the chicken and vegetables at the same time, it cuts preparation work, and saves you from having to use the stove at all! Pop the tray in the oven, and get everything else ready while the oven does the work.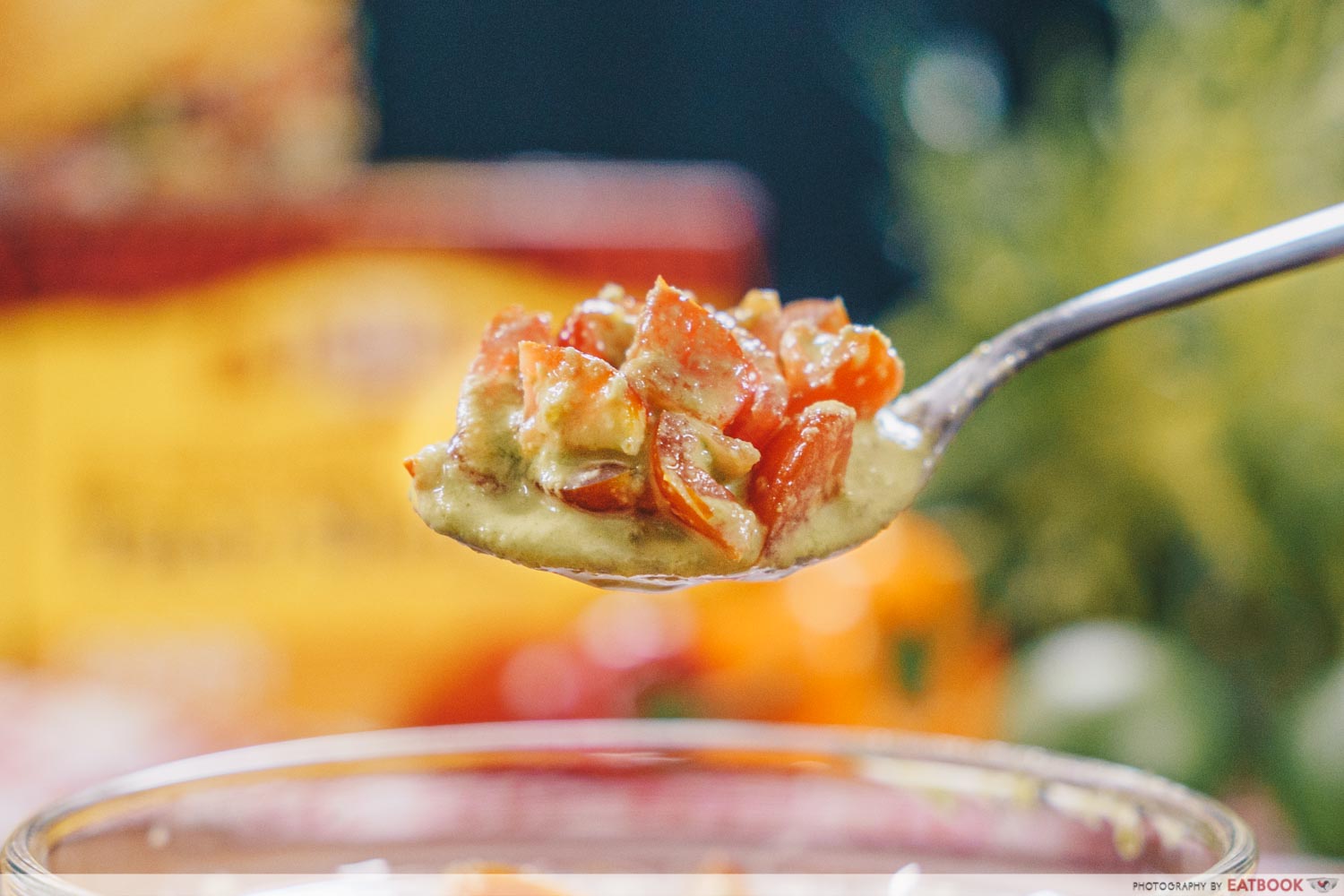 On the side, I've included my version of pico de gallo from the taco recipe, Tex-Mex cheese, sour cream, avocado, salsa, lettuce, and fresh tomatoes. The possibilities are endless, and you can go wild with your choice of sides.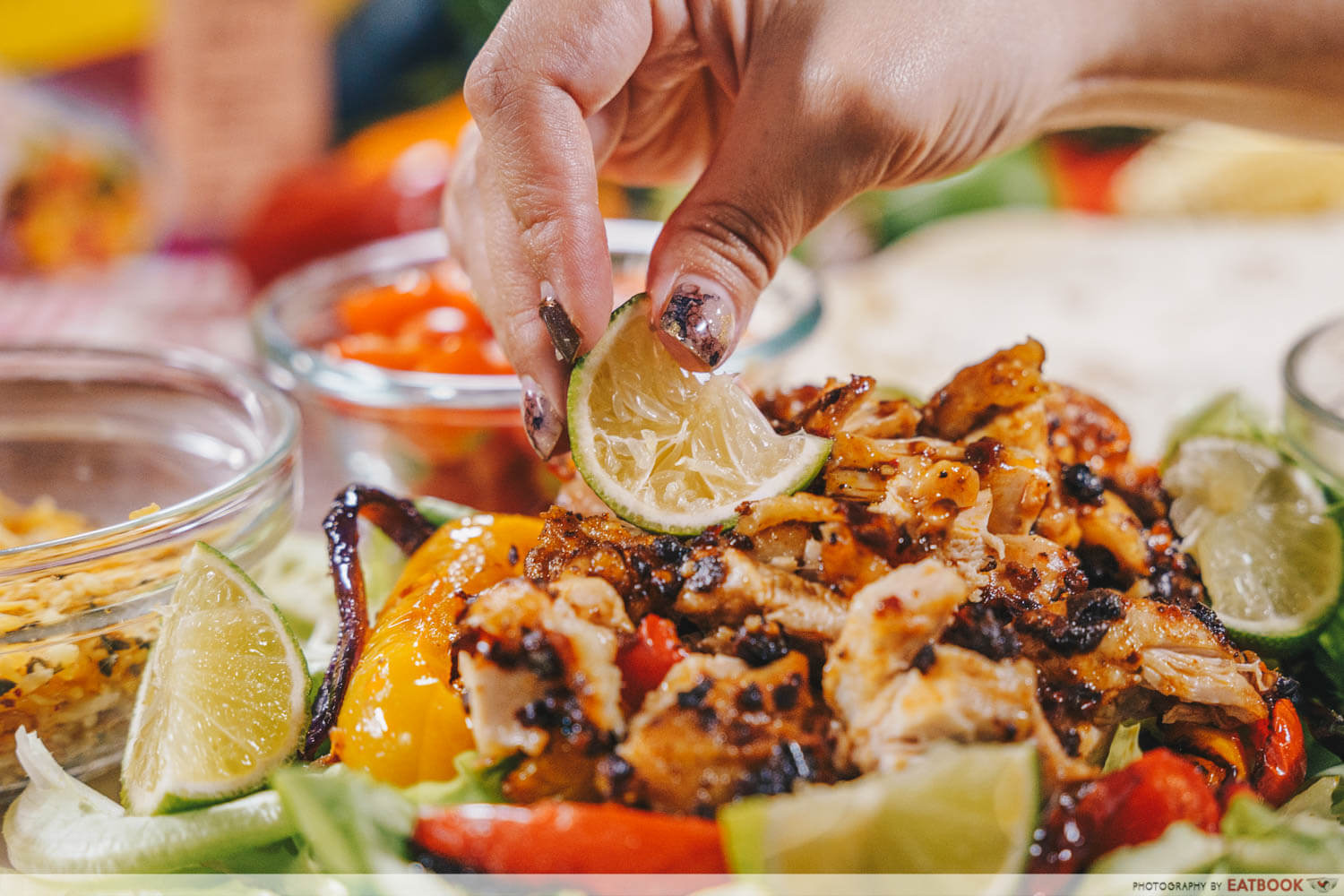 Have a ball with your choice of protein, vegetables, sides, and garnishes, and the fun comes when everyone gets to customise their very own fajita.
Yield: Serves 8
Cooking time:  40 minutes
Ingredients:
Mala chicken:
2 boneless chicken legs
1 packet pre-made mala paste
2 tsp hua tiao wine
1 tsp ginger, minced
2 tsp garlic, minced
2 tsp sesame oil
2 tsp corn flour
Roasted vegetables:
2 red onions, sliced
1 red capsicum, sliced
1 yellow capsicum, sliced
3 tsp Old El Paso Fajita spice seasoning
Handful of dried chillis (optional)
1 tbsp olive oil
Garnishes:
8 Old El Paso fajita wraps
1 butterhead lettuce
1 avocado, thinly sliced
1 packet of Old El Paso salsa
2 large limes, cut in wedges
15 cherry tomatoes, halved
½ cup sour cream
1 cup Tex-Mex cheese
1 cup Pico de Gallo (see previous recipe)
Directions:
Preheat the oven at 200

°

C.

Mix hua tiao wine, minced garlic and ginger, corn flour, and sesame oil together in a large bowl. Coat chicken in this marinade and let it stand for at least 30 minutes.

Lay marinated chicken on half a baking tray. On the other half of the tray, toss sliced capsicum, onions, and dried chillis with olive oil, and Old El Paso's fajita spice mix.

Bake for 20 to 25 minutes.

On a serving board, lay lettuce leaves, sliced avocado, and lightly warmed Old El Paso fajita wraps. Then, prepare small bowls for each of the garnishes, and arrange them on the board.

Lay the roasted vegetables on the lettuce, slice the chicken, and arrange to serve. Finish with wedges of lime.
---
Asian-inspired Mexican family meals with Old El Paso
---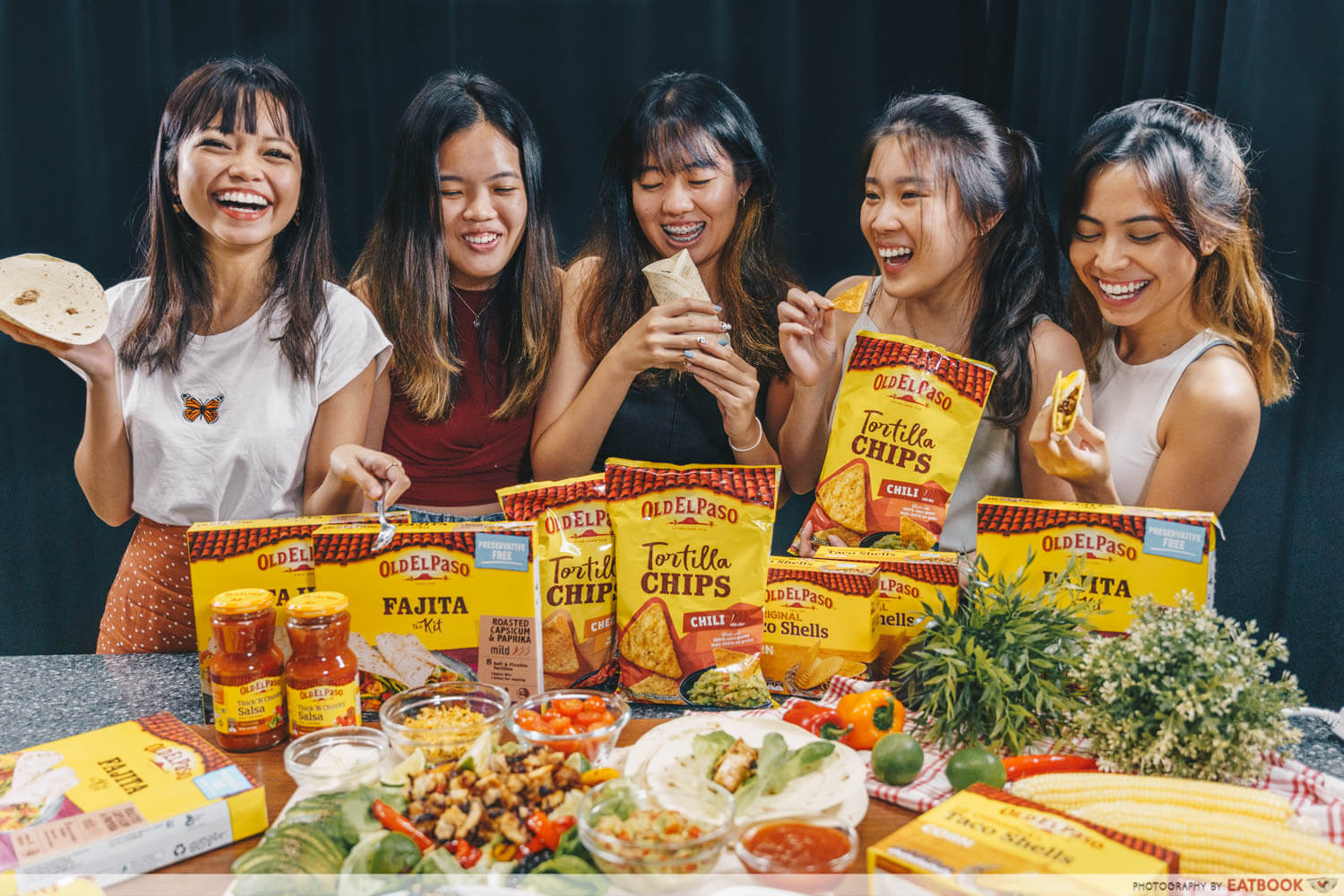 Mexicans are known for their fiestas, and la familia, with the family unit being the cornerstone of their culture. Celebrate family and friendships with Old El Paso, zhnged-up with an Asian twist, bringing the communal experience of Mexican dining into your home. Share a bowl of chips, laugh over tacos, and make your own fajitas, for added fun and joy to your next get-together.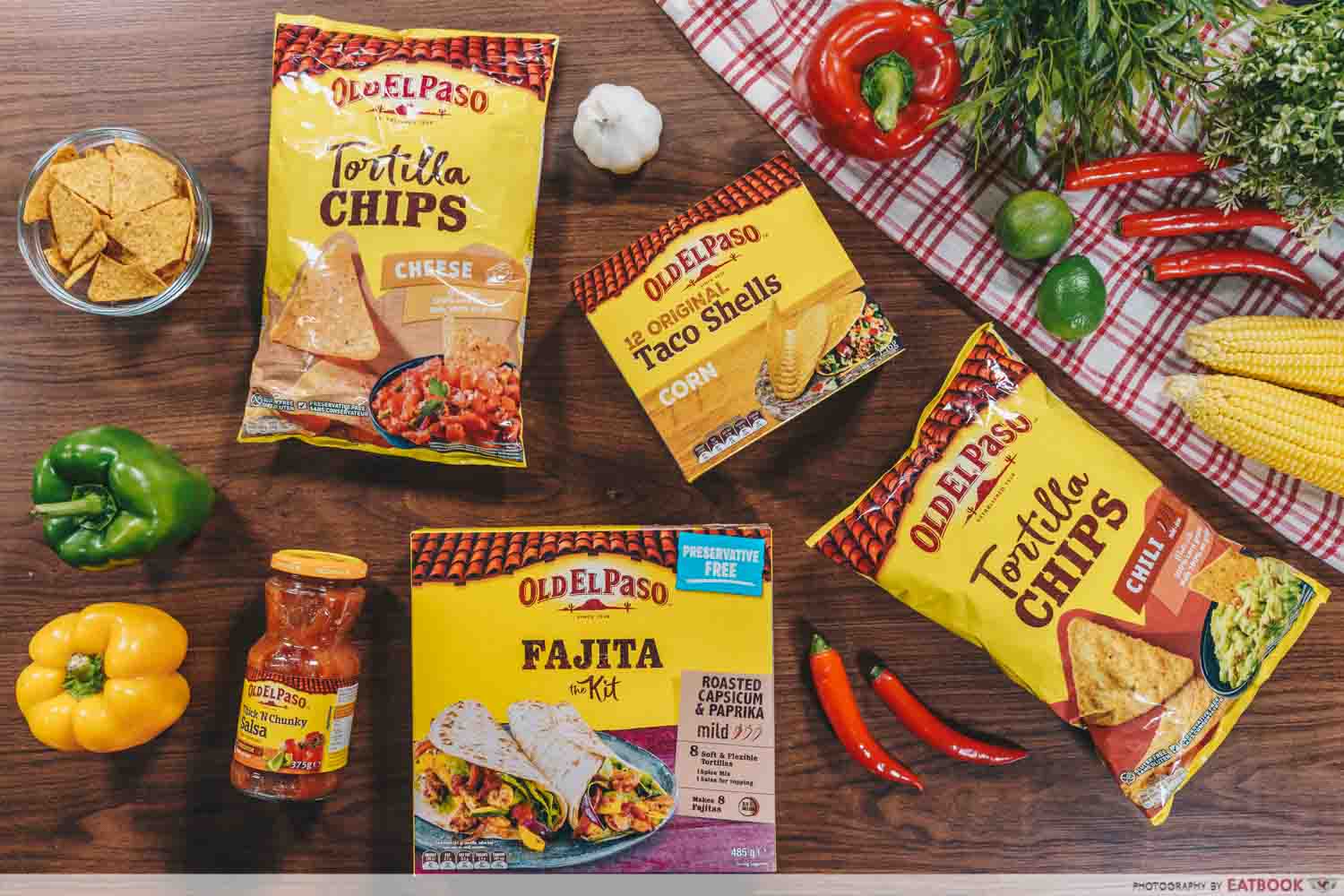 Make dinners fun with these do-it-yourself meals, and let the fam and friends get in on the action. Have your own Asian-inspired Mexican meals, and let your creativity go wild. Tag us when you share your creations with us on Instagram and Facebook!
What's more, stand to win Le Creuset prize sets (worth S$4700), and weekly shopping vouchers when you spend $8 on any Old El Paso product from now till 31 May. Stock up on Old El Paso products at major supermarkets and hypermarkets islandwide.
Photos taken by Gladys Lim.
This post was brought to you by Old El Paso.
The post 3 Asian-Inspired DIY Mexican Recipes Including Mala Fajitas And Korean Chilli Nachos appeared first on EatBook.sg – New Singapore Restaurant and Street Food Ideas & Recommendations.