---
Send a sweet gift with these dessert box delivery services
---
Ever since the circuit-baking trend from May last year started, many home bakers have continued to find success in whisking up a storm in their home kitchens. If your creations have yet to reach gifting standards, check out these dessert box delivery services by talented bakers who've already perfected the craft. 
This list compiles sweet treats across different price ranges, and also halal options for our Muslim friends. Make that special someone's day and support these small home-based businesses at the same time!
---
For value-for-money box sets (<$25)
---
1. Mon Cerise Patisserie
---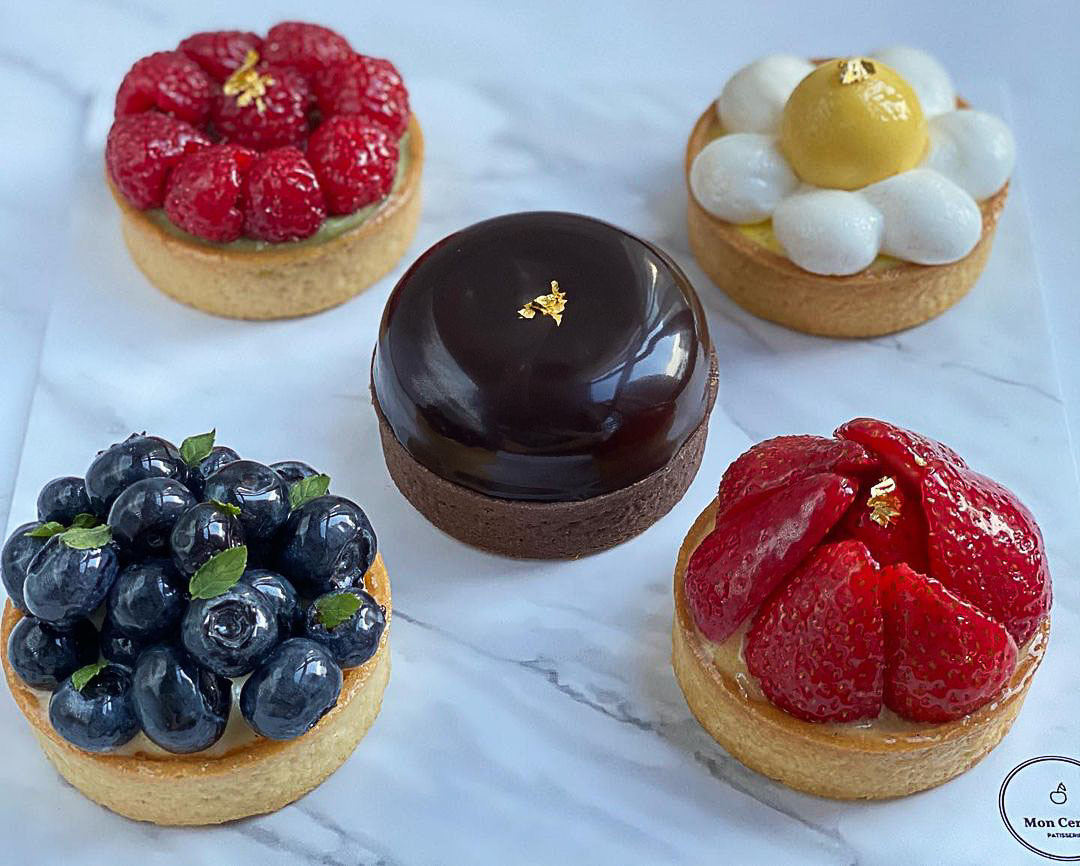 Image credit: @mon_cerisepatisserie
Started out by a Le Cordon Bleu graduate, Mon Cerise Patisserie specialises in French desserts. The owner also states that their patisserie is made only with premium French ingredients. Their recent bakesale included a Le PetiteTart ($25) set, which contains mini versions of a blueberry cheesecake, as well as chocolate, strawberry, lemon basil, and Mont Blanc tarts. Islandwide delivery is at a flat rate of $10.
---
2. Dream Hearts
---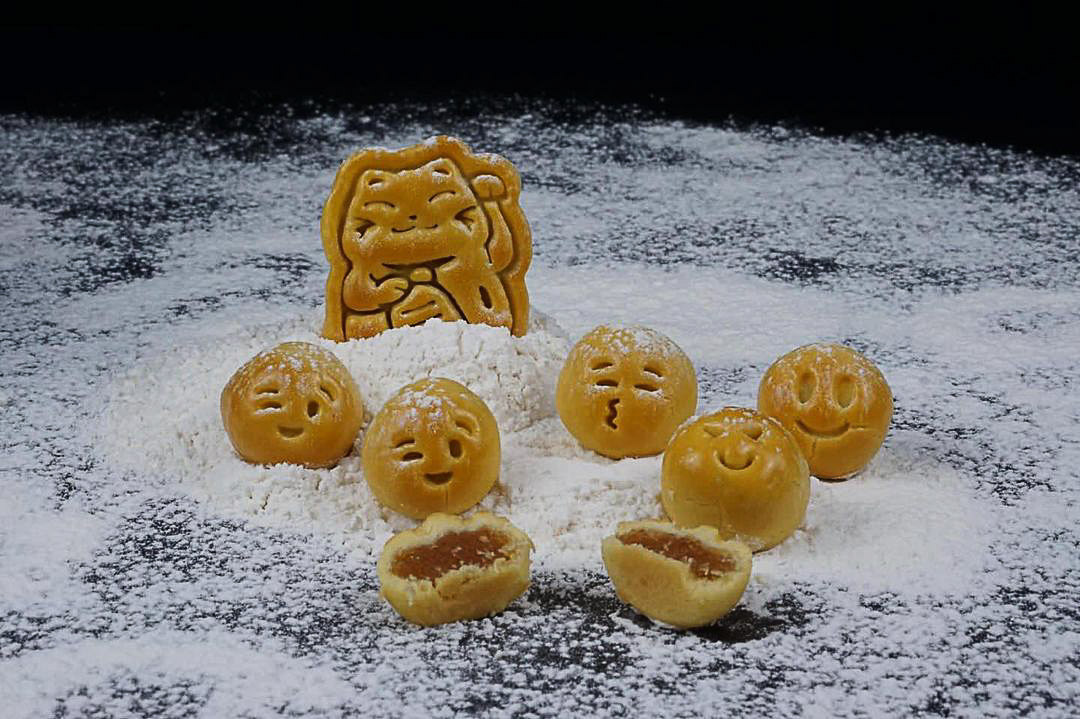 Image credit: @sgdreamhearts
Dream Hearts puts a unique spin on ordinary pineapple tarts by shaping them in unique designs such as fortune cats and smiley faces. They're currently selling a box of their Smiley Tarts at $16 for 18 pieces, and a box of the Fortune Cat Tarts at $18 for eight pieces. Order at least two boxes to score free delivery. Otherwise, there'll be a delivery charge of $4.
DM their Instagram to order.
---
3. Butter Fingers Bakehouse
---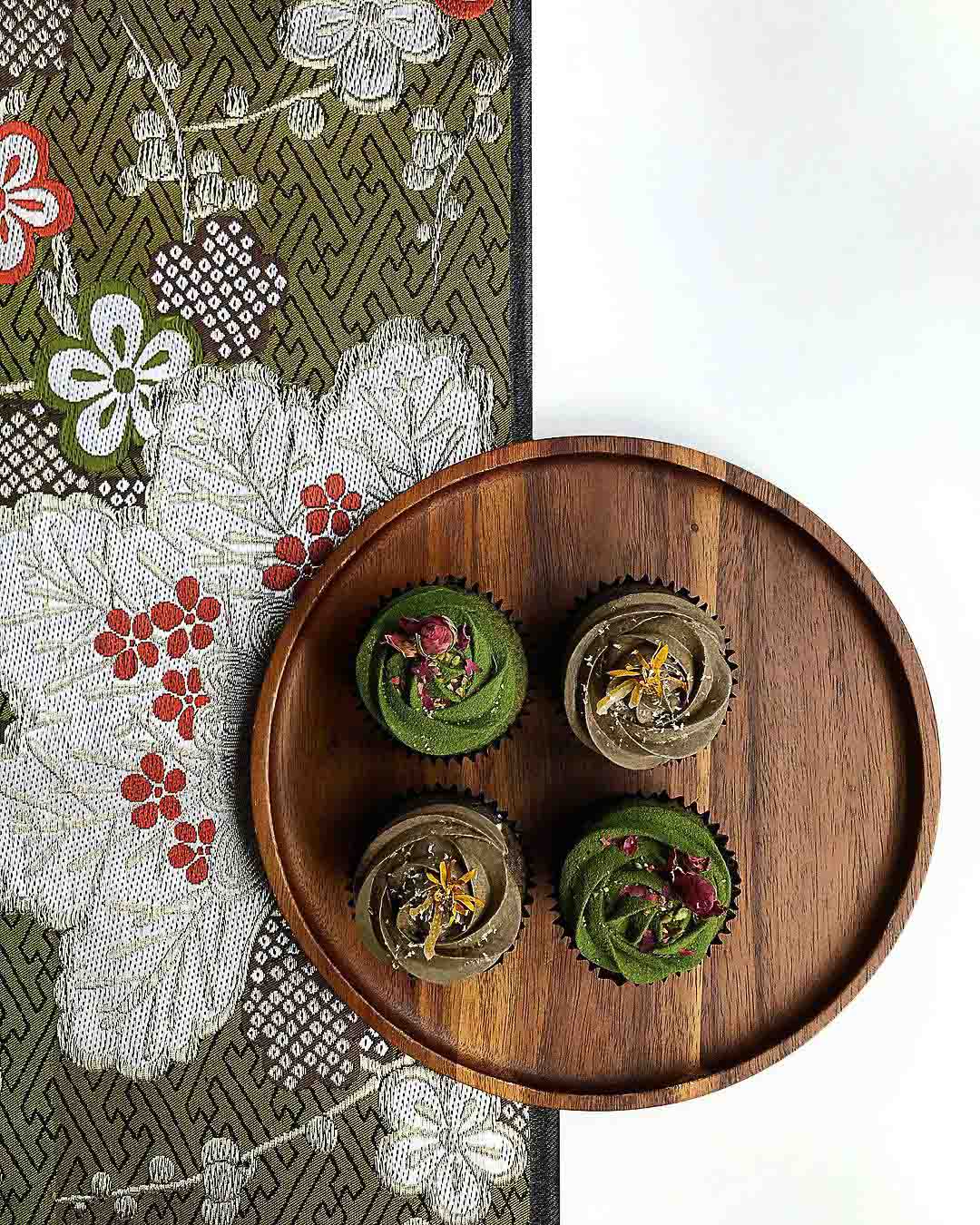 Image credit: @butterfingersbakehouse
The bakes from this home bakery have a minimalist charm to them. On their small menu, they feature Matcha Chestnut & Earl Grey Pound Cakes ($25 for four pieces), where the matcha chestnuts are adorned with small petals of cherry blossom, and the Earl Grey pound cakes are infused with a touch of lemon. 
They are currently running delivery promotions and providing islandwide delivery at a flat rate of $8.50. They have a $5.50 islandwide delivery fee. 
Butter Fingers Bakehouse order form
---
4. Chocolate Anatomy
---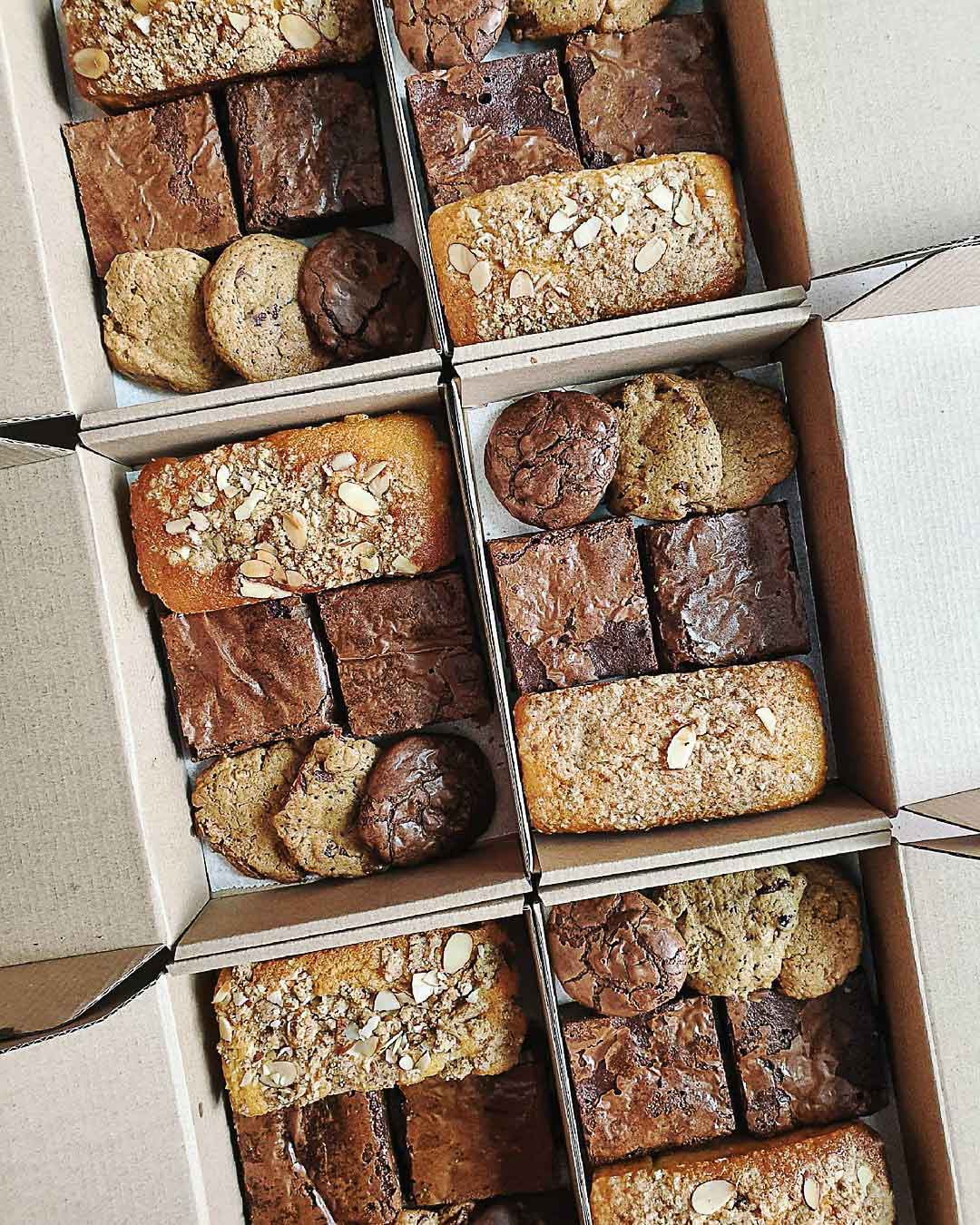 Image credit @chocolateanatomy
Chocolate Anatomy has an Omakase Style Box that requires neither a minimum nor a maximum purchase amount. From a curated list that changes every month, customers can create a dessert box to their own liking. Their most recent menu includes the likes of Signature 65% Truffles ($7 for 10 pieces), Brookies ($1.80 per piece), Apricot & Almond Crumble Loaf Cakes ($11), Raspberry Brownies ($4.50) and more.  
Their islandwide delivery fees vary from $5 to $15 depending on your order amount.
---
For dessert boxes to impress someone (>$25)
---
5. My Humble Bakes
---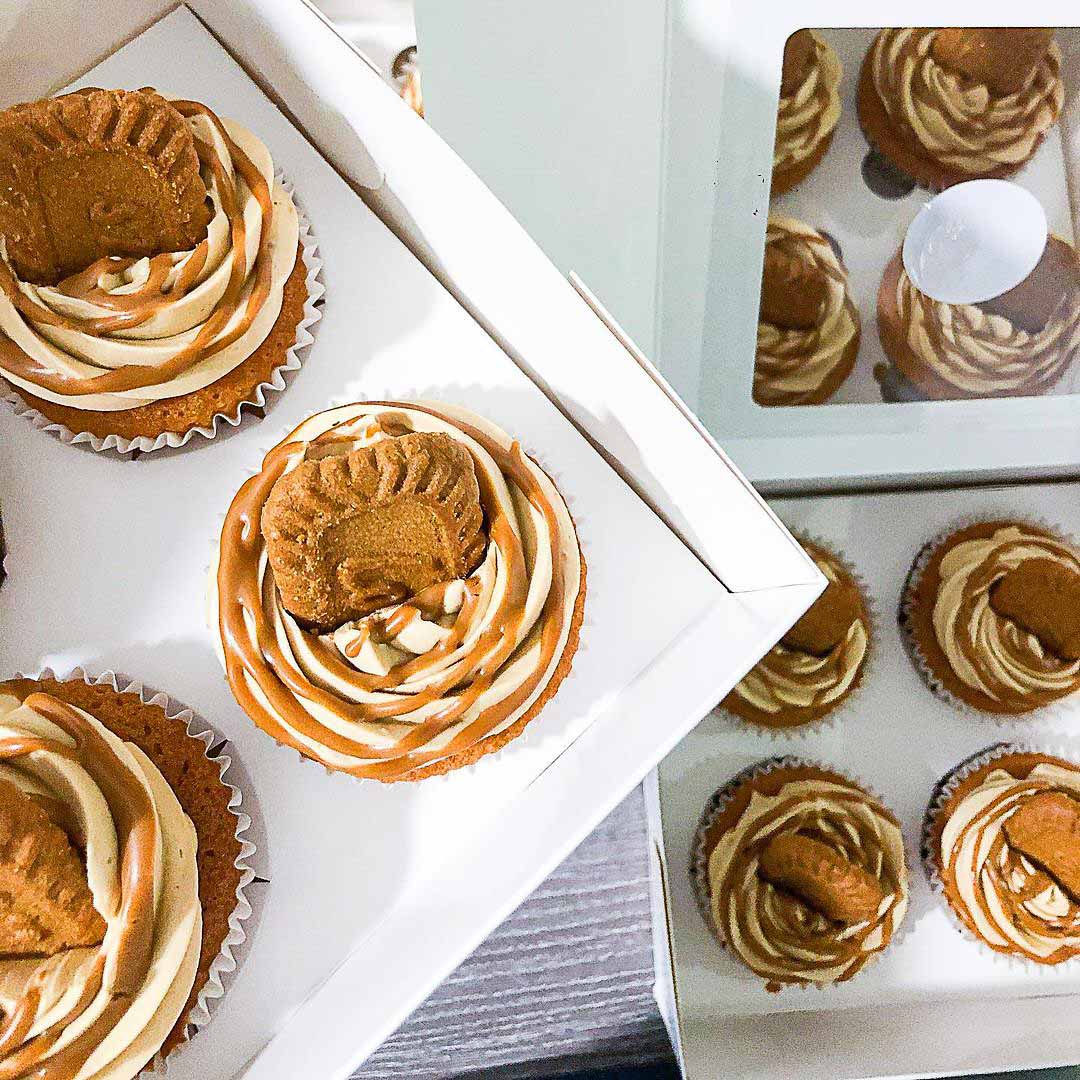 Image credit: @myhumblebakes.sg
Opened in April last year, My Humble Bakes specialises in muffins and cookies. A box of nine Chocolate Hazelnut Brownies will set you back $15, while a box of their newly released Speculoos Cupcakes are priced at $18. Available during bake sales, their All In One ($30) dessert box features an assortment of crumble muffins, brownies, eclairs, and a mini chocolate cake.
They are open for orders at the beginning of every week and send orders out every Sunday. There is free delivery for residents in Pasir Ris and Tampines, while a $5 to $10 delivery fee applies for other regions. Alternatively, put in an order of more than $60 for free delivery islandwide!
DM their Instagram to order.
---
6. Semi-Sweet by DN
---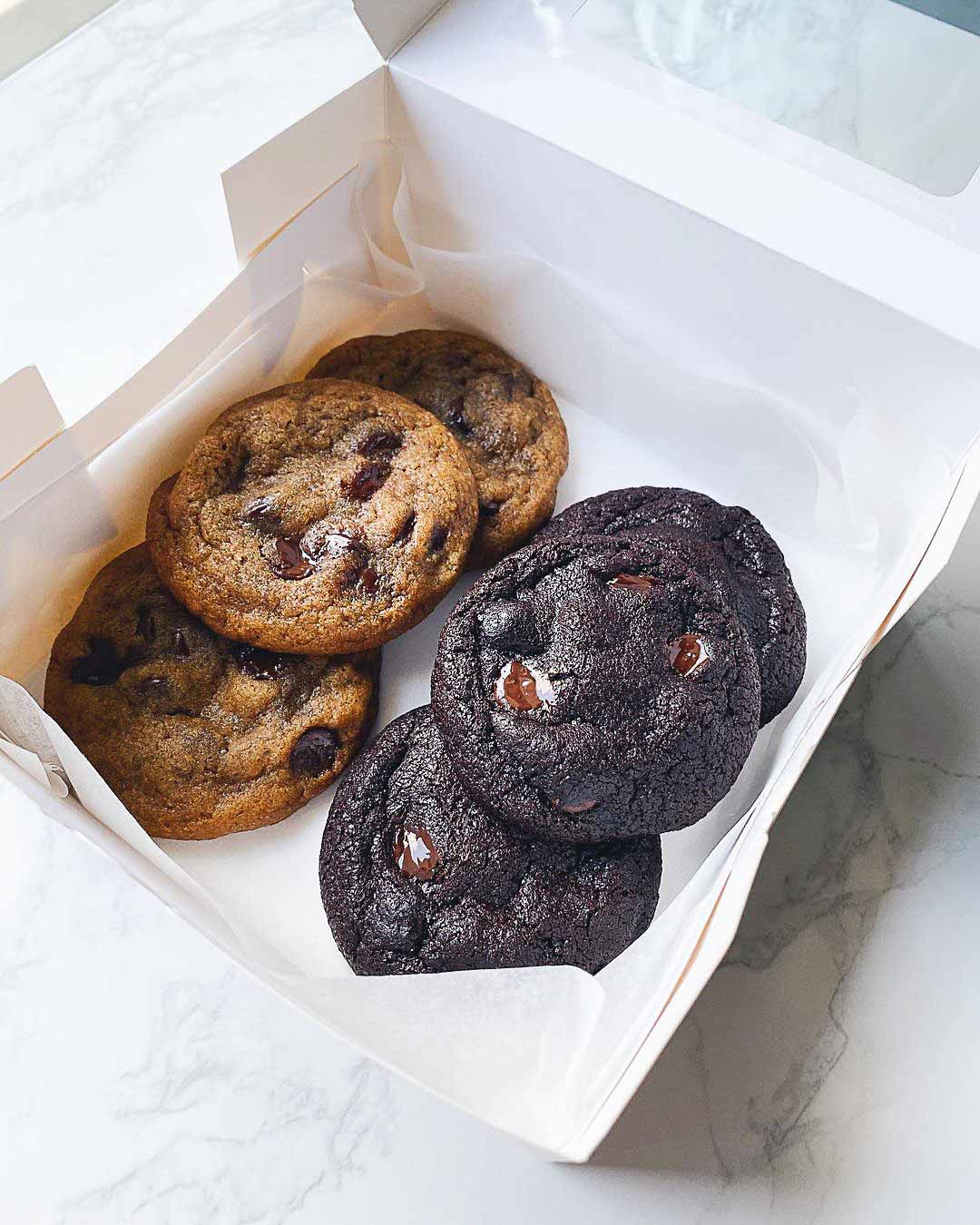 Image credit: @semisweetdn
Semi-Sweet by DN sells a wide selection of dainty desserts including pastel-coloured macarons, mini cupcakes, fruit tarts, and cookies. Their buttery Chocolate Chip Cookies come in a box of six, which costs $12. For something a little more elegant, get their IG-worthy Macarons ($1.50 each), and choose from flavours such as matcha and salted caramel.
Their Bake Sale Boxes ($28) are inclusive of delivery but do take note that delivery slots are fixed. For other orders, delivery fees are calculated based on your location, or you can opt for self-collection at Bukit Timah Plaza instead.
DM their Instagram to order.
---
7. Frosted by Fang
---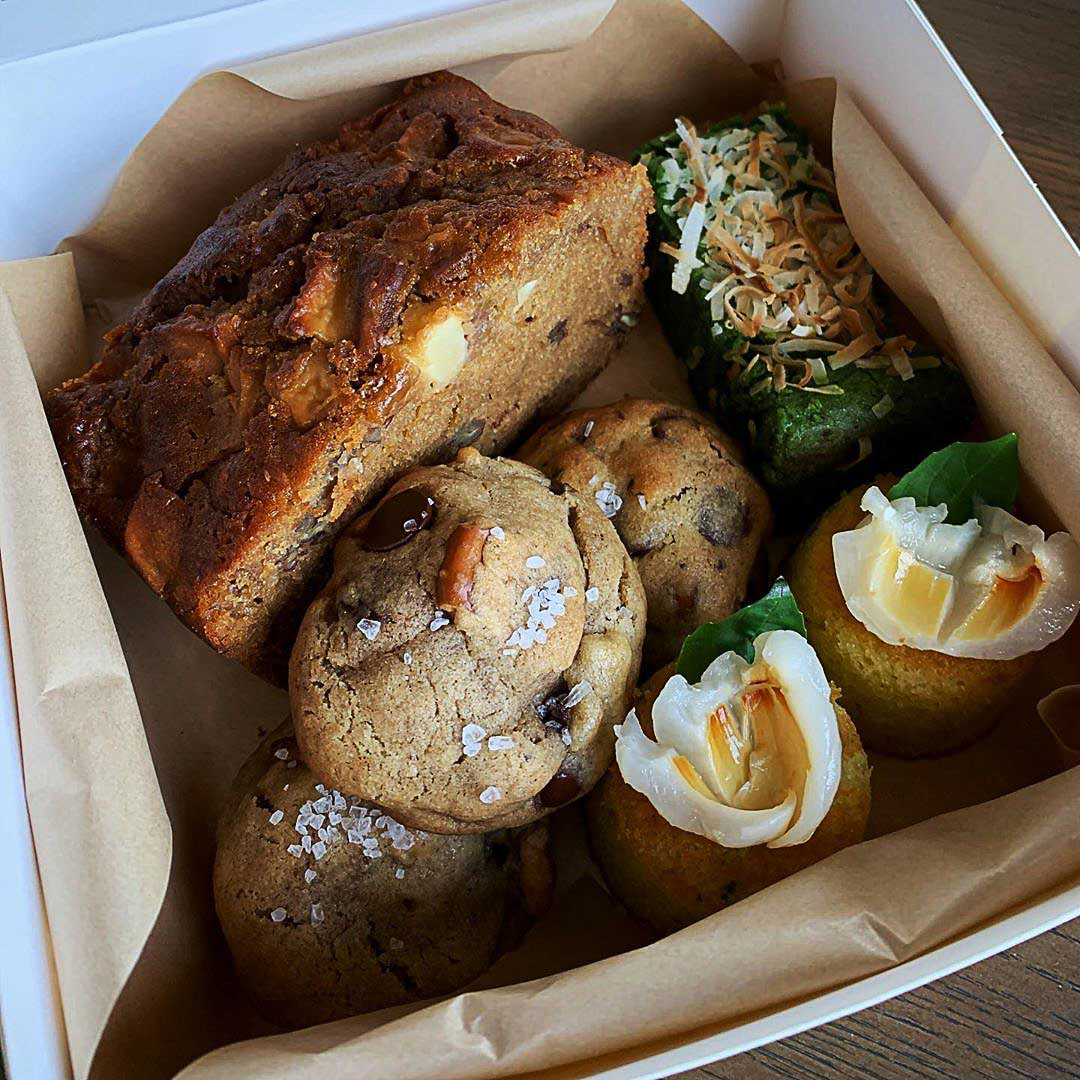 Image credit: @frostedbyfang
Helmed by a talented baker, Frosted by Fang is a home-owned bakery selling elaborate cakes, rosemary olive oil loaves stuffed with chocolate, gooey dark chocolate lava cookies, matcha speculoos cheesecake brownies, and other delectable treats. Bake sales are held every month at $28 a box, and each one is filled to the brim with a different mix of baked goods. 
Islandwide delivery is available for a flat dessert box delivery fee of $9, or you can opt for self-collection instead.
DM their Instagram to order.
---
8. Stackies.co
---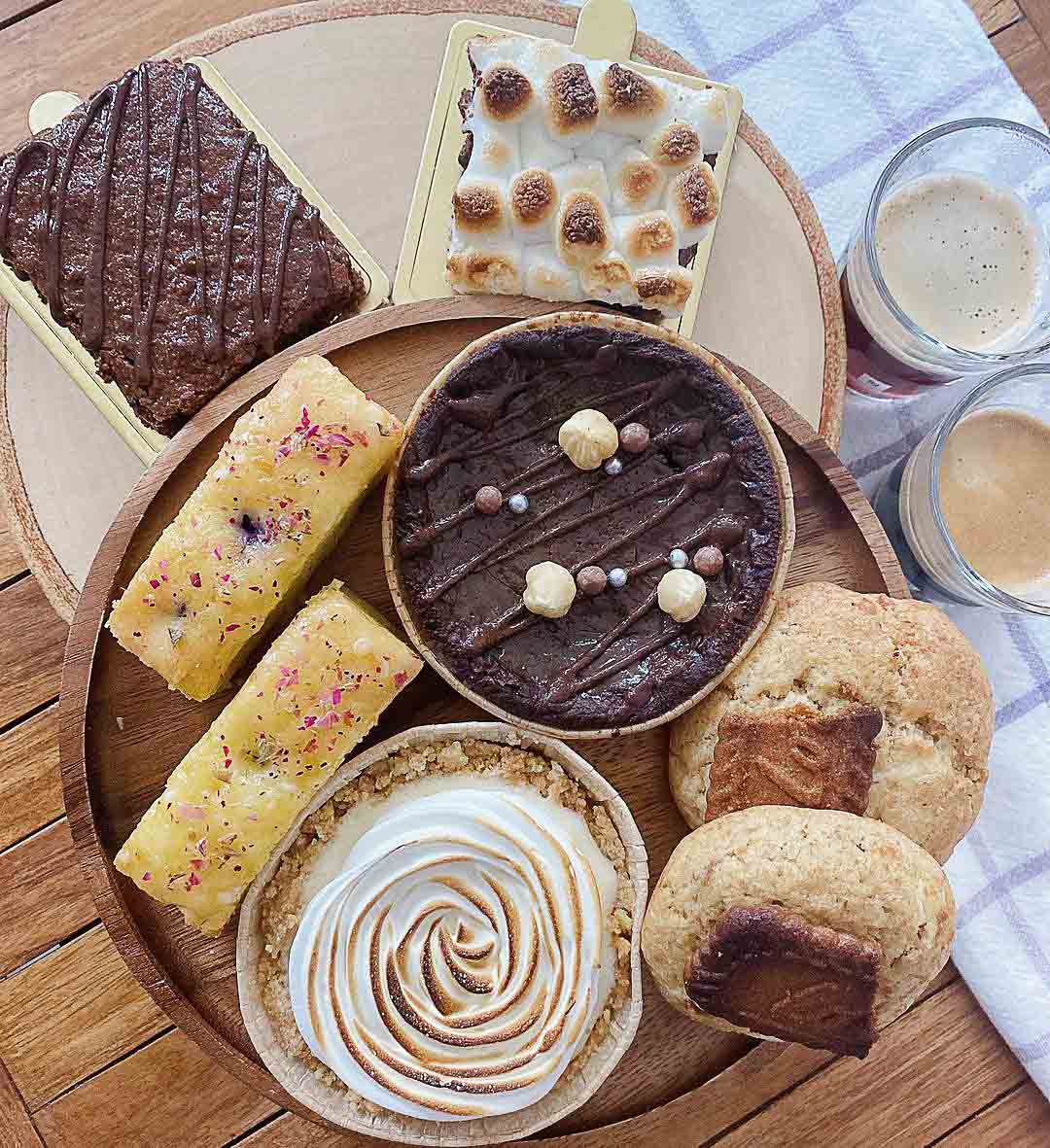 Image credit: @stackies.co
Stackies.co may be relatively new to the home-bakery scene, but their personalised baked boxes look like the work of professionals with their elegant printed cards and individually wrapped treats. Their Dessert Boxes ($35) vary monthly, but their recent box in May included matcha cheesecakes, milky way crunch bar, mocha Valrhona cookies, and buttercream cakes.
They deliver islandwide for a flat rate of $8.50, and delivery is free for orders above $80. Note that delivery slots are subject to availability, or you can opt for a pickup instead.
DM their Instagram to order.
---
9. Gaily Bakes
---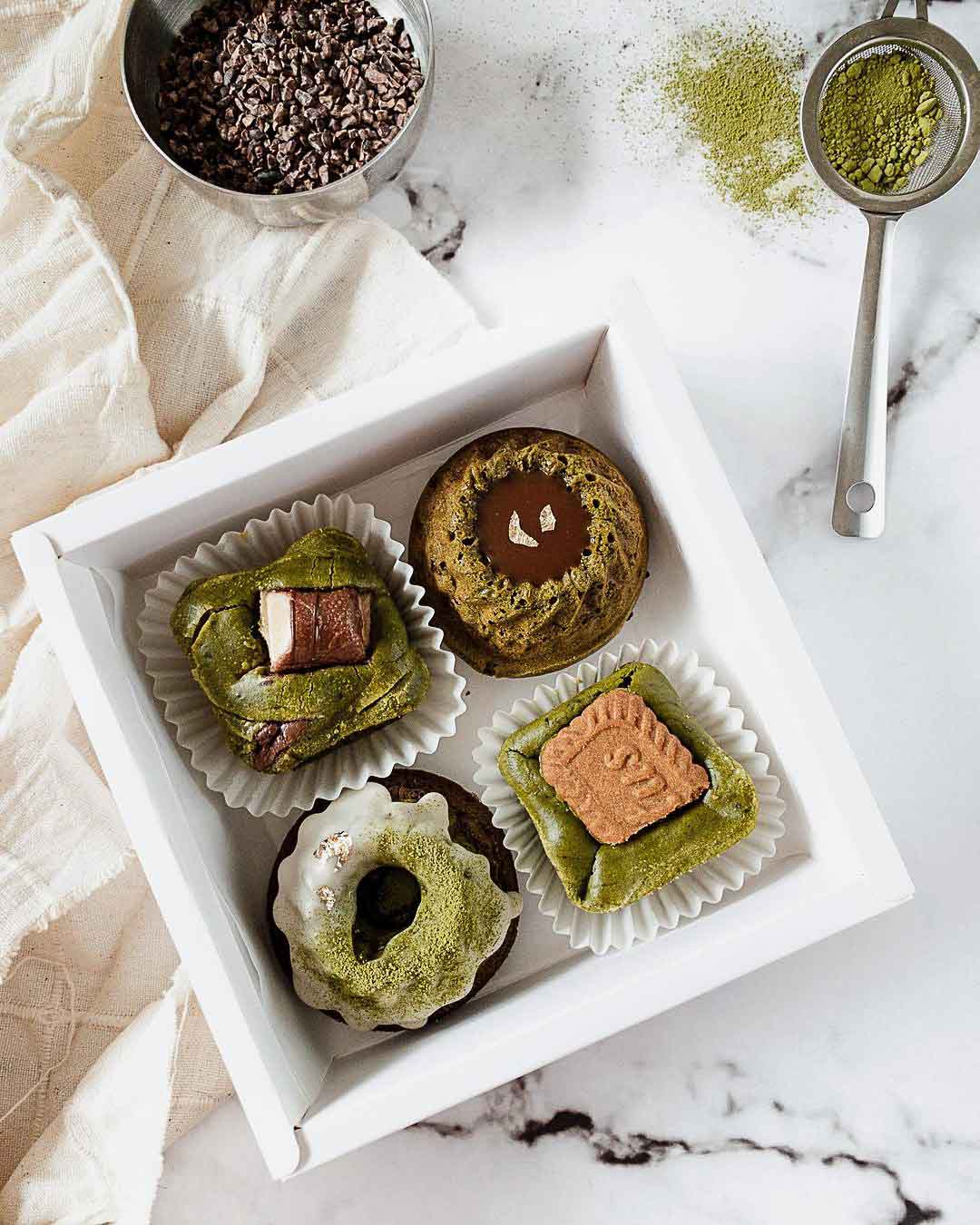 Image credit @gailybakes
Introducing Japanese mochi into our common bakes such as muffins and brownies, Gaily Bakes offers up some inventive and innovative bakes. Try their Matcha Tasting Box ($30), which contains seven items, including matcha espresso. mochi bundtlette, matcha umeshu mochi bundtlette, matcha biscoff. mochi blondie and more.
They provide islandwide delivery at a flat fee of $8 and free delivery for orders $55 and above.
---
10. T
artzan
---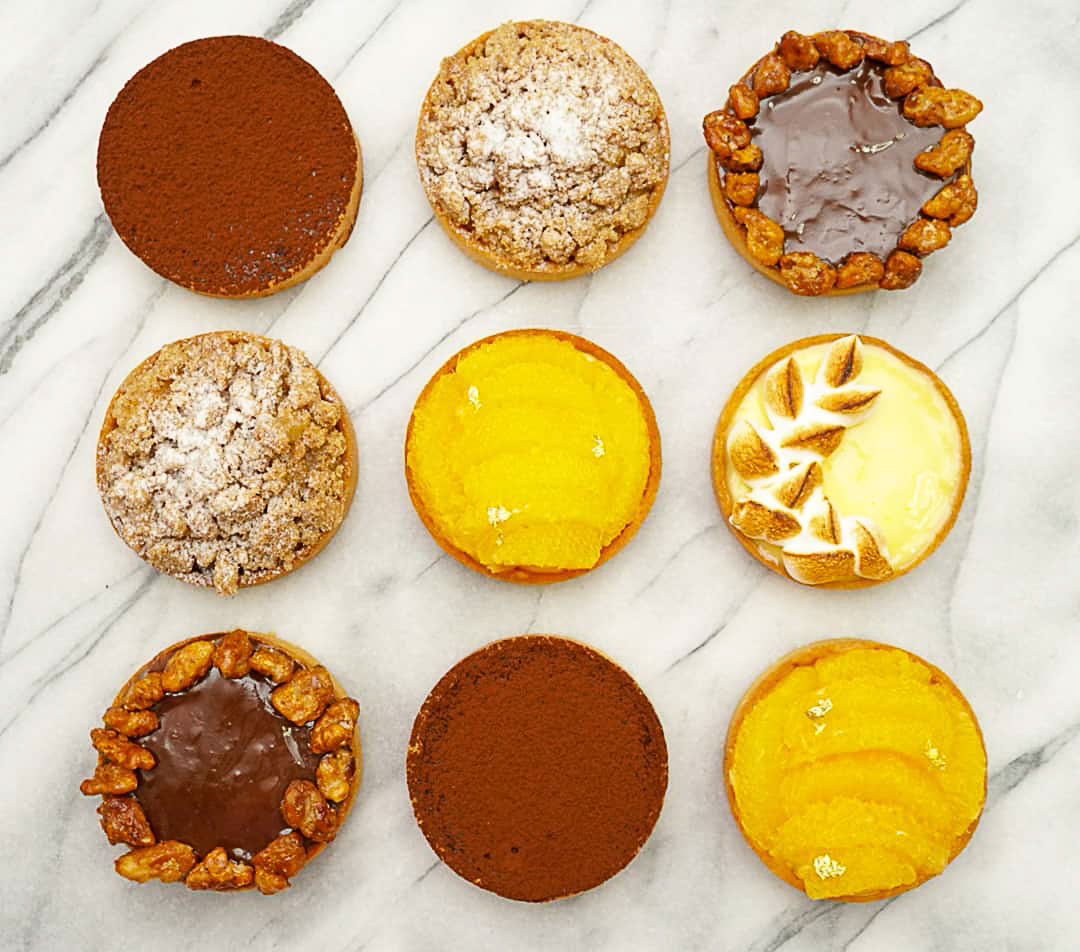 Image credit: @tartzan
Try Tartzan's 4 Tarts Bundle ($34), which consists of lemon yuzu tart, chocolate tart, ondeh ondeh tart, and mango pomelo sago tart. They also have a unique Sourdough Croissant ($4), which requires more than eight hours of preparation! There is a $7 delivery fee for orders below $34. Fee is waived for orders above $34, or with an order of four tarts and above.
---
11. She Sells Seashells
---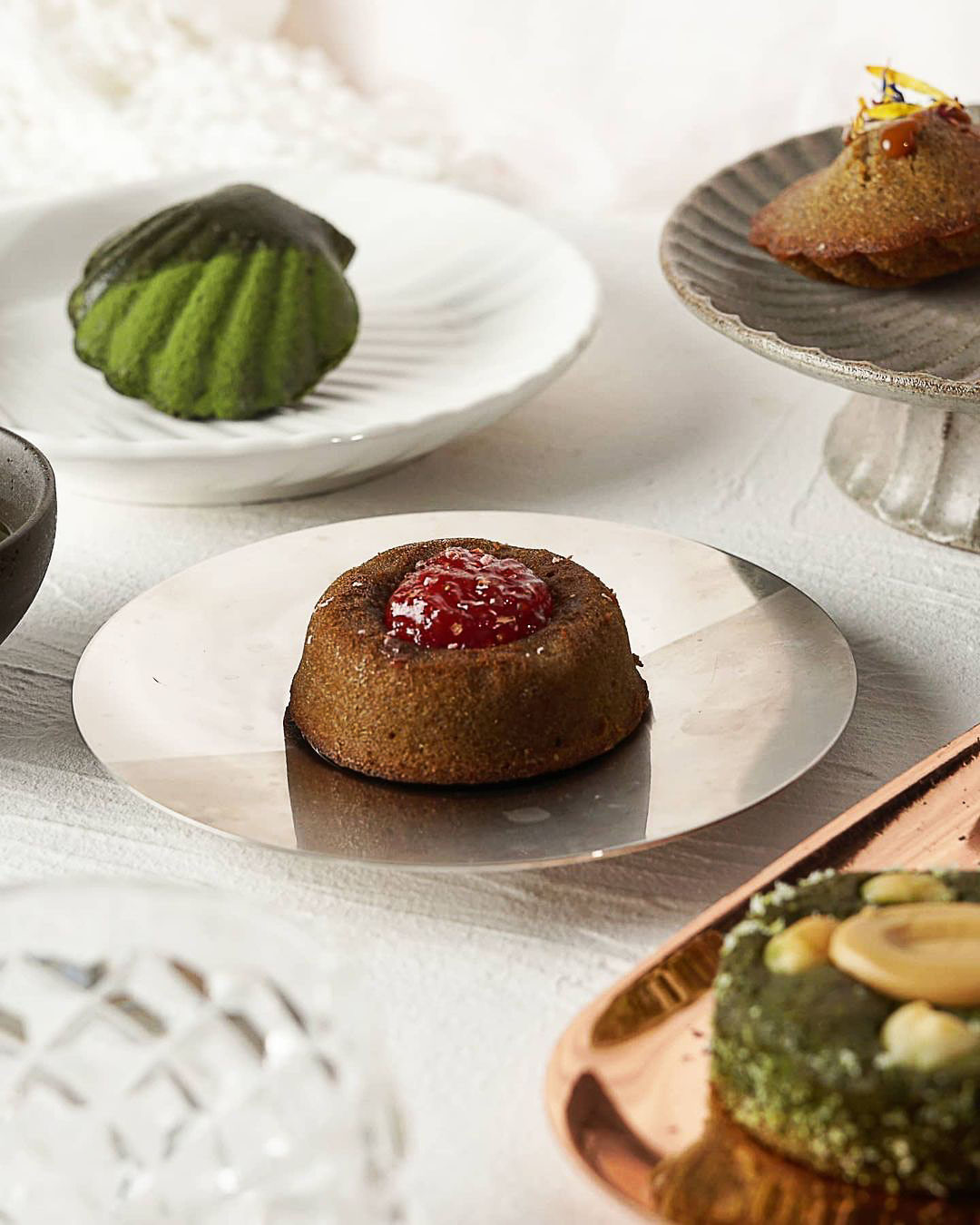 Image credit: @shesells.seashells.sg
The beautiful French-inspired bakes from She Sells Seashells is a feast for both your eyes and your tummy. They launch bake sales every month, and their April Bake Sale Set ($30) featured their Matcha & Yuzu Madeleines, french earl grey madeleines with salted caramel sauce, hojicha & strawberry financier, and "more than just matcha" cookies.
Delivery fees are at a flat rate of $8.50. If you live near the Senja Road neighbourhood, opt for self-collection between 2pm to 6pm instead!
DM their Instagram to order.
---
12. Petite House 
---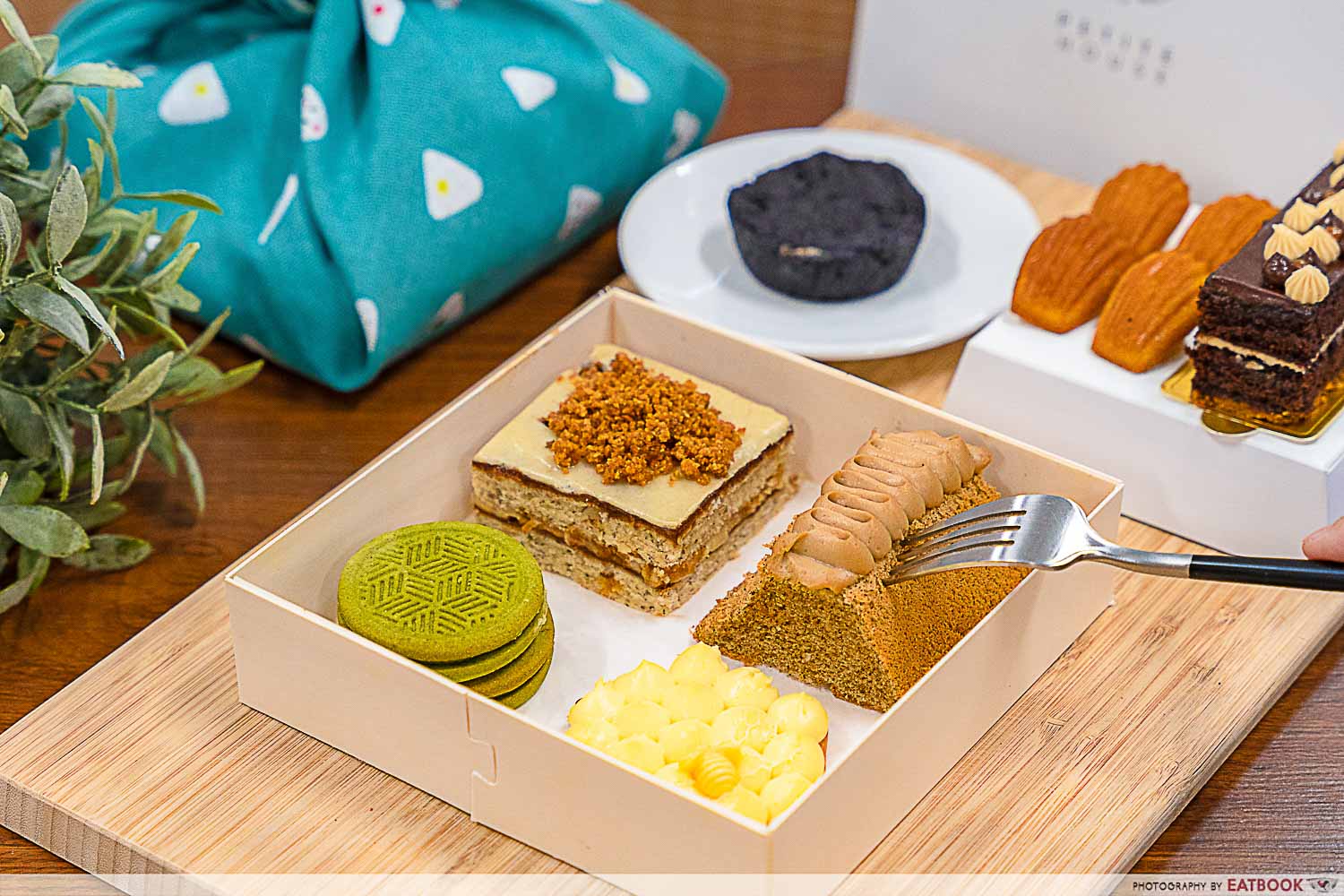 Japanese bento box-inspired dessert shop Petite House offers customisable dessert Bento Boxes (from $28). Each bento box order comes with a choice of four out of six available entremets. These include Mini Madeleines that come with no extra cost, Matcha Sable ($1 for two pieces), Passion Fruit Tart ($1), Earl Grey Chiffon ($1), Banana Cake ($3), Chocolate Caramel ($3). 
Petite House provides free deliveries for orders above $90. For orders below that, delivery is available at $15 per location.
---
For special occasions (>$35)
---
13. Miss Van Dough
---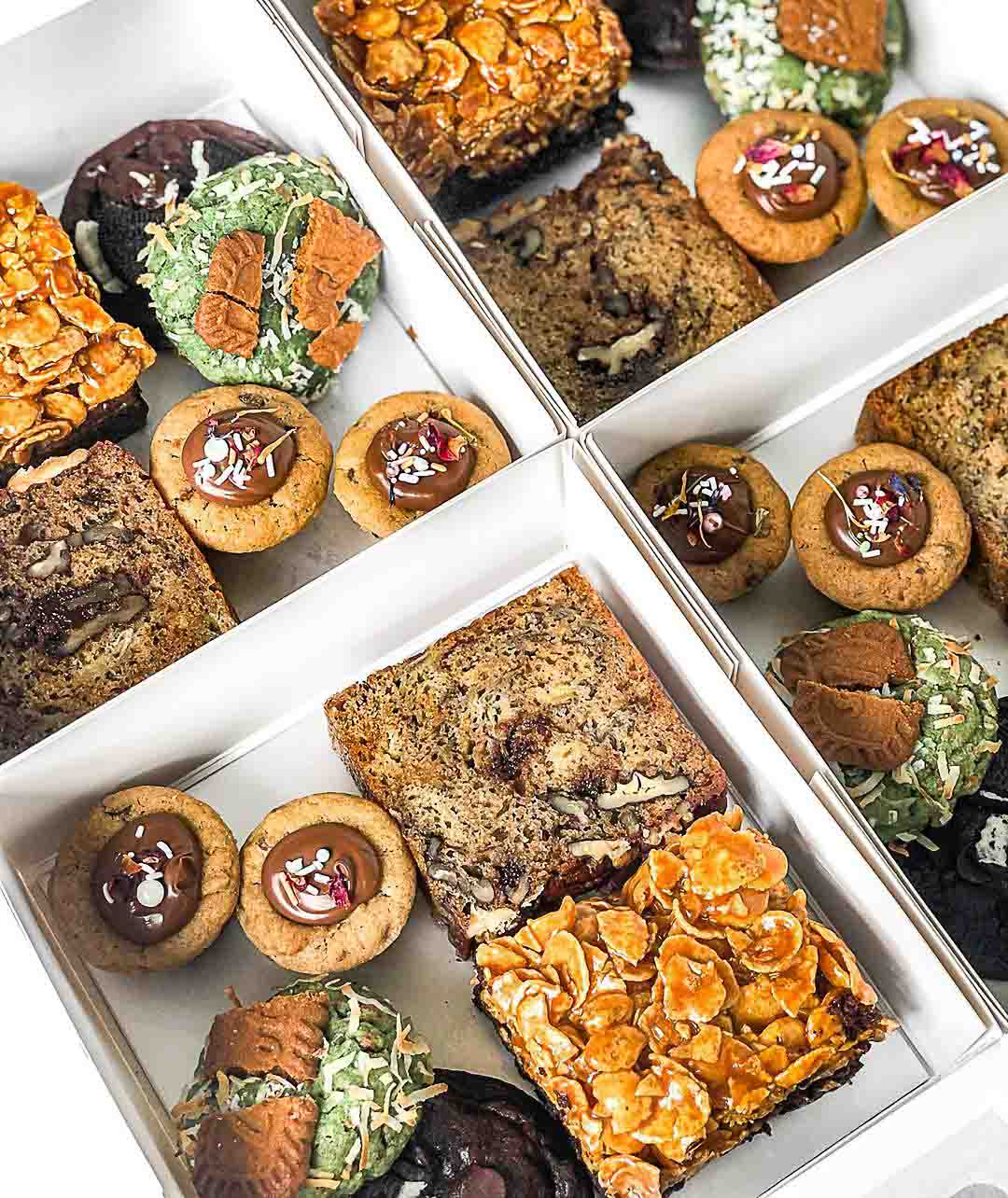 Image credit: @missvandough
This popular home bakery sets up weekend bake sales nearly every week, and their box of desserts are filled with a different mix of treats each time. Their most recent Care Package ($40) contained pandan speculoos cookies, Oreo Nutella chocolate cookie, blueberry basque burnt cheesecake, macaroons, and black and white sesame brownies.
They provide islandwide dessert box delivery for a flat fee of $10.
Do keep your eye peeled on their Instagram for their order forms!
---
14. A Wild Flower Bakery
---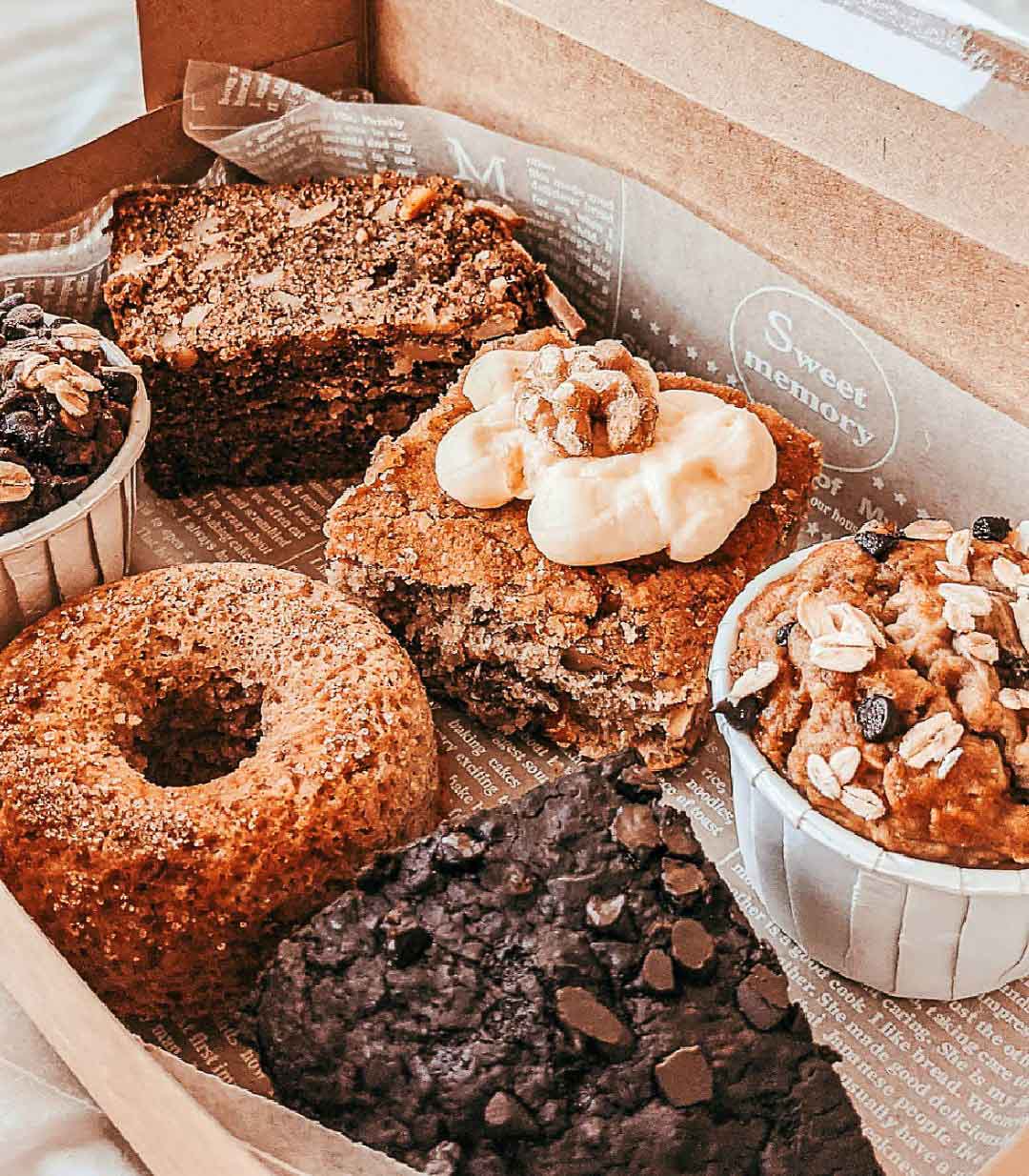 Image credit: @awildflowerbakery
Standing out from our list of indulgent desserts, A Wild Flower Bakery's baked goods won't sabotage your stay-home body as they are low-carb and sugar-free. A box of their Sugar-free Dessert Box ($45) contains fudgy brownies, walnut cake, a baked cinnamon doughnut, a slice of earl grey tea cake, one banana oat muffin, and one coffee oat muffin. They offer islandwide delivery services during this stay-home period at a flat rate of $6. Do note that delivery slots and orders must be booked at least three days in advance!
A Wild Flower Bakery order form
---
15. Esther Grace Cake
---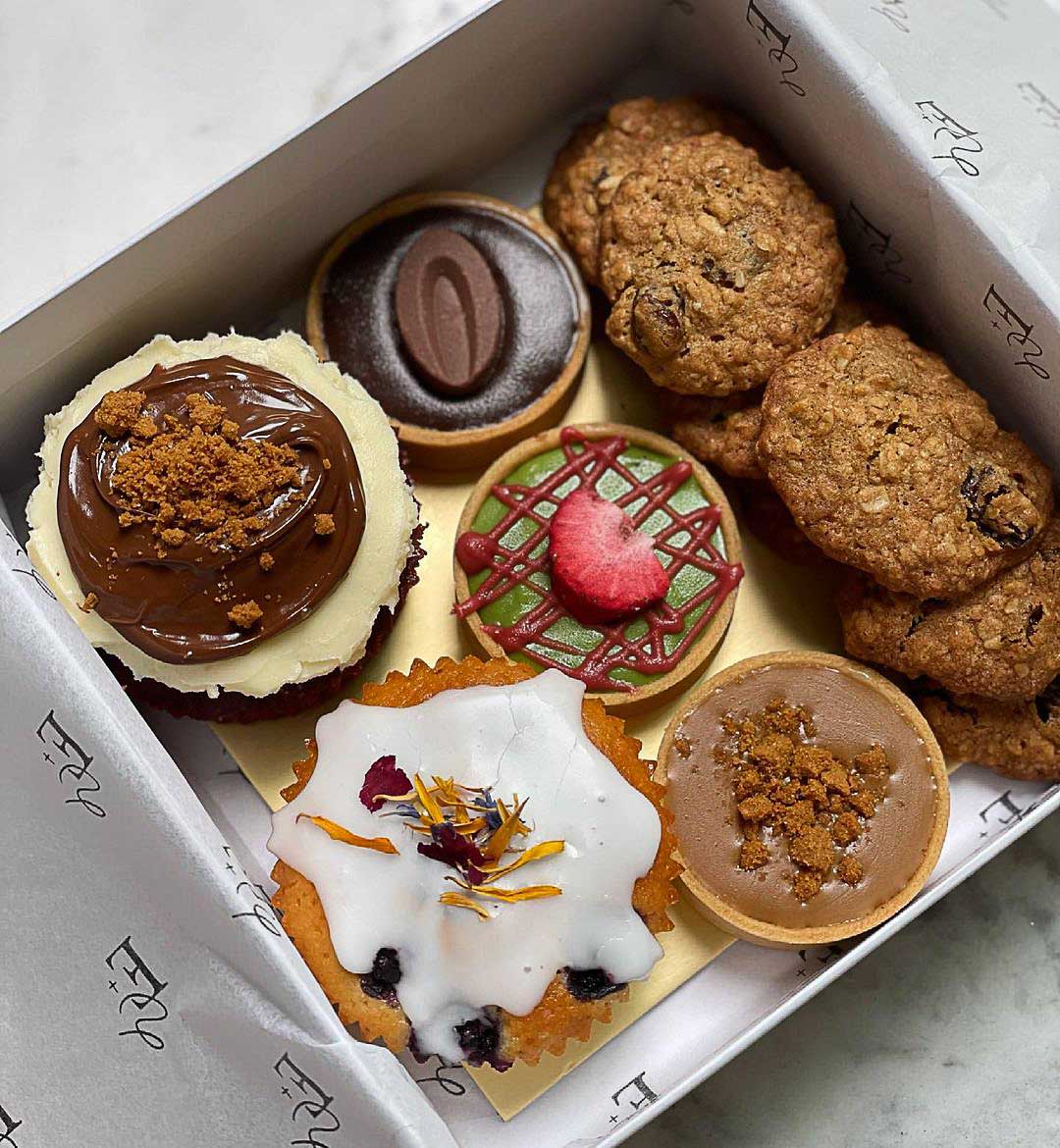 Image credit: @estergracecake
Formerly known as My Sister Bakes, Esther Grace Cake is one of the OGs in the home bakery scene. Besides stunningly elaborate custom cakes, they also sell dessert boxes and open bake sales every month. Their most recent June Dessert Box ($38) includes a moist lemon blueberry yoghurt loaf, thick brookies, a classic chocolate chip muffin, and mini chocolate cookie butter tarts. 
They provide dessert box delivery to specific areas, for a $7 fee. Otherwise, islandwide delivery is at a flat fee of $8. You will have to book these slots in advance via their monthly order forms on their Instagram.
---
16. The Dessert Party
---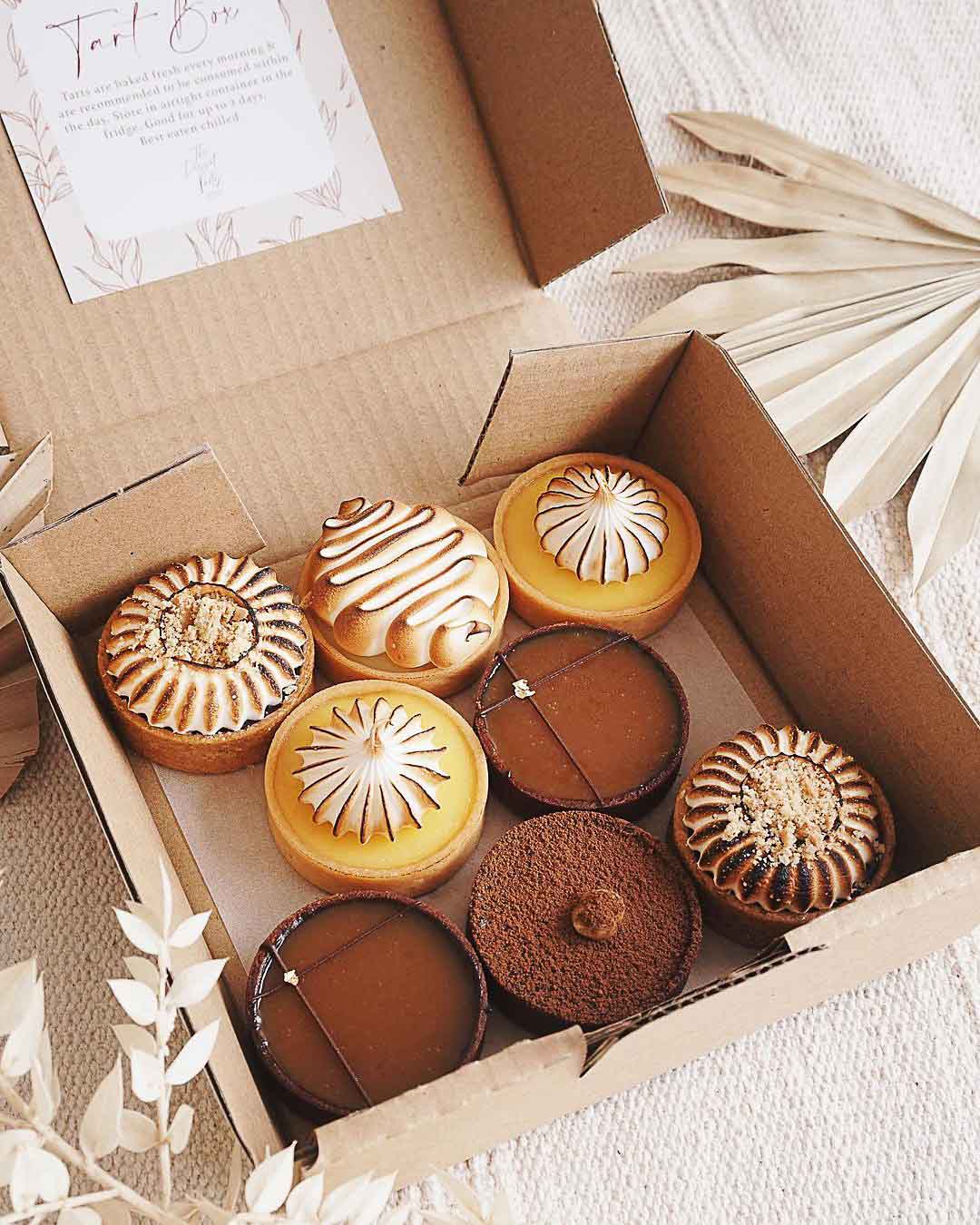 Image credit: @thedessertparty
The Dessert Party specialises in organising dessert tables for events, and recently branched out into making dessert boxes. Their Tart Box ($38) is a mix of eight tarts, which you can choose from a selection of: S'mores, lemon meringue, passionfruit meringue, salted caramel chocolate, and hazelnut chocolate.
Each order comes with free delivery. However, additional charges apply if you want your dessert boxes delivered after 6pm or to the CBD area.
WhatsApp 9435 0556 to order.
---
17. My Daily Bread
---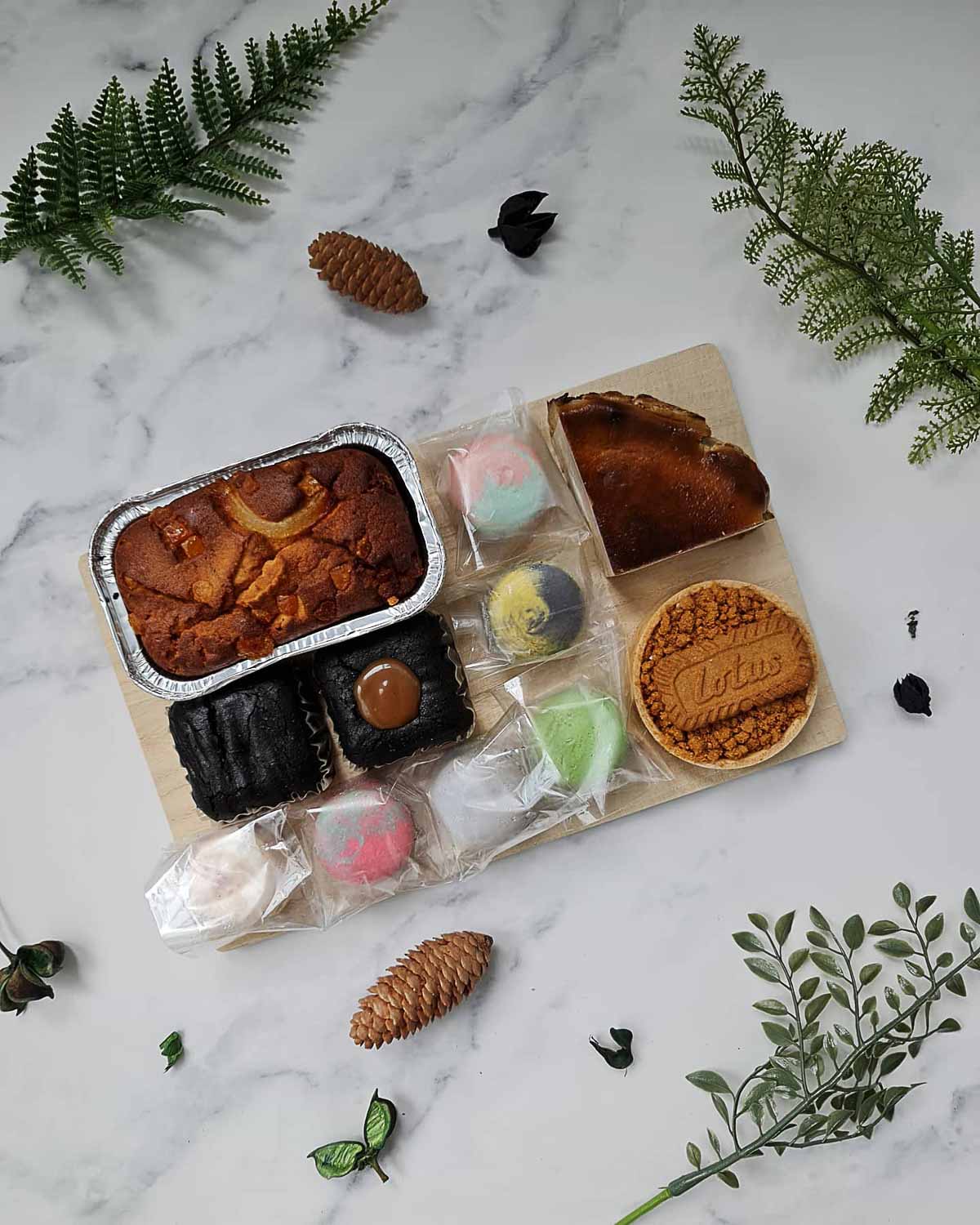 Image credit: My Daily Bread
Though they started out with colourful macaron towers, My Daily Bread has since expanded, and is now selling many other baked treats. Their last dessert box in May was a Mother's Day Dessert Box ($28) and consisted of one matcha earl grey pound cube, one original burnt cheesecake slice, one rose lychee tart, and four macarons (hazelnut praline, lavender, yuzu black sesame, and Milo dino).
Each order of their dessert box comes with free delivery, but a $10 surcharge applies if you want your order delivered on a specific date and time.
---
18. KY Pâtisserie
---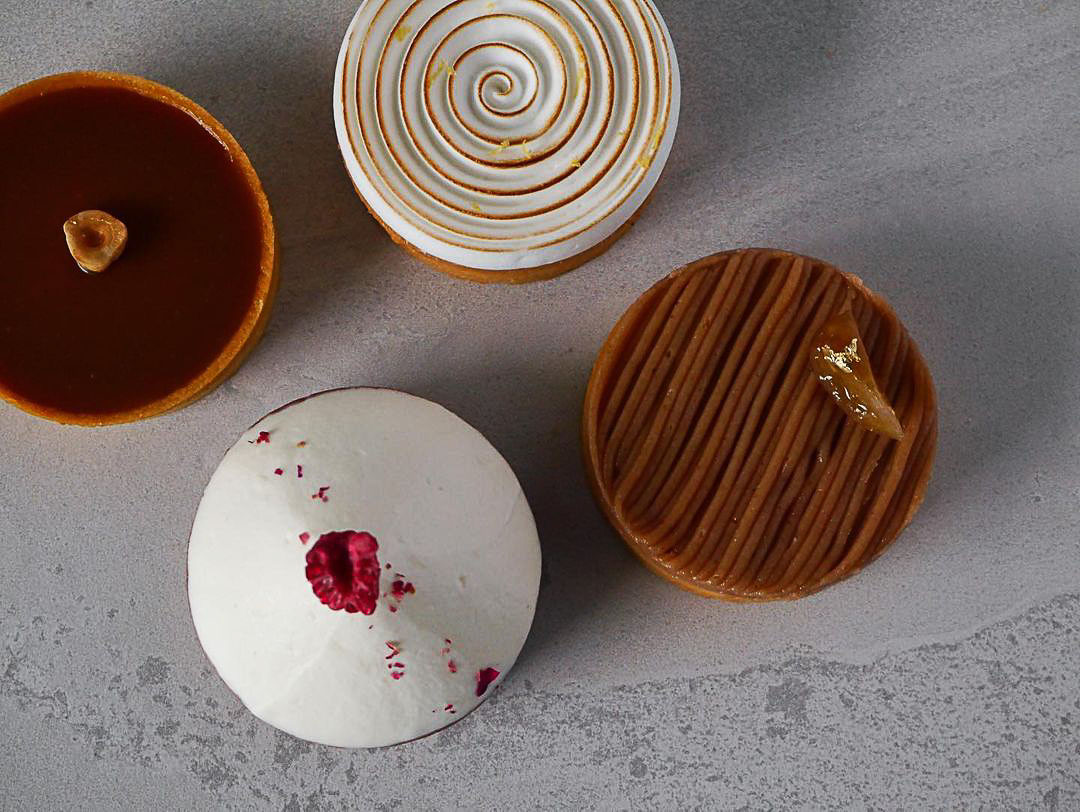 Image credit: @liangyingg
The pastries from KY Pâtisserie look like works of art. From elegant short-crust pastry tarts to stunning choux puffs, you can get a mini assortment of their French-inspired bakes at this store. Their Tarts ($36 for four), which comes with a choice of Ispahan, Mont-Blanc Inspired, dulcey cognac, and lemon meringue.
They offer islandwide dessert box delivery for $10. However, if you live in Pasir Ris, Tampines, and Simei, delivery fees are only $5. You can also choose to do a self-collection at Pasir Ris, but only within the time frame of 11am to 11:30am, and 6pm to 7pm.
---
19. Chocolatea 
---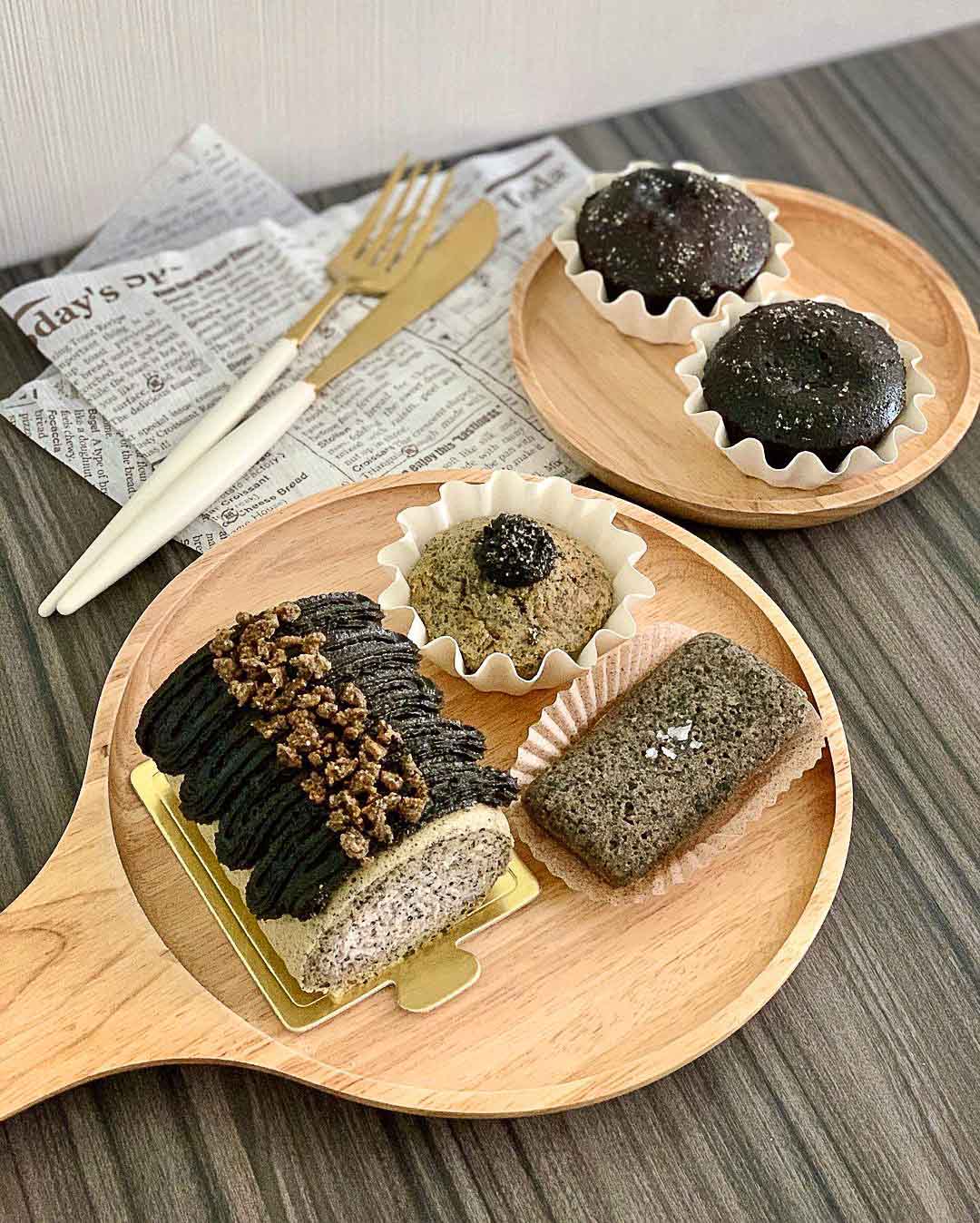 Image credit: @chocolatea_sg
Chocolatea specialises in French and Japanese-inspired bakes. Check out their The Ultimate Blackout – Goma Series ($37), which contains two blackout brownies, one goma roll cake, one goma madeline, and one sea salt goma financier. Their delivery fees range from $8 to $12. 
---
20. Dee Bakes
---

Image credit: Strangers Reunion
Besides multi-tiered custom cakes, this popular home bakery also puts out assorted dessert boxes that are great for stay-home gifts. In collaboration with Wakey Wakey, they are having a Dee Bakes x Wakey Wakey ($65) box, which comes with four brown butter Valrhona cookies, one dark chocolate brownie, one Nutella cheesecake brownie, one Speculoos cheesecake brownie, and a choice of one mixed bundle of cold brews or one Oatgasm bundle. The promotion comes with free islandwide delivery! 
---
Halal Options
---
21. Oh, Butter!
---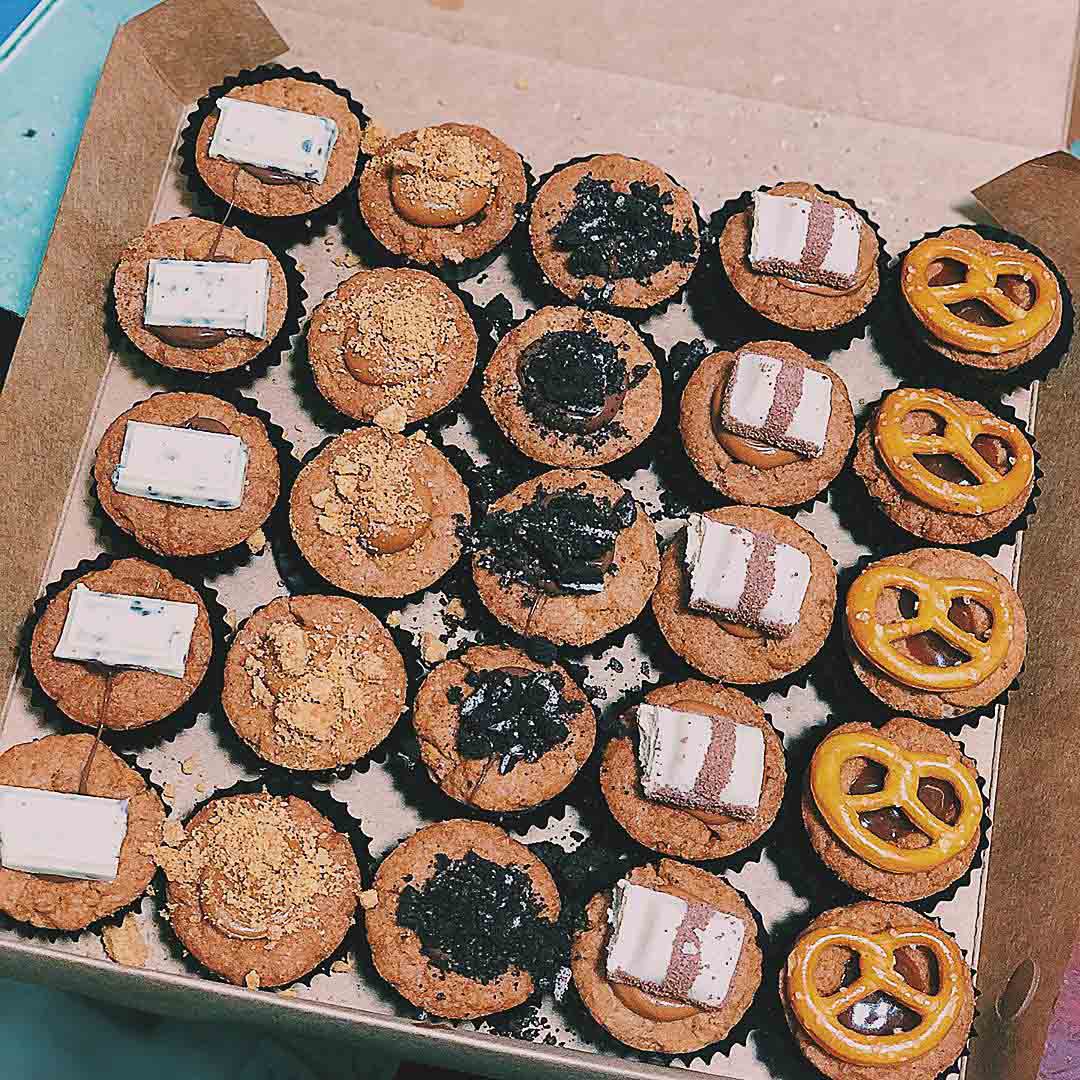 Image credit: @ohbuttersg
This online bakery serves an impressive range of bite-sized desserts, such as fudge brownies, mini fruit tarts, cheese tarts, cookie bites and much more. Each family-sized box of their Cookie Pods ($27) comes with four different flavours of mini cookie tarts. For something a little more decadent, get a box of good ol' Fudge Brownies ($25), that are topped with drizzles of Nutella and salted caramel.
They deliver islandwide for a flat delivery fee of $10. Alternatively, you can opt for self-collection at Pasir Ris. 
DM their Instagram to order.
---
22. Bites & Crumbs
---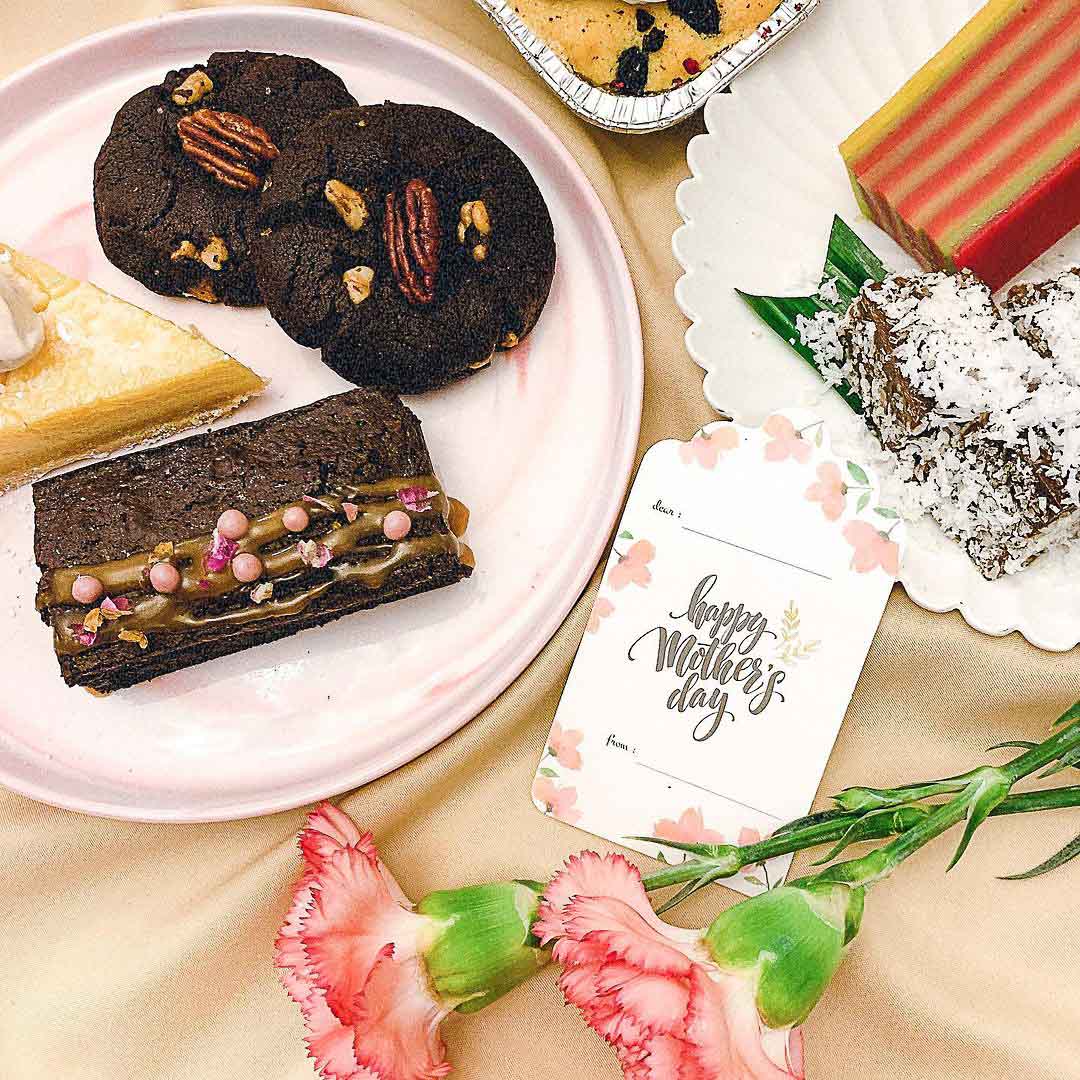 Image credit: @bitesncrumbs
Dessert spreads and wedding cakes may be their speciality, but this home-based bakery has also ventured into making smaller sweet and savoury treats in their MAY POP-UP BOX ($32). Each box comes with a lemon bar with milk chocolate, double chocolate walnut soft cookies, roasted berries yoghurt cake, fudgy brownie, kuih kosui, and kuih lapis nyonya.
They work with couriers to deliver islandwide, with delivery fees at a flat rate of $10.
DM their Instagram or WhatsApp 94426917 to order.
---
23. Mirzah Sweets & Pastries
---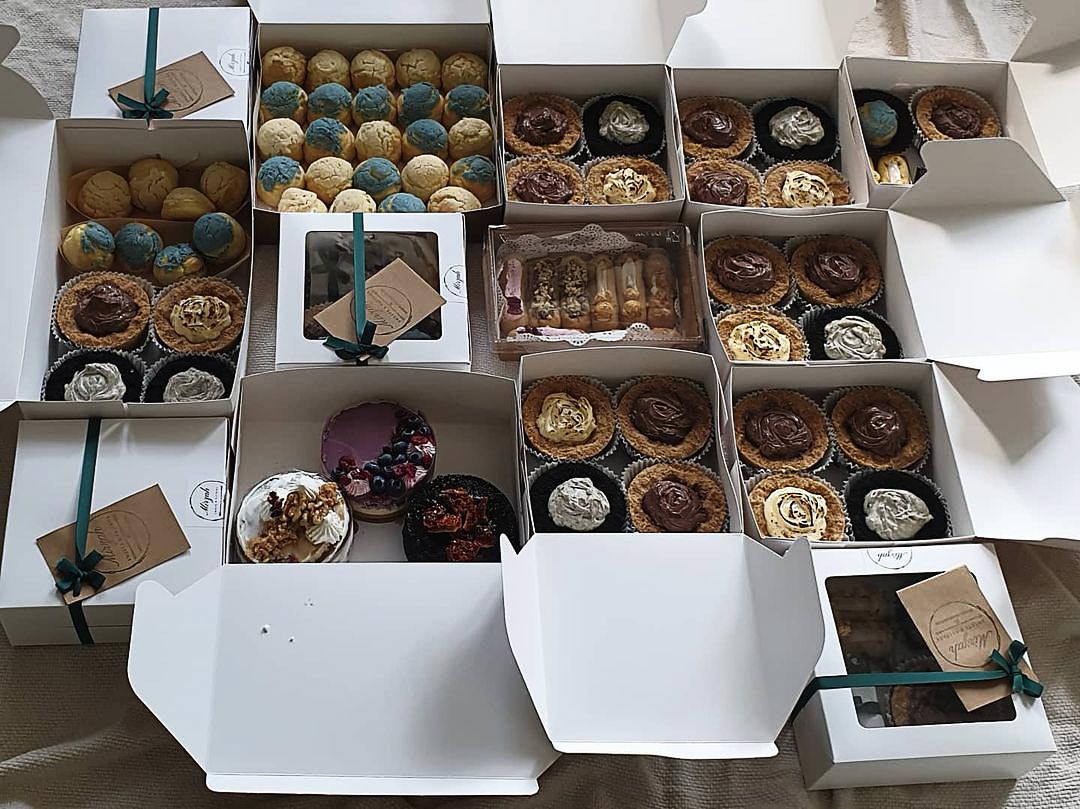 Image credit: @mirzah.sweets.pastries
Mirzah Sweets & Pastries has the fix for your sweet tooth—think cream puffs, eclairs, tarts, and brownies. One Petite Box ($27) contains two puffs, three eclairs, one large brownie, and one whole layered cheesecake. They deliver islandwide for a flat delivery fee of $10 per address. Remember to refer to their IG highlights for the available delivery slots before placing an order!
Mirzah Sweets & Pastries order form
---
24. My Favourite Things Bakery
---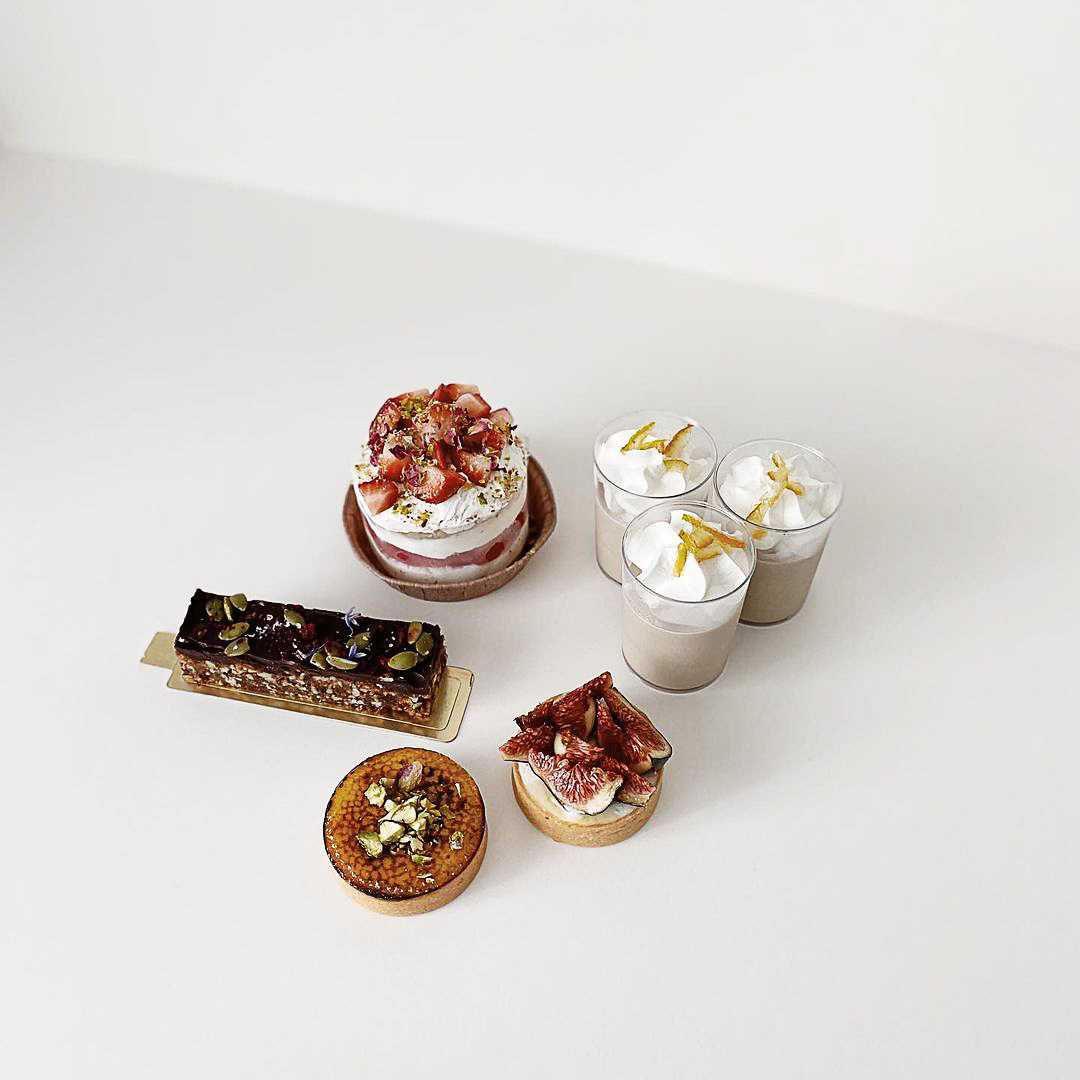 Image credit: @my.favourite.things
The elaborately decorated cupcakes and cakes from My Favourite Things Bakery are no doubt the work of a professional, and this attention to detail certainly applies to the treats in their bake sale boxes too. They're currently working on curating a fresh set of desserts for their next bake sale, so do keep an eye out for it when pre-orders open!
Islandwide delivery fees range from $15 to $20, based on your location. You'll also have to book delivery slots on their Instagram when they open for pre-orders. 
---
25. Baking Soba
---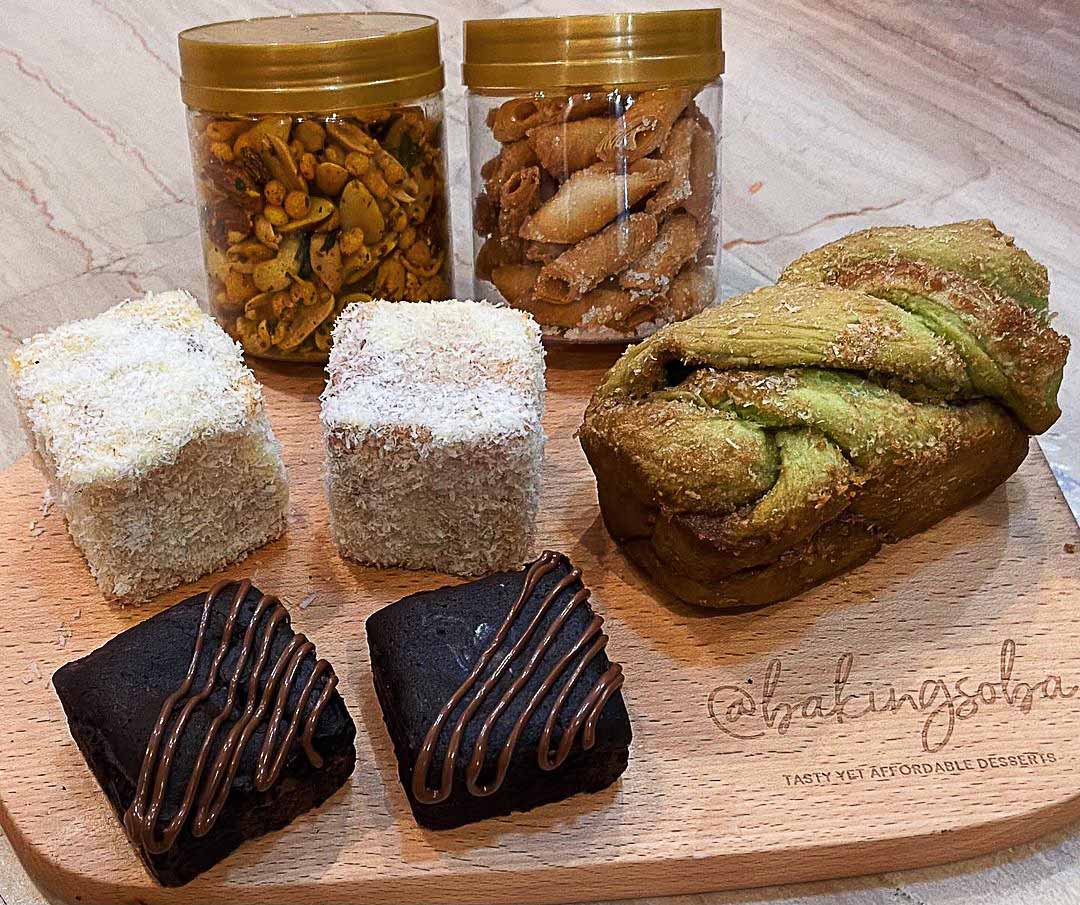 Image credit: @bakingsoba
Baking Soba is a smaller, Muslim-owned home bakery selling their sweet, rustic bakes online. A box of their "Let's Makan" ($30) includes an ondeh-ondeh babka, two Nutella brownies, two bandung lamingtons, premium spiced mixed nuts, and one layang-layang. Their islandwide dessert box delivery fees range from $10 to $12, depending on your location.
DM their Instagram to order.
---
Dessert boxes for all budgets
---
With this multitude of options, send a gift over to your loved ones during this trying period and brighten up their day!
For a little perk-me-up, check out our coffee delivery guide for cold brew, artisanal roasted coffee and more. Otherwise, check out our cafe delivery guide for fried chicken waffles, mentaiko carbonara and more.
15 Cafe Delivery Options For Fried Chicken Waffles, Mentaiko Carbonara And More
Feature image adapted from Strangers Reunion, @shesells.seashells.sg, @liangyingg, and @chocolatea_sg.
 This article was originally written on 5 June 2020.
The post 25 Dessert Box Delivery Services For Beautiful Baked Goods From Home Bakers appeared first on EatBook.sg – New Singapore Restaurant and Street Food Ideas & Recommendations.