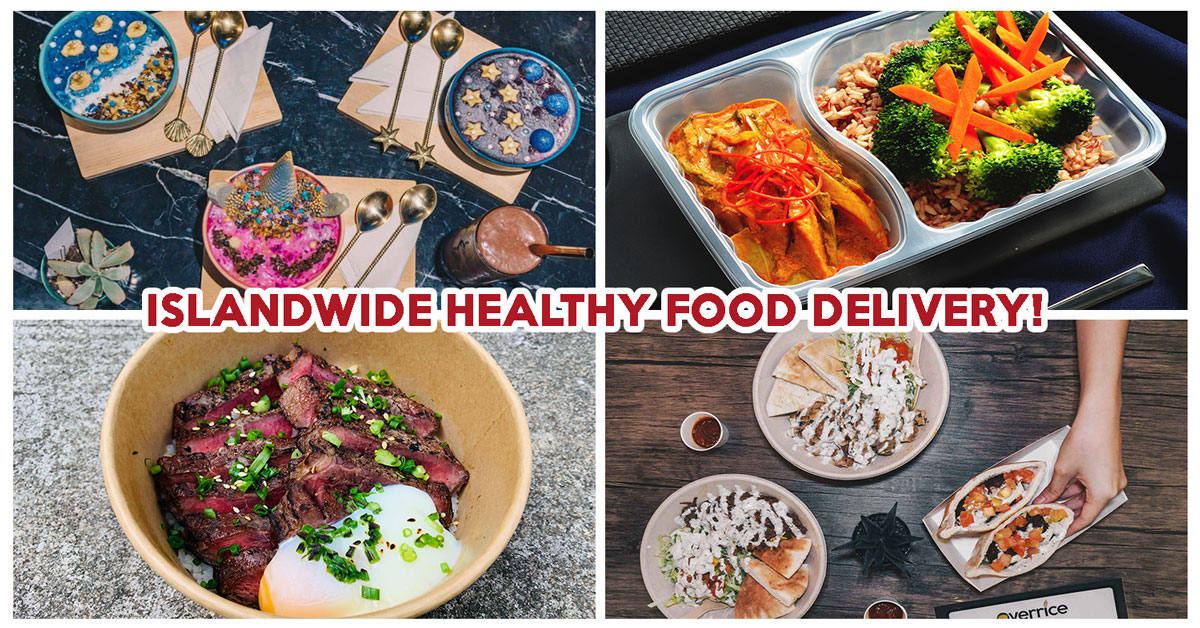 ---
Healthy food delivery services in Singapore
---
Healthy foods have taken the last decade by storm. With the rapid advances in food technology and conscientious eating among consumers, it's no surprise why healthy foods are so hip as of late. The current COVID-19 pandemic has further reinforced the importance of taking care of our health and well-being. One of the best ways to do so is to clean up our diet. Check out these 20 healthy food delivery services that bust the 'healthy foods are not tasty' myth.
---
1. YOLO
---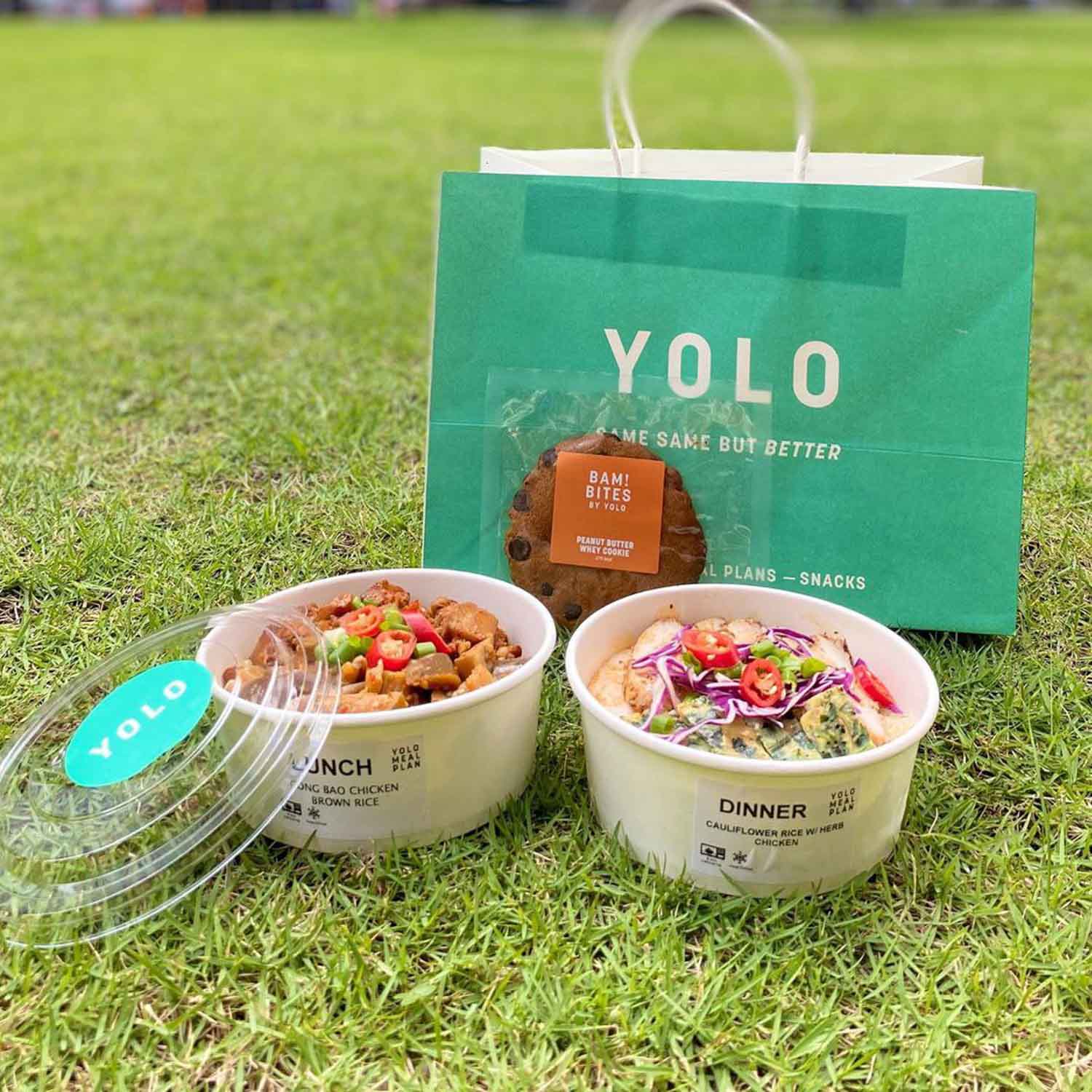 Image credit: @yolofoodsg
The ordering process at YOLO is as simple as pie. Simply select your ideal meal plan, your desired calorie intake, and whether you want half-day or full-day meals. Finally, choose whether you would like a five-, ten-, or thirty-day package.
Recommended options include their Rendang Chicken with Brown Rice and Yakiniku Stir-Fried Tofu and Brown Rice! Thankfully, their full-day plans include free delivery, while delivery fees are a flat $3.50 per day for half-day meals. Muslim fitspos will also be glad to know that they're halal-certified!
---
2. Grain

---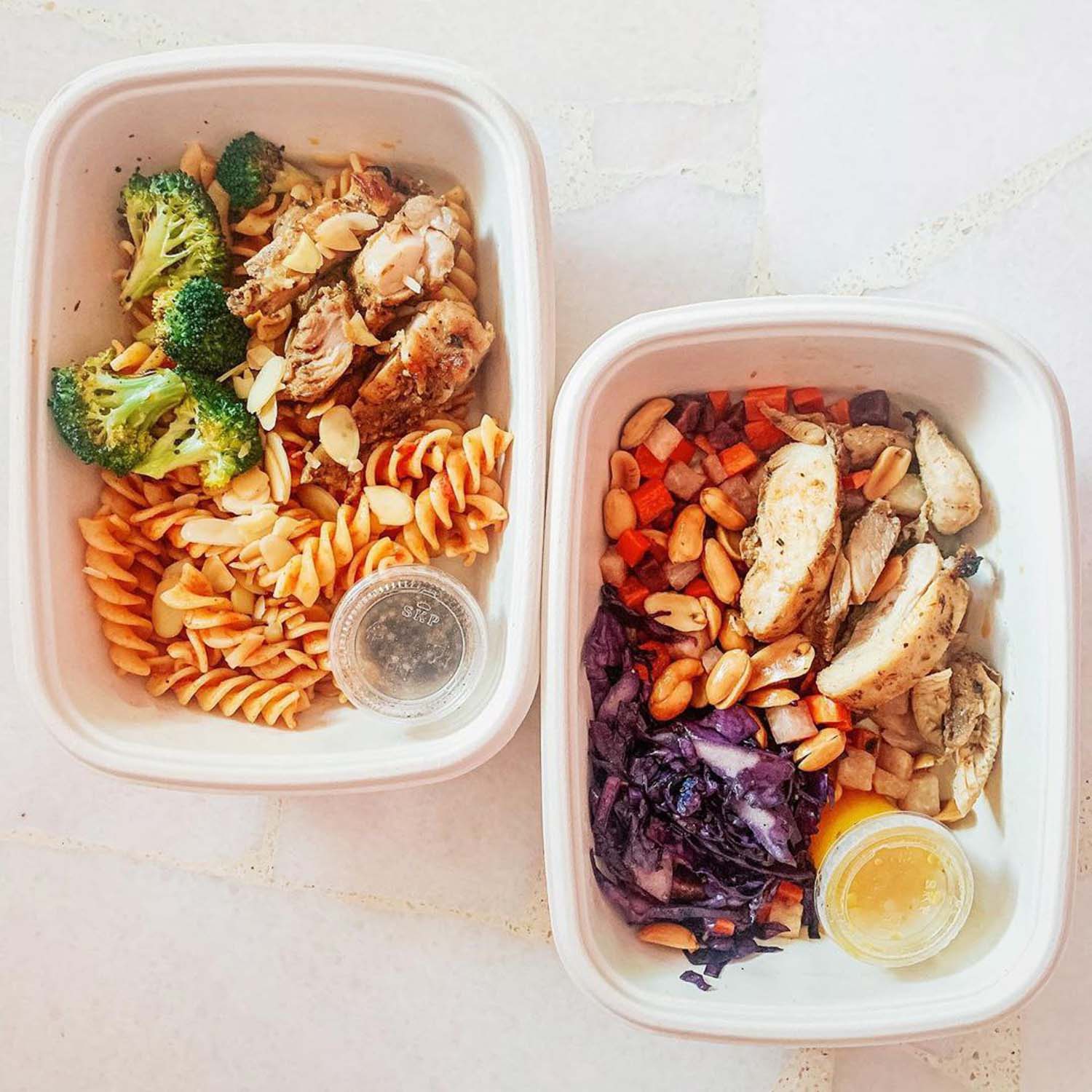 Image credit: @j.procrastibaking
Grain is a reputable online food company that can bring delicious healthy food to the masses with their individual meal boxes and bundles. Try their decadent Flame Torched Sanchoku Beef Steak ($19.95) and tasty Impossible Hamburg Japanese Curry Rice ($17.95). There's no minimum order with a flat $10 islandwide delivery fee for their meal plans. Grain is halal-certified as well!
---
3. A Poke Theory

---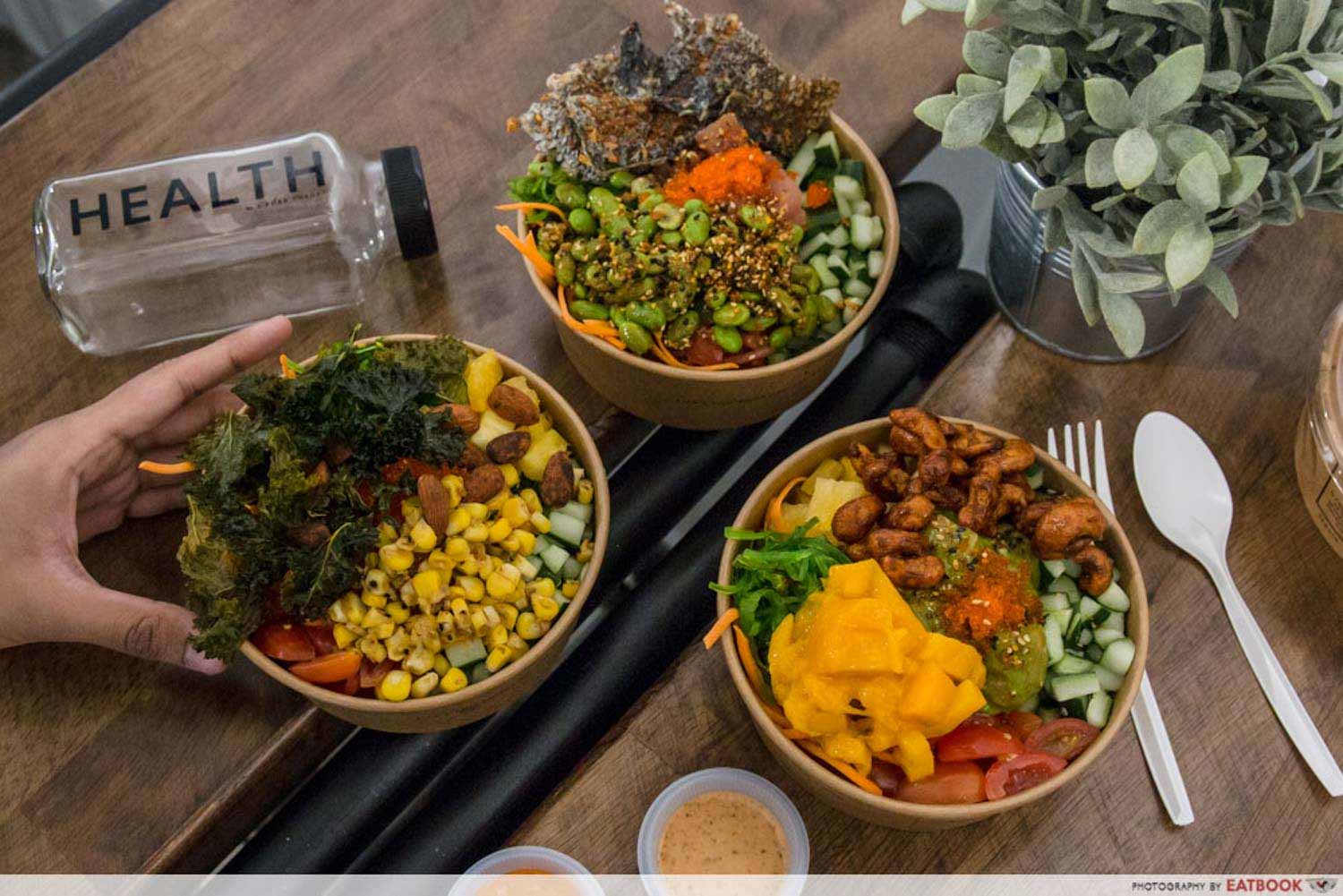 Enjoy a guilt-free feast with A Poke Theory's sumptuous poke bowls, such as Mentaiko Madness ($13.40/$16/$19) and Avocado Livin ($13.40/$16/$19). Customers that relish the idea of customising their meals are able to build their own bowls. Simply choose a base, preferred toppings, and sauce, then wash it all down with a refreshing beverage.
If you live within a 10km radius from any of their outlets, there's a minimum order of $30 with a flat $4 delivery fee. On the other hand, if you live outside a 10km radius, there's a minimum order of $40 with a flat $7 delivery fee. This fee is waived for orders above $75. Alternatively, purchase your poke bowls through other platforms such as Deliveroo, GrabFood, and Foodpanda among others.
---
4. Boon Lay Traditional Hakka Lui Cha

---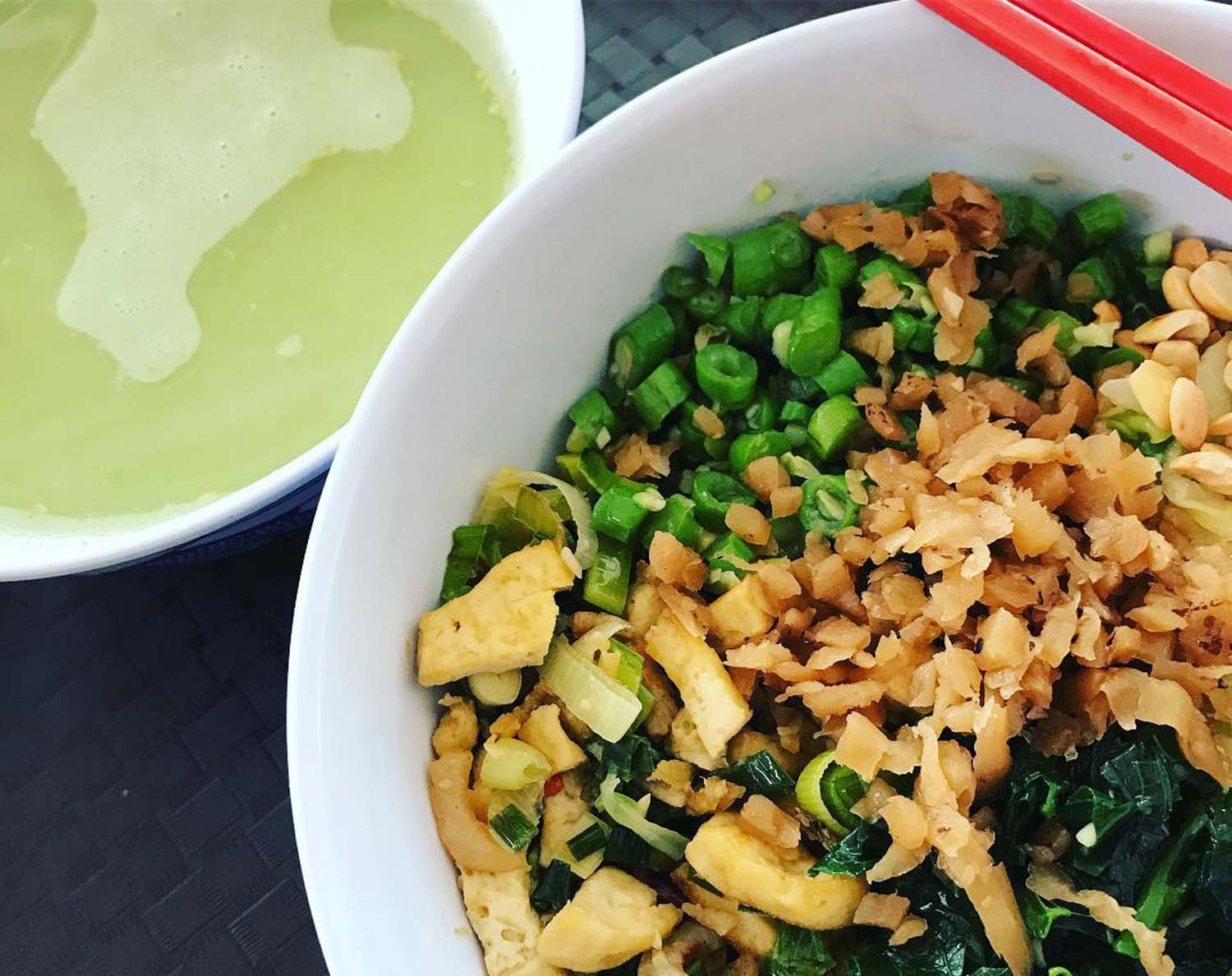 Image credit: @chris.jr_liu
Boon Lay Traditional Hakka Lui Cha is a great place to go for a solid bowl of thunder tea rice. The dish features various vegetables and toppings, placed on a warm bed of fluffy rice. It is served with a fragrant tea soup made from tea leaves, nuts, and various herbs. Pour your preferred amount of tea soup into the rice bowl before you dig in.
Brown rice lovers will be glad to know that the stall uses white and organic brown rice in their thunder tea rice. If you are craving a small sinful treat, Hakka fried pork is available as an add-on! There's a minimum order of $15 with a flat $5 island-wide delivery fee for orders between $15 and $25. This fee is waived for orders above $60. For orders above $50, there is a 15% discount on the bill. 
Boon Lay Traditional Hakka Lui Cha order form
---
5. FITTHREE

---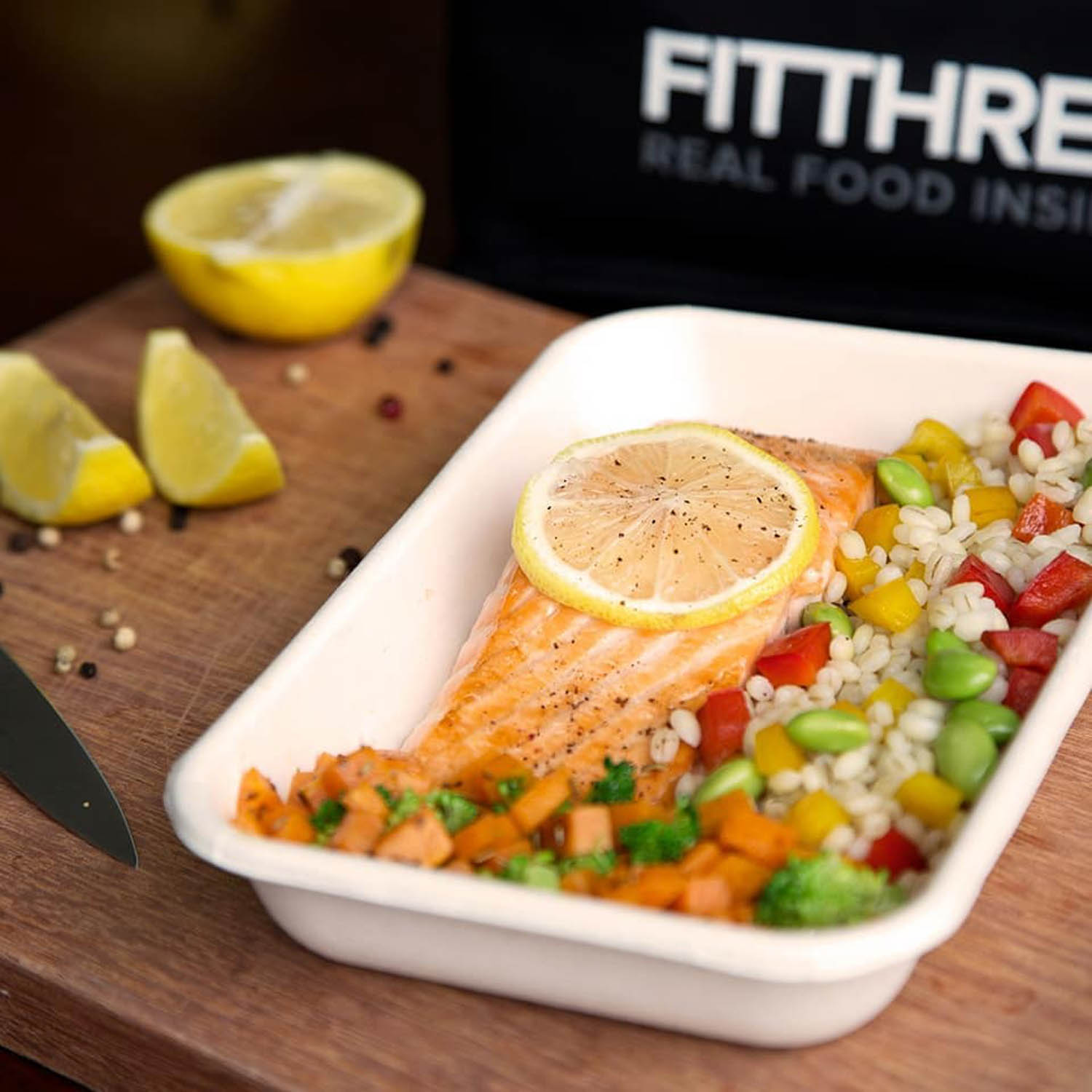 Image credit: @fitthreesg
Choose from a wide selection of healthy meals thoughtfully prepared by the FITTHREE team. Peruse their menu online, and you'll be able to find out detailed information about each day's meals, such as the macro-nutrient breakdown and calorie count.
With dishes such as Baked Salmon ($13.40/$15.90) and Barbecued Beef Strips ($13.40/$15.90), eating healthy would no doubt be a joyful experience, for both your taste buds and body. There's no minimum order, and deliveries once a week would cost $3.50, while deliveries done twice a week would cost $7. This fee is waived for orders above $50.
---
6. AMGD

---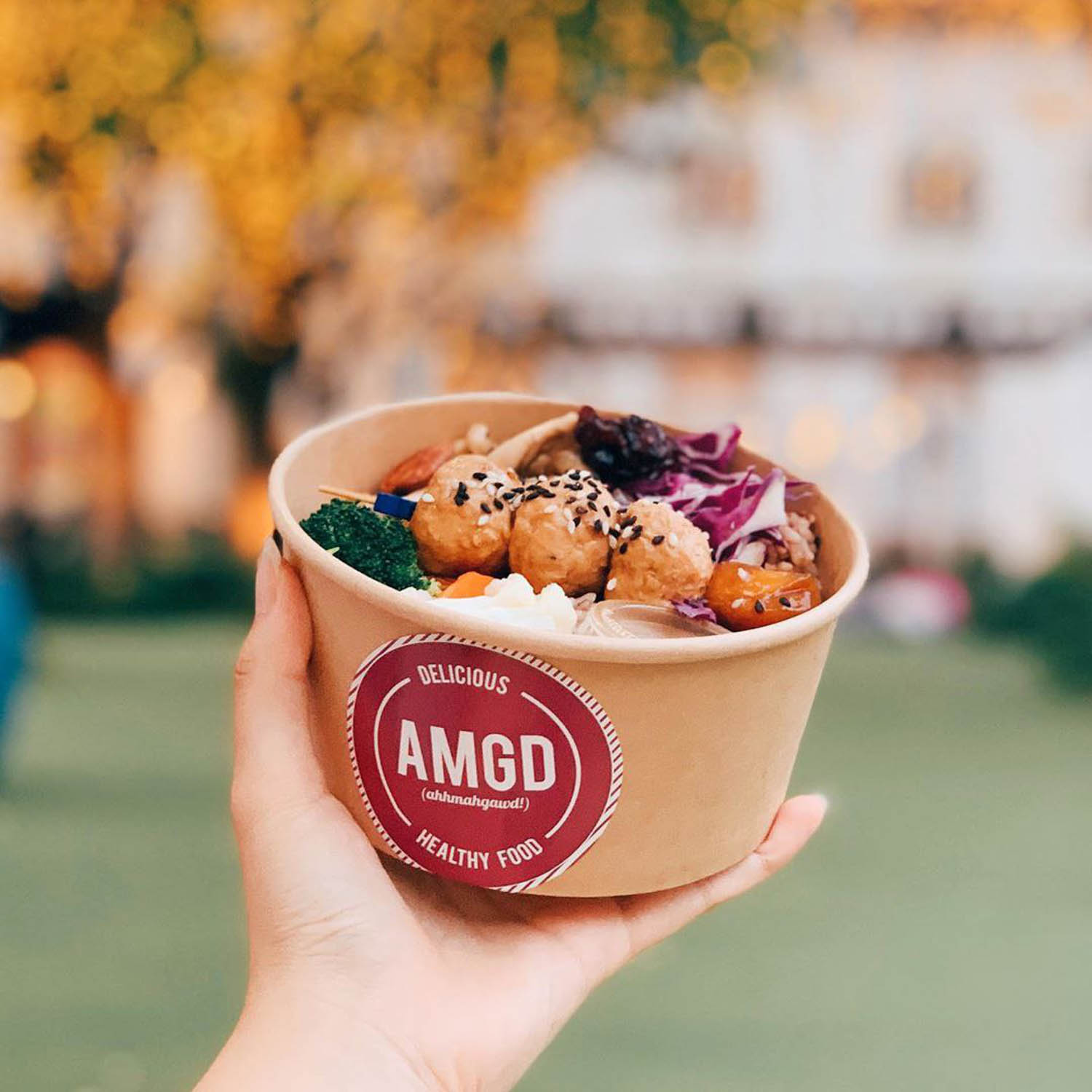 Image credit: @hooyeats
The meal ordering process at AMGD can't get any more efficient. Simply buy an AMGD pass, choose a meal, and it will be delivered straight to your doorstep. Choose from a myriad of tasty lunch boxes, which contain delicious ingredients such as grilled cottage cheese, fish tikka skewers, and tandoori chicken.
Delivery fees are priced at $2.50, with an additional surcharge of $1.50 for orders at the CBD, Orchard Road and Marina Bay, with a $5 surcharge for orders located at the remote Tuas, Changi and Sentosa areas. If you purchase two or more meals, the delivery fee will be waived.
---
7. Salmon Samurai

---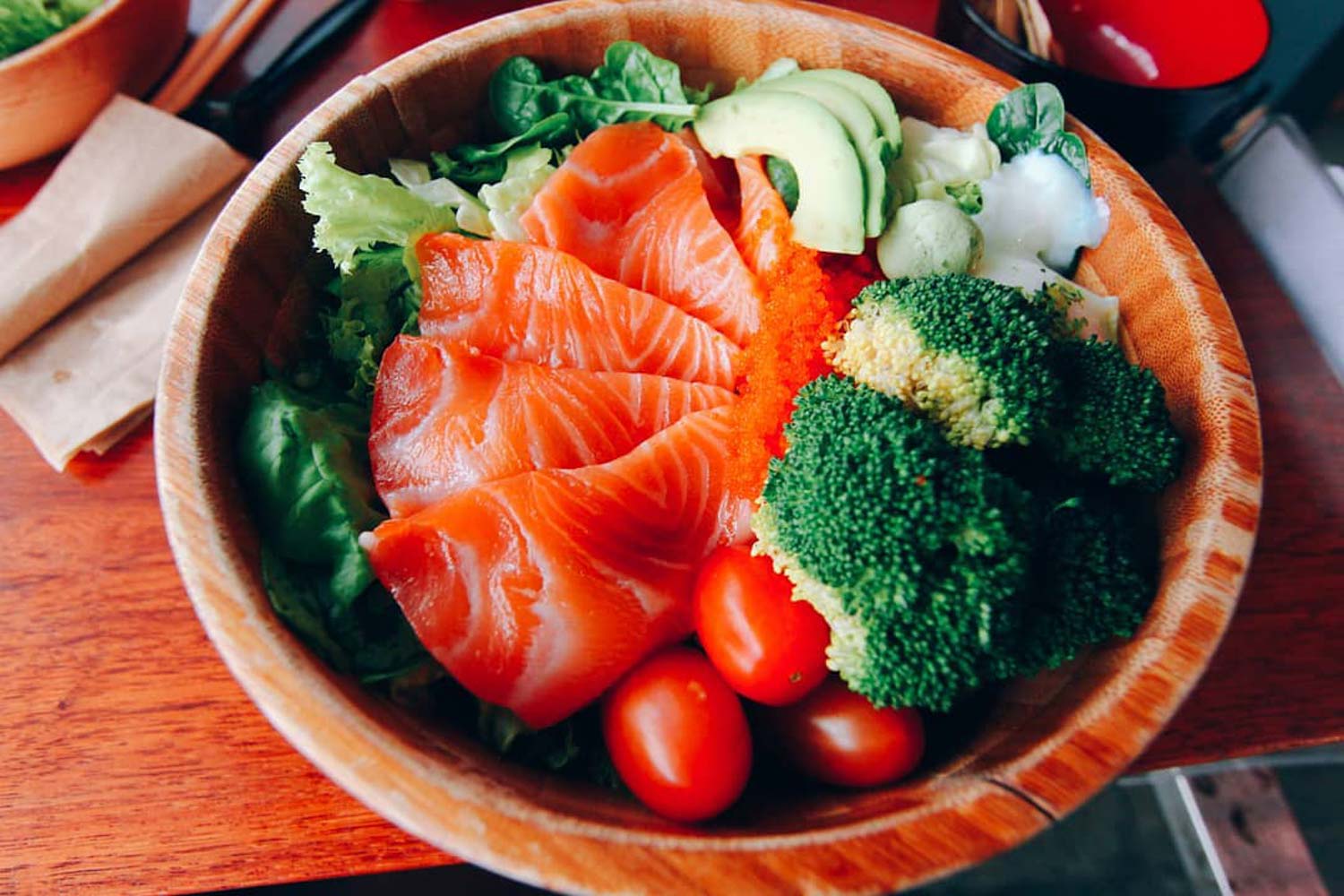 Image credit: @salmonsamurai
Salmon Samurai dishes up a delectable selection of salmon-based bowls. With tasty flavours such as Mala Mentaiko Salmon (from $10.90)  and Teriyaki Salmon (from $9.90), your taste buds will be taken on a fulfilling ride. There's no minimum order with a flat $9 island-wide delivery fee. This fee is waived for orders above $50. 
---
8. Kipos Gourmet

---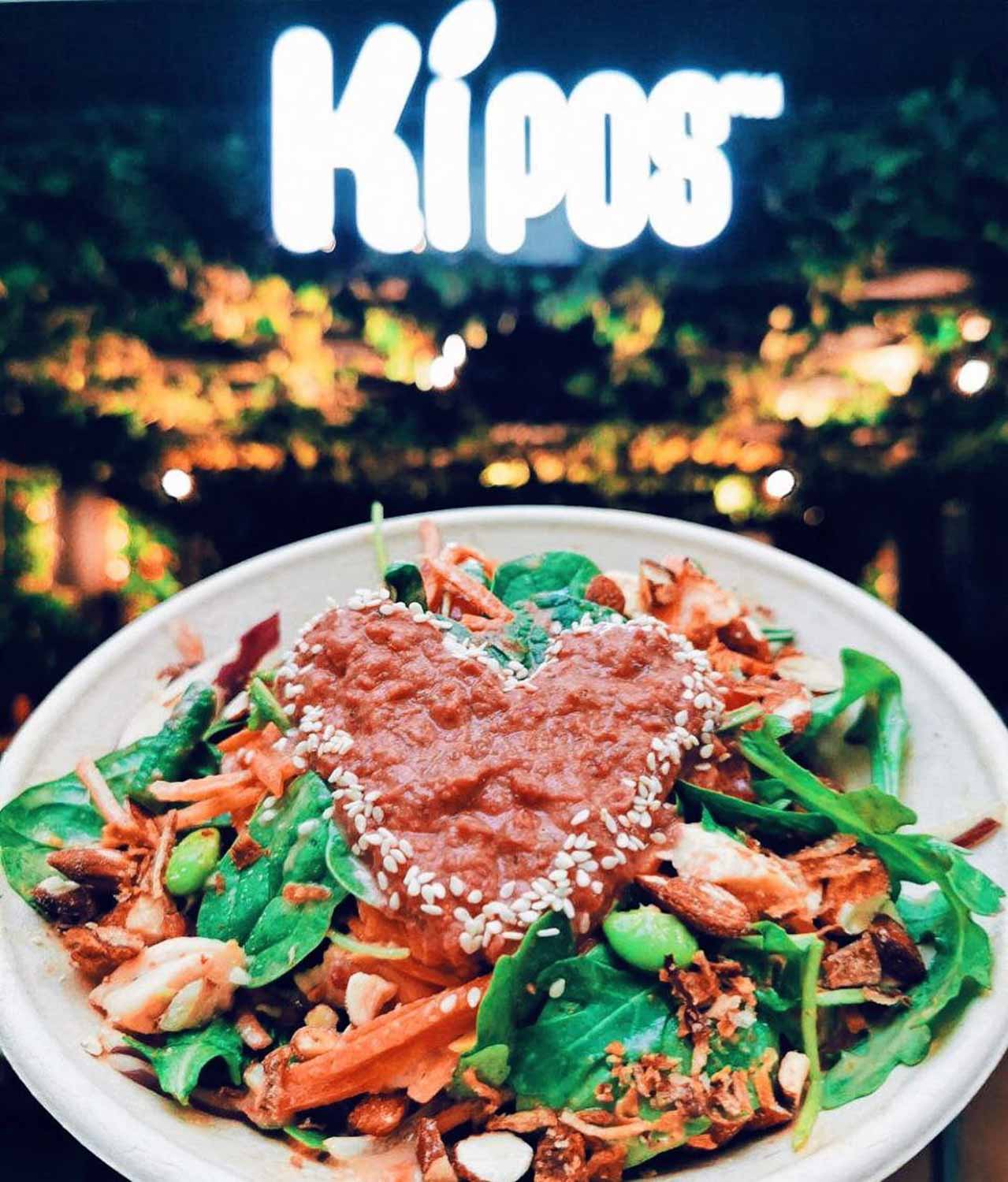 Image credit: @kiposgourmet
Kipos Gourmet has a smorgasbord of delicious bowls, some with a local spin. Try their Quinoa Lemak ($8.60), which features coconut-simmered organic quinoa served with fragrant curry turmeric chicken. Another dish on their menu with a local twist is their Lo-Cal Chicken Rice ($8.60). Served with their house-made chilli, the bowl consists of sous vide chicken breast on a warm bed on brown rice.
If you're feeling creative, try your hand out at building your own bowl. There's a minimum order of $25 with a flat $8 island-wide delivery fee. 
---
9. Haakon Superfoods and Juices

---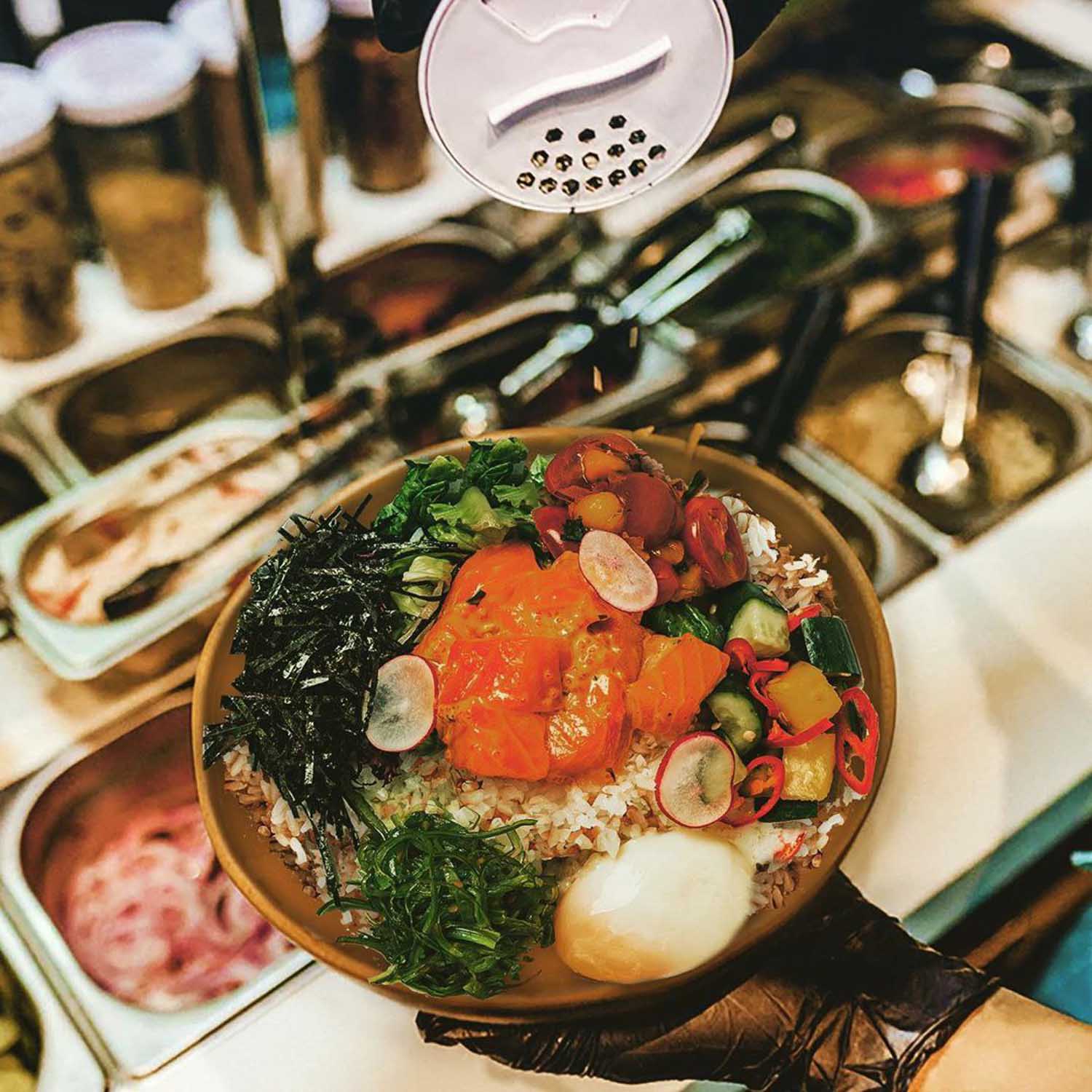 Image credit: @haakon.sg
Haakon Superfood and Juices is the place to go to satisfy your acai and grain bowl cravings. Their Baked Salmon Mentaiko & Soba ($14.90) is one of their more popular menu items, and it consists of a baked salmon fillet slathered luxuriously with mentaiko mayo, then served with soba noodles and refreshing greens such as purple cabbage slaw and charred corn.
If you're an acai fan like me, do get their Nut Butter & Acai Bowl ($12.90), which features organic acai, crunchy granola, banana, and various toppings, all drizzled with addictive almond butter.
The stall offers island-wide delivery with a minimum order of $45, and the delivery fee varies according to locations. For orders above $80, $90, or $100 depending on location, the delivery fee will be waived.
Haakon Superfoods and Juices order form
---
10. Eat Fit Meal Prep

---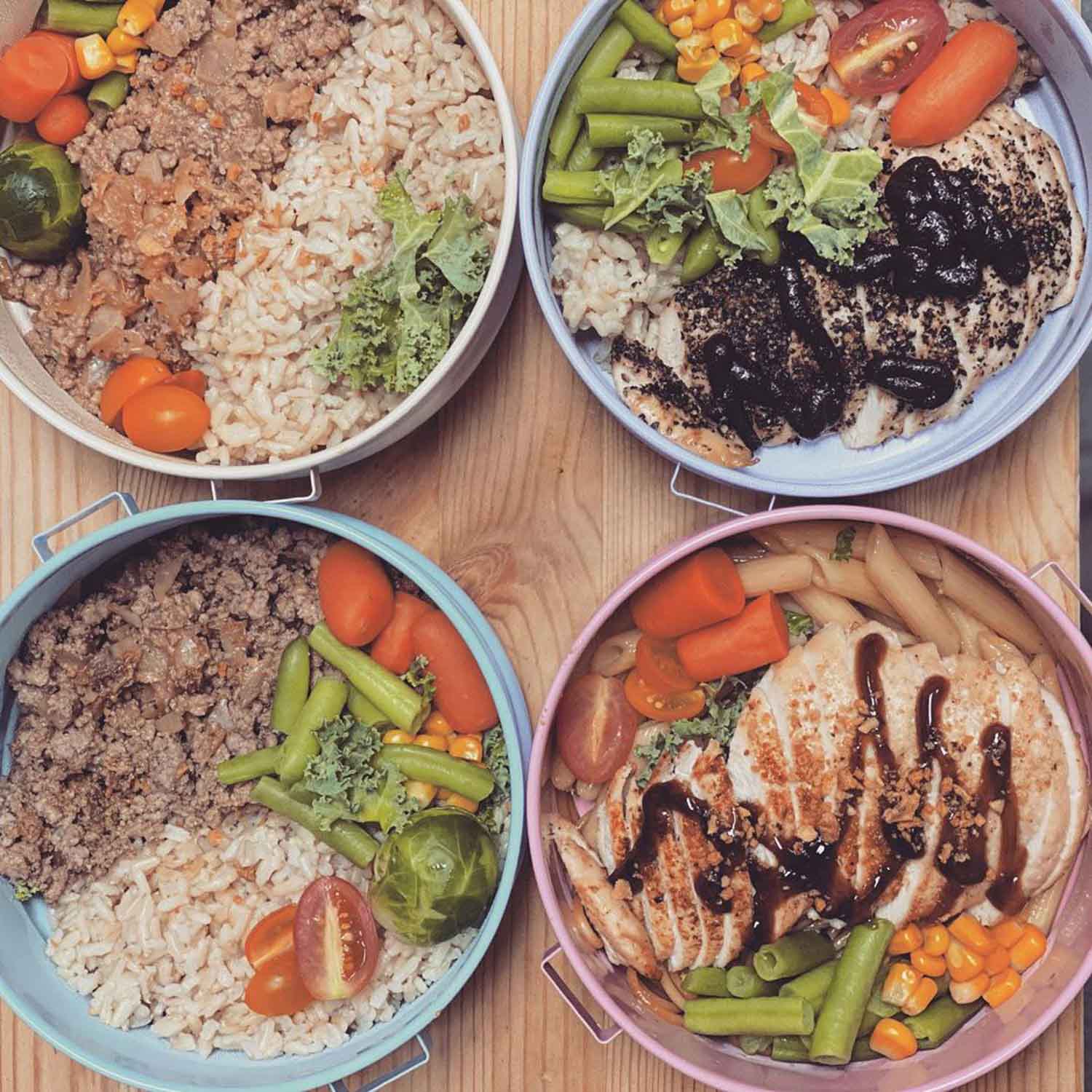 Image credit: @eatfitsg
Health junkies will rejoice at Eat Fit Meal Prep's deliciously constructed meals. Do get a taste of their Chicken Pesto Penne ($11.30), where lean but tender cuts of chicken breast are zhnged up with tasty pesto, then served on a warm bed of sesame-flavoured penne. Their Black Pepper New Zealand Ribeye ($13.90) is another of their hot favourites, and it features succulent ribeye steak in a beautiful black pepper glaze.
There's a minimum order of $60 with a flat $7.90 island-wide delivery fee. This fee is waived for orders above $150.  
---
11. Lean Bento

---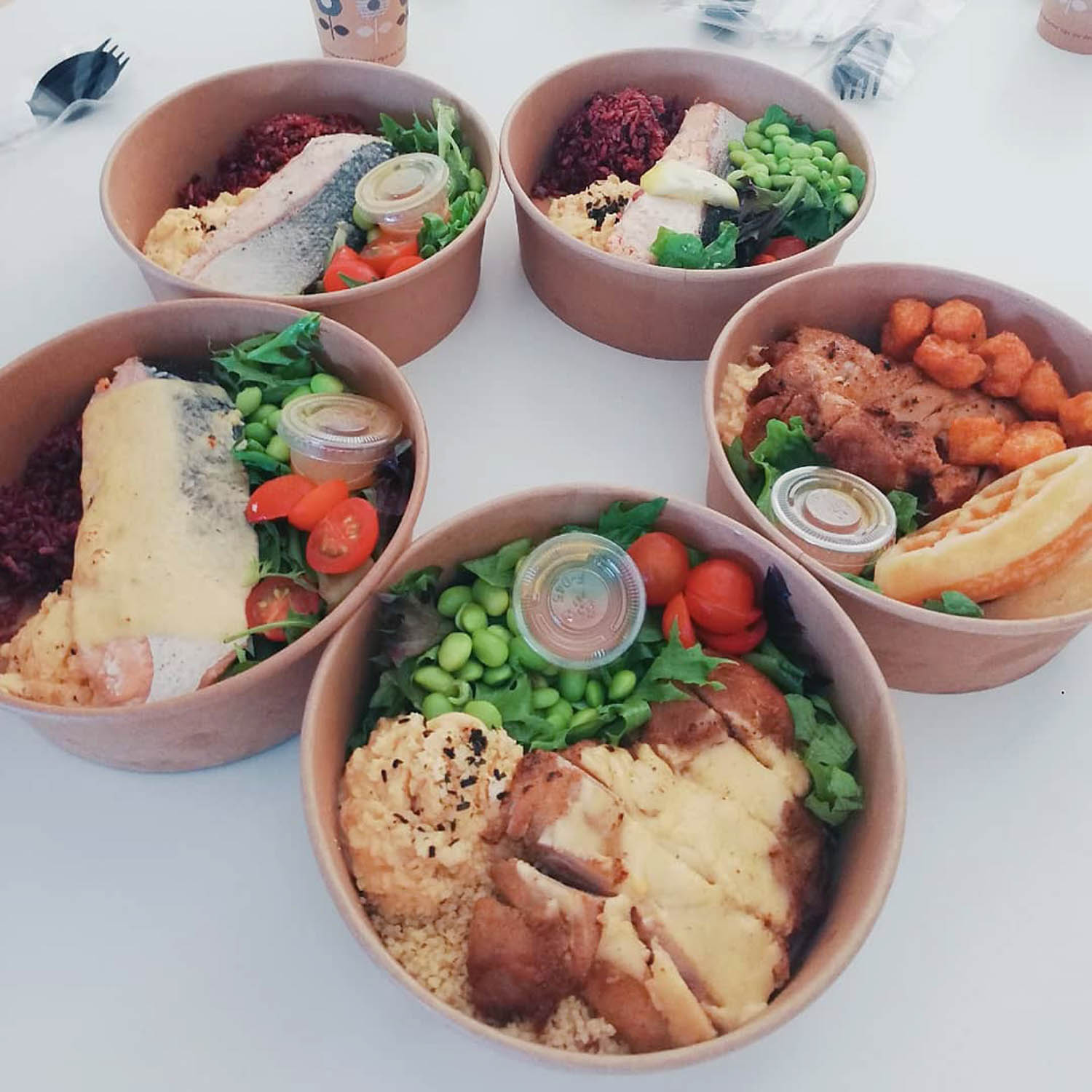 Image credit: @parfait.sg
With Lean Bento, eating healthy will never be a chore. Their halal Bento Boxes (from $9.90) can be filled with a wide range of quality ingredients such as honey chicken, miso salmon, and herb crust chicken. The minimum order for islandwide delivery is $25, and for orders above $120, they'll qualify for a subsidy of their delivery fees of up to $20 islandwide.
---
12. Cedele

---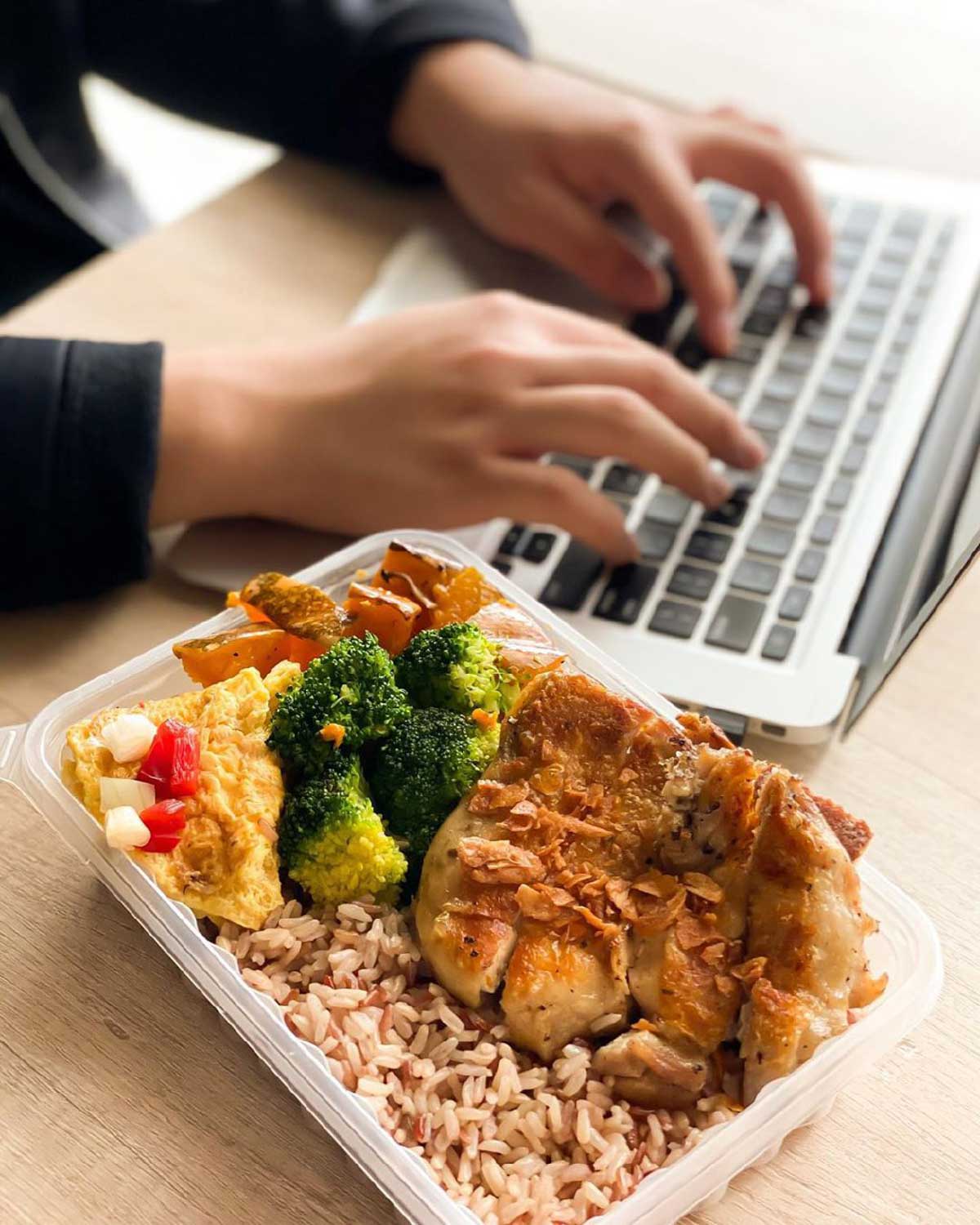 Image credit: @cedelesingapore
"Eat Well Be Well" is Cedele's slogan, and for good reason. They serve a wide variety of healthy food for your work-from-home lunches, such as their Basil Pesto Chicken Thins ($8.50) and Salmon Grain Bowl ($16). There's a minimum order of $30, with a flat $12 island-wide delivery fee. This fee is waived for orders above $60. 
---
13. Nutrify Meals

---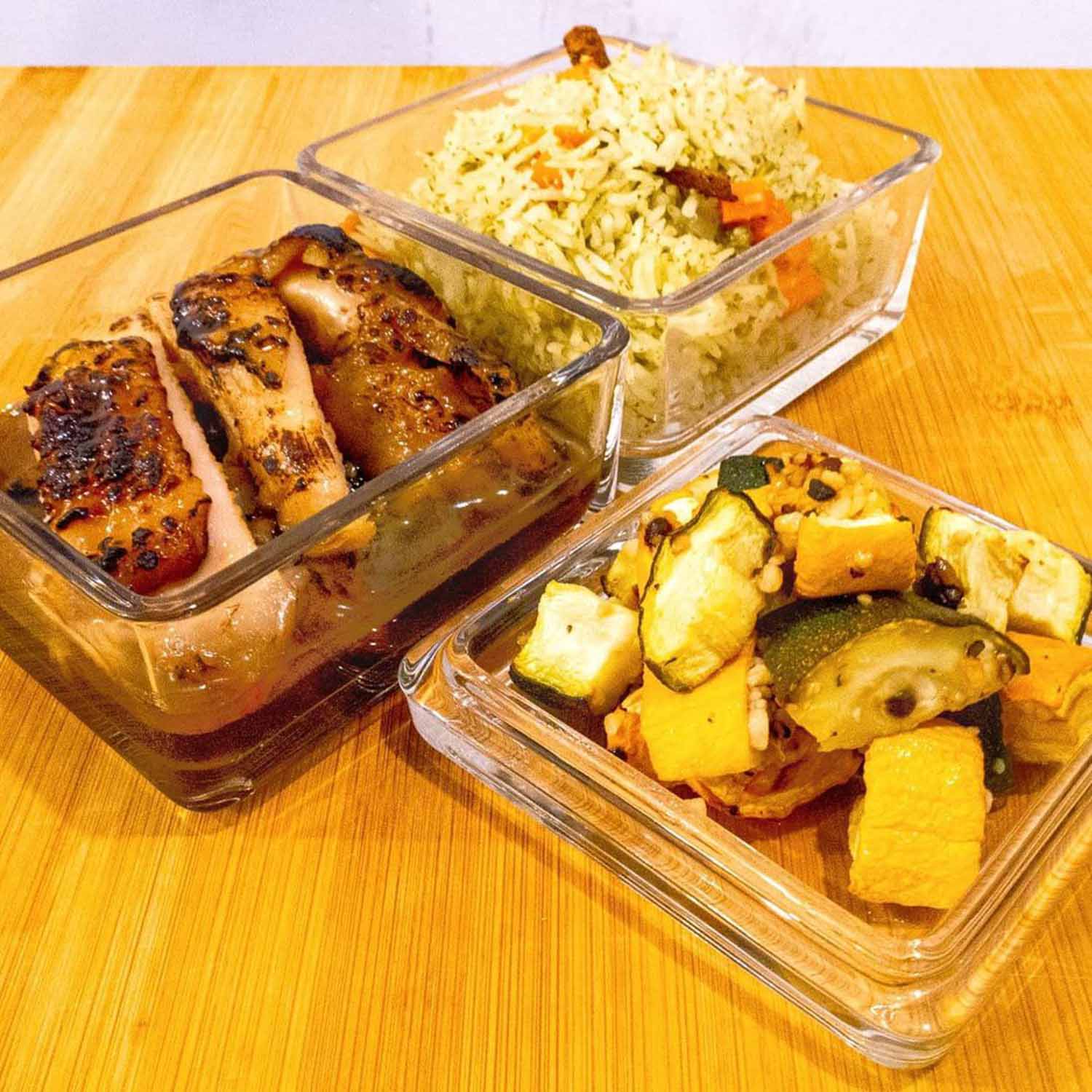 Image credit: @nutrifymeals
Aimed at gym-goers and fitness junkies, Nutrify Meals delivers tasty yet nutritious food right to your doorstep. Taking into account every body type, diet, and what your goals are, they use accurate macro calculators to provide the healthiest meals to active sportsmen. Their more popular items are the Grilled Flank Steak With Garlic Butter ($12.20) and Baked Sesame Crusted Salmon ($13.20). 
There is no minimum order, and you can order up to seven days worth of meals. For orders below $100, there is a delivery fee of $7. For orders between $100 and $150, a delivery fee of $5 would be charged. This fee is waived for orders of $150 and above. 
---
14. Wheat Baumkuchen

---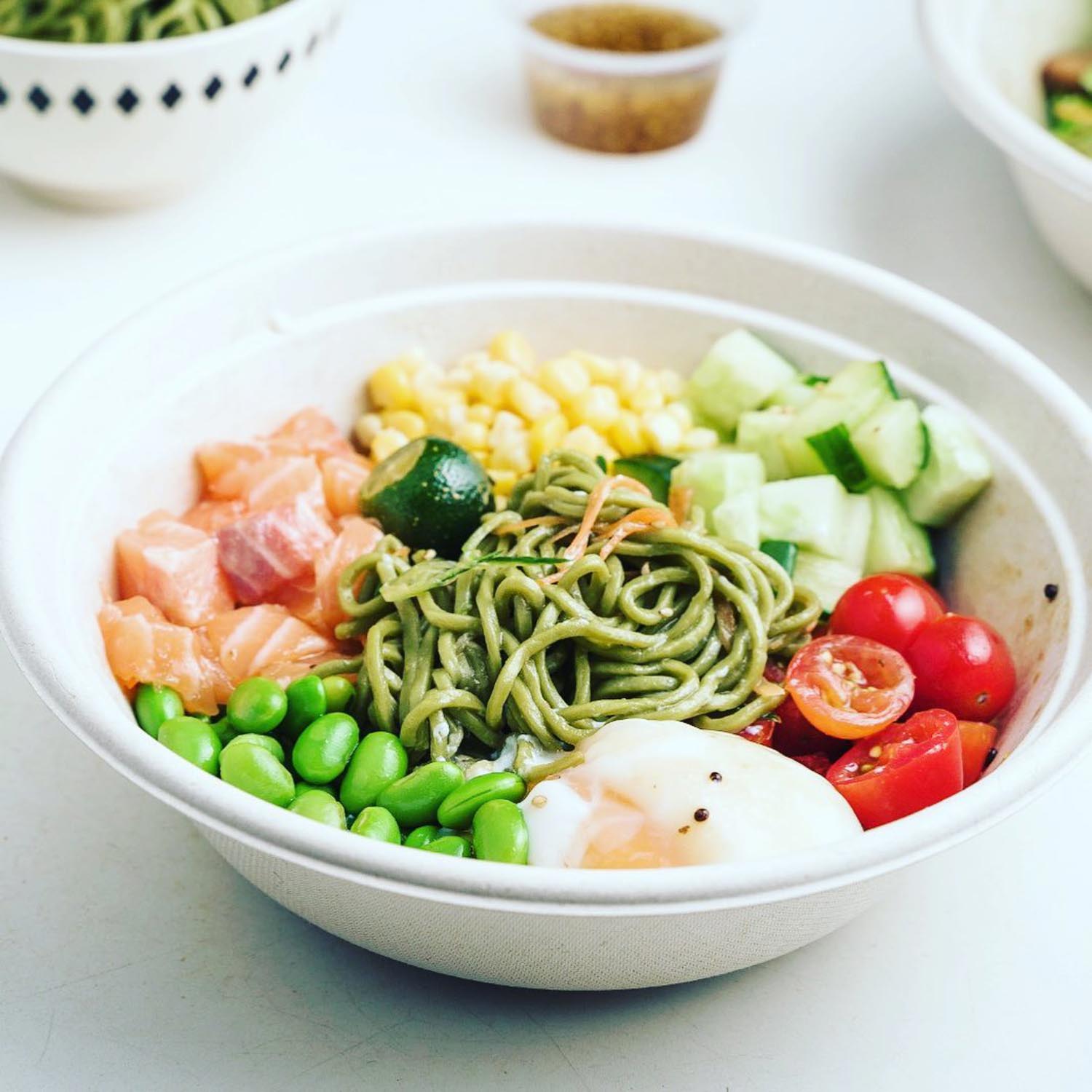 Image credit: @wheatbaumkuchen
Choose from a good selection of healthy bowls, soba, and noodles at Wheat Baumkuchen. Do get a taste of their Teriyaki Chicken Soba ($10), where light green soba is topped with tender grilled teriyaki chicken. Their Salmon Poke Rice ($12) is another toothsome dish. Red rice is served with salmon sashimi cubes, cucumbers, tomatoes, corn, and edamame. 
For them, there's a minimum order of $15 with a flat $5 islandwide delivery fee. Delivery can also be done through other service providers such as Grabfood, Deliveroo, and Foodpanda among others.
---
15. Yakiniku Warrior
---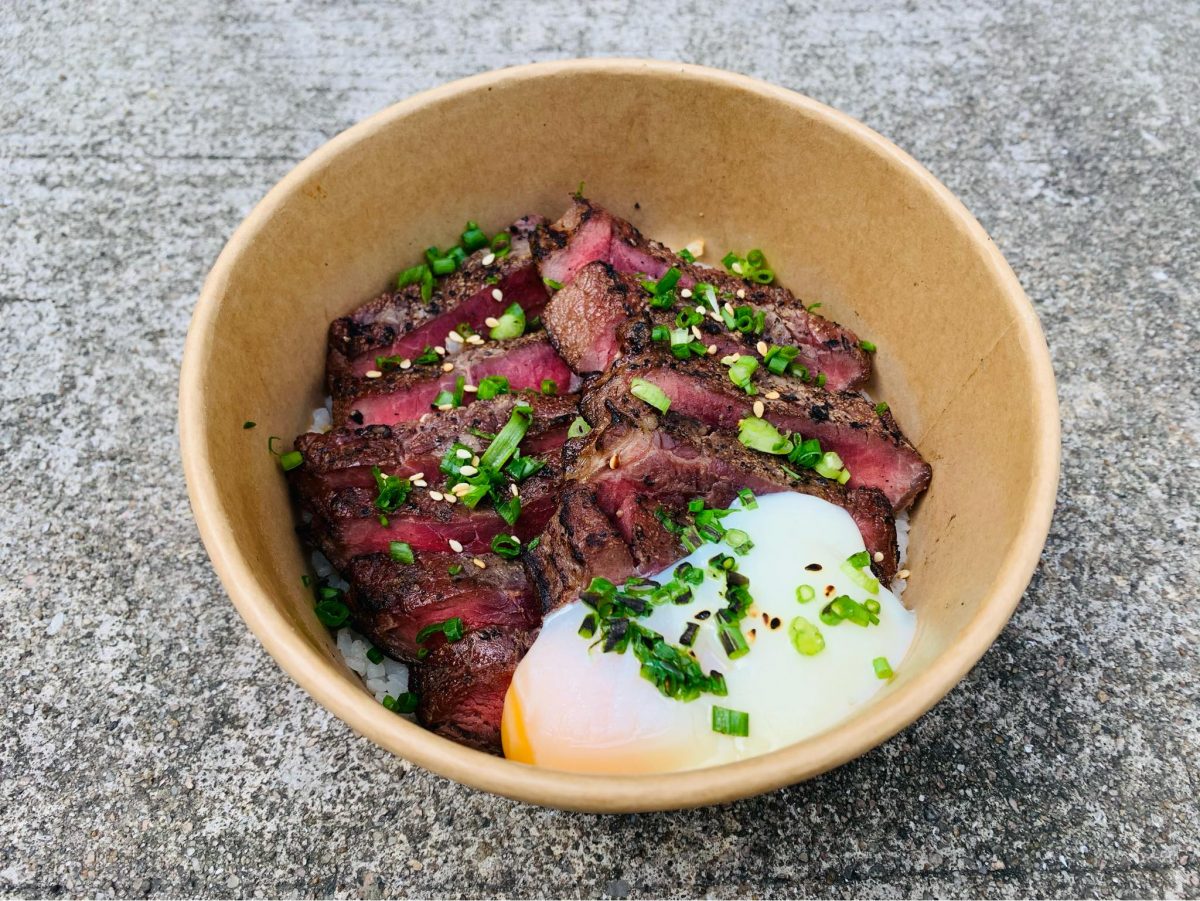 Image credit: Yakiniku Warrior
If their name sounds familiar, it probably is. Yakiniku Warrior happens to be the first yakiniku in a coffee shop concept in Singapore, and now they're extending their expertise into quality protein-rich rice bowls, other than just their barbecue meat platters. 
Their Chicken Don ($6) is an inexpensive option, considering how it includes 100 grams of goodness available in either garlic or citrus shoyu sauce. If you're looking for a little splurge, try the Wagyu Don ($17), which comes with 120g of beef to satisfy your cravings.
With a minimum order of $50, you'll then qualify for their islandwide delivery service, with an additional $5 to $15 depending on location.
Drop them a DM on Instagram to place an order!
Yakiniku Warrior Review: Singapore's First Yakiniku In A Coffee Shop Has Barbecue Meat Platters From $6
---
16. Porcelain Cafe
---

Situated in Paragon mall, Porcelain Cafe is another venture by local plant-based superfood distributor, Gratefood Co, that sells smoothie bowls and acai bowls among others. Look forward to IG-worthy acai creations such as the Yochia ($11.90), which include ingredients such as coconut yoghurt, chocolate chia pudding, banana, pitaya, and maple granola. 
Alternatively, they have smoothies with interesting flavours, such as the Speculoos Spice ($9.90), using organic acai pulp, Speculoos paste, and organic turmeric powder among others. For their food, there will be a flat delivery fee of $5 as long as you schedule your delivery within their daily postal code delivery schedule, with free delivery for orders above $70.
For any orders outside of their delivery schedule, a fee ranging from $10 to $25 will be required, depending on time and location too.
Check out our Porcelain Cafe review!
Porcelain Cafe Review: IG-Worthy Unicorn And Galaxy Smoothie Acai Bowls In Orchard
---
17. Rice Bowl Boys
---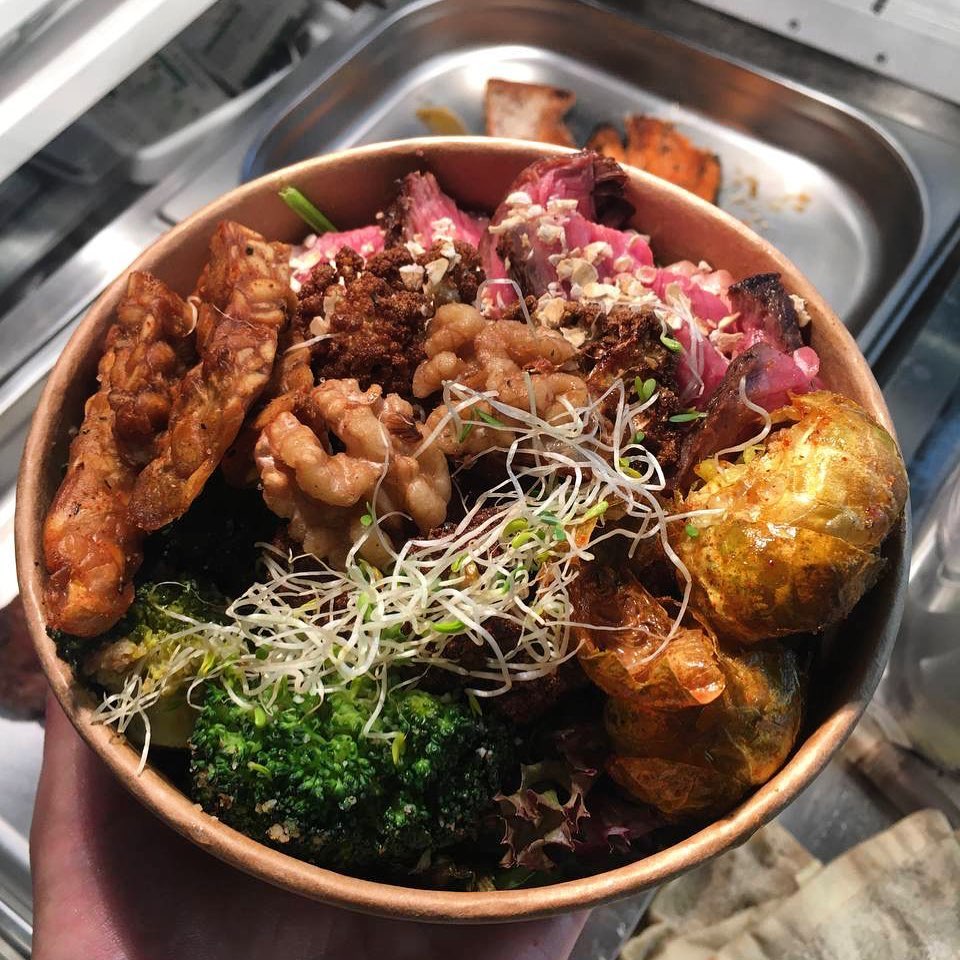 Image credit: @ricebowlboys
As their namesake suggests, they sell rice bowls. Not just any normal rice bowls though, Rice Bowl Boys have hearty and affordable grain bowls that they proudly proclaim are "bougie on a dime". Located in Chinatown Complex Market and Food Centre, we'd recommend the Side Chick (starting from $7) that comes with rice pilaf, house marinated chicken, smoked enoki mushrooms, and poached apple wasabi sauce among others. 
There are customisable grain bowl options too with a whole multitude of ingredients to choose from, available for $7 and $9 for lite and regular-sized bowls respectively. Unfortunately, for the time being, delivery services are only accessible to those staying within three kilometers of Chinatown Food Complex, via GrabFood, Deliveroo, and WhyQ.
Rice Bowl Boys Grabfood order form
---
18. Overrice
---

Touted as SG's very own version of The Halal Guys in New York, Overrice serves mostly Mediterranean fare, in the form of halal rice bowls, falafels, and even banana pudding at their sole outlet at Arab Street. Try out their signatures, including the Pulled Beef Bowl ($13.70) which constitutes slow-cooked pulled beef served over seasoned basmati rice, baked pita bread and mixed salad too.
Other than their mains, the sides are worth considering too, with the plant-based Falafel Bites ($8.40) or even Buffalo Chicken ($8.40) if you especially love chicken drumlets. Delivery for them can be arranged with the eatery itself or through services such as GrabFood and Pick&Go.
Read our Overrice review.
Overrice Review: Pulled Beef Rice Bowls, Falafel Pockets And More At SG's Version Of The Halal Guys
---
19. Unagi VS Salmon
---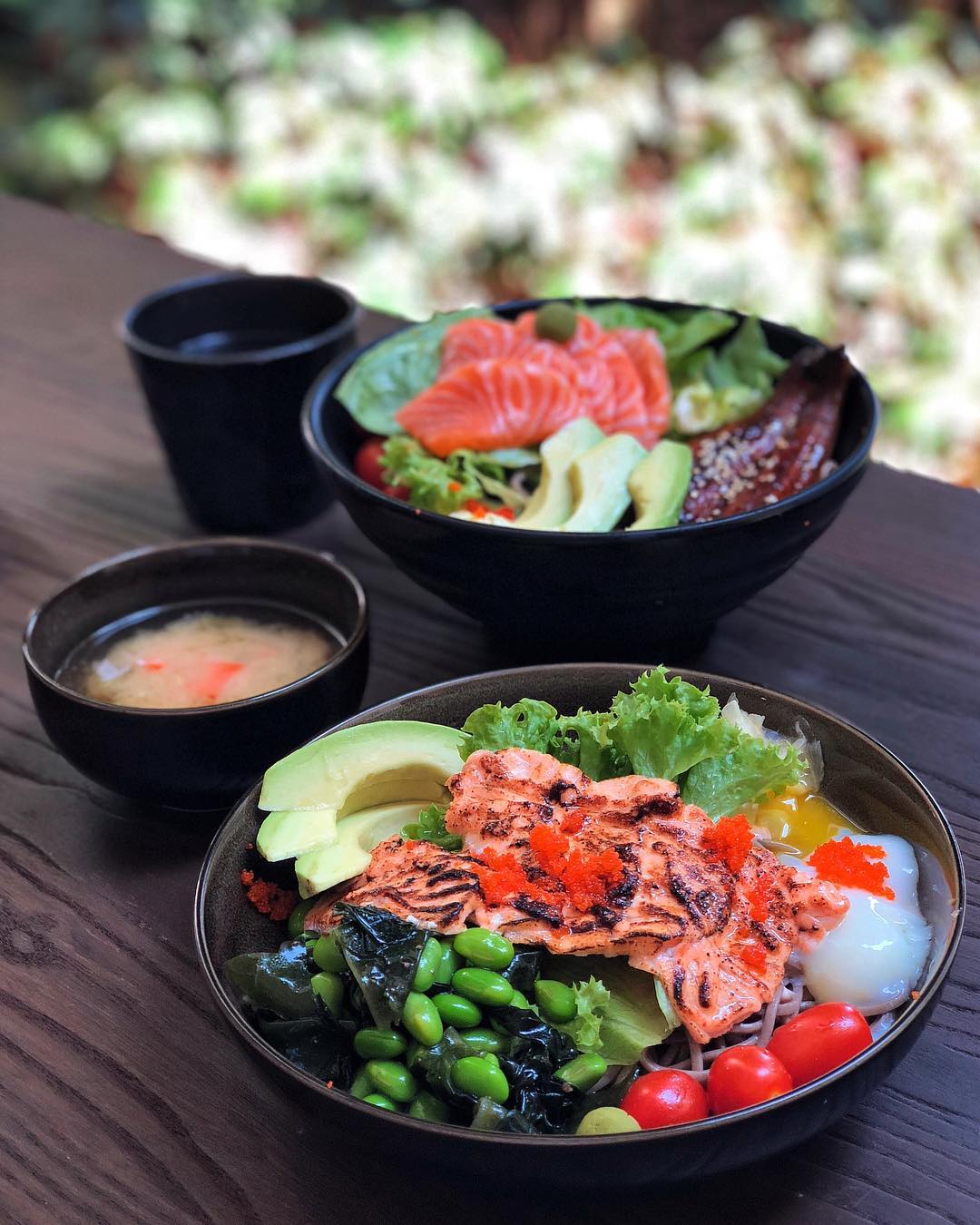 Image credit: @yanfoodography
To my fellow lovers of Japanese food, rest assured that there's always something in store for us, even in healthy food. Unagi VS Salmon has a variety of rice, soba, and veggie bowls featuring salmon done sashimi-style or cooked, together with unagi as base proteins. Their bowls start from $10.90, with favourites such as Salmon Sashimi Ikura or Black Pepper Teriyaki Salmon standing out among others. 
If you want the best of both worlds, opt for the Unagi VS Salmon Bowl ($16.90) instead to satisfy your unagi craving as well. For this eatery, it'll be good for you to order in groups, as they require a minimum order of $50 for all deliveries, together with a flat delivery fee of $10 islandwide. However, your delivery fees will be completely waived for orders of $100 and above.
---
20. Yummy Bros
---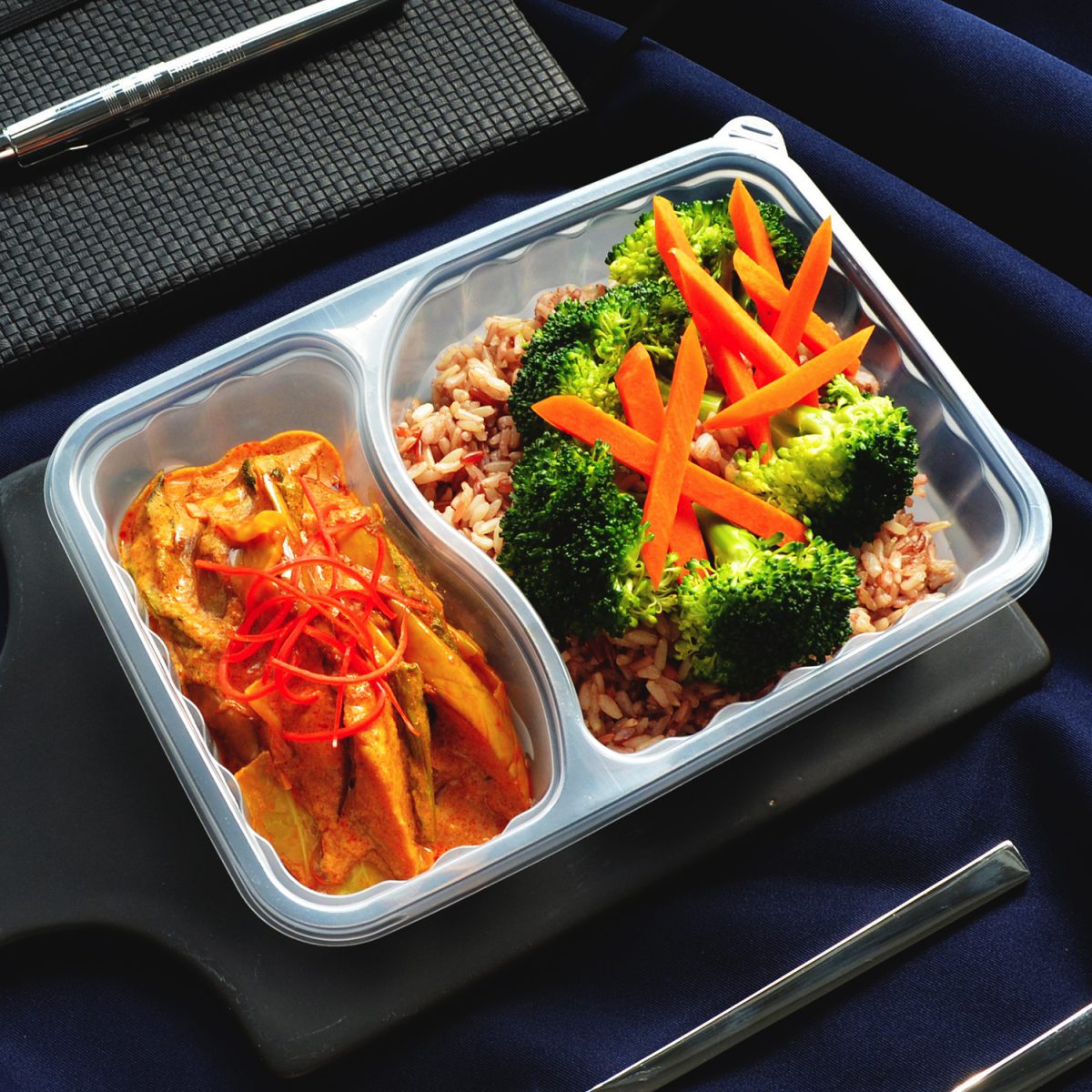 Image credit: Yummy Bros
For those who want to enjoy the wonders of local Asian cuisine minus the guilt, Yummy Bros have the right solution for you, delivering meals prepared with healthy and nutritious ingredients, especially ideal for gym junkies. Influences from hawker favourites can be found in their Yummy Chicken Rice ($11.90) and Yummy Kopi Chicken ($9.10). 
Otherwise, try out the Yummy Chicken Bulgogi ($8.50) or Yummy Chicken Panggang ($8.10) for a taste of regional culinary influences. Their islandwide delivery fees vary depending on the amount spent, with the highest being $9 if you order below $30 and the lowest being $3.50 for orders above $50.
---
Get healthy food delivered to you

---
I can foresee Singaporeans, including myself, rushing to dine at their favourite restaurants, feasting on all the delicious food once this pandemic has stabilised. Since we'll be gaining a few extra pounds in the process, I say we take constructive steps to eat clean now, to gear up for the onslaught of post-pandemic feasting. In the meantime, stay safe and healthy everyone. 
Rice Cooker Oyakodon Recipe: Easy And Tasty Japanese Donburi Made With A Rice Cooker
If your meals seem monotonous, check out our Rice Cooker Oyakodon recipe and Rice Cooker Mentaiko Mac And Cheese recipe to spice your stay-home meals.
This article was originally written on 24 April 2020.
The post 20 Healthy Food Delivery Services, For Mentaiko Poke Bowls, Acai And More appeared first on EatBook.sg – New Singapore Restaurant and Street Food Ideas & Recommendations.