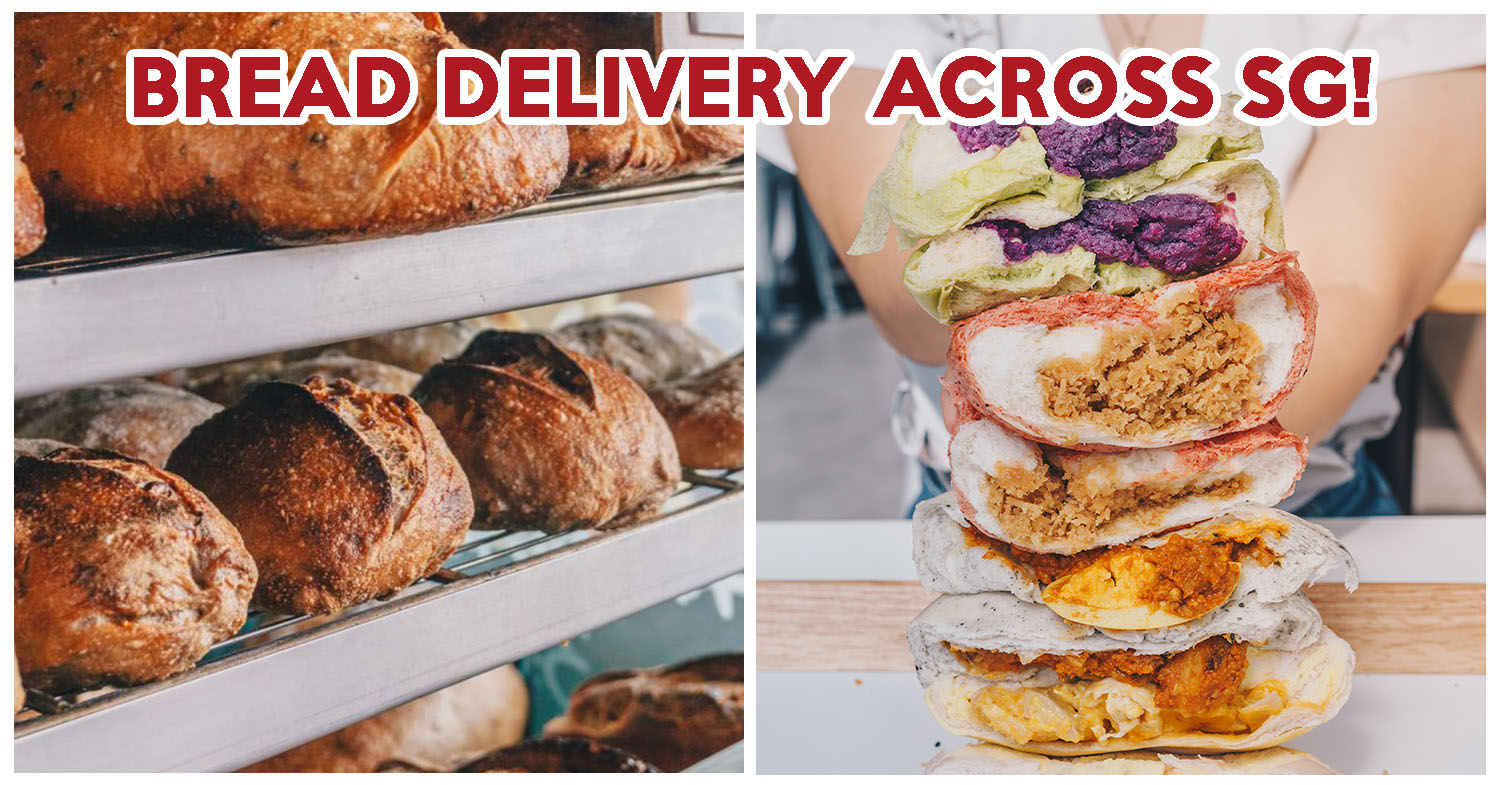 ---
Bread delivery services
---
If there's one thing I really crave while staying at home, it's bread. Yes, I can still easily get processed white bread from supermarkets, but I miss freshly baked sourdough and the soft bread buns that are only available at neighbourhood bakeries. Hence, I've collated a list of bakeries that offer delivery across the island, so all my fellow bread lovers can continue feasting without stepping out of the house.
---
1. Breadstory
---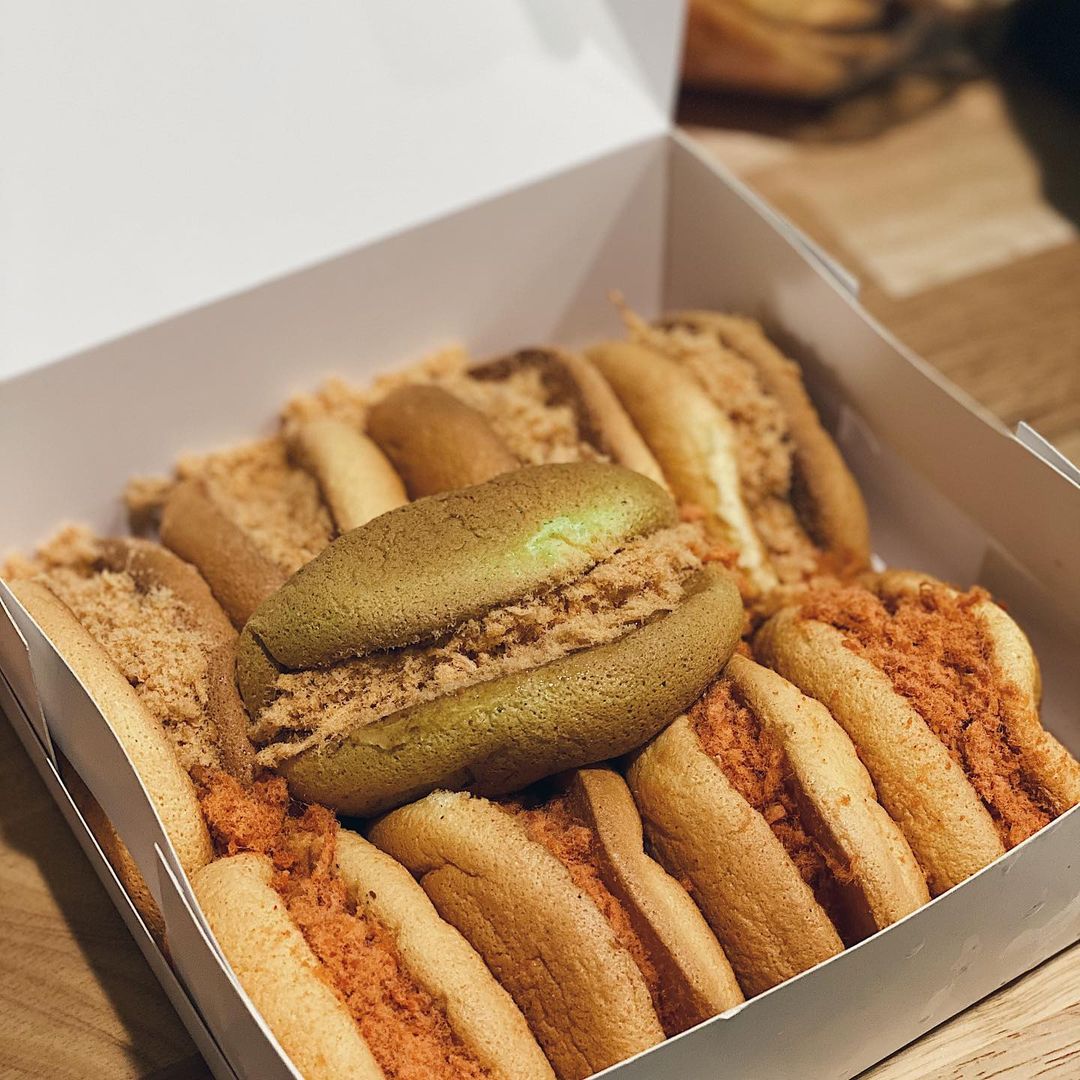 Image credit: @pogpogpog
Breadstory is your typical neighbourhood bakery, with buns ranging from $0.80 to $2.10. They're most famous for their Legendary UFO ($1.20), which sees a chiffon-like sponge filled with chicken floss, and a house-made mayonnaise. There's a $0.10 top up if you prefer a pandan bun, and you can choose between spicy, and non-spicy chicken floss. Tarts, kueh, and cakes are available as well.
Islandwide delivery is charged at $8, and there's no minimum order required.
---
2. Sweetlands Bread & Bakery
---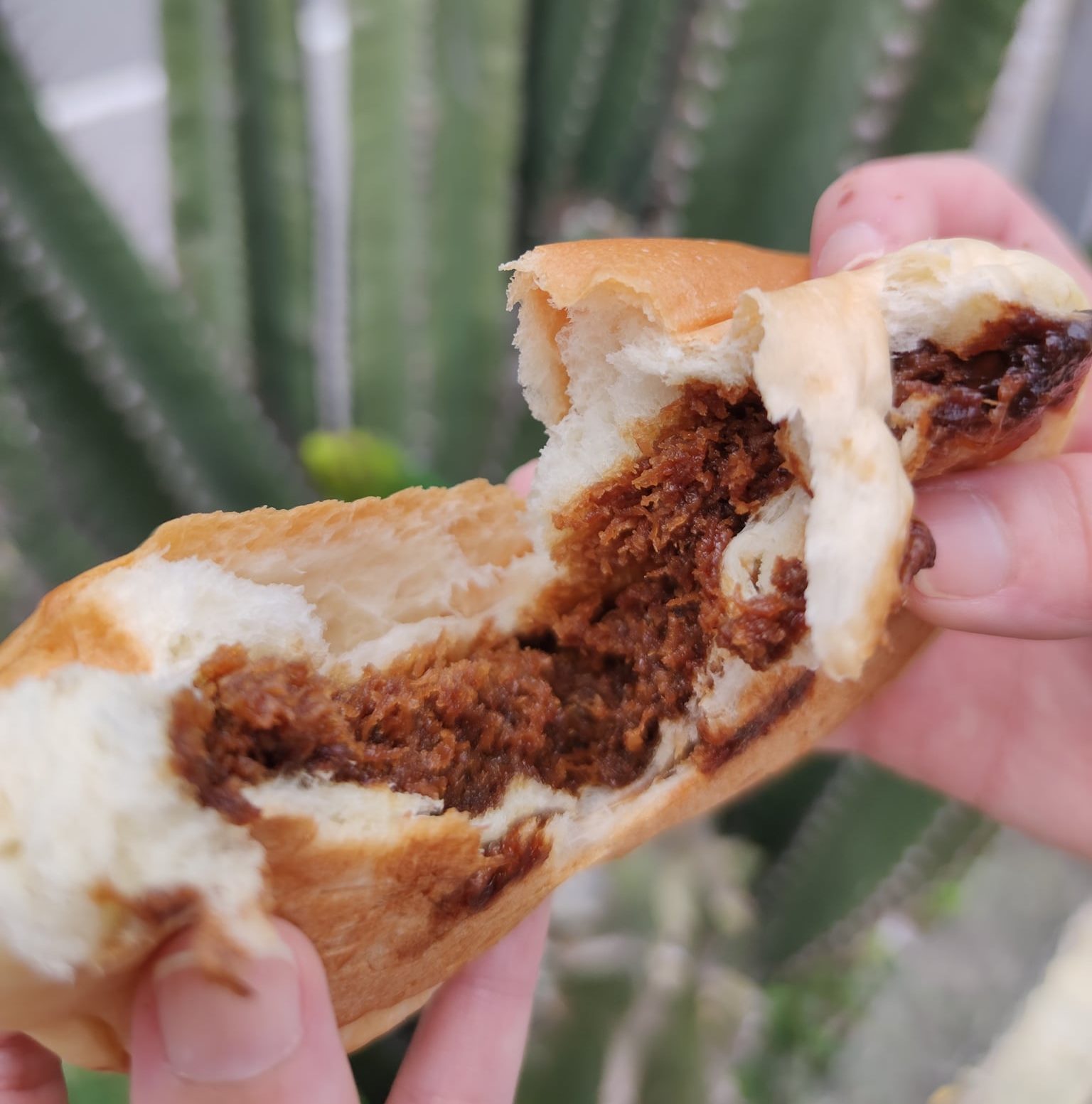 Image credit: Sweetlands Bread & Bakery
This old-school bakery offers a range of buns and traditional loaves, with prices ranging from $1.20 to $2.40. Their loaves come in a few varieties, including Rainbow Traditional and Brown Sugar Traditional.
Delivery is free for orders above $30. You may place your orders on the phone, or via WhatsApp at 8951 4887. Drop them a message to see the full menu!
Watch us try the bread from Sweetlands Bread & Bakery!
---
3. Thai Baang
---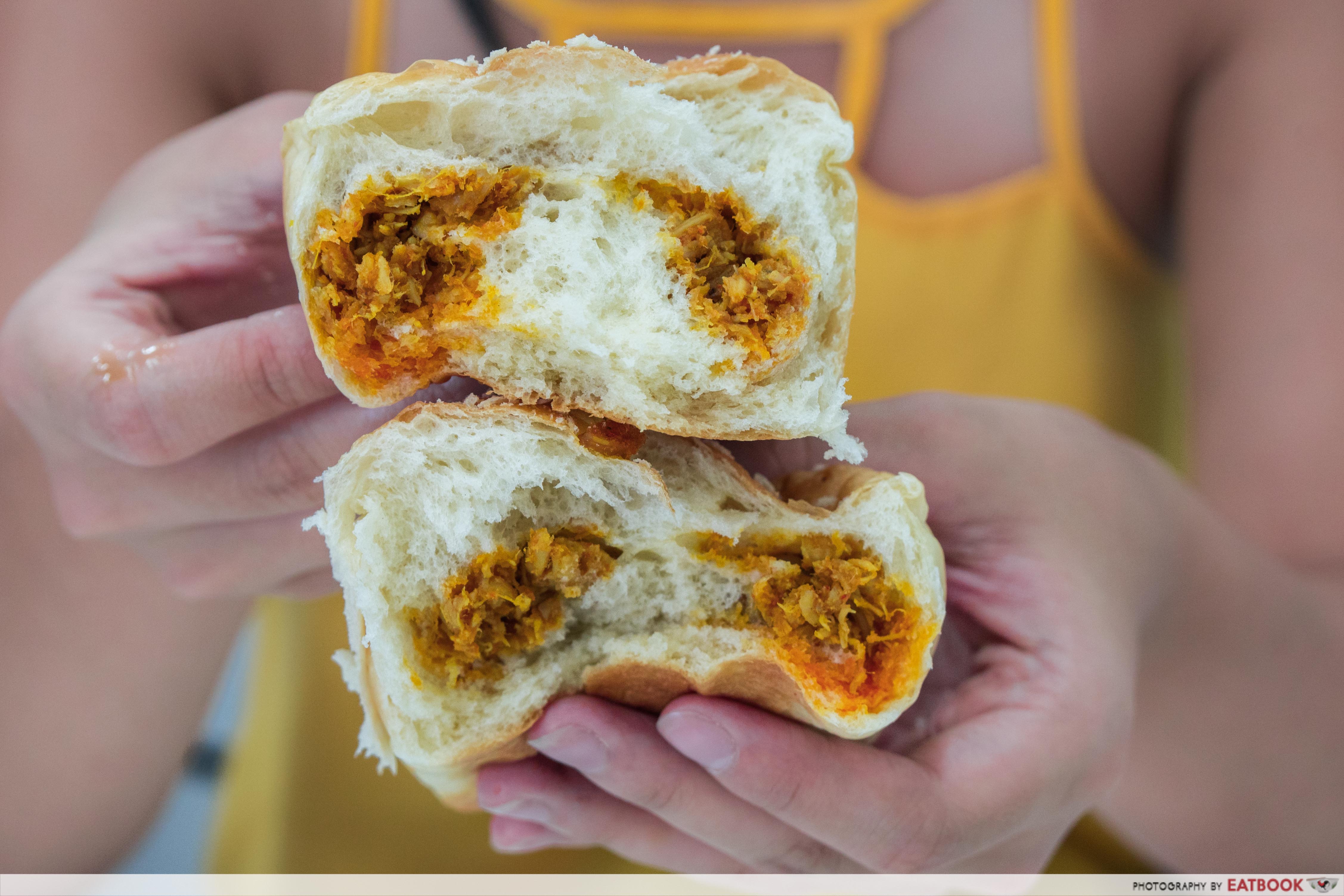 The first thing that'll strike your attention is the metal tin that encases every bread bun at Thai Baang. Each bread bun is pillowy soft, and hides a generous amount of filling within it. You'll find a wide variety of these metal tin breads, along with cakes and soft loaves, available on their website. Try the Tomyam Chicken ($2), or the Thai Tea Milk Bun With Butter Sugar ($2.30) for bread with Thai flavours.
There's a minimum order of $40 required for delivery, which is charged at $10. Free delivery is available with a purchase of $150, so you could consider sharing with your neighbours or friends!
Thai Baang: First Thai Bread Bakery In Singapore Beside Lavender MRT Station
---
4. Just Dough
---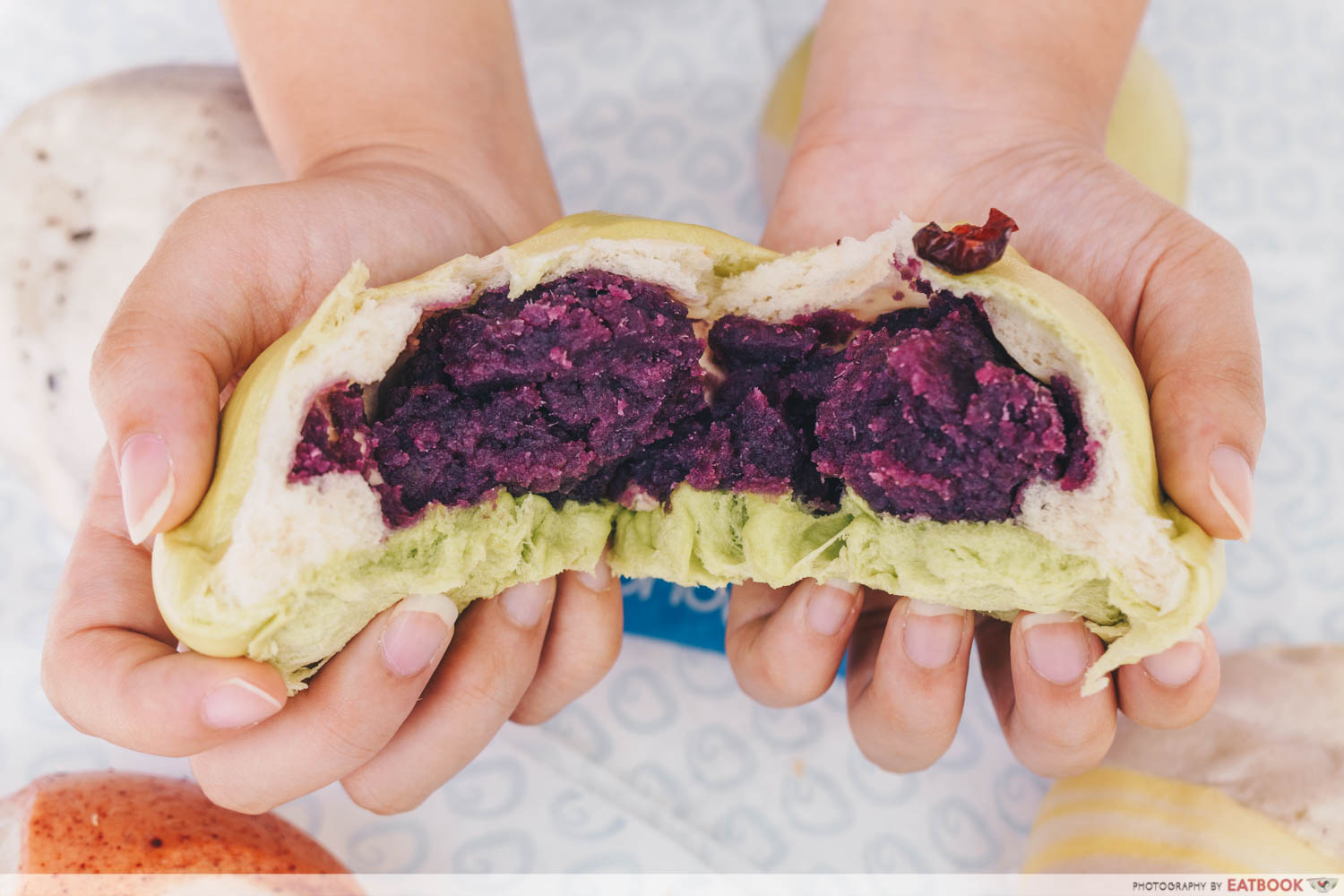 Just Dough's colourful buns taste as good as they look. They've got flavours such as Purple Sweet Potato ($2.10), Banana Choc ($1.80), and Wolfberry & Longan ($2). Their prices are slightly higher than at neighbourhood bakeries, but the prices are justified by the ingredients they use. Only natural ingredients are used to colour the buns, and you'll find plenty of fillings in each fluffy bun.
A minimum order of $30 applies for deliveries, and delivery charges range from $5 to $12 depending on your address. Delivery is free for orders above $300. Place your orders via WhatsApp at 9118 1440 a day in advance, or two if you're buying in bulk.
Check out the delivery menu here!
Just Dough Review: Cheap And IG-Worthy Steamed Buns With Generous Fillings At Suntec City
---
5. Jo-Yi Bakery
---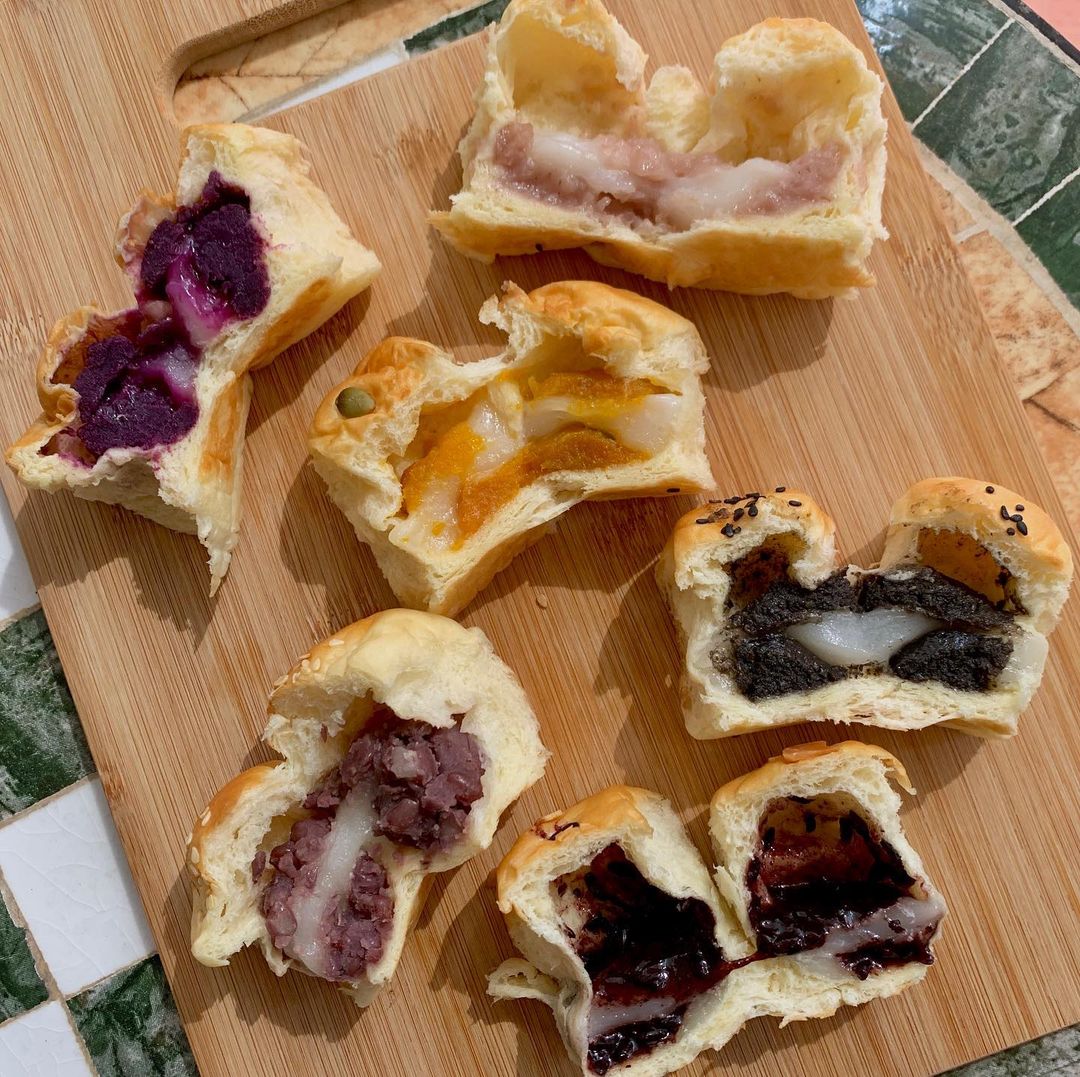 Image credit: @imbreadytoeat
Get Taiwanese-inspired, mochi-filled buns from Jo-Yi Bakery, home-based bakers who now have a physical store at HillV2. They're still taking orders for their Bundle Box ($25.40), which come with a selection of 11 to 12 generously sized bun-loaves in assorted flavours with mochi fillings, such as Black Glutinous Rice, and Purple Sweet Potato, and non-mochi variants including Kaya Peanut Butter. The assortment changes each week, so check out their Instagram page for the latest.
Delivery is free for orders above $50. For orders under $20, delivery is priced at $8. For orders above $20, delivery is priced at $5 a location. Drop them a DM on their Instagram to place your order.
---
6. Paris Baguette
---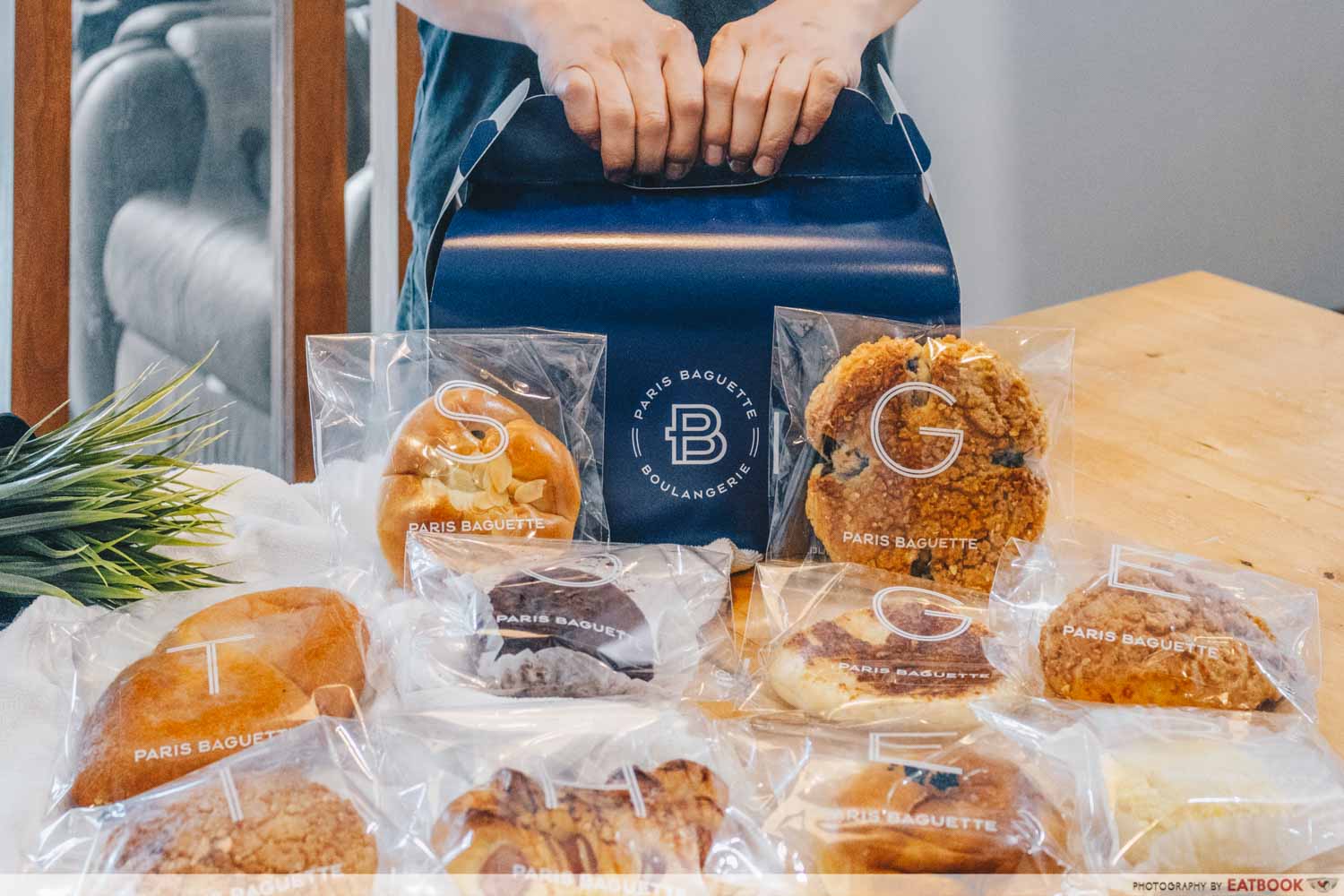 Fans of K-dramas will recognise Paris Baguette, which hails from Korea, and features in many a show. There are combo sets to choose from, including a Choco Pastry Bundle ($10) which gets you your choice of three chocolate pastries. Otherwise, make a set of any five soft buns for $12, or 10 for $22. Besides the buns and pastries, PB's selection of cakes, sandwiches, and tarts are available too.
At selected outlets, enjoy $4 off your delivery fee with a minimum order of $48 from now till 8 June 2021.
Order from Paris Baguette here!
---
7. BreadTalk
---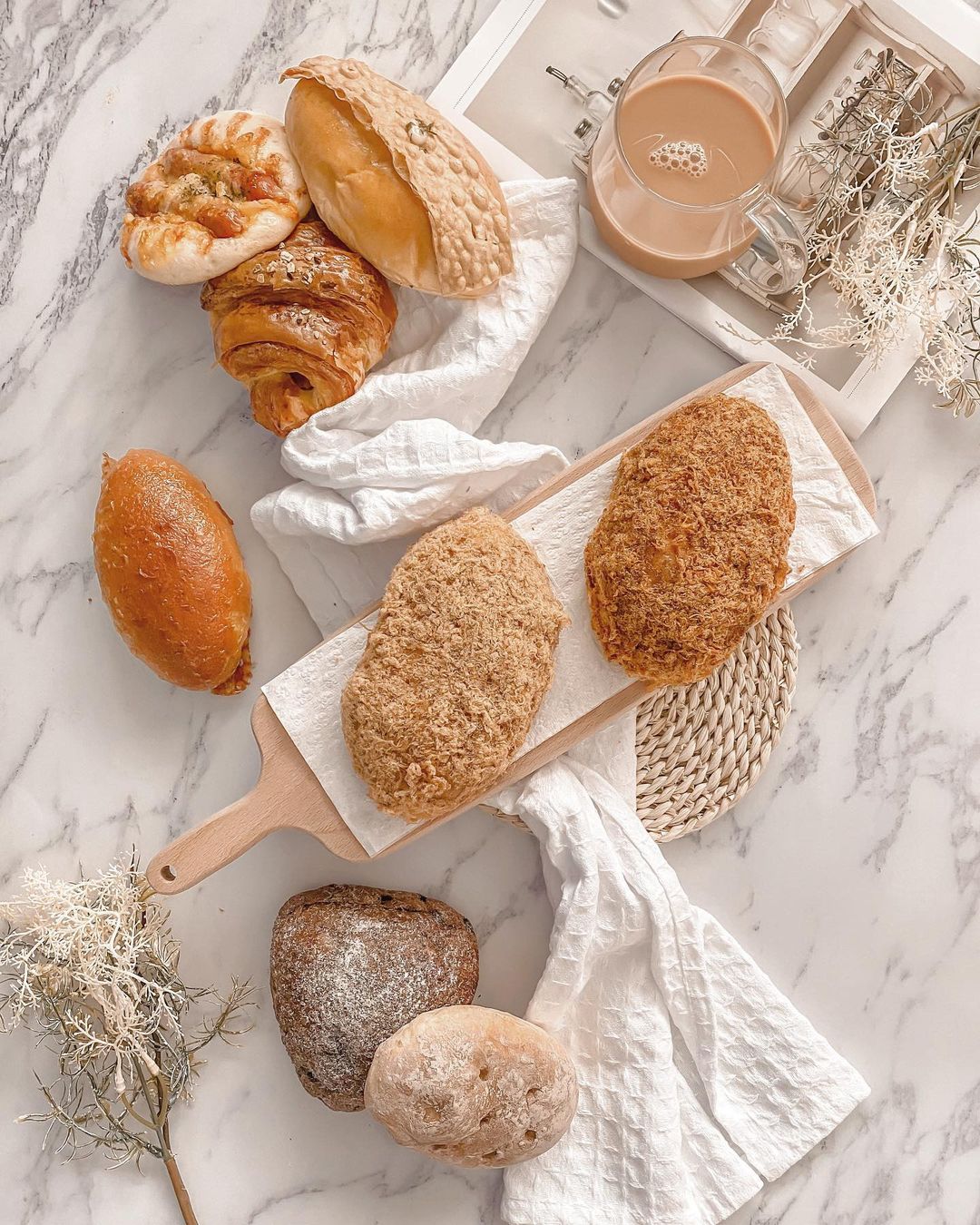 Image credit: @winnie.loves
BreadTalk needs no further introduction, and if you can't do without your Flosss buns, they've got you covered. The Flosss Lovers Bundle ($12.20) gets you six Flosss buns. You can choose to have them all spicy, all regular, or get three each. The various bundles available on the delivery page covers all the bases, including full loaves, house-made soya milk, and cakes.
Delivery is charged at a flat rate of $7, with no minimum order required.
---
8. DJ Bakery
---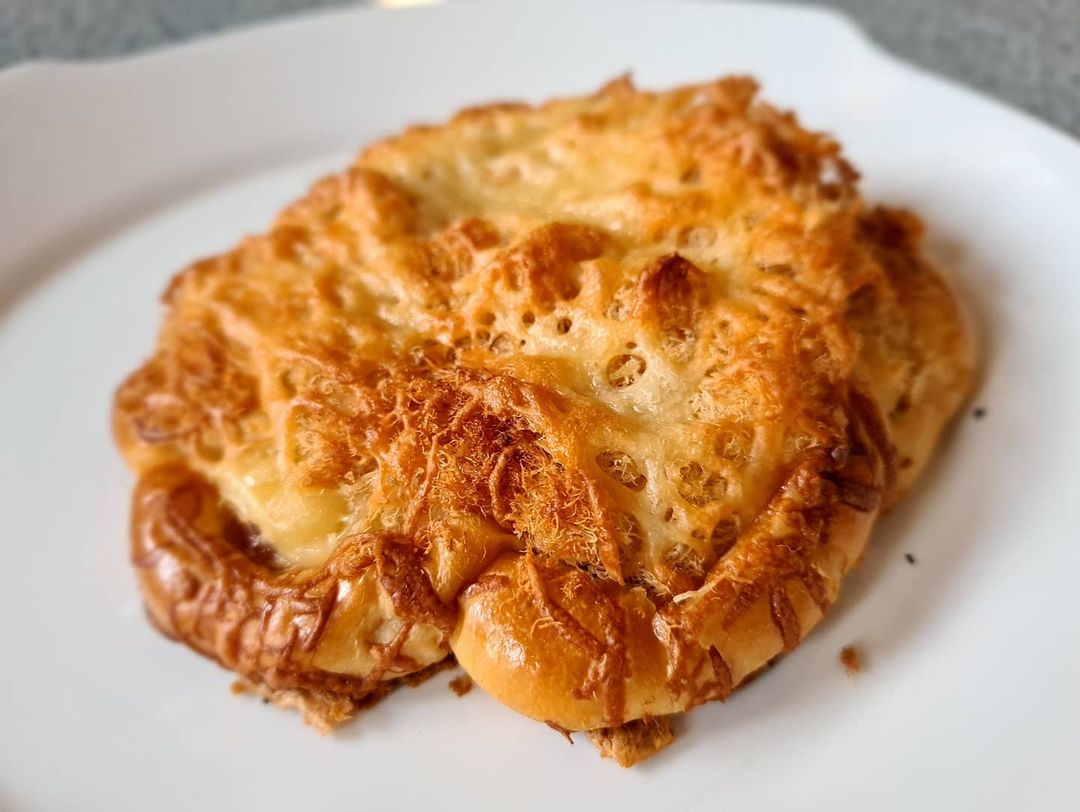 Image credit: @thebreadnerd
What started out as a two-man operation in Yishun, back in 2002, is now a chain bakery 18 branches strong. DJ Bakery has won fans with their renditions of classic, old school buns. A bestselling option is the Spiderweb ($1.60), a medley of chicken sausage, chicken floss, cheese, and mayonnaise. For a sweet bun, the Red Beanie Bun ($1.50) is chock full of red bean paste, made less sweet for maximum enjoyment.
In light of the current P2HA situation, delivery is free with a minimum order of $45. For orders less than $45, a delivery fee of $8 is charged.
---
9. Loti Roti
---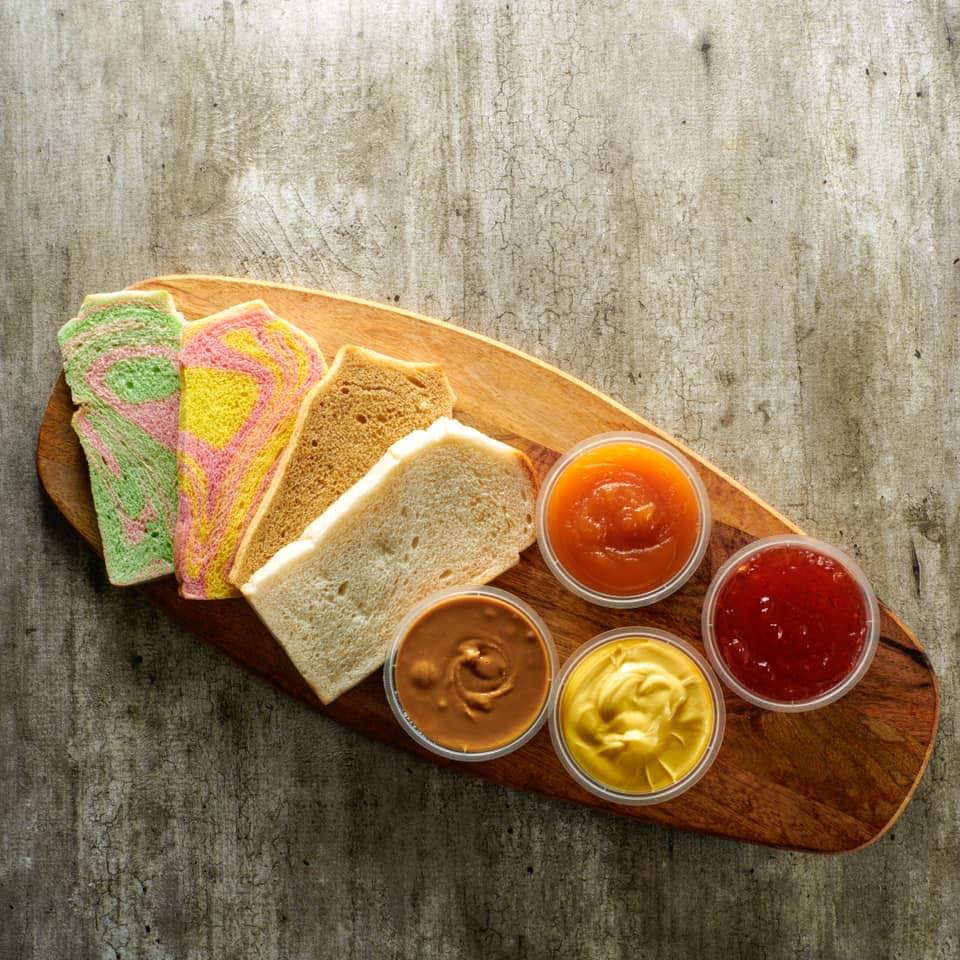 Image credit: Loti Roti
Loti Roti has been churning out traditional bread and spreads, made without preservatives, since 1988. They've now gone digital, so that you can enjoy these old school rainbow bread loaves without hunting down these bakeries. Besides the Rainbow Hainanese Traditional Loaf ($2.20) in either pink and yellow, or pink and green, there's the Original Hainanese Traditional Loaf ($2.20), Original Sweet Bun ($2.40), and Sugar Braid ($2). If you're looking for buns, they've got them too, in the form of Curry Potato Bun ($1.80), Sambal Shrimp Bun ($1.80), and more.
There is a minimum order of $8 for bread delivery from Loti Roti, which is charged at $1.99.
---
10. Micro Bakery & Kitchen
---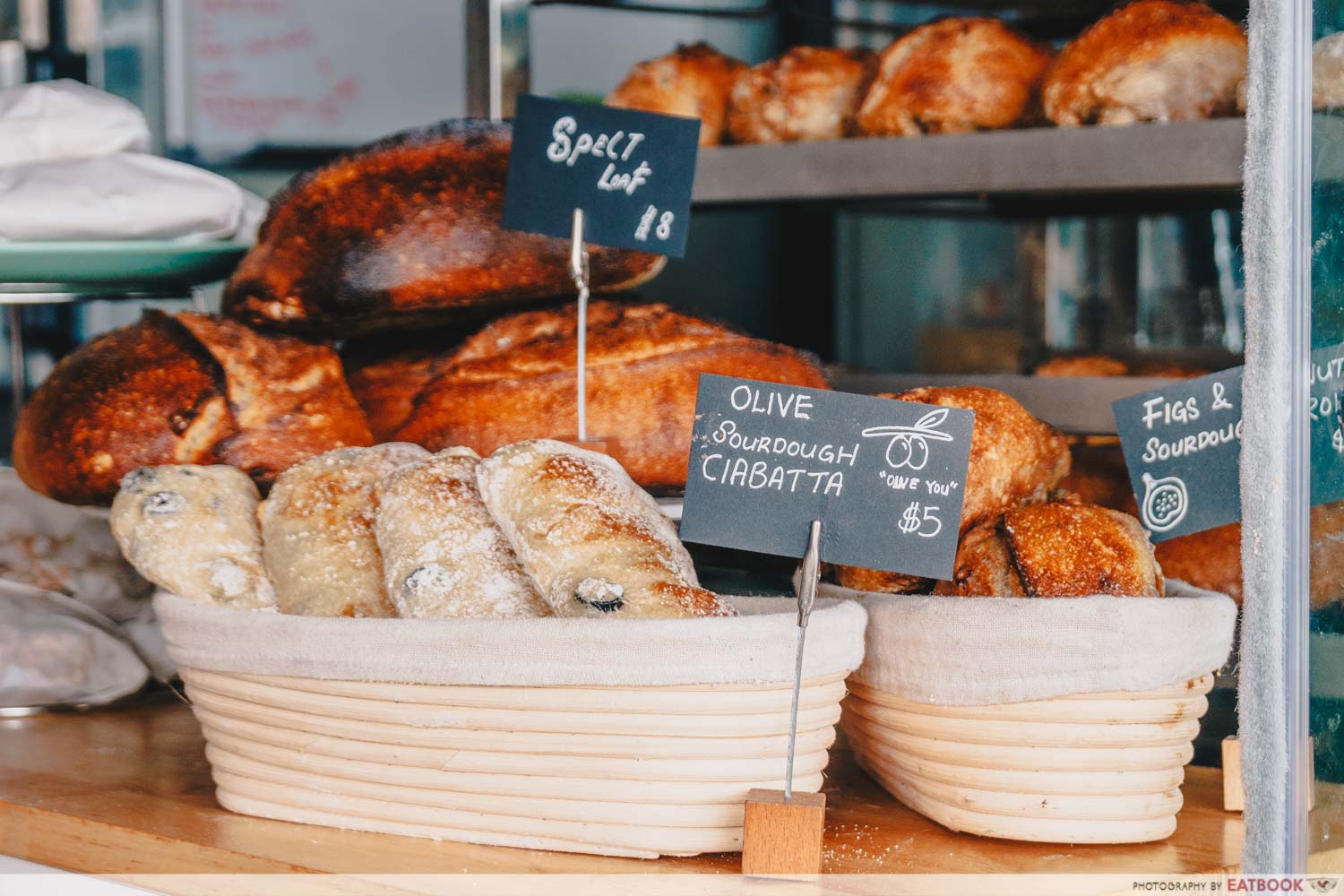 Check out Micro Bakery for scrummy loaves of bread and cakes. A Country Loaf goes for $10, as does a loaf of Rosemary Olive Oil Focaccia. If you can't finish a whole loaf, there are smaller bread bakes available, such as the Fig Cream Cheese Sourdough Ciabatta ($5.50). If you're looking to send a care package, the Sunshine Box ($48) comprises a Rosemary Olive Oil Sourdough Focaccia, Lemon Chia Yoghurt Cake ($15), Home Made Jam (from $10), two Chocolate Chip Sea Salt Cookies ($9 for three), a packet of Coco Hazelnut Granola, and a selection of gourmet tea bags.
A delivery fee of $15 applies, with a minimum order of $10.
Order from Micro Bakery & Kitchen here!
Micro Bakery & Kitchen Review: Neighbourhood Bakery Serving Artisanal Bakes And Hearty Sandwiches At Bukit Timah
---
11. Bread Yard
---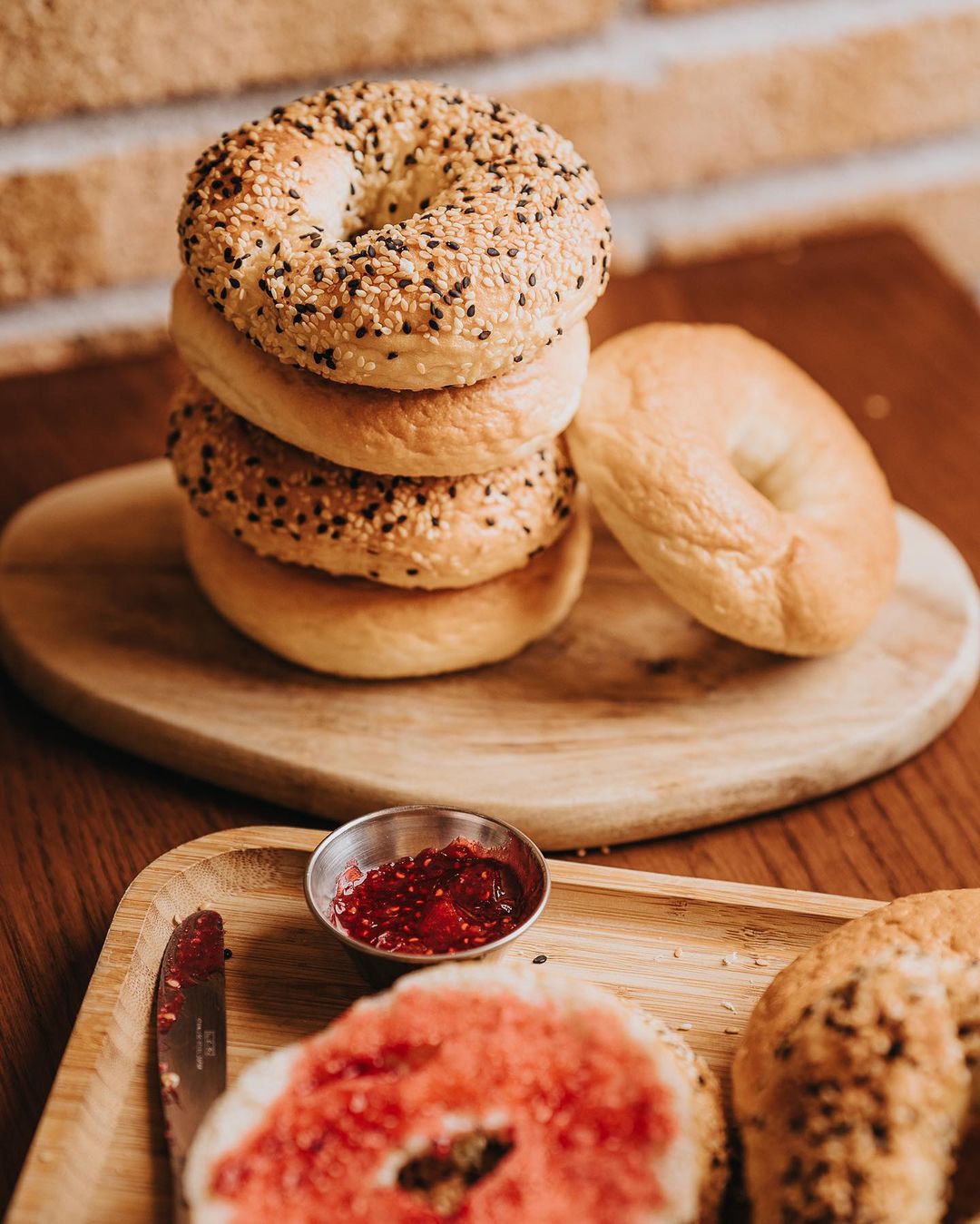 Image credit: @breadyard
If your family eats bread on a daily basis, consider the subscription plans dished out by Bread Yard. You can get two loaves of bread delivered to your house once or twice a month, or on a weekly basis, depending on your preference. These are priced at $24, or $42. If you're looking for two loaves a week, it'll cost $80 a month. If you don't only want loaves, you can also opt for Sesame Seed Bagels. Those with a sweet tooth can throw in some pastries such as croissants or kouign amann by opting for the Bread And Pastry plan ($32/$60). You can order a la carte, too!
The minimum order for bread delivery here is $30, and delivery rates vary based on distance, ranging from $6 to $10. For orders above $60, delivery is free.
Bread Yard Review: "Bak Kwa" Cheese Pancakes At Fusionopolis
---
12. Starter Lab
---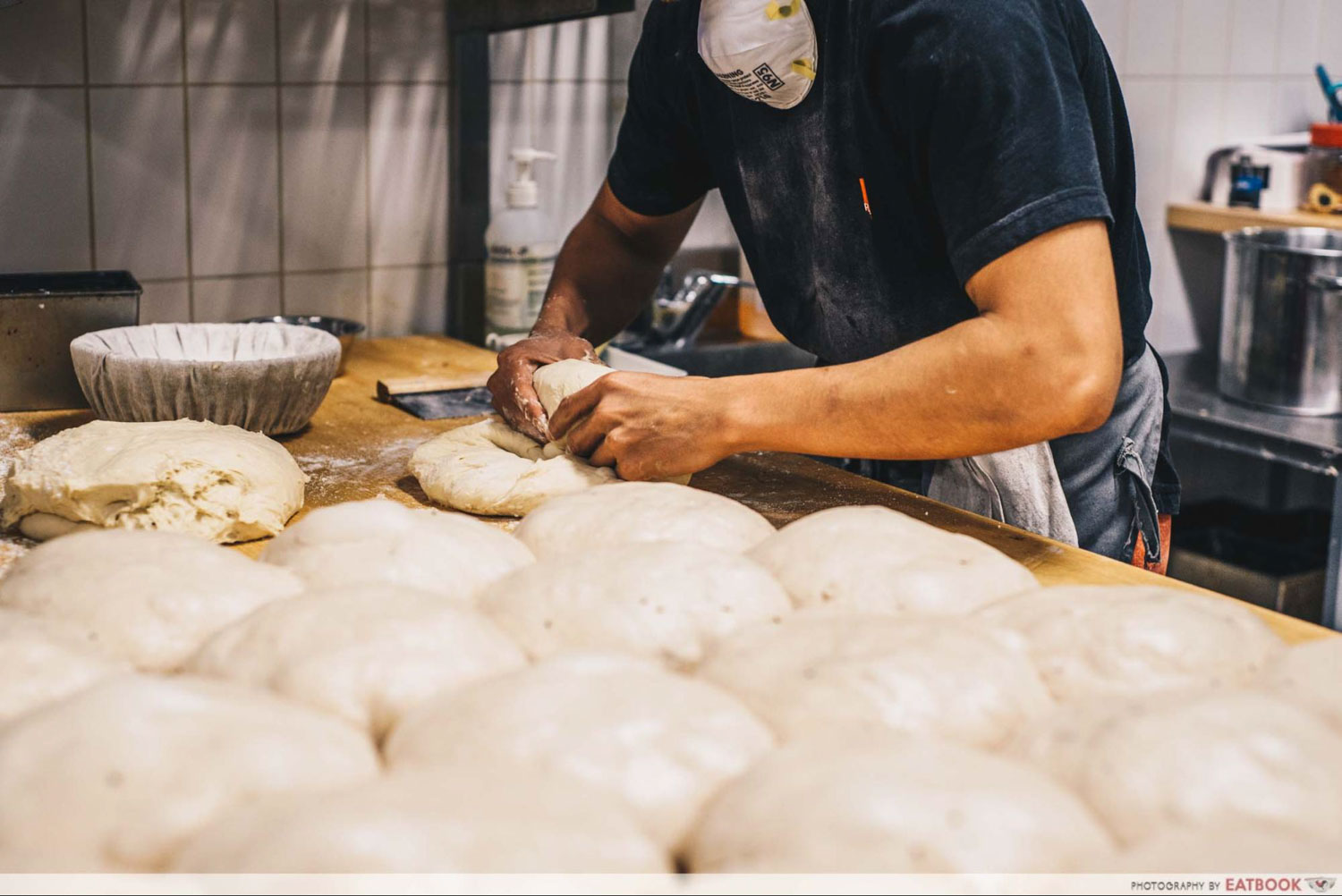 Starter Lab hails from Bali, bringing their famous loaves to us, especially apt in a time when we can't travel to the island paradise. Not only are their loaves, such as the Miso Baguette ($6), Rosemary ($10/$16), available for delivery, you can also order their Posh Toasts—do note that the Posh Toasts are only available for pick-up, and GrabFood delivery.
Delivery is available at $15 islandwide, with no minimum order required. They're also available on GrabFood.
Place your Starter Lab orders here.
Starter Lab Review: Muji-Style Cafe At Tiong Bahru Serving One Of Singapore's Best Sourdough
---
13. The Whole Kitchen
---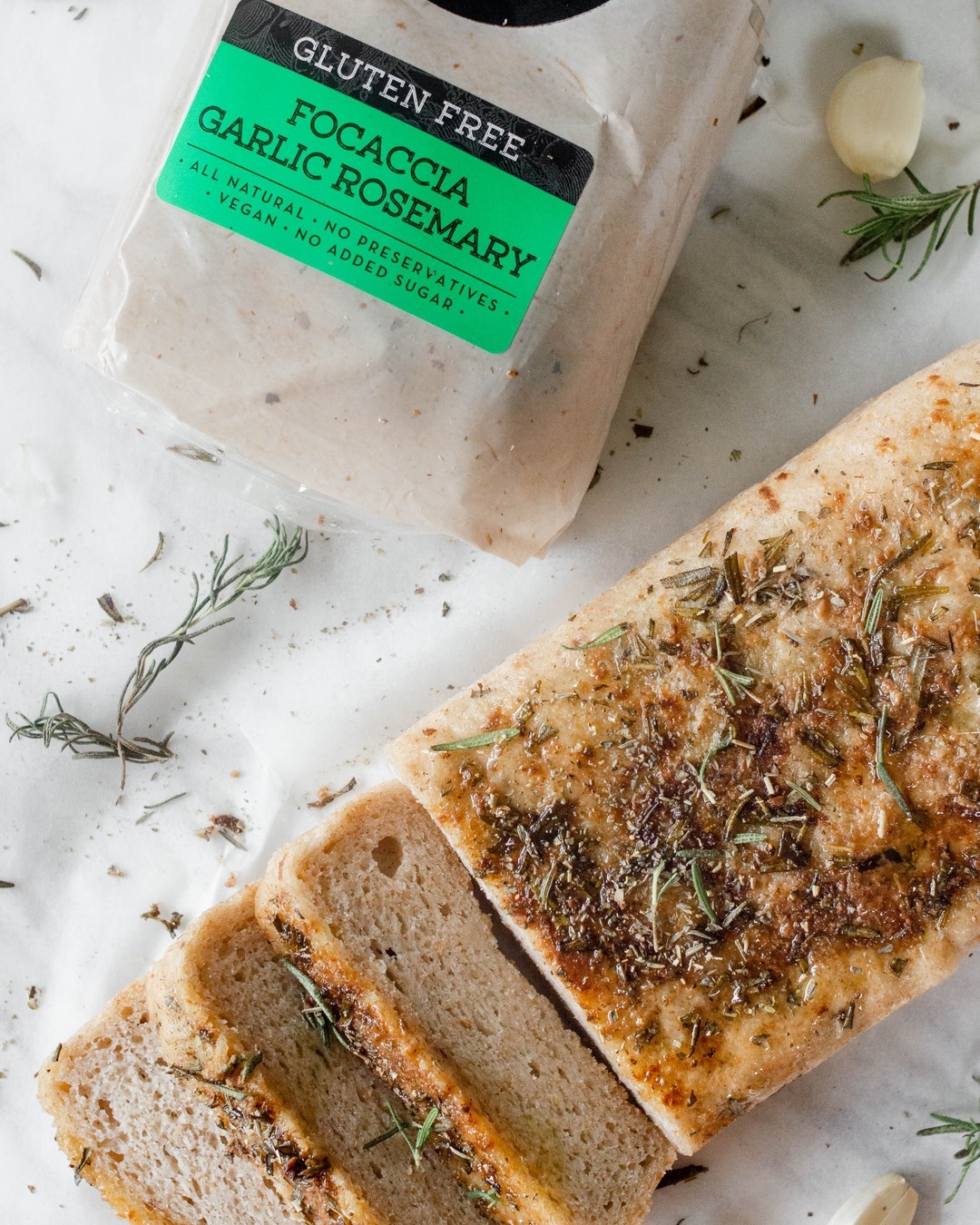 Image credit: @the_wholekitchen
If you're looking for gluten-free breads, look to The Whole Kitchen. They have a range of these, including Gluten Free Sourdough 7-Seed ($14.95) and Gluten Free Country Loaf Raisin ($12.95). Gluten free cakes, vegan brownies, and granola are also available for delivery.
You'll get free delivery if your order is $45 or more. Otherwise, a $15 delivery fee will be charged at check out.
Order from The Whole Kitchen here!
---
14. Bakery Brera
---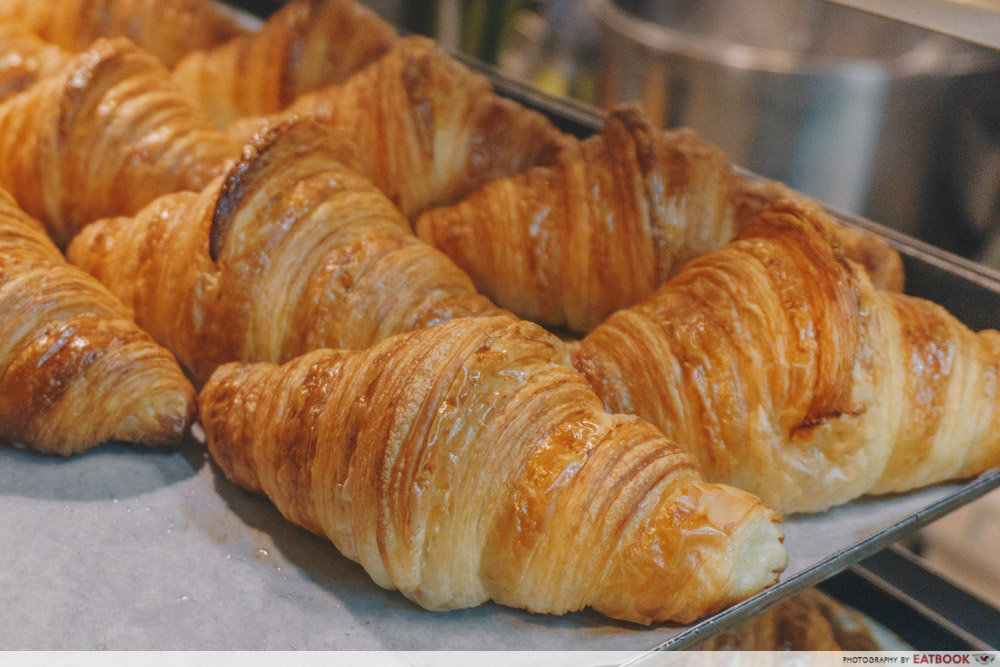 A small bakery hidden in Empress Mall, Bakery Brera is known for their cruffins, croissants, and loaves. Get all their signatures when you order The Brera Signature Set ($36.10), which comprises a Croissant ($3.50), Pain Au Chocolat ($4.50), Almond Croissant ($5), Kouign Amann ($4.80), Cruffin ($5) in the flavour of the day, Mushroom Onion Danish ($4.50), Triple Cheese Ham Croissant ($6), and a Savoury Scone ($2.80).
Islandwide delivery is available at $10, with no minimum order required.
Bakery Brera Review: Flaky Cruffins Stuffed With Peanut Butter, Salted Caramel And More
---
15. PICKLE Bakery
---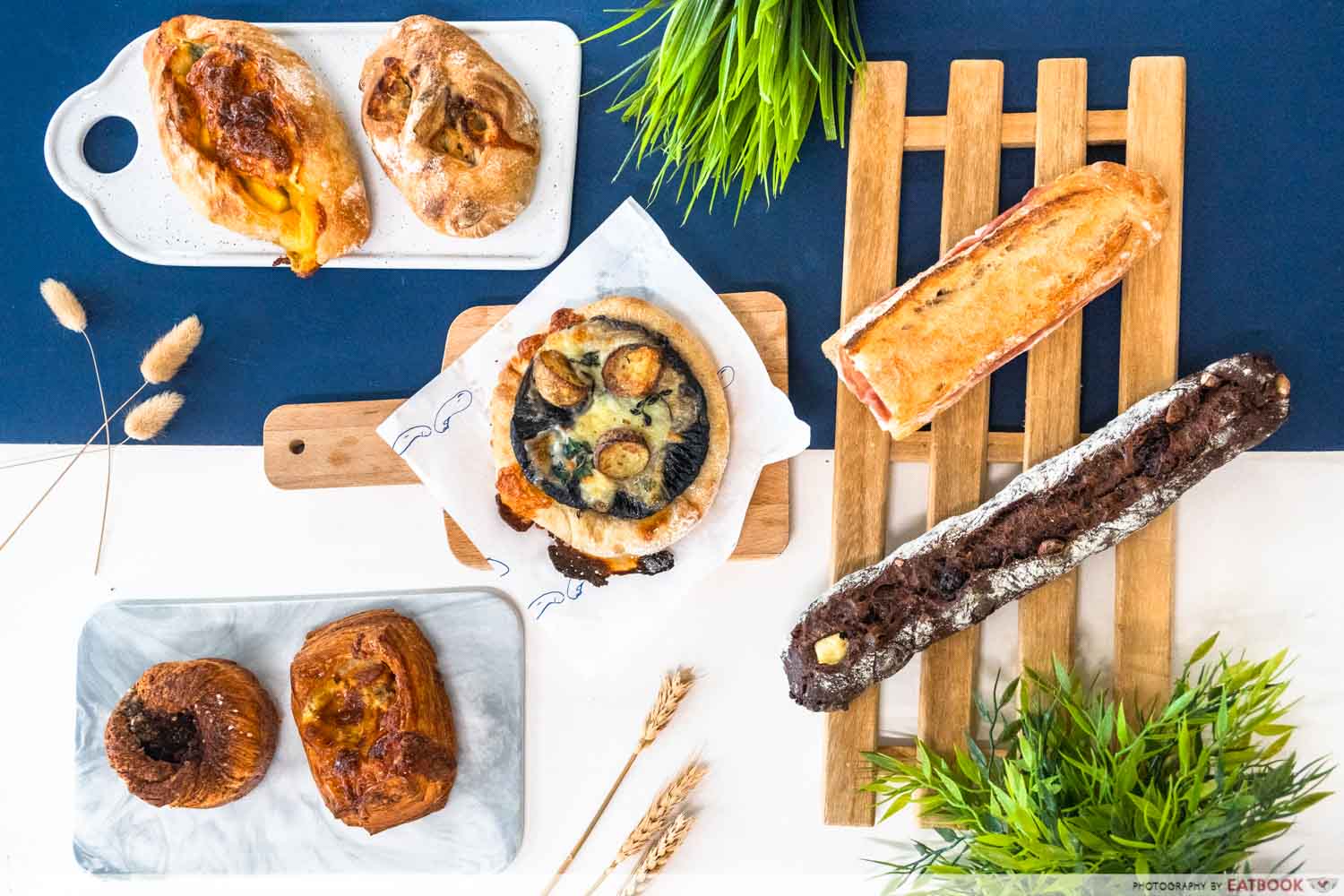 PICKLE Bakery at Everton Park is a relatively new player on the artisanal bread scene in Singapore. We loved the Figs Blue Cheese Walnut Sourdough Bun ($5.50), while the 4 Cheese Sourdough Bun ($6) featured a honey swipe over the top that was a nice balance to the savoury cheeses within. They're also known for their Chocraunt ($7), a playful interpretation of a pain au chocolat, topped with buckwheat sprinkle.
There is a $15 delivery fee, regardless of order amount. Place your orders by screenshotting the delivery order form that's updated weekly on their Instagram Stories, or on the PICKLE Bakery website, then sending it via WhatsApp to 8322 9500.
16 Sandwich Stalls With Delivery Including Tonkatsu And Grilled Cheese Sandwiches
---
16. Yeast Side
---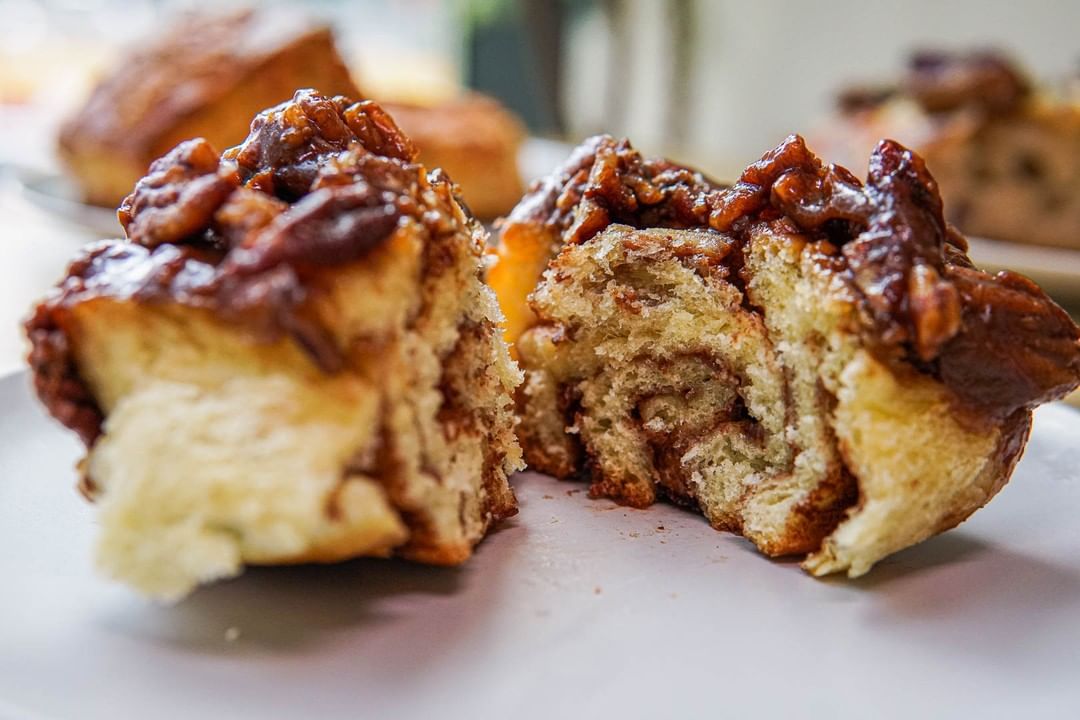 Image credit: @themakanpolice
This new bakery is located at King Albert Park, and they're only open from Wednesdays through Sundays. Get artisanal breads such as a Red Wine Walnuts & Figs Loaf ($16), or a Honey Spelt Loaf ($10) that's made with the ancient grain and 100% Australian honey. You could also order this as a toastie ($6), topped with raw honey, butter, and sea salt. Yeast Side has got other bakes as well, including a Sourdough Sticky Bun ($6.50), and Carrot Cake With Cream Cheese & Toasted Walnuts ($6).
Delivery is charged at $15 islandwide, with no minimum order applicable.
---
17. Wu Pao Chun
---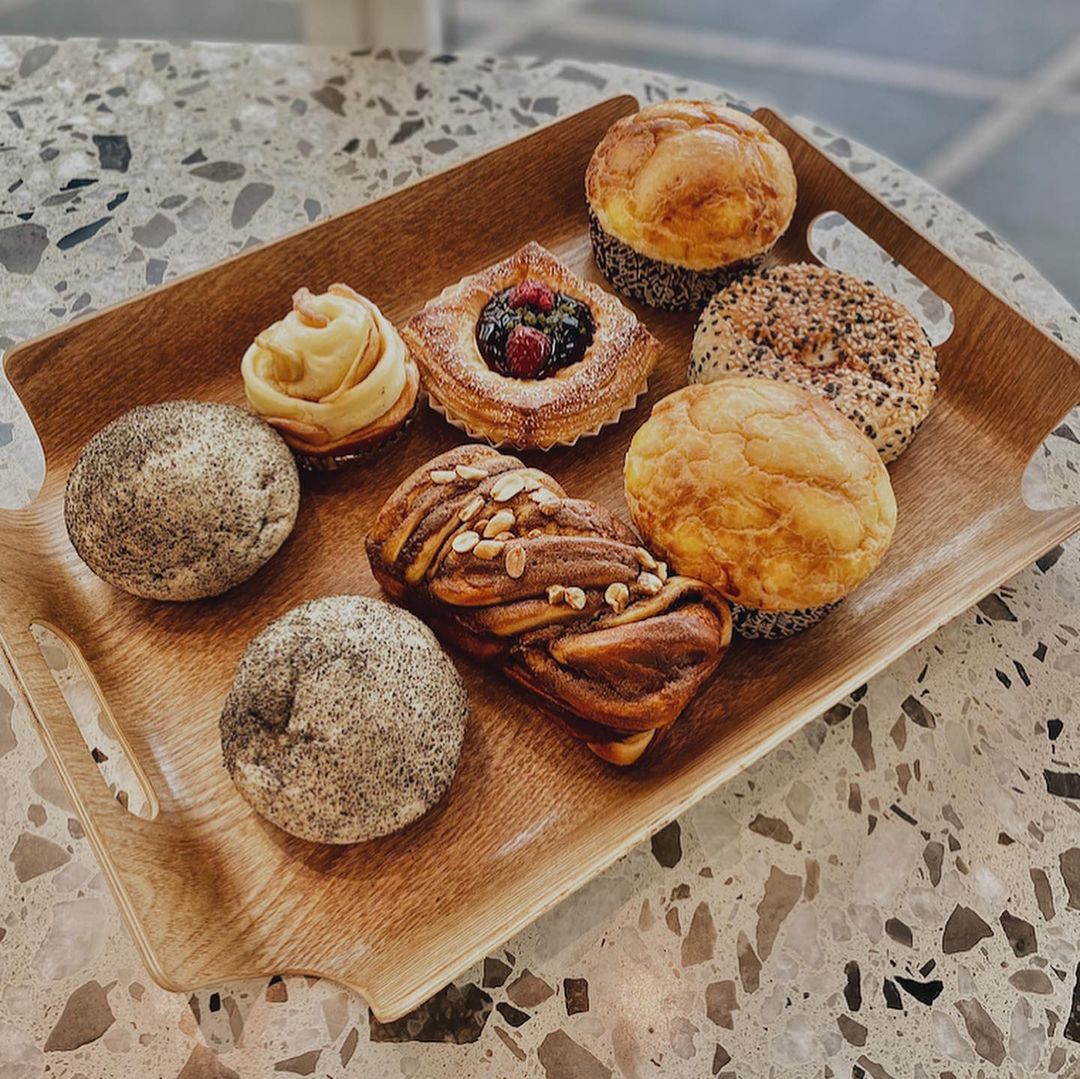 Image credit: @foreverinafoodmood
Award-winning Taiwanese bakery Wu Pao Chun is now available for bread delivery, so you can have your fill of their breads any time. They're best known for their Red Wine Longan loaf, half of which is priced at $14.80, featuring longans that are soaked in wine according to a house recipe for six days. Get this, and half a loaf of Lychee Rose Royale ($14.80) for $30.80. This second loaf won first place in an international bread competition back in 2010, and is fermented for 15 hours in a blend of lychee wine, black leaf lychee, and rose petals.
Delivery fees vary according to distance, and are calculated at checkout on GrabFood.
---
18. Bread Createur
---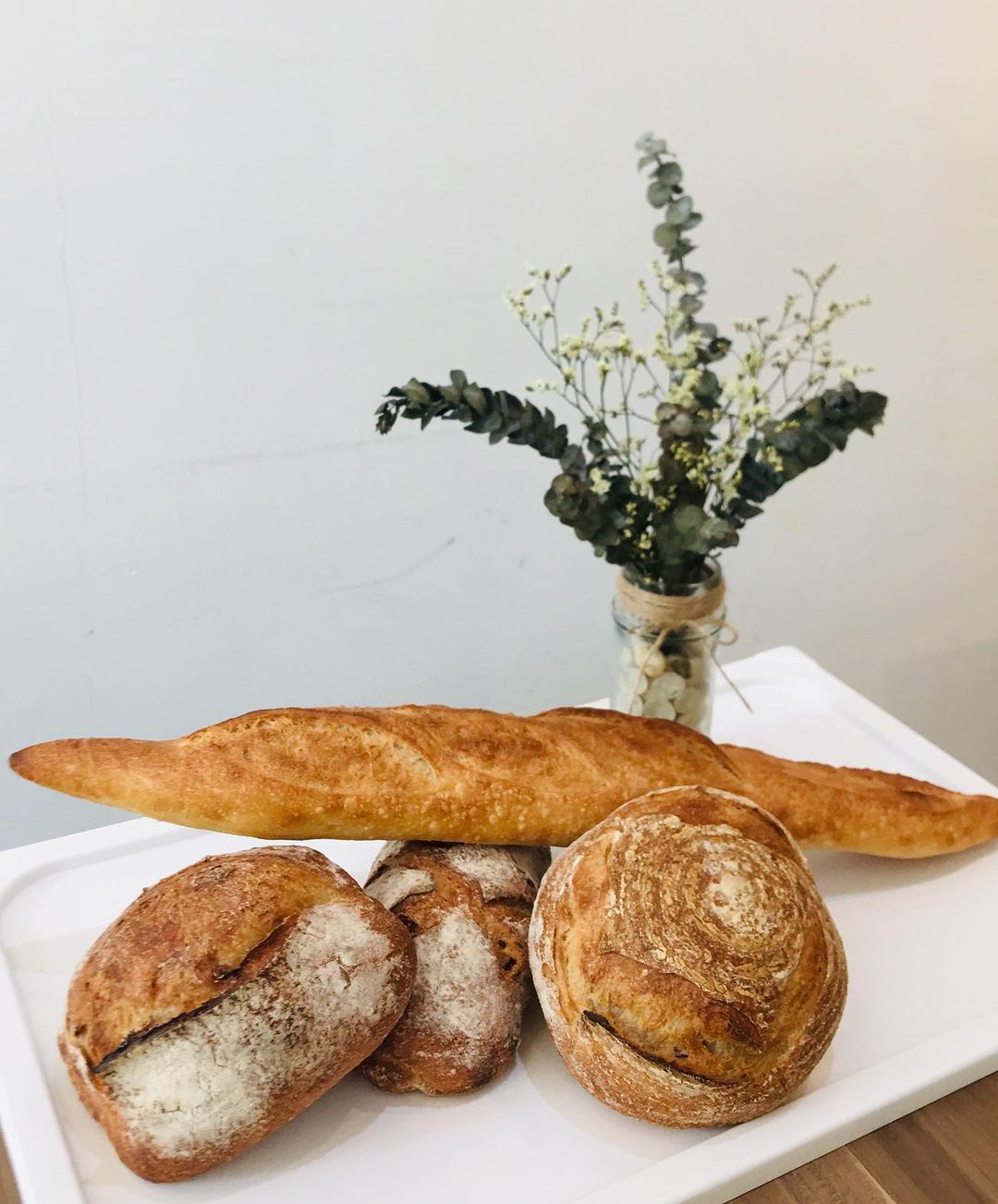 Image credit: @conniechuahk
Bread Createur is a little-known artisanal bakery in Upper Bukit Timah, with prices that are slightly lower than the average bakery. A whole Baguette is priced at $4, and is made with French wheat flour, as are the Sourdough ($4.50), and Olive Ciabatta ($4.50). If you're looking for regular white bread, they've got a Pan de Mie ($7), a soft white French bread that's made with butter, sugar, and milk.
Delivery is charged at $15, with a minimum order of $50. Delivery is free for orders above $120.
Order from Bread Createur here!
---
19. Sugar Toast
---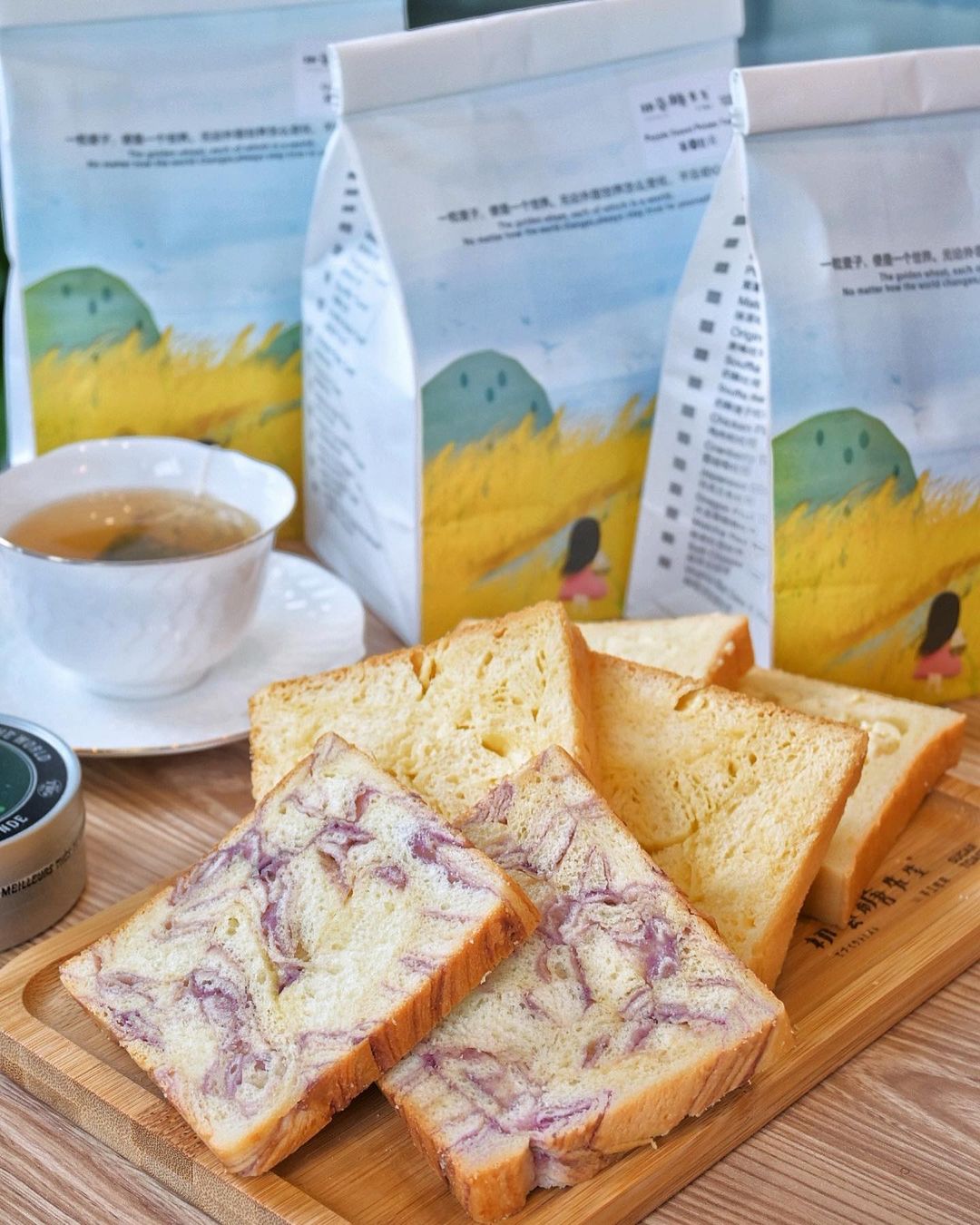 Image credit: @kwleong
Hailing from China, Sugar Toast's distinctive braided milk loaves are the result of a painstaking four-hour process, made with quality, natural ingredients, without preservatives. There are a total of 10 different loaves, ranging from the purple-laced Purple Sweet Potato Toast, and White Chocolate Matcha Toast, to the savoury Salted Cheese Toast, and Chicken Floss Toast. All the loaves are priced at $10.90.
Islandwide bread delivery is available at $8, with no minimum order. Delivery is free for orders above $50.
---
20. Gokoku Japanese Bakery
---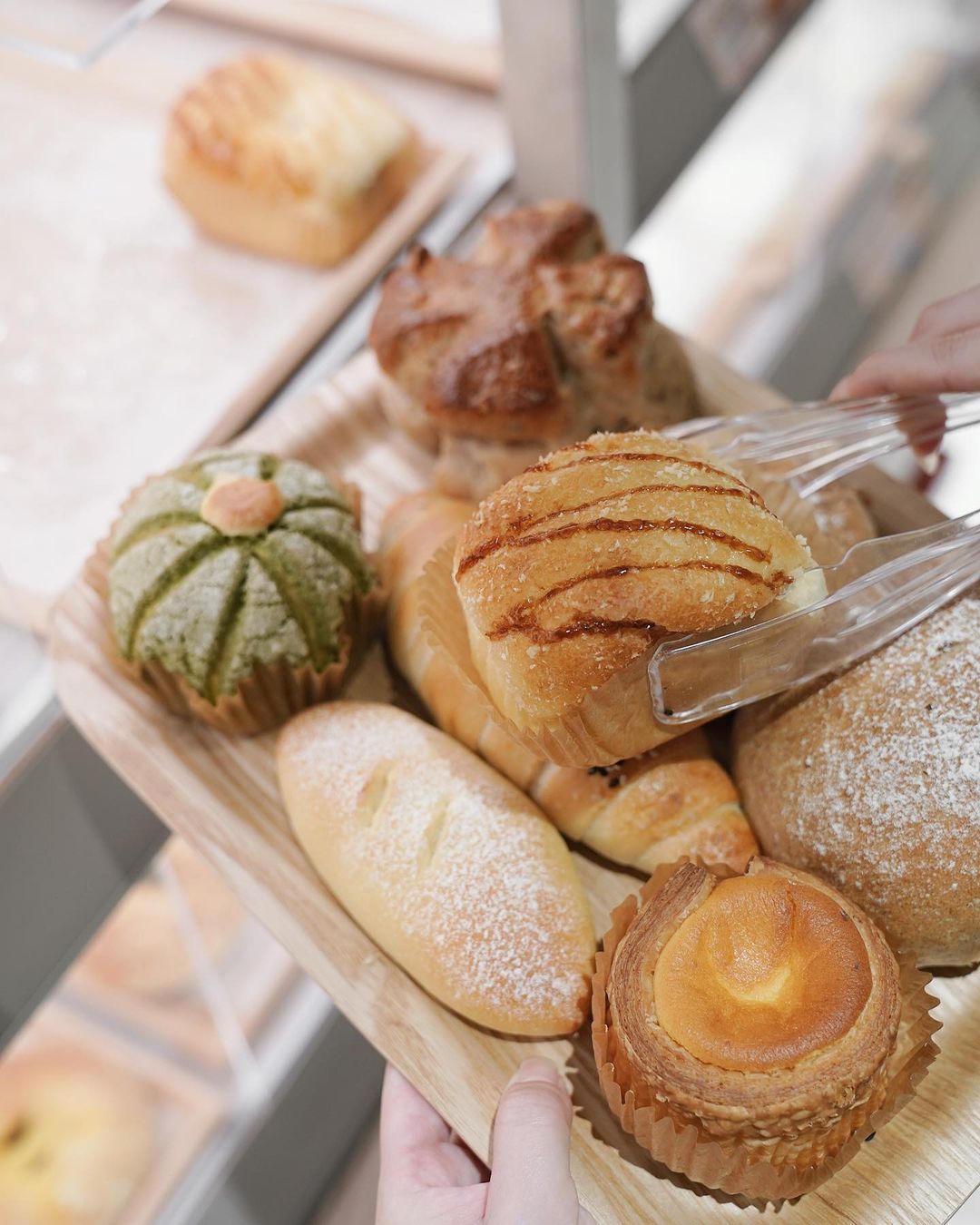 Image credit: @iris.nihao
Rounding off this bread delivery list is Gokoku Japanese Bakery, a bakery from Kobe, Japan, that has been baking authentic Japanese breads for more than 59 years. Their bread is baked with Japanese flour, and traditional ingredients such as brown rice and sakadane, a fermented dough. The Signature Bundle Set ($11.60) includes the Gokoku Shichifuku ($2.20), Malt Kurumi ($2.20), Mochi Mochi Cheese ($2.60), Signature Red Bean Anpan ($2.50), and Mochi Mochi Cranberry ($2.10) buns.
There's no minimum order for delivery, which is priced at $12. Delivery is free for orders above $100.
Order from Gokoku Japanese bakery here! 
30 Japanese Food Delivery Places With Delivery Fees Below $10 For Sushi, Unagi And More
This article was originally written on 13 April 2020.
---
Bread delivery in Singapore
---
Whether you want local-style, traditional bread and buns, artisanal bakes, Taiwanese, or Japanese bread, this list has options for all sorts of bread delivery, delivered to your doorstep while you shelter at home.
For other deliveries, consider our Japanese food delivery guide, or sandwich delivery guide.
The post 20 Bread Delivery Services In Singapore Including Rainbow Bread, Mochi Buns And More appeared first on EatBook.sg – New Singapore Restaurant and Street Food Ideas & Recommendations.