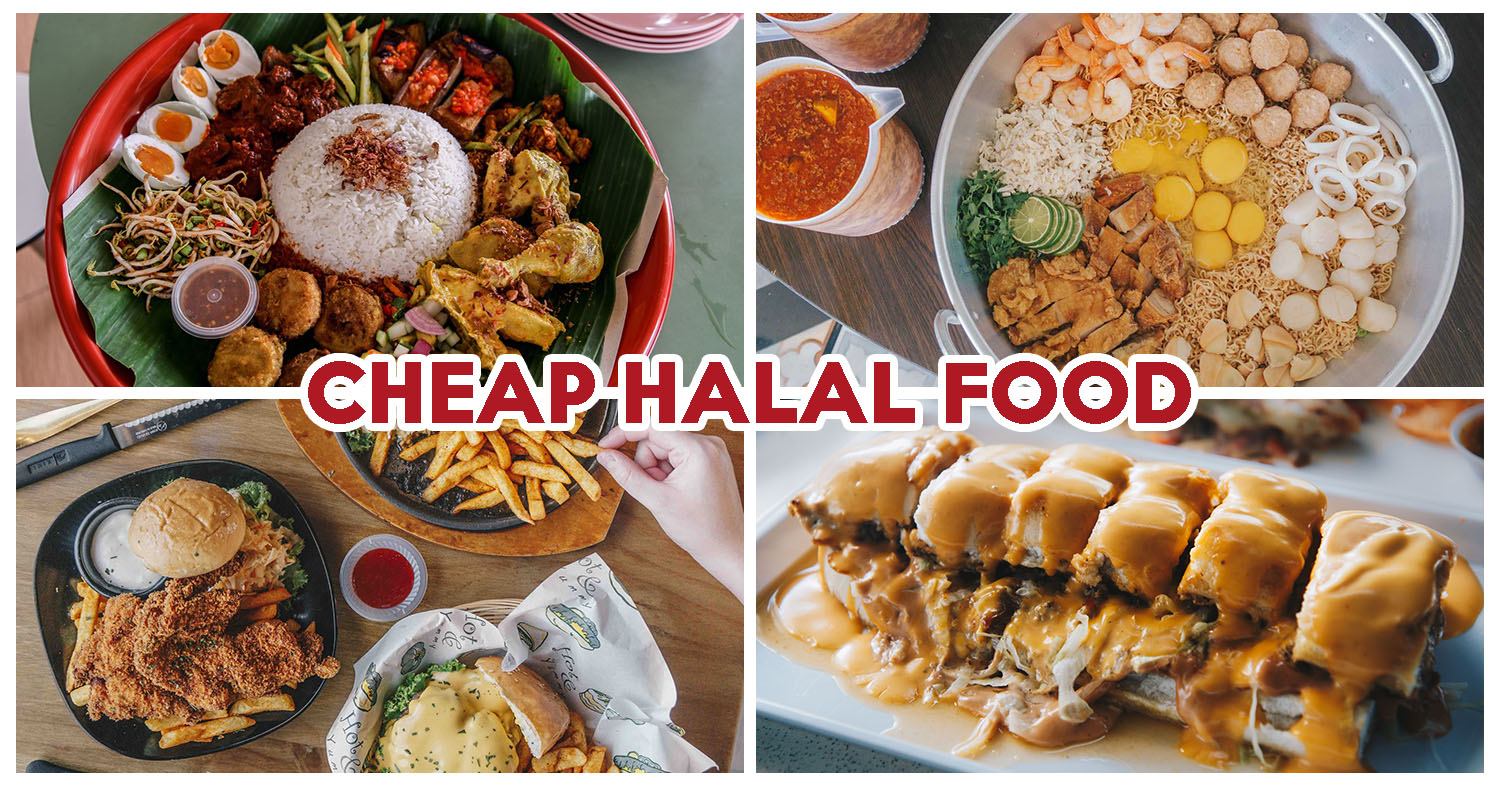 ---
Cheap halal food with huge portions
---
Having a huge appetite usually means that regular servings aren't enough to satiate my hunger. Whenever I order dishes such as nasi lemak, I'll always have to tell the makcik to add rice or an additional chicken wing as the portions are more than often too small for me. Places with generous portions are hard to find, but fret not as I've found 10 cheap halal food places with large mains at $10 or less.
---
1. Flying Wok
---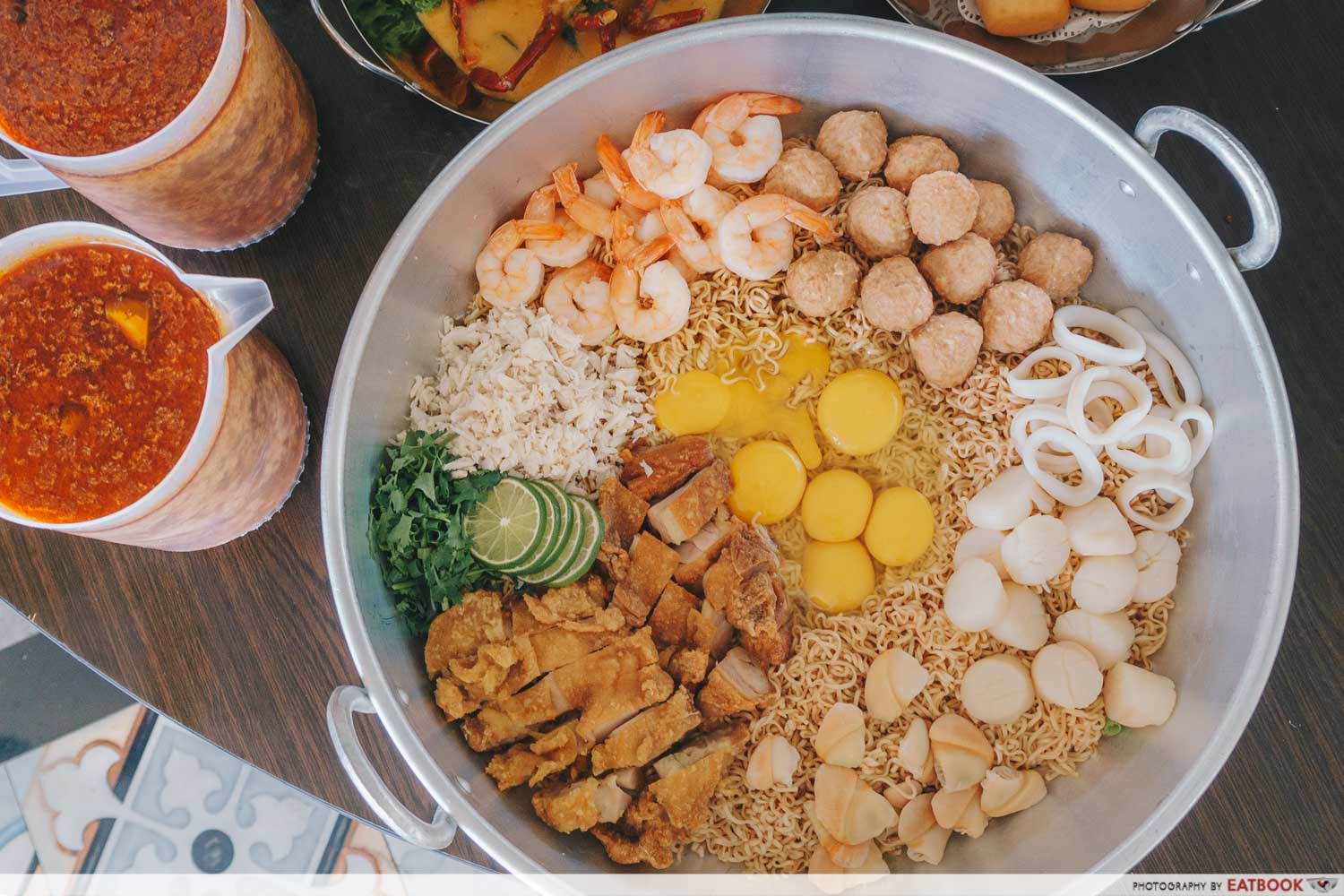 Flying Wok is a halal-certified zi char stall offering tom yum hot pot in a variety of sizes. If you're here with a group of eight or more, order the Large Jumbo Mama Wok ($79.90), which comes with scallops, squid, clams, crab meat, prawns, meatballs, fried chicken, eggs, and noodles. Those looking to stretch their dollar can opt for the cheaper version at $49.90. It comes with lesser seafood and an assortment of mushrooms, fishballs, and cheesy hot dogs instead.
Check out our full review of Flying Wok!
Address: 105 Canberra Street, Singapore 752106
Opening hours: Daily 12pm to 10:30pm
Tel: 8776 1795
Website
Flying Wok is a halal-certified eatery.
---
2. The Bread Gang
---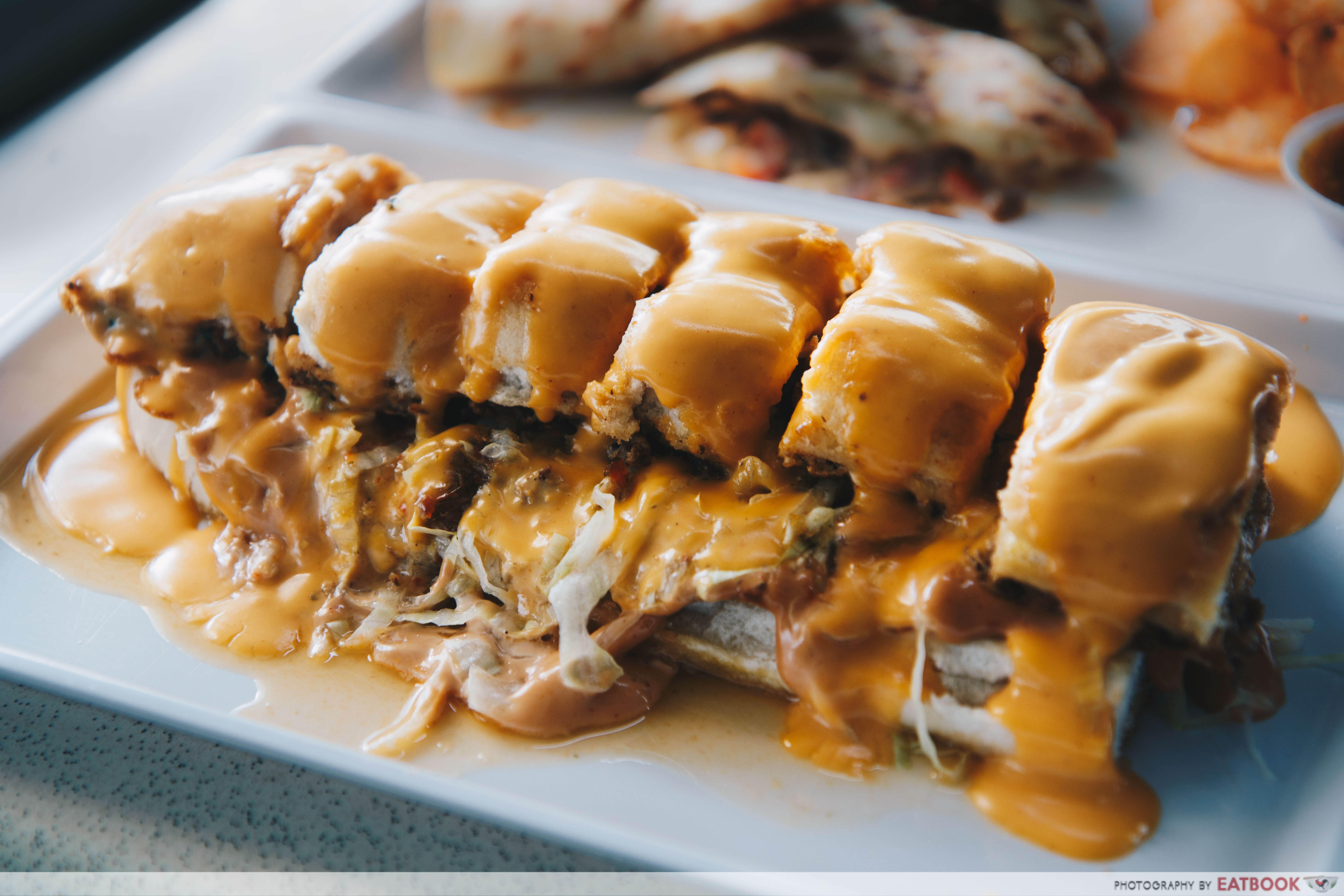 The Bread Gang's cheese-drenched roti john is one huge, messy affair. The best way to enjoy the Roti John Cheeseburger ($8.50) is to do it section by section. Savour the crunch from the cucumber and onions, followed by distinct flavours from the minced meat, egg, and cheese sauce. Sides such as Curly Fries With Beef Rendang ($7.50) also come in huge portions, so order it only if you go with a friend.
Check out our full review of The Bread Gang!
The Bread Gang Review: Cheese-Drenched Roti John Cheeseburger, Curly Fries With Beef Rendang And More
Address: 235 Jurong East Street 21, Aiman Cafe, Singapore 600235
Opening hours: Daily 3pm to 12am
Tel: 8280 0084
Website
The Bread Gang is a Muslim-owned stall.
---
3. Fatty Bom Bom
---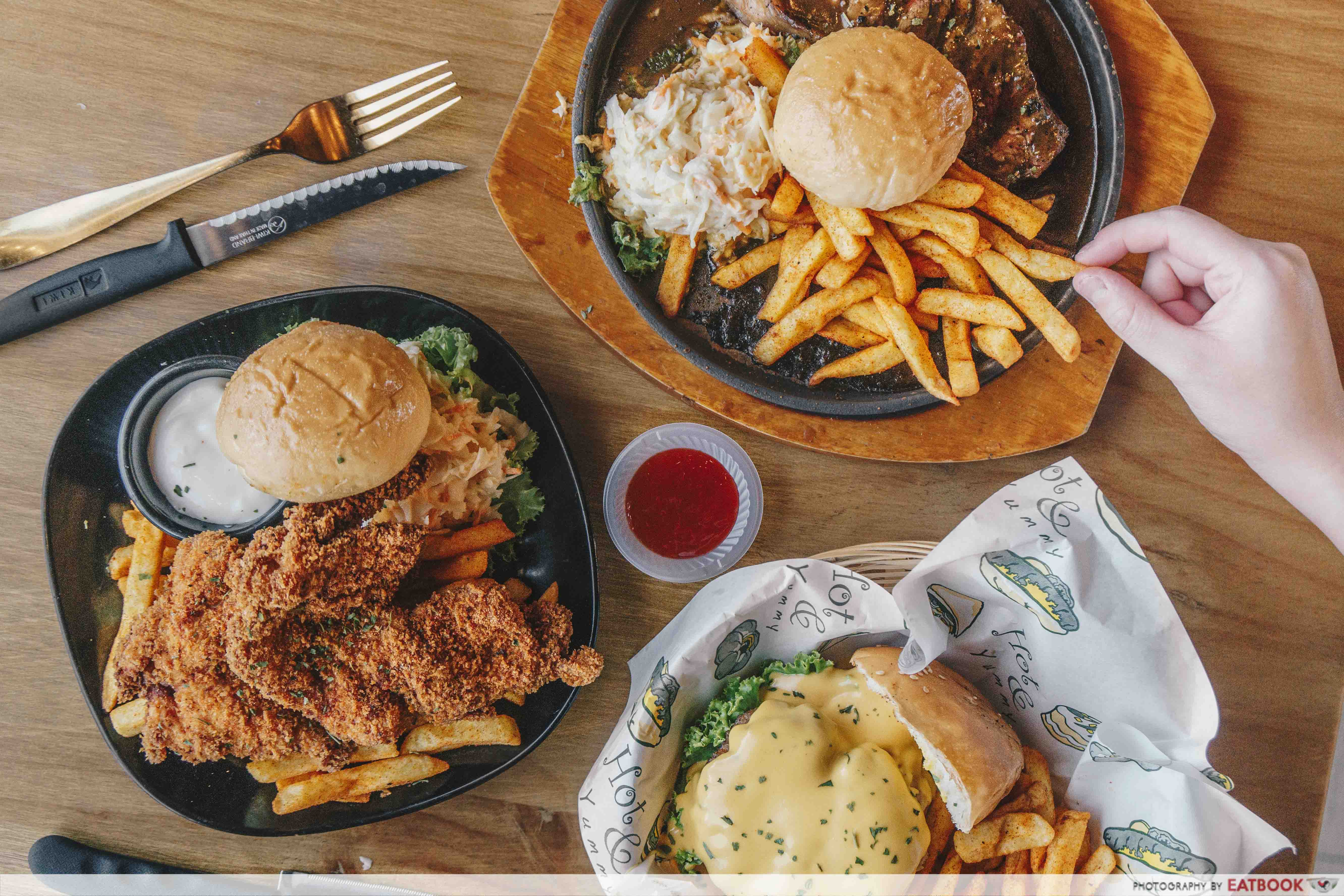 With most of the dishes priced below $10, Fatty Bom Bom at Toa Payoh North ranks high on this list of cheap halal food spots. Dishes such as their FattyBom Crunchy Chicken ($7.20), FattyBom Tender Steak ($10), and Jerry's Burger ($7.20) are served in huge portions. You can also tell that there is attention to detail, as even the fries are well-seasoned with salt and paprika powder.
Check out our full review of Fatty Bom Bom!
Fatty Bom Bom Review: Halal-Certified Western Food With Big Portions At Toa Payoh
Address: 978 Toa Payoh North, Grains & Hops Food Court Bistro, Singapore 319001
Opening hours: Mon-Fri 11am to 3:30pm, 5pm to 9pm, Sat 12:30pm to 9pm
Tel: 8721 0175
Website
Fatty Bom Bom is a halal-certified eatery.
---
4. Gyunion
---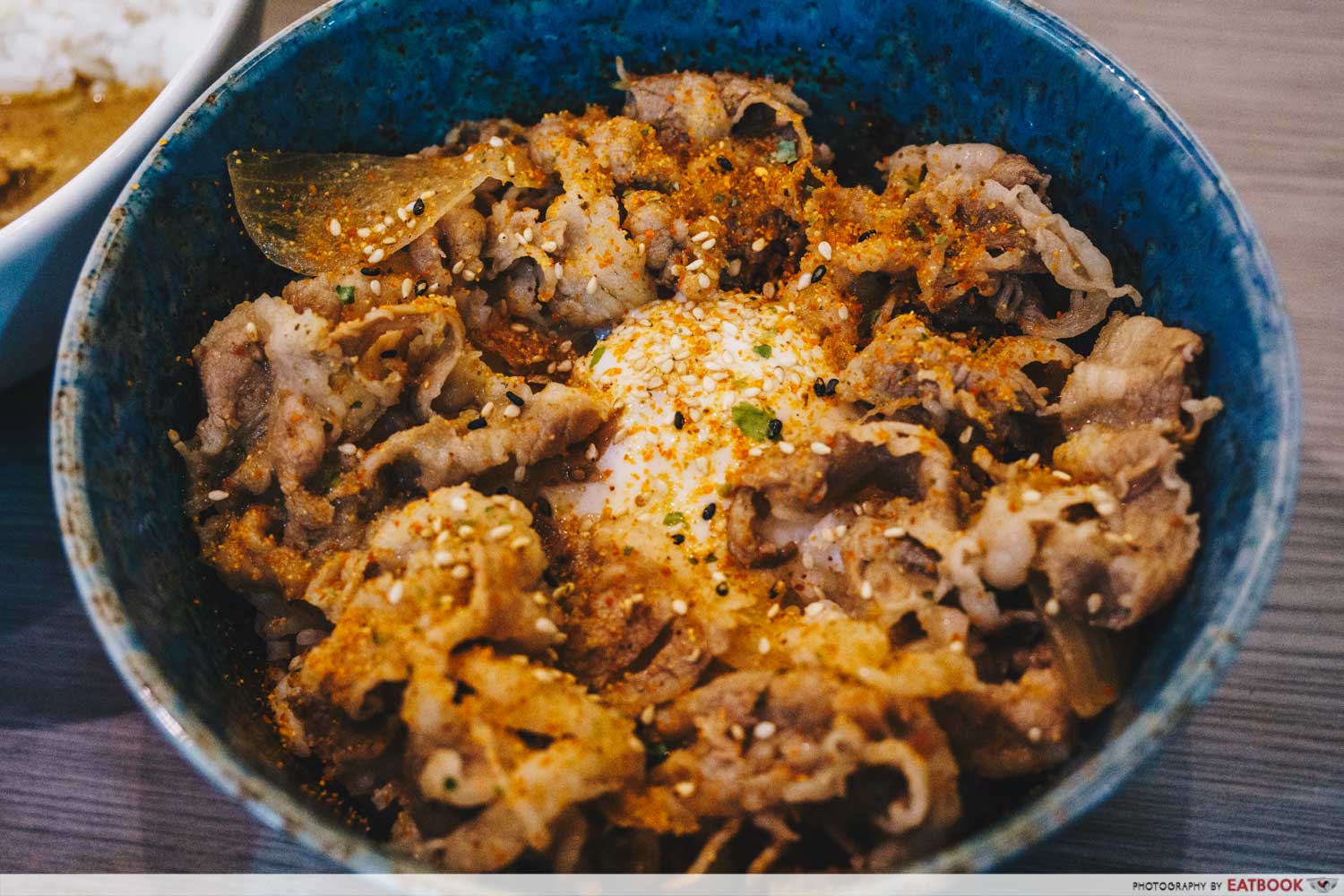 Gyunion has a no-frills menu of Japanese rice bowls, curry, and sides at affordable prices. A must-order here would be their Gyu-don ($7.90). It features savoury slices of beef paired with sweet, caramelised onions. For the most bang for your buck, the Soba ($4.90) makes for a filling and delicious meal, despite its humble appearance.
Check out our full review of Gyunion!
Gyunion Review: Halal Beef Donburi And Soba From $4.90 At Bencoolen
Address: 138 Robinson Road, #02-03, Oxley Tower, Singapore 068906
Opening hours: Mon-Wed 12pm to 6:30pm, Thurs-Fri 12pm to 8pm
Website
Gyunion is a Muslim-owned eatery.
---
5. Sedap Mania
---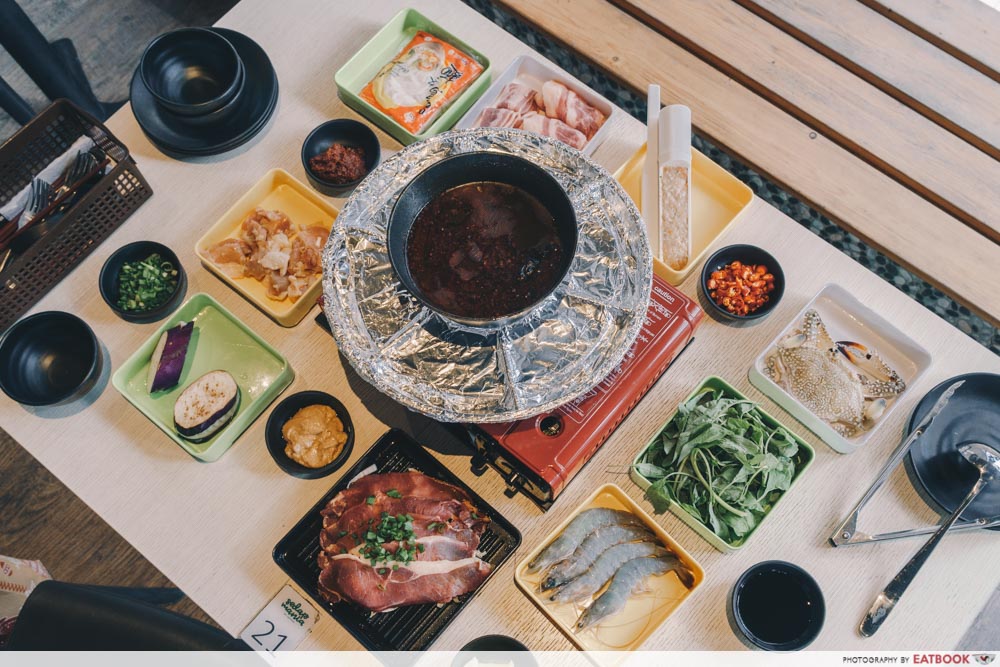 Sedap Mania is a new halal-certified BBQ steamboat restaurant located at Changi Village Road. This is also an Aston's venture, offering hotpot starting at $2.50 per person for the broth. Fill your steamboat up with ingredients ranging from $1.50 to $4. Alternatively, get their Army Stew, which costs just $29 nett, and feeds 2-3 people.
Check out our full review of Sedap Mania!
Sedap Mania Review: New Halal-Certified BBQ Steamboat With Dishes From $1.50+
Address: 5 Changi Village Road, #01-2001, Singapore 500005
Opening hours: Mon-Thurs 5pm to 10pm, Fri-Sun 11:30am to 10pm
Tel: 6245 1620
Website
Sedap Mania is a halal-certified eatery.
---
6. FatPapas
---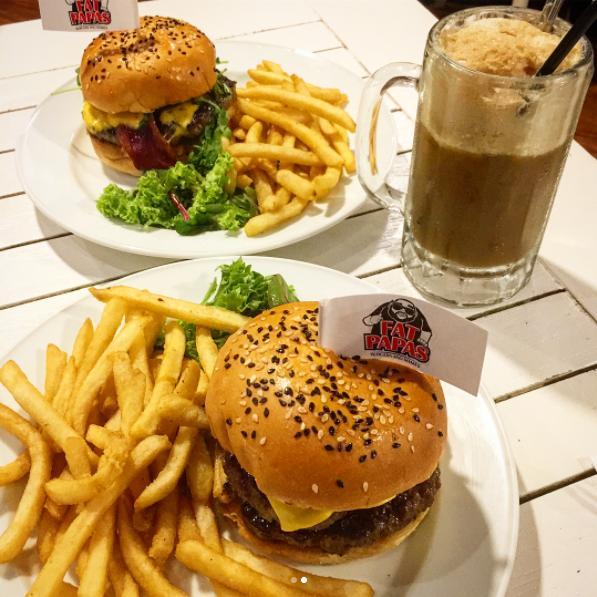 Image credit: @moxakuva
You've probably heard of FatPapas by now, the halal version of FatBoy's, which is known for massive, messy and juicy burgers. Try out The Elvis ($12) if you like beef. Chicken lovers, you can get their Holy Caesar ($12) instead. They even have a build-your-own-burger menu so you can customise your burg to your liking.
Address: 17 Bali Lane, Singapore 189853
Opening hours: Mon-Thurs 12pm to 9:30pm, Fri-Sun 11am to 9:30pm
Tel: 6291 8028
Website
FatPapas is a halal-certified eatery.
---
7. Warong Kim's Seafood
---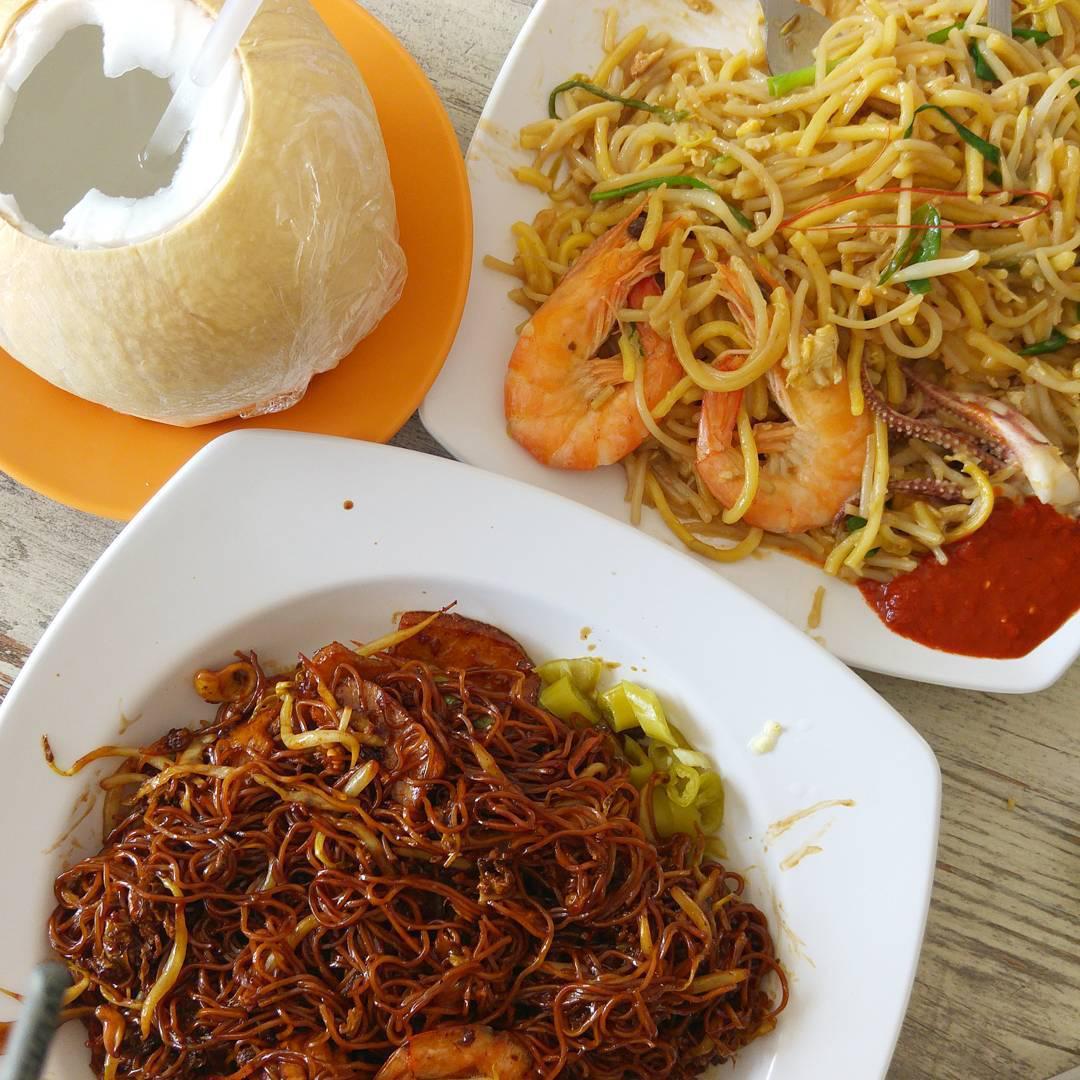 Image credit: @ackyeeee
Warong Kim's Seafood is a zi char restaurant with a scenic view. One of my go-to comfort dishes here is Fried Beef Hor Fun ($6.50), as they are generous with the beef and it is really shiok when eaten with their sambal chilli. Seafood lovers can try their Braised Bee Hoon with Lala Clams (from $8) instead.
Address: 31 Ah Hood Road, #01-07, HometeamNS JOM @ Balestier, Singapore 329979
Opening hours: Daily 11am to 10pm
Tel: 6583 6488
Website
Warong Kim's Seafood is a halal-certified eatery.
---
8. Enak Nasi Ambeng
---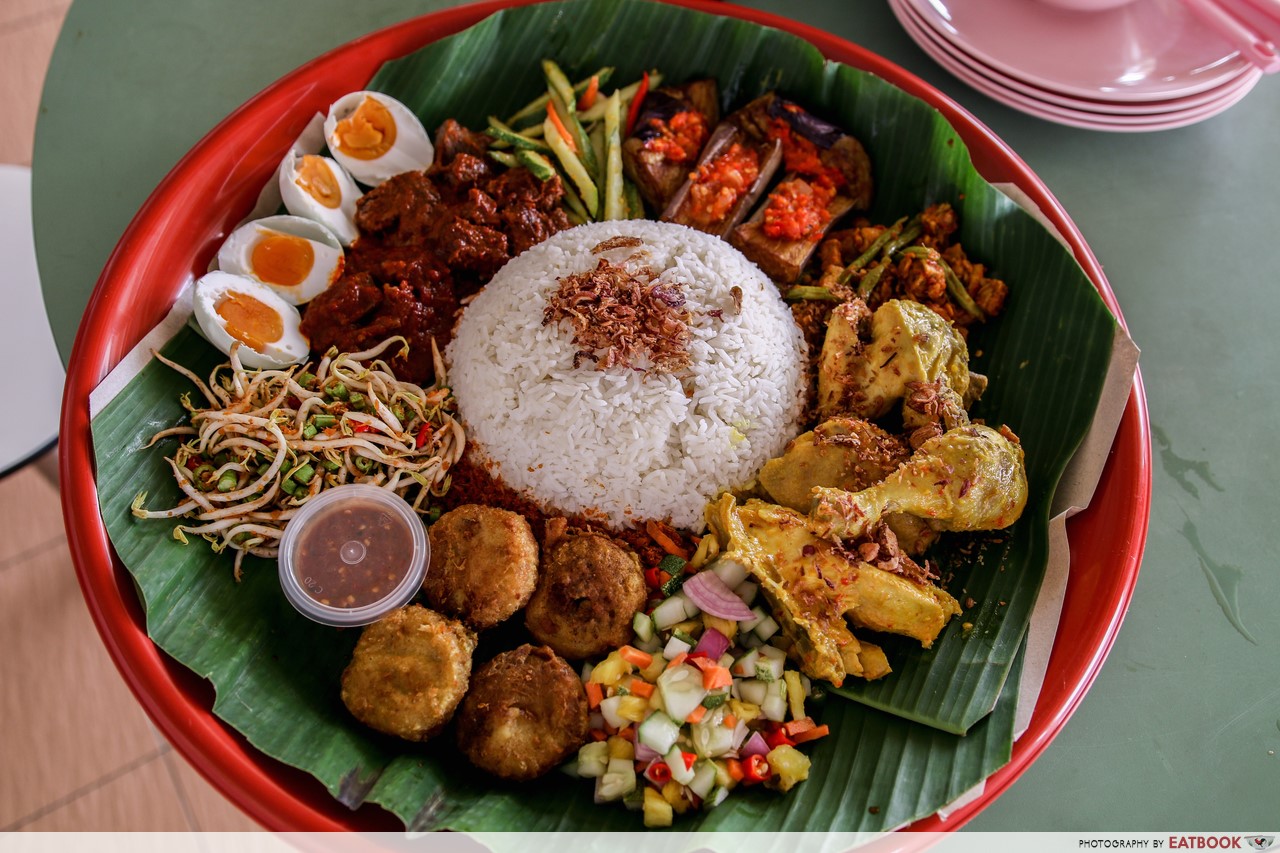 Enak serves Nasi Ambeng ($55) that's big enough to be shared among four people. With a heap of rice in the middle, the dish comes with a variety of classic Malay dishes─ayam masak chilli padi, veggies, salted egg, beef rendang, bergedil, and sambal cuttlefish.
Check out our full review of Enak Nasi Ambeng!
Address: 201 Henderson Road, #03-18, Singapore 159545
Opening hours: Mon-Fri 9am to 2pm
Tel: 9666 6909
Enak is a Muslim-owned eatery.
---
9. Omoomodon
---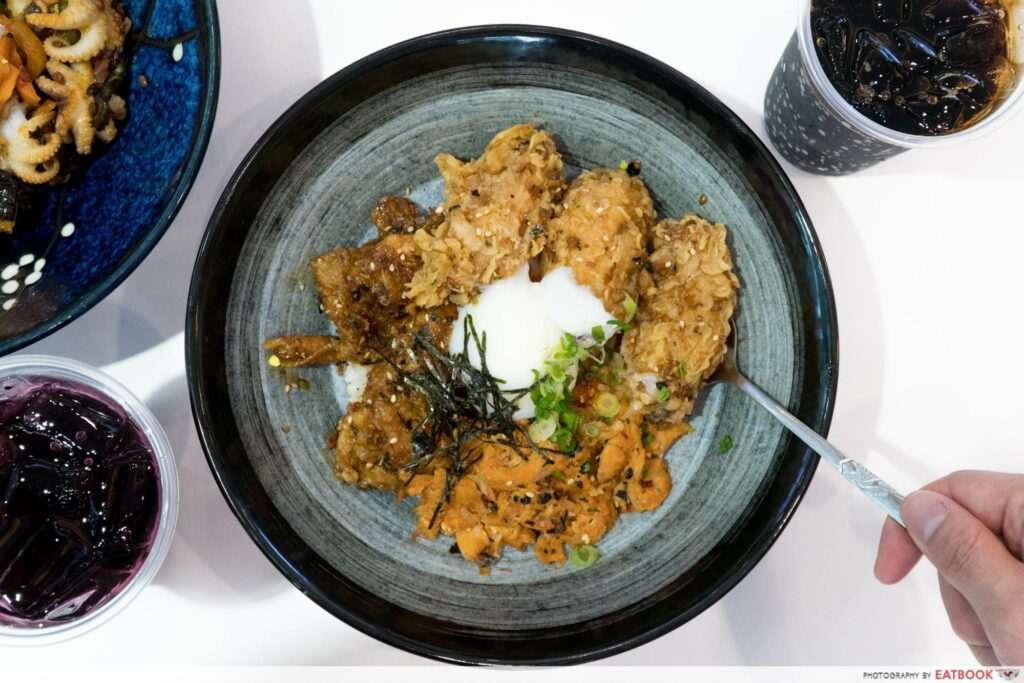 Omoomodon is an eatery that offers Japanese- and Korean-inspired rice and noodle bowls. They allow you to DIY your dish with a base of rice or noodles, and toppings such as kimchi omelette, bulgogi, grilled salmon and fried ebi. They also have signatures such as Ji-Ji Don ($10), Yes Sir! Yes Sir! ($12) and Octagon Pop ($9.50).
Website
Full list of locations
Omoomodon is a halal-certified eatery.
---
10. Fish and Chicks
---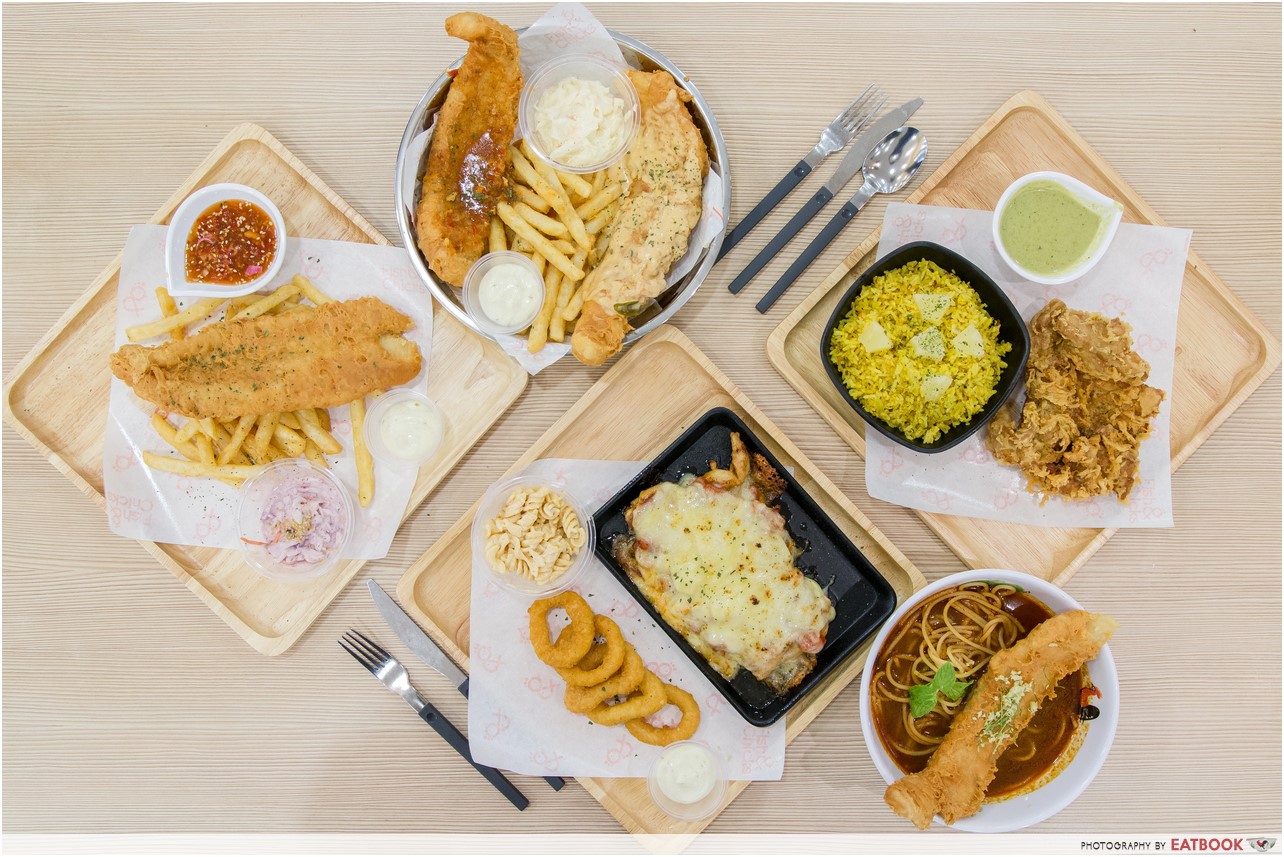 Fish & Chicks is a Western eatery that sells a range of seafood dishes, ranging from fish and chips to lobster pasta. Their Salted Egg Yolk Fish and Chips ($11.60) is very crispy on the outside, and moist on the inside, with a generous amount of salted egg sauce complementing every bite. If you're not a big fan of salted egg yolk, get their Chilli Crab Fish and Chips ($11.60) instead. You can choose any two sides such as fries, onion rings or cheese pasta to go with your dish.
Check out our review on Fish and Chicks
Website
Full list of locations
Fish and Chicks is a halal-certified eatery.
---
11. 800 Woodfired Kitchen
---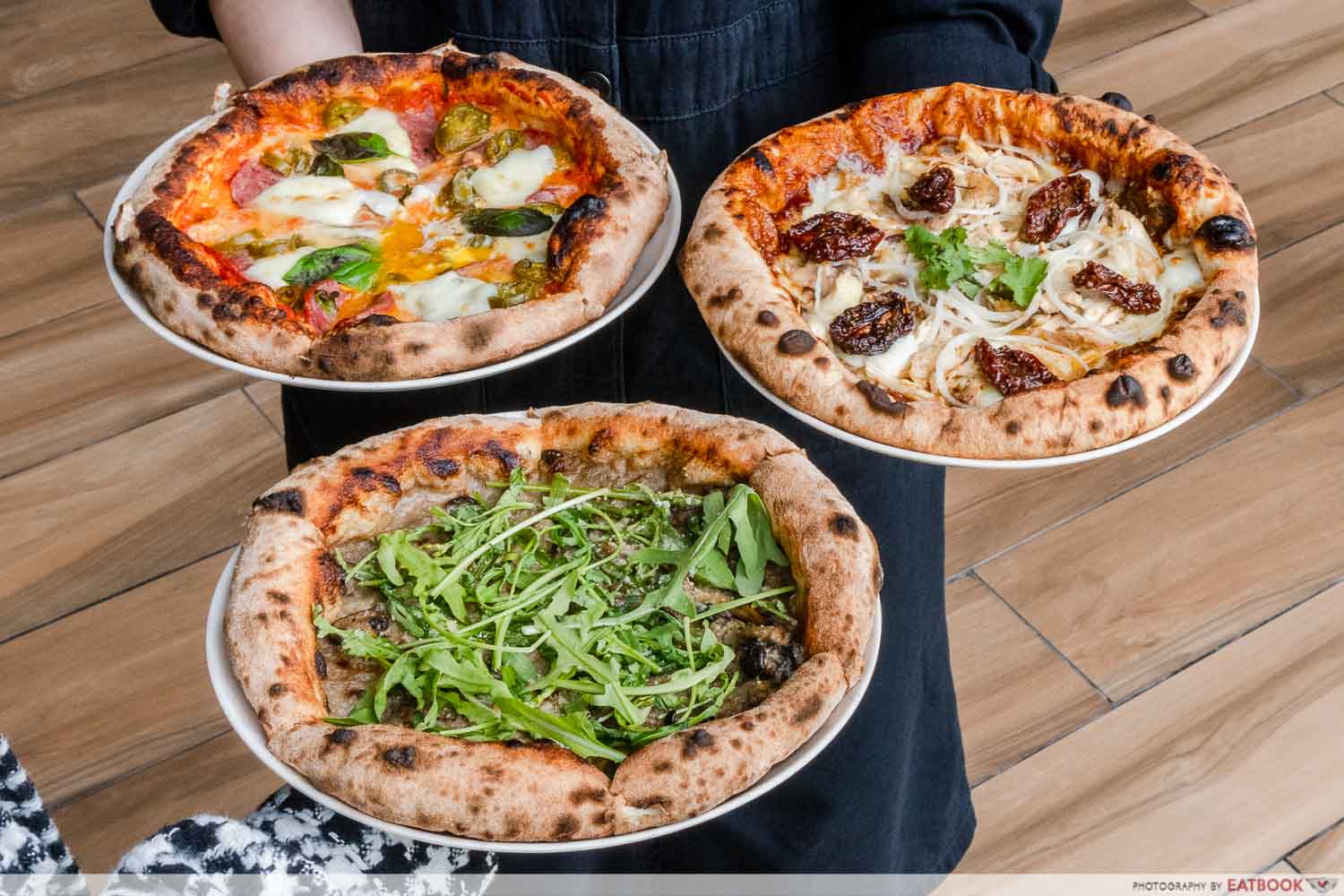 Los Angeles' famous pizza chain 800 Woodfired Pizza has arrived in Singapore and opened its very first pizza cafe in Paya Lebar's KINEX. A pie here starts from $15 for a 10″ portion, but if you get the 14″, which starts from $25, you could split the cost between two to three people and have a satisfying, affordable meal. Flavours include BBQ Chicken (from $15), or the unique vegetarian Tartufo Pizza (from $17), with a truffle base. Otherwise, they have a DIY pizza option too!
Check out our 800 Woodfired Pizza review.
Address: 11 Tanjong Katong Road, #01-52/53, KINEX Mall, Singapore 437157
Opening hours: Mon-Fri 11am to 9pm, Sat-Sun 11:30am to 9:30pm
Website
800 Woodfired Pizza is a halal-certified eatery.
800° Woodfired Kitchen Review: New Muslim-Owned Pizza Cafe With Truffle Sauce Base At Nett Prices
---
12. Mee Bagus
---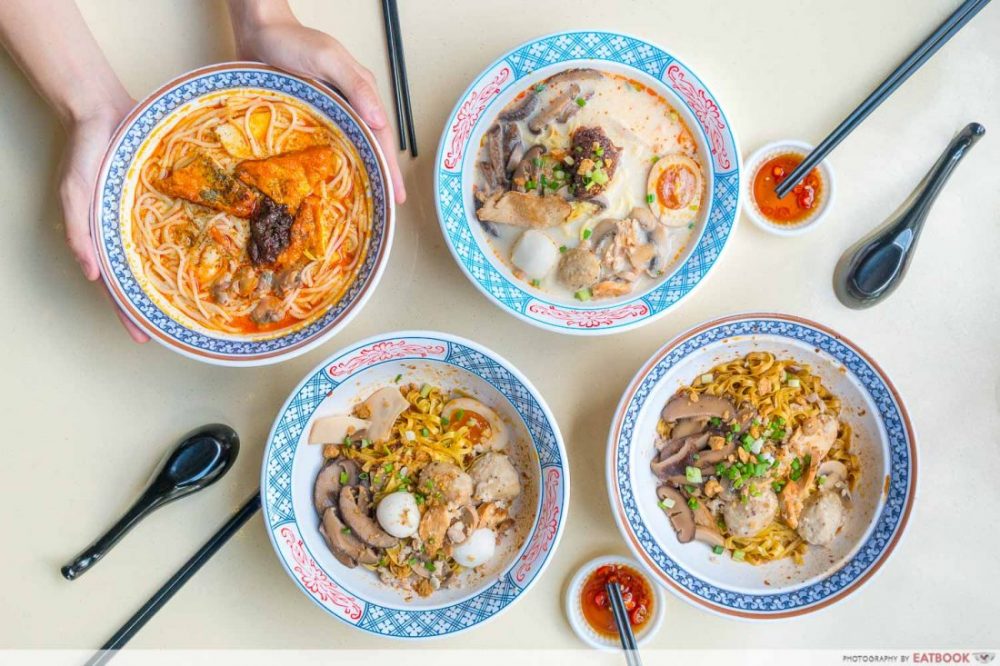 Halal "bak chor" mee and volcano ramen is the name of the game at Mee Bagus, a hawker stall in Clementi. Get their Mee Bagus Special ($6.30), a signature dish that is a take on bak chor mee, except with chicken breast and chicken meatballs, abalone slices, and a lava egg. If you prefer the heat, get their Volcano Ayam ($6.30). Similar to karaka-men, this bowl is topped with sambal that is mildly spicy, accentuating the chicken broth topped with a myriad of ingredients.
Read our Mee Bagus review!
Address: 380 Clementi Avenue 5, Kedai Kopi, Singapore 120380
Opening hours: Daily 7am to 9pm
Website
Mee Bagus is not a halal-certified eatery, but is in the process of applying for halal certification and uses Muslim-friendly ingredients.
Mee Bagus Review: Halal Spicy Volcano Ramen, Seafood Laksa And Mee Ayam In Clementi
---
13. Don N Bap
---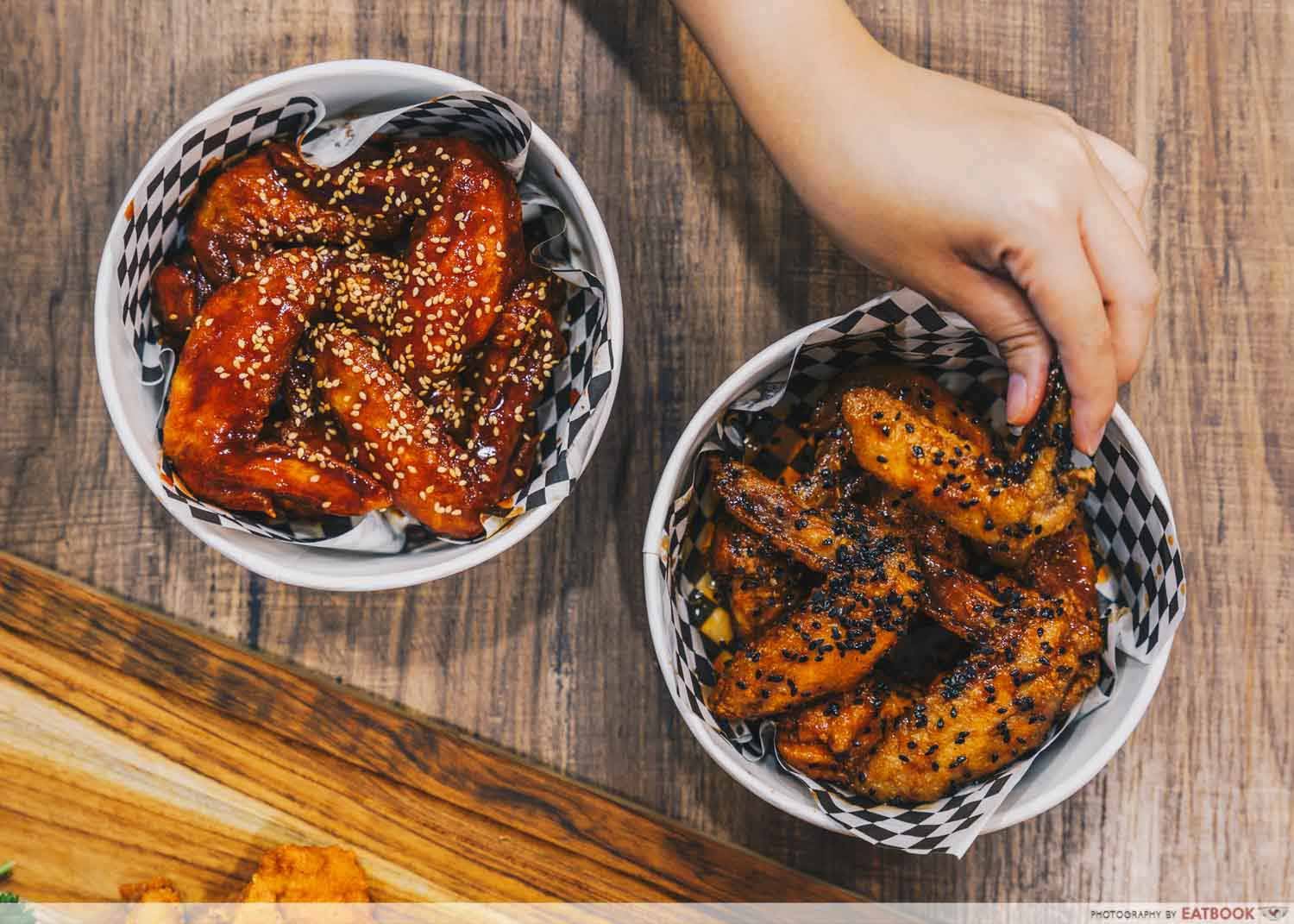 Don N Bap specialises in affordable Korean-style rice bowls as well as Korean fried chicken, the latter of which starts at just $5.50. Their affordable take on KFC comes in two flavours: Fiery or Ninniku.
Make your meal a fuller one by getting their rice bowls, which are priced around $6.80. Flavours include the Beef Bibimbap, as well as a Korean BBQ Chicken Bap. If you're more Team Noodles, you'll be happy to know that they have Army Stew Ramyun ($8.50) too, complete with chicken luncheon, and kimchi broth.
Check out our Don N Bap review.
Address: 100 Jalan Sultan, #01-08, Singapore 199001
Opening hours: Daily 10am to 10:30pm
Website
Don N Bap is a halal-certified eatery.
Don N Bap Review: Affordable Halal Korean Fried Chicken, Bibimbap, Rice Bowls And More Hidden At Bugis
---
14. Limau Thai Kitchen
---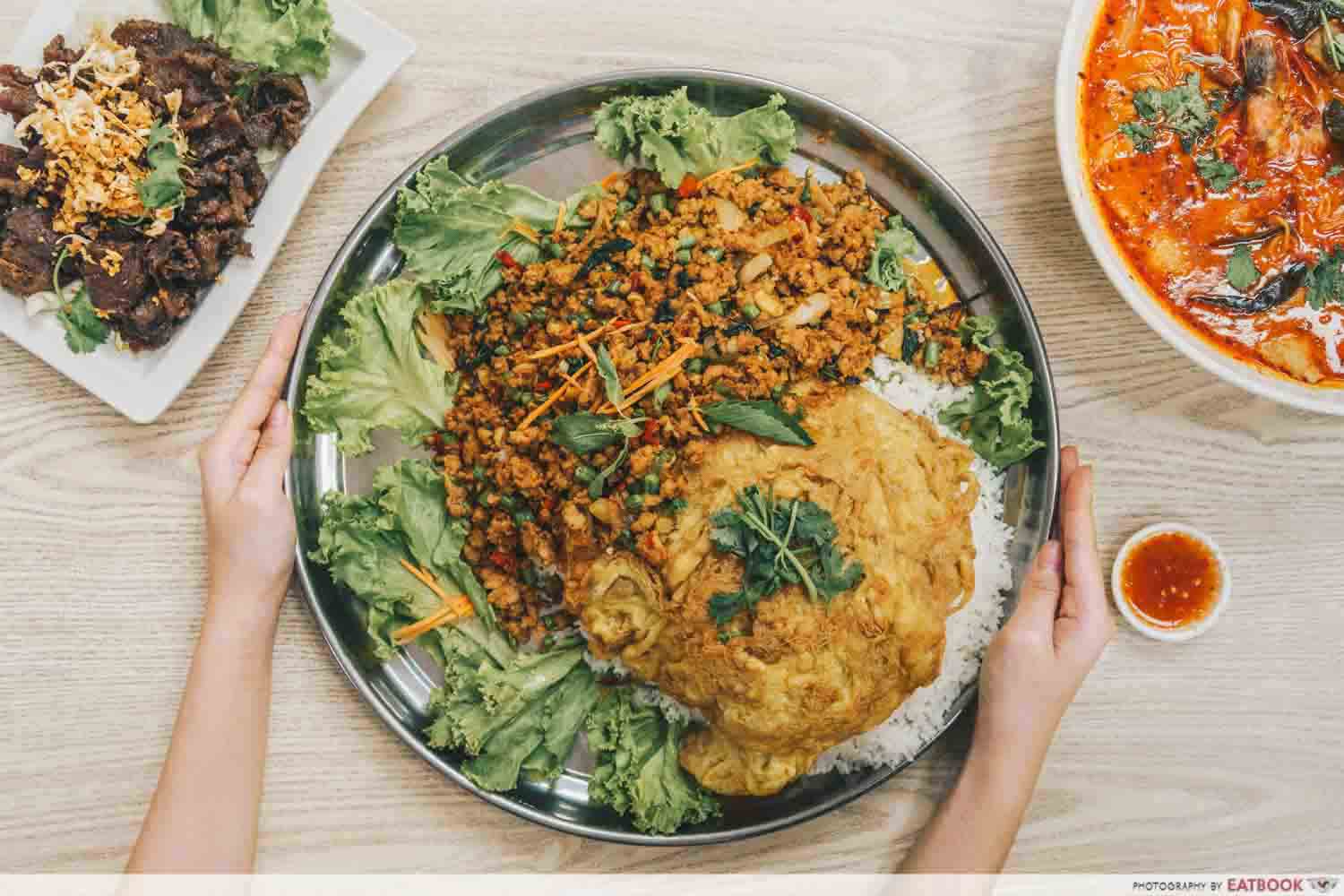 Get yourself and your friends a Giant Basil Minced Chicken Rice And Omelette (from $15.90) at Limau Thai Kitchen, a hawker stall in Woodlands. The plate is 40cm large, and easily feeds three. Apart from this XXL serving, there's also the option for you to get other upsized items, like the Giant Mama Seafood Tom Yum ($15.90), where maggi noodles meet a slurpable tom yum broth.
Read our Limau Thai Kitchen review.
Address: 785E Woodlands Rise #01-16, Food Paradise Woodlands, Singapore 735785
Opening hours: Daily 11am to 9pm
Tel: 9224 5992
Website
Limau Thai Kitchen is in the process of getting halal-certified.
---
15. Cafe Mariam
---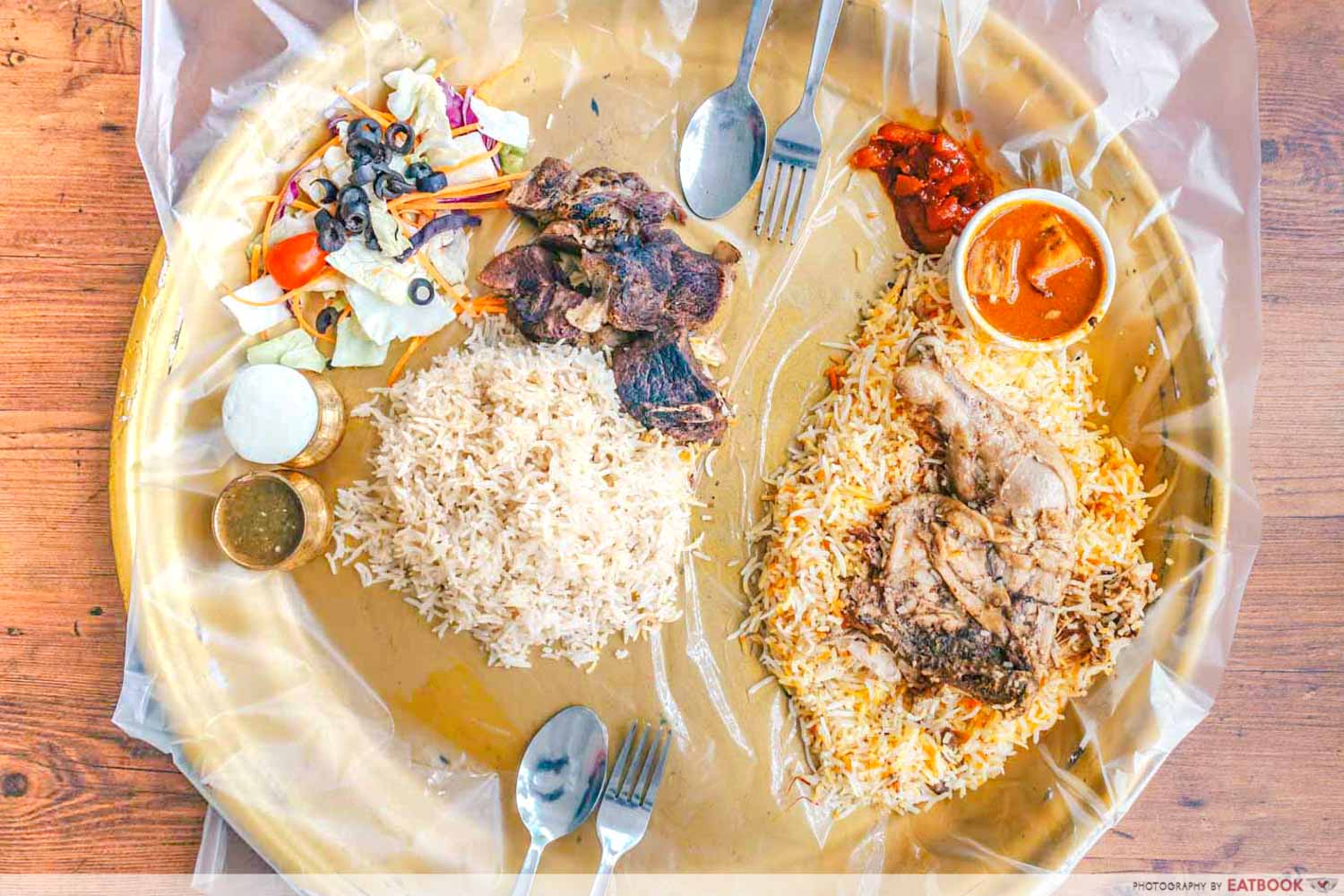 The briyani recipe at Cafe Mariam is three generations strong, and the current chef manning the reins has even once cooked for the likes of Gordon Ramsay. Only two dishes are sold here, both of which draw repeat long queues day by day. The Chicken Briyani ($6.50) and the Mutton Mandi ($7) are both cooked with a three-step process, ensuring that the flavours stay locked in and juicy from stove to table.
Check out our Cafe Mariam review.
Address: 116 Changi Road, #01-02, Singapore 419718
Opening hours: Mon-Thurs 11am to 3pm, Fri-Sun 11am to 2pm
Tel: 9369 8564
Website
Cafe Mariam is a halal-certified eatery.
---
Cheap halal food in Singapore
---
Don't worry about breaking the bank anymore with these cheap halal food places. If you're still hungry after dinner, you can check out these late-night halal supper places with your friends or family!
10 Late-night Halal Food Places For Those Never-ending HTHT Sessions
This article was originally written on 25 June 2019.
The post 15 Cheap Halal Food Places With Huge Portions And Mains Under $10 Per Person appeared first on EatBook.sg – New Singapore Restaurant and Street Food Ideas & Recommendations.