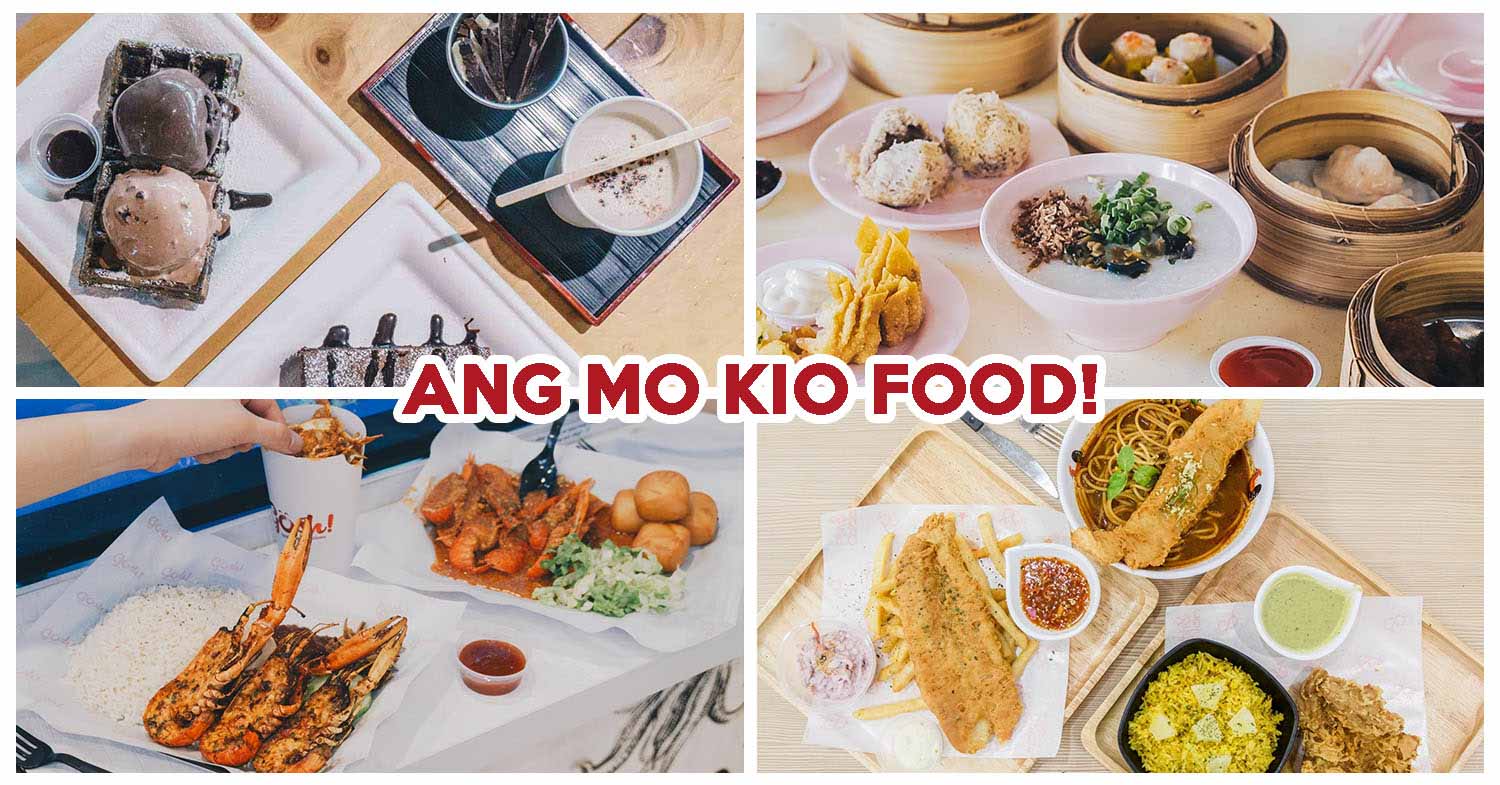 ---
Ang Mo Kio food gems
---
Truth be told, I'd never ventured to Ang Mo Kio until I was attached to someone who lives in the area. Unbeknownst to me, this heartland is popping with eateries selling the likes of cheesy Korean corndogs, and $1.30 dim sum. Thanks to him, I have finally discovered these places. Plus, he has a big appetite, which means I get to order a variety of food. Here's a list of Ang Mo Kio food gems to check out when you're in Ang Mo Kio.
---
1. Bunsik
---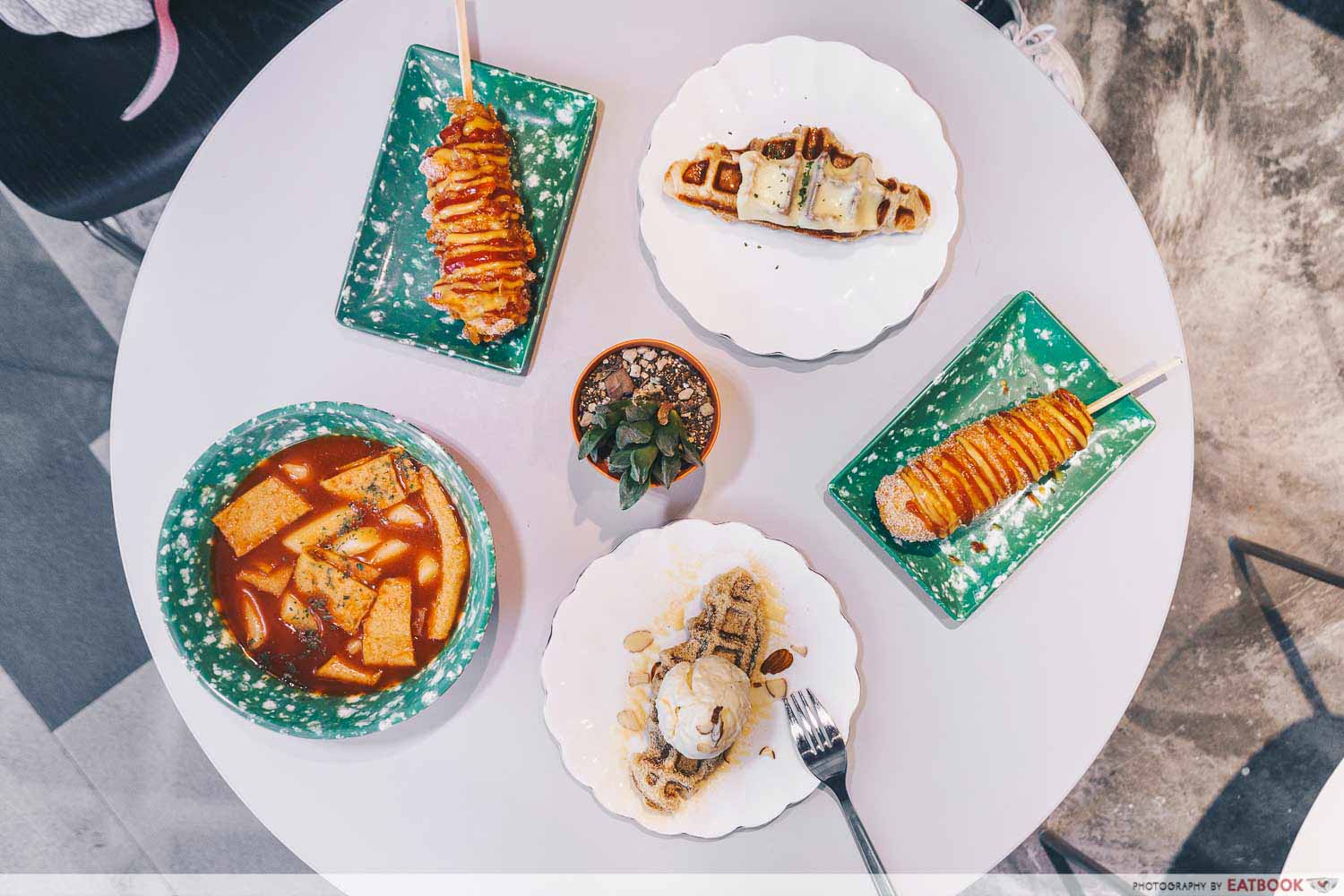 Korean drama Start-up has brought about a craze for Korean corn dogs. Here at Bunsik, you'll be able to enjoy them alongside a selection of Korean snacks, including spicy rice cakes and flaky croffles. For those uninitiated to croffles, they are essentially croissant-meets-waffle, popularised by the Korean cafe scene. If you're an injeolmi bingsu-lover, consider the Single Injeolmi Croffle ($5.50), dusted with soybean powder and chopped almond nuts.
For savouries, their Mozza Corndog ($5) is a must-try, filled with stretchy mozzarella cheese that makes for an IG-worthy cheese pull shot. Otherwise, their Ddeokbokki ($9.90) is great for sharing, loaded with chewy rice cakes and pieces of fish cake. You can customise the spiciness for this dish, with the highest option being level 3.
Check out our full review of Bunsik!
Address: 61 Ang Mo Kio Avenue 8, Singapore 569814
Opening hours: Daily 11am to 10pm
Website
Bunsik Review: Cheese Corn Dogs, Injeolmi Croffles And More Korean Street Food At Ang Mo Kio
---
2. Kuai San Dian Xin
---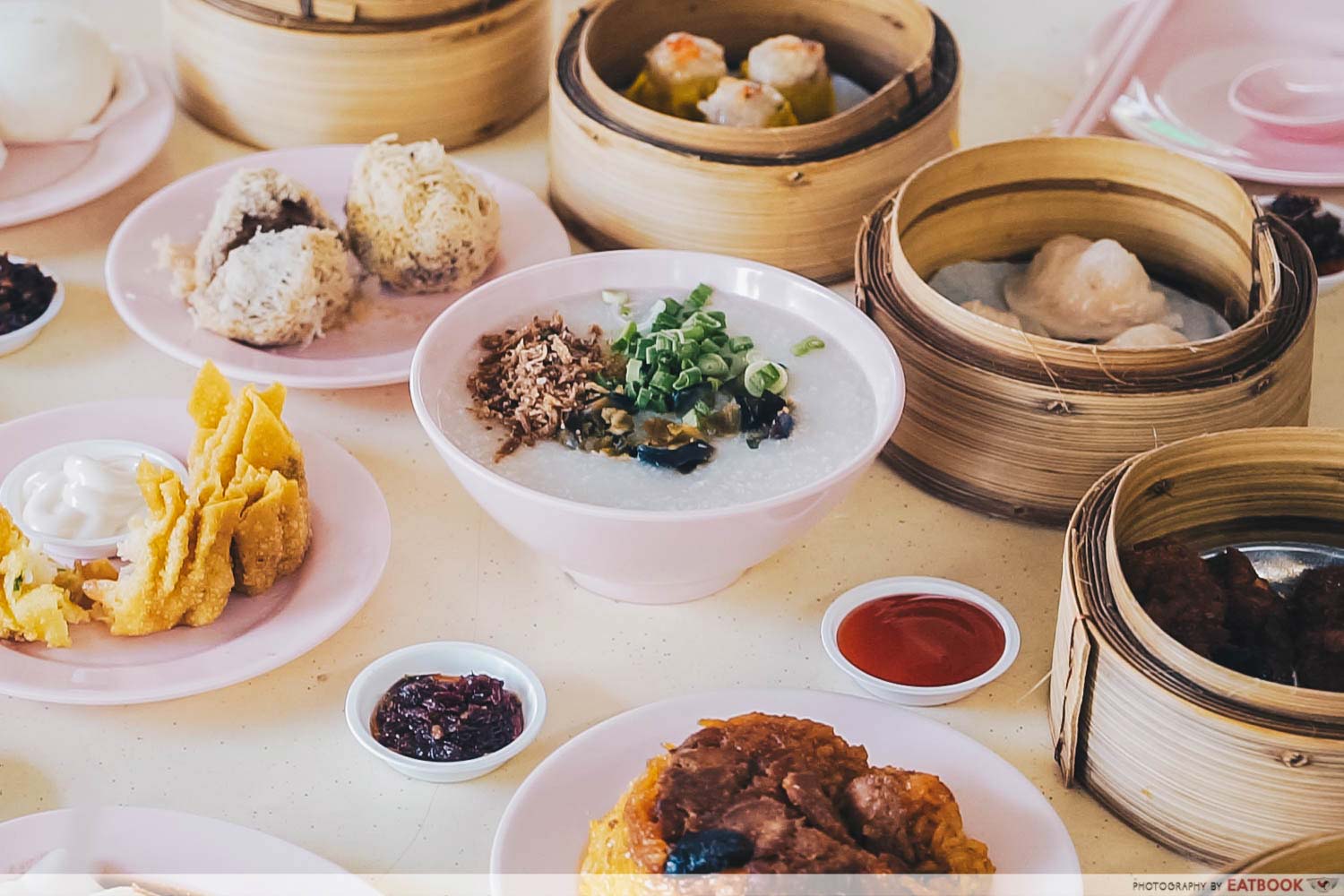 A short walk from OCD Cafe is Kuai San Dian Xin, a 24/7 dim sum joint which is incredibly wallet-friendly. With each item on their menu only setting you back $1.30, this hawker stall makes it easy to satisfy your dim sum cravings. You're spoilt for choice with over 30 options to choose from. These include classics such as char siew pao and fried carrot cake, which has a subtle hae bee hiam flavour. Their HK Style Prawn Chee Cheong Fun is liberally stuffed with prawns and wrapped around a silky rice noodle sheet.
Check out our full review of Kuai San Dian Xin!
Address: 555 Ang Mo Kio Avenue 10, Singapore 560555
Opening hours: Daily 24 hours
Website
Kuai San Dian Xin: $1.30 Dim Sum At Ang Mo Kio That's Open 24 Hours
---
3. Ishiro
---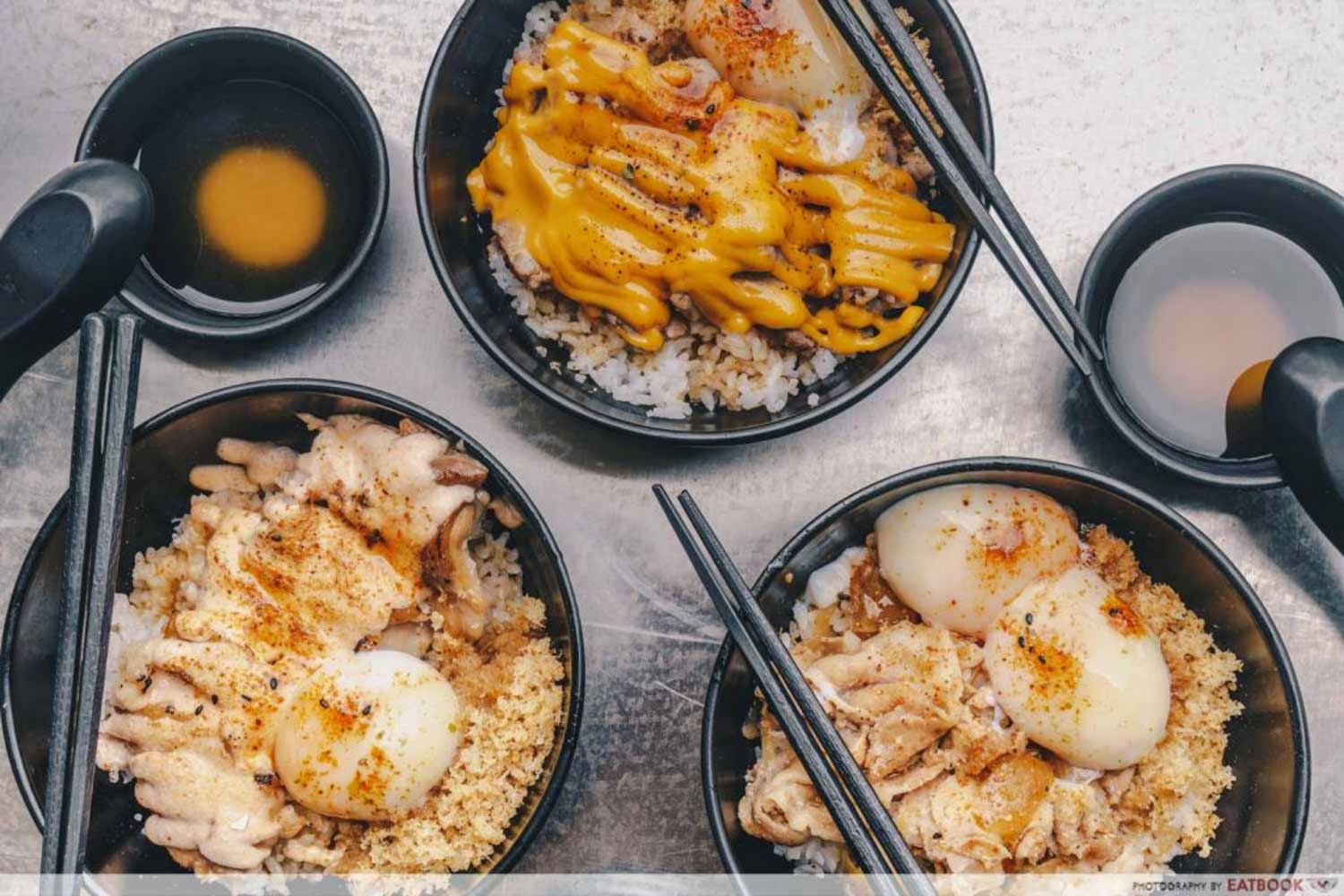 I miss being a student; besides the fact that you don't have to #adult yet, you can also access a plethora of affordable food in school. This is exactly what Nanyang Polytechnic students get to enjoy with Ishiro. The most expensive dish at this donburi stall, Roast Beef Bowl, only sets you back $5.50, and features tender beef slices with a warm pink centre. Their Iberico Pork Bowl ($5) is jam-packed with meaty flavours as a result of the marinade and beautiful ratio of meat to fat. 
Check out our full review of Ishiro!
Address: 180 Ang Mo Kio Avenue 8, Nanyang Polytechnic, Block P1 Foodgle Hub Canteen Stall 3 (Fusion Food), Singapore 569830
Opening hours: Mon-Fri 10am to 6pm
Tel: 8298 5157
Website
Ishiro Review: Japanese Rice Bowls With Iberico Pork Under $5.50 At Ang Mo Kio
---
4. Gosh! Inspiring Creations
---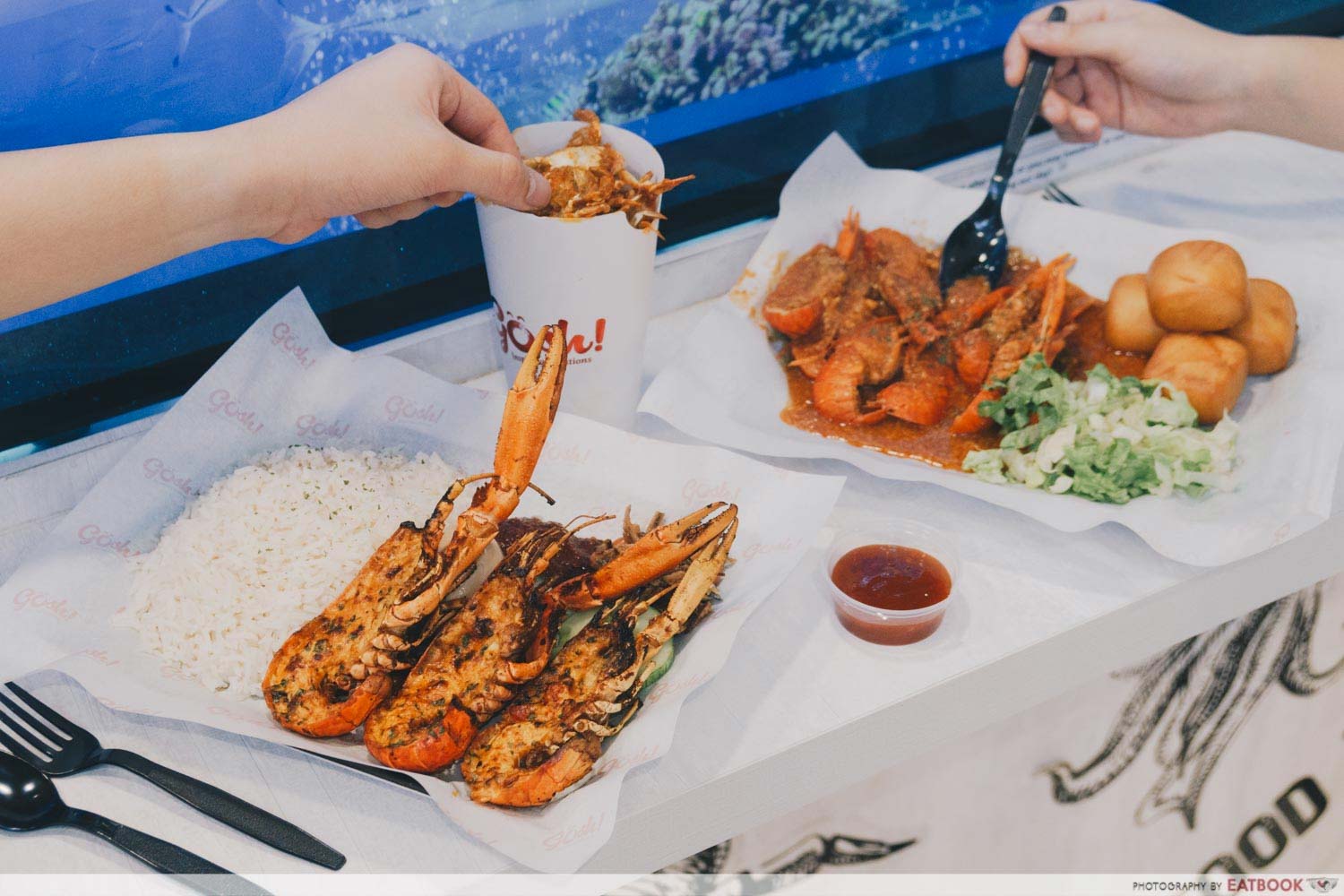 Have your fill of seafood without breaking the bank at halal-certified Gosh! Inspiring Creations. Run by seafood importers, this kiosk at AMK Hub offers delightful crustaceans such as crabs and lobsters at affordable prices. Their Mini Lobster Nasi Lemak ($9.80) is a fun twist on a local favourite. Instead of typical fried chicken, grilled yabbies are served with the usual elements of the classic Malay dish—namely coconut rice, sambal, and ikan bilis. A popular side on their menu is Mini Crab ($5), which are soft-shell crabs coated with a savoury and spicy seasoning.
Check out our full review of Gosh! Inspiring Creations!
Address: 53 Ang Mo Kio Avenue 3, #B2-48, AMK Hub, Singapore 569933
Opening hours: Daily 10am to 10pm
Tel: 8686 9918
Website
Gosh! Inspiring Creations Review: Mini Lobster Nasi Lemak Under $10 At AMK Hub
---
5. The Workbench Bistro
---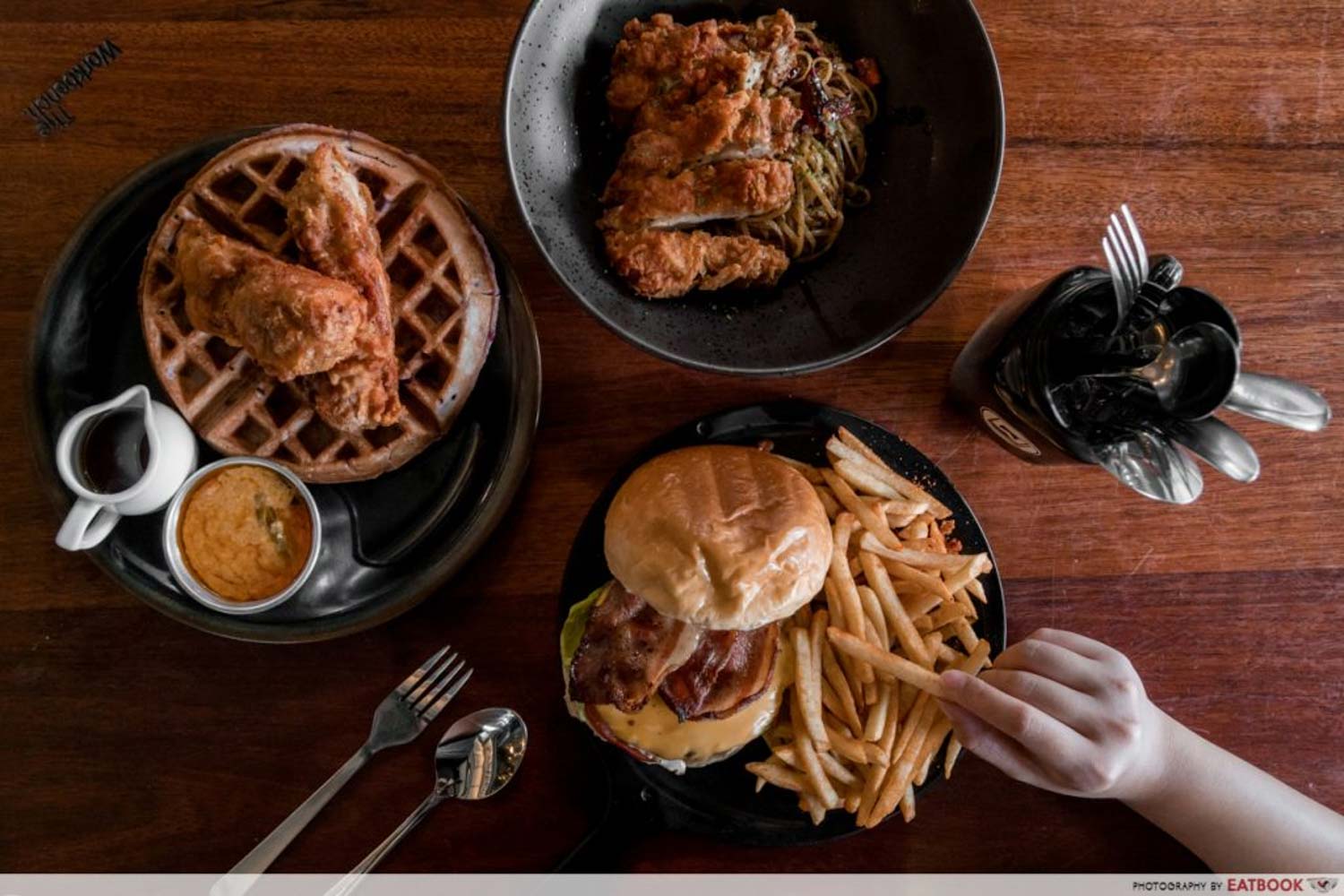 Challenge your spice tolerance at The Workbench Bistro. This HDB cafe serves legit Ma La Pasta ($16.90) with three levels of spice, starting from a beginner-friendly xiao la to deadly da la. Paired with this mala aglio olio is a crispy buttermilk chicken that's fried to deep, golden perfection. This flavoursome tender meat gives a nice break from the numbing spices of the pasta. Indulge in their Truffle Wagyu Egg Lava Beef Burger ($18.90)—a true treat-yo'-self dish which features a thick beef patty layered with savoury bacon, oozy cheese, and a runny egg. 
Check out our full review of The Workbench Bistro!
Address: 332 Ang Mo Kio Avenue 1, #01-1881, Singapore 560332
Opening hours: Mon-Fri 12pm to 10pm, Sat-Sun 11am to 10pm
Tel: 6452 0810
Website
The Workbench Bistro Review: Legit Three Levels Ma La Pasta Found At Ang Mo Kio
---
6. Konomi Zen
---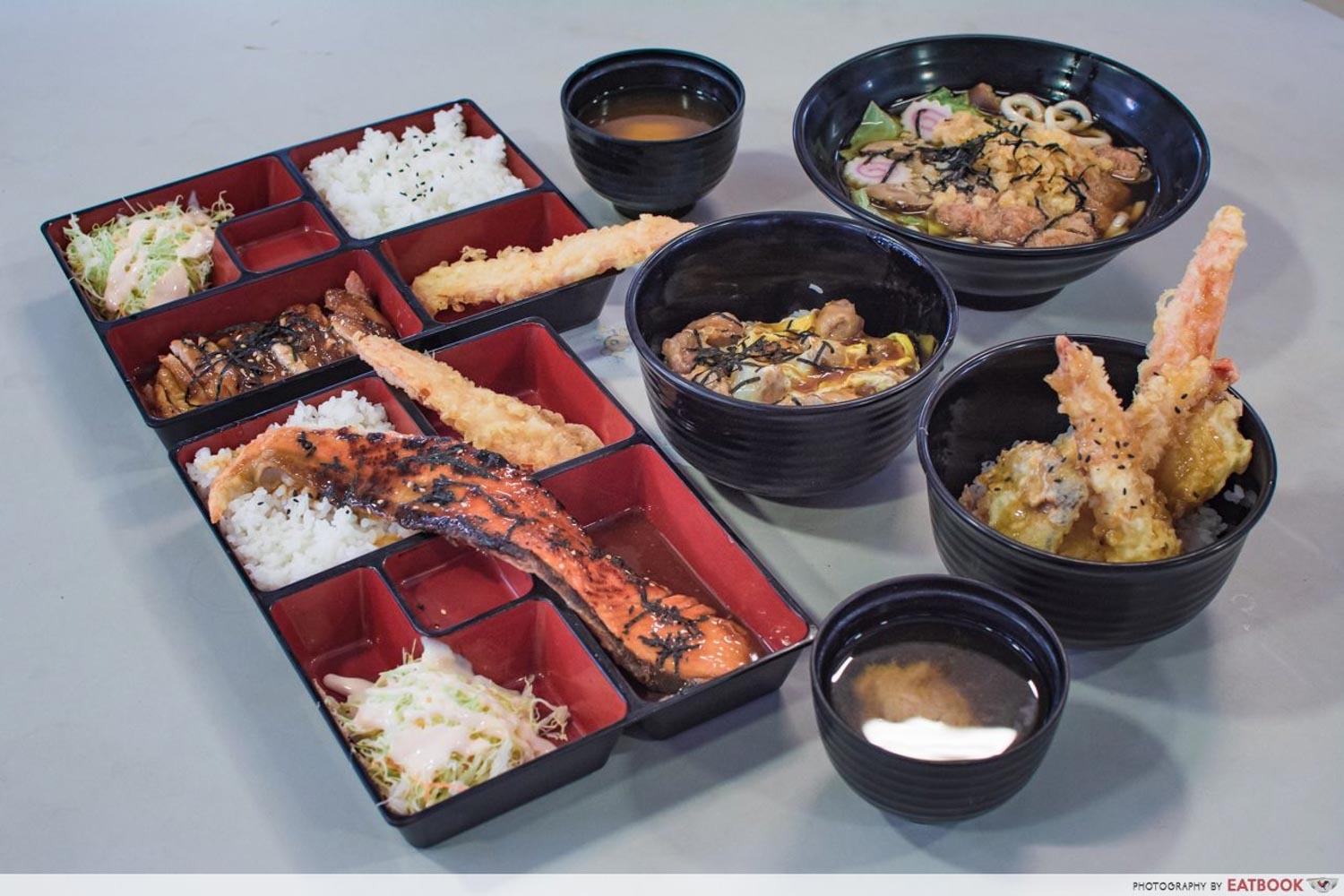 Japanese fare is known to be on the pricier side, where it's easy to burn a hole in your wallet after one meal. Thankfully, there's Konomi Zen which offers a no-frills menu, where you'll be able to get your fill of their Japanese donburi at wallet-friendly prices. For a taste of the sea, get the Tendon ($5), which features lightly battered prawn tempura, tilapia fillet, and some vegetables. Meanwhile, if you're a salmon-lover like me, consider the Salmon Bento Set ($6), which comes with a large slab of salmon, seared until nicely charred.
Check out our full review of Konomi Zen!
Address: 628 Ang Mo Kio Avenue 4, #01-59, Ang Mo Kio 628 Market & Food Centre, Singapore 560628
Opening hours: Mon-Sat 11am to 8pm
Tel: 6901 1873
Konomi Zen Review: Japanese Stall At Ang Mo Kio With Nothing Over $6
---
7. Shanghai Renjia
---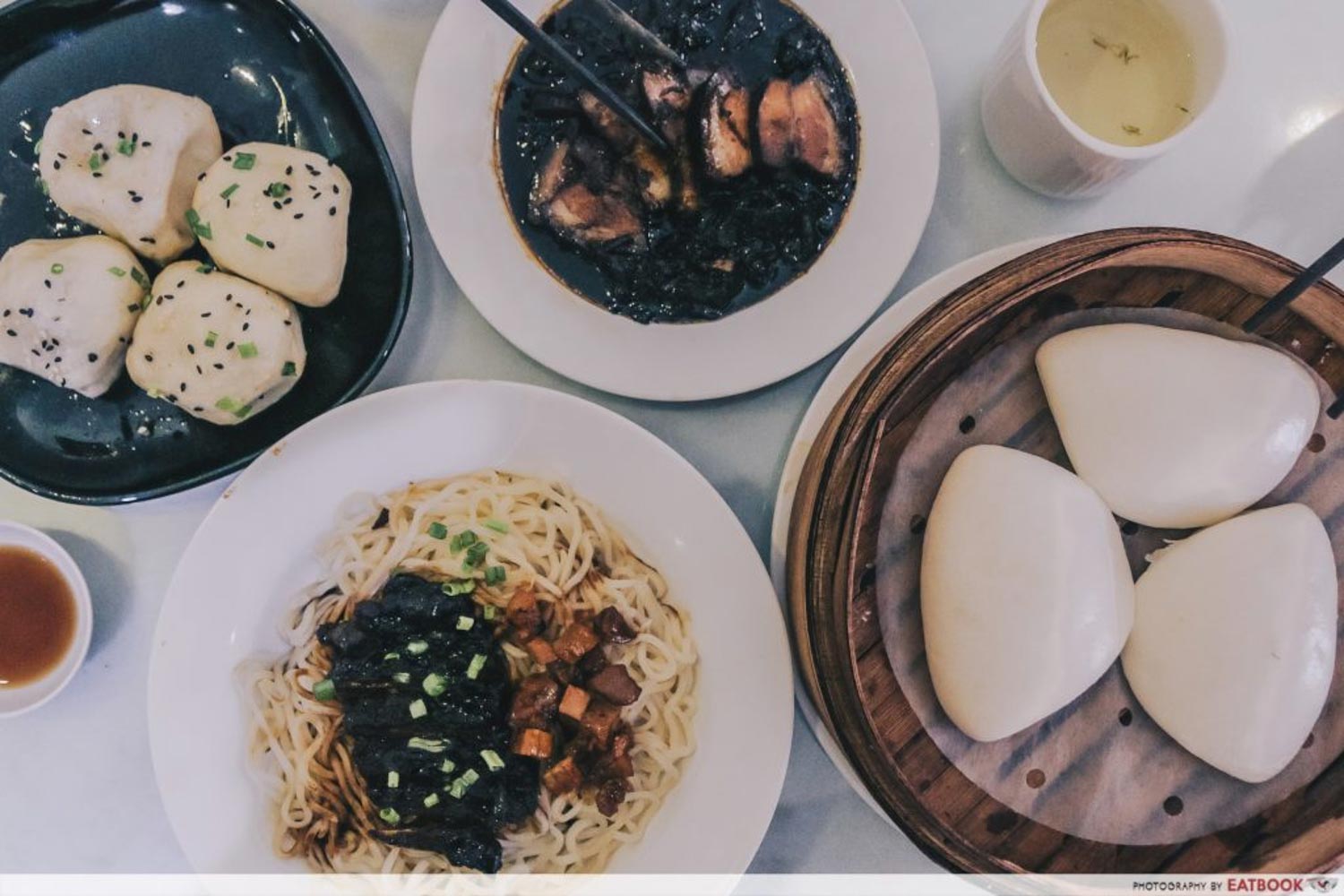 If Din Tai Fung is your bae for xiao long bao and la mian, then Shanghai Renjia can be your new side chick. The menu reflects this family-run restaurant's awe for Shanghai cuisine, offering dishes such as Pan-Fried Buns ($6 for four) and Pork Chop Noodles ($6) which are freshly made in-house. Their Pan-Fried Buns are basically fried xiao long bao which are crispy, golden-brown buns encasing a juicy pork filling. Mix the springy Pork Chop Noodles evenly to taste the sweet braised-meat sauce in each strand of noodles.
Check out our full review of Shanghai Renjia!
Address: 151 Ang Mo Kio Avenue 5, #01-3046, Singapore 560151
Opening hours: Tue-Sun 11am to 3pm, 6pm to 10pm
Tel: 6368 6927
Website
Shanghai Renjia Review: Sheng Jian Bao And Shallot Pork Chop Noodles At A Neighbourhood Restaurant
---
8. Sumo Big Prawn
---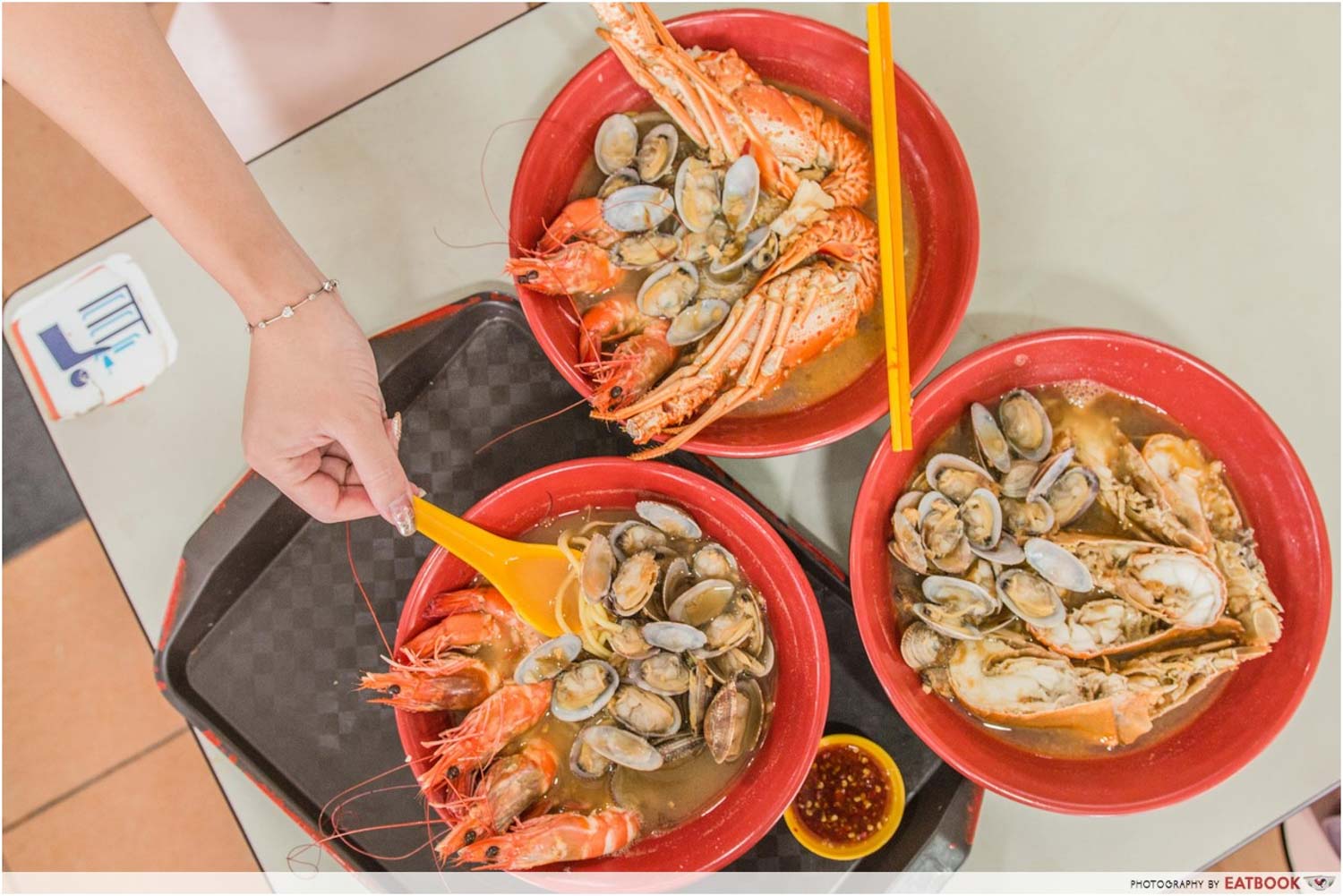 Go big or go home with Sumo Big Prawn. This prawn noodle stall takes prawn mee to the next level with their Sumo Big Prawn ($8). Be sure to come with an empty belly as this massive dish comes with large, sweet prawns, a bed of plump clams, your choice of noodles, and their umami-rich soup. If you're feeling fancy, go for their Lobster Bee Hoon Soup ($24.90), which features luxurious Colombian lobsters. With a whole lobster, a pair of prawns, and a bunch of clams swimming the robust prawn soup, this dish makes you feel like you're dining at a seafood restaurant but at a fraction of the price.
Check out our full review of Sumo Big Prawn!
Address: 628 Ang Mo Kio Avenue 4, Singapore 560628
Opening hours: Tue-Sun 9:30am to 4pm, 5pm to 9pm
Tel: 9816 4514
Website
Sumo Big Prawn Review: Lobster And Crayfish Prawn Mee At A Hawker Stall In AMK
---
9. Hong Heng Beef Noodles And Laksa
---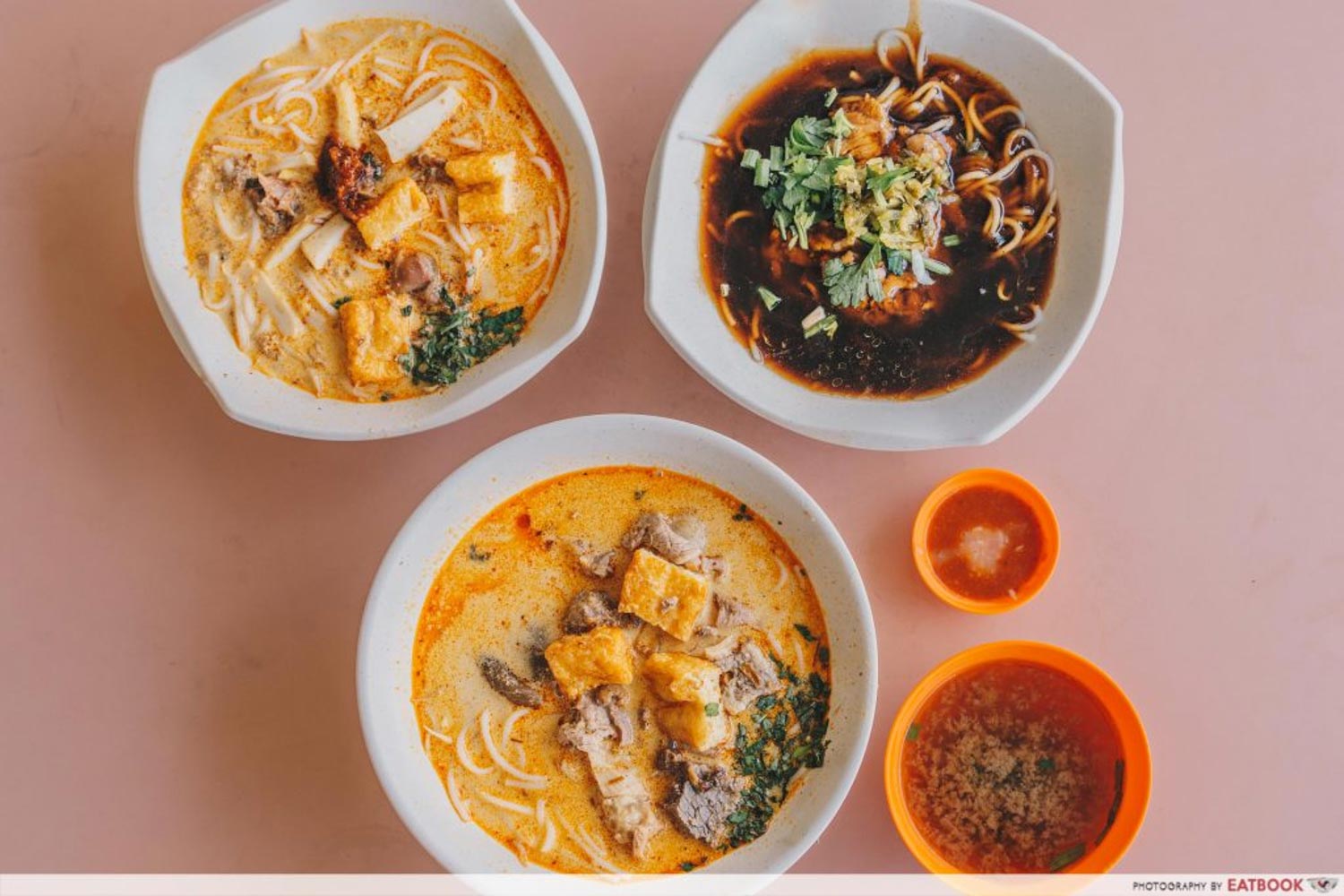 There are some great food pairings we get to enjoy in Singapore, such as oyster omelette and crab bee hoon. Now Hong Heng Beef Noodles and Laksa brings us another delicious duo—Mixed Beef Laksa ($5.50). Instead of regular hum (cockles), this noodle stall swaps it for an assortment of beef—tender slices, chewy tendon, and tripe. There is also the option to stick the original dishes. Their Dry Beef Noodles ($4.50/$5/$6/$7) is generously ladled with a thick and savoury sauce. Mix in the accompanying chilli for a fiery kick in the Fresh Cockles Laksa ($3.50).
Check out our full review of Hong Heng Beef Noodles And Laksa!
Address: 226H Ang Mo Kio Street 22, #01-16, Kebun Baru Market & Food Centre, Singapore 568226
Opening hours: Tue-Sun 11am to 3pm, 6.30pm to 10pm
Tel: 6368 6927
Hong Heng Beef Noodles And Laksa Review: Beef Laksa Stall At Ang Mo Kio
---
10. Fish & Chicks
---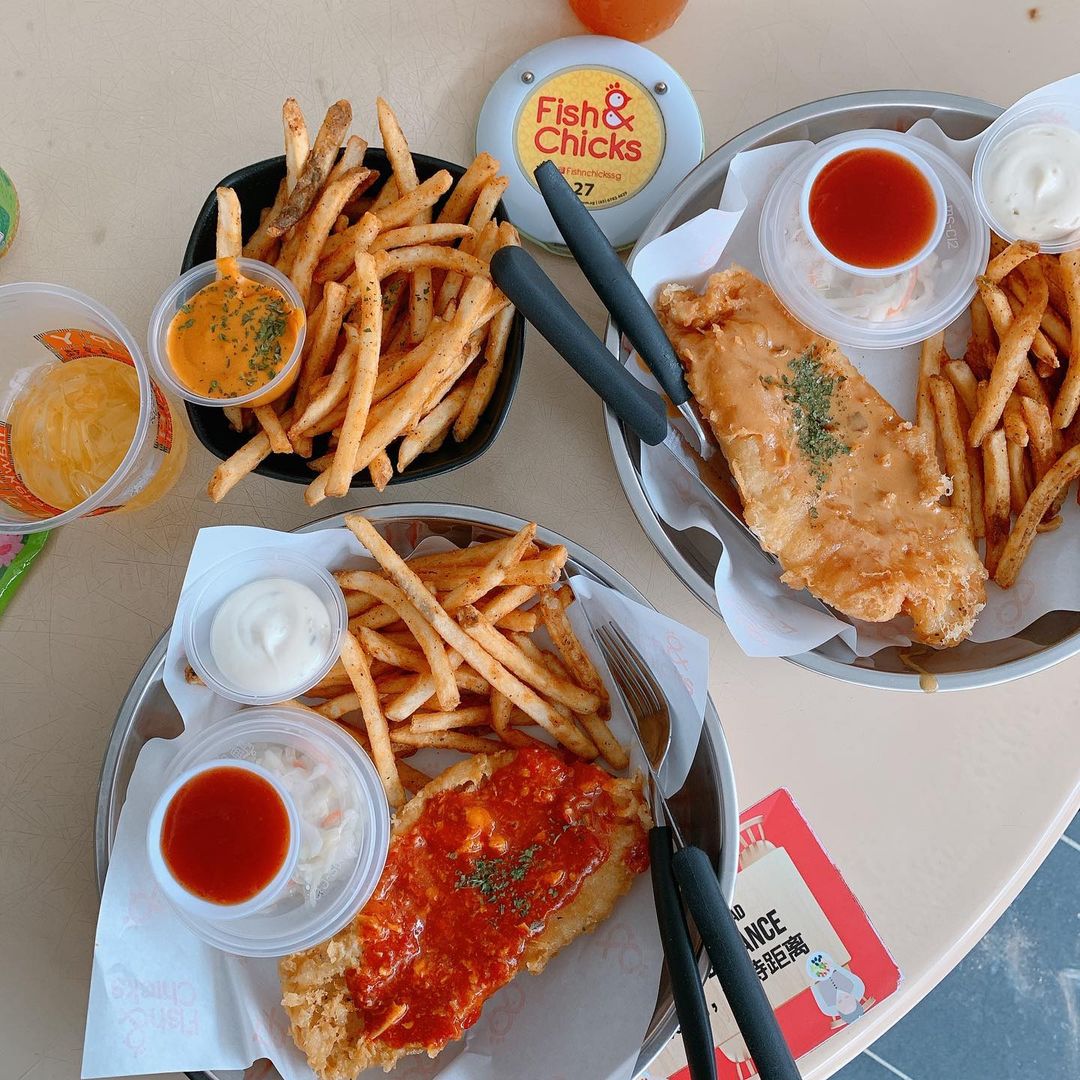 Image credit: @syaturdaynomzz
Fish & Chicks is a Western food franchise, with over ten outlets peppered across Singapore, including one at Ang Mo Kio. Here you can expect fish and chips, chicken, pasta, and more, all zhng-uped with local twists. Their Fish & Chips With Salted Egg Sauce ($10.90) is one such example, with crispy skin and tender fish, slathered with a moreish salted egg sauce. There's also the Fish & Chips With Chilli Crab Sauce ($10.90), with bright red chilli crab sauce that's laced with egg swirls.
Chicken-lovers can go for the Hawaiian Chicken ($9.50) which comes topped with tomato sauce, cheese, and pineapple chunks to create that likeliness to Hawaiian pizza. If you're anti-pineapples on pizza, not to fret, as there are other chicken dishes available, such as the classic Chargrilled Chicken ($8.50) and crispy Half Spring Chicken ($7.90).
Address: Blk 531 Ang Mo Kio Avenue 10, #01-2429, Singapore 560531
Opening hours: Daily 11am to 9:30pm
Tel: 9828 3490
Website
---
11. Phuket Town Mookata
---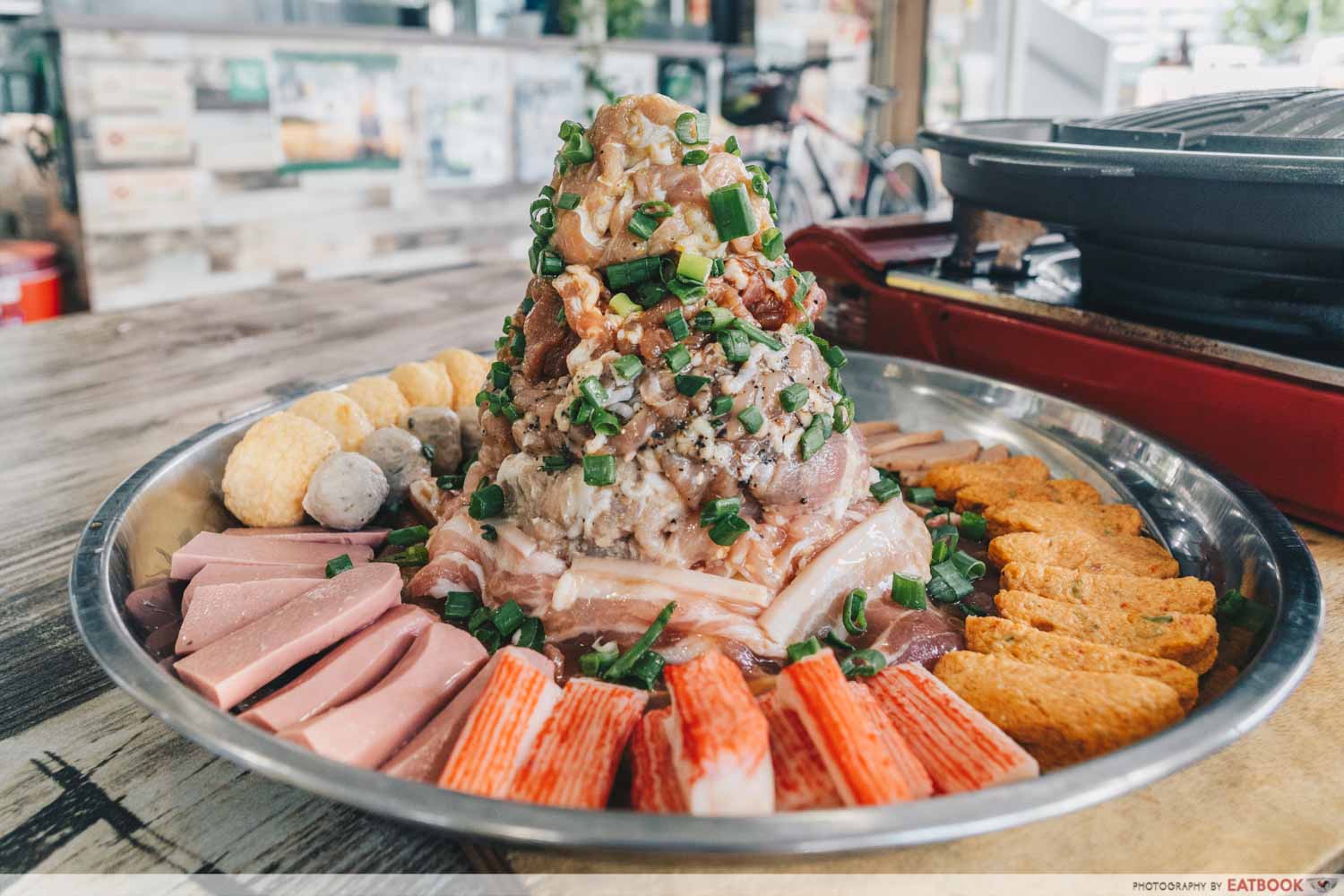 Meat-lovers will surely enjoy Phuket Town Mookata, where you can get an XXL 1kg Meat Mountain ($39.90)—a gigantic heap of green curry chicken, tom yum pork collar, black pepper chicken, garlic pork collar, pork belly with signature sauce, and sesame chicken. The meats are well-marinated, and especially delicious when slightly charred. What's more, the stall has an array of house-made sauces to pair with the meats, of which our favourite was the Original, as it added sweetness to the proteins.
This mountain of meat also comes with processed food items at the base, such as cheese tofu and crabsticks, that are great to cook in the broth around the skillet.
Check out our full review of Phuket Town Mookata!
Address: 340 Ang Mo Kio Avenue 1, Singapore 560340
Opening hours: Wed-Mon 6am to 1pm
Tel: 8613 0826
Website
Phuket Town Mookata Review: Mookata With XXL Meat Mountain Platter At Ang Mo Kio
---
12. SteakGrill
---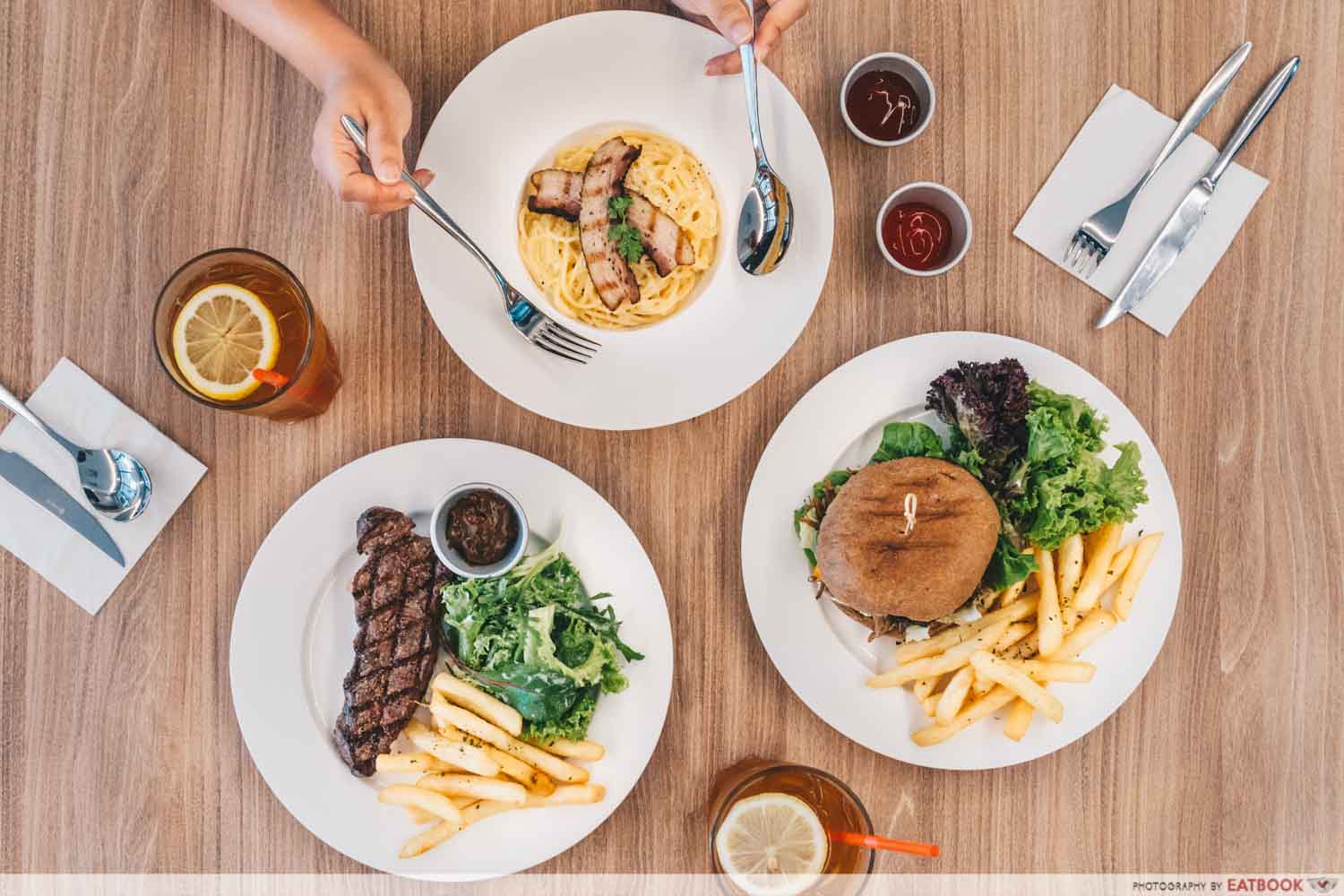 If you're craving for steak that doesn't break the bank, check out SteakGrill, a Western bistro hidden within the AMK HDB estate. We recommend heading down for lunch, as all burgers, steaks, and pasta come with free-flow iced lemon tea! Otherwise, you can top up $2.50 to swap with other beverages.
Their NY Strip Steak ($15) uses the striploin cut, a lesser-known cut that's no less juicy than its ribeye counterpart. It's also served alongside fries and a salad, so you get your carbs and greens in as well. We actually enjoyed their Bacon Carbonara ($9) most, as it's creamy without being jelak, topped with two slabs of tender bacon.
Check out our full review of SteakGrill!
Address: 408 Ang Mo Kio Avenue 10, Singapore 560408
Opening hours: Tue-Sun 12pm to 2:30pm, 5:30pm to 10pm
Tel: 8766 1412
Website
SteakGrill Review: Hidden Bistro With Affordable Western Set Lunches From $7 Nett At Ang Mo Kio
---
13. Rahim Muslim Food
---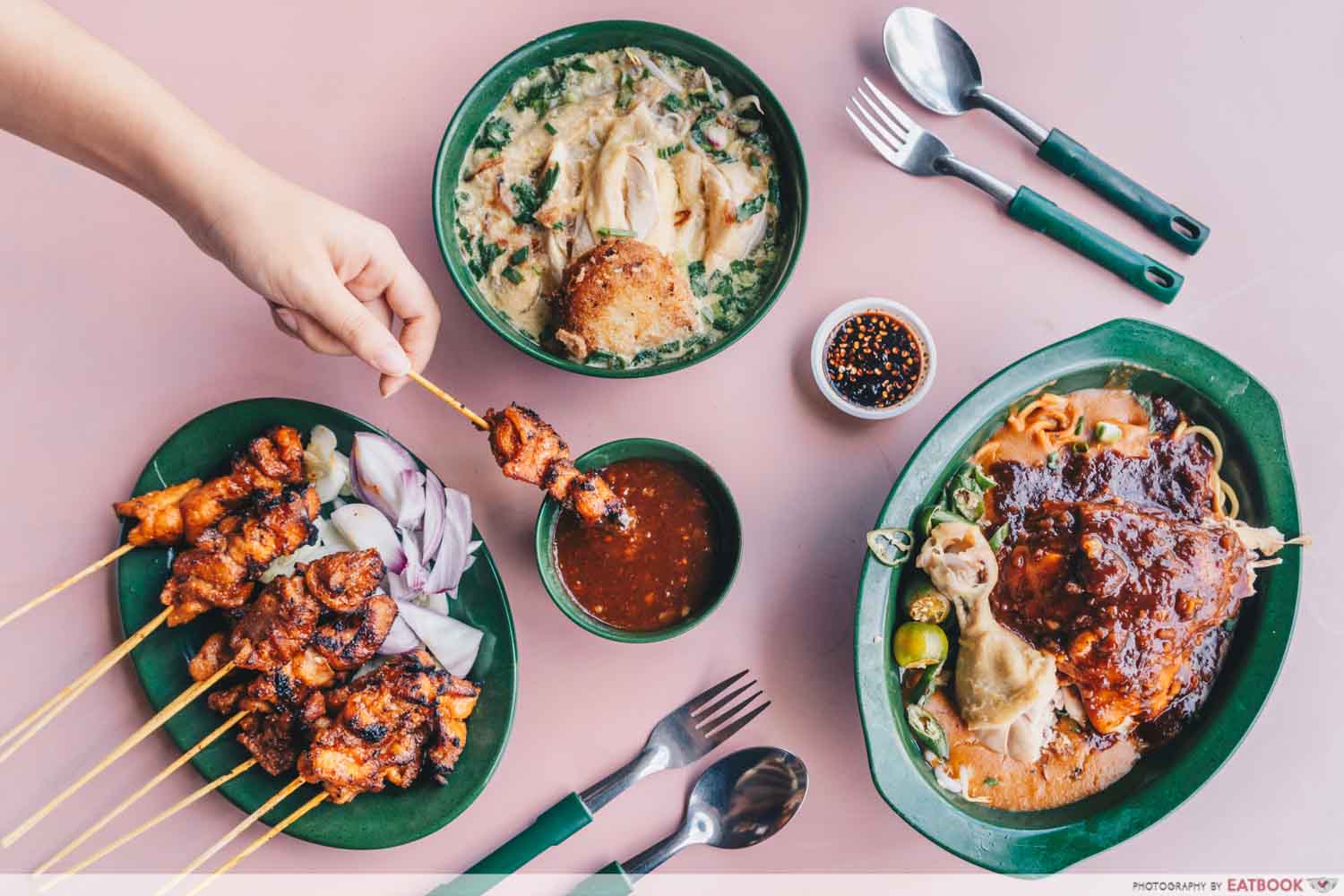 Armed with over 60 years of history is Rahim Muslim Food, best known for their Power Mee Rebus that has drawn long queues to their humble stall. This dish has even gotten the approval of ex prime minister Goh Chok Tong! Zhng-up the usual mee rebus with their Extra Special Mee Rebus ($6) which comes topped with a satay sauce-drenched chicken thigh, chicken drumstick, hard boiled egg, and beansprouts. The gravy was immensely rich, with nutty, sweet, and savoury flavours.
Apart from the mee rebus, we also recommend their Normal Bee Hoon Soto ($4.50), which highlights an aromatic broth that's cooked with turmeric, ginger, garlic, and chicken parts.
Check out our full review of Rahim Muslim Food!
Address: 453A Ang Mo Kio Avenue 10, #01-01, Chong Boon Market, Singapore 560453
Opening hours: Mon-Sat 12:30pm to 7pm
Tel: 9786 7362
Website
Rahim Muslim Food Review: Famous Mee Rebus At Ang Mo Kio With Over 60 Years Of History
---
14. Abang Gemuk
---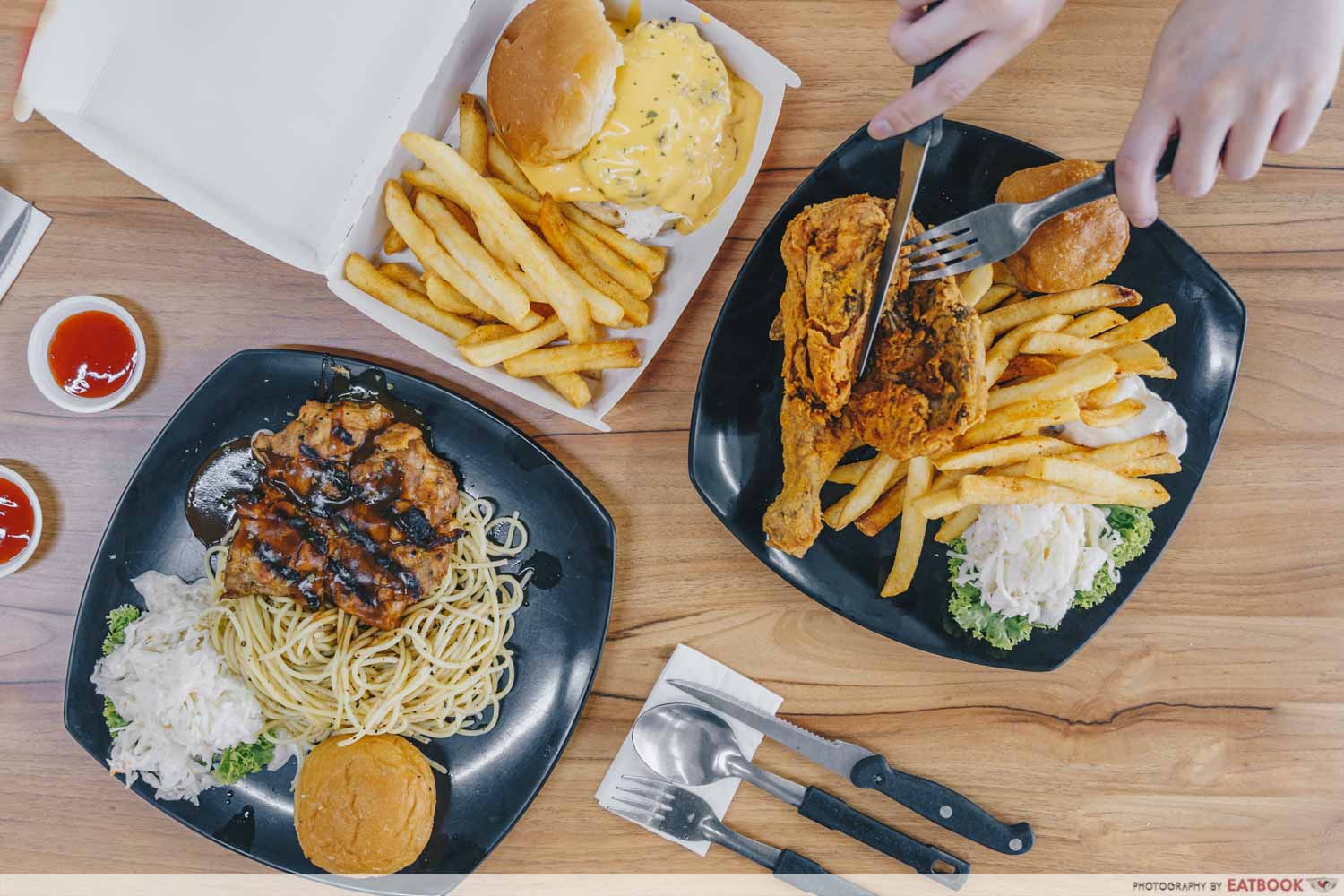 Abang Gemuk is a halal Western food stall, started up by the same people behind Fatty Bom Bom. Their name translates to 'fat bro' in Malay, a cheeky title that suits the stall's chubby chef logo. The portions here are big and sure to fill you up, as evident in their Brown Sauce Chicken Chop ($7.20) which comes alongside spaghetti, coleslaw, and a bun. We were particularly impressed by the aglio olio spaghetti, as it was cooked al dente and boasted a slight garlicky fragrance.
If you want something for the gram, consider the Cheesy Beef Burger ($8.20). This burger is drenched with nacho cheese, making for IG-worthy visuals. Taste-wise, the cheese can get overwhelming, so we recommend sharing the dish with a friend or two.
Check out our full review of Abang Gemuk!
Address: 446 Ang Mo Kio Avenue 10, Singapore 560446
Opening hours: Daily 11:30am to 3:30pm, 4:30pm to 10pm
Website
Abang Gemuk Review: Halal Western Food With Huge Portions At Ang Mo Kio
---
15. Yummy Western
---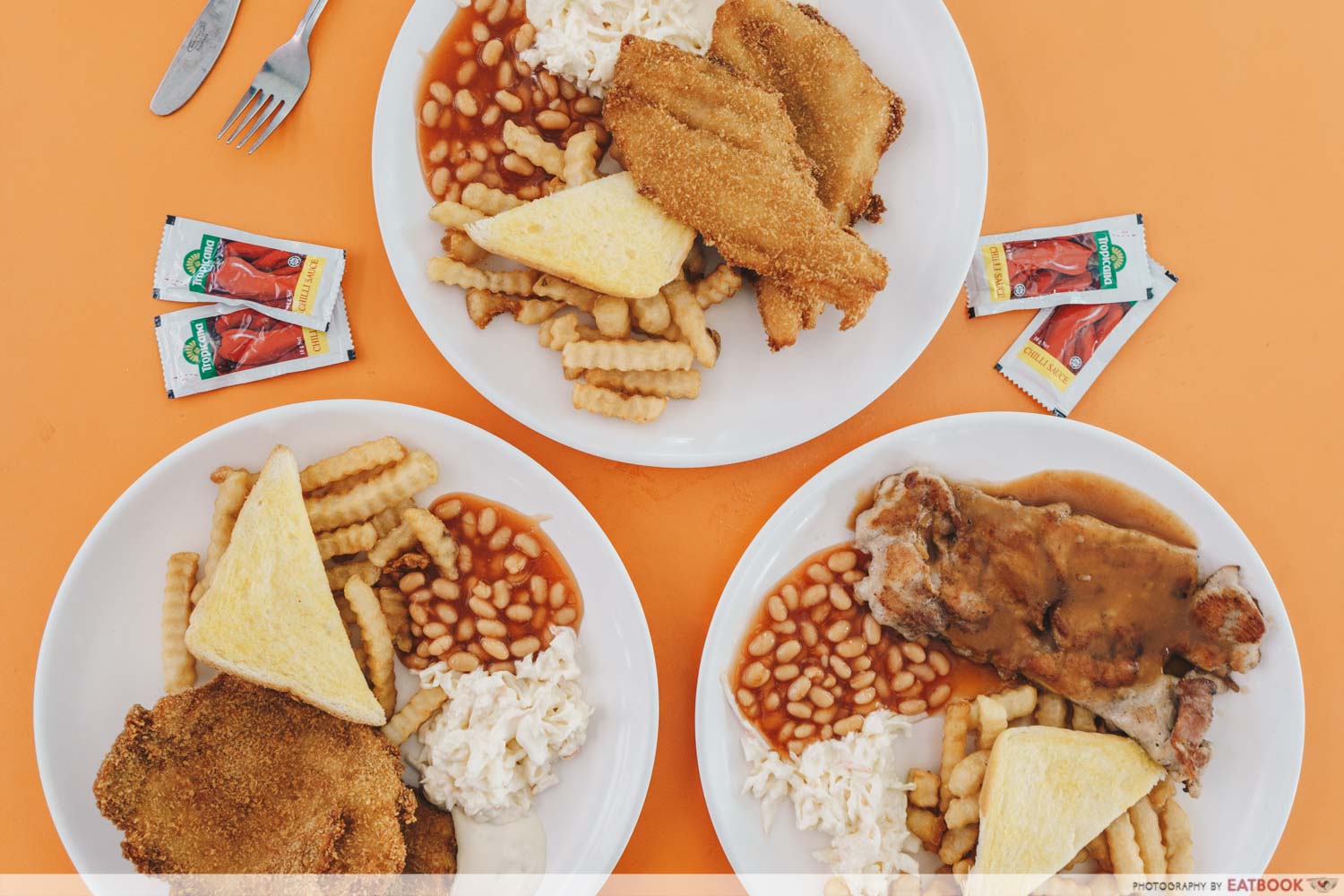 While recent Western stalls have been adding new and modern twists to their dishes, Yummy Western takes us back to good old times with their old-school Western fare. Each main comes with coleslaw, baked beans, crinkle cut fries, and a triangular buttered toast. We liked the Black Pepper Chicken Chop ($6.80) as it was succulent and juicy, drenched in a peppery brown sauce. Their Fish & Chips ($6.80) was also decent, with thick and flavourful fish meat that paired well with the accompanying tartar sauce.
Check out our full review of Yummy Western!
Address: 409 Ang Mo Kio Avenue 10, #01-29/30, Singapore 560409
Opening hours: Tue-Sun 12pm to 10pm
Tel: 9003 6723

Yummy Western Review: Classic Western Food At Ang Mo Kio With 30-Minute Queues
---
Food gems in Ang Mo Kio
---
This heartland is dotted with local cafes and hawkers which serve up an array of affordable and delicious spread, allowing you to spend an entire day touring this quaint neighbourhood with your belly!
For more food options nearby, check out our AMK Hub food guide for tendon, Korean BBQ, and more! Alternatively, if you're looking to dine at more hidden food gems, check out our Chinatown food guide.
15 Chinatown Food Gems Including Noodles At $1 And A 100cm Food Platter
This post was originally published on 17 October 2019.
The post 15 Ang Mo Kio Food Gems Including Cheesy Korean Corndogs And $1.30 Dim Sum appeared first on EatBook.sg – New Singapore Restaurant and Street Food Ideas & Recommendations.