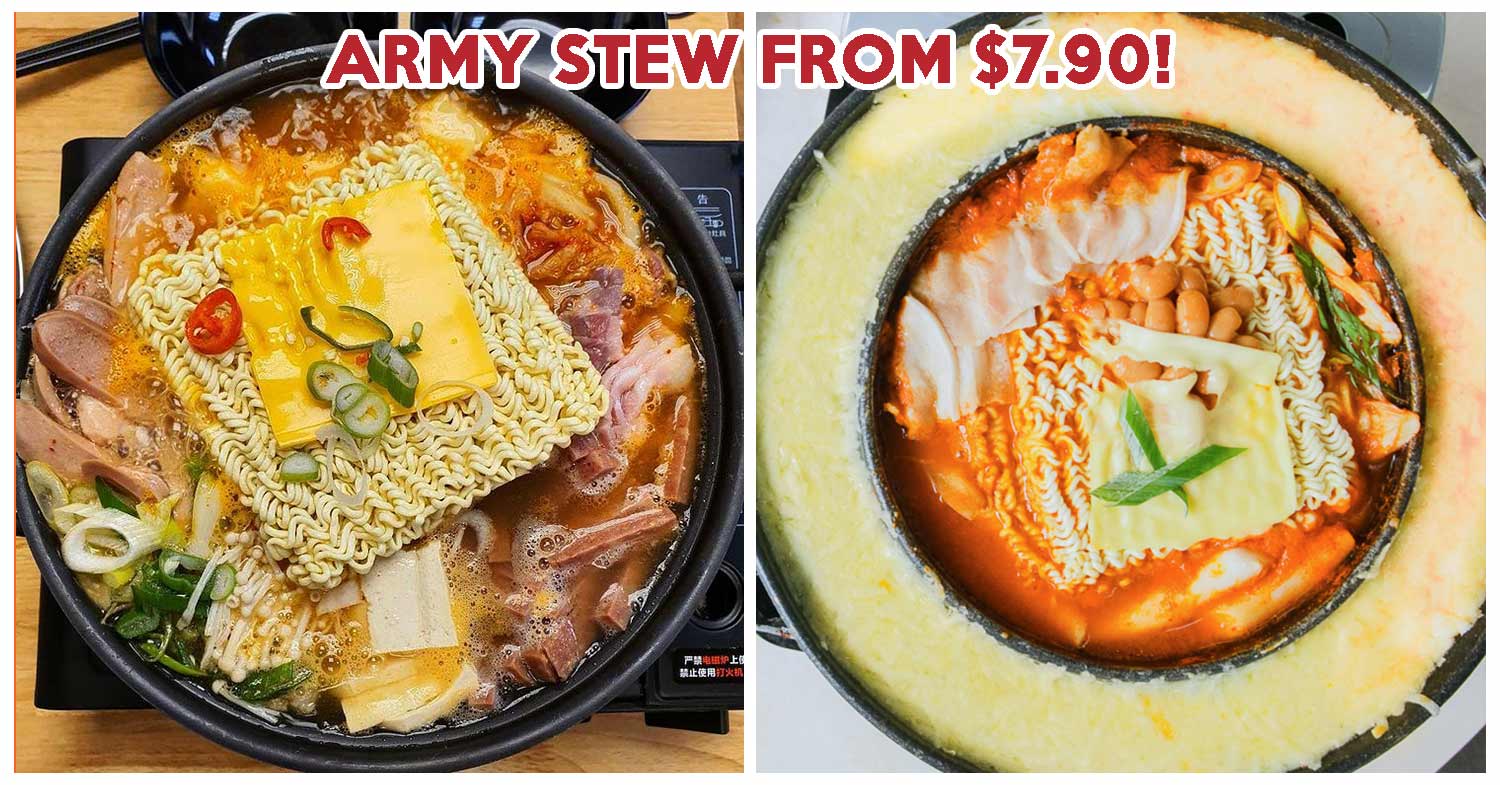 ---
Army stew under $20
---
I am here to clear any misconceptions that all army stews are expensive and can only be enjoyed with a group of people. In this guide, I have collated 14 places where you can either share, or have a whole army stew under $20 per person, all to yourself!
---
1. Ajumma Korean Restaurant
---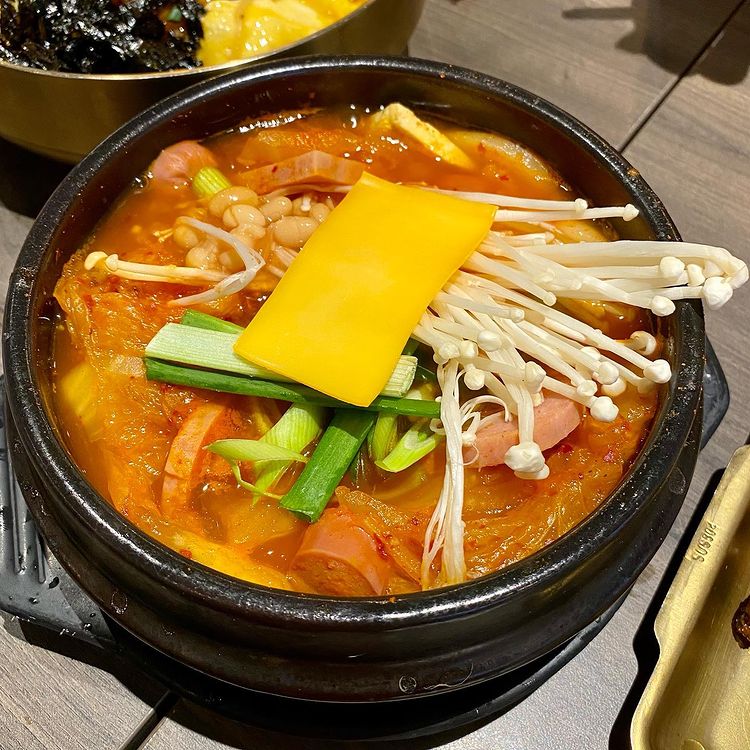 Image credit: @freddiechandra
Ajumma's Korean Restaurant, situated in Funan Mall, brings Seoul's hearty and iconic street food to Singapore. They serve an Army Based Stew for just $14.90++, in a portion that's just right for one diner. It is packed with your typical army stew ingredients such as Spam, baked beans, ramyeon, and even cheese! 
While you are there, you can also try their crowd favourites━Kimchi Pancake ($9.90++), Jjajiangmyeon ($11.90++), Fried Chicken & Crispy Toppoki With Sweet-Spicy Sauce ($9.90++) and many more. 
Address: 107 North Bridge Road, #B1-31, Funan Mall, Singapore 179105
Opening hours: Mon 12pm to 9pm, Tue-Sun 12pm to 9:30pm
Tel: 9780 3772
Website
Ajumma's is not a halal-certified eatery.
---
2. King Army Stew
---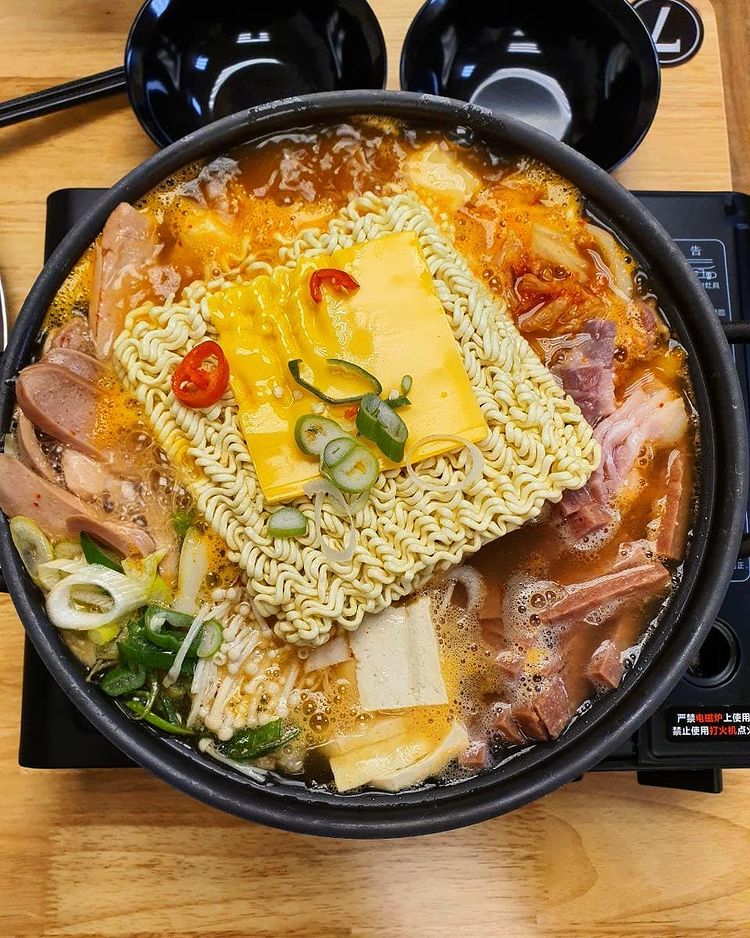 Image credit: @ladalada.story
Don't overlook Fortune Centre as just another office building. Amidst the offices and retail shops, King Army Stew is a hidden gem that, as its name suggests, specialises in army stew! Their Classic Army Stew (from $25.90) is the perfect size for sharing between two. If you prefer your stew to have a tinge of sweetness rather than a spicy kick, this place is for you, as their version is said to run sweet. 
For seafood lovers, you can check out their Seafood Army Stew (starting from $33.90), which looks to have an assortment of seafood such as mussels, prawns, baby octopus, and Asari clams. For a non-seafood laden option, go for their Spicy Pork Rib Stew ($28.90). 
Address: 190 Middle Road, #03-19, Fortune Centre, Singapore 188979
Opening hours: Mon-Fri 12pm to 2:30pm, 5:30pm to 10:30pm, Sat 5pm to 10:30pm
Tel: 8926 1372
Website
King Army Stew is not a halal-certified eatery.
---
3. Seoul Yummy
---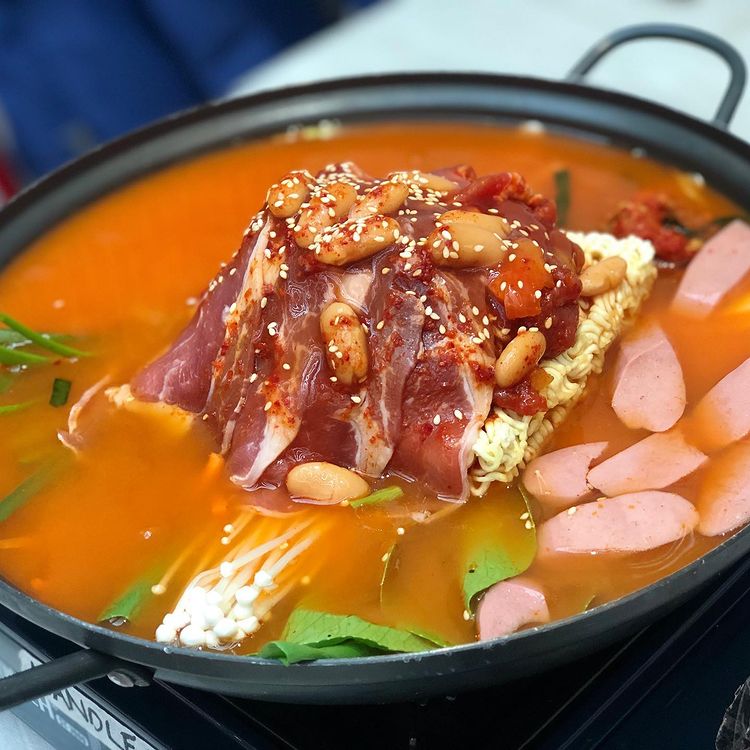 Image credit: @__vslx
With four outlets scattered across Singapore, Seoul Yummy has a wide range of deals and options to satisfy your army stew cravings. If you would like to share between your friends and family, you can try a classic Daebak Army Stew ($39.80++) under their Signature Army Stew selection, that's good for two to three people. Aside from the usual army stew ingredients, it comes with a mountain of chicken, beef, and marinated spicy pork collar slices that will enhance the flavour of your army stew. If it's just you at the table that day, fret not, as Seoul Yummy also serves single-portion army stews under their Mini Army Stew selection (from $14.80++). 
They also have a Weekday Lunch Set Promo for two ($26.80++), which includes Mini Army Stew, Hot Stone Bibimbap, and more. To complete your meal, the set also includes an appetiser of your choice, and two ice lemon teas. 
Website
Full list of locations 
Seoul Yummy is not a halal-certified eatery
12 Jjajangmyeon In Singapore To Try, Including Hawker Options From $7
---
4. JW Korean Food Story
---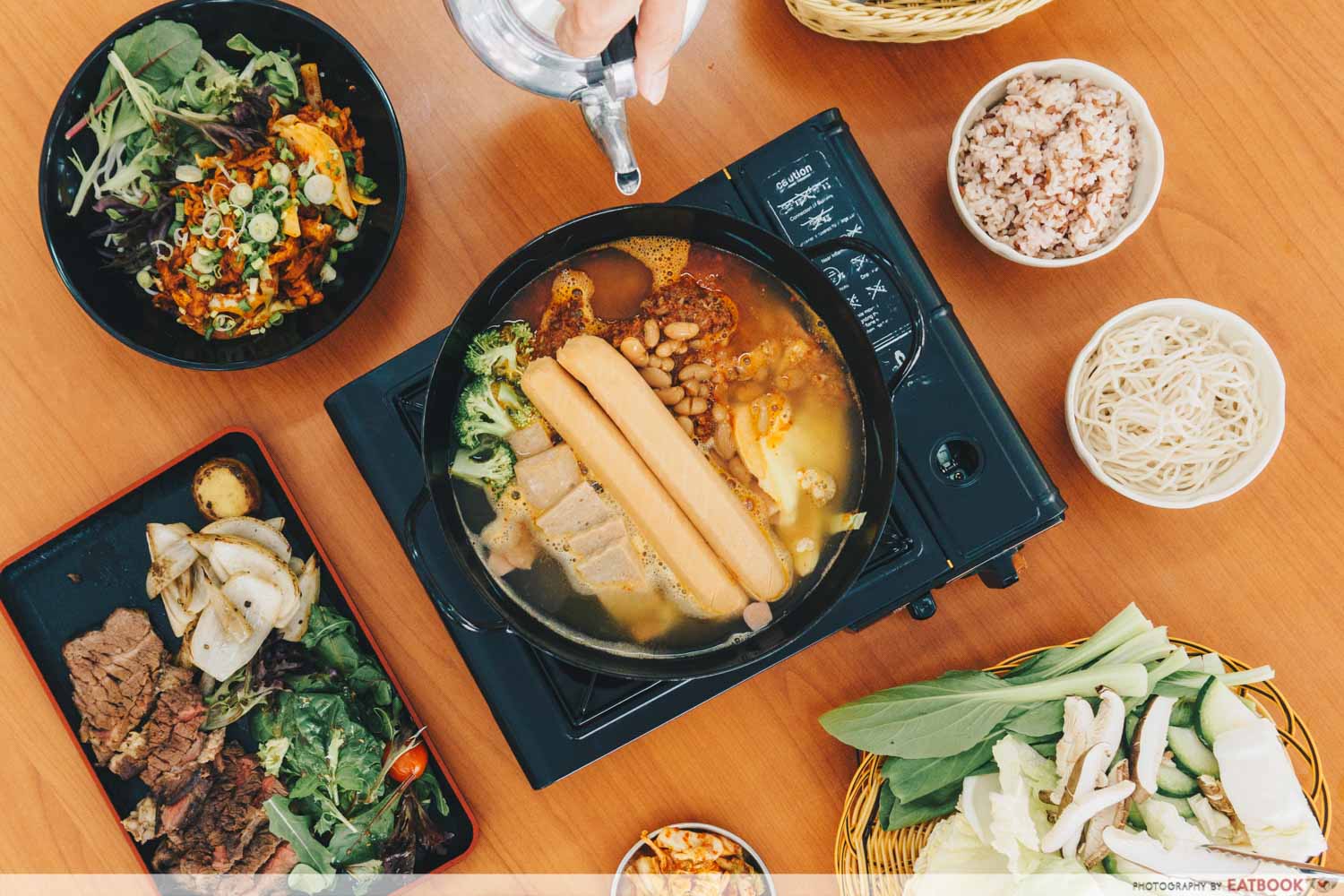 If you're looking for authentic, affordable, and halal-certified Korean food, JW Korean Food Story should be your next stop. It's run by two ex-Pan Pacific Hotel chefs, so you know the quality won't be lacking. James, a native Korean, and Sfwan, who's local, are the chefs behind this Korean hawker stall along Sixth Avenue.
Their Army Stew Steamboat, priced at only $19.80, is packed with chicken luncheon meat, chicken sausages, cheese, and a wide variety of vegetables. This stew feeds two, which works out to be just $9.90 each. Not only that, their vegetable-based soup is refillable too! 
Besides army stew, JW Korean Food Story also has an affordably priced menu, with classic savoury soup options, BBQ rice bowls, and Korean ramyeon, all priced under $6. 
Read our JW Korean Food review here!
Address: 10E Sixth Avenue, #01-01/02, Singapore 276474
Opening hours: Daily 11am to 10pm 
Tel: 9069 7564 
Website
JW Korean Food Story is a halal-certified eatery
JW Korean Food Stories Review: Muslim-Owned Korean Hawker Stall With Army Stew And Spicy Ramyeon
---
5. Gogiyo
---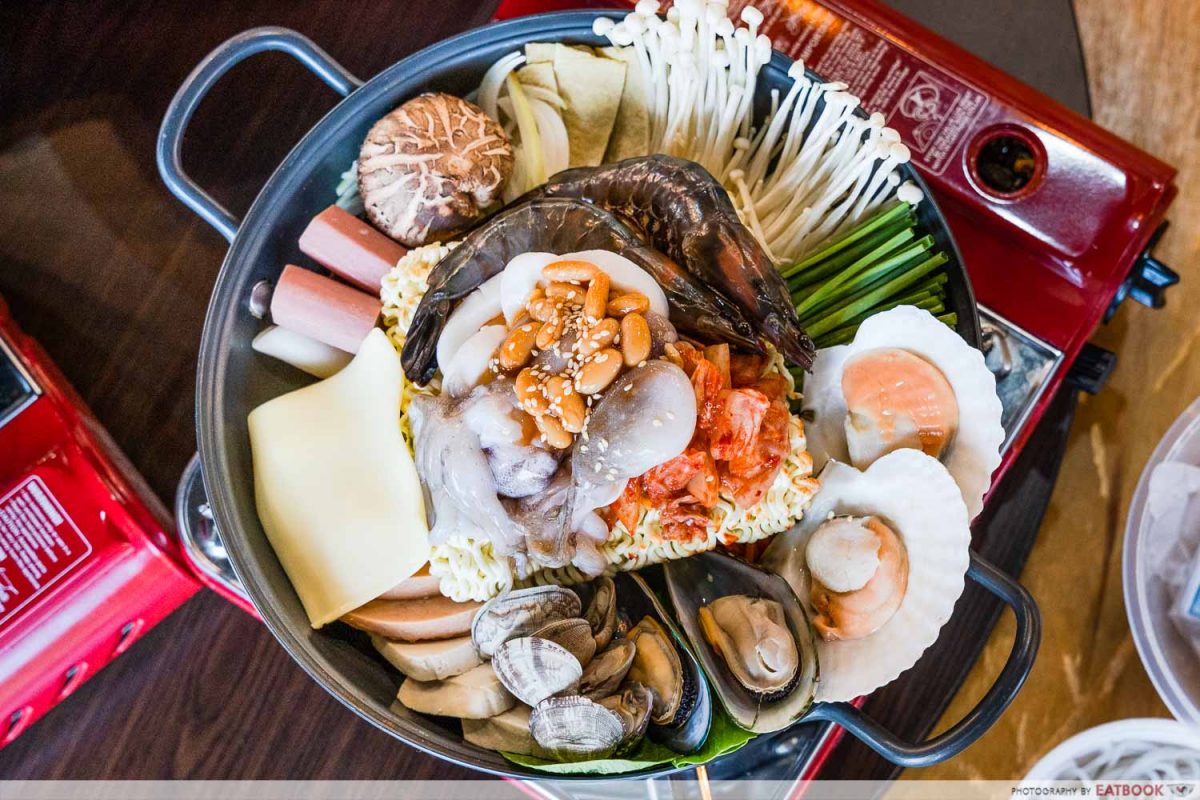 Another hawker stall that sells Korean cuisine at a wallet friendly price is Gogiyo. Priced at only $26.90, their Seafood Army Stew is loaded with a generous amount of seafood, ranging from tiger prawns, scallops, baby squids and more. Aside from seafood, they also have chicken ($19.90), pork ($21.90) or beef ($24.90) options, so there's something for everyone. 
Gogiyo also offers a unique Korean-style mookata menu, where you can either create your own Korean BBQ concoction, or choose from their fixed set menu. This includes their DIY Waterfall BBQ, Gogi Lover BBQ (from $26.90), and Classic Lover BBQ (from $27.90).
Read our Gogiyo review here!
Address: 978 Toa Payoh North, #02-01, Singapore 319001
Opening hours: Daily 11am to 10pm
Website
Gogiyo is not a halal-certified stall.
Gogiyo Review: Affordable Waterfall Korean BBQ, Army Stew, And Rice Bowls Near Toa Payoh
---
6. Seoul Shiok
---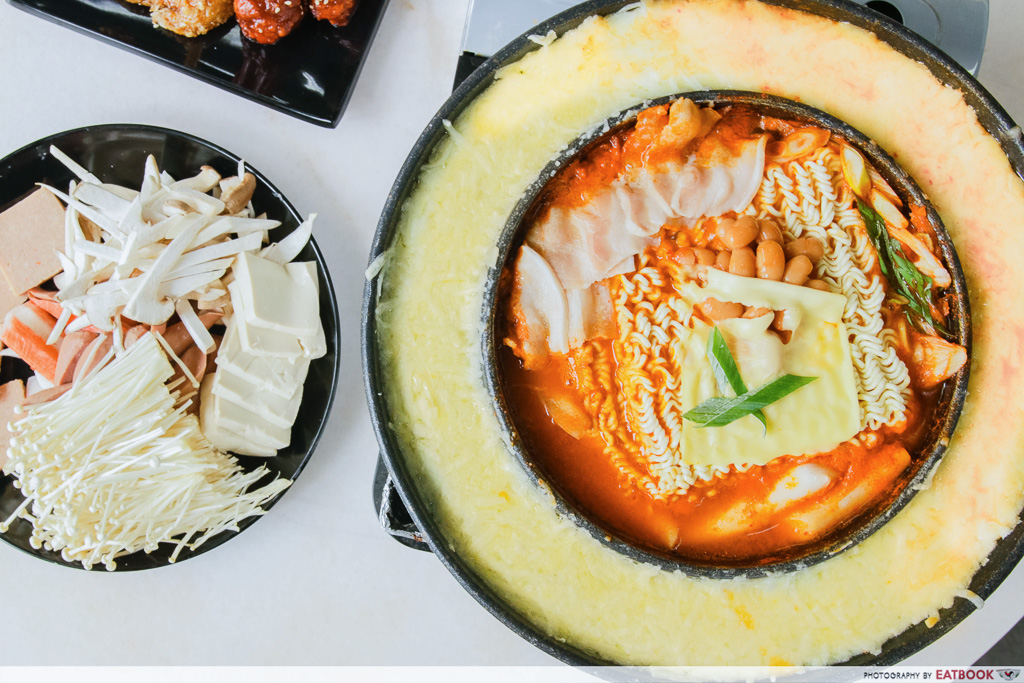 Seoul Shiok is yet another Korean restaurant that you can visit for army stew. They're currently running an attractive bundle deal promotion for two, where their Army Stew that was originally priced at $24.90, is now just $19.90. To make the deal sweeter, you'll also be entitled to a free flow of ramyeon and soup, and Korean Fried Chicken at just $0.60! For a zhnged-up army stew, try their Army Stew With Cheese ($29.90), so you can roll your tteokbokki, sausages and more in the melted cheese.
Alternatively, you can enjoy army stew solo with Seoul Shiok's Mini Army Stew ($7.90), or their comprehensive menu of Korean favourites. 
Read our Seoul Shiok review here. 
Website | Full list of locations
Seoul Shiok is not a halal-certified stall.
Seoul Shiok Review: Hawker Korean Food Including Army Stew With Cheese And Fried Chicken
---
7. Captain Kim Korean BBQ & Hotpot 
---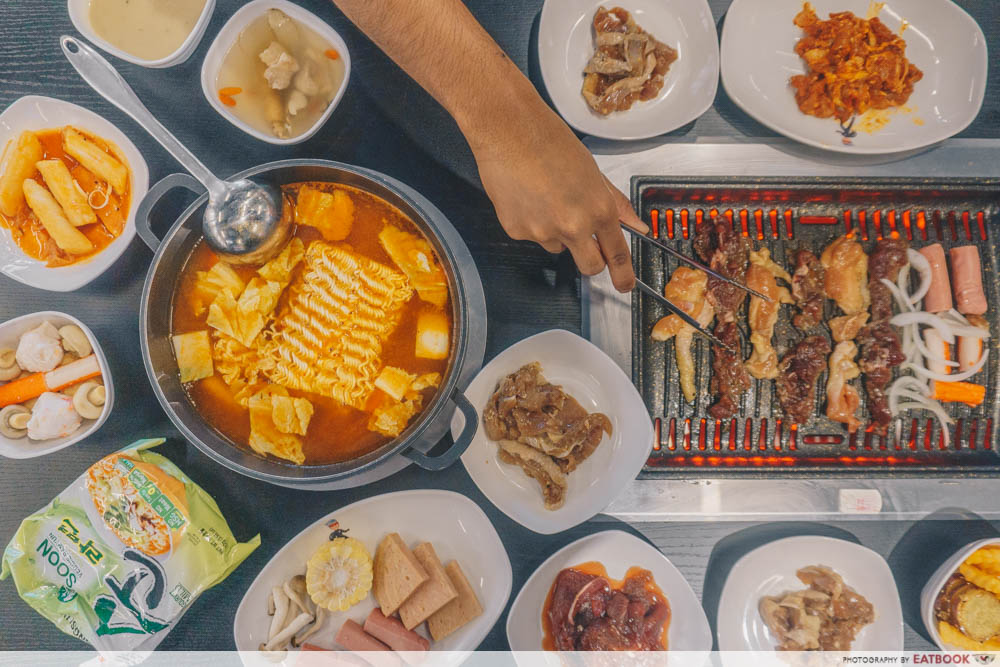 Captain Kim Korean BBQ & Hotpot is another halal Korean option where you can have your army stew fix. What makes this store unique is that you can enjoy buffet-style Korean BBQ, and army stew hotpot at the same time! It's perfect for occasions when your dining party has different opinions on what to have. This buffet spread comprises over 60 assorted ingredients, ranging from marinated meat, to all sorts of banchan, aka Korean side dishes, for you to choose from. 
What's more, weekday lunch buffets are priced at $16.90++ for adults and $13.90++ for students! However, do note that you'll need a minimum of two people to dine in. To avoid waiting, make sure you've made a reservation in advance.
Read our review on Captain Kim Korean BBQ & Hotpot here.
Address: 300 Tampines Avenue 5, #01-06, NTUC Income Tampines Junction, Singapore 529653
Opening hours: Mon-Fri 11:30am to 3:30pm, 5:30pm to 10:30pm, Sat-Sun 11:30am to 10:30pm
Tel: 6260 4247
Website
Captain Kim Korean BBQ & Hotpot is a halal-certified eatery. 
Captain Kim Review: Muslim-Friendly Korean BBQ & Hot Pot Buffet From $16.90++/Pax At Tampines
---
8. Two Cranes
---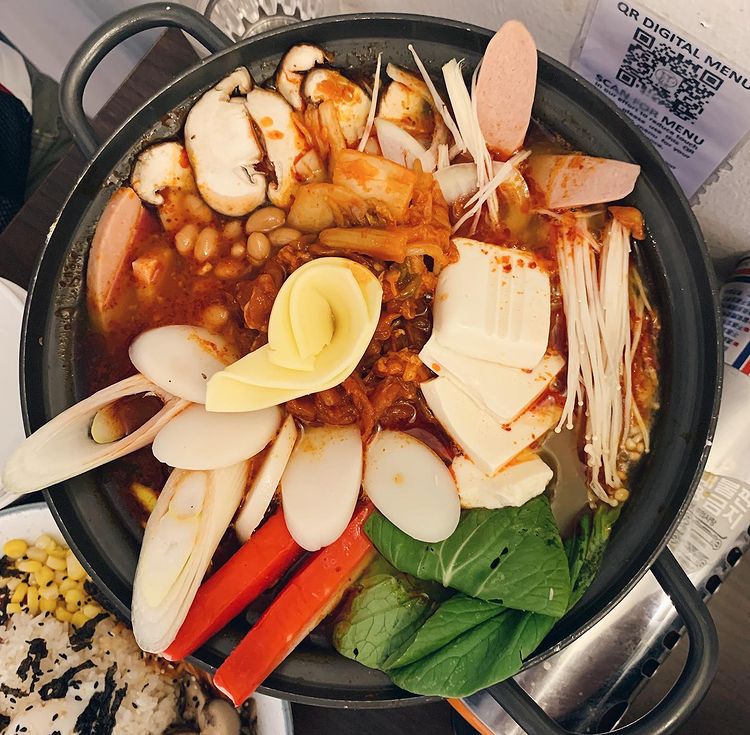 Image credit: @jamietaste
Besides hawkers and restaurants, army stews can also be found in cafe settings. Two Cranes has stood out from the local cafe crowd with their innovative Korean-fusion menu. Do note though that the Wonda Army Stew ($16.90) is only available from 12pm to 9pm, together with other Korean-fusion dishes such as Fu Korean Spaghetti ($14.90), Pulled-pork Rice Bowl ($13.90) and more.
It is recommended to reserve a table before your visit as this cafe has limited seats. To find out more about this cafe, you can check out our Two Cranes review.
Address: Blk 221 Hougang Street 21, #01-291, Singapore 530211
Opening hours: Mon-Thurs 9am to 9pm, Fri-Sun 9am to 9:30pm 
Tel: 8166 0140
Website
Two Cranes is not a halal-certified eatery. 
Two Cranes Review: New Minimalist Cafe With Korean-Fusion Food At Hougang
---
9. Pink Candy
---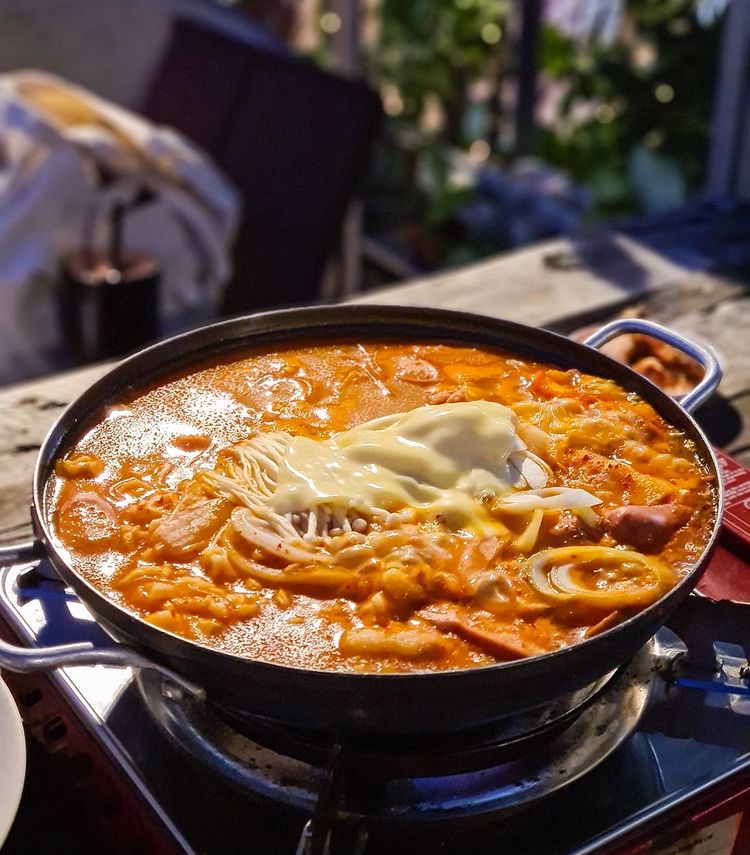 Image credit: @foodee.diaree
Head down to Pink Candy to enjoy your army stew with a rooftop view, just like a K-drama scene. Situated in Beauty World Centre, Pink Candy brings the taste of authentic homemade-style Korean dishes to Singapore. Their Army Stew ($21.90), recommended for two, comes with a generous amount of bacon, sausages, chunks of kimchi and more. It's finished with a slice of cheese that melts into the stew, for an added oozy, sticky creaminess. 
Other crowd favourites are their Fried Chicken ($13.90 for nine pieces), which comes in either soya sauce, spicy or original flavour, Squid and Pork Bulgogi ($13.90), and their Cold Noodles ($7.90).
Read our Pink Candy review!
Address: 144 Upper Bukit Timah Road, #04-60, Beauty World Centre, 588177
Opening hours: Mon, Wed-Sun 10:30am to 2:30pm, 5pm to 9pm
Tel: 9170 2365 
Website
Pink Candy is not a halal-certified eatery. 
Pink Candy Review: Affordable Korean Hawker With Rooftop Views Near Beauty World
---
10. Huluruk Myeon House
---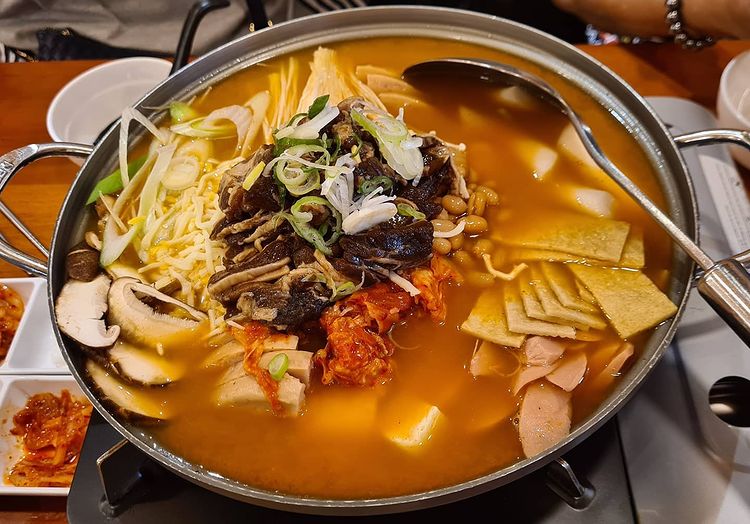 Image credit: @notkowntingcalories
Huluruk Myeon House at Junction 8 has an outlet-exclusive menu where you can find army stew, ramyeon, teppan tteokbokki and more. 
With five different army stews to choose from, their Original Army Stew ($28.80++), perfect for two, might just be enough to satisfy your craving. You'll find ample amounts of army stew ingredients such as sausages, spam, tteokbokki, all submerged in a spicy rich broth. To zhng-up your army stew, you can top up $2.50++ for a portion of fish cakes! 
As Huluruk Myeon House all started with a special homemade noodle recipe, you should try their Signature 3 Treasure ($15.80++), or their unique Volcano Fried Rice Series. Consider visiting their Korfe cafe kiosk upon exiting to take home some of their famous cream filled buns━our favourites were the Injeolmi Red Bean Bun ($2.80) and Korean Garlic Bun ($2.80). 
Website
Full list of locations
Huluruk Myeon House is not a halal-certified eatery
Korfe: New Korean Bakery With Injeolmi Mochi Bread And Nutella Cookie Buns In Bishan
---
11. Wang Dae Bak Pocha
---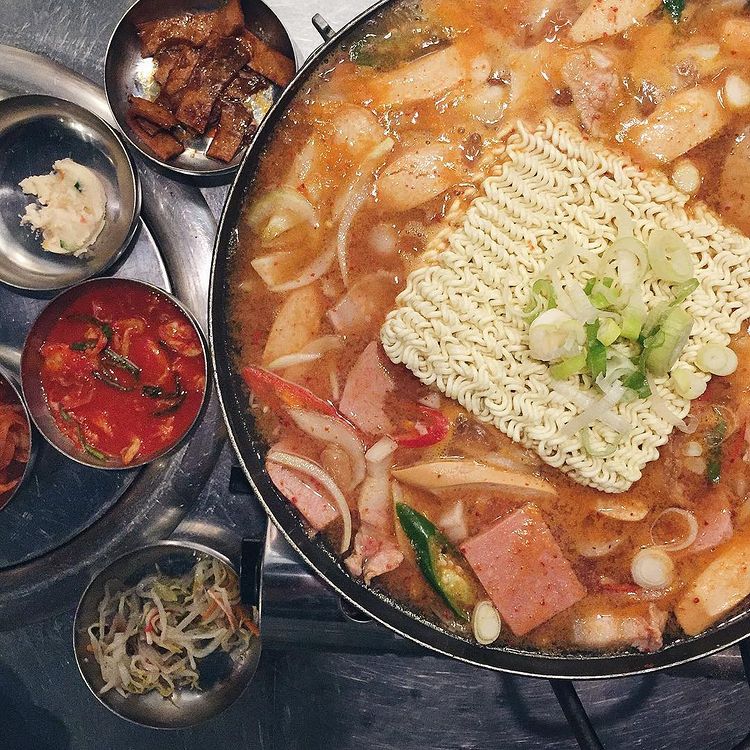 Image credit: @jianzhongthegreat
Wang Dae Bak Pocha, opened by the owners of Wang Dae Bak Korean BBQ, focuses on bringing the Korean street style dining experience to Singapore. Rather than a heavy meal like K-BBQ for lunch, Wang Dae Bak offers a weekday lunch set menu, comprising a main and side dish, for $16++. Mains include several stew options such as Kimchi with Pork Belly, and Spicy Seafood Tofu. Top up $2++ to get Army Stew or Spicy Beef Soup!
If not, you can opt for an a la carte Army Stew ($38++) to share with friends. If that wasn't filling enough, get an extra portion of ramyeon, or a soup top-up for just an additional $2++. Don't forget, the banchan here is also refillable!
The Kimchi Pancake ($21++) here is widely regarded as one of the best in Singapore. You'll get an enormous pancake that's crispy on the outside but moist on the inside, with slices of kimchi in every bite.
Address: 93 Amoy Street, Singapore 069913
Opening hours: Daily 11:30am to 2:30pm, 5:30pm to 10:30pm
Tel: 6220 0322
Website
Wang Dae Bak Pocha is not a halal-certified eatery. 
---
12. Woorinara
---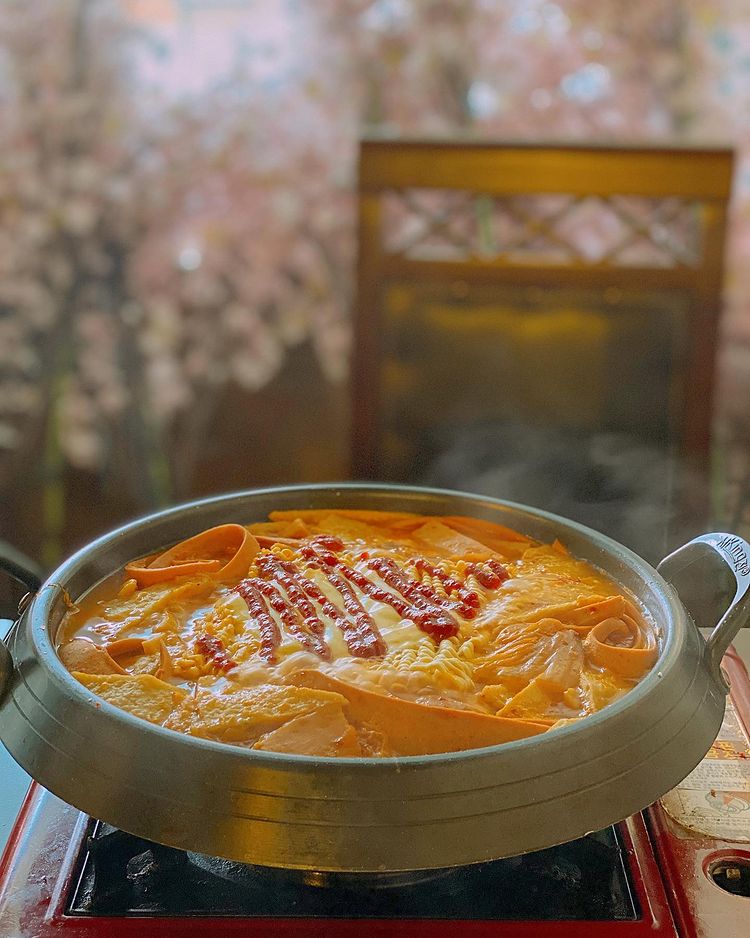 Image credit: @shyingmeat
Located near Beauty World MRT Station, an area packed with Korean eateries, Woorinara stands out from their competitors with a diverse menu and affordable prices. 
Army stew here takes the form of Spicy Sausage and Ham Stew ($28++/$38++), served with an abundance of the savoury preserved meats. Otherwise,  try their Stir-Fried Rice Cakes with Seafood Stew ($28++/$38++), a seafood stew overflowing with mussels, prawn, crabs, squid, tteokbokki and more! It also comes with a free refill of kimchi broth. 
If you are looking for something other than stews, but also warms the soul, Beef On Hot Iron Plate ($15++), or a simple Sizzling Hot Stone Bibimbap ($13++) might do the trick. 
Address: 19 Lorong Kilat, #01-02, Singapore 598120
Opening hours: Daily 11am to 3pm, 5pm to 11pm
Tel: 6464 9282 
Website
Woorinana is not a halal-certified eatery. 
20 Korean Fried Chicken Delivery Services During This Stay-Home Period
---
13. Obba Jjajang
---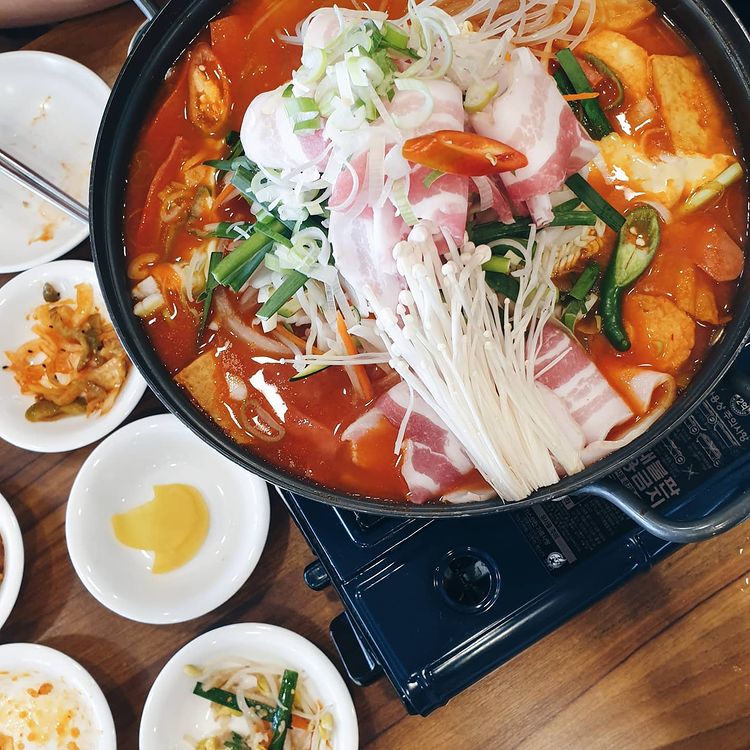 Image credit: @jieyingc
Obba Jjajang has a Korean-Chinese menu that sets them apart from the other K-BBQ restaurants in Tanjong Pagar. They're known in particular for their Jajangmyeon ($13++), which is said to be super authentic. The BuDaeJjiGae ($40++) here is a great sharing portion, full of the usual army stew suspects: dumplings, rice cakes, sliced meats, and more. 
Read our Obba Jjajang review!
Address: 77 Tanjong Pagar Road, Singapore 088498
Opening hours: Mon, Wed-Sun 11:30am to 4pm, 5pm to 11pm
Tel: 6221 8254 
Website
Obba Jjajang is not a halal-certified eatery. 
Obba Jjajang Review: Korean Jjajangmyeong Spot That Opens Till 3am Daily
---
14. SSAK3
---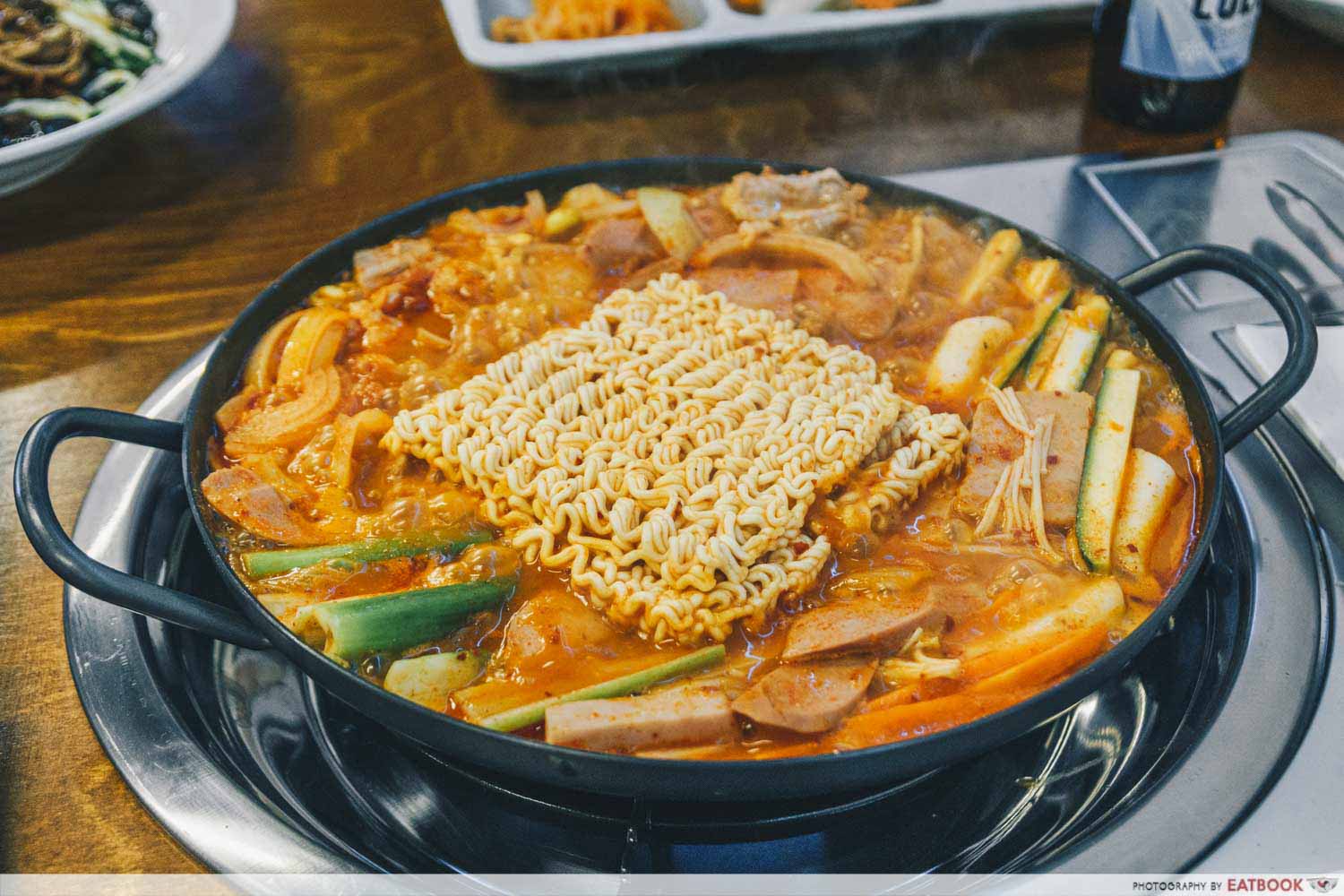 SSAK3, in Bras Basah, aims to provide high-quality K-BBQ meat at affordable prices. Their menu also includes a mouth-watering Army Stew, priced at $22+. This rich and comforting stew is filled with thick slices of chicken and pork, topped with sausages, Spam, enoki mushrooms and more. 
Have the Army Stew here along with their spread of K-BBQ, which is available as an unlimited 90-minute dinner buffet, with prices starting from $29.90+ per person. Do note that this buffet is only available from Monday to Thursday, excluding public holidays. Don't miss the Duroc Honeycomb Pork Belly, or samgyeopsal, and other cuts of meat!
Read our SSAK3 review! 
Address: 231 Bain Street, #02-01, Bras Basah Complex, Singapore 180231
Opening hours: Mon-Fri 11:30am to 2:30pm, 5pm to 10:30pm, Sat-Sun & Public Holidays 11:30am 3:30pm, 5pm to 10:30pm
Tel: 6336 4476
Website
SSAK3 Review: Affordable Korean BBQ With Samgyeopsal, Honeycomb Pork, Army Stew And More At Bras Basah
---
Where to eat army stew in Singapore
---
If you are still looking out for more affordable Korean eateries, you can check out our Jjajangmyeon guide that includes a $7 hawker option. We also have a guide to Korean Fried Chicken delivery options!
Feature image adapted from @ladalada.story and Eatbook's posts.
The post 14 Army Stew Under $20 Per Person Including Hawker Stalls, Halal Options And More appeared first on EatBook.sg – New Singapore Restaurant and Street Food Ideas & Recommendations.