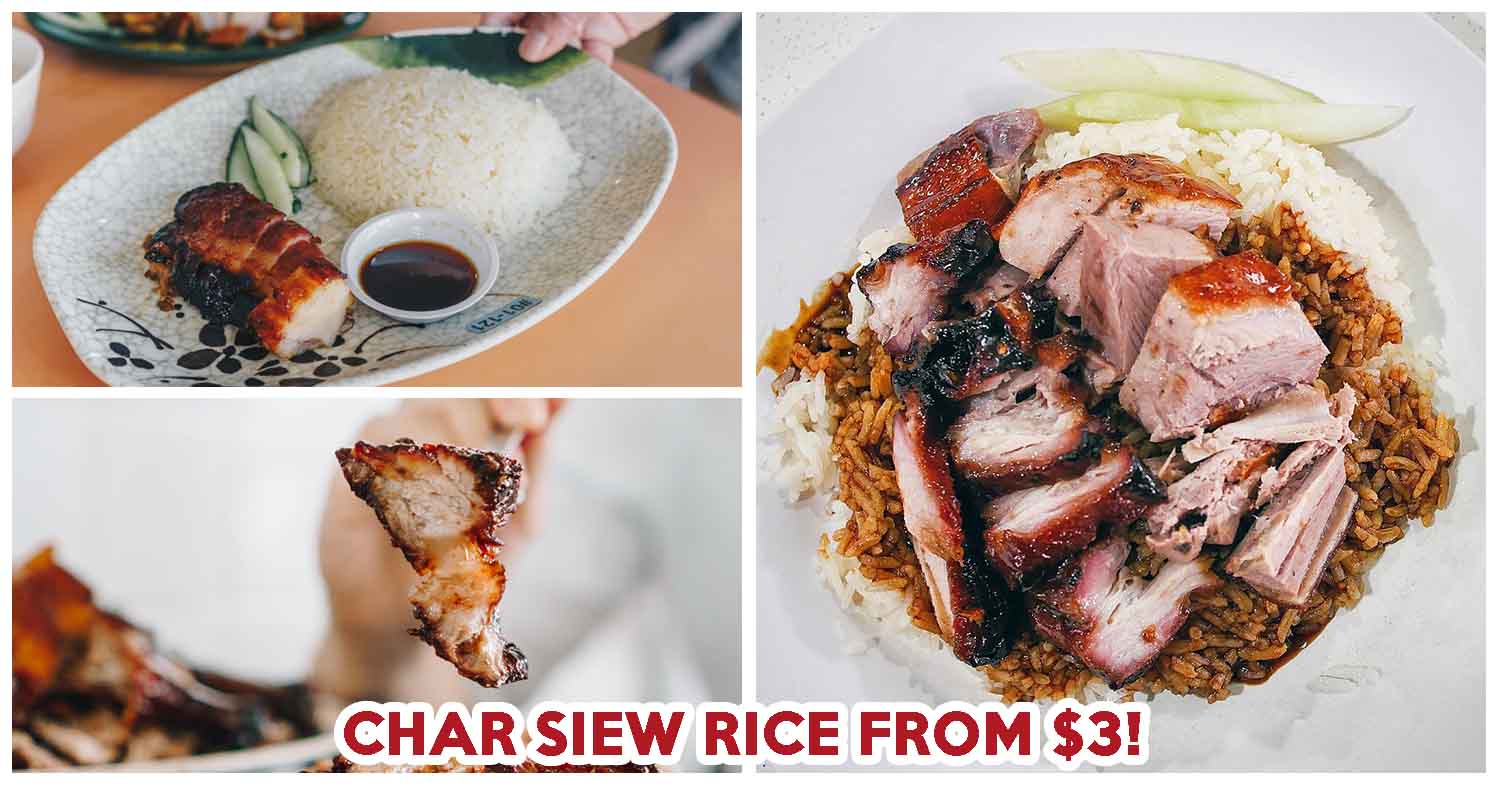 ---
Char siew rice in Singapore
---
Even though loads of people are willing to travel to Hong Kong just to eat at Yat Lok, it's not practical to splurge on an air ticket every time you're craving for good meat. While char siew in Singapore is generally leaner than thick-cut fatty char siew you'll get in HK, it can be equally tasty. Here are 13 char siew rice stalls in Singapore you can chow down on without flying across countries.
---
1. Tiong Bahru Lee Hong Kee Cantonese Roasted
---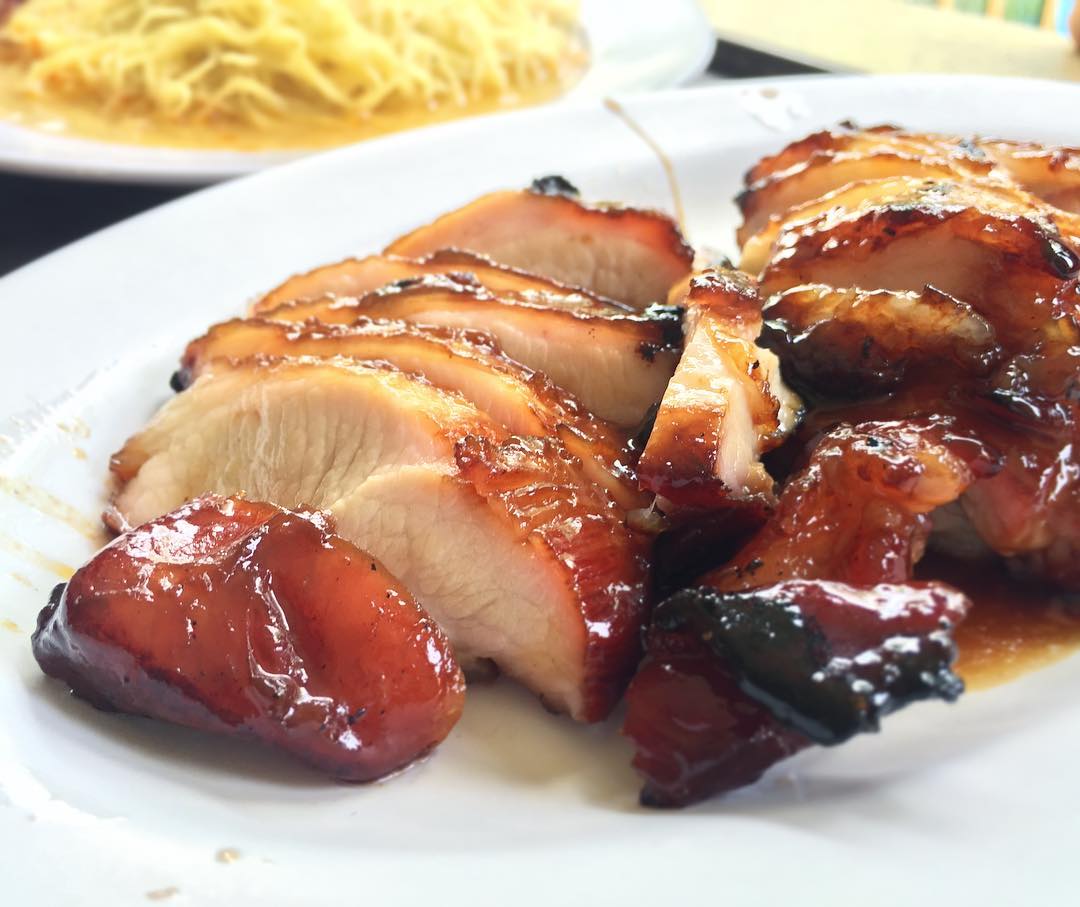 Image credit: @zo_eyyyyy
Lee Hong Kee has a long history that stretches back to the 1960s. This stall at Tiong Bahru Market still attracts long queues for their Char Siew Rice ($3). They use pork shoulder, which is a leaner cut, for their char siew. The caramelised layer on the meat is less sweet compared to others on this list, but the dark braised sauce slathered all over makes up for it.
Address: 30 Seng Poh Road, #02-60, Tiong Bahru Market, Singapore 168898
Opening hours: Fri-Wed 9am to 8pm
---
2. Fu Shi (Traditional) Roasted Wanton Mee
---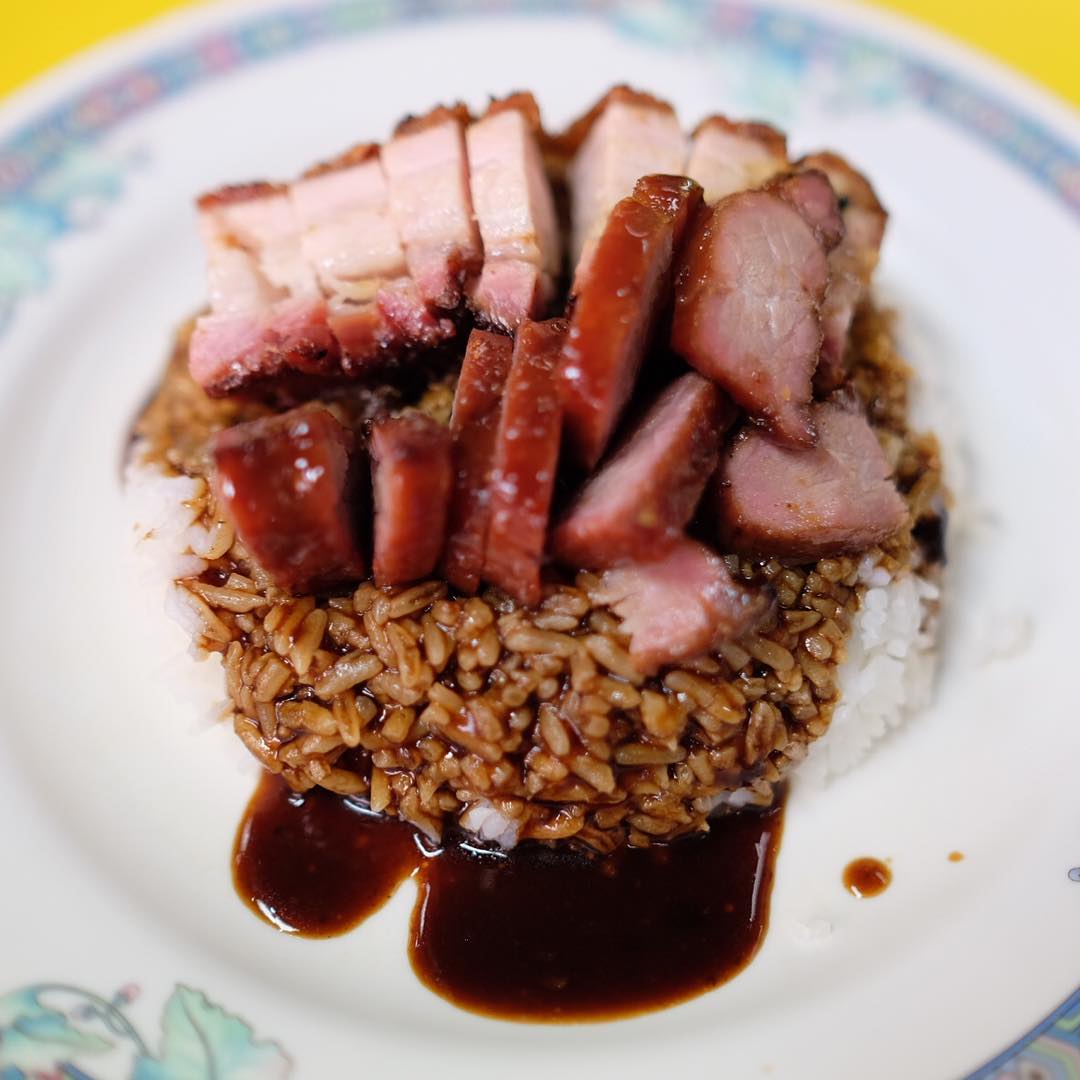 Image credit: @swimruncycle
Fu Shi in Marsiling has its fair share of regular customers. They offer three types of cut: a leaner pork shoulder, fatty pork belly and a tender underarm cut. Their Char Siew Rice costs $3.50, but we heartily recommend that you top-up $1 for some roasted pork. They open early in the morning and often sell out by early afternoon, so head there early!
Address: 4 Woodlands Street 12, #01-01/02, Marsiling Mall Hawker Centre, Singapore 738623
Opening hours: Wed-Sun 11am to 7pm
Tel: 9237 8157
---
3. Lau Phua Chay Authentic Roasted Delicacies
---

Image credit: @shihui1
Lau Phua Chay's Char Siew Rice ($3.50) is generously doused with a dark and fragrant gravy that comes with soybean paste, shallots and garlic. Some might find it overpowering, while die-hard fans will describe it as addictive. It's best to go with lean shoulder-cut char siew here.
Address: 120 Bukit Merah Lane 1, #01-20, Alexandra Village Food Centre, Singapore 150120
Opening hours: Sun-Fri 11am to 7pm
Tel: 9663 6862
---
4. Fatty Cheong
---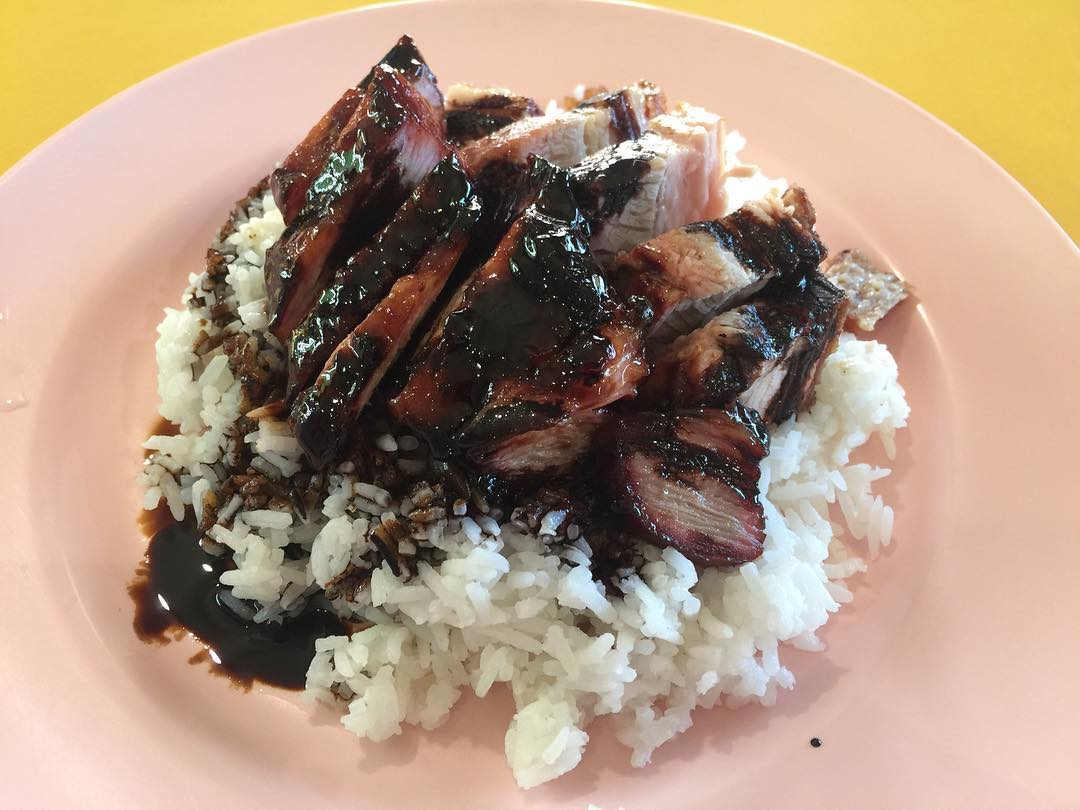 Image credit: @gl_live2eat
Fatty Cheong uses an underarm cut that's tender with a good balance of fat to keep it juicy, while the outer layer is charred just enough. They usually prep enough to last the entire day, so you don't have to rush here to get your Char Siew Rice ($4). That being said, lunch queues can get really long. 
Address: 6 Jalan Bukit Merah Lane 1, #01-120, ABC Brickworks Food Centre, Singapore 150006
Opening hours: Fri-Wed 11am to 8:30pm
Tel: 9882 4949
---
5. Foong Kee Coffee Shop

---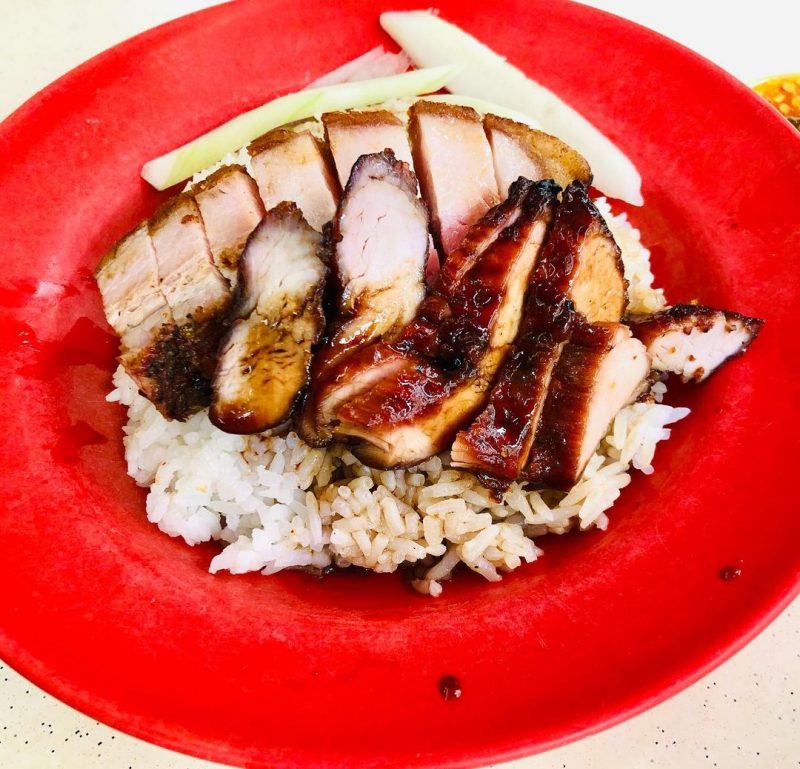 Image credit: @jamietan04
Foong Kee is well known for its Char Siew Rice ($3.50). Char siew is not just served as a topping, but the main star. It's perfectly charred on the surface with juicy tender meat beneath. With the burgeoning of hipster cafes and restaurants along Keong Saik, Foong Kee offers familiar fare worth patrionising.
Address: 6 Keong Saik Road, Singapore 089114
Opening hours: Mon-Fri 11am to 8pm, Sat 11am to 5:30pm
Tel: 9181 1451
---
6. Roast Paradise
---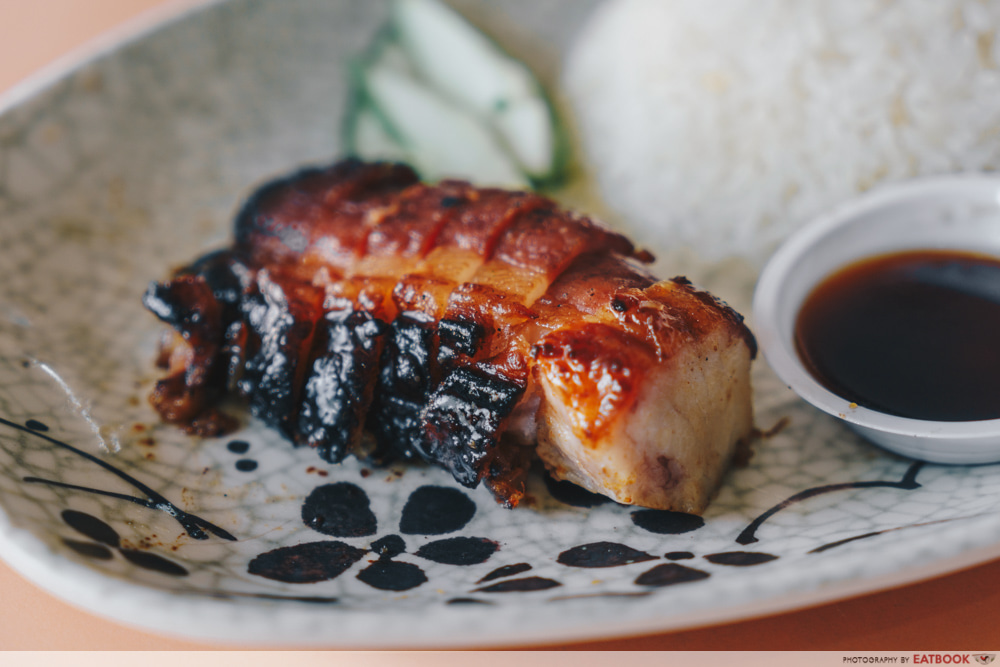 Roast Paradise is run by two young hawkerpreneurs who learned their recipe from Kuala Lumpur. They serve Char Siew Rice ($4.50) that sees tender pork slives dressed in a glaze. The char siew here is made with pork jowl and belly cut, smoked and caramelised to give it a deep colour and intense flavour.
Read our Roast Paradise review.
Address: 51 Old Airport Road, #01-121, Old Airport Road Food Centre, Singapore 390051
Opening hours: Tue-Sat 11am to 6pm
Tel: 9786 7396
Roast Paradise Review: Beautifully Charred KL-Style Char Siew At Old Airport Road
---
7. Kay Lee Roast Meat Joint

---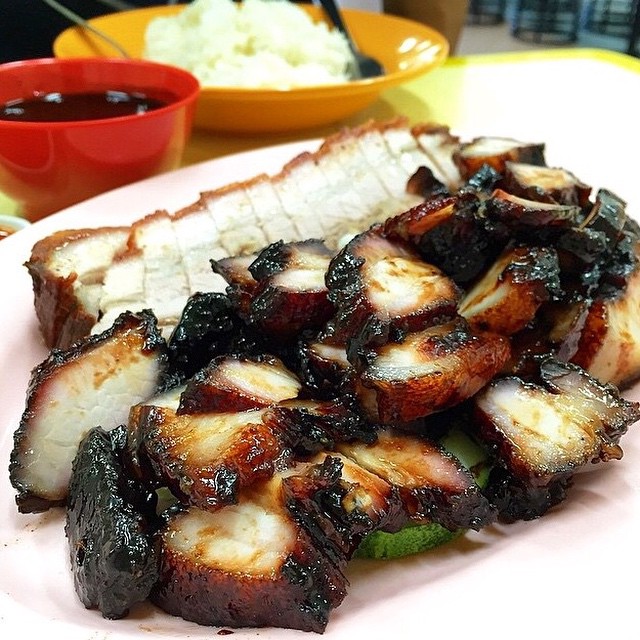 Image credit: @melodeehehe
Kay Lee adopts Zhujiang style roast that originates from Guangzhou, China. The Char Siew (from $10) here is juicy and flavourful; its outer layer glistens with a deep dark caramelised colour. After all, this is a recipe that's been sold for $4 million.
Address: 125 Upper Paya Lebar Road, Singapore 534838
Opening hours: Daily 10:30am to 8pm
Tel: 6594 2205
Website
---
8. Kim Heng HK Roasted Meat

---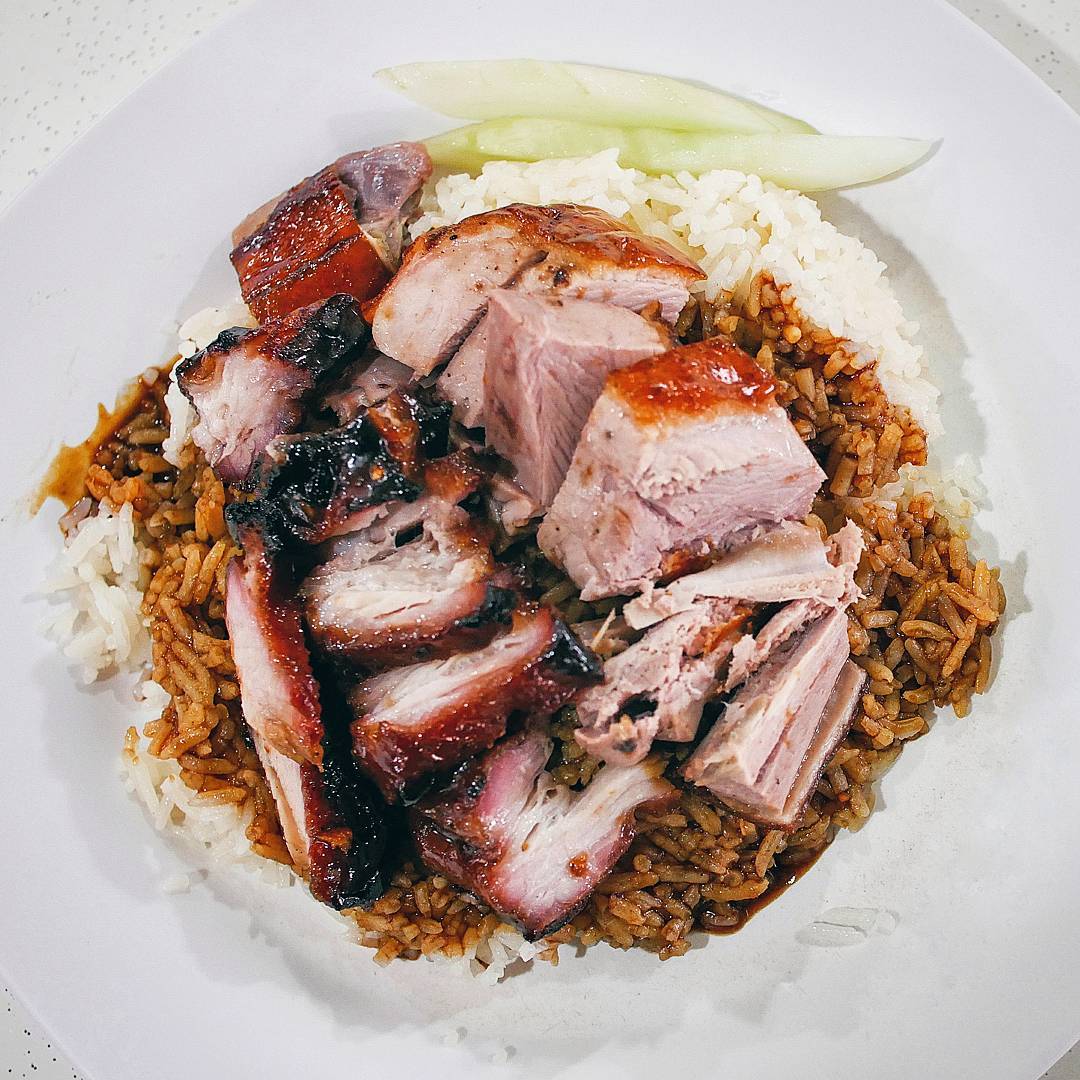 Image credit: @ricdavv
Kim Heng serves Char Siew Rice ($4.50) with the oily but fragrant rice you'd get with chicken rice. The seasoning of the rice and char siew glaze both come with a hint of ginger and go well together. We also love how the portion comes with generous and thick chunks of char siew rather than thinly sliced pieces.
Address: 214 Serangoon Avenue 4, #01-88, Singapore 550214
Opening hours: Thurs-Tue 9am to 7pm
Tel: 6283 3695
---
9. Hong Kong 88 Roast Meat Specialist
---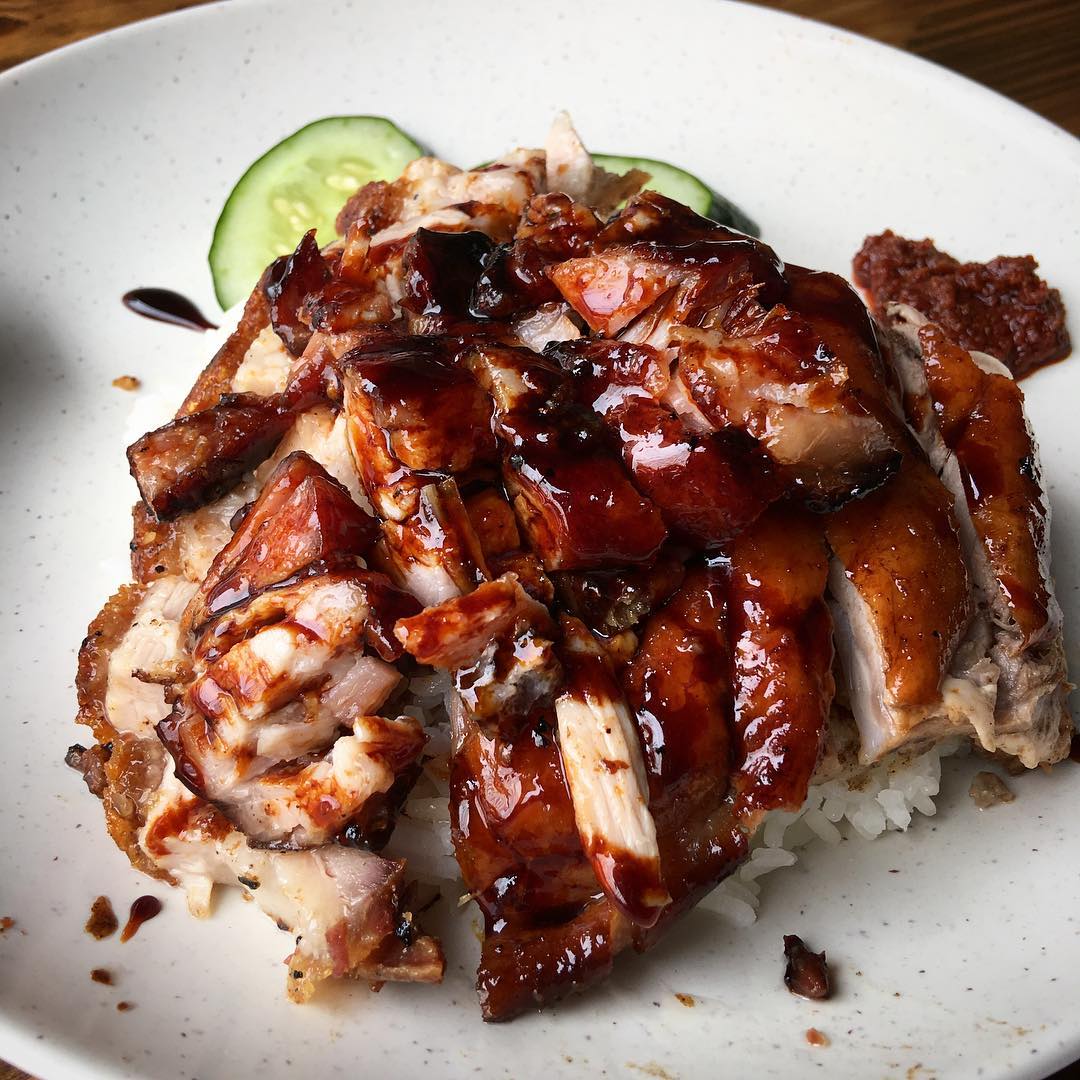 Image credit: @the.grape.vines
Hong Kong 88 Roast Meat is a hidden gem that moved numerous times in the past few years. From Tampines to Bukit Batok and then its latest spot in Lavender, this kopitiam stall has thankfully retained their tasty recipe throughout all locations. Their Char Siew Rice ($4.50) sees char siew with equal layers of meat and fat, and is juicy, smoky while not being overly sweet.
Address: 308 Lavender Street, Singapore 338814
Opening hours: Daily 10:30am to 9:45pm
---
10. New Rong Liang Ge Cantonese Roast Duck
---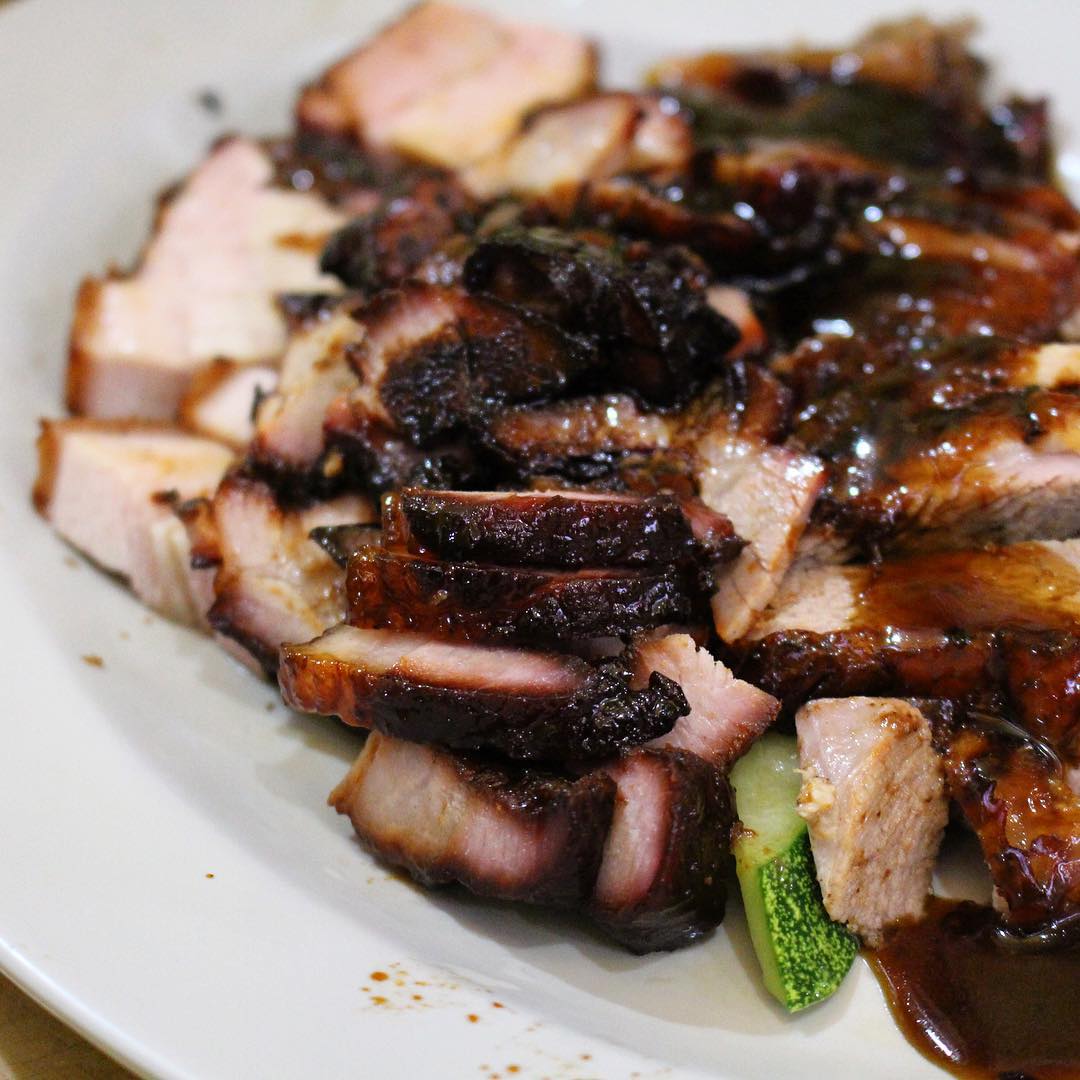 Image credit: @elzacjay
Tucked in a narrow alleyway along Queen Street, New Rong Liang Ge is relatively hidden on its own but noticeable because of a consistently long queue. Char siew here is lean and tender, served with rice and doused in dark, sweet and gooey gravy for $3.
Address: 269B Queen Street, #01-235, Singapore 182269
Opening hours: Daily 7am to 9pm
Tel: 9451 9669
---
11. You Kee XO Restaurant
---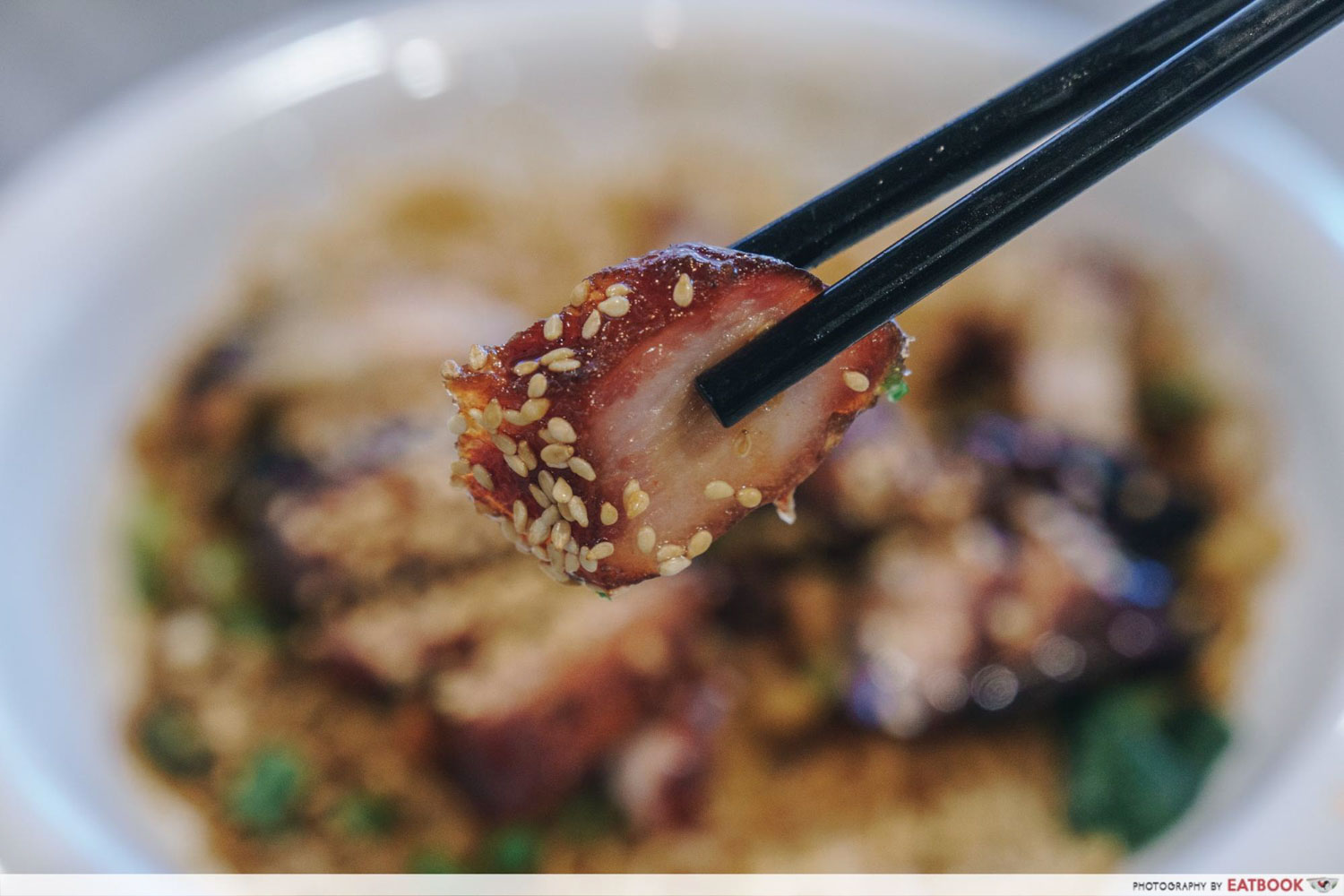 Johor Bahru's famous You Kee XO Restaurant opened an outlet in Joo Chiat, bringing with it a delicious selection of roasted meats, including their famous char siew. While they might not be a char siew rice stall per se, they do a delectable  Crystal BBQ Pork Belly "Char Siu" ($9.80) that you can enjoy alongside plain rice.
Address: 43 Joo Chiat Place, Singapore 427767
Opening hours: Daily 10:30am to 8pm
Tel: 9116 8868
Website
---
12. Choon Kee Roasted Delights
---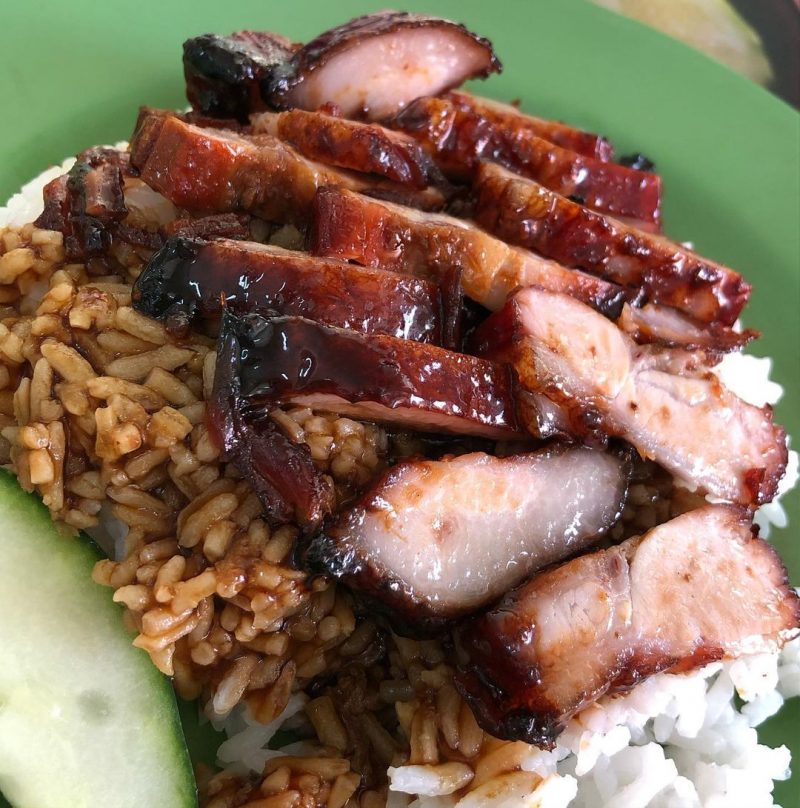 Image credit: @narrak_gal
Tucked away in Golden Mile Food Centre, Choon Kee Roasted Delights is quite a hidden gem for top-notch char siew rice. Expect to queue, but also for the queue to be worth it as portions are generous here. Prices start from $4 for their Char Siew Shao Rou Rice, which comes with a moreish marinade.
Address: 505 Beach Road, #01-74, Golden Mile Food Centre, Singapore 199583
Opening hours: Mon-Tue, Thurs-Sat 10:30am to 3pm
Website
---
13. Zhen Zhu Fang
---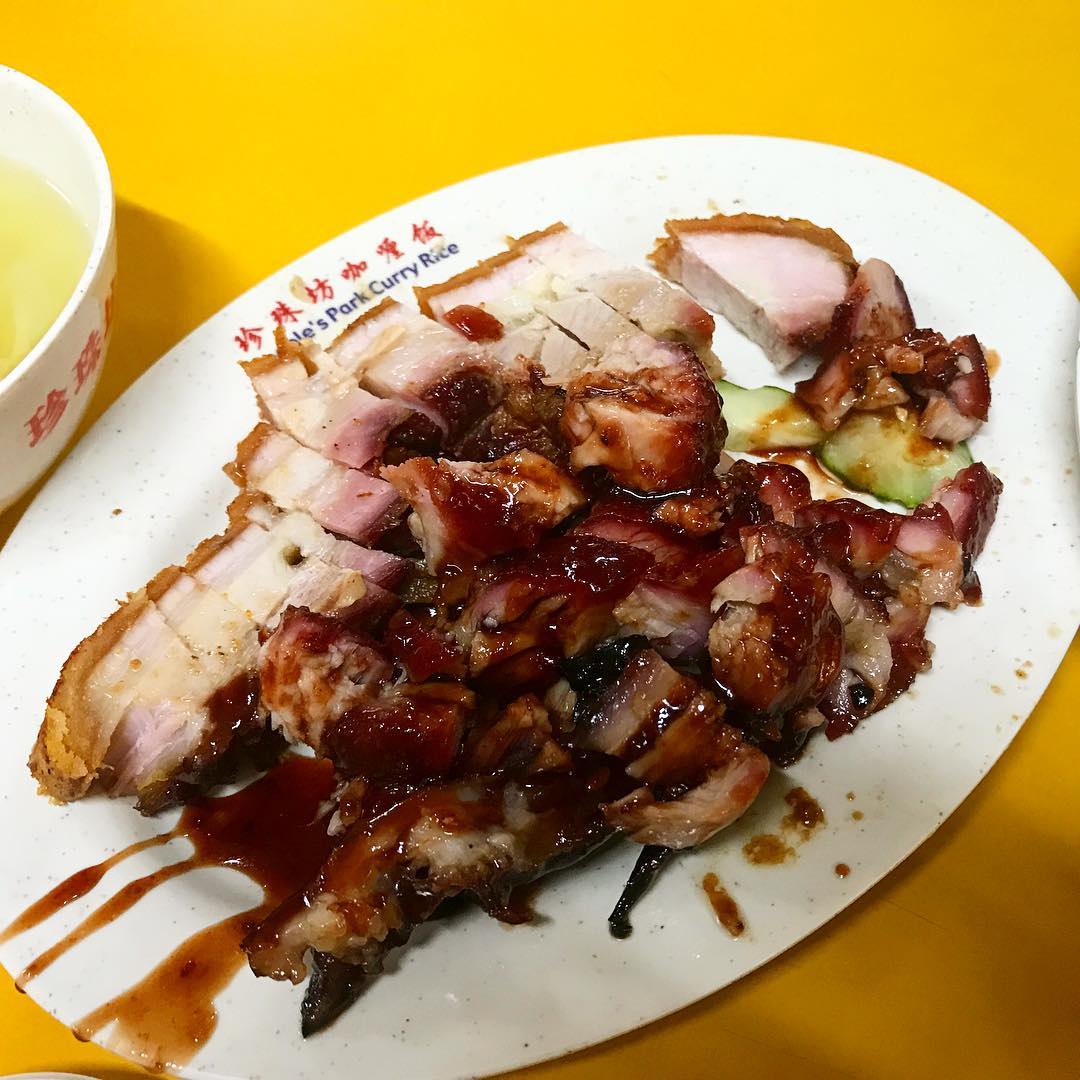 Image credit: @sharonscsy
Michelin Guide-celebrated Zhen Zhu Fang Roasted Delights at People's Park Food Centre is another crowd favourite, especially thanks to its affordable price. Char Siew Rice here is priced from $3, and be sure to get extra sauce when you order. People also tend to flock to their Char Siew Wanton Noodles ($3.50), for a classic wanton mee that hits the spot.
Address: 32 New Market Road, #01-1098, People's Park Food Centre, Singapore 050032
Opening hours: Daily 9am to 9pm
---
Delicious char siew rice in Singapore
---
Each of these stalls has their own way of preparing char siew, from choosing the right cut to blending different types of spices for its marinade and roasting techniques that gives the meat different hues. 
10 Best Chicken Rice In Singapore Ranked, Including Tian Tian And Boon Tong Kee
For more top-tier hawker stalls in Singapore, check out our guide to the best chicken rice stalls, and the best nasi lemak stalls.
19 Nasi Lemak In Singapore With Good Sambal, Crispy Fried Chicken And Coconutty Rice
The post 13 Char Siew Rice In Singapore As "Hou Sek" As Hong Kong Char Siu Fan appeared first on EatBook.sg – New Singapore Restaurant and Street Food Ideas & Recommendations.