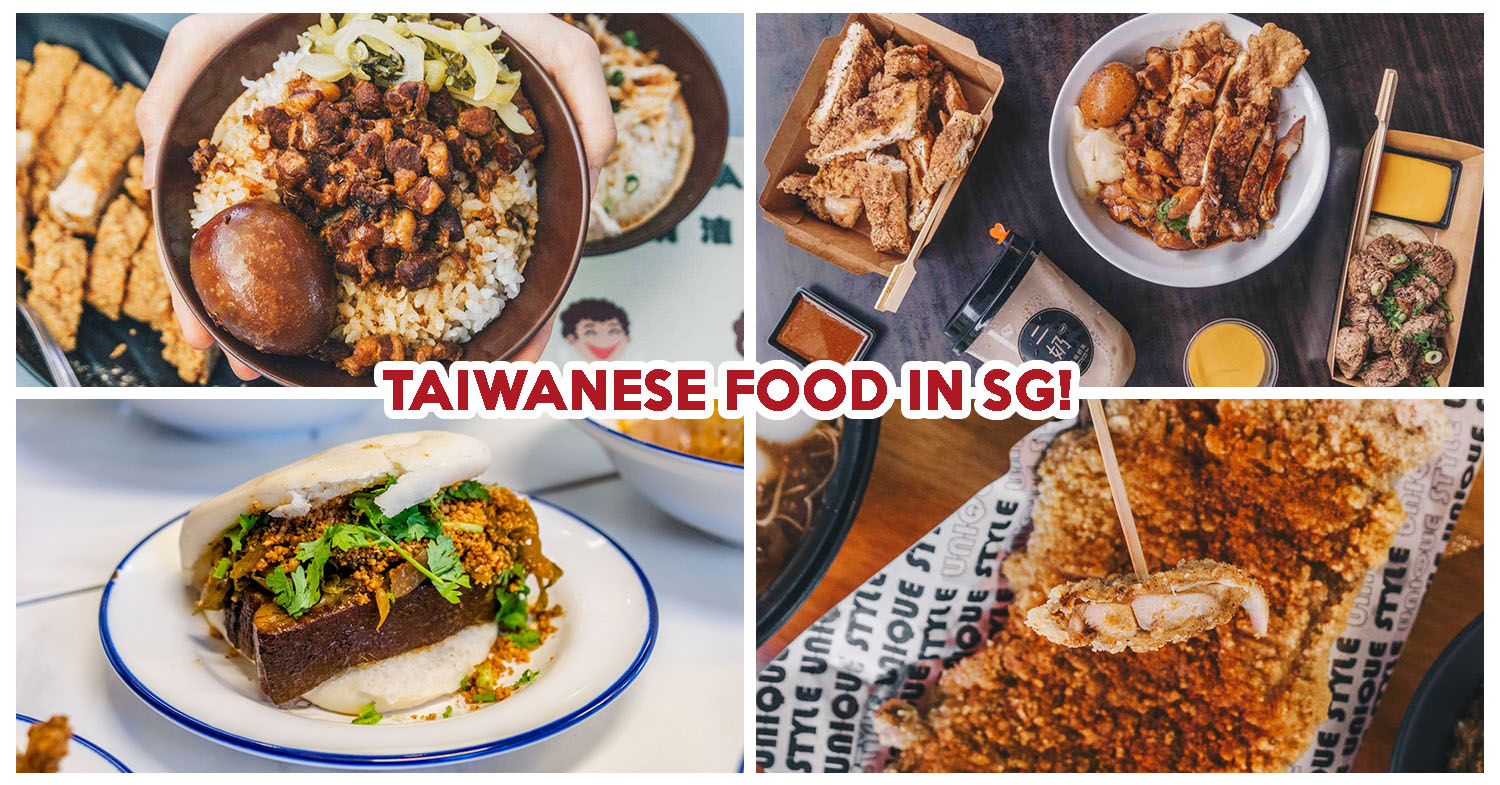 ---
Check out these Taiwanese food places
---
Eating my way through Taiwan used to be an annual affair, but since travel is out of the picture now, I'm ever-so-grateful for the wide range of Taiwanese food we can find on home soil.
If you're missing Shilin Night Market food trails, or gorging your way through Taiwanese eateries, here are 12 Taiwanese food places in Singapore to try.
---
1. Eat3Bowl
---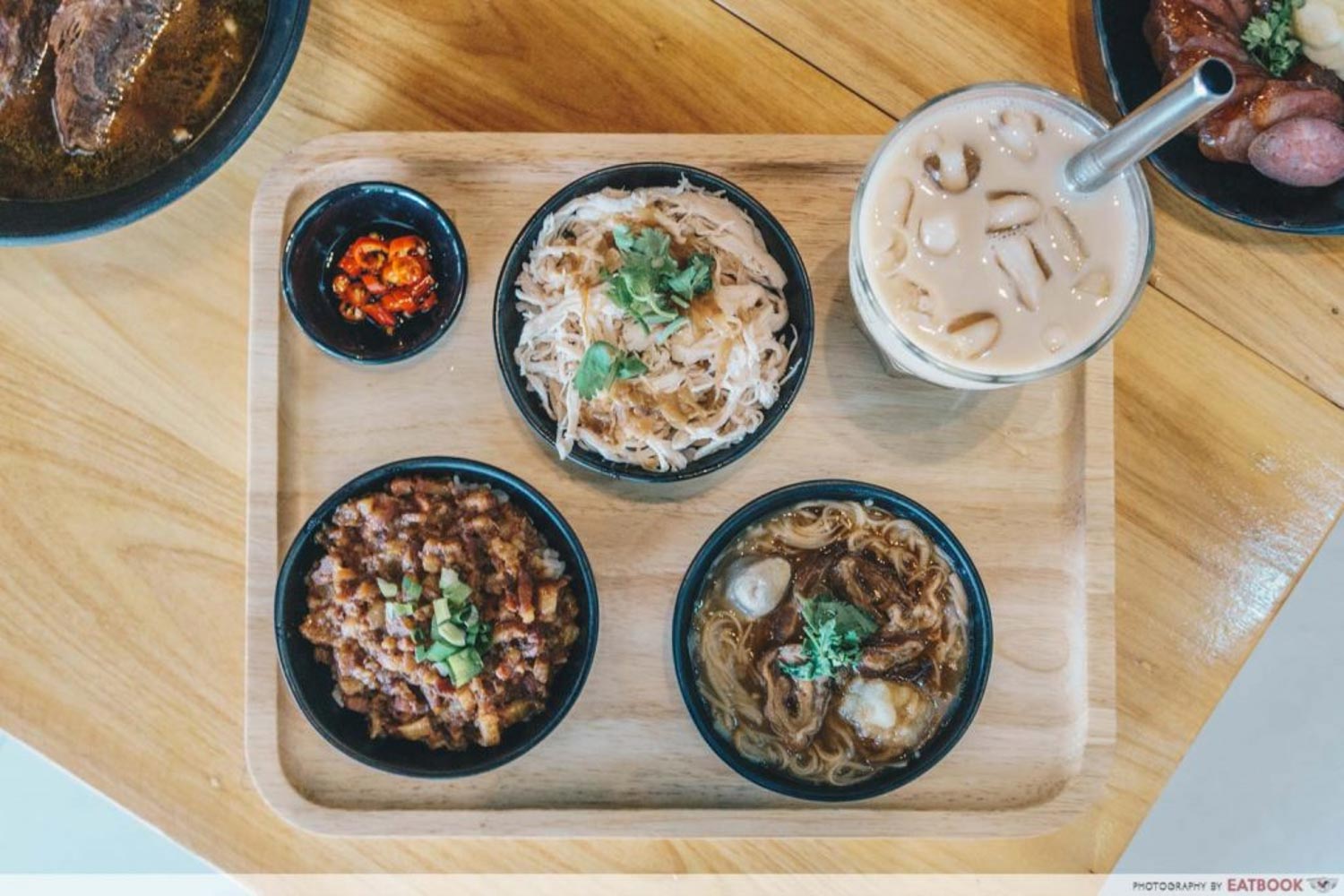 From Jay Chou songs playing in the background to their classroom-themed setting, Eat3Bowl ambience will make you feel like you're a Taiwanese student. Look at their textbook menu, and you can find typical dishes such as Oyster Intestine Mee Sua ($7.20) and Braised Pork Rice Set ($8.50). If you want a bite of everything, opt for their Signature 3 Bowls with Drink ($16) set which includes the mee sua, lu rou fan, and chicken rice.
Check out our Eat3Bowl review!
Address: 462 Crawford Lane, #01-61, Singapore 190462
Opening hours: Tue-Sun 11am to 9pm
Tel: 9154 8191
Website 
Eat 3 Bowls Review: Taiwanese Classroom-Themed Cafe And $4.50 Braised Pork Rice At Lavender
---
2. Feng Food
---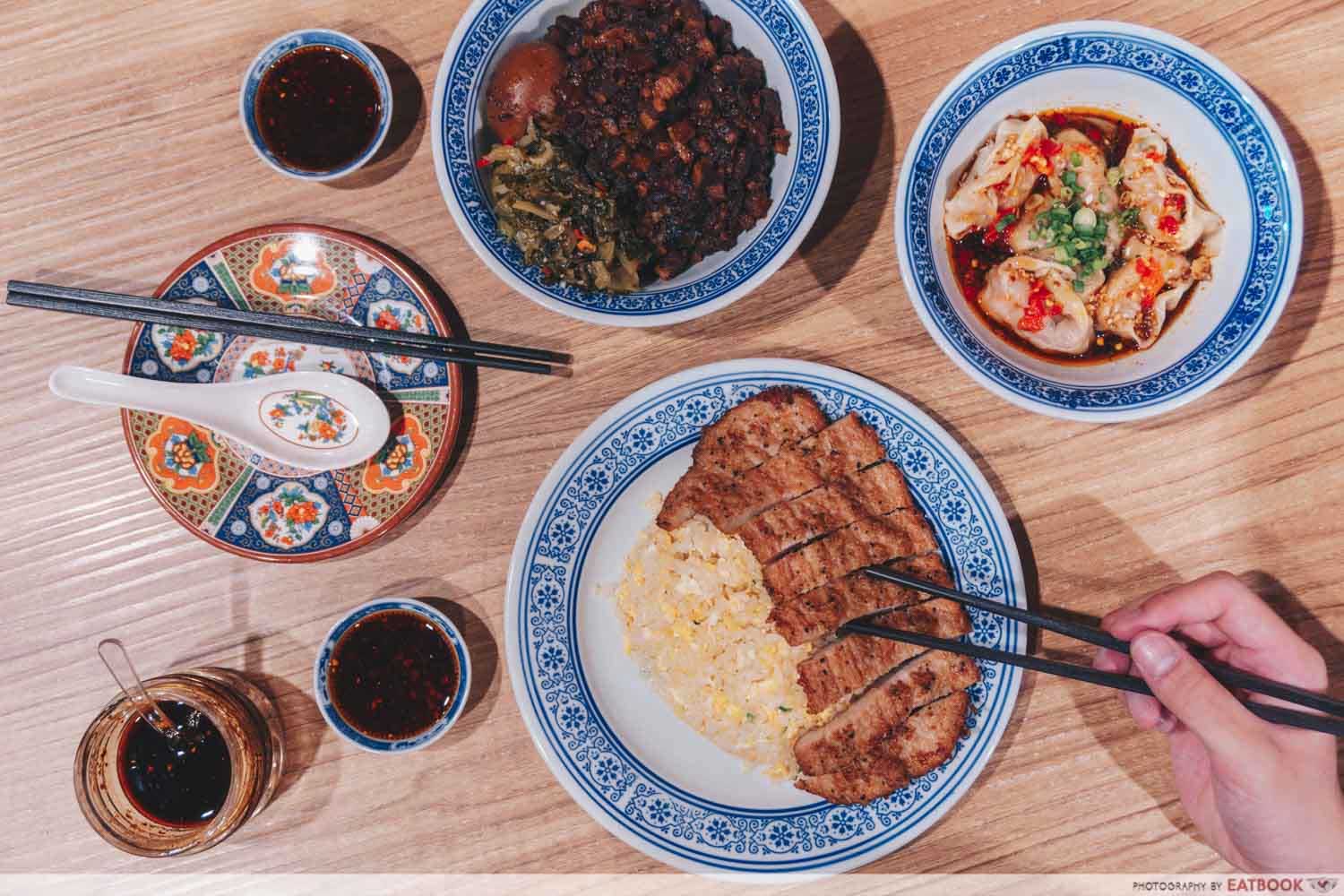 You might question your loyalty to Din Tai Fung after a visit to Feng Food at Yishun. Their Fried Rice with Specialty Marinated Pork Chop ($12.30+) looks and tastes similar to the one served at Din Tai Fung, though with a lack of wok hei. Try their Shrimp & Pork Wontons with Fiery Chilli Oil ($7+). Each wonton is packed with shrimp and minced meat, providing a savoury balance to the spicy and tangy sauce.
Check out our Feng Food review! 
Address: 930 Yishun Avenue 2, #B1-156, Northpoint City, Singapore 769098
Opening hours: Daily 11am to 9:30pm
Tel: 6481 8556
Website 
Feng Food Review: Fried Rice Pork Chop And Chilli Oil Wanton At Yishun
---
3. YEAH Taiwanese
---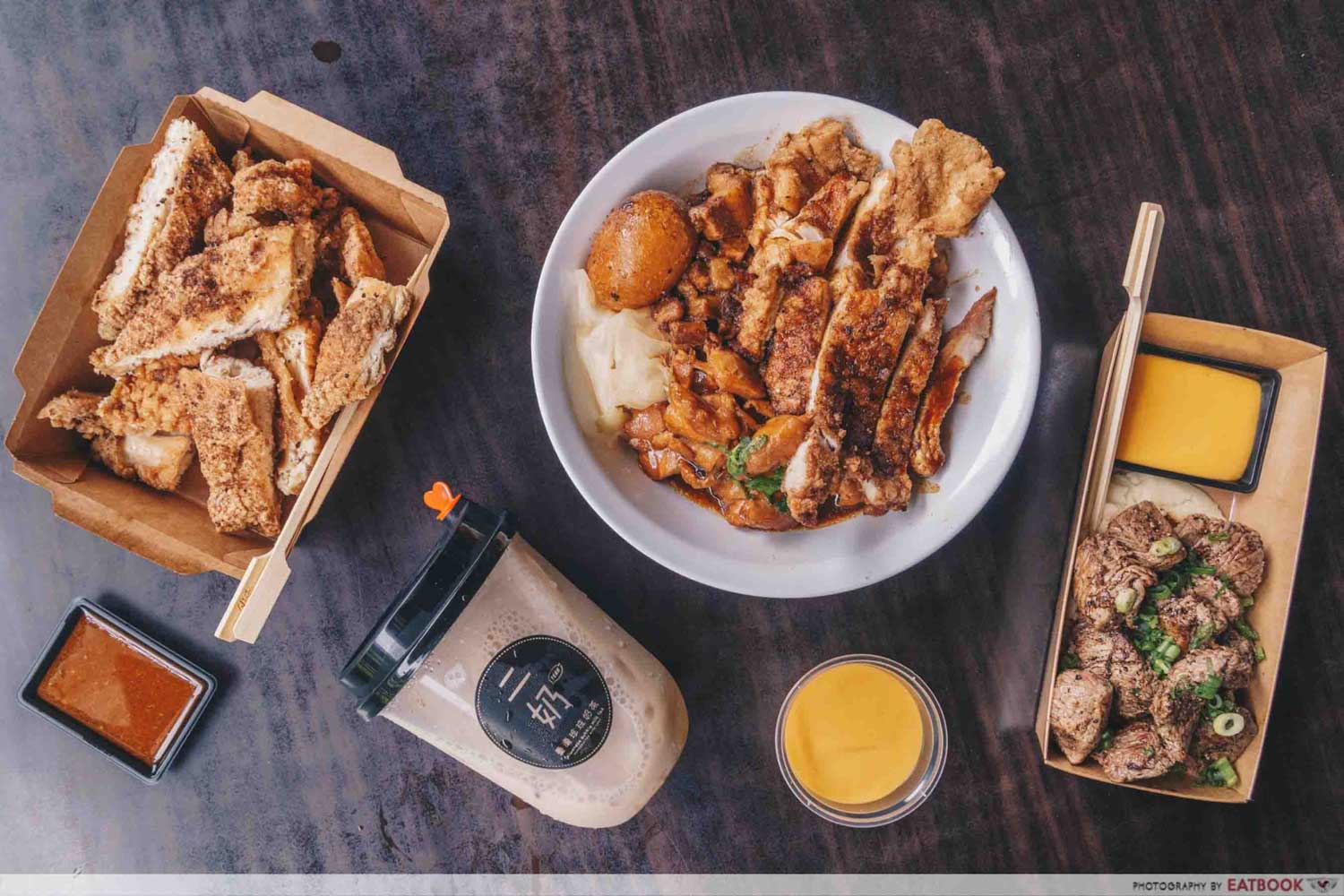 Located in hipster hawker Timbre+, YEAH Taiwanese serves popular Taiwanese street food straight from a food truck. Stretch your stomach's capacity with their No Mercy ($10.80), a massive plate of four types of meat. These include lu rou, san bei ji, fried pork chop, and ji pa. BBT lovers can also get their boba fix with the Okinawa Brown Sugar Milk ($4.90). 
Check out our YEAH Taiwanese review!
Address: 73A Ayer Rajah Crescent, #01-04/05, Timbre+, Singapore 139957
Opening hours: Mon-Sat 11am to 9pm
Tel: 9632 0590
Website 
---
4. Abundance
---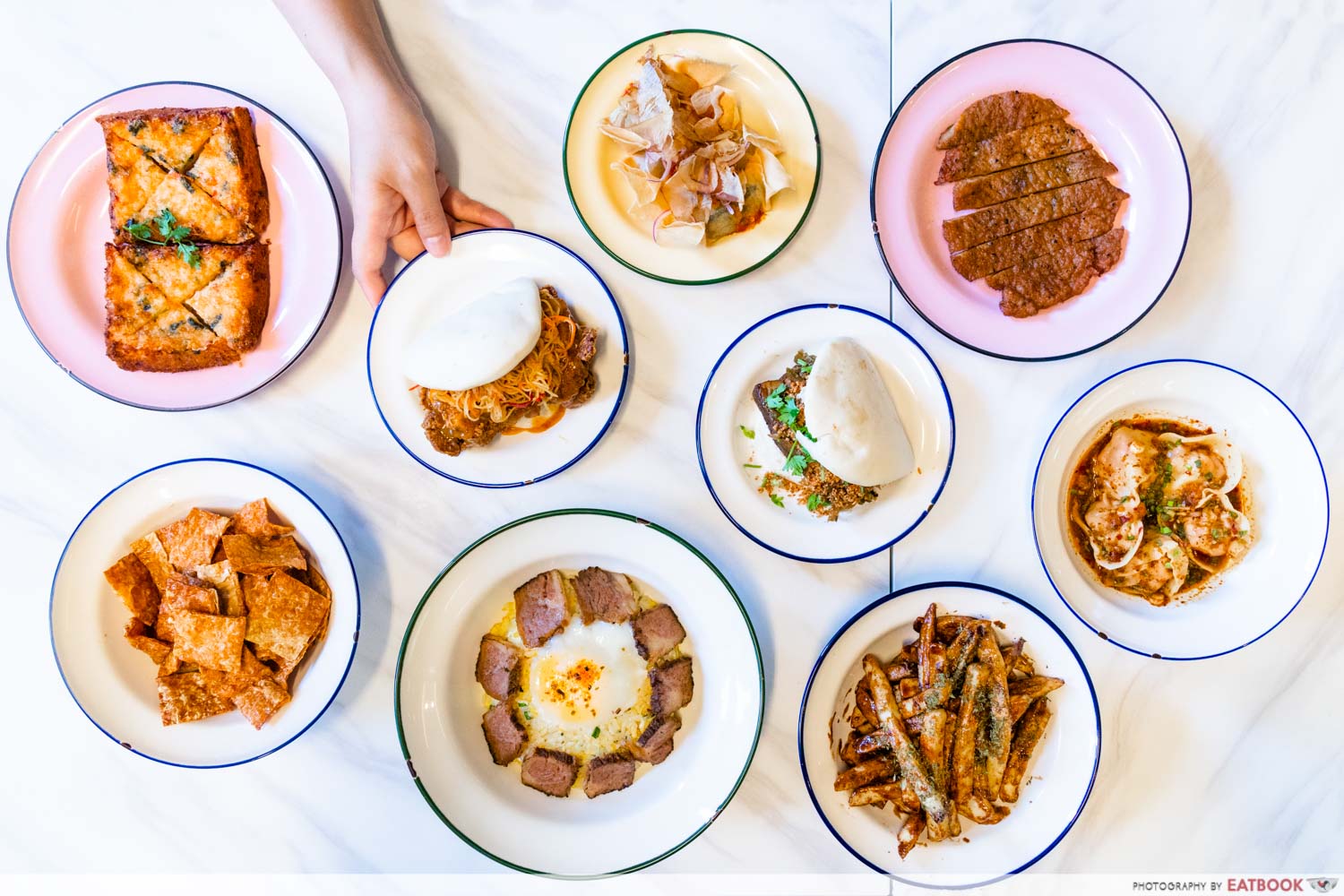 Newly opened in Redhill is Abundance, a Taiwanese restaurant-cafe located in an HDB estate just shy of the MRT Station. They've made waves on social media for their variety of bao, including their Gua Bao ($6.90+), where lotus buns sandwich a fatty slab of pork belly, topped with roasted peanuts, pickled vegetable, and coriander. Other must-tries include Niu Yolk Fried Rice ($18+), where rice fried in beef fat and short rib slices are accompanied by a creamy onsen egg, and the Peanut Ice Cream Roll ($6+), a traditional Taiwanese street snack that will transport you to the streets of Jiufen.
Check out our Abundance review.
Address: 63A Lengkok Bahru, #01-378, Singapore 151063
Opening hours: Tue-Sun 11am to 3pm, 6pm to 10:30pm
Tel: 9632 1268
Website
---
5. Roji Monster
---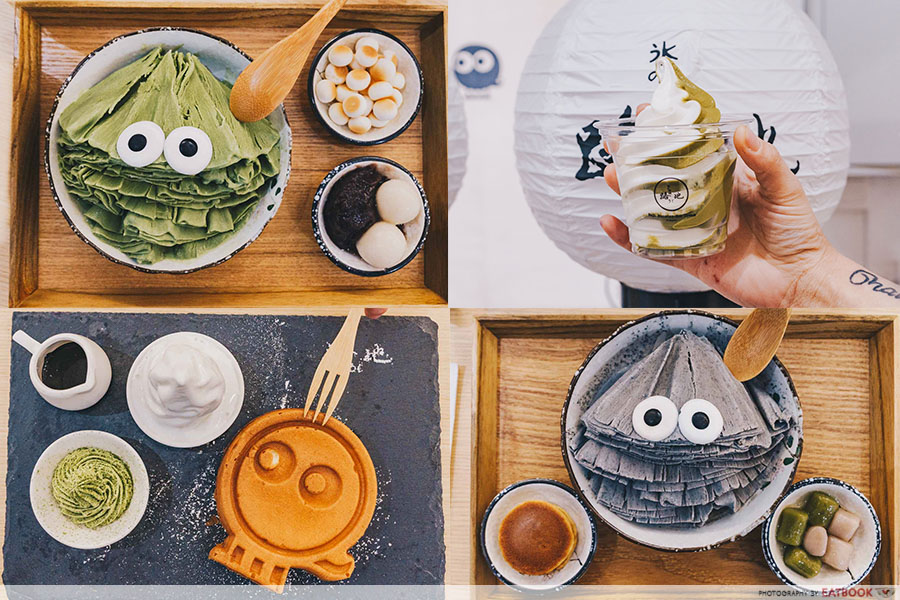 Roji Monster is internationally renowned for its adorable monster shaved ice, served in flavours like Uji Matcha, Black Sesame, Milk, and Belgian Chocolate. Each is priced at $12.90, and comes with your choice of two toppings, from housemade mochi to doriyaki.
Apart from their shaved ice signature, they also have soft-serve ice cream, from $6.90, as well as their Monster Waffle ($10.90), an IG-worthy serve of eggy waffle pressed in the shape of the cafe's mascot and milk soft-serve.
Check out our Roji Monster review.
Address: 52 Tanjong Pagar Road, Singapore 088473
Opening hours: Sun-Thurs 2pm to 11pm, Fri-Sat 3pm to 12am
Website
Roji Monster Review: Cute Monster Shaved Ice And Ice Cream Waffles In Tanjong Pagar
---
6. Emo Snacks
---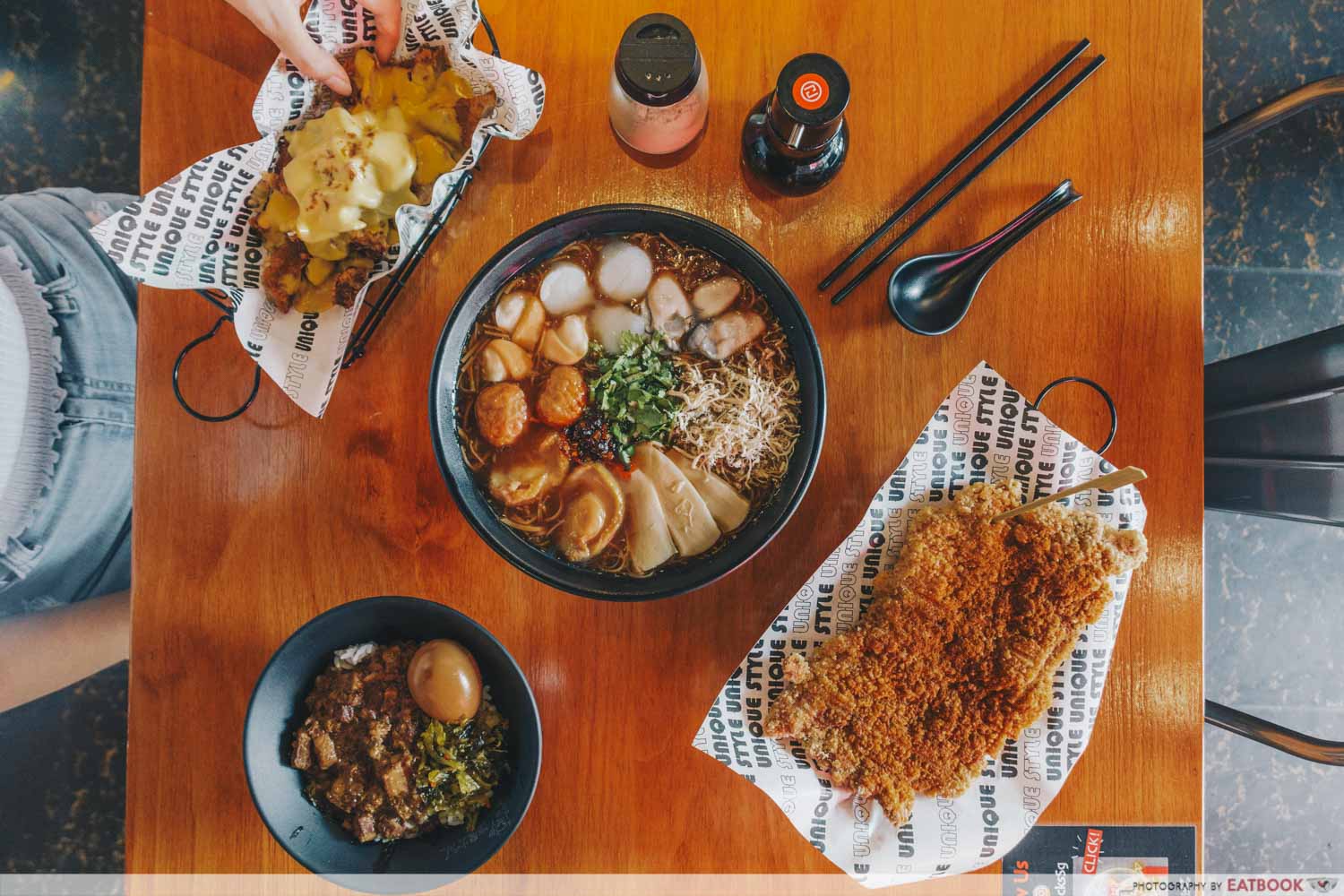 Emo Snacks in Geylang bring Taiwan's night market vibes and fare to Geylang, with bites like an XXXL Crispy Chicken Chop ($8), with adjustable spice levels, and Happy Family Mee Sua ($25.90), an extra-large portion of classic Taiwanese mee sua, zhnged-up with shredded chicken and oysters, as well as scallops, razor clams, sliced abalones and more.
Check out our Emo Snacks review.
Address: 223 Geylang Road, Singapore 389283
Opening hours: Tue-Sun 12pm to 12am
Tel: 9732 4016
Website
Emo Snacks Review: Taiwanese XXXL Chicken Chop And Abalone Mee Sua At Geylang
---
7. Monki Cafe
---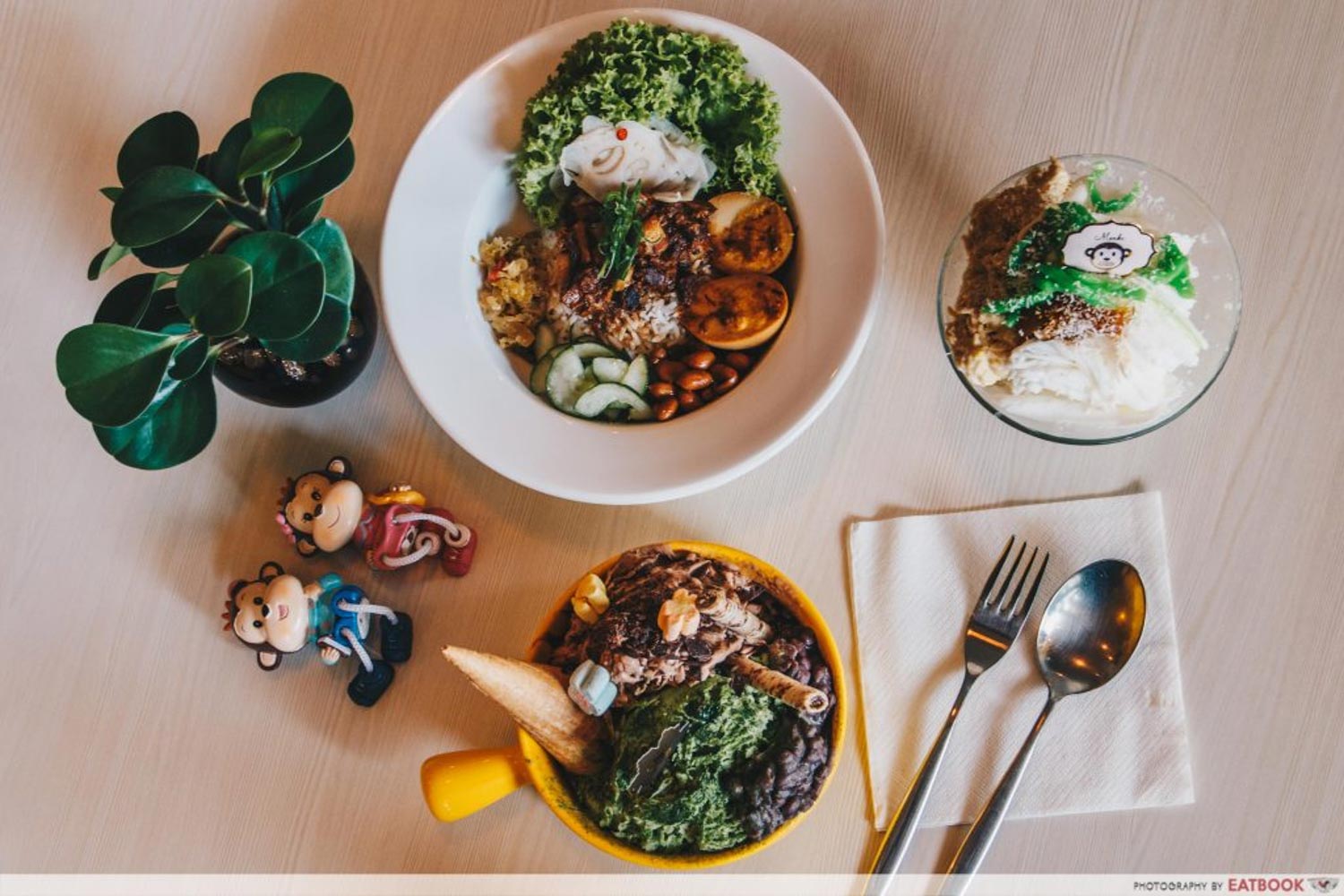 Monki Cafe at Holland Drive is an Instagrammable cafe, with its cheery yellow seats and walls. While they do serve your standard Taiwanese grub, they also have a wide range of desserts. You're spoilt for choice as their snowflake dessert comes in more than six flavours, such as matcha azuki and chocolate banana. If you can't settle on just one flavour, their Double Flavour Snowflake Dessert ($10.80) has you covered by packing in two flavours.
Check out our Monki Cafe review!
Address: 43 Holland Drive, #01-41, Singapore 270043
Opening hours: Tue-Sun 10am to 10pm
Tel: 6258 8112
Website
Monki Cafe Review: Affordable Taiwanese Cafe With Instagrammable Desserts At Holland Drive
---
8. 8 Degrees Taiwanese Bistro
---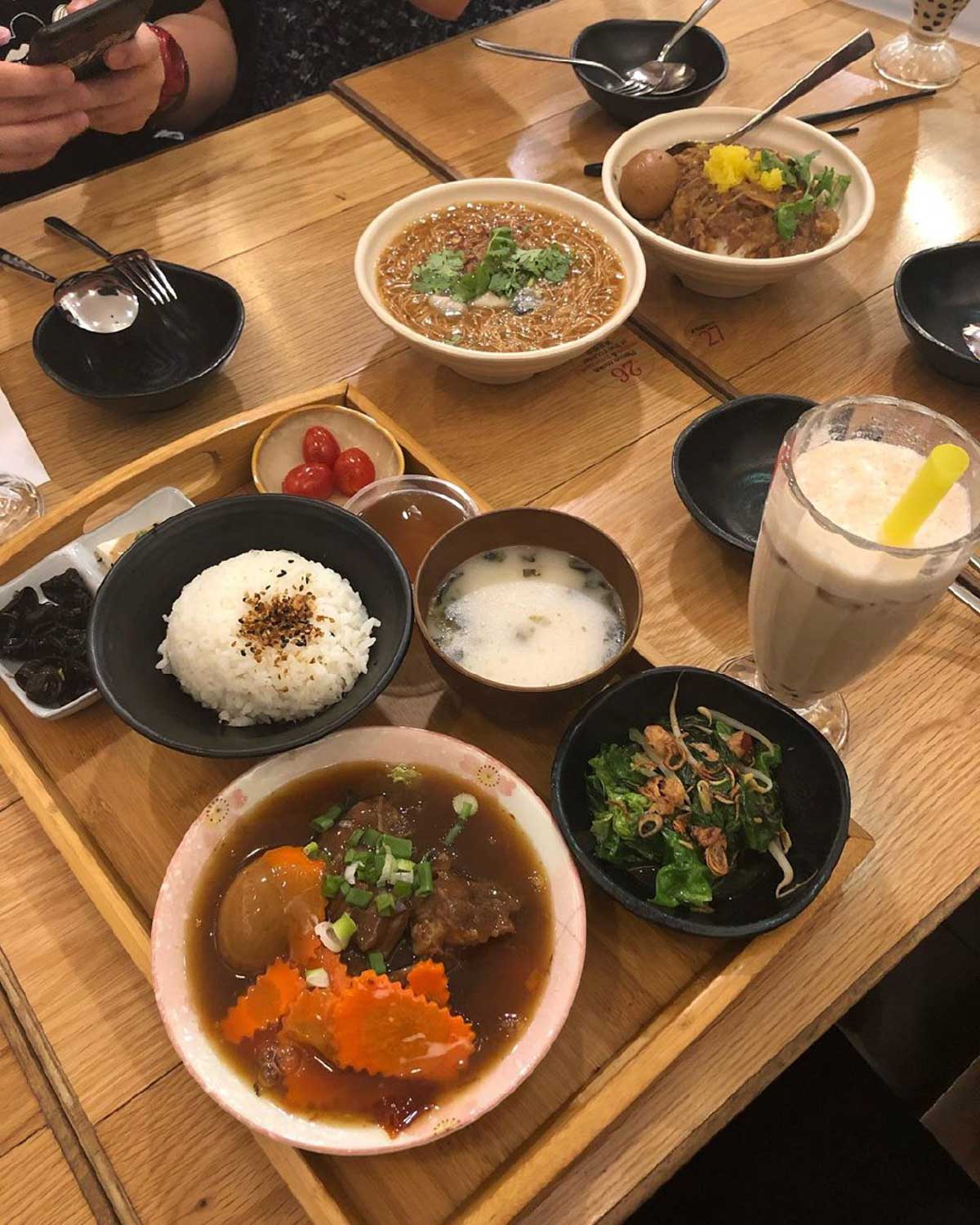 Image credit: @samht
You can expect a mix of traditional and modern dishes at 8 Degrees Taiwanese Bistro. Their comprehensive menu includes Stewed Pork Belly Rice ($5.80), which features tender and fatty pork chunks. While the fluffy Fried Oyster Omelette ($7.80) is akin to our local version, which is packed with juicy oysters. Apart from savouries, they also have sweets in the form of Honey Butter Thick Toast ($5), and a variety of yam ball dessert bowls.
Address: 37 Teck Chye Terrace, Singapore 545734
Opening hours: Mon-Fri 11am to 2:30pm, 5pm to 9pm, Sat-Sun 11am to 9pm
Tel: 6284 8226
Website
---
9. Typhoon Cafe
---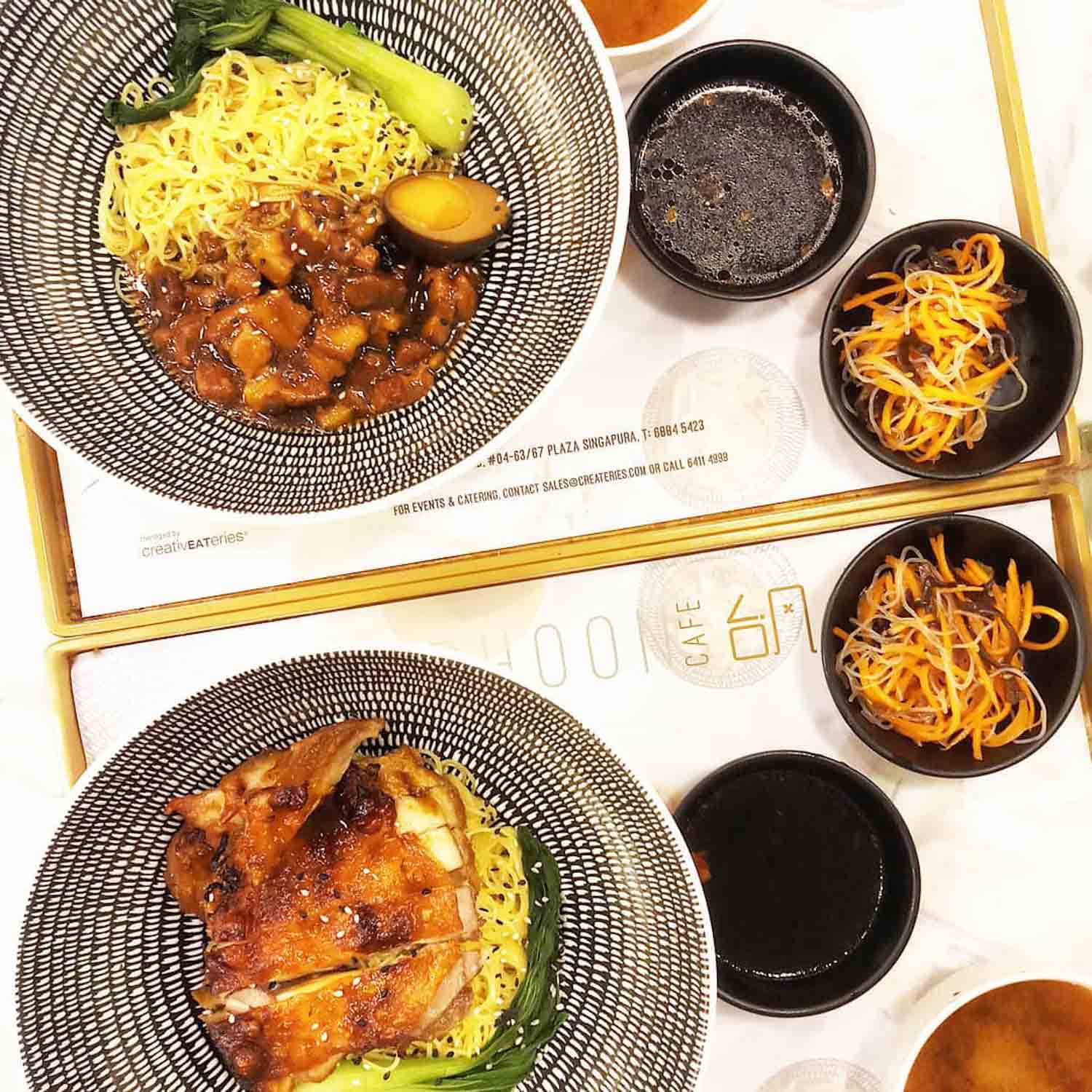 Image credit: @wanderbel
Typhoon Cafe serves up a storm with dishes such as Taiwan Lu Rou Noodles ($12.90+). Their use of noodles offers a different mouthfeel as the springy noodles contrast with the tender pork chunks. Try their Egg Fried Rice with Panko Canadian Pork Chop with Tonkatsu Sauce ($17.90+) for a zhnged up version of the classic Taiwanese fried rice. Each juicy bite of this crunchy, battered pork is packed with flavour. Whip out your phone for their Instagrammable desserts including Hell Valley Chocolate Volcano ($16.90+) featuring warm chocolate lava.
Website
Full list of locations
---
10. Downstairs
---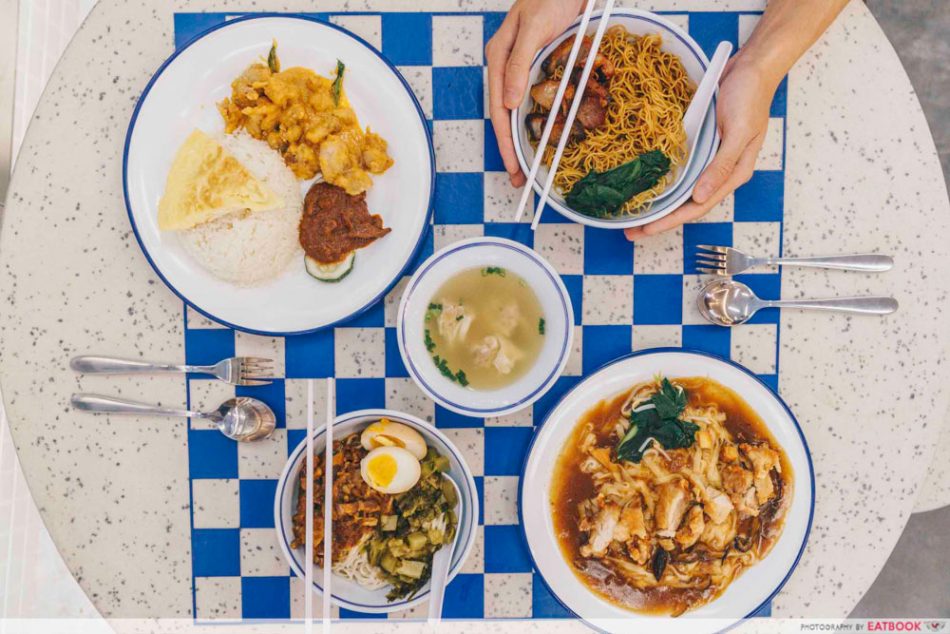 Styled like an old-school HBD void deck, Downstairs in Suntec City serves hearty Taiwanese-influenced dishes that you can order out of a booth decorated like a parking coupon machine. Get your hands on their Lu Rou Mian ($6), a slurpable alternative to lu rou fan. For something closer to home, get their Salted Egg Chicken Nasi Lemak ($8.90), a local delight spruced up with salted egg yolk chicken.
Check out our Downstairs review.
Address: 3 Temasek Boulevard, #B1-132, Suntec City, Singapore 038983
Opening hours: Mon-Fri 8.30am to 9pm, Sat-Sun 9am to 9pm
Website
Downstairs Review: Retro Void Deck Cafe With Lu Rou Mian And Salted Egg Chicken Nasi Lemak In Suntec City
---
11. Really Something
---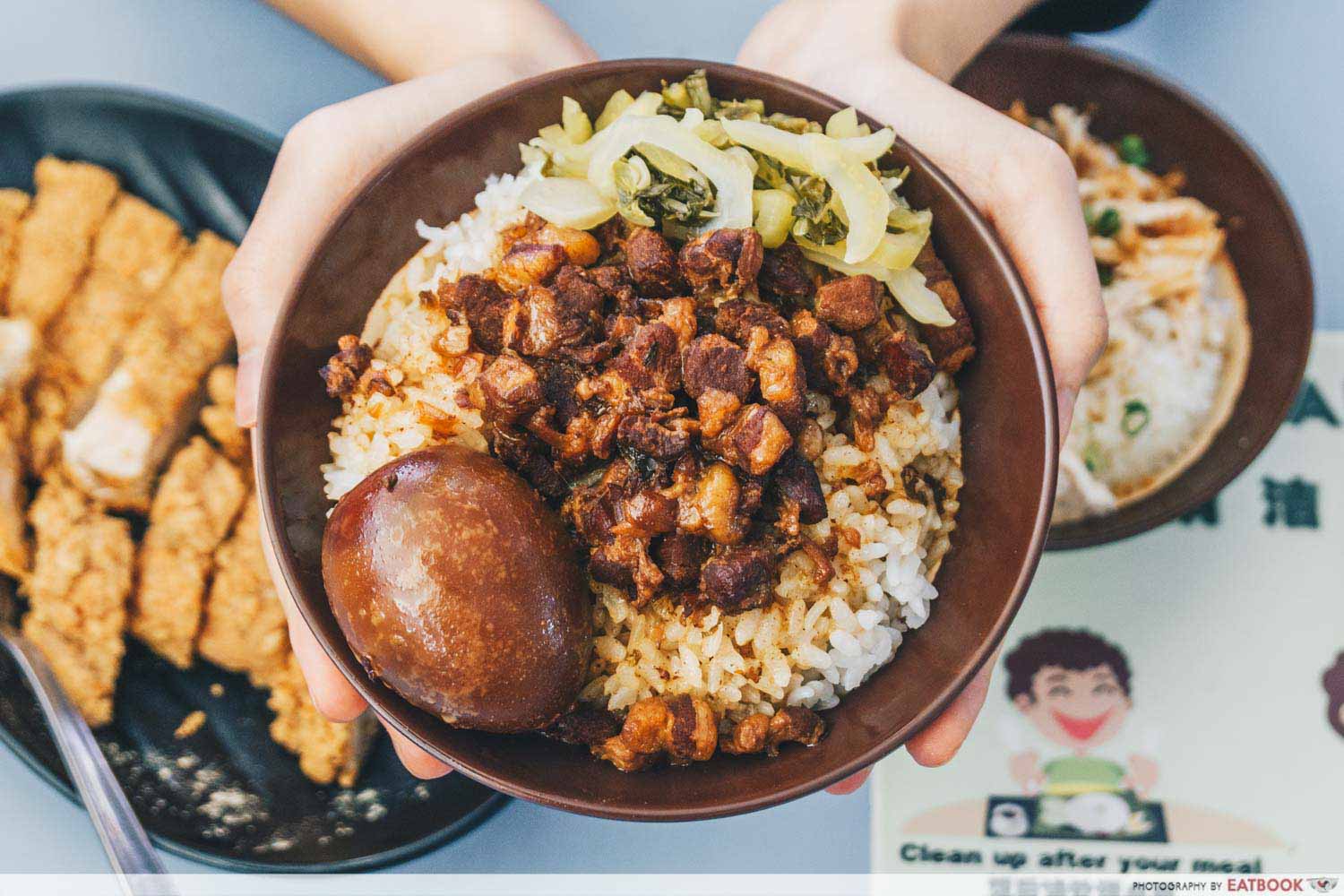 Tucked away in Chinatown Complex Food Centre is Really Something, a hawker stall that serves up Taiwanese food from as low as $3. For that price, you can get their Braised Pork Rice, aka lu rou fan. Otherwise, order their Shrimp Egg Fried Rice ($4.80), which is reminiscent of Din Tai Fung's version.
Check out our Really Something review.
Address: 335 Smith Street, #02-207, Chinatown Complex Food Centre, Singapore 050335
Opening hours: Tues-Wed, Fri-Sun 11am to 5pm
Tel: 9437 2449
Website
Really Something Review: Cheap Taiwanese Food Including Lu Rou Fan, Egg Fried Rice And More In Chinatown
---
12. Fong Sheng Hao
---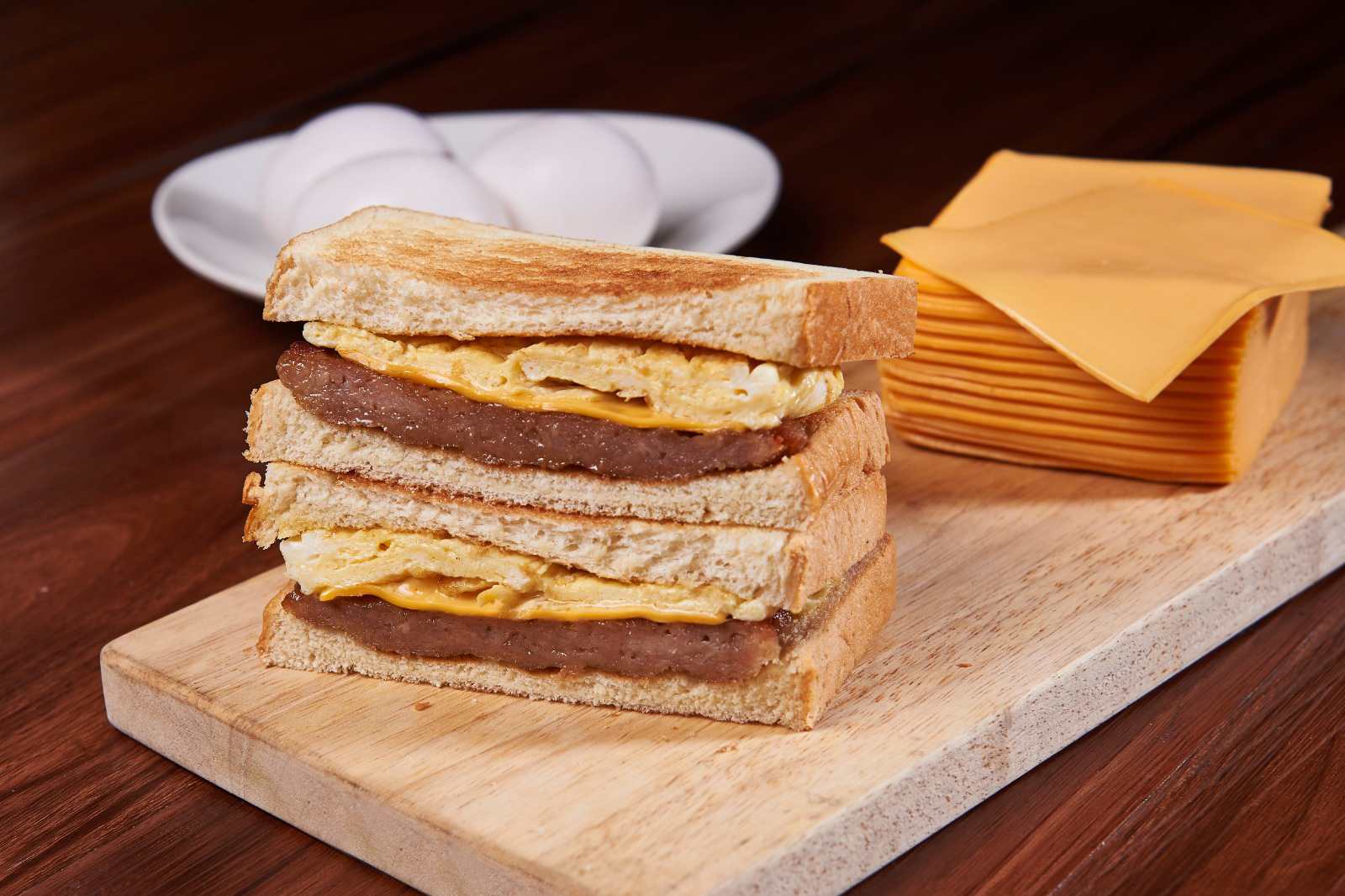 Image credit: Fong Sheng Hao
Fans of Taiwanese toast will know of Fong Sheng Hao, a chain that hails from the Shilin Night Market in Taipei. They sell a variety of Taiwanese toasts out of their two outlets, one in NEX, and one in PLQ Mall. A popular option is their Pork, Egg & Cheese ($6.30), which sees marinated pork loin, cheddar cheese, and an omelette sandwiched between toast bread.
Website | Full list of locations
---
A taste of Taiwan in Singapore
---
Since I won't be heading to Taiwan anytime soon, I shall explore the places in this list to have a taste of what Taiwan has to offer.
If you're looking for more, check out our list of Taiwanese street food!
This article was originally written on 21 August 2019.
The post 12 Taiwanese Food Places In Singapore Serving Lu Rou Fan, XXL Mee Sua And More appeared first on EatBook.sg – New Singapore Restaurant and Street Food Ideas & Recommendations.