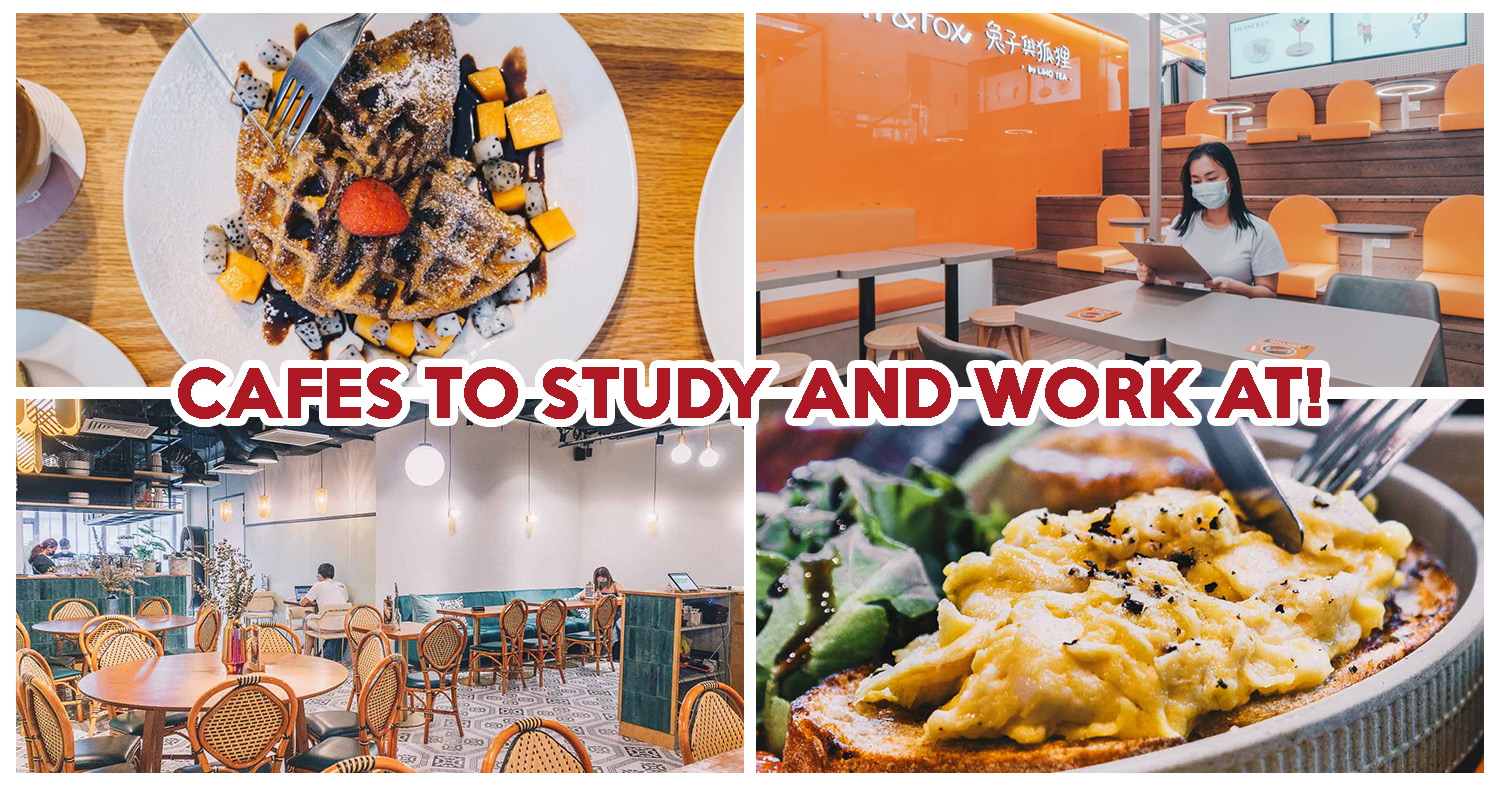 ---
Quiet cafes for studying and working in Singapore
---
Even though the workforce has been greenlighted to head back to the office, the Circuit Breaker has birthed an era of remote working. With that, cafes have become a workspace for those without a conducive environment at home, or simply looking for a change of scenery. If you're looking for a quiet place to work or study, read our list of 12 quiet cafes in Singapore for all your studying and remote working needs. What's more, these quiet cafes provide delectable food selections to accompany you while you work! Do be considerate about hogging tables during meal times though.
---
1. For The People
---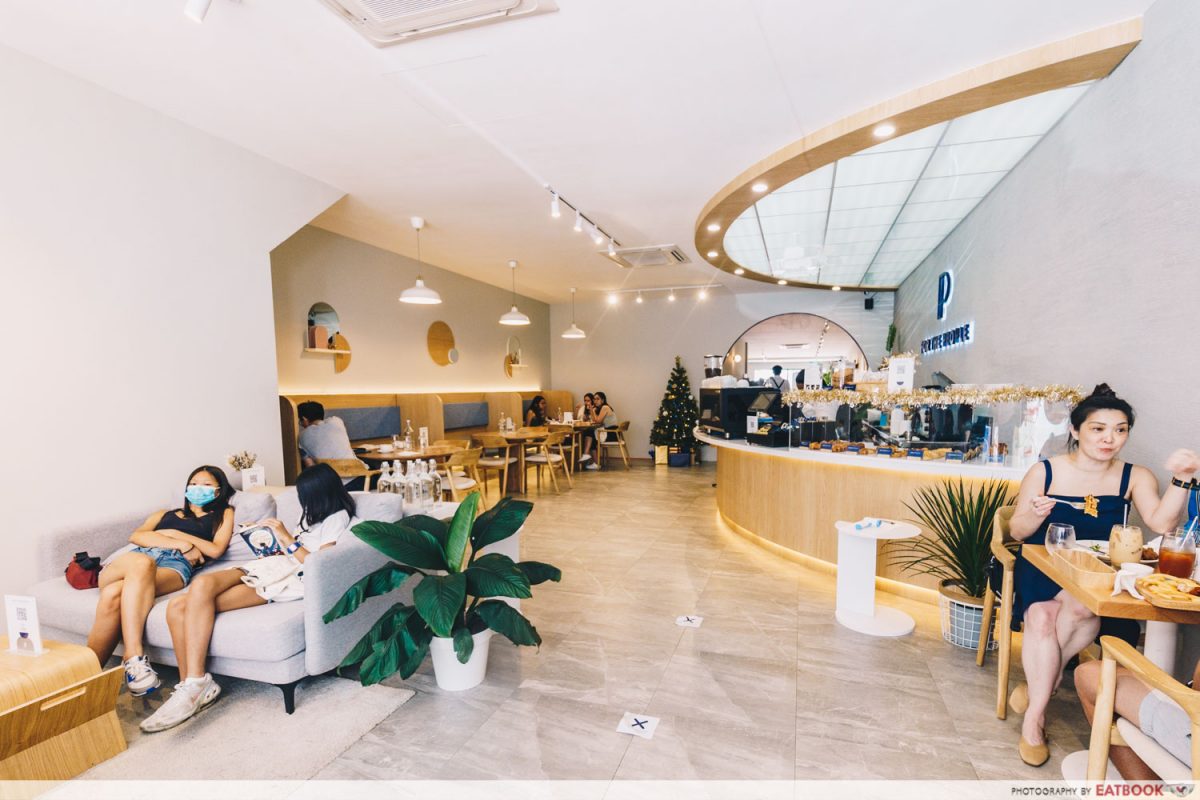 We loved For The People most for its thoughtfully designed space, peppered with power plugs so you won't have to worry about your devices running out of battery. The quiet cafe also feels spacious, with a seating capacity of 60 persons, and ample space between tables.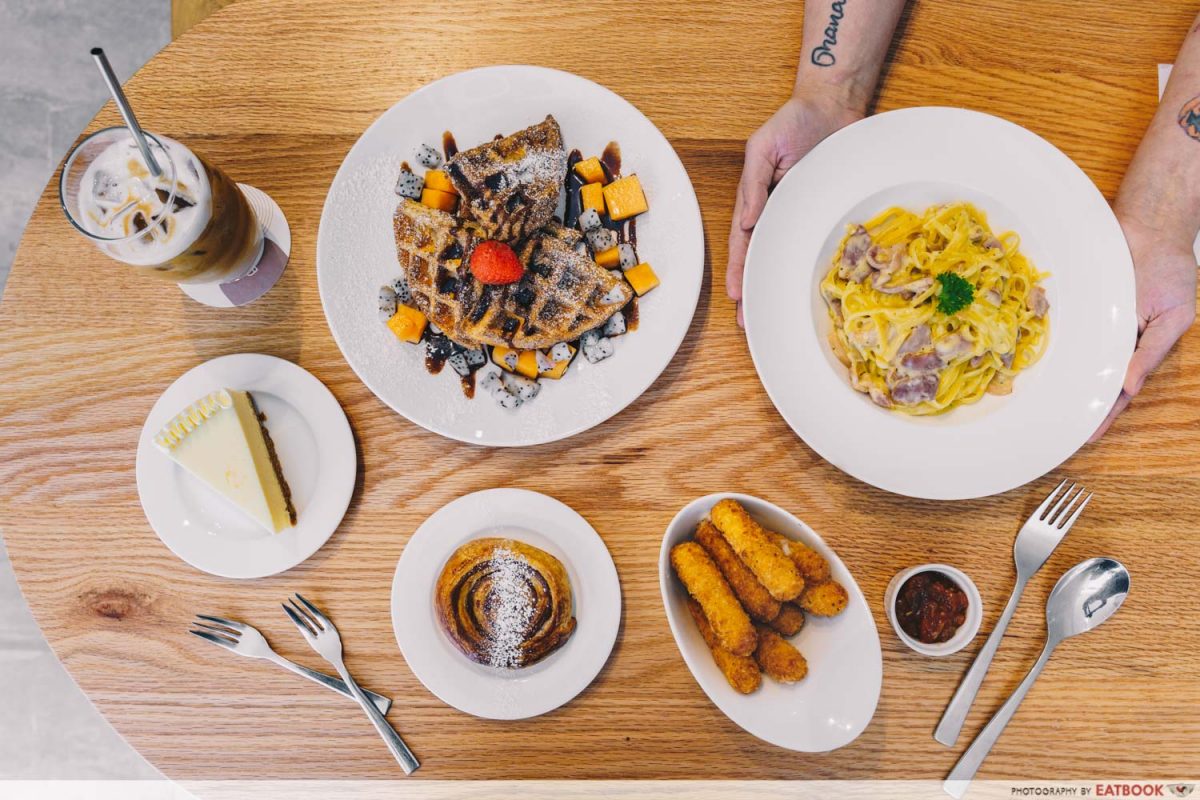 Their menu has mains, sides, cakes, and pastries—perfect for when you get hungry while working. The Mozzarella Sticks With Sriracha Salsa ($8+) make for great munchies, filled with stretchy cheese. There's also the Cinnamon Croissant ($4.50+), laced with swirls of cinnamon.
Check out our For The People review!
Address: 11 Hamilton Road, #01-00, Singapore 209182
Opening hours: Daily 9:30am to 10pm
Tel: 8133 4819
Website
For The People is not a halal-certified eatery.
For The People Review: Gorgeous Cafe With Churro Waffles And Cinnamon Croissants In Bendemeer
---
2. Rabbit & Fox
---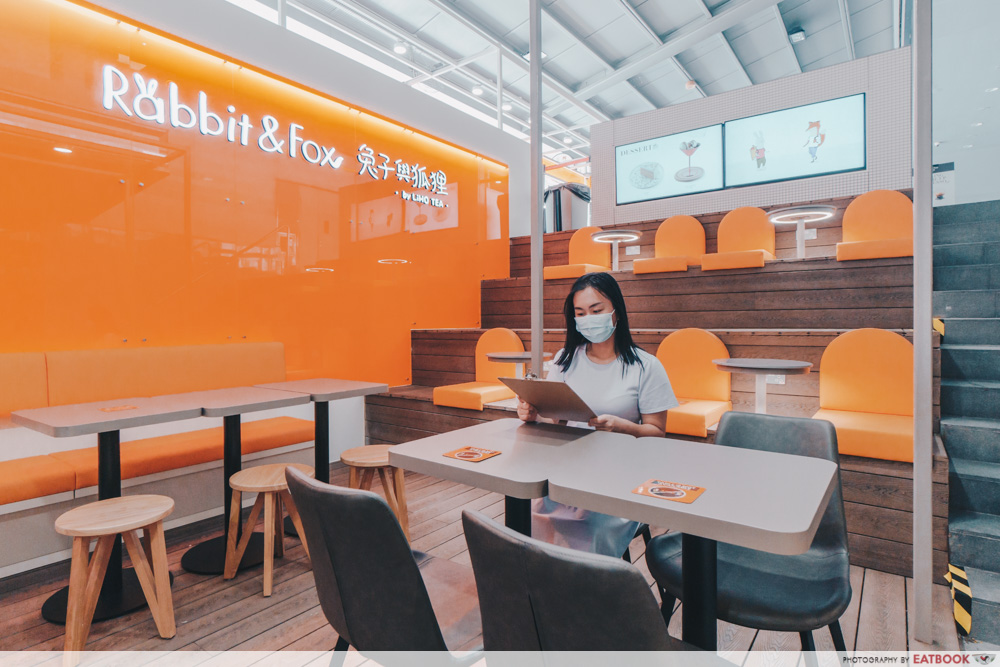 Of all the quiet cafes in town, one that's made ideal for studying or working is Rabbit & Fox, a two-level space that's flecked with numerous charging points. They also have sharing tables and single-person booths—apt for group study sessions, or those looking to work quietly alone.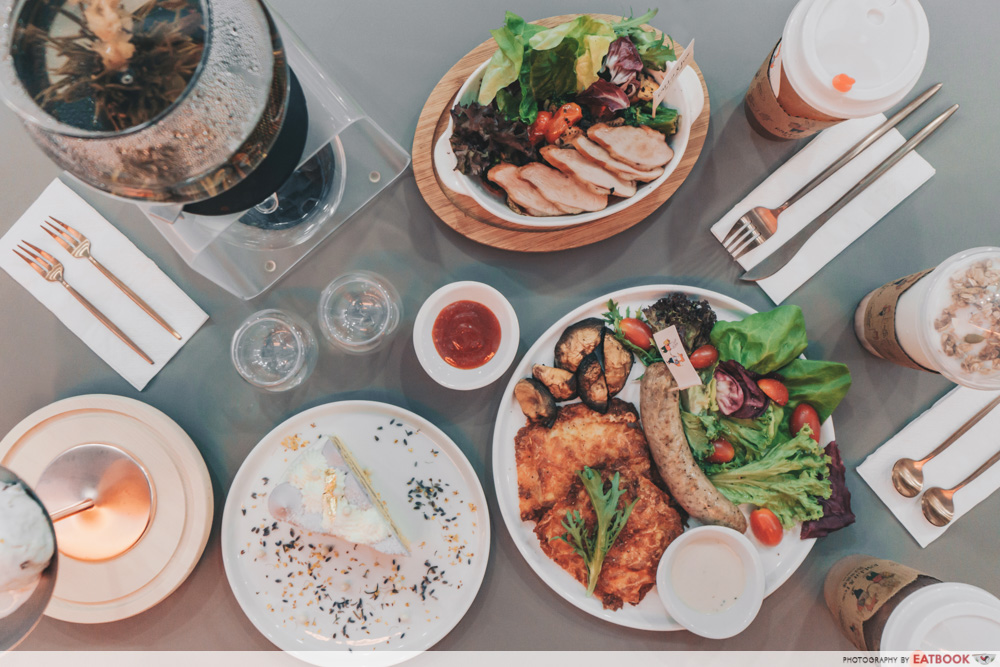 While you're here, get a customisable BBT from their Teapresso (from $3.60) series to sip on as you work. They also have an all-day brunch selection to fill you up, including the Pork Bratwurst Rosti ($15.90) that's served alongside grilled mushrooms, salad, and a tangy Caesar sauce. 
Check out our Rabbit & Fox review!
Address: 160 Orchard Road, #K-02/03, OG Orchard Point, Singapore 238842
Opening hours: Sun-Thur 8am to 9pm, Fri-Sat 8am to 10pm
Website
Rabbit & Fox is not a halal-certified eatery.
Rabbit & Fox Review: New Cafe With BBT And All-Day Brunch In Orchard
---
3. The Co-Op
---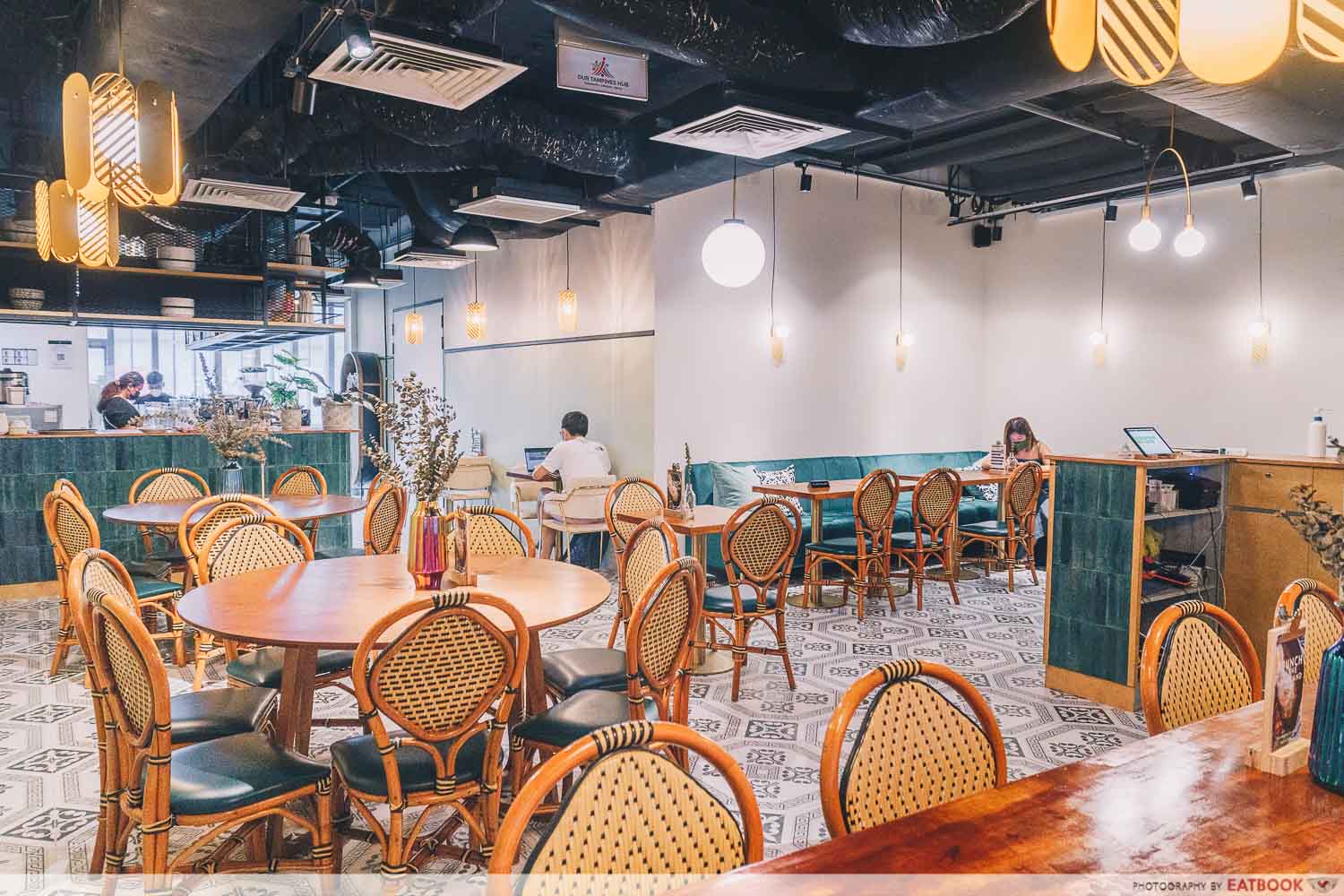 Tucked away in Our Tampines Hub is The Co-op, a colonial-style cafe dressed in wood fixtures and vintage flooring. It's a quiet space with plenty of seats to go around, and there's free wifi so you can stay connected throughout the day.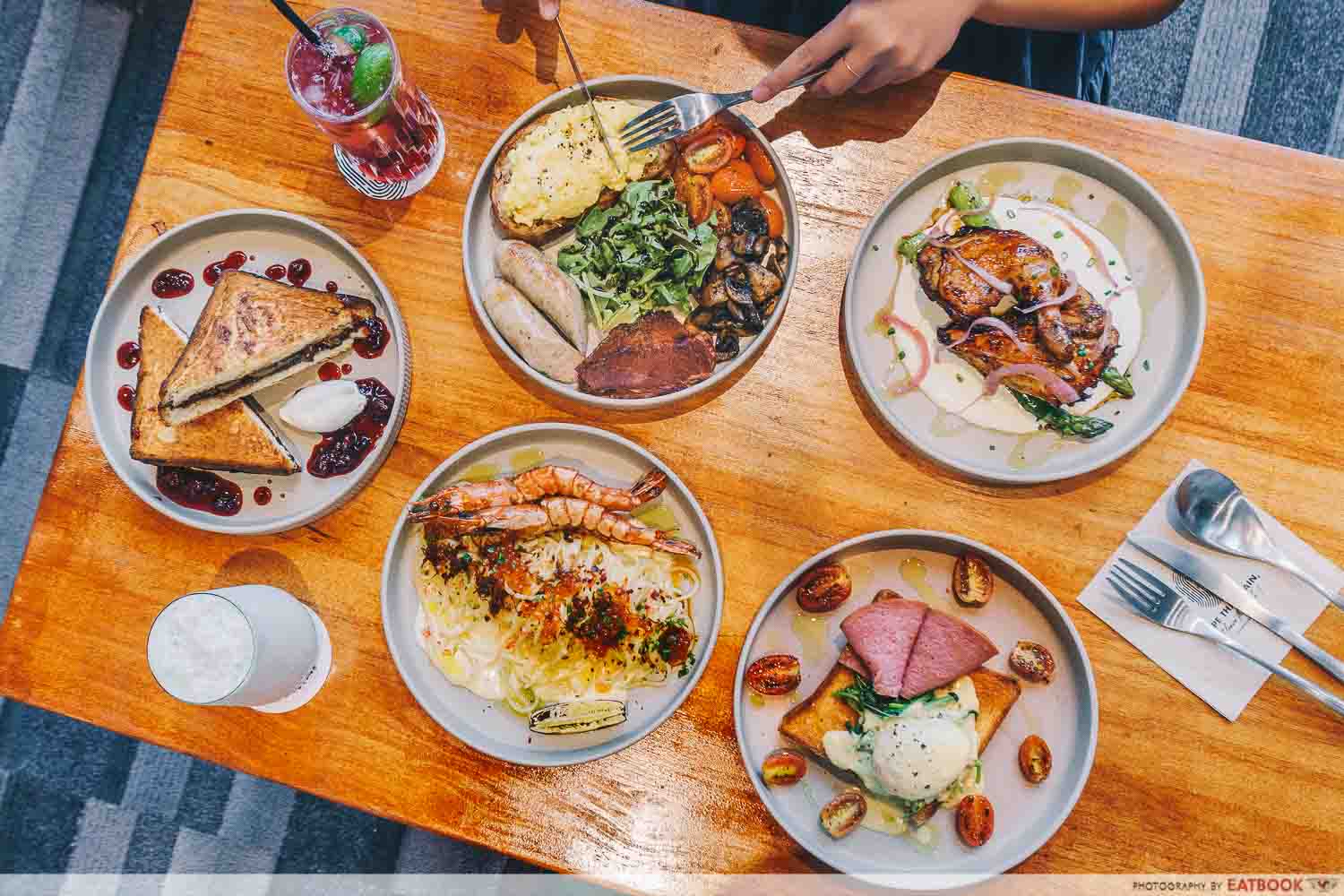 Food-wise, we recommend the Spicy Umami Prawn Pasta ($20.90+), elevated with scallop paste and briny salmon roe. The umami flavours in this dish are the perfect perk-me-up amidst a dreary work sesh. For sweet-toothed readers, there's a Hazelnut Dolcello Toast ($15.90+) available, packed with chocolate hazelnut spread and bananas, alongside fresh berries and honeyed mascarpone cream.
Check out our review of The Co-op!
Address: 1 Tampines Walk, #03-04, HomeTeamNS Tampines, Our Tampines Hub, Singapore 528729
Opening hours: Daily 12pm to 10pm
Tel: 6214 9350
Website
The Co-op is a halal-certified eatery.
The Co-op Review: Hidden Cafe With Colonial Vibes For Spicy Ikura Prawn Pasta, Chendol Milkshake And More
---
4. Genius Central
---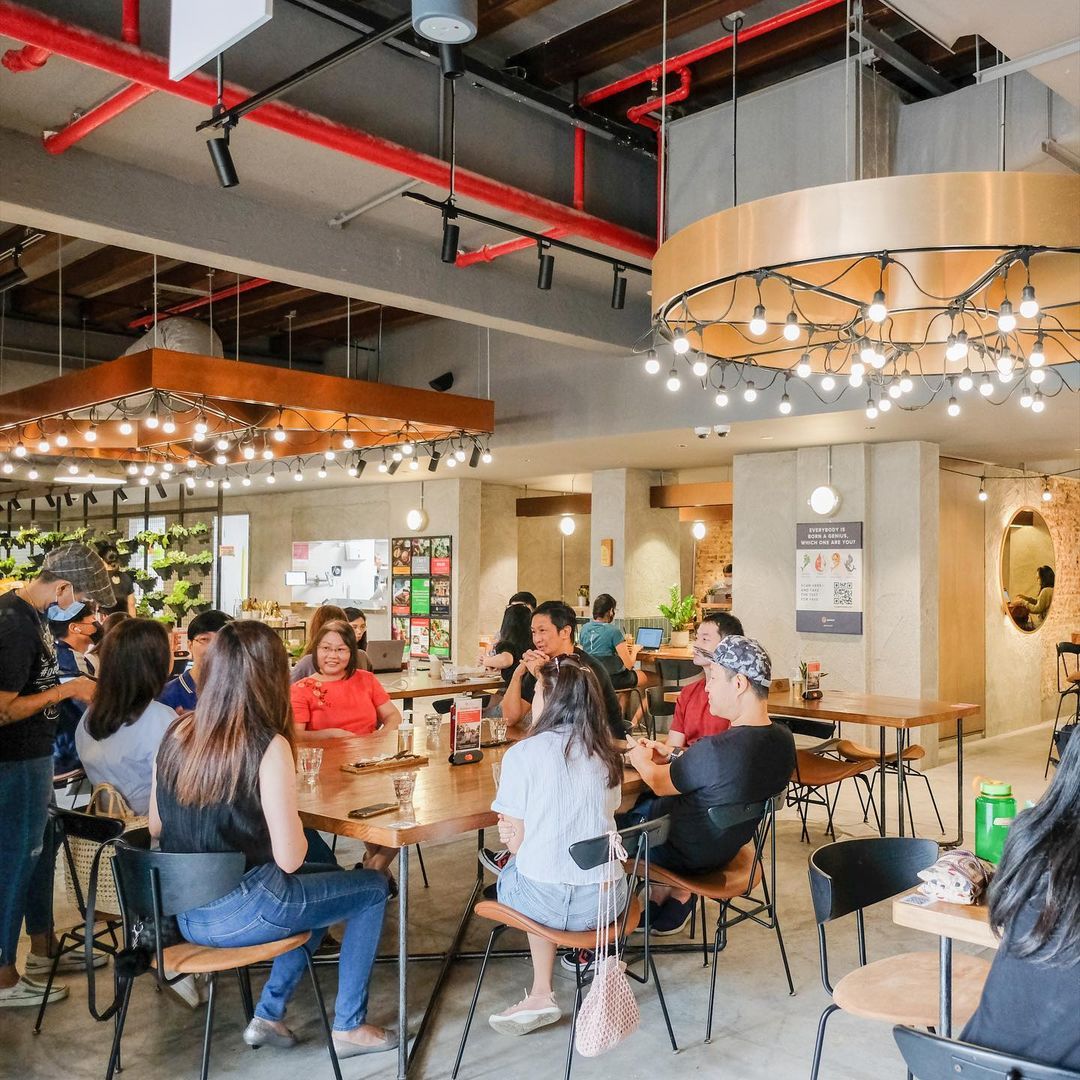 Image credit: @iamnynynny
Genius Central prides itself as a co-working space, decked with long tables for group meetings, and little nooks for those who want to work alone. Here, you can even book meeting rooms for up to eight people, with high-speed internet and a sound system to boot.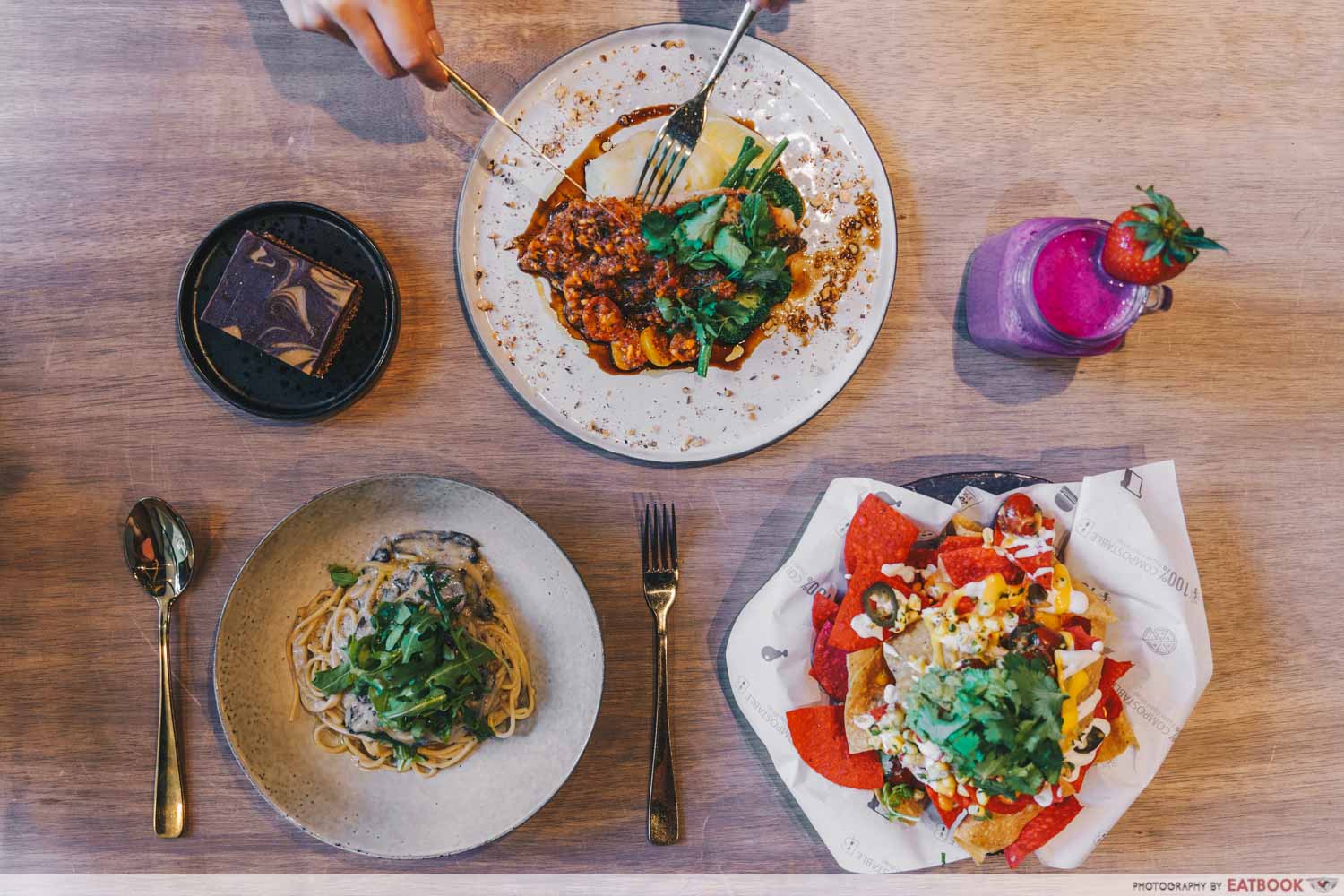 They also have an inclusive menu, with options for everyone, whether you prefer vegan, vegetarian, or gluten-free. If you're here in a group, consider the Mixed Mushroom Pizza ($20++), flavoured with a tangy balsamic glaze. The Three Heavenly Dips ($18++) also come highly recommended, comprising beetroot hummus, baba ganoush, and traditional hummus, along with housemade flatbread and corn chips to dip.
Address: 7-13 Amoy Street, #01-01, Far East Square, Singapore 049949
Opening hours: Mon-Thur 8am to 8:30pm, Fri-Sat 8am to 9:30pm, Sun 8am to 4pm
Tel: 8940 1200
Website
Genius Central is not a halal-certified eatery.
---
5. Strangers' Reunion
---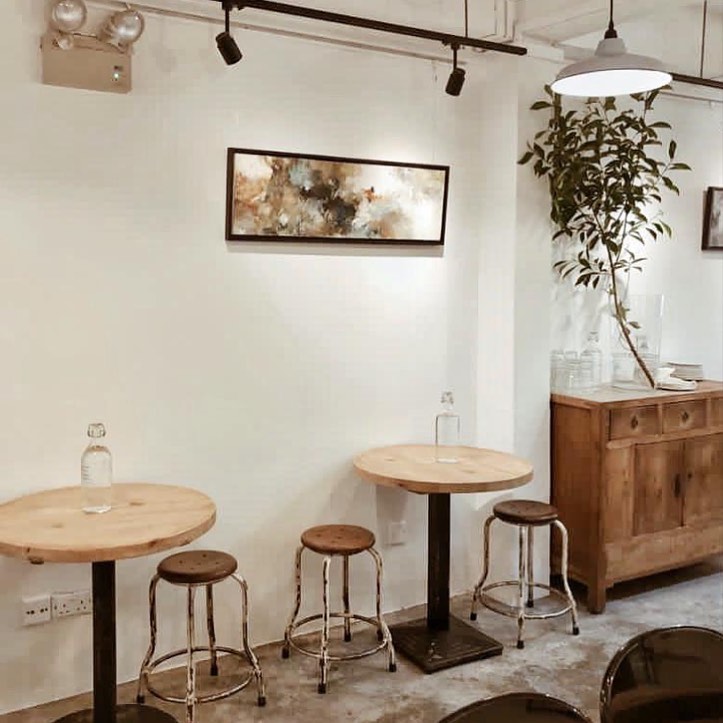 Image credit: @strangersreu
Strangers' Reunion reopened late last year, right next to its previous location that's now taken up by Kream & Kensho. Their new space is quiet and cosy, great for hiding from the bustle outside. Here, there are also power outlets available.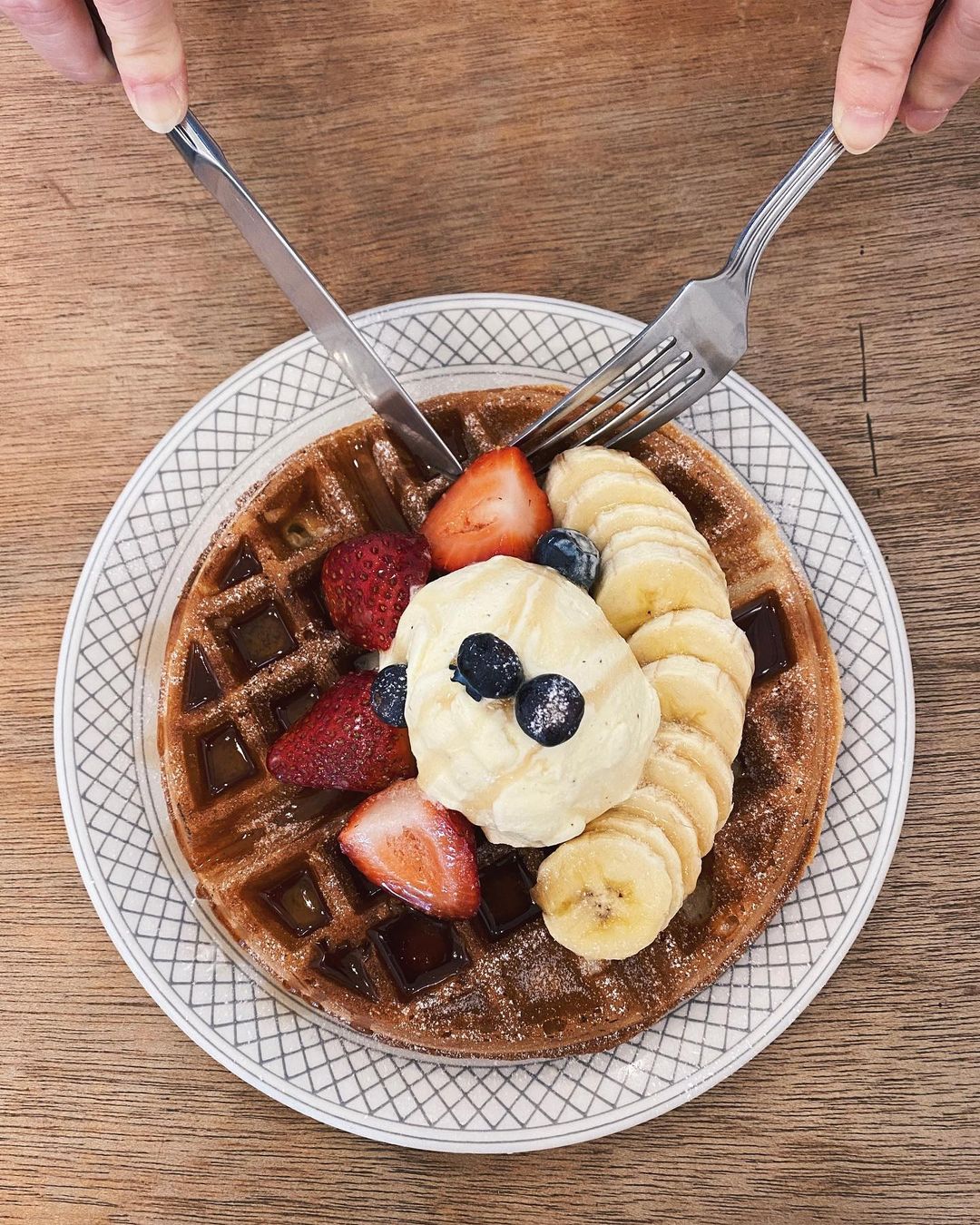 Image credit: @fatty.png
If there's one dish that Strangers' Reunion is known for, it's their Buttermilk Waffles (from $11.50++), which you can choose to top with Greek yoghurt or vanilla bean ice cream. While you're here, be sure to try their coffee as well, which is stellar in my books.
Address: 37 Kampong Bahru Road, Singapore 169356
Opening hours: Daily 9am to 6pm
Tel: 6222 4869
Website
Strangers' Reunion is not a halal-certified eatery.
---
6. Plain Vanilla Bakery
---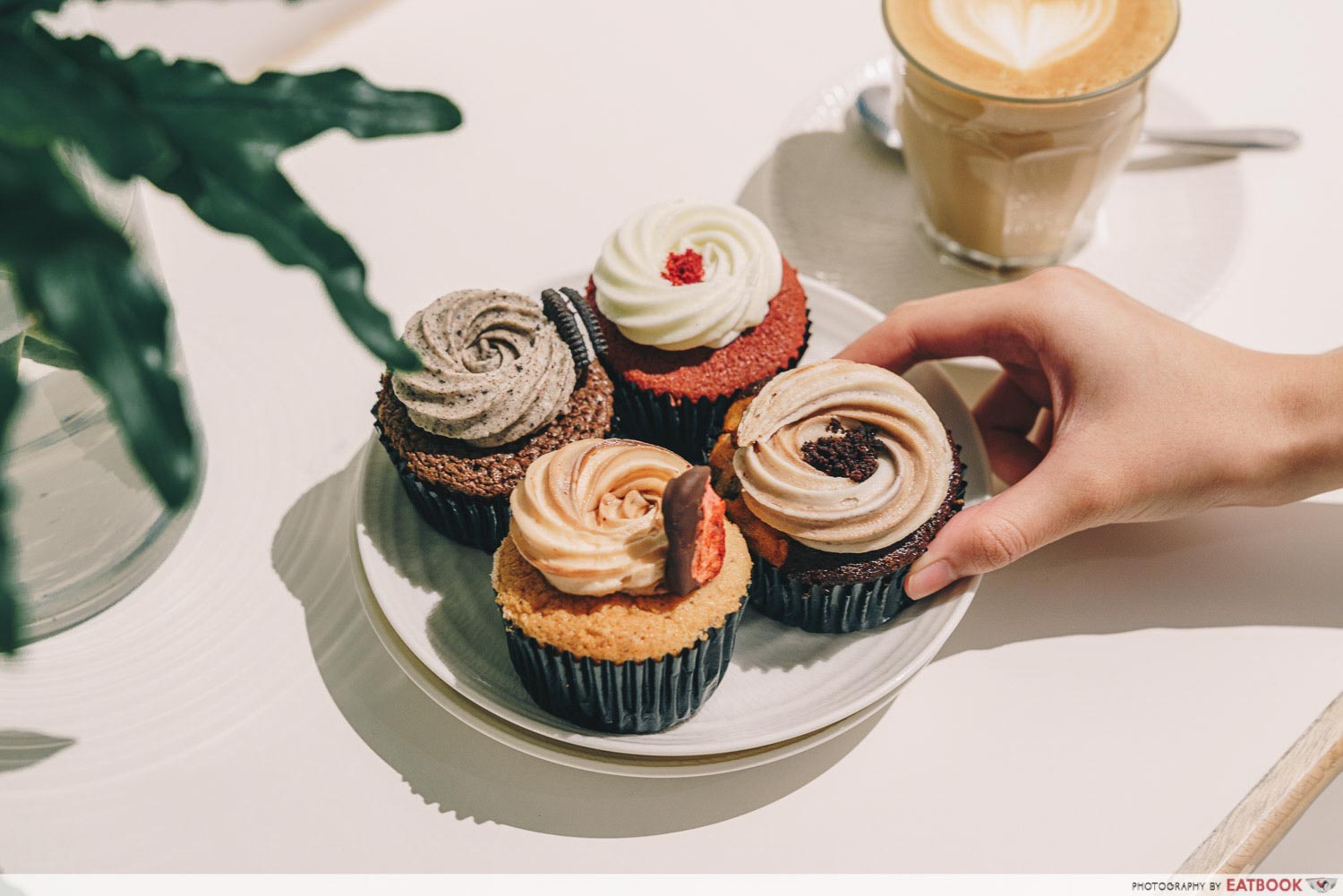 The Plain Vanilla Bakery outlet at Tiong Bahru is one of the cafes in Singapore where you'll constantly find people working or studying, with their laptops perched on the high tables. There's free wifi here too, though it means that there's a perpetual crowd.
Apart from their signature cupcakes, you can expect a diverse selection of bakes, including a Strawberry Custard Tart ($7) and decadent Dark Chocolate Cherry Rum Brownie ($8). These make for perfect munchies as you plough through your work.
Address: 1D Yong Siak Street, Singapore 168641
Opening hours: Daily 8am to 7pm
Tel: 8363 7614
Website
Plain Vanilla Bakery is not a halal-certified eatery.
---
7. Kith Cafe
---

Image credit: @maron_oosuke
Kith Cafe is one of the best cafes in Singapore for your studying and remote working needs, as their outlet in Millenia Walk is lined with numerous charging points, with seats available most of the time. What's more, you can even book meeting rooms for larger meetings, that come with wifi and an AV system.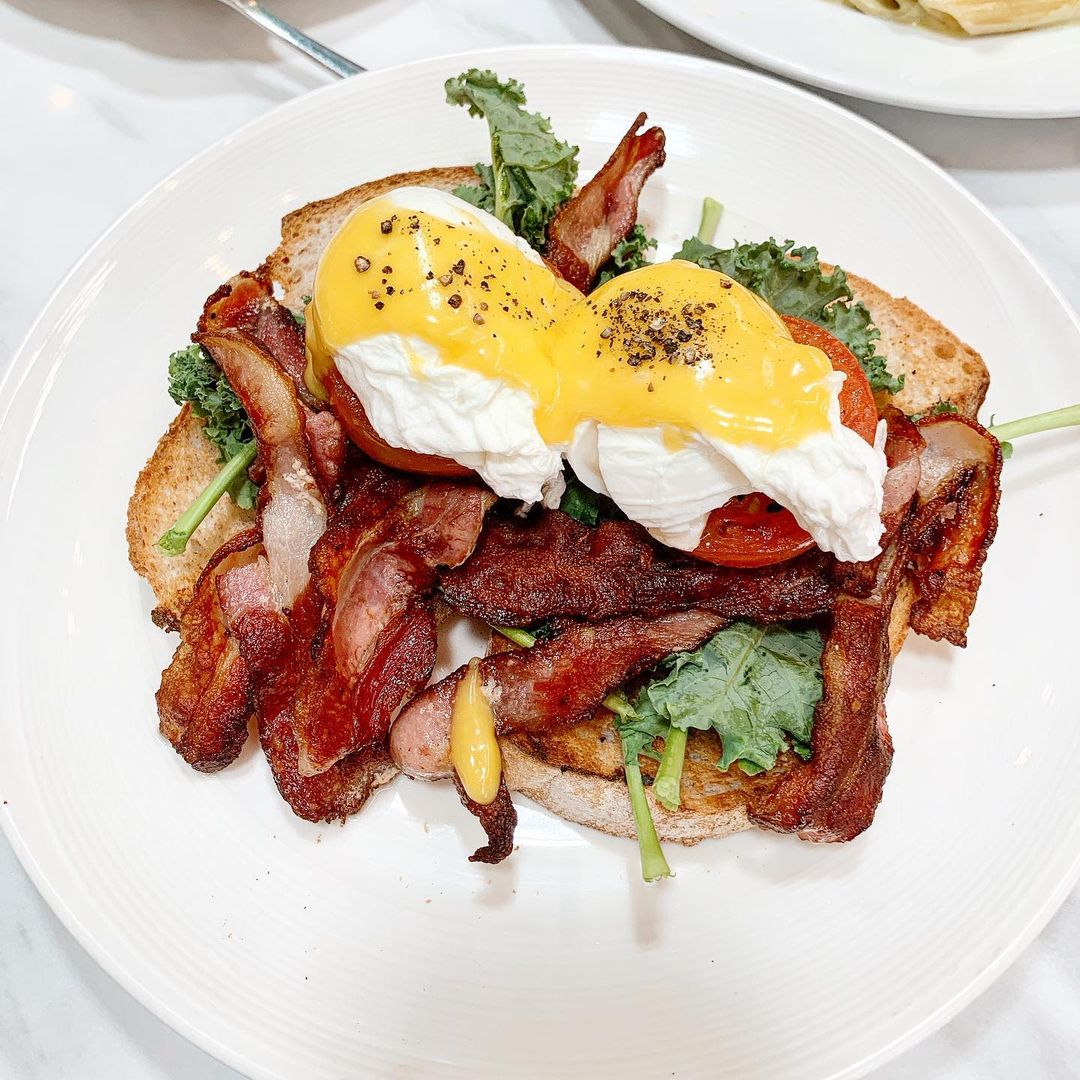 Image credit: @xavlph
Treat yourself to some indulgent brunch food as you study, available until 5pm. Their Better Than Benny ($17.90++) comes highly recommended, comprising brioche buns, poached eggs, spinach, tomatoes, and a protein of your choice. They also have House-Made Pancakes ($15.90++), dressed with fruit, honey, cream cheese, and a maple butter sauce.
Address: 9 Raffles Boulevard, #01-44/45, Millenia Walk, Singapore 039596
Opening hours: Daily 7:30am to 10pm
Tel: 6333 4438
Website
Kith Cafe is not a halal-certified eatery.
---
8. Twenty Eight Cafe
---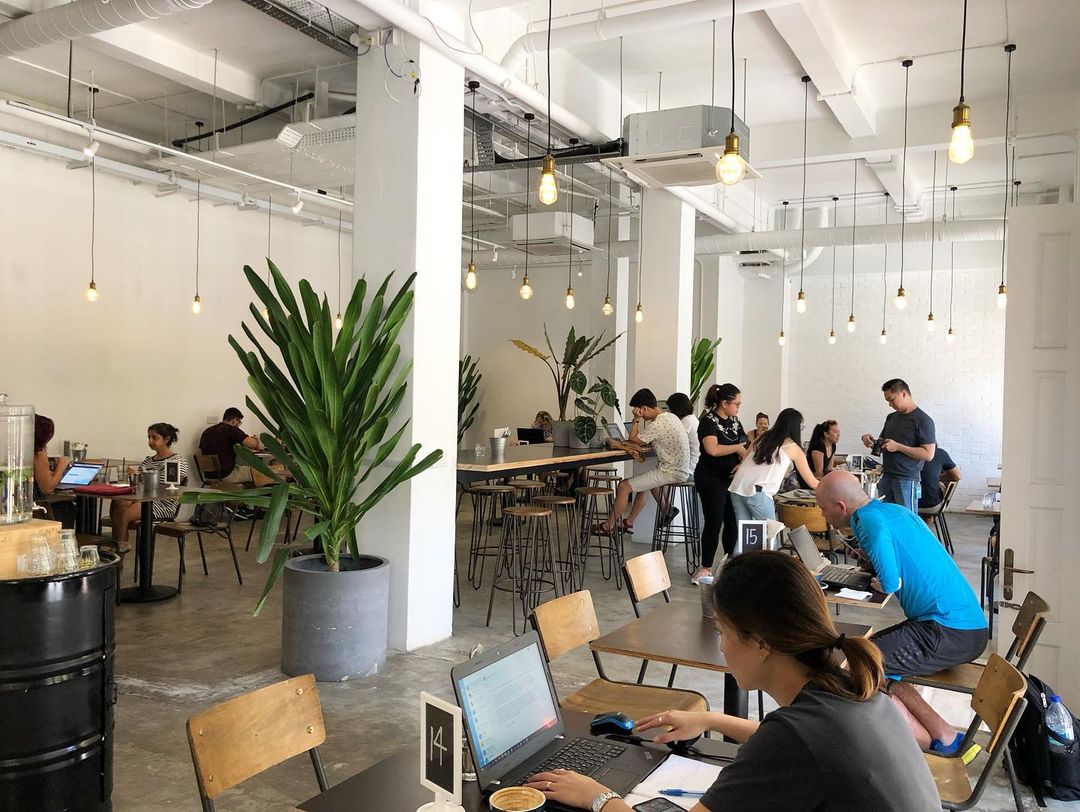 Image credit: @julicyy
The industrial-chic vibes at Twenty Eight Cafe are immaculate, complete with high ceilings, hanging lights, and pots of greenery. This space also has power plugs available and sees a good mixture of communal tables and couple seats—perfect for a studying or working session of any size.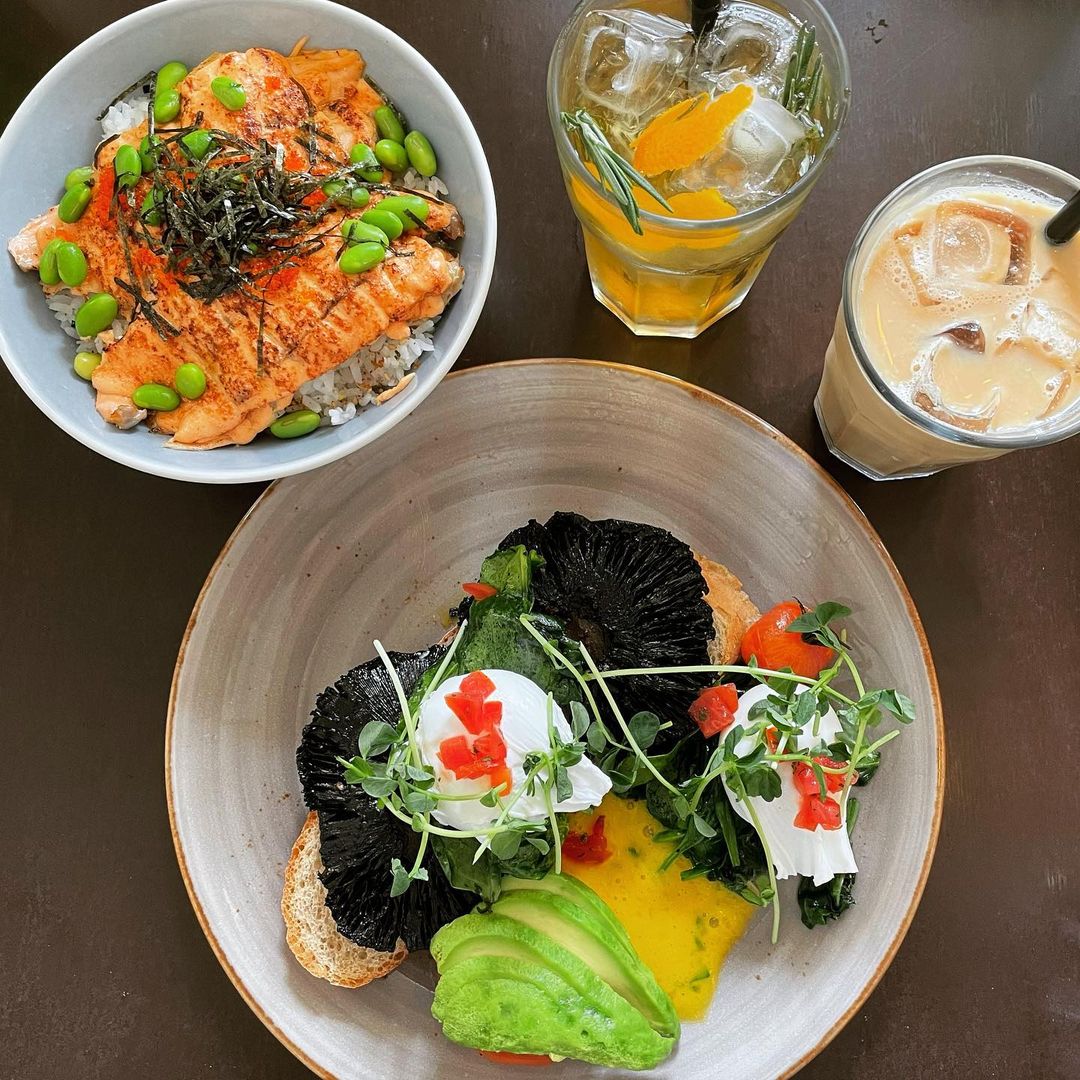 Image credit: @toastieseats
Twenty Eight Cafe fares pretty well on the food front too. They have all-day brunch classics such as the Common Breakfast ($23+) that's loaded with the full works, and rice bowls topped with Salmon Mentaiko ($15+) or Kimchi Beef ($15+).
Address: 28 Wilkie Road, #01-06, Singapore 228051
Opening hours: Daily 7:30am to 5pm
Tel: 9628 2829
Website
Twenty Eight Cafe is not a halal-certified eatery.
---
9. 6 Letter Coffee
---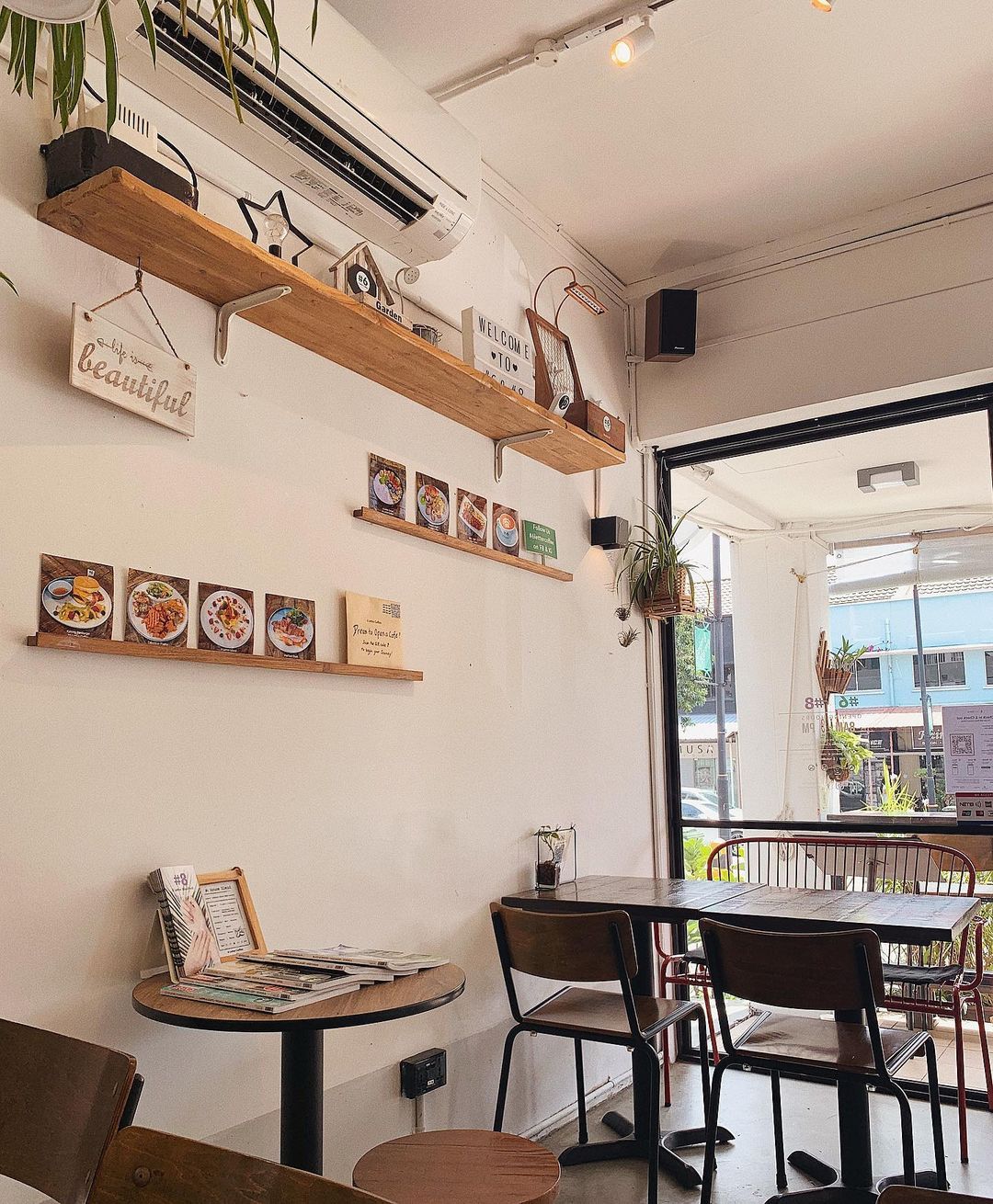 Image credit: @xxrin
One of the quieter cafes around Katong is 6 Letter Coffee, armed with power plugs, free wifi, and good cuppas. The space here is also brightly lit, decked with a mix of white and wooden fixtures, and pops of botany for some colour.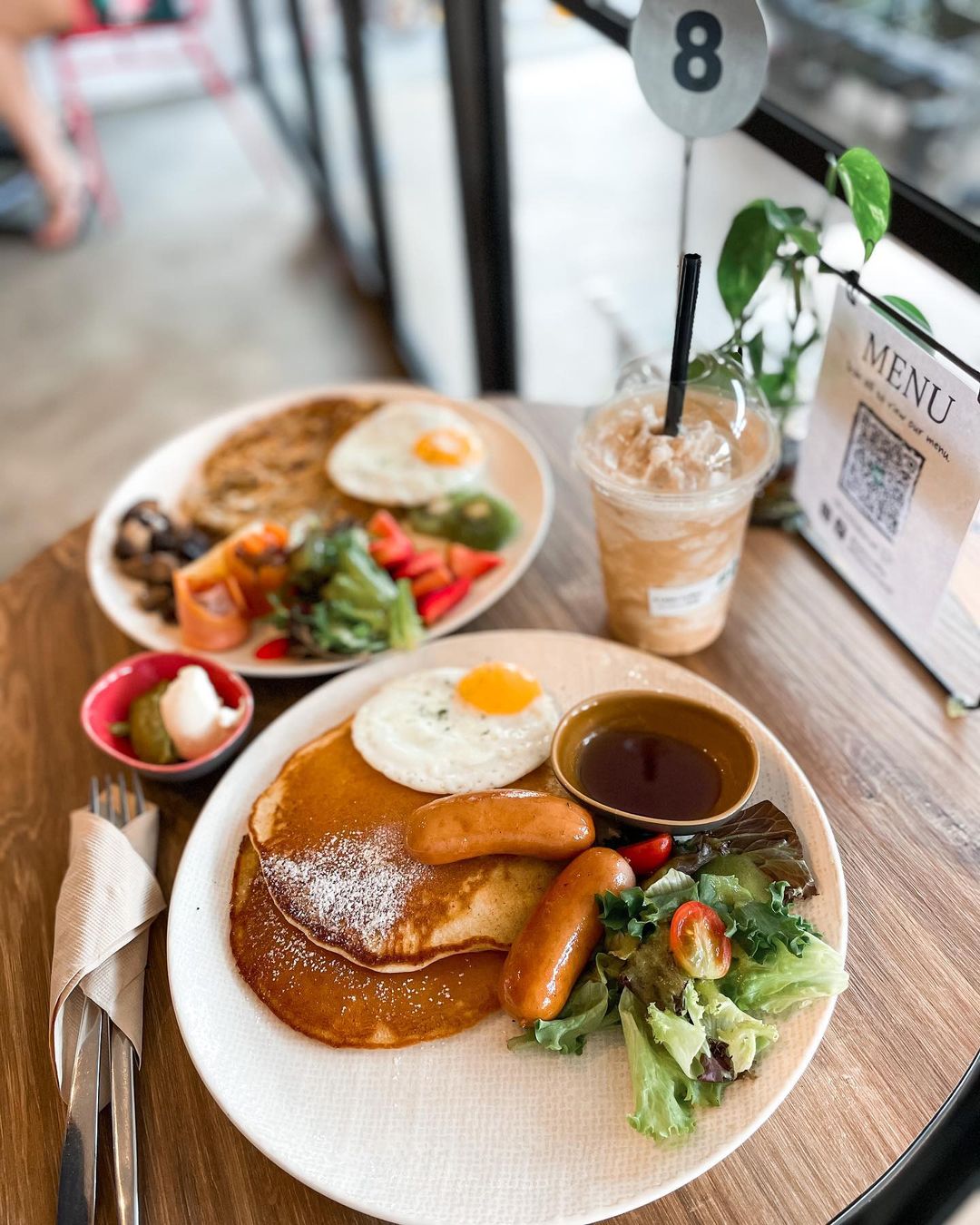 Image credit: @cherhehe
A sizable food menu is available here as well, with the likes of all-day brunch, pasta, burgers, and more! Their B2R2 ($21) comes chef-recommended, consisting of house-made rosti, baby back ribs, mashed avocado, salad, and sour cream. There's also the Katong Panburger ($23)—essentially a zhnged-up McGriddles with a beef patty, bacon, and fried egg sandwiched between two pancakes.
Address: 259 Tanjong Katong Road, Singapore 437047
Opening hours: Sun-Thur 8am to 8pm, Fri-Sat 8am to 9pm
Tel: 6285 0368
Website
6 Letter Coffee is not a halal-certified eatery.
12 Katong Cafes For Foie Gras Pasta, Sourdough Waffles And Pancake Stacks
---
10. Mellower Coffee
---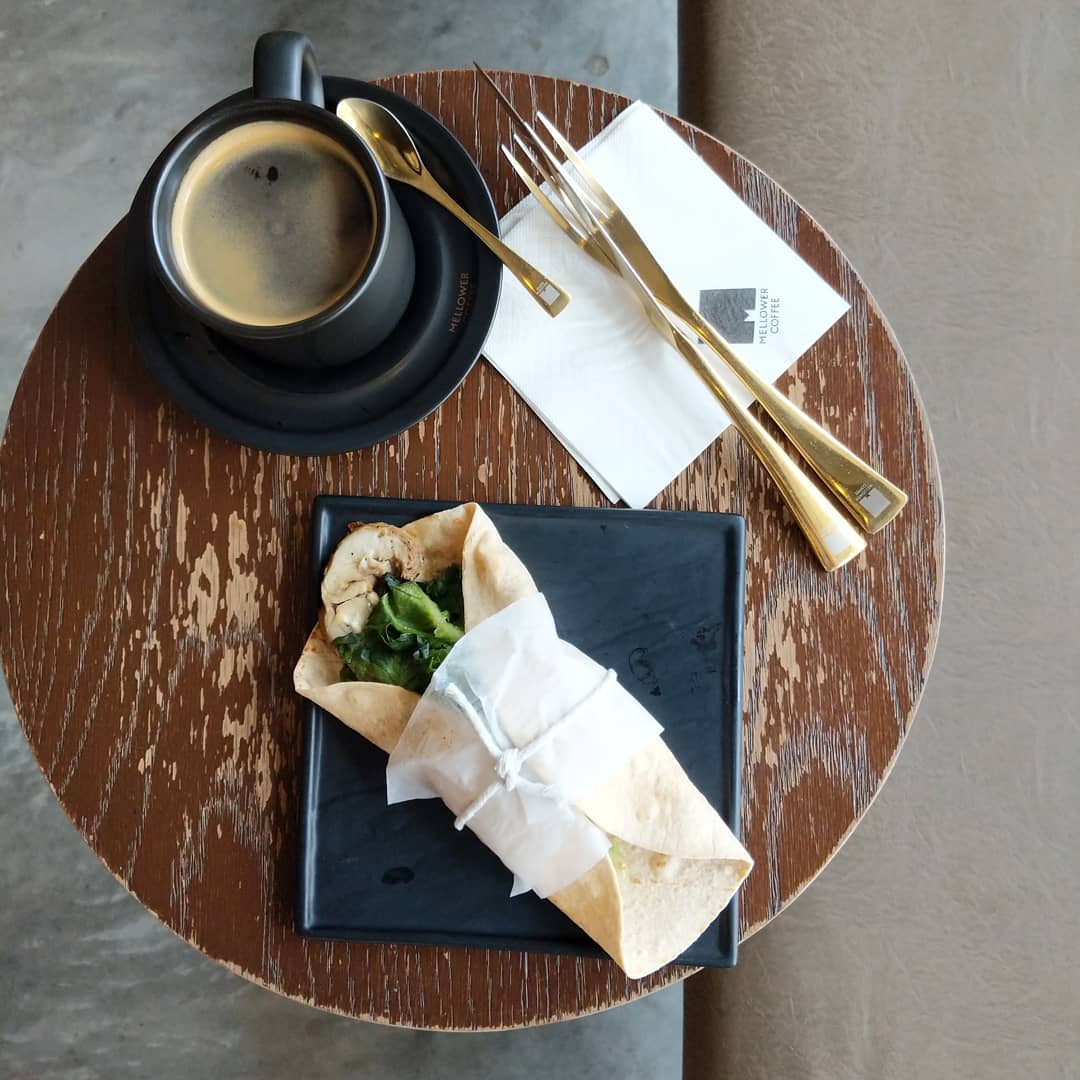 Image credit: @paulaverilla
Conveniently located near Bugis is Mellower Coffee, one of the more popular quiet cafes for studying or working in Singapore. There are charging stations available here, though limited, and the space gets crowded easily as well. If you do snag a seat, this makes for a great working spot, coupled with their selection of coffee-based beverages and light bites. 
For something more localised, try out their Ondeh X Latte ($9.80), infused with pandan syrup and coconut cream. If not, their signature Sweet Little Rain ($9.80) is a must-order, topped with an IG-worthy candy floss cloud that drips sugar into your coffee. Pair these with their display of assorted cakes and pastries.
Address: 108 Middle Road, #01-01, Bernhard Schulte House, Singapore 188967
Opening hours: Sun-Thur 9:30am to 8pm, Fri-Sat 9:30am to 9pm
Tel: 6255 0820
Website
Mellower Coffee is not a halal-certified eatery.
---
11. Amber Ember
---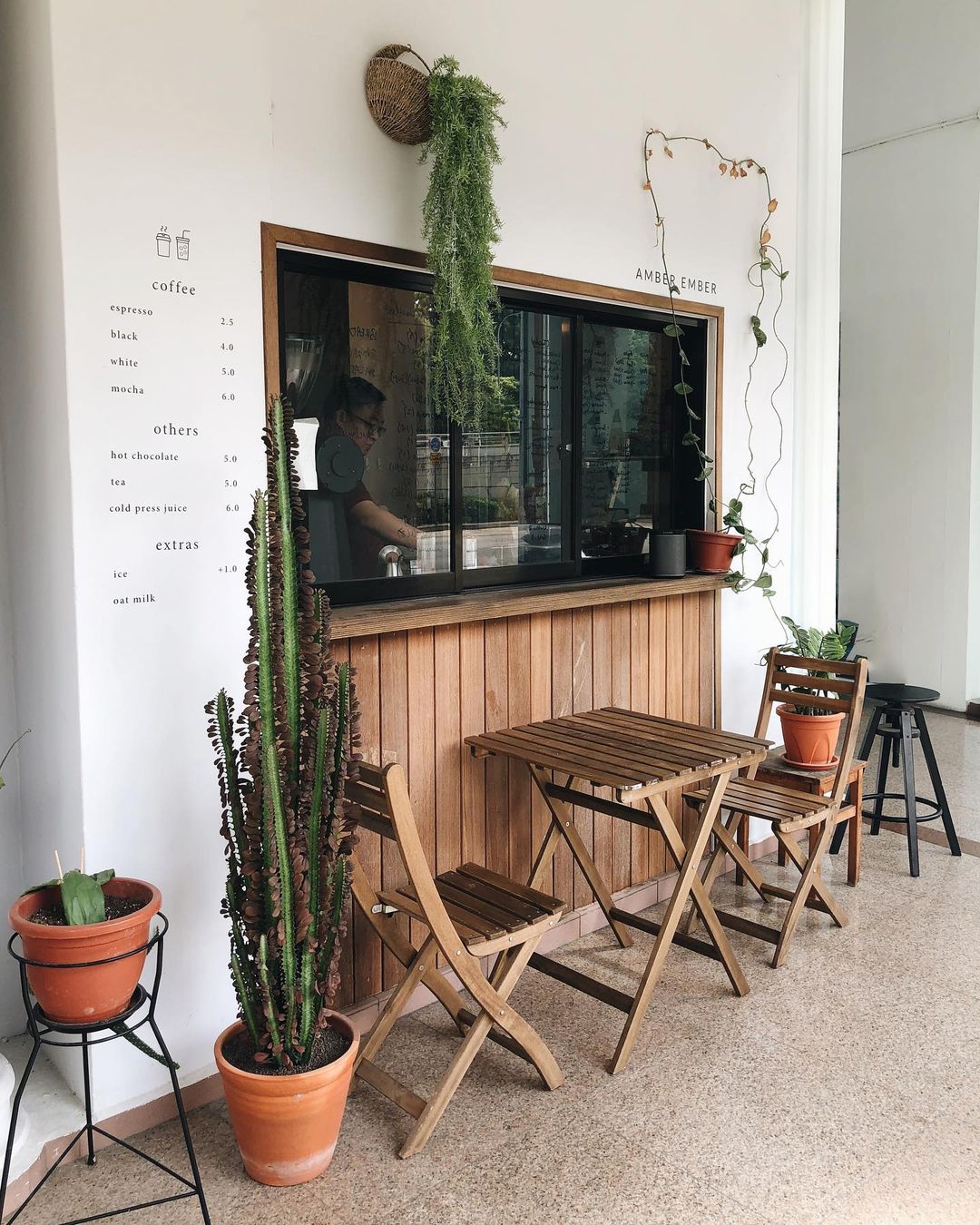 Image credit: @sher_ryn
Hidden away in Upper Serangoon is Amber Ember, a hole-in-the-wall cafe that's equipped with power outlets and free wifi. Its secluded location also means that seats are available most of the time.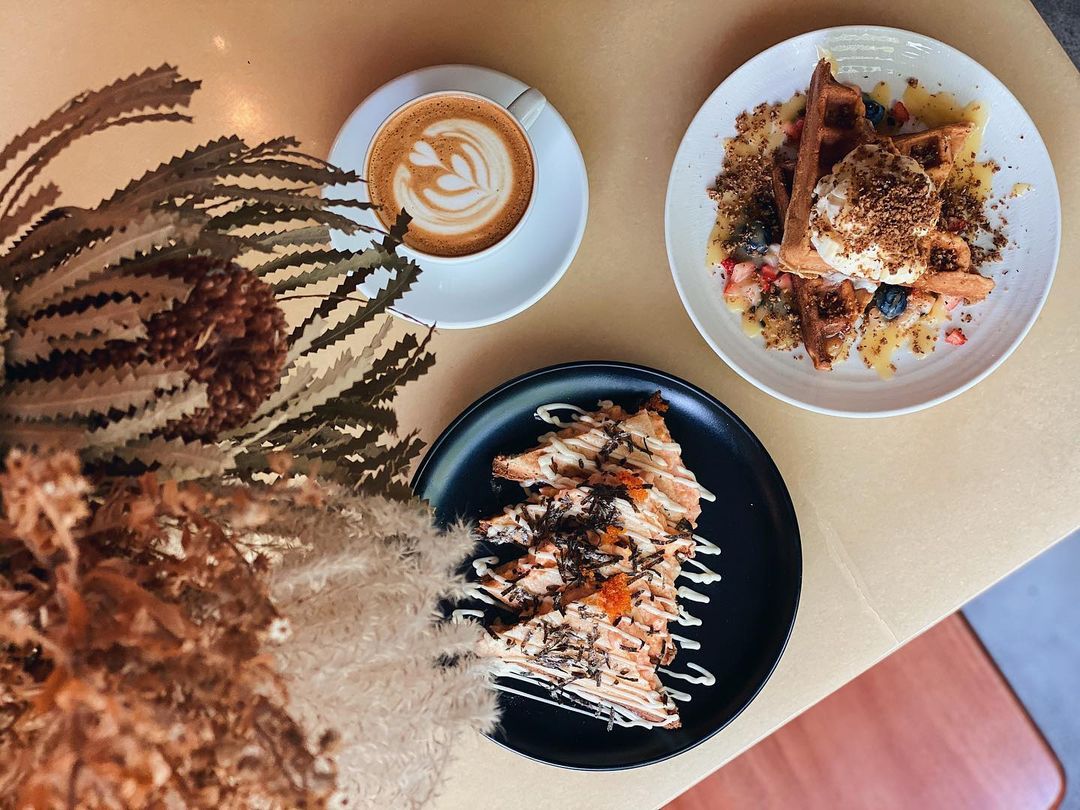 Image credit: @onedonnottendon
Here, they specialise in jaffles, a pressed brioche toastie that hails from Australia. Meat-loving readers can opt for the Cheeky Beef ($16++), served with 18-hour braised beef cheeks, poached eggs, and a trio of mozzarella, gruyere, and emmental cheeses. There's also the Nice To Meat You ($15++) jaffle, which features pepperoni, pastrami, and chorizo.
Address: 730 Upper Serangoon Road, #01-01, Singapore 534613
Opening hours: Tue-Fri 10am to 5pm, Sat-Sun 10am to 6pm
Tel: 6926 3312
Website
Amber Ember is not a halal-certified eatery.
---
12. D'Good Cafe
---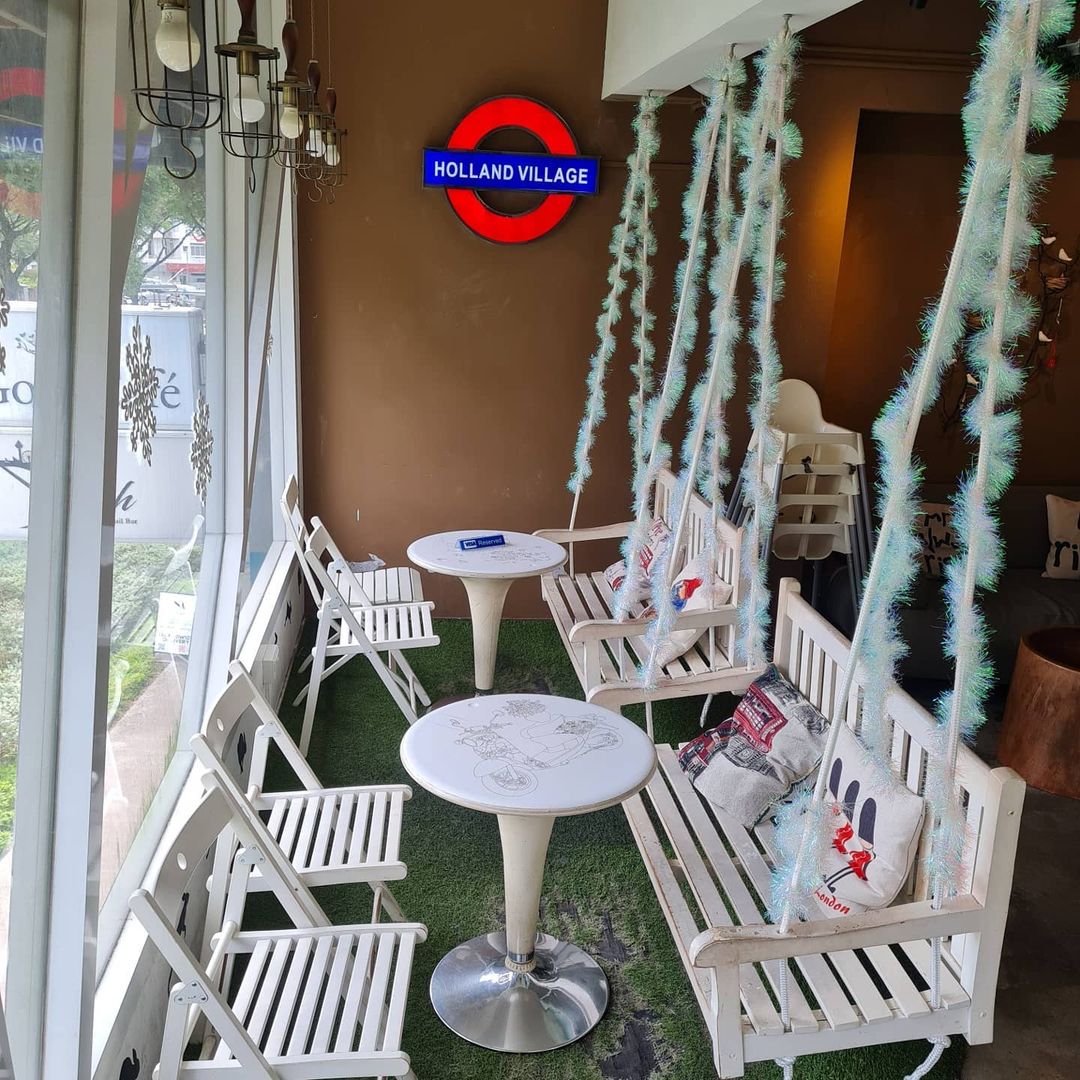 Image credit: @sllp_sllp
D'Good Cafe is a long-time cafe, conveniently located within Holland Village. Their 95-seater space allows ample seats for studying or working, flecked with charging stations and cutesy swing chairs.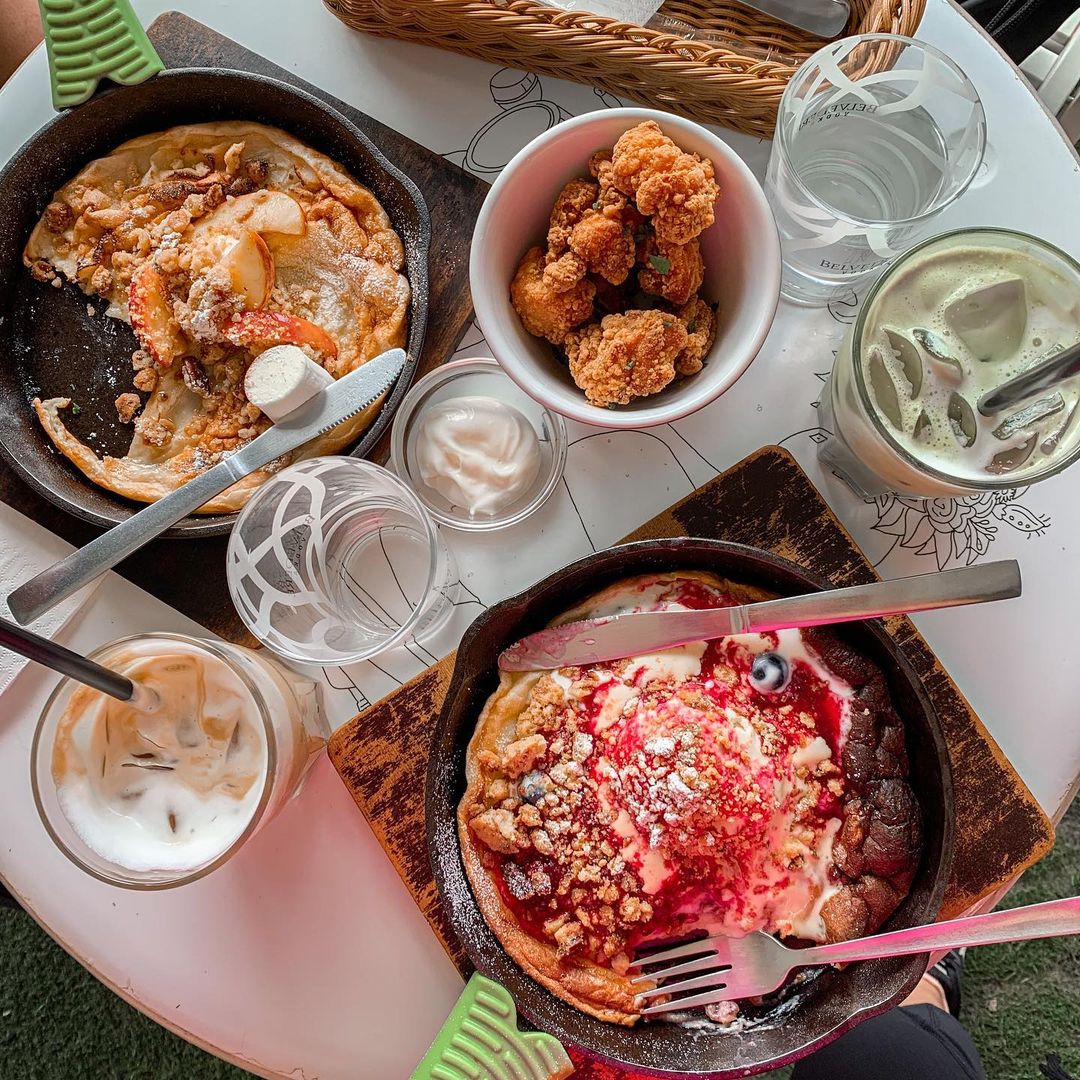 Image credit: @trazyness
Their food is a bonus to the space, with the likes of all-day breakfast, mains, light bites, and desserts. 
They're best known for their dutch skillet pancakes, with savoury options such as the Chorizo & Mushrooms ($12++), and sweet ones such as the Durian & Coconut ($13++). Otherwise, their Truffle Shrimp Capellini ($16++) and Portobello Eggs Benedict ($14.50++) are great to fill you up too.
Address: 273 Holland Avenue, #02-01/02, Singapore 278992
Opening hours: Daily 10am to 10:30pm
Tel: 6219 9807
Website
D'Good Cafe is not a halal-certified eatery.
---
Best quiet cafes for studying and working
---
In this era of remote working, we've sussed out 12 quiet cafes in Singapore for all your studying and working needs.
If you're looking for new cafes to dine at, check out our Tian Wang Desserts review, decked in mahjong tiled-wallpaper. There's also our Sumikkogurashi X Kumoya cafe review, with adorable terrarium dessert and croquette cream rice.
Tian Wang Desserts Review: Mahjong-Themed Cafe With Orh Nee, MSW Mousse And More
The post 12 Quiet Cafes In Singapore For All Your Studying And Remote Working Needs appeared first on EatBook.sg – New Singapore Restaurant and Street Food Ideas & Recommendations.