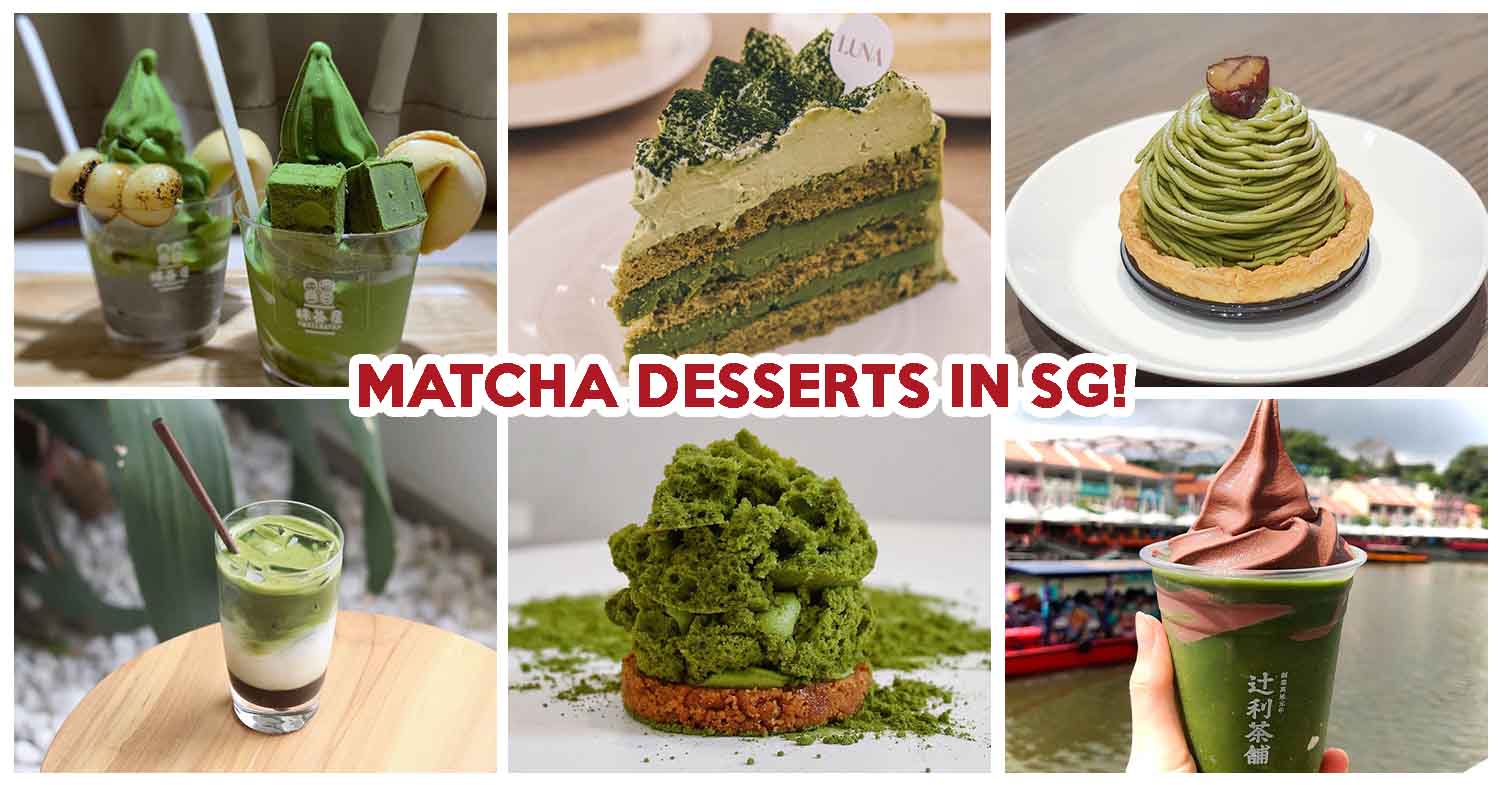 ---
Matcha dessert places in Singapore
---
Amidst popular crazes like salted egg yolk and mala, matcha is a flavour with seemingly evergreen popularity and appeal. That pleasant earthiness, light floral notes, and tinge of bitterness go so well with anything smooth and creamy, which explains why matcha dessert cafes in Singapore are plenty.
However, many Singaporeans are unaware of the difference between green tea and legit matcha. Matcha is made from green tea leaves grown under shade for approximately three weeks before harvesting, which results in increased chlorophyll content. That creates its signature vivid green hue and also translates to greater flavour. Any matcha which has a faded, darker colour isn't worth your time. 
Those leaves are then ground into the powder that goes into our drinks and desserts. That means we're ingesting whole green tea leaves when we drink matcha, which contains around three times more antioxidants as compared to standard green tea.
That's all we have for Matcha 101. Here's our list of 10 matcha dessert cafes that will please your palate while injecting antioxidants into your bloodstream.
---
1. Kagurazaka Saryo
---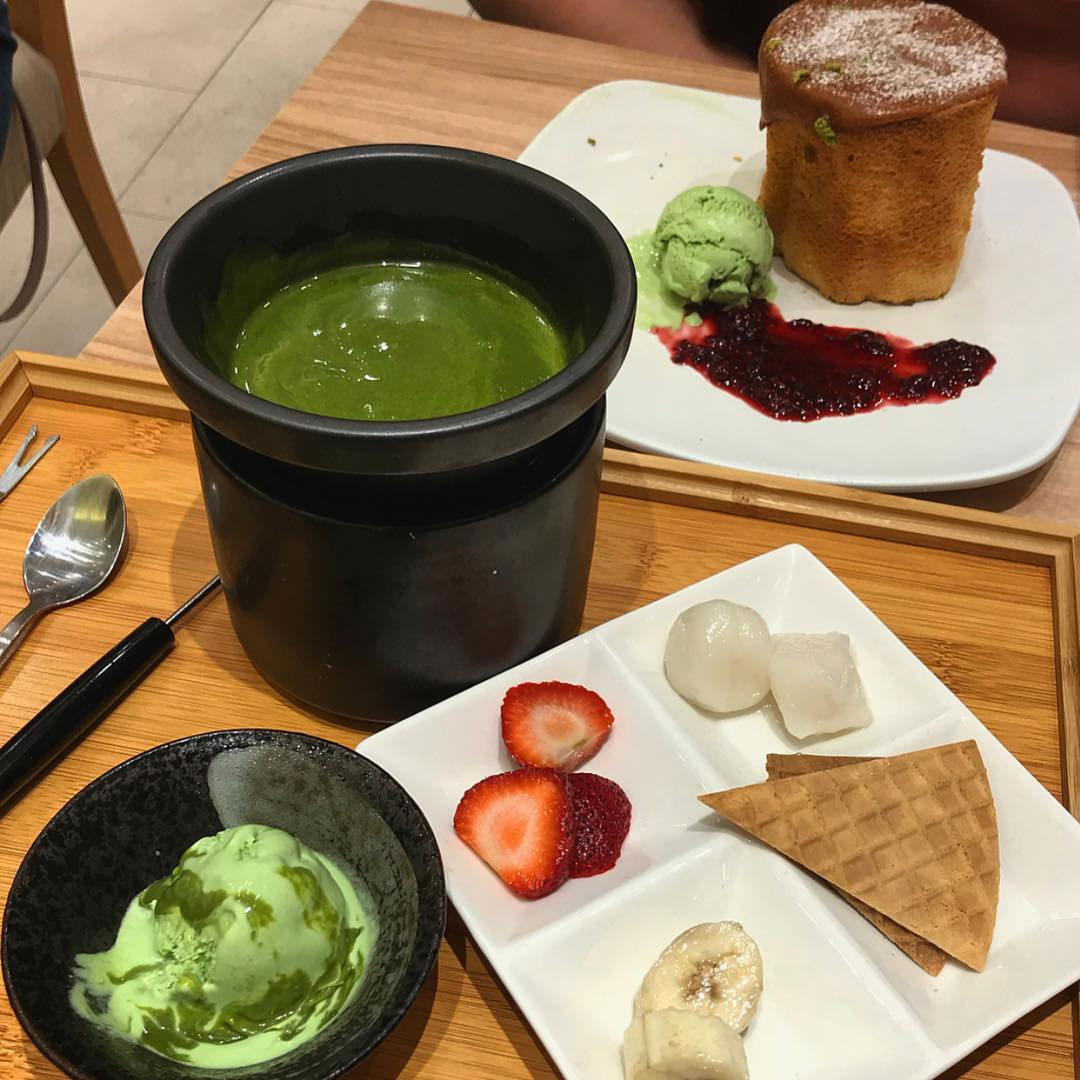 Image credit: @felfelpink
Since opening in 2004, Tokyo native Kagurazaka Saryo has enjoyed massive success, commanding long queues for their matcha treats at eleven outlets across Japan and Singapore. The chain is famed for using Uji matcha, a premium grade of matcha originating from Uji, Kyoto.
Amongst their bevy of desserts, the Matcha Fondue With Assorted Sides ($14.90++) stands out. Waffle biscuits, chewy shiratama mochi, and fruits are coated in velvety Uji matcha-white chocolate fondue, with a scoop of ice-cream providing accompaniment. Fondue is often overly sweet, but the bitter floral notes of matcha balance this sensual dessert well. Meanwhile, their Matcha Frozen Smore ($9.90++) is a Japanese take on the campfire favourite, blanketing matcha ice cream with gooey toasted marshmallows.
Address: 1 Harbourfront Walk, #01-59, VivoCity, Singapore 098585
Opening hours: Daily 11:30am to 10pm
Tel: 6376 9978
Website
---
2. Hvala
---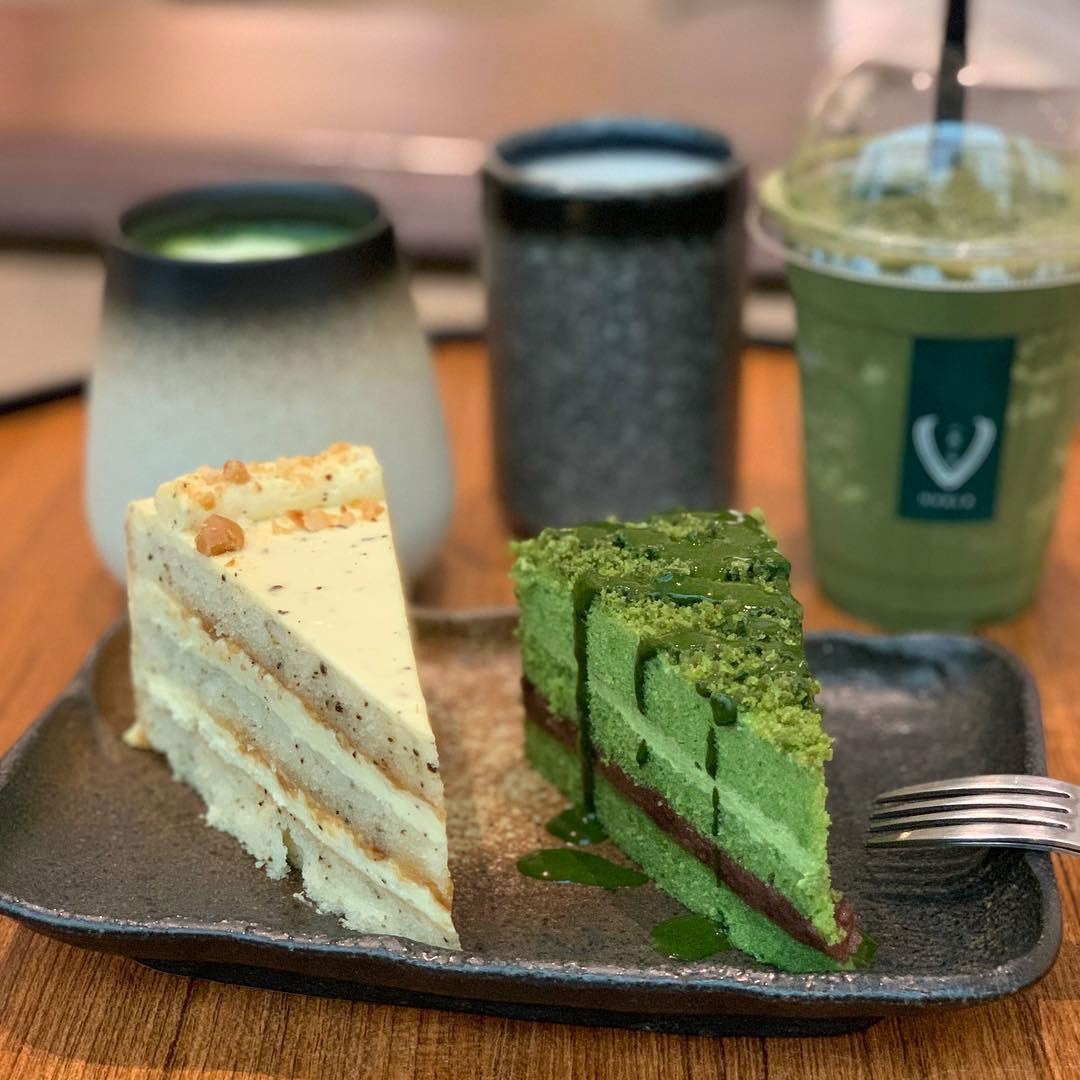 Image credit: @doratheexploraaa_
Hvala began as a humble matcha beverage and soft-serve kiosk in 313@Somerset's basement food hall. They've since opened full-fledged cafes in CHIJMES and Keong Saik, serving up a larger range of desserts and premium teas. White-washed with wood accents, this pretty cafe is an Instagrammer's dream.
The Matcha Petit Gateau ($8.80++ for a slice) steals the show. The cake houses an intense green tea flavour, complemented with varying textures from matcha sponge, crumble, and mousse.
A stunning array of teas from all over Japan is available, but get the Premium Grade Yuki Matcha ($5.30++) or Ceremonial Grade Kaze Matcha ($8.80++) if you really want to experience the complexities of matcha at full force.
Address: 30 Victoria Street, #01-04/05, CHIJMES, Singapore 187996
Opening hours: Daily 12pm to 9:30pm
Website | Full list of outlets
Hvala Has A New Cafe In Keong Saik With Japanese Cakes And Vegan-Friendly Gelatos
---
3. Nana's Green Tea
---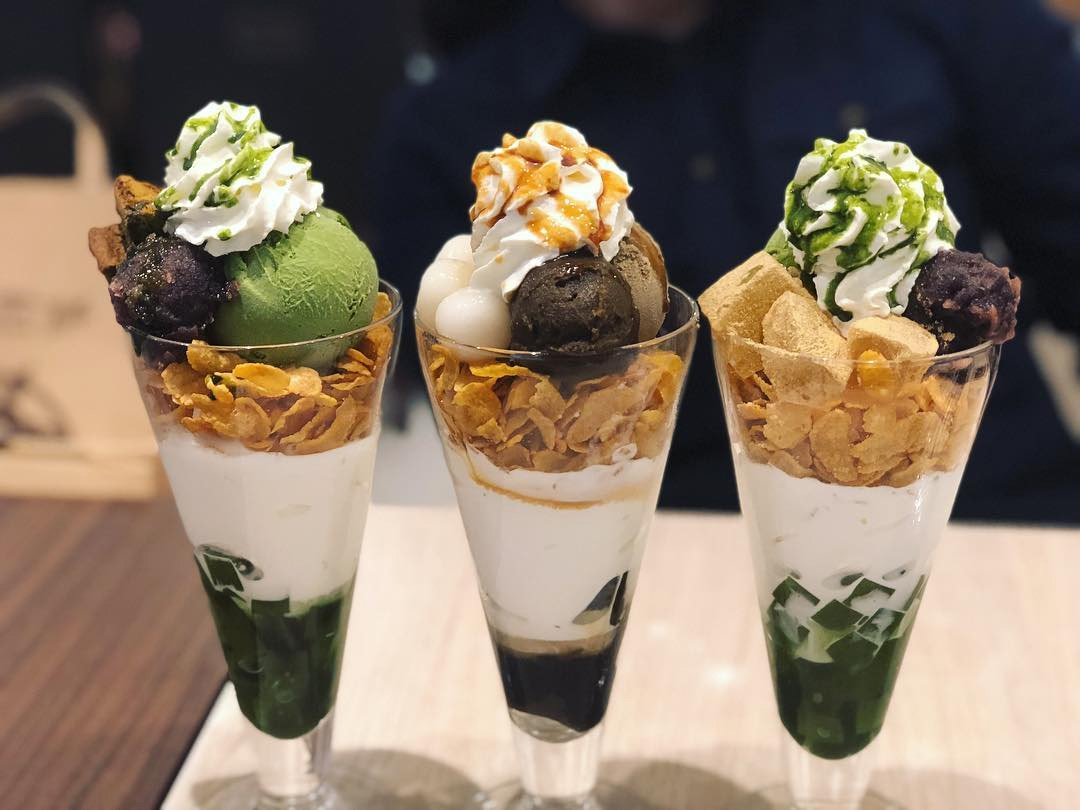 Image credit: @lhuili
Nana's Green Tea sounds like a homely neighbourhood joint, but has blossomed into an international matcha dessert sensation, boasting nearly 100 outlets worldwide everywhere from Japan to Seattle.
We always end up coming for their matcha desserts, particularly the Matcha Shiratama Parfait ($11.80++). Matcha jelly and ice cream play starring roles, backed up by shiratama mochi, corn flakes and a healthy dose of whipped cream.
Address: 60B Orchard Road, #03-80/82, The Atrium @ Orchard, Plaza Singapura, Singapore 238839
Opening hours: Daily 11am to 10pm
Tel: 6684 4312
Website | Full list of outlets
---
4. Keong Saik Bakery
---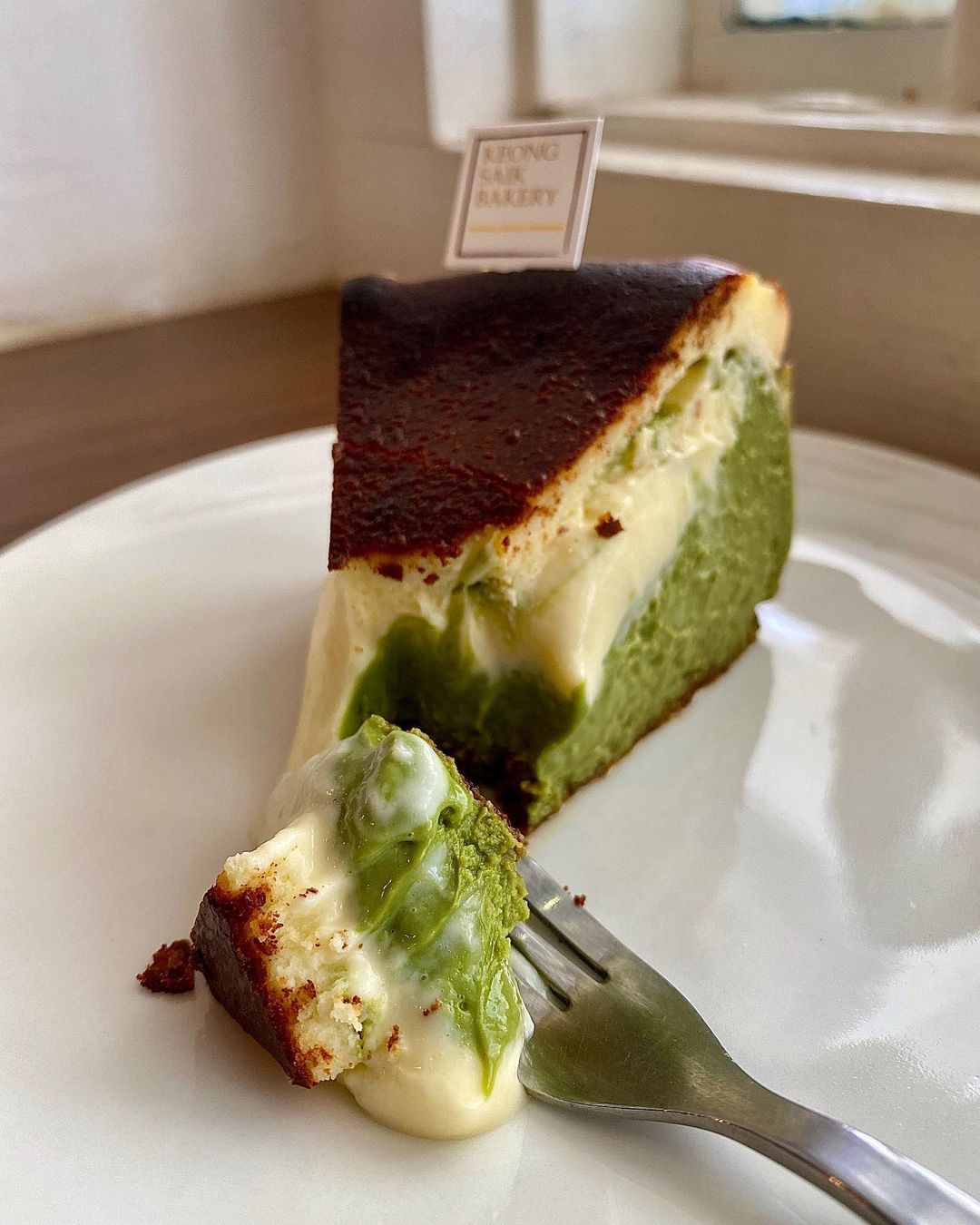 Image credit: @imsohhungry
Keong Saik Bakery is not technically a matcha dessert cafe, but they do have a fair amount of delicious sweets made with green tea to try.
Their Two-Face ($8.50), for one, is a burnt cheesecake with two layers: a cream cheese top, and a green tea cheesecake bottom. The slight bitterness of the green tea really gives this cheesecake added depth. If cheesecake isn't your thing, try their Matcha Swissroll ($7.50), Tarte Au Matcha ($8.50), Matcha Cruffin ($5), or Matcha Burnt Cheese Cruffin ($6.50), all of which are decadent and a sure-win for matcha fans.
Read our Keong Saik Bakery review!
Address: 33 Keong Saik Road, Singapore 089140
Opening hours: Mon 8am to 6:30pm, Tue-Sun 8am to 8:30pm
Tel: 9021 9626
Website
Keong Saik Bakery Review: Durian Burnt Cheesecake, Burnt Cheesecake Cruffins And More At Outram
---
5. Azabu Sabo
---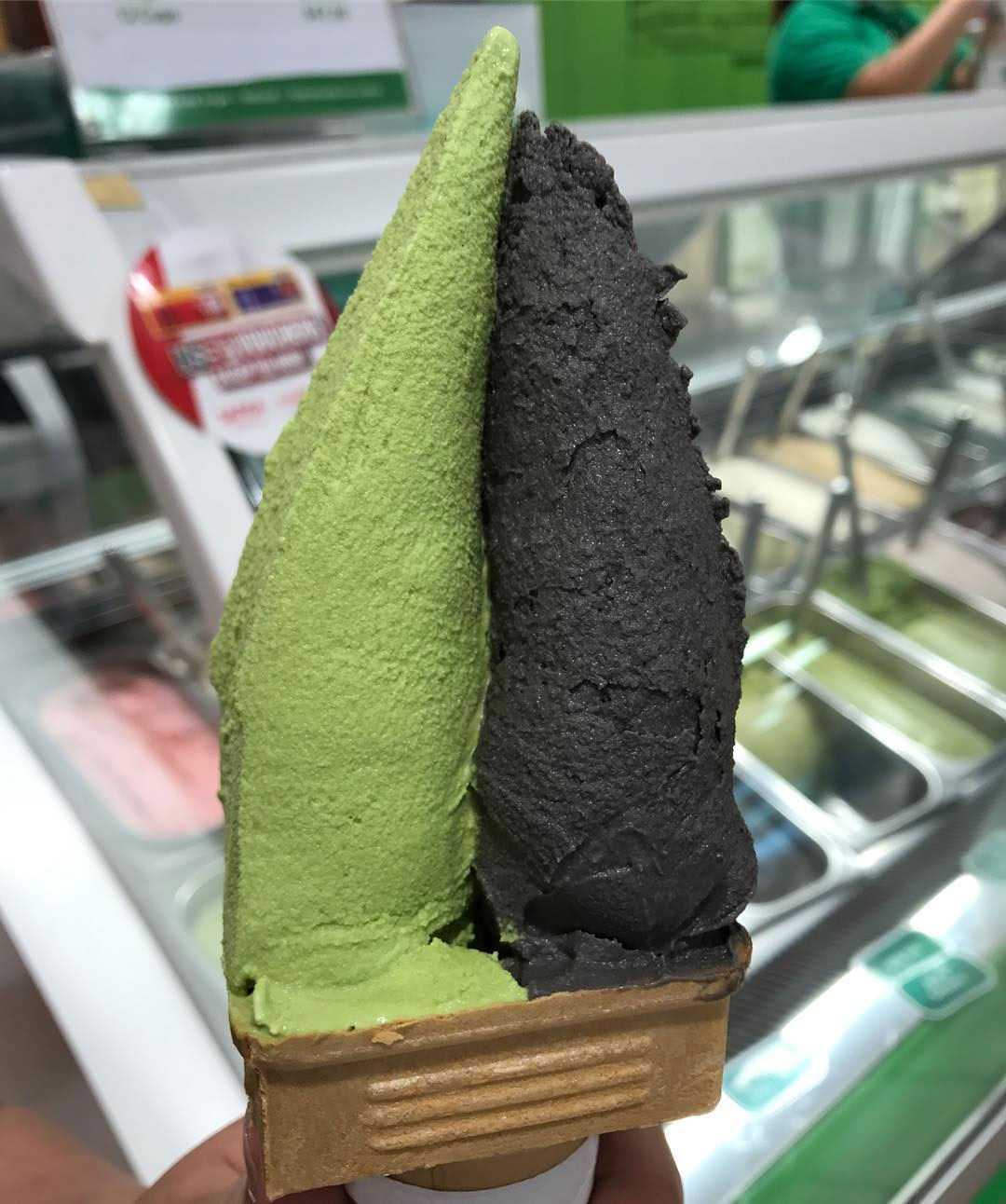 Image credit: @tohrx
Years after opening in Singapore, Azabu Sabo still commands snaking queues at Ngee Ann City and Clarke Quay for their soft and uber-creamy Hokkaido ice cream. Crafted with premium Hokkaido milk, their ice cream is wonderfully smooth and milky. So it's no surprise that Green Tea is one of their best-selling flavours, as matcha's natural earthiness makes it a perfect companion for any creamy delight. Make it a double scoop and enjoy other flavours like Green Tea With Azuki Bean and Goma variants too, for $6.50.
Address: 6 Eu Tong Sen Street, #01-46, Clarke Quay Central, Singapore 059817
Opening hours: Sun-Thurs 2pm to 9pm, Fri-Sat 2pm to 10:30pm
Tel: 6534 7178
Website | Full list of outlets
---
6. Matchaya
---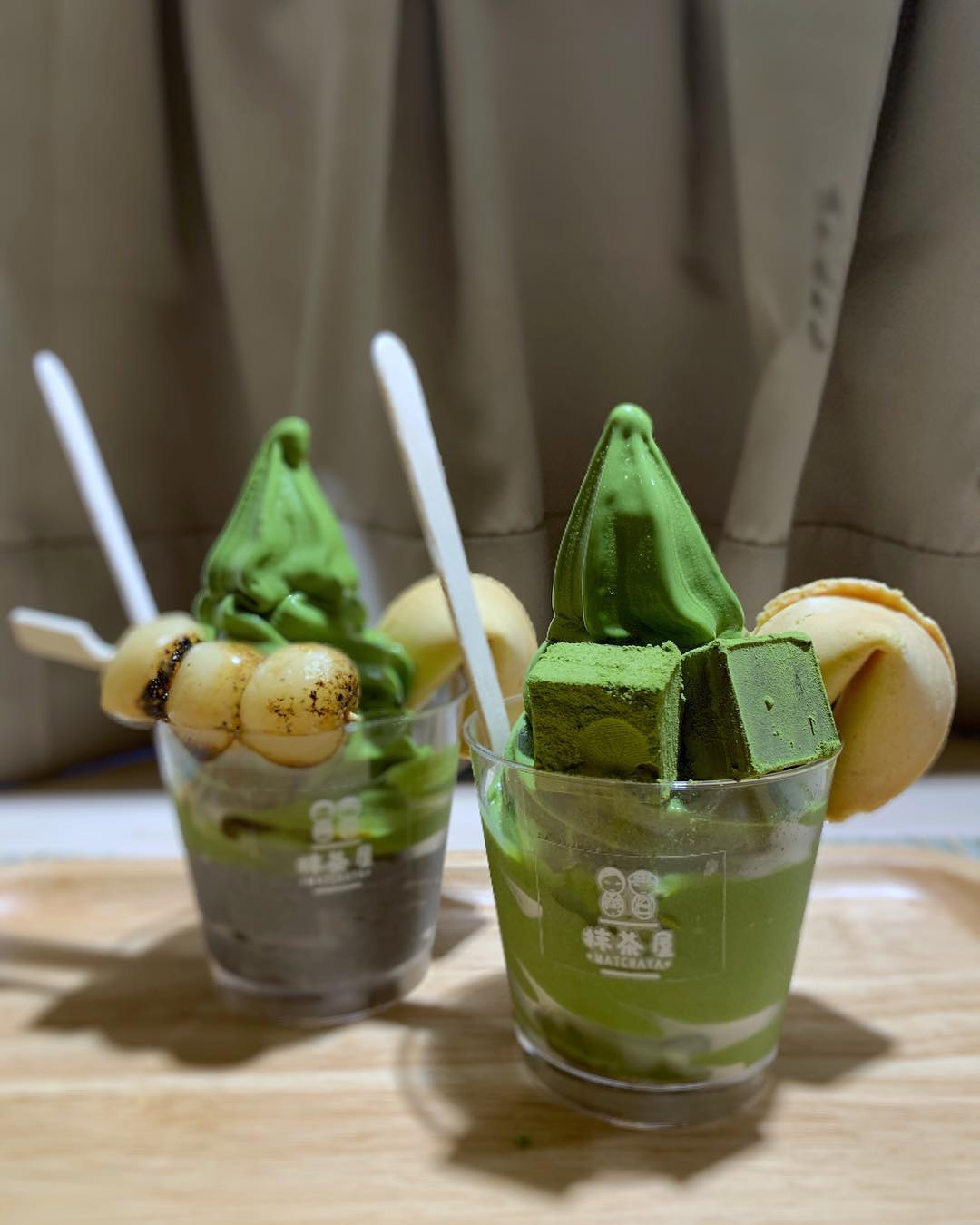 Image credit: @matchayasg
Home-grown chain Matchaya focuses on highlighting the quality and authenticity of ingredients. That's particularly clear in their Matcha Soft Serve ($5.90), hailed in some circles as the best matcha soft serve on the island.
Its lush green hue hints at the intensity of matcha flavour you get in each scoop, flavouring some of the thickest soft-serve you'll come across. A heavier dessert comes in the form of their parfaits, such as the Uji Matcha Parfait ($14.90), which pairs matcha with matcha warabimochi, azuki paste, matcha granola and more.
Website | Full list of outlets
---
7. Lady M
---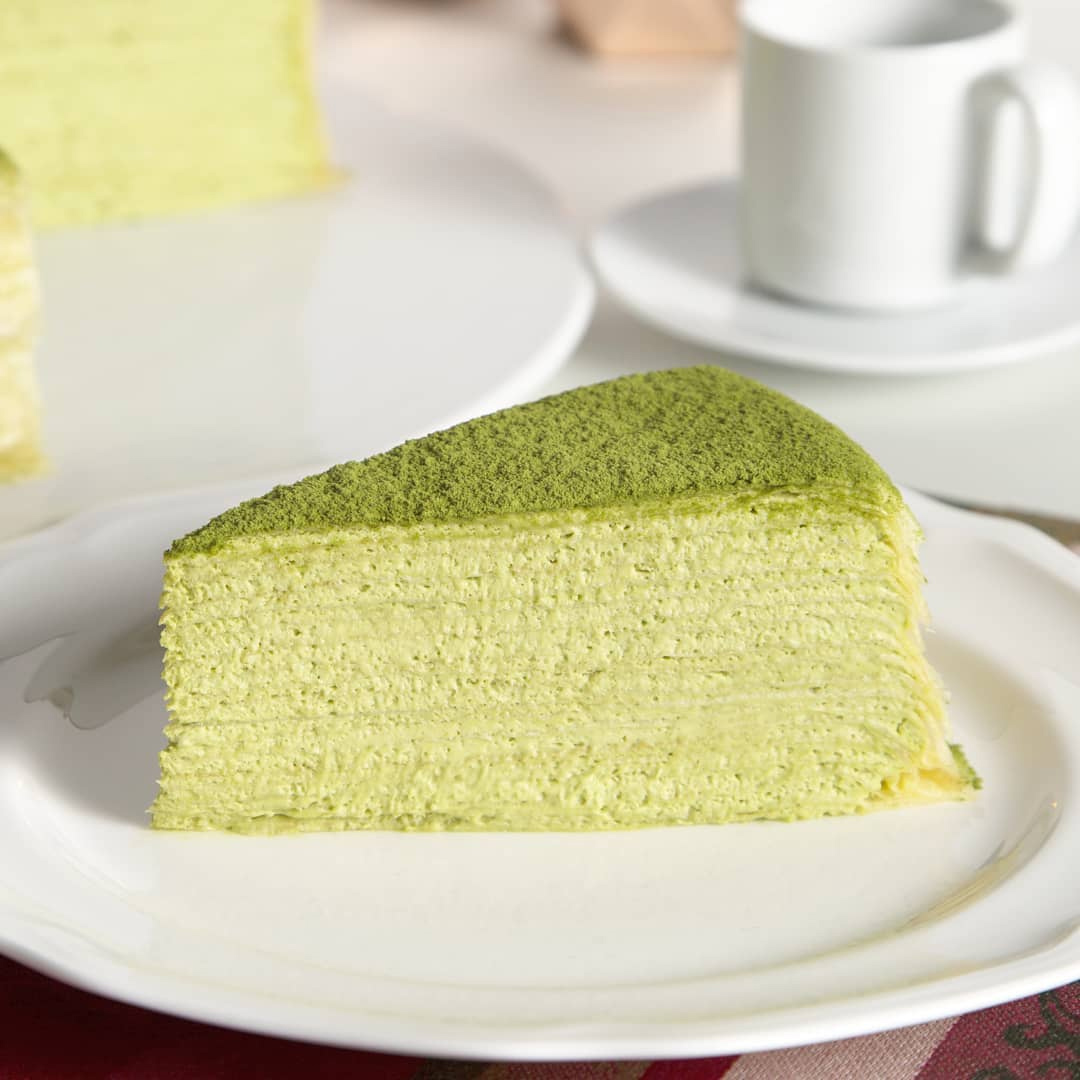 Image credit: @ladymsg
The "M" in Lady M stands for "mille", as in mille crepe, the type of cakes that this New York native patisserie has made its reputation on. Mille means "thousand" in French, representing the dizzying number of thin crepe layers that form one slice of cake, with equally skinny sheets of pastry cream slathered between. What results from that painstaking process is an exceptionally soft and fluffy slice of cake.
The Green Tea Mille Crepe ($9.50++ for a slice) is one of their signatures. There's an abundance of tea flavour in each slice, from the pastry cream to the layers of crepe, including a gentle shower of matcha on top. All this adds up to a generous hit of green tea flavour, much-needed to counteract the cake's lusciously creamy texture.
Website | Full list of outlets
---
8. Maccha House
---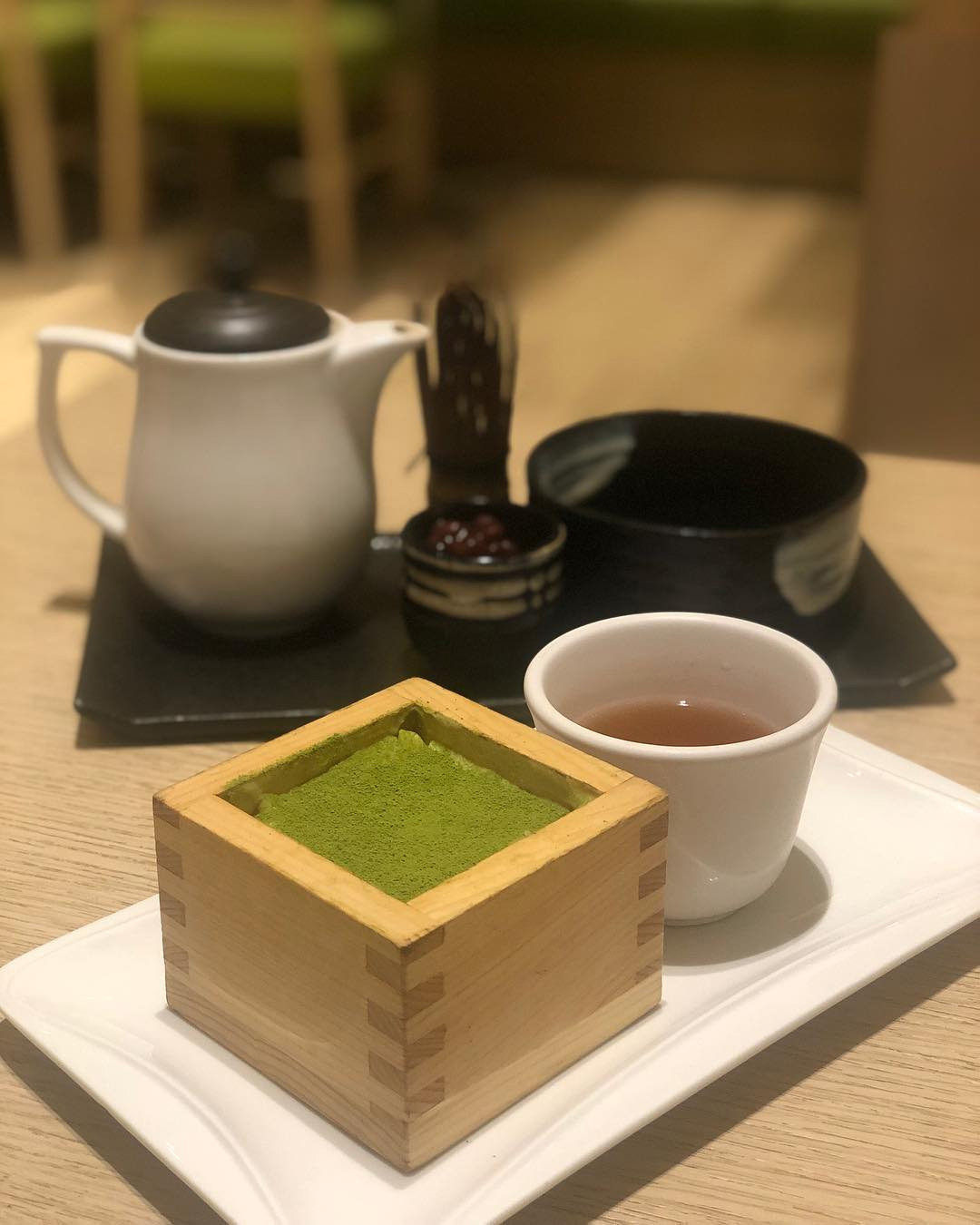 Image credit: @susanto.lina
Kyoto is Japan's matcha haven, so you can expect Maccha House, which hails from the ex-Japanese capital, to serve up some seriously good matcha desserts. Top of the list is their Uji Maccha Tiramisu ($6.99++), served elegantly in a wooden box.
Despite its name, this is more like a pudding than traditional Italian tiramisu, as it lacks that iconic alcoholic kick. Instead, matcha powder and mascarpone cream hide layers of matcha sponge and vanilla chiffon.
A whole lot more matcha goodies are on the menu too, such as the Maccha Cheese Dorayaki ($11.99++) that a stack of dorayaki glazed in matcha cream cheese, served alongside a matcha soft serve.
---
9. Tsujiri
---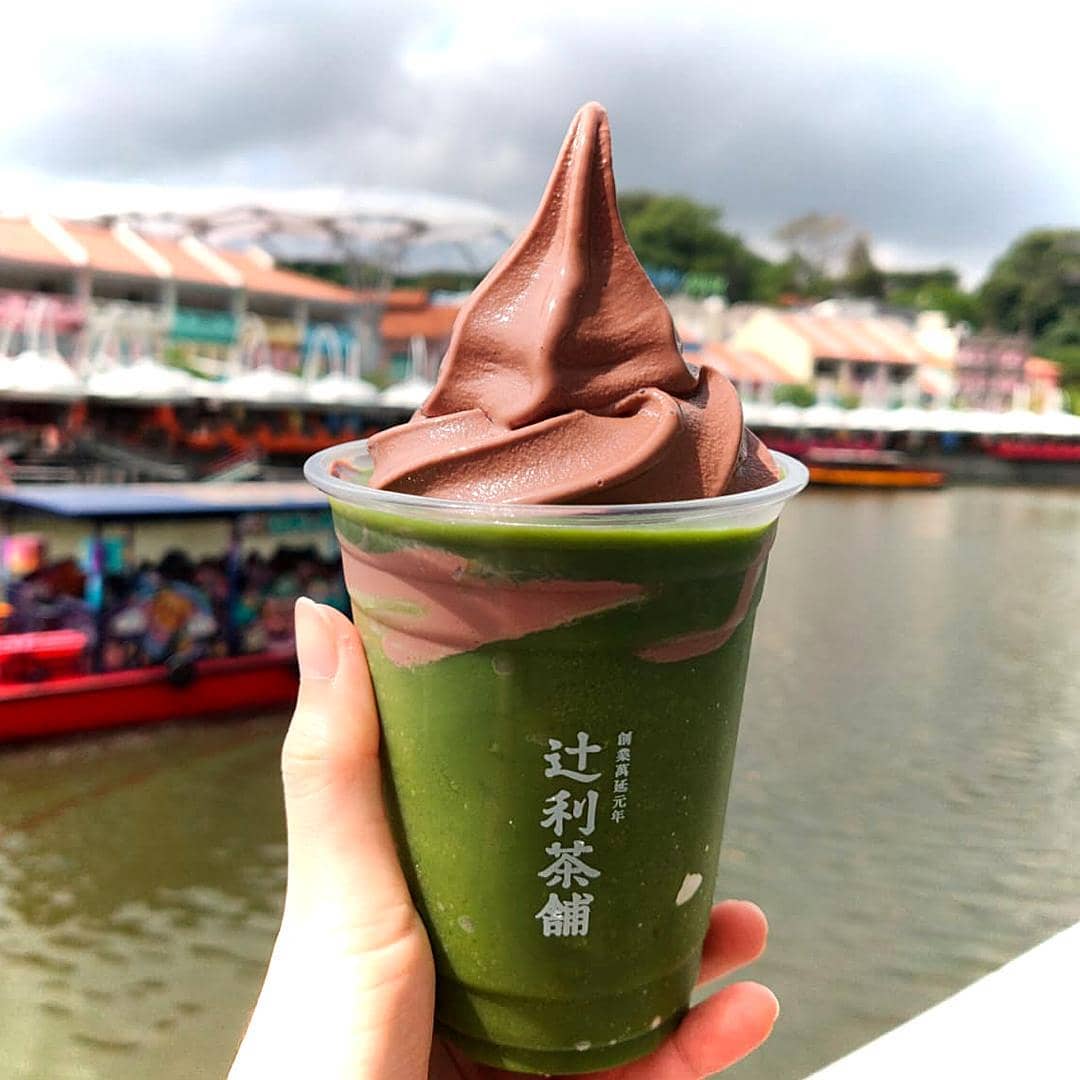 Image credit: @tsujiri_sg
Tsujiri is steeped in history. These matcha masters started out in Kyoto in 1860, and if they've been around for nearly 160 years, they must be doing something right. 
Their matcha desserts range from floats, parfaits, swiss rolls, soft serves, to cakes, so there is plenty for matcha fiends to choose from.
Address: 6 Eu Tong Sen Street, #01-74, The Central, Singapore 059817
Opening hours: Daily 11am to 11pm
Tel: 6238 8224
Website
---
10. Lee's Confectionery
---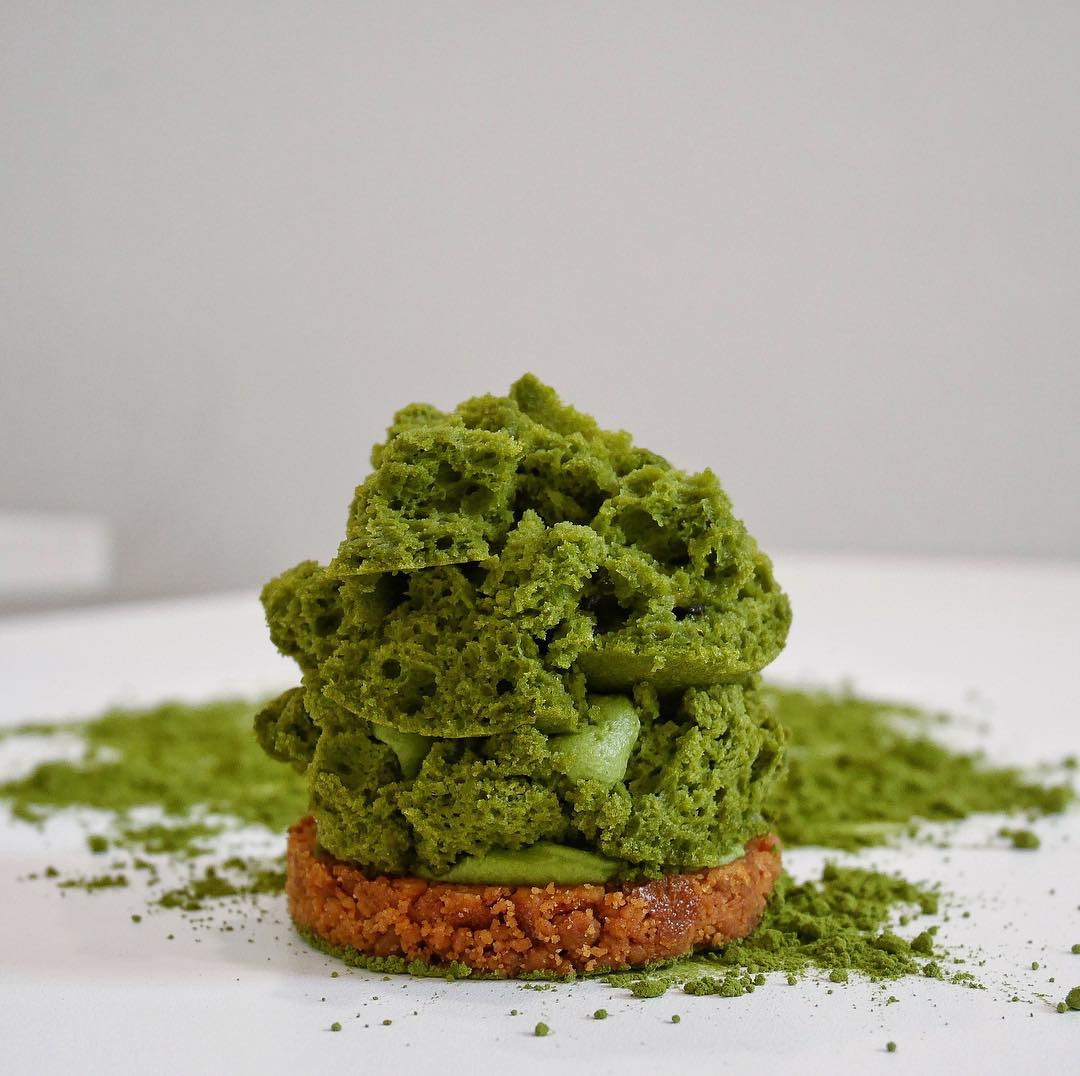 Image credit: @lees_confectionery
Armed with a commitment to crafting quality pastries, Lee Yin Quan is the owner of Lee's Confectionery, a tiny minimalist patisserie nestled at the base of a Jurong West HDB block. When we went down in early 2019, we were impressed by Lee's creative flavour combinations and attention to detail, as each pastry is only assembled on order.
Since then, he's rolled out a bunch of new desserts, including the stunning matcha-based Dale ($8.80). Matcha is in every part of this pretty plate, which combines matcha crumble, sponge, mousse and powder for a potent tea punch. Any potential overwhelming bitterness is cut by fruity freshness from a passionfruit compote hidden in the forest of green tea flavours.
Check out our full review of Lee's Confectionery!
Lee's Confectionery Review: Minimalist Jurong Cafe With Beautiful Desserts That Can Rival Janice Wong's
Address: 343 Jurong East Street 31, #01-59, Singapore 600343
Opening hours: Sun-Tue, Thurs 12pm to 6pm, Fri-Sat 12pm to 10pm
Tel: 9183 8447
Website
---
11. JW360°
---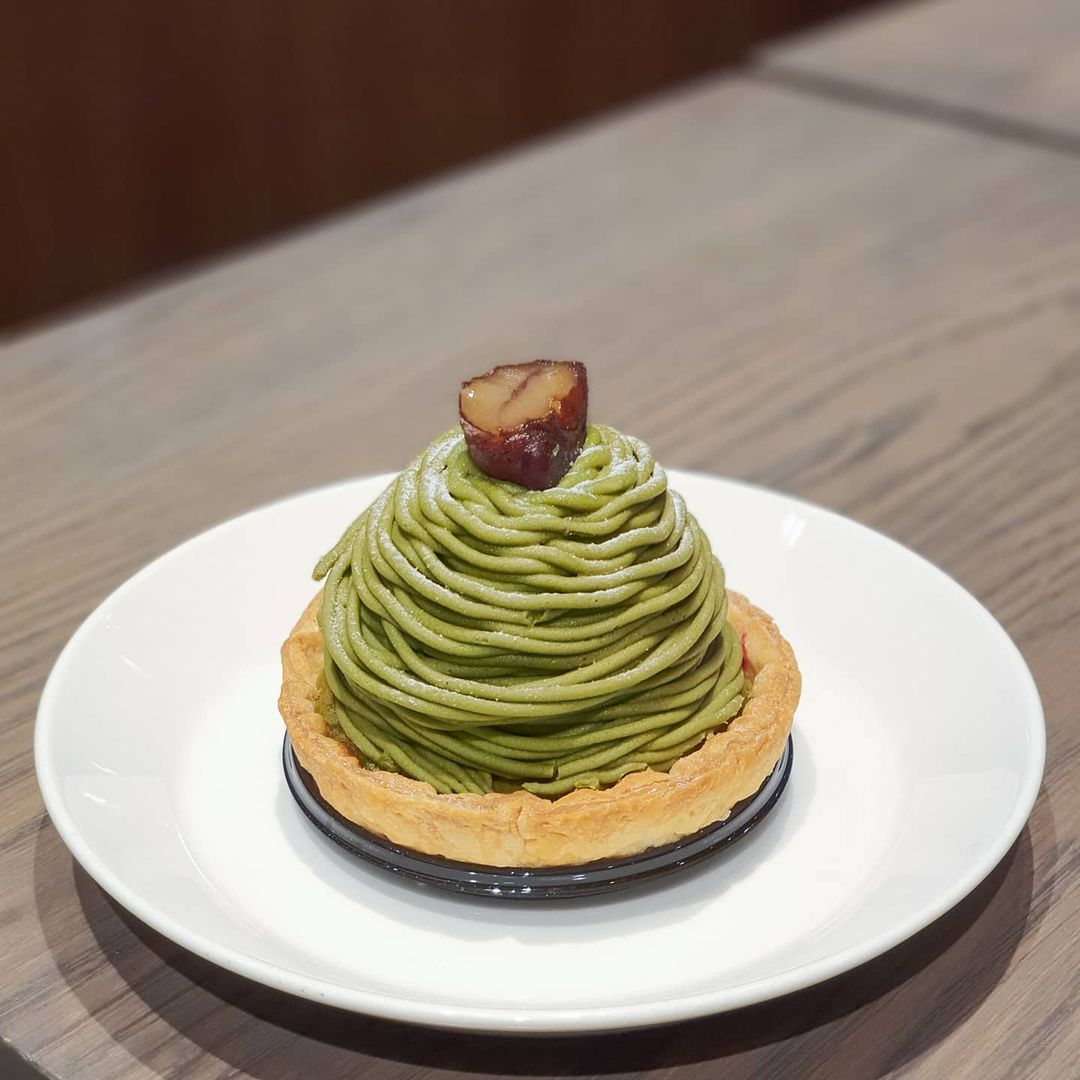 Image credit: @jiaa.weii
Housed within a three-in-one Japanese concept destination is JW360°, a Japanese cafe. Their matcha desserts such as the Matcha Mont Blanc ($9) remains a must-try, thanks to the combination of rich chestnut cream and bitter matcha. Otherwise, try their Matcha Mousse Cake ($8), where matcha mousse meets chocolate.
Address: 78 Airport Boulevard, #01-223/224/225, Jewel Changi Airport, Singapore 819666
Opening hours: Mon-Thurs 11:30am to 9pm, Fri-Sun 11:30am to 10pm
Tel: 6243 2466
---
12. LUNA
---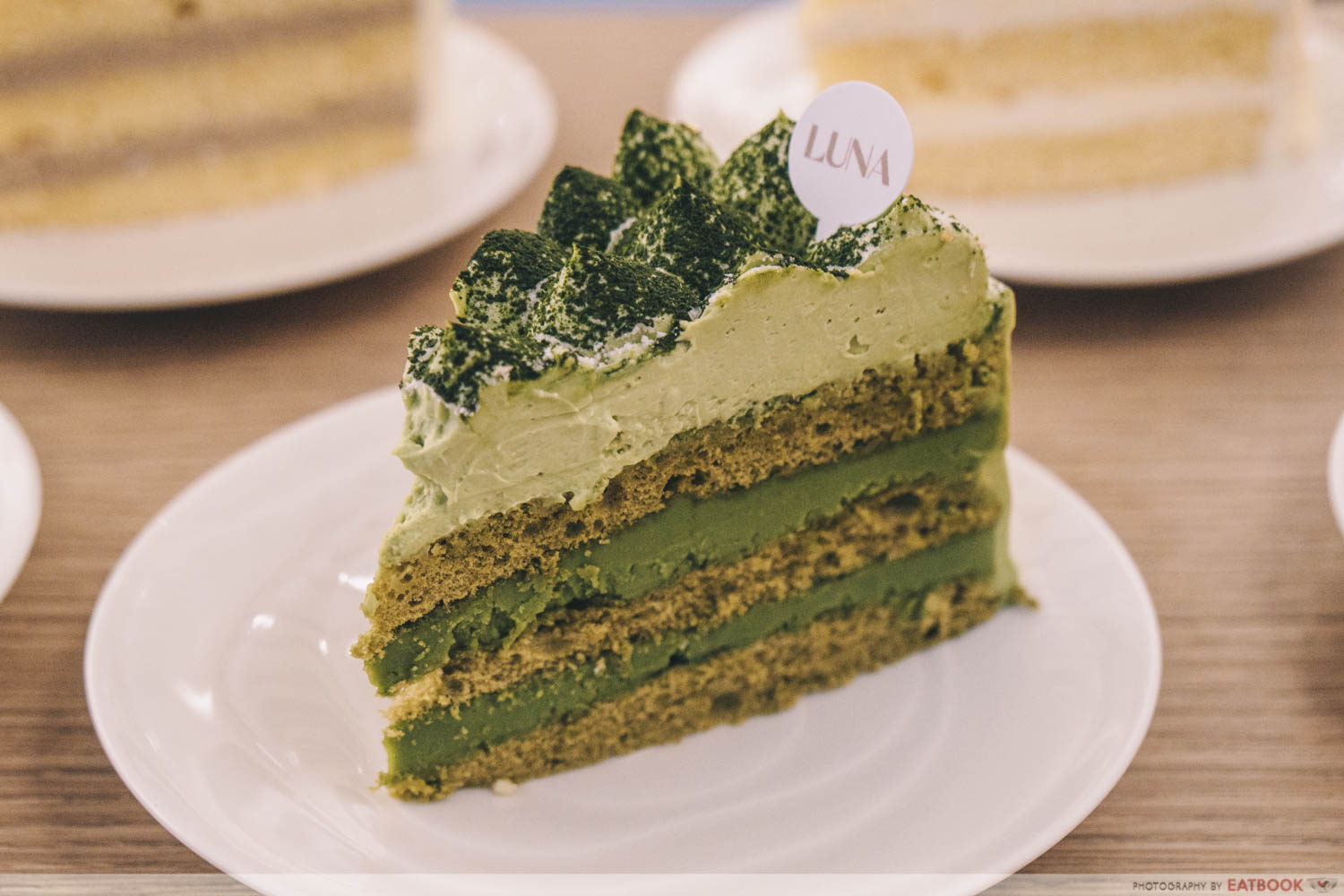 One of the trendiest cake shops to enter the local dessert scene of late is LUNA. Their Asian-inspired cake selection includes a Matcha White Chocolate flavour, of matcha sponge, and a duet of matcha Valrhona Ivoire 35% chocolate ganache, and a matcha Chantilly cream to finish. Get a slice at $8, and a whole cake at $80.
Read our LUNA review.
Address: 53 Amoy Street, Singapore 069879
Opening hours: Mon-Thurs 12pm to 6:30pm, Fri-Sun 12pm to 6pm
Website
LUNA Review: New Cafe At Amoy Street Selling Orh Nee And Dark Chocolate Cakes Under $10
---
Matcha desserts that are so matcha fun
---
Matcha has been revered in Japan for centuries. However, this addictive powder has only gone global in the last decade, extending its earthy influence to our shores. And as the popularity of matcha continues to endure, it's easier than ever to get your dose of green tea goodness.
If your sweet tooth can't be satisfied by these matcha desserts, take a look at our list of the 10 best dessert places of 2020 and our review of Dopa Dopa.
10 Best Desserts In Singapore For Sourdough Waffles, IG-Worthy Tarts, And Thick Cookies – Eatbook Top 50 Awards 2020
This article was originally published on 8 May 2019.
The post 12 Matcha Dessert Cafes For Matcha Fondue, Tiramisu And Ice-Cream To Remind You Of Japan appeared first on EatBook.sg – New Singapore Restaurant and Street Food Ideas & Recommendations.