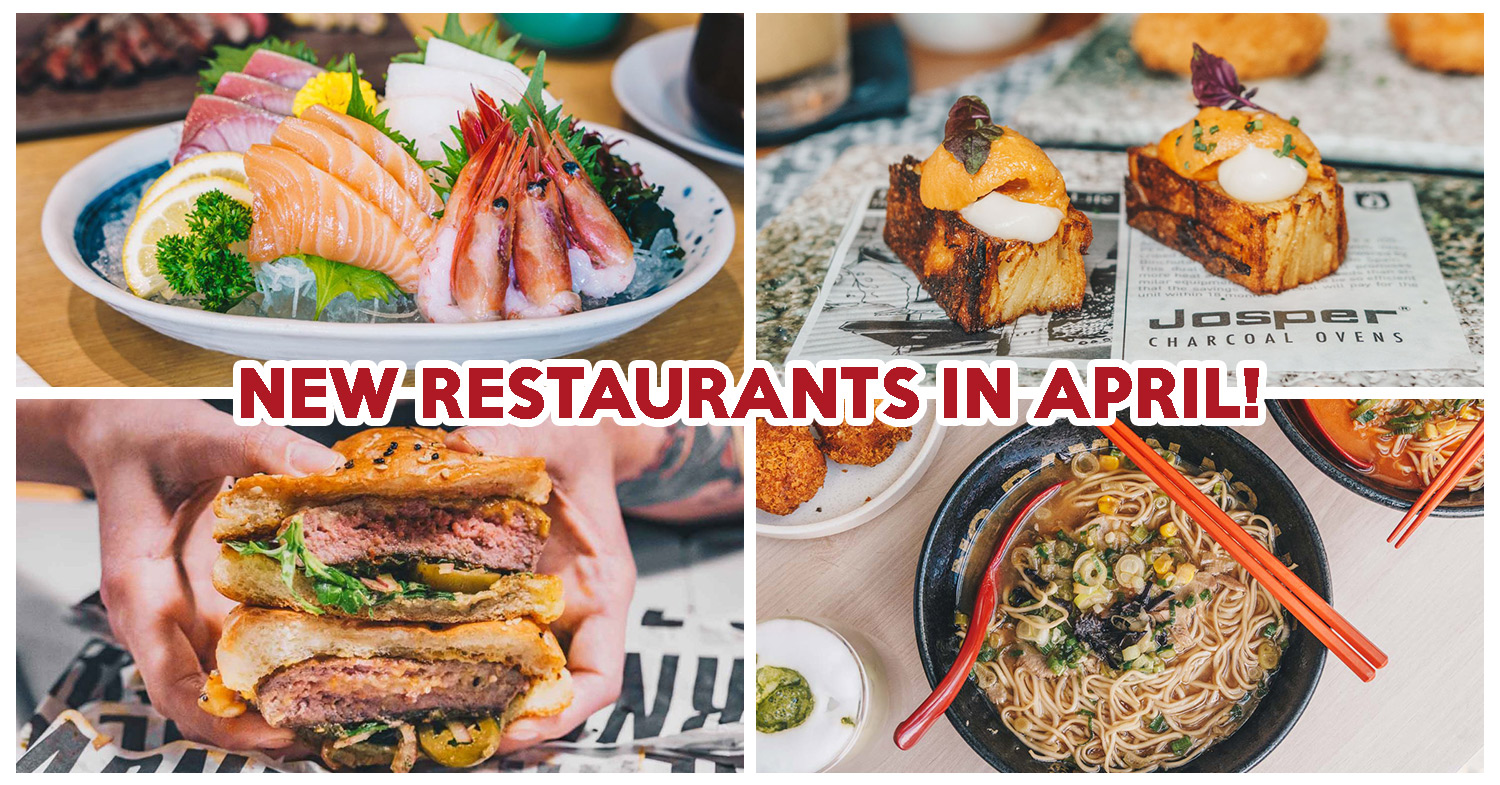 ---
New restaurants this April 2021
---
And just like that, a quarter of the year has passed. The food scene in Singapore remains just as vibrant, with new eateries popping up ever so often. With that, we've sussed out 11 new restaurants in Singapore this April 2021, including a Michelin Bib Gourmand mapo tofu eatery, and a new dessert cafe with IG-worthy Taiwanese shaved ice.
---
1. The Feather Blade
---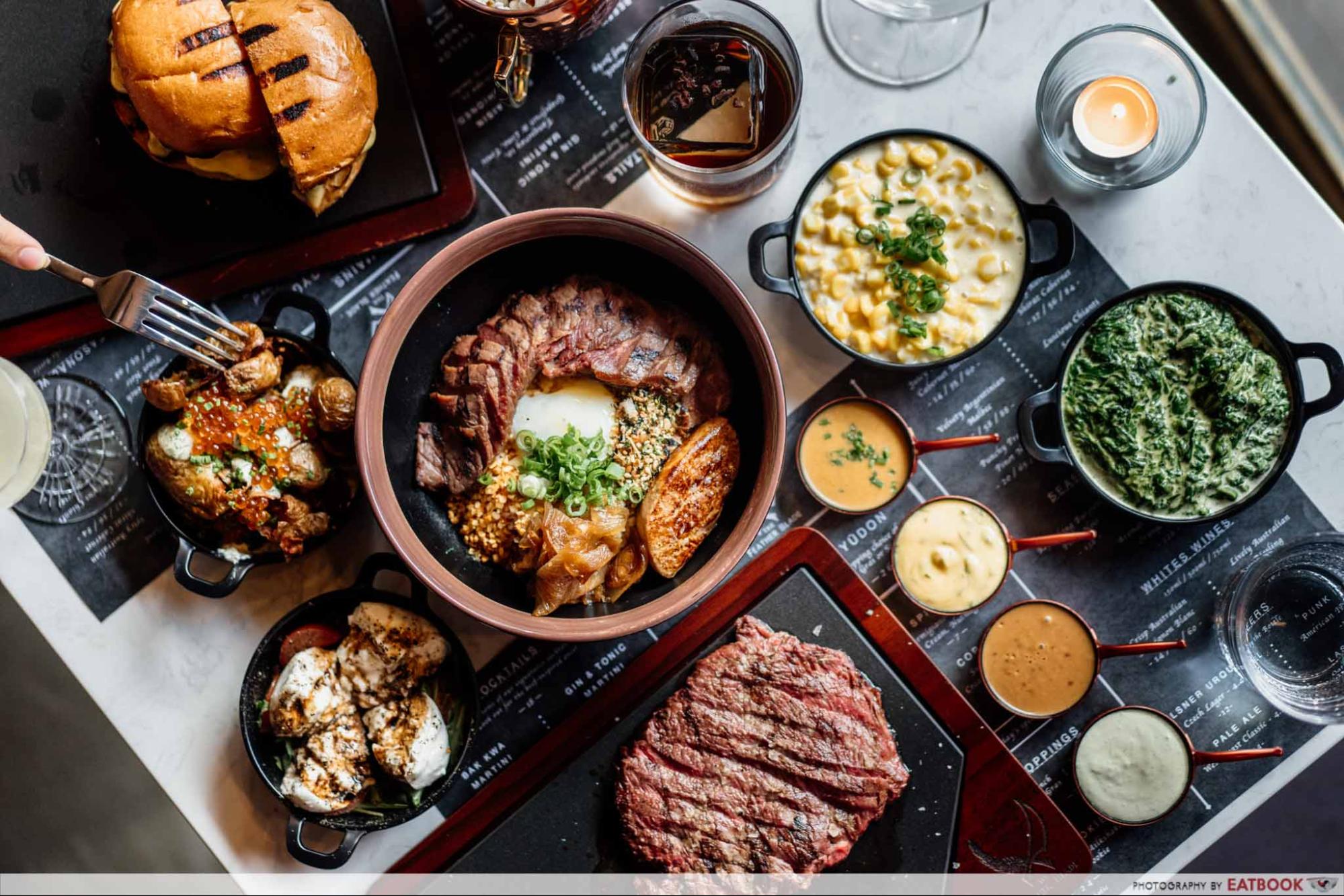 The Feather Blade has moved to its new location in Tanjong Pagar, following the launch of its sister restaurant, RAPPU. Crowd favourites such as the Steak ($21+) and Gyudon ($28+) remain, alongside revamped dishes and new additions to the menu. Pair your mains with their Potatoes ($9+), which are cooked in wagyu beef fat, then topped with dill cream and ikura pearls for extra indulgence. Meanwhile, if you've been a fan of the restaurant since its pop-up days, you'll be happy to know that their Smoked Corn ($8+) has landed a spot on the new menu.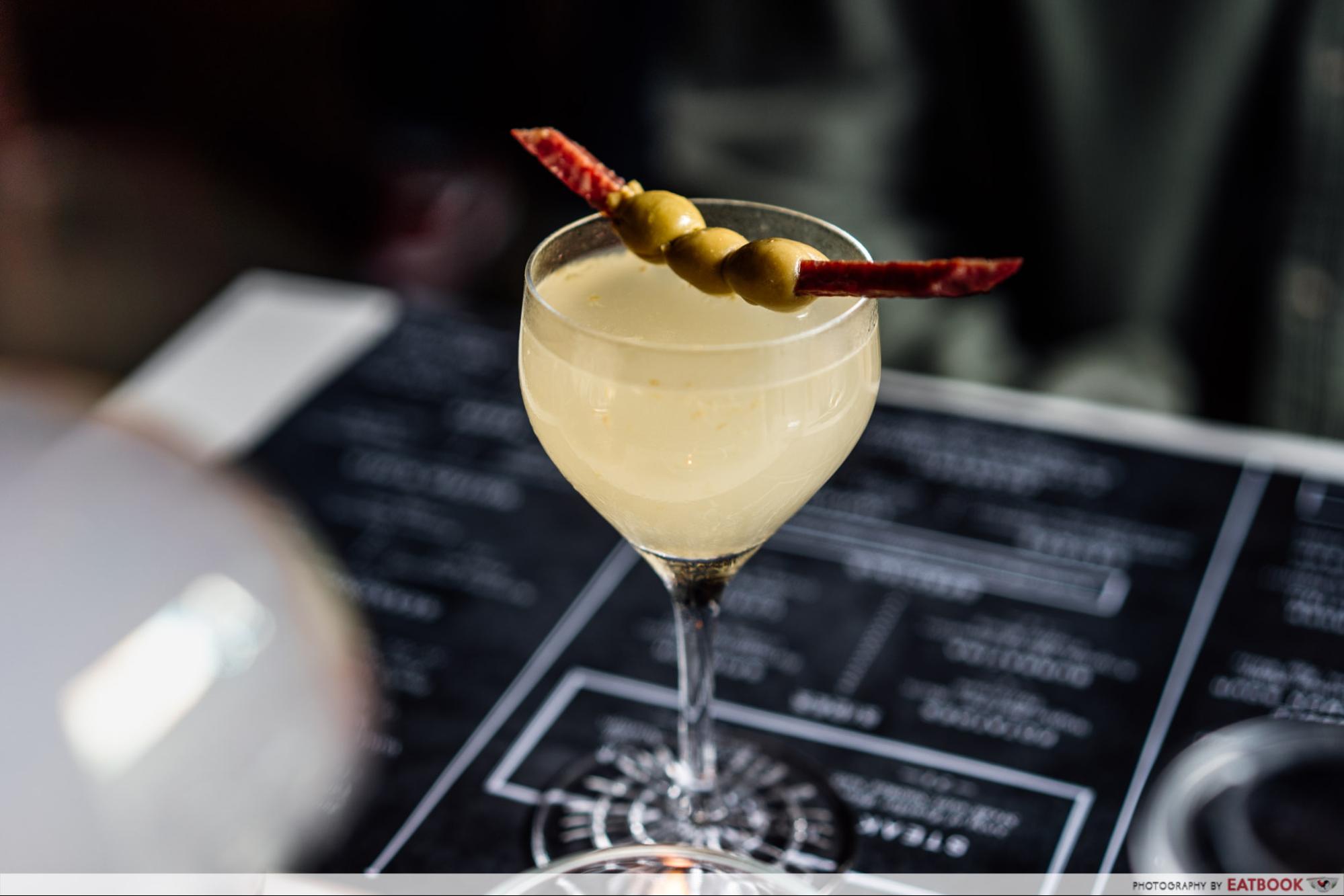 Apart from the food, The Feather Blade also has an impressive cocktail selection, with novel drinks such as the Bak Kwa Martini ($18+), which sees your classic dirty martini paired with beef jerky, and the Beefy Old Fashioned ($18+), made with wagyu fat and bourbon.
Check out our The Feather Blade review!
Address: 61 Tanjong Pagar Road, Singapore 088482
Opening hours: Tue-Thur 5pm to 10:30pm, Fri 11:45am to 3:45pm, 5pm to 10:30pm, Sat-Sun 11:45am to 4pm, 5pm to 10:30pm
Website
The Feather Blade is not a halal-certified eatery.
The Feather Blade Review: Flat Iron Steak And Hearty Beef Bowls Topped With Foie Gras At Club Street
---
2. CARNE
---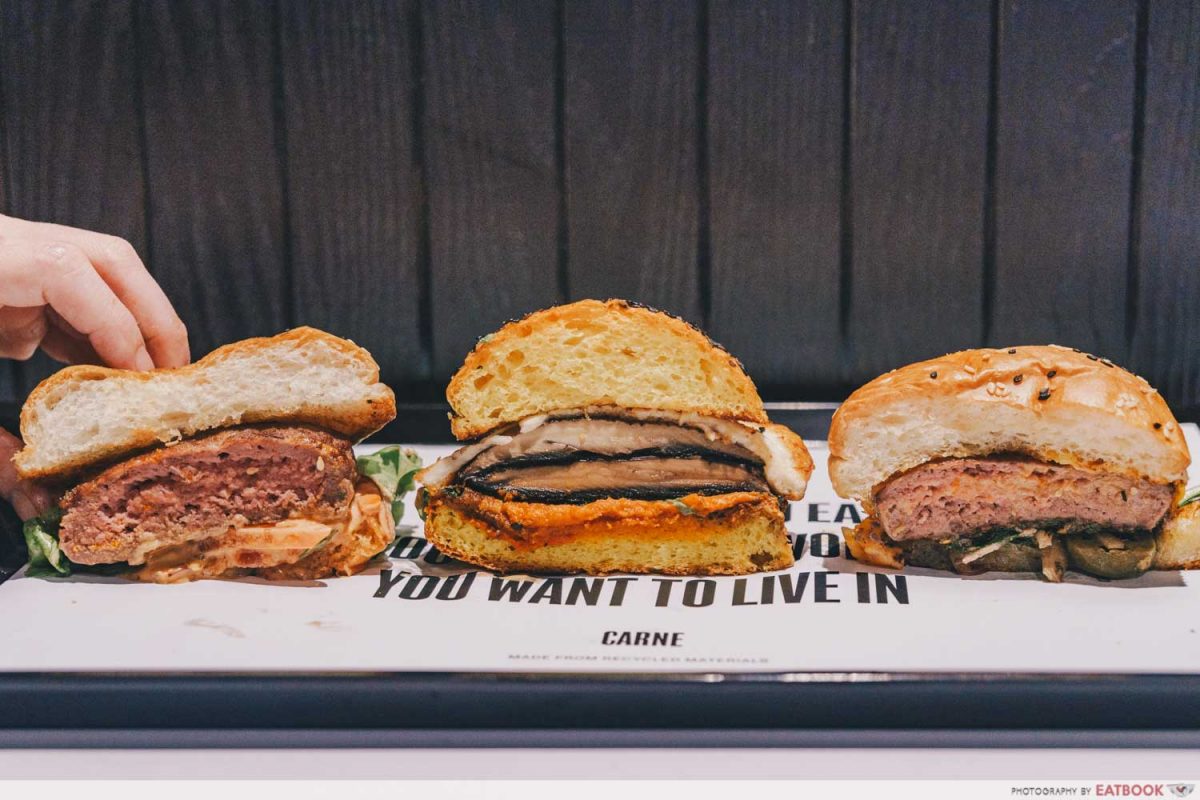 CARNE isn't just any other burger joint, as it is run by the likes of Chef Mauro Colagreco, who has a World's Best Restaurant title to his name. Their burgers are made with only grass-fed beef, cage-free eggs, and organic vegetables—a testament to their dedication to sustainability.
Our favourite burger from CARNE is the Beef And Chimichurri Burger ($24), which is exclusive to Singapore's outlet. It highlights a 106g Angus beef patty, elevated by a tangy house-made chimichurri sauce and piquant jalapeño rounds. Meanwhile, if you're here with a plant-based friend, their Veggie Burger ($16) makes for a good option, starring a grilled portobello mushroom and halloumi cheese. Be sure to add on some Triple Cooked Agria Fries ($8.90) to complete your meal!
Check out our CARNE review!
Address: 88 Amoy Street, Singapore 069907
Opening hours: Daily 8am to 11pm
Website
CARNE is not a halal-certified eatery.
CARNE Review: Burger Bar By Chef Behind World's Best Restaurant Now In Singapore
---
3. Roji Monster
---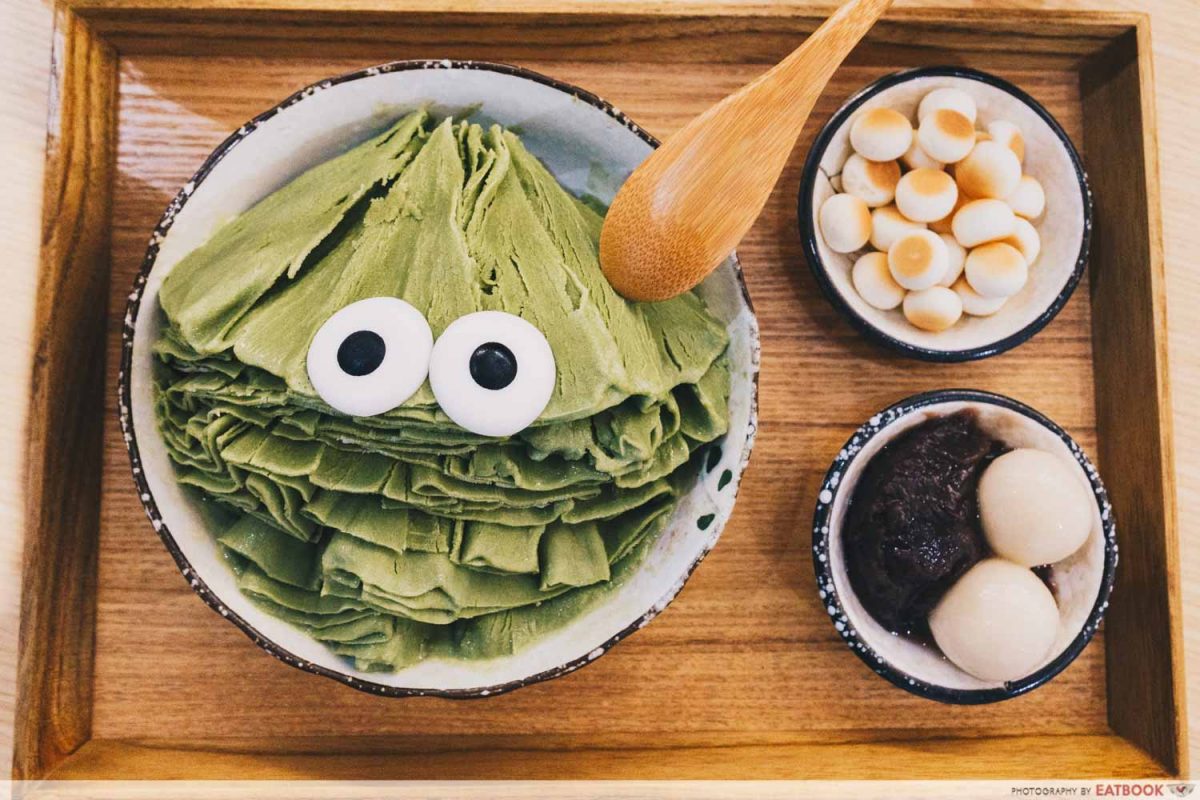 Hailing from Taiwan is Roji Monster, a global dessert cafe brand, best known for their shaved ice that's decorated with cute eyes. You can choose two of the 23 available toppings to go along with any bowl of shaved ice, while additional toppings go for $1 each. We had the Uji Matcha ($12.90), which highlighted a bittersweet green tea fragrance, alongside chewy dango balls and nostalgic Wang Wang egg biscuits.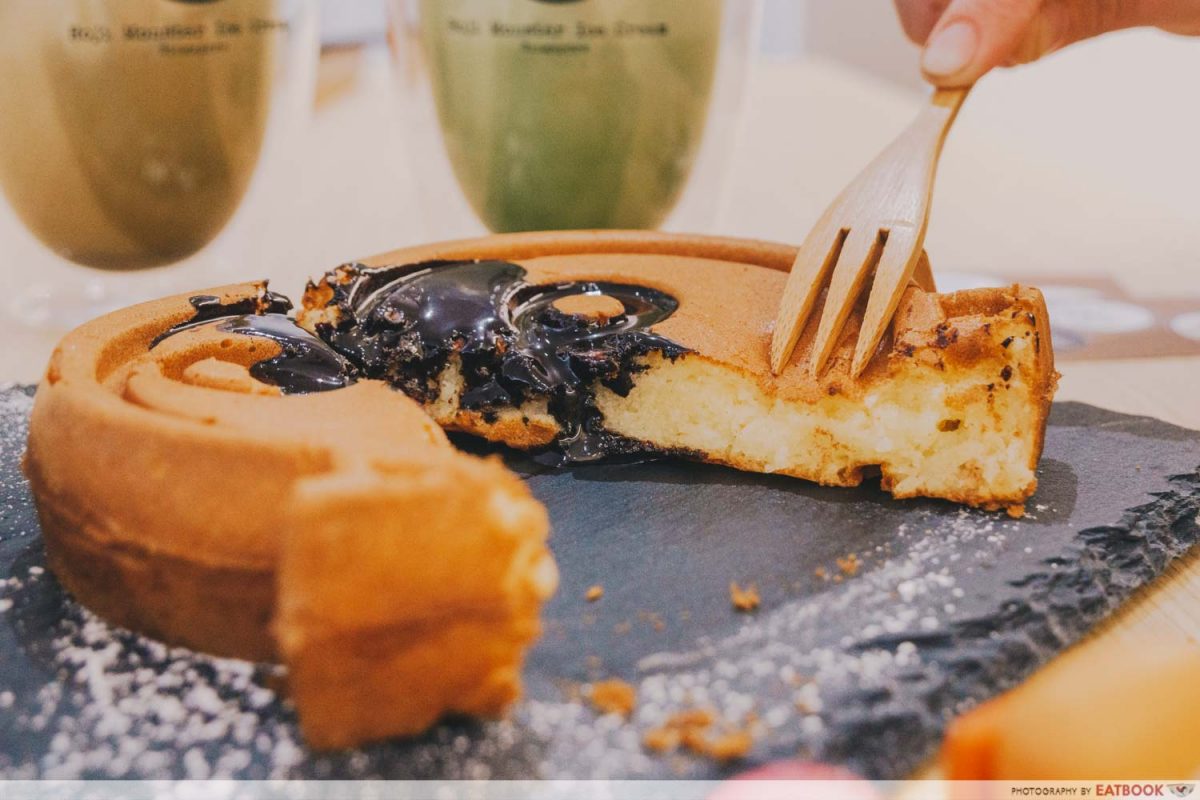 Meanwhile, if you're someone who insists on waffles for dessert, Roji Monster has a Monster Waffle ($10.90) available. This waffle reminded us of Hong Kong-style egg waffles, with crisp outsides, and a soft, eggy interior.
Check out our Roji Monster review!
Address: 52 Tanjong Pagar Road, Singapore 088473
Opening hours: Tue-Thur, Sun 2pm to 4:30pm, 5:30pm to 10pm, Fri-Sat 3pm to 5:30pm, 6:30pm to 12am
Website
Roji Monster is not a halal-certified eatery.
Roji Monster Review: Cute Monster Shaved Ice And Ice Cream Waffles In Tanjong Pagar
---
4. Rabbit & Fox
---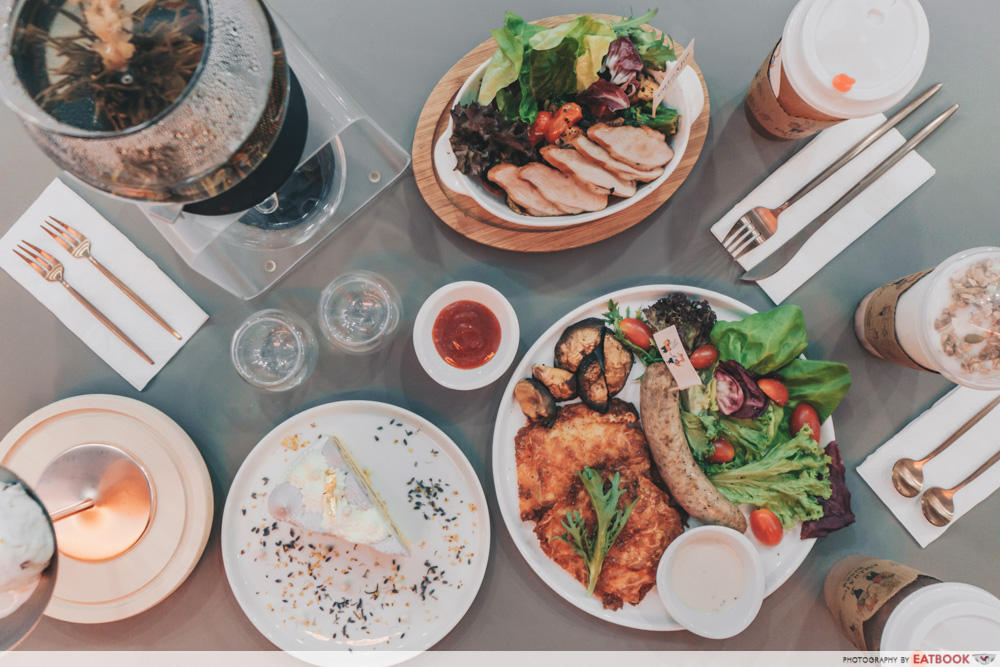 If you're someone who loves both cafe-hopping and bubble tea, consider Rabbit & Fox, made better by its affordable prices, and central location in Somerset. Their menu sees customisable bubble teas, other tea-based beverages, all-day brunch, and IG-worthy desserts, which include cake selections from LUNA Patissiere.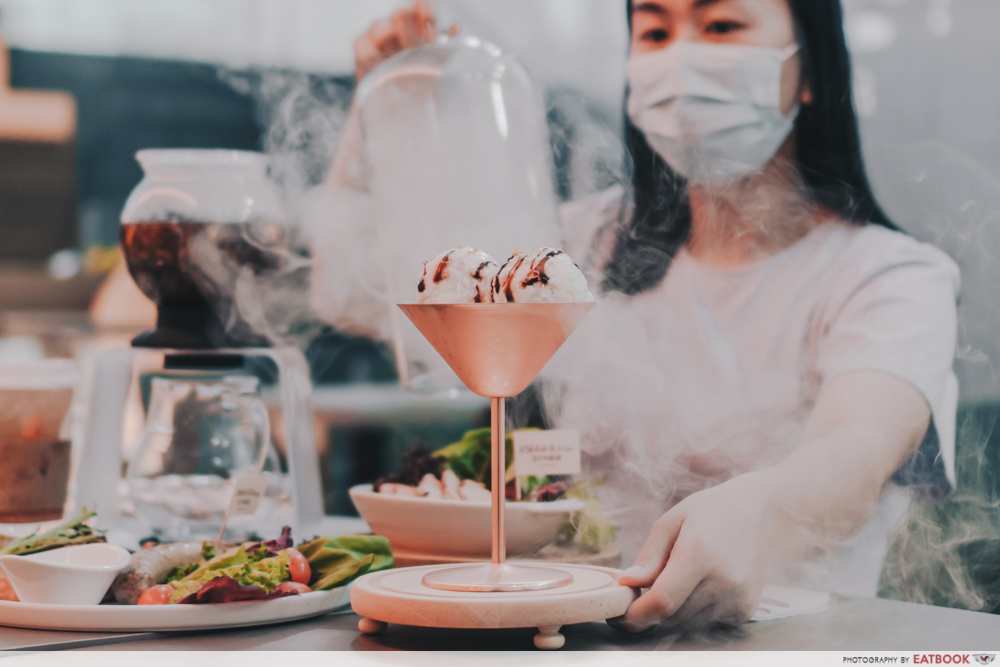 Their Tropical Blossom Sundae ($9.90) was a show-stopper, served under a glass dome which billowed with applewood smoke when we lifted it open. We were also pleasantly surprised by the Pork Bratwurst Rosti ($15.90), as the cheese-crusted rosti was crispy on the outside, with tender shredded potatoes within. Wash everything down with their Teapresso (from $3.60) series, with five tea bases to choose from, customisable with available mixes and toppings.
Check out our Rabbit & Fox review!
Address: 160 Orchard Road, #K-02/03, OG Orchard Point, Singapore 238842
Opening hours: Sun-Thur 8am to 9pm, Fri-Sat 8am to 10pm
Website
Rabbit & Fox is not a halal-certified eatery.
Rabbit & Fox Review: New Cafe With BBT And All-Day Brunch In Orchard
---
5. JOMO
---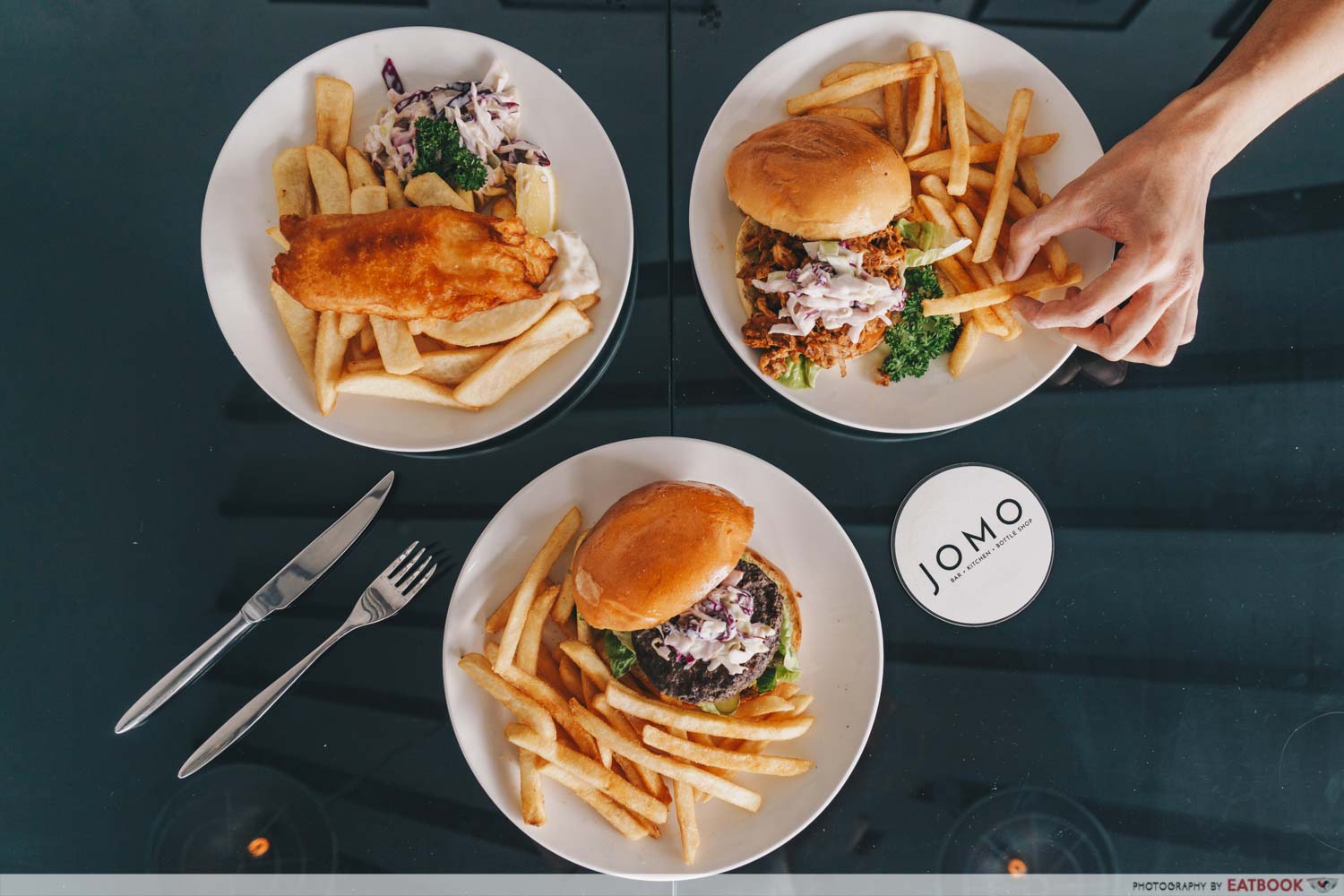 Holland Village sees new eateries cropping up on the regular, and one of the latest additions is JOMO, a minimalistic bar serving up wallet-friendly beers, mains, and bar bites.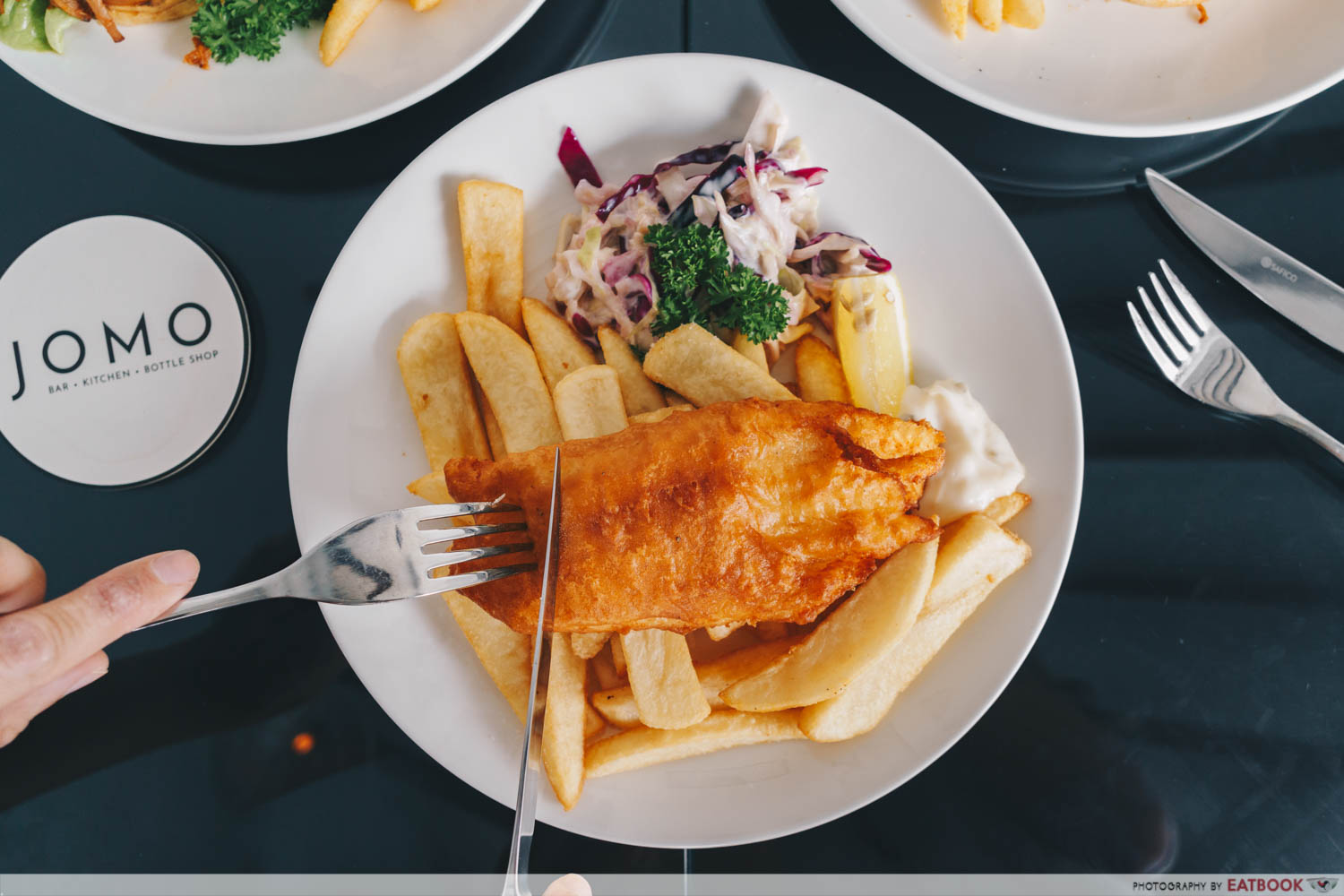 Their Beer Battered Fish And Chips ($16) had a crisp, airy batter, with a slight bitterness from the beer. If you're a meat-lover, consider the Pulled Pork Burger ($14), which is loaded with savoury pulled pork strips. These dishes all come with the restaurant's signature Chicken Salt Fries, an Australian-inspired side which we couldn't stop eating.
Check out our JOMO review!
Address: 48 Lorong Mambong, Singapore 277699
Opening hours: Mon-Sat 3pm to 10:30pm, Sun 11am to 6pm
Tel: 9800 3787
Website
JOMO is not a halal-certified eatery.
JOMO Review: New Holland Village Cafe For Chicken Salt Fries, Pulled Pork Burger And More
---
6. Sumikkogurashi X Kumoya
---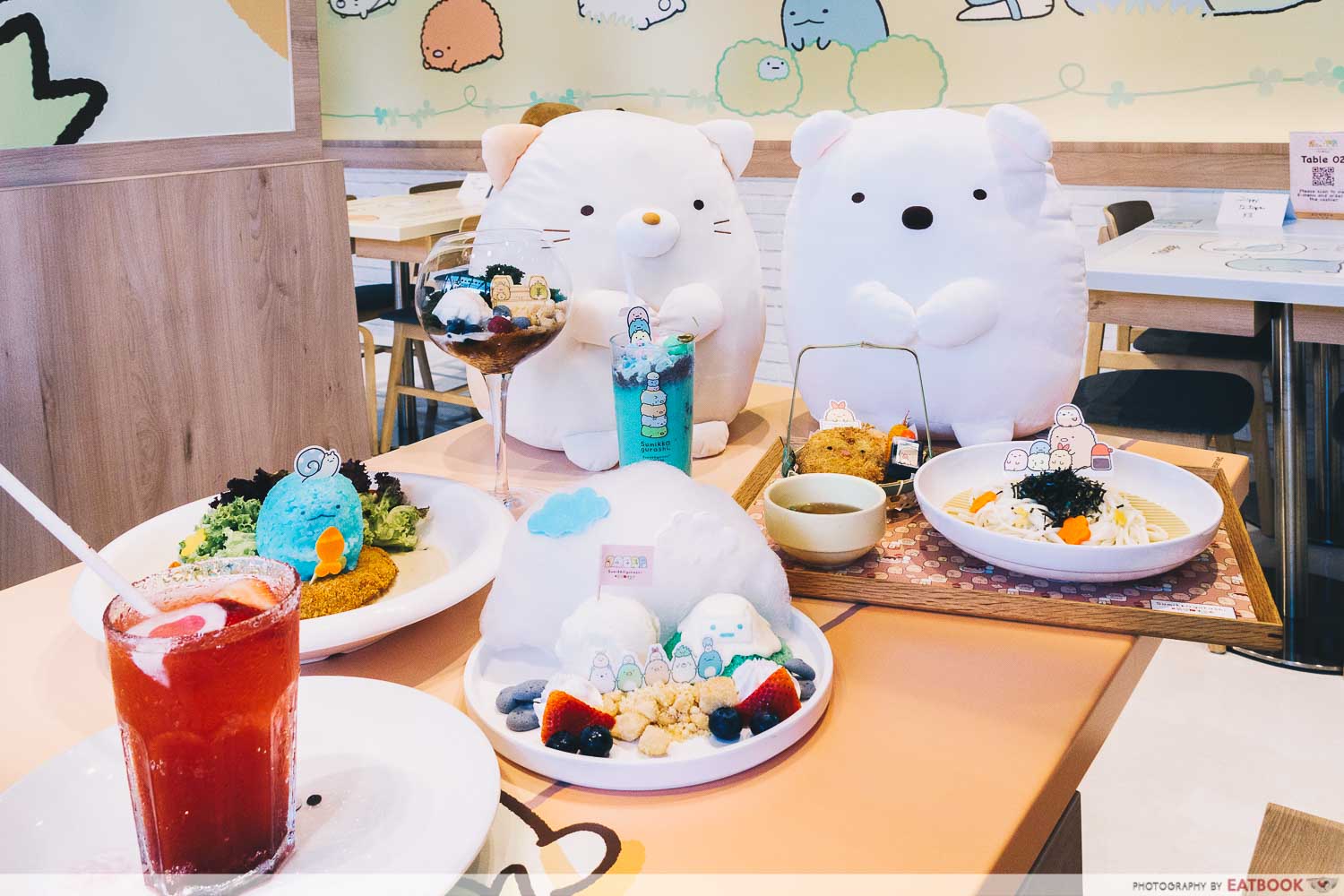 It hasn't been long since Kumoya brought in their Molang pop-up cafe. The brand has gone on to open a Sumikkogurashi cafe at their Orchard Central outlet. Apart from the Sumikkogurashi-themed backdrops and dishes, fans of the characters can also expect a merchandise area! Though this cafe isn't halal-certified, it's also noteworthy that every item is prepared with Muslim-friendly ingredients.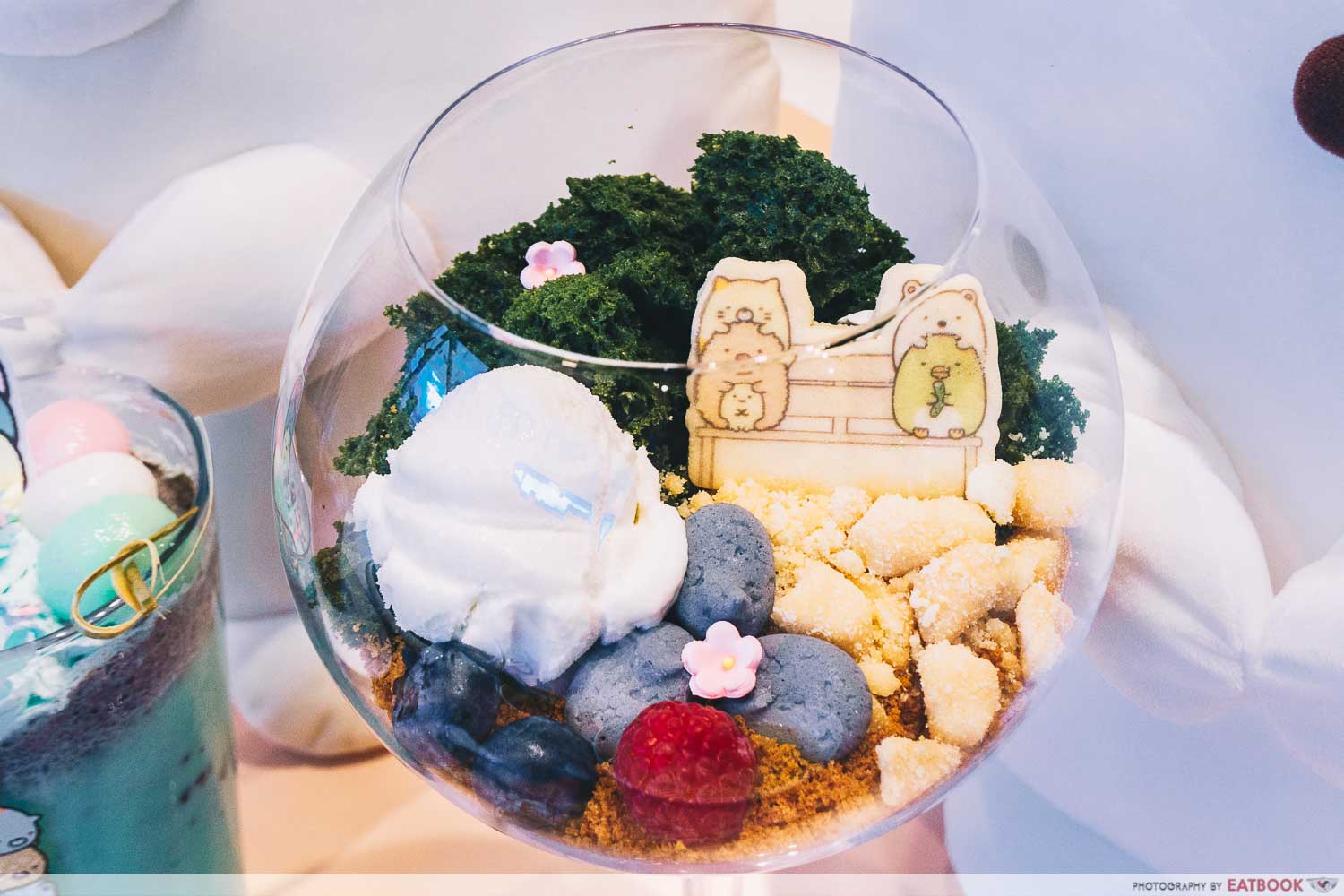 The dishes on the menu are all crafted for the 'gram—designed by local bento artist, Little Miss Bento. They include this gorgeous Magical Matcha Terrarium Garden ($24.90+), a terrarium-shaped dessert packed with sugary goodies. For savouries, consider the Left Behind Tonkatsu And Ebifurai No Shippo Cold Udon ($25.90+), which consists of udon noodles alongside a tonkatsu cutlet, tempura ebi, and assorted fried tempura.
Check out our Sumikkogurashi X Kumoya review!
Address: 181 Orchard Road, #04-08, Orchard Central, Singapore 238896
Opening hours: Mon-Sat 12pm to 9:30pm, Sun 12pm to 5pm
Website
Sumikkogurashi X Kumoya is not a halal-certified eatery.
Sumikkogurashi x Kumoya Cafe Review: New Cafe In Town With Edible Terrarium Dessert And Croquette Cream Rice
---
7. Chen's Mapo Tofu The Star Vista
---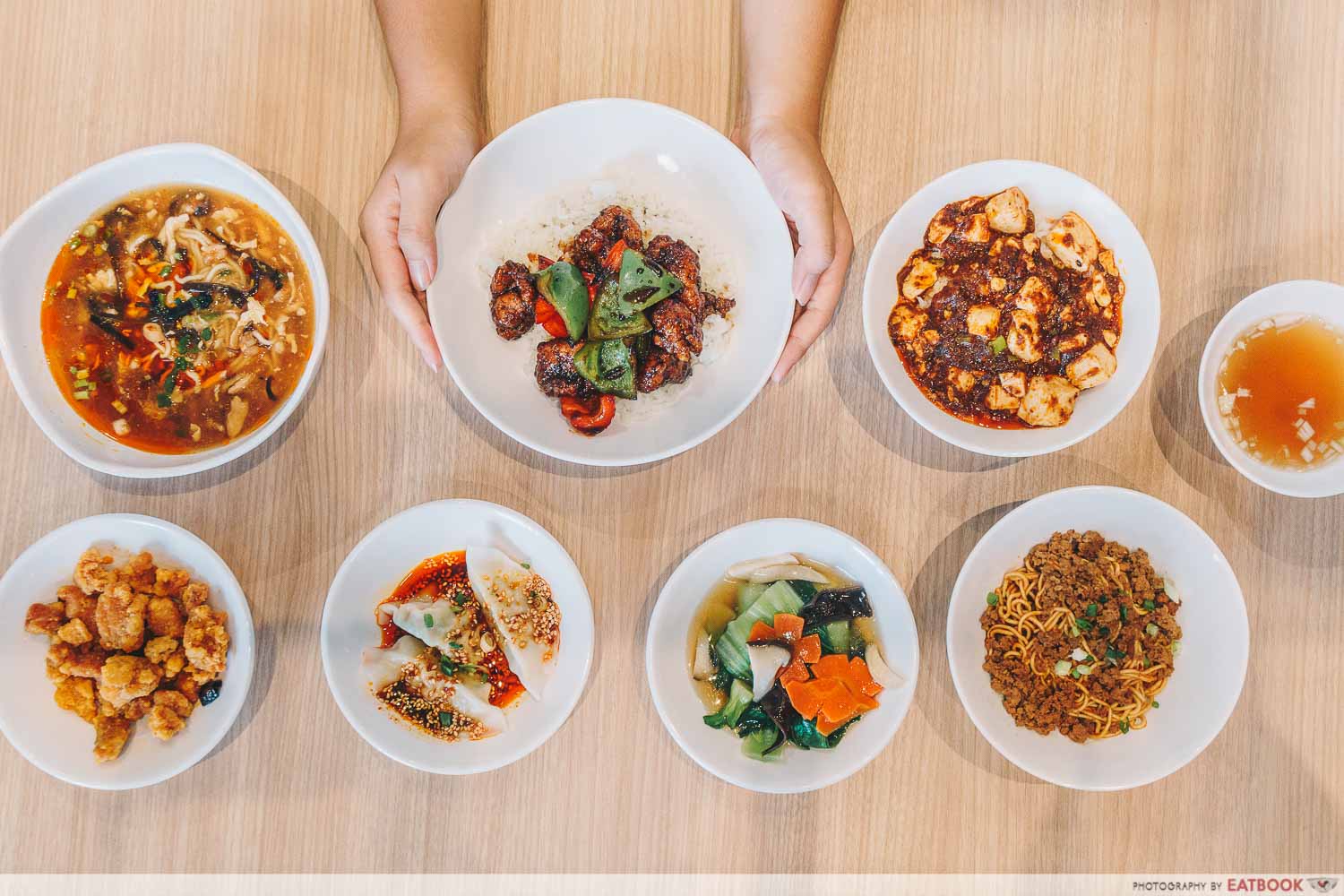 Chen's Mapo Tofu has opened a new outlet in The Star Vista, with new dishes alongside their Michelin Bib Gourmand mapo tofu. This outlet also sees a bar concept named Biru Nights, available after 3pm, with a selection of alcoholic beverages and bar bites to go along with.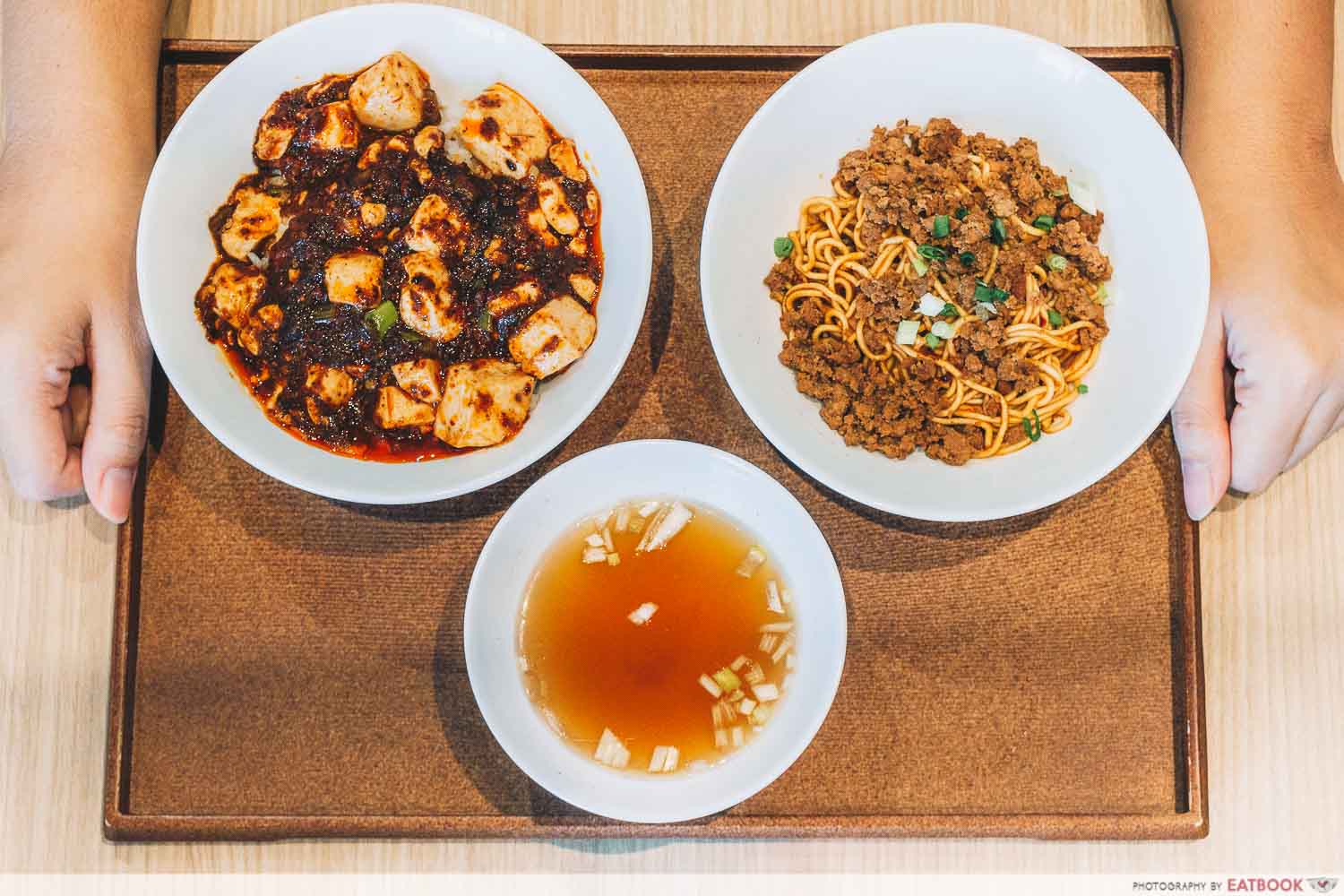 Get the best of mapo tofu and dan dan mian with the restaurant's Signature Combo ($14+), which comes with a half portion of each. While you're here, be sure to try their newest addition to the menu—the Kurozu Buta Don ($15.30+). Kurozu is a type of Japanese vinegar, which adds a fruity tang to this dish. 
Check out our Chen's Mapo Tofu review!
Address: 1 Vista Exchange Green, The Star Vista, #02-08, Singapore 138617
Opening hours: Daily 11am to 10pm
Tel: 6694 0160
Website
Chen's Mapo Tofu is not a halal-certified eatery.
Chen's Mapo Tofu Review: Michelin Bib Gourmand Mapo Tofu, Suan La Tang And Dan Dan Mian At The Star Vista
---
8. Xian Dan Chao Ren
---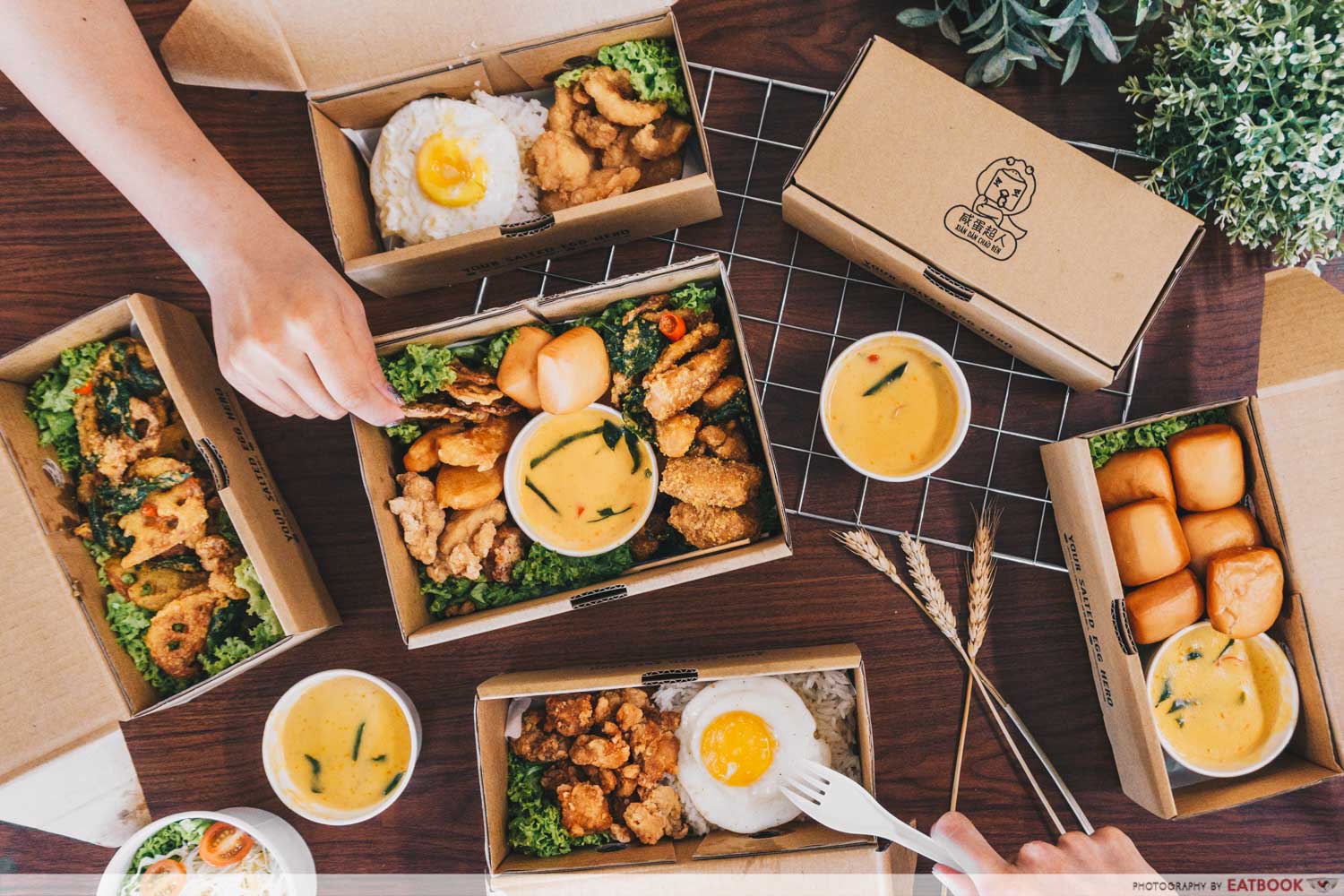 Reviving the salted egg trend in Singapore is Xian Dan Chao Ren, a new takeaway joint in Waterway Point. Here, you can expect a salted egg-centric menu, with snacks, rice sets, and sharing boxes available.
Their Man Tou ($4.90) offers the joy of eating your favourite salted egg crab, without the mess of peeling the crustacean. There's also Chicken ($5.90) and Fish ($5.90) available, with a choice of Flip or Dip. The former sees your protein dressed in curry leaves and chilli, while the latter comes with a salted egg cream dip. Top up $2 to make it a meal Combo, for rice and a sunny side up egg to go along with.
Check out our Xian Dan Chao Ren review!
Address: 83 Punggol Central, #B1-K4, Waterway Point, Singapore 828761
Opening hours: Daily 11am to 10pm
Tel: 9618 9069
Website
Xian Dan Chao Ren is not a halal-certified eatery.
Xian Dan Chao Ren Review: Salted Egg Mantou, Lotus Root, Chicken, And Platters From $4.90 At Waterway Point
---
9. Pura Brasa
---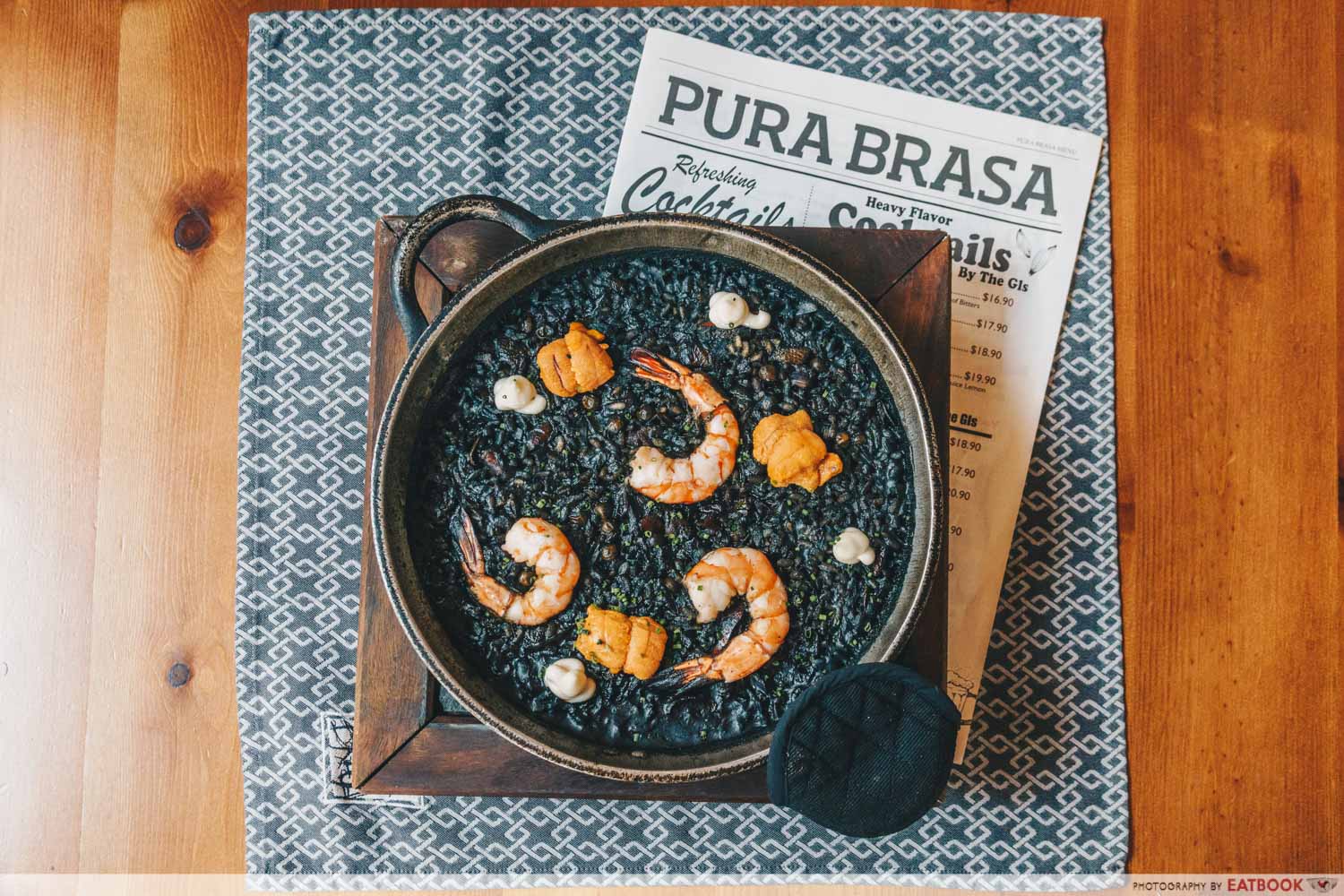 Located in Guoco Tower is Pura Brasa, a Spanish restaurant for delicious tapas, mains, cocktails, and more! This restaurant has curated a seasonal menu, only available until the end of April. With this menu, you can expect indulgent dishes such as their Squid Ink Paella With Hokkaido Uni ($68++), a flavourful rice dish that's elevated with creamy uni.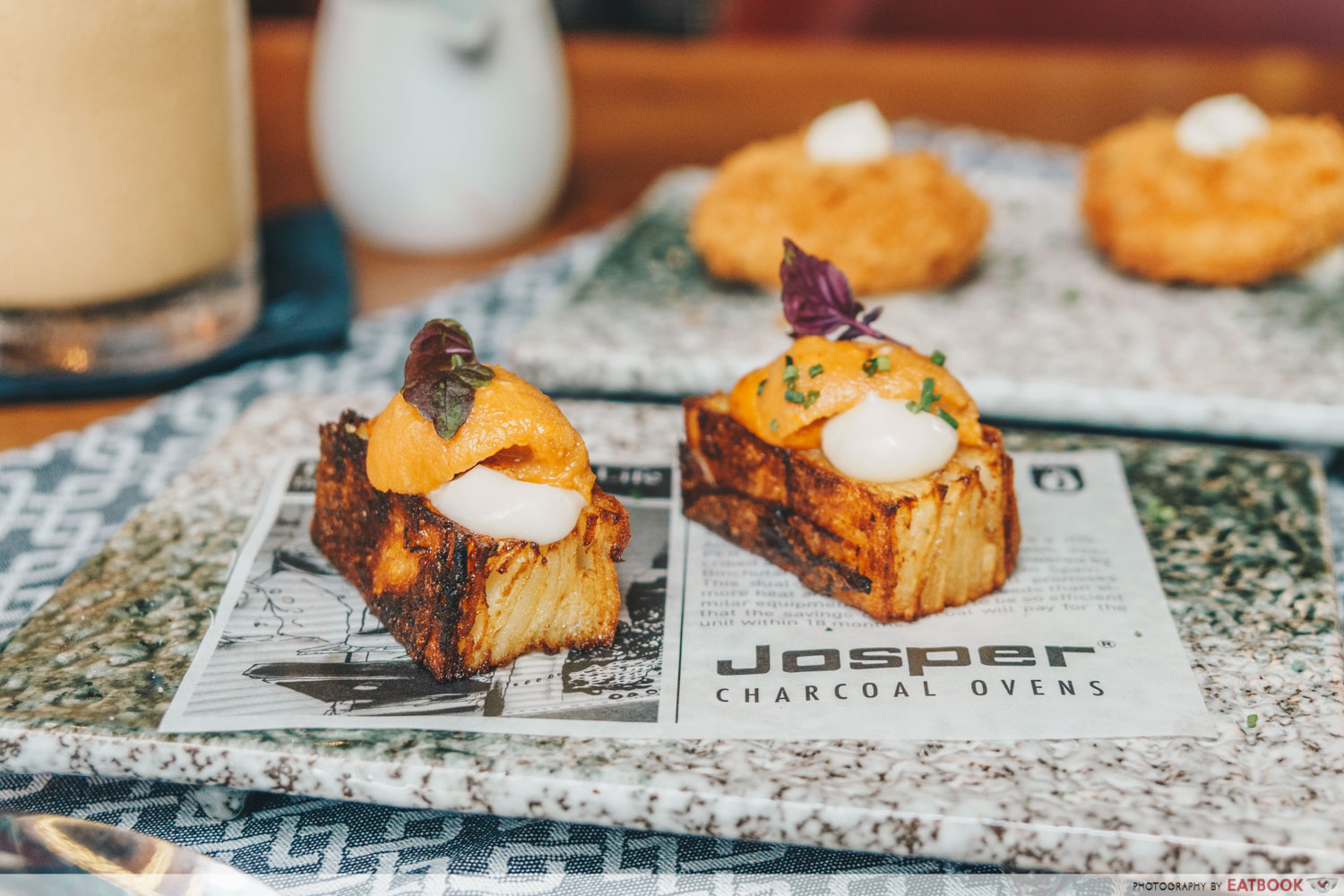 Continuing the seafood trend is their Josper-Grilled Scallop With Caviar ($36++), plump with sweet brine. There's also the Patatas Bravas With Hokkaido Uni ($16++). For those uninitiated to patatas bravas, this is a Spanish spicy fried potato dish, usually served as finger food. 
Address: 5 Wallich Street, #01-16, Guoco Tower, Singapore 078883
Opening hours: Daily 12pm to 11pm
Tel: 6386 9678
Website
Pura Brasa is not a halal-certified eatery.
---
10. Menbaka Ramen
---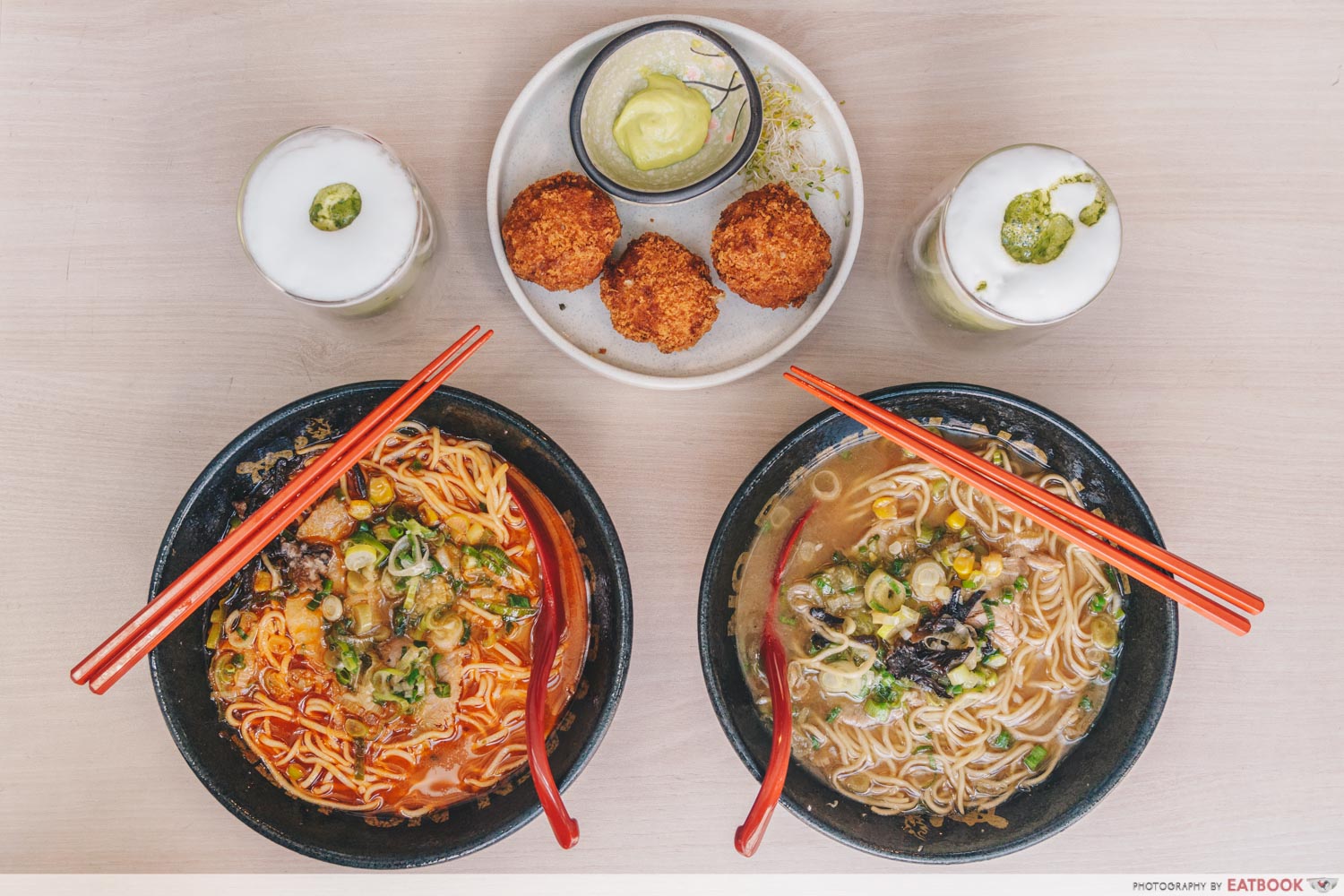 Menbaka Ramen first made waves when it arrived on our shores last year, best known for their fire ramen, which comes with a spectacular fire show. Recently, they've launched two new additions to their menu—the Kara Miso Fire Ramen ($19.90++) and the Chashu Croquette ($5.90++).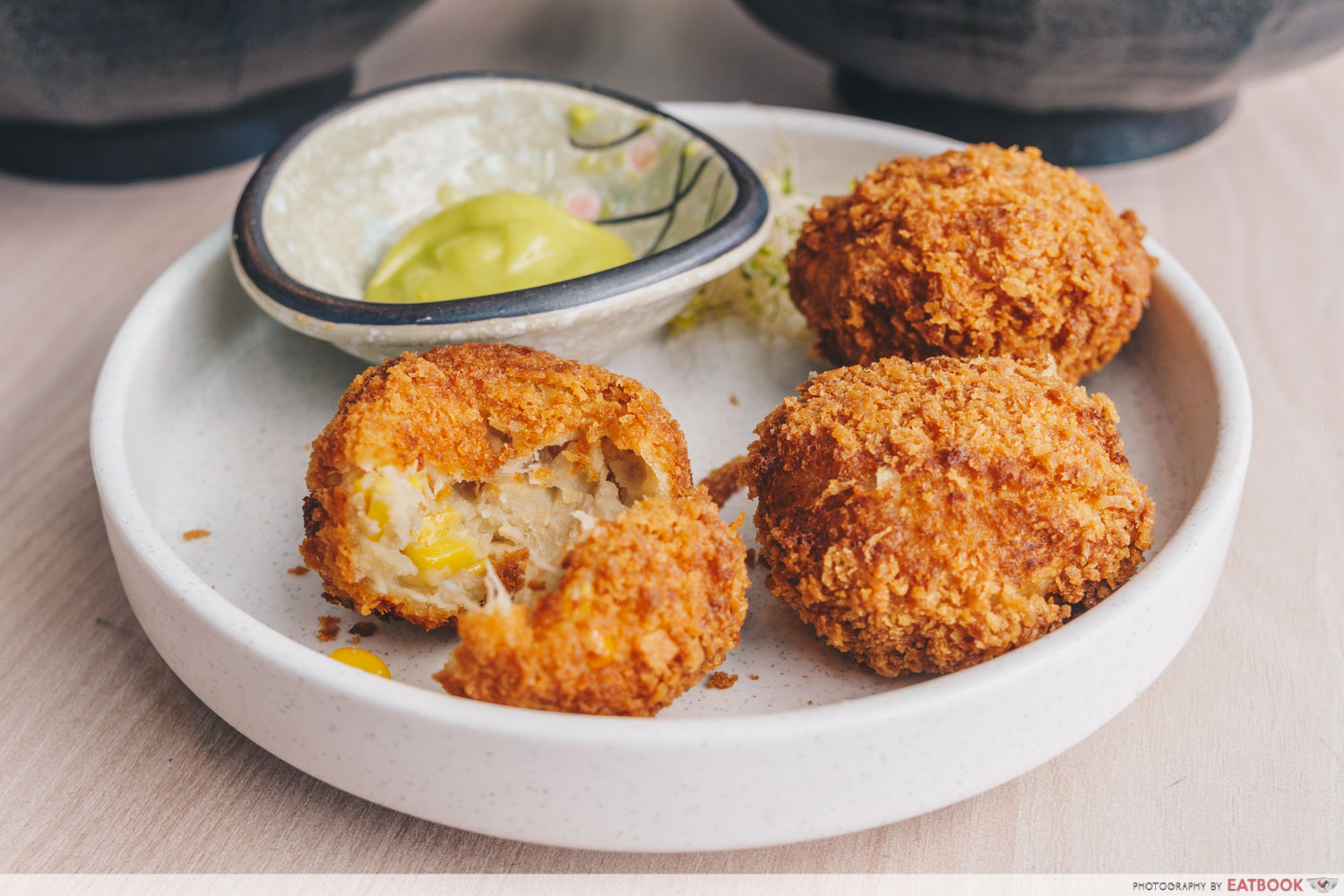 The Kara Miso Fire Ramen is exclusive to Singapore, with a chicken and soybean broth that's been boiled for hours. Meanwhile, the Chashu Croquette is a meat-lover's dream, packed with Menbaka's signature marinated chashu, alongside a wasabi mayonnaise dip.
Check out our Menbaka Ramen review!
Address: 8 Grange Road, #05-03, Cineleisure Orchard, Singapore 239695
Opening hours: Mon-Thur 12pm to 3pm, 5pm to 9pm, Fri-Sat 11:30am to 3:30pm, 4:30pm to 10pm, Sun 11:30am to 3:30pm, 4:30pm to 9pm
Tel: 9459 9926
Website
Menbaka Ramen is not a halal-certified eatery.
Menbaka Ramen Review: Famous Kyoto Fire Ramen Shop Comes To Cineleisure
---
11. Sushi Tei

---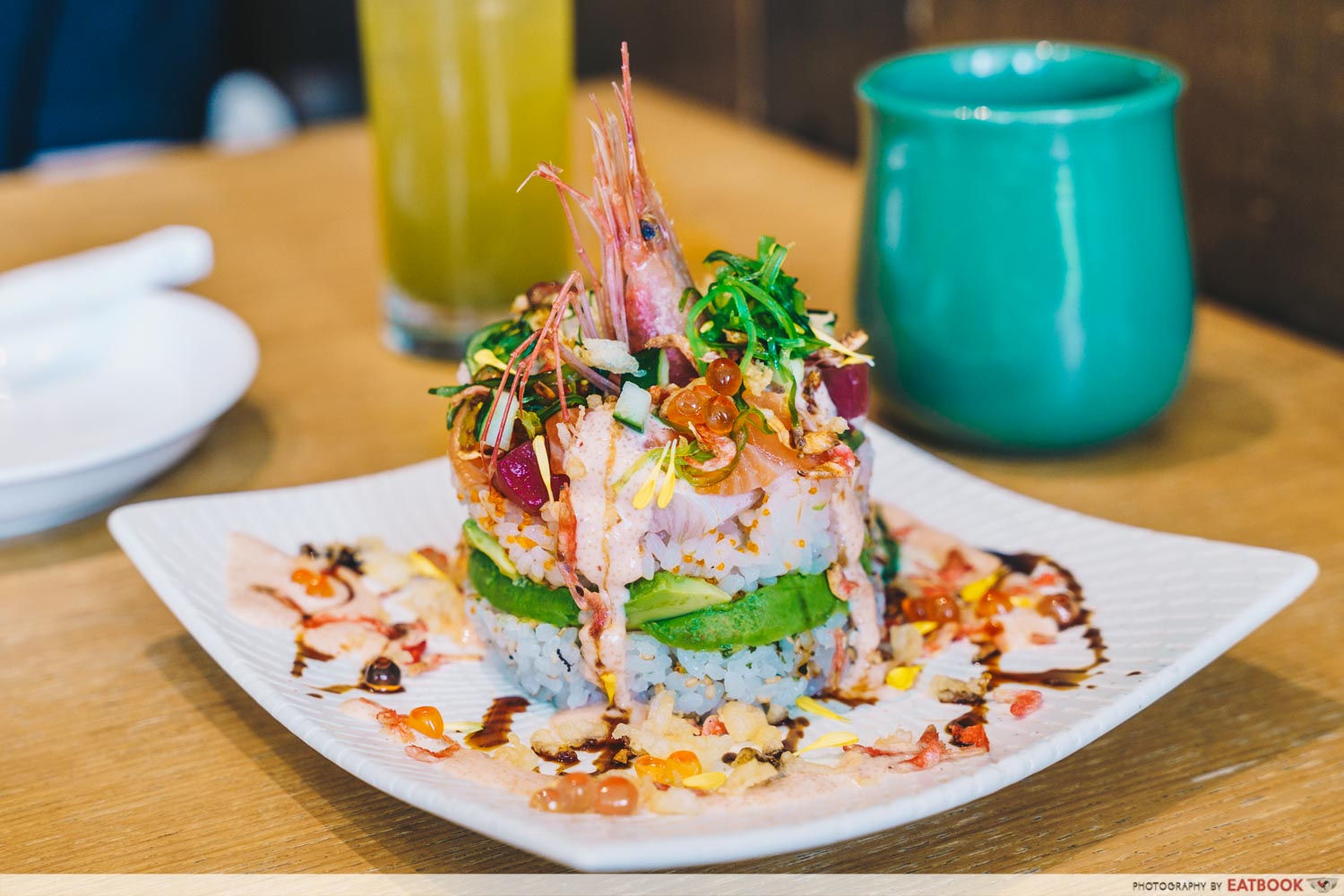 Sushi Tei has launched a new spring menu, in light of the upcoming cherry blossom season. While we can't travel to Japan right now, have a taste of amberjack fish from Nagasaki with the Bara Chirashi Tower ($15.80++). This IG-worthy dish is stacked with layers of sushi rice, avocado, amberjack fish, and other types of sashimi.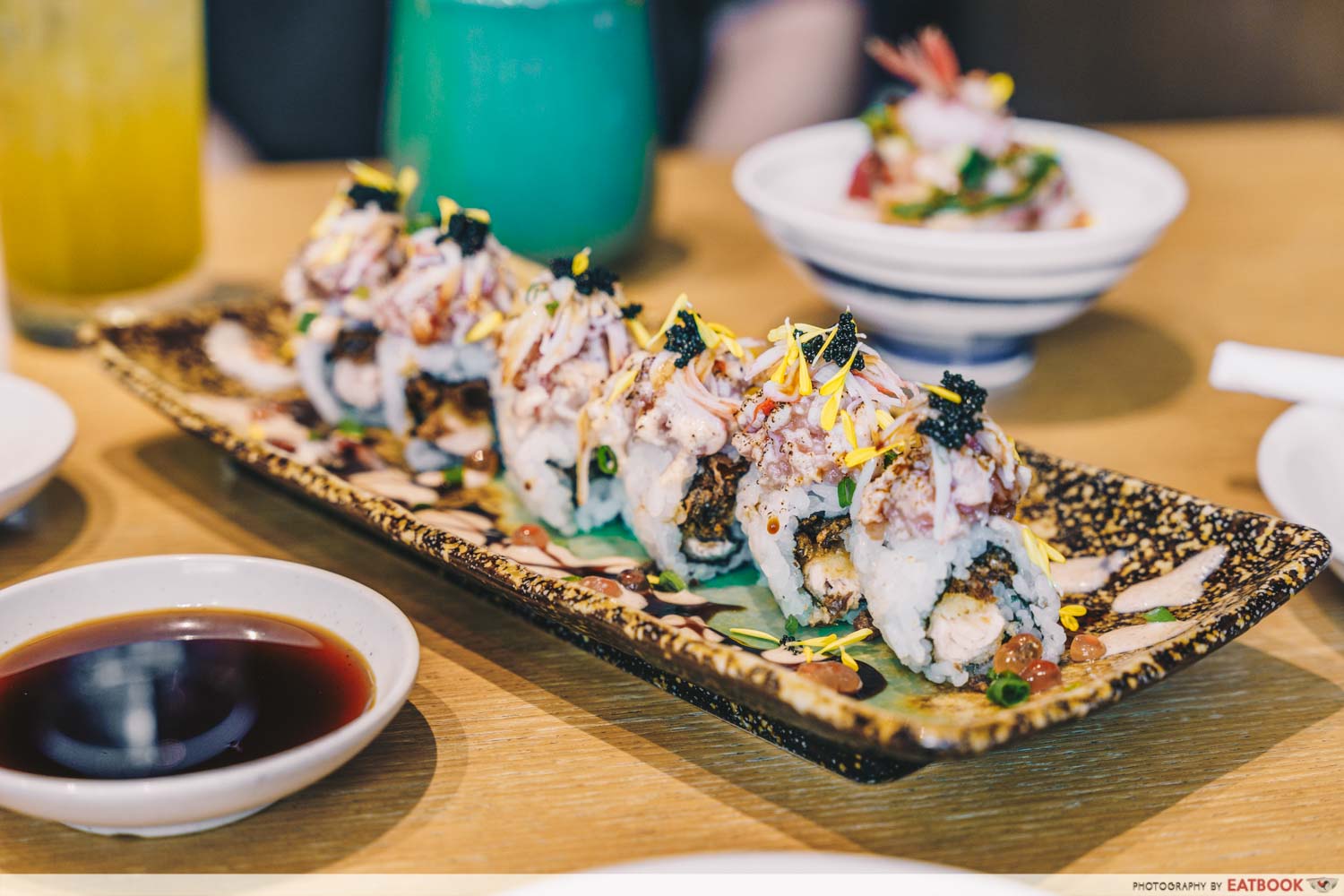 You can't say you've been to Sushi Tei without ordering one of their signature sushi rolls. On the seasonal menu is the Kaisen Blossom Roll ($14.80++), which features fried salmon in the centre, topped with more amberjack fish, caviar, and an umami cod roe mayonnaise. Round off your meal with the Edamame Cream Puff ($7.80++), that's speckled with actual edamame bits within.
Check out our first look at Sushi Tei's spring menu!
Full list of outlets | Opening hours
Website
Sushi Tei is not a halal-certified eatery.
Sushi Tei Has New Spring Menu With Truffle Foie Gras Chawanmushi, Chirashi Tower And More
---
Try these new restaurants this April 2021
---
You'll never tire of eating in Singapore, with new restaurants to dine at every month. With that being said, we've curated a list of 11 new restaurants to try this April 2021, for your convenience. 
We've also eaten at places that aren't new but worth trying for the food. There's our Old World Bakuteh review, for Teochew bak kut teh and wok hei-infused fried porridge. Alternatively, check out our Homeground Coffee Roasters review, for unique prawn mee pasta and souffle pancakes.
Old World Bakuteh Review: Teochew Bak Kut Teh With Fried Porridge And Dry Mee Sua At Yishun
The post 11 New Restaurants In April 2021—"Monster" Taiwanese Shaved Ice, Chirashi Tower And More appeared first on EatBook.sg – New Singapore Restaurant and Street Food Ideas & Recommendations.