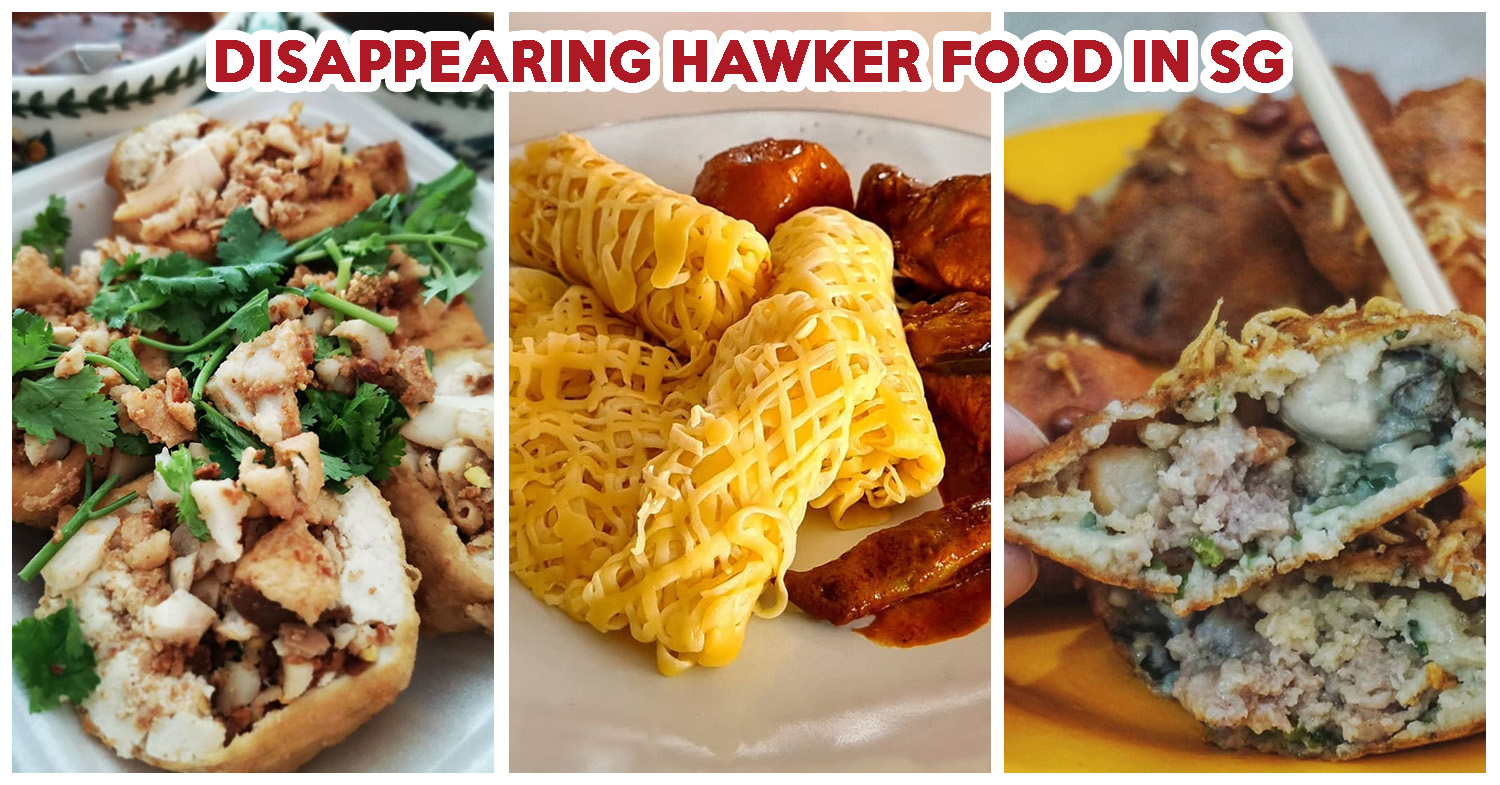 ---
Rare hawker dishes in Singapore
---
Singapore is home to a kaleidoscope of hawker dishes, spotlighting multiple cultures, histories, and flavours. We recently went on a lookout for some of the oldest hawkers in Singapore, but that journey also made us remember some of the rare hawker dishes Singapore has that perhaps aren't as popular as chicken rice or roti prata, but equally deserve the attention of local foodies.
From tau kwa pao to white rojak, roti jala to chi kak kueh, here are 10 rare hawker dishes in Singapore you should get your hands on before they disappear forever.
---
1. Hum Chim Peng with Glutinous Rice
---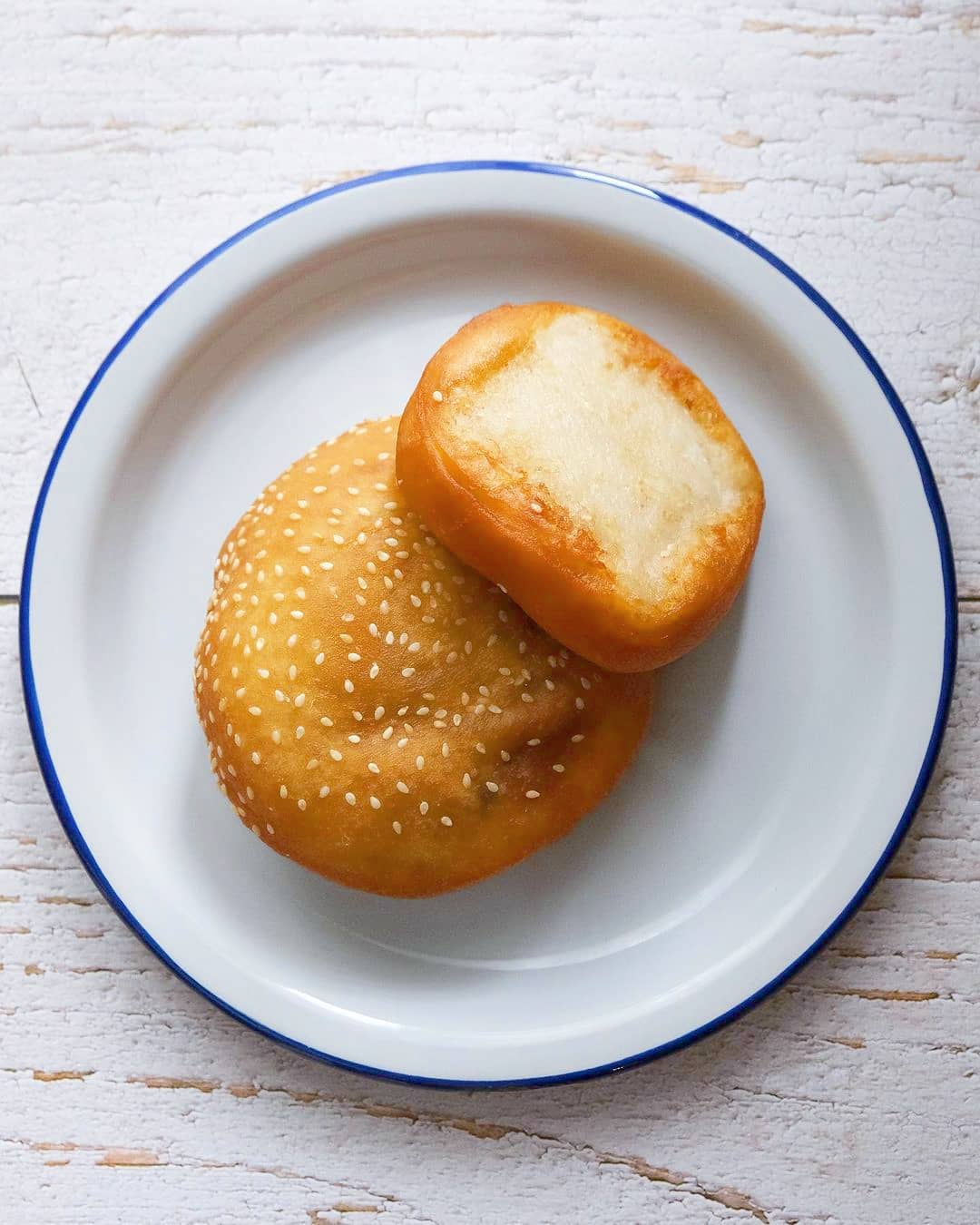 Image credit: @iloveyootiao
Most hawker centres in Singapore have a fried fritter store, selling goreng pisang, you tiao, and hum chim peng. The latter comes in the typical sweet and salty variations, but rarely do you come across kap jung, or hum chim peng with glutinous rice. Very popular in Malaysia, this deep-fried, sticky treat can occasionally be found at some fried fritter stalls in hawker centres.
Fans on Facebook group Hawkers United Dabao – 2020 have said these snacks can be spotted in Boon Keng MRT Market, Clementi 448 Hawker Centre, and Blk 216 Bedok Central Hawker Centre. For somewhere central, you can find this at I Love Yoo, a fritter kiosk at Tiong Bahru Plaza.
I Love Yoo
Address: 302 Tiong Bahru Road, Singapore 168732
Opening hours: Daily 9:30am to 9pm
Website
---
2. Wah Kueh
---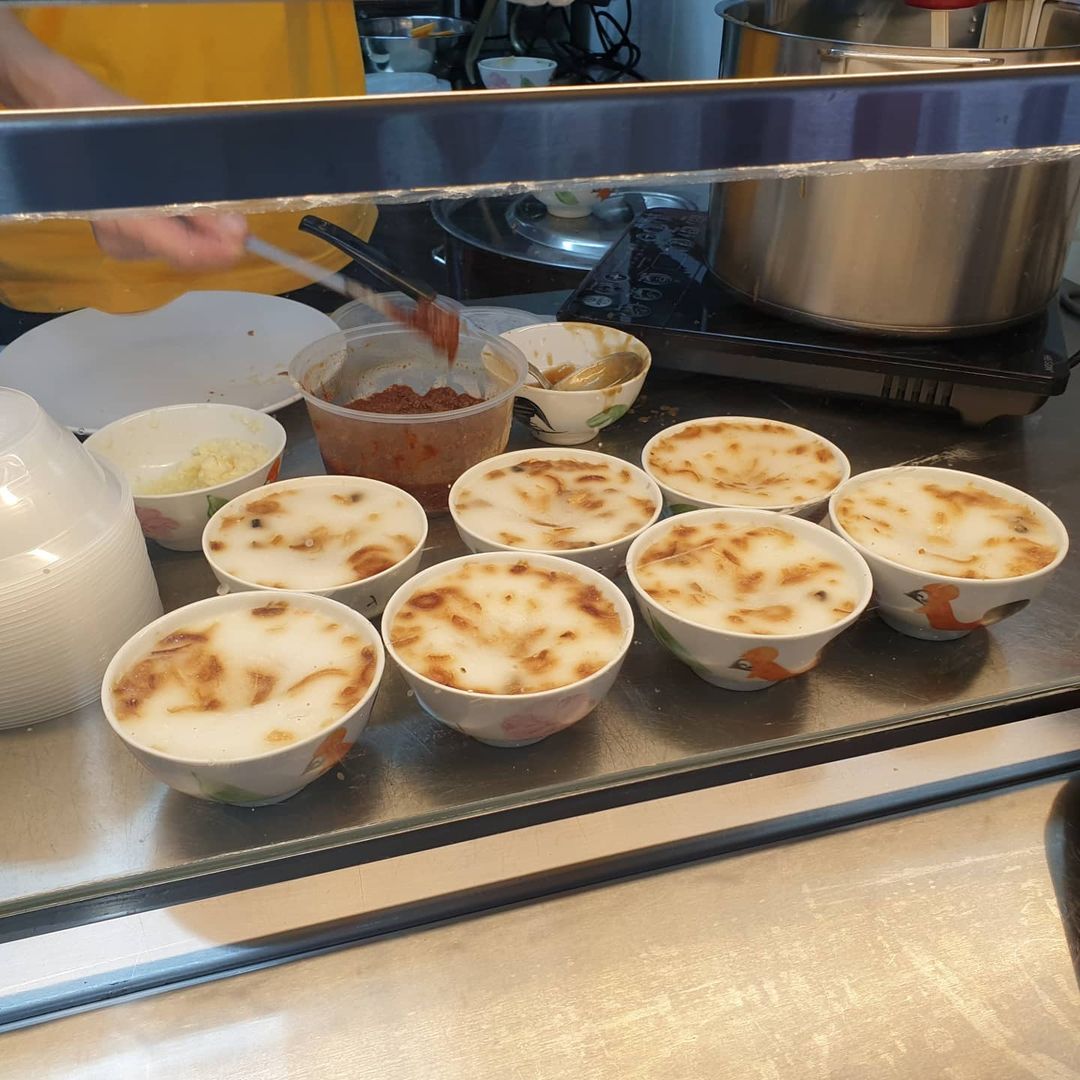 Image credit: @littledevil_98
Wah Kueh is a Hokkien snack that is disappearing in Singapore. So far, we only know of two hawkers that sell it, Ah Kong Wah Kueh in Chinatown Complex Food Centre and Gems Harvest in Telok Blangah Crescent Food Centre. 
If you have not tried wah kueh before, it is similar in texture to chwee kueh, albeit larger, and is served with savoury brown sauce, as well as garlic. Ah Kong Wah Kueh in Chinatown Complex Food Centre puts bits of dried shrimp and mushrooms in the kueh for more kick, and serves their bowls with a dollop of chilli too. It's best enjoyed for breakfast!
Ah Kong Wah Kueh
Address: 335 Smith Street, #02-116, Singapore 050335
Opening hours: Tue-Sun 7:45am till sold out
Gems Harvest
Address: 11 Telok Blangah Crescent, #01-86, Singapore 090011
Opening hours: Tue-Sun 7am to 2pm
Chinatown Hawker Sells Old-School Wah Kueh, Netizens Haven't Seen It Around In Decades
---
3. Stewed Duck
---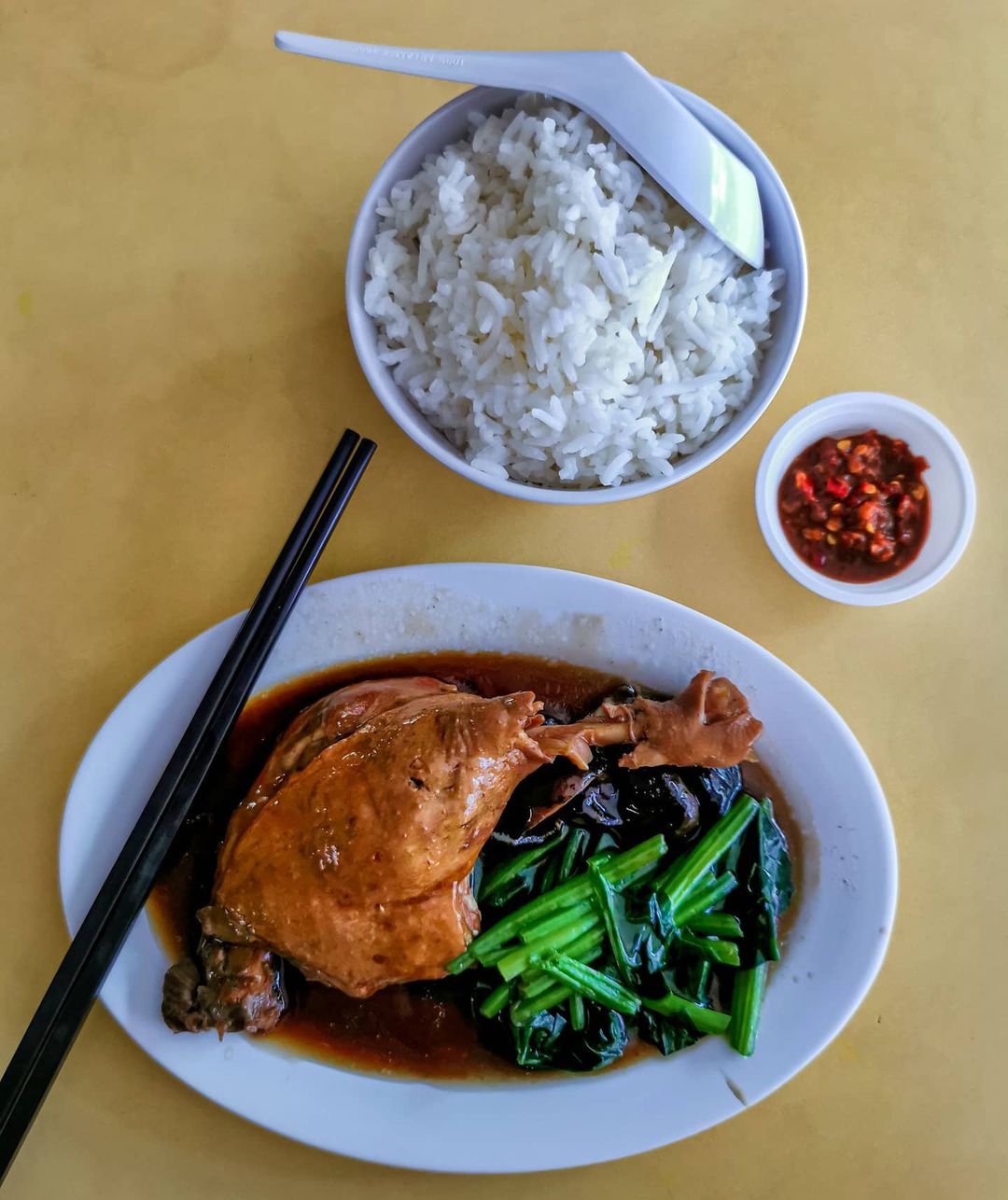 Image credit: @cliffton_jt
Singaporeans love lor ark, also known as braised duck. You see lor ark everywhere at hawker centres, served on rice, on noodles, done Teochew-style, or Hokkien-style. Stewed duck, however, is much rarer. Spotted at Soh Food at Empress Road, fans can expect juicy, tender duck rife with soy and herbs served with kway ($0.70) or rice ($0.50). A duck leg costs ($5.70), but if you want to share with your friends or family, you can get a whole duck here for $41.
Address: 7 Empress Road, #01-106, Singapore 260007
Opening hours: Thurs-Tue 10am to 7pm
13 Braised Duck Rice Stalls In Singapore That Your Teochew Or Hokkien Mother Will Love
---
4. Chi Kak Kueh
---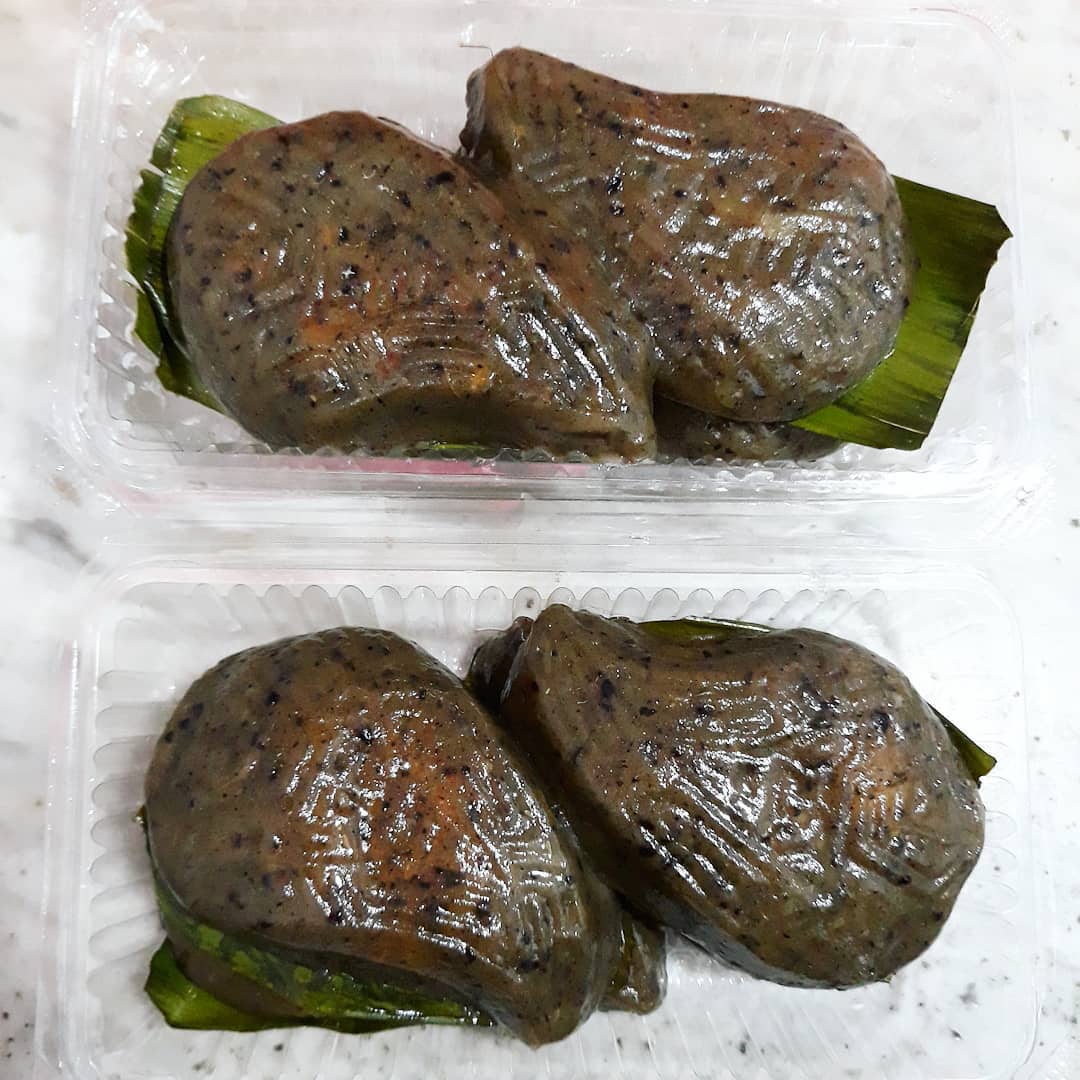 Image credit: @joos_kitchen
Ang ku kueh lovers, try chi kak kueh, the all-black cousin of the steamed mung bean cake everyone enjoys. The skin is black because it is made with mugwort, so it gives the kueh a herbal taste, complementing the sesame or bean paste filling. Because the herbs aren't the easiest to find, and that it adds an extra labour step to the process of making the kueh skin, not many kueh makers bother with chi kak kueh anymore.
You can find chi kak kueh at a few kueh stalls in Singapore, but one of the most popular ones is Kueh & Snacks, also known as Ah Mah Kueh. Run by an 80-plus-year-old ah mah, this stall in Bukit Merah makes chi kak kueh by hand, alongside a wide range of other kuehs.
Address: Block 125 Bukit Merah Lane 1, #01-164 Alexandra Village C3, Singapore 150125
Opening hours: Mon-Sun 8:30am to 7pm
Tel: 6273 5875
10 Nonya Kueh Stores Serving Traditional Handmade Treats Your Grandmother Will Love
---
5. $0.30 Soya Milk 
---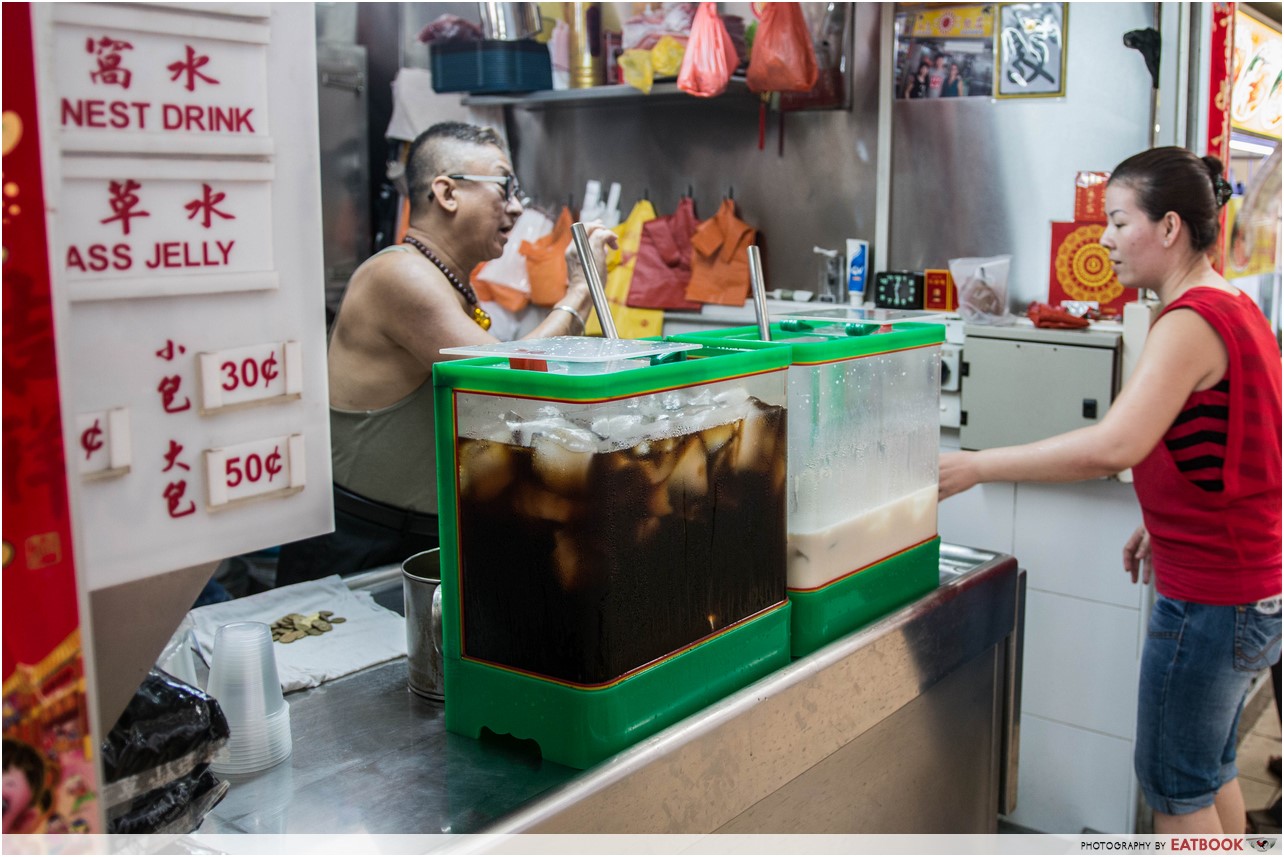 The heart of every hawker centre is a drinks stall, but rarely do you come across one that sells drinks for just $0.30, especially in 2021. Sun Kee Drinks at Kovan is that exception.
This stall has been around for decades, and their prices have not changed since 1985. They sell chin chow, soya milk, and bird's nest for $0.30, or $0.50, scooped out of plastic drink gongs with the green lids you remember from childhood. Other items they have are tau huey ($0.30), and grass jelly ($0.50), both ideal for beating the afternoon heat.
Address: 209 Hougang Street 21, Singapore 530209
Opening hours: Mon-Sat 6am to 3pm, or until sold out
Sun Kee Drinks: Kovan Hawker Stall With $0.30 Soya Bean, Grass Jelly, And Bird's Nest Drinks
---
6. Oyster Cake

---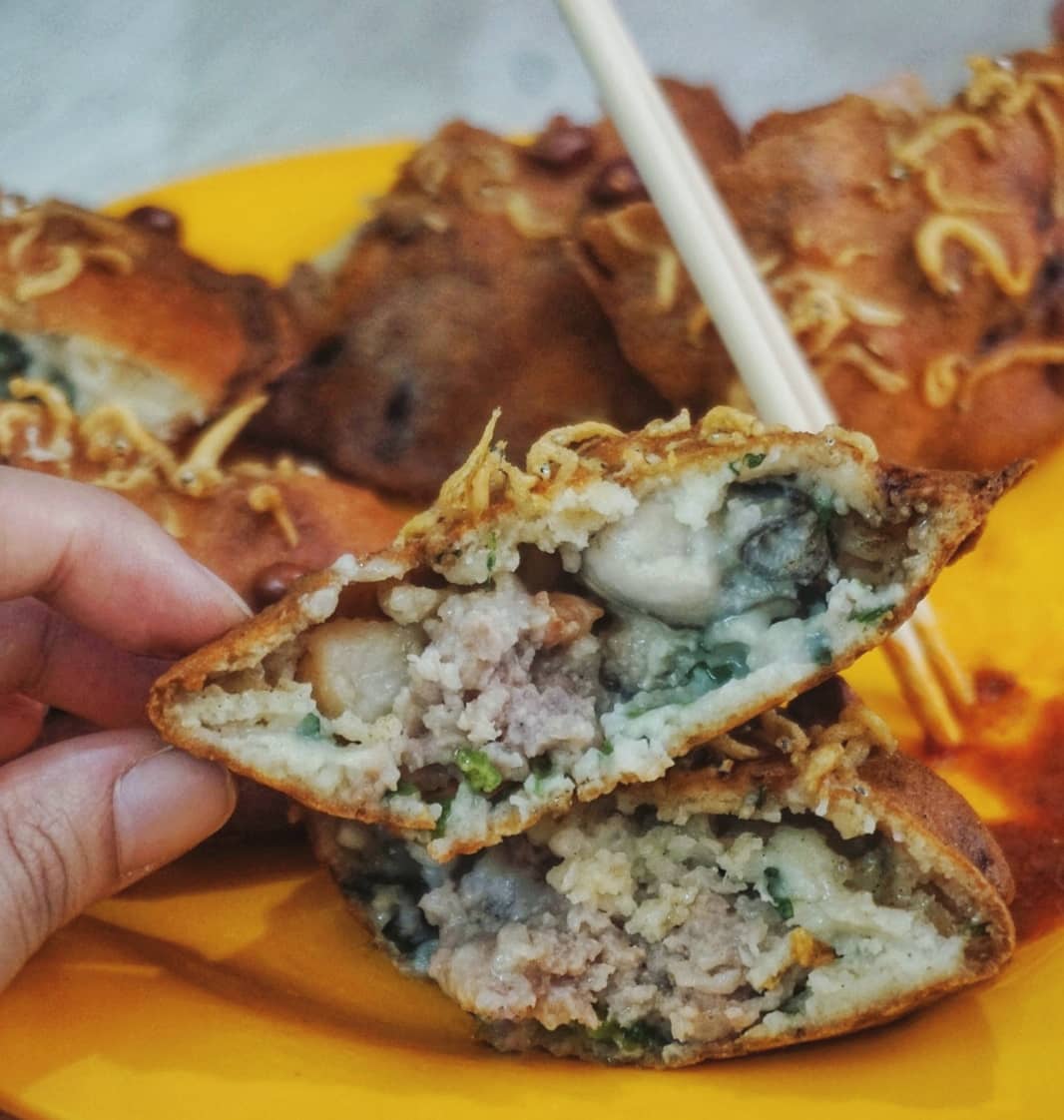 Image credit: @ingredientsofhappiness
Fried oyster cakes are a familiar sight at pasar malams, but there's a lot more history that goes into this disappearing street food classic. Hailing from Fujian, China, these UFO oyster cakes are akin to vadai, stuffed with a medley of fillings, that often include oysters. You don't find many stalls selling these anymore, but there are a couple of notable stalls still frying these fresh daily, including Maxwell Fuzhou Oyster Cake, and Fu Zhou Poh Hwa Oyster Cake at Jalan Besar.
Fu Zhou Poh Hwa Oyster Cake
Address: 166 Jalan Besar, #02-34, Singapore 208877
Opening hours: Wed-Mon 10:30am to 6pm
Tel: 8112 5286
Maxwell Fuzhou Oyster Cake
Address: 1 Kadayanallur Street, #01-05, Singapore 069184
Opening hours: Mon-Sat 9am to 8pm
---
7. Roti Jala
---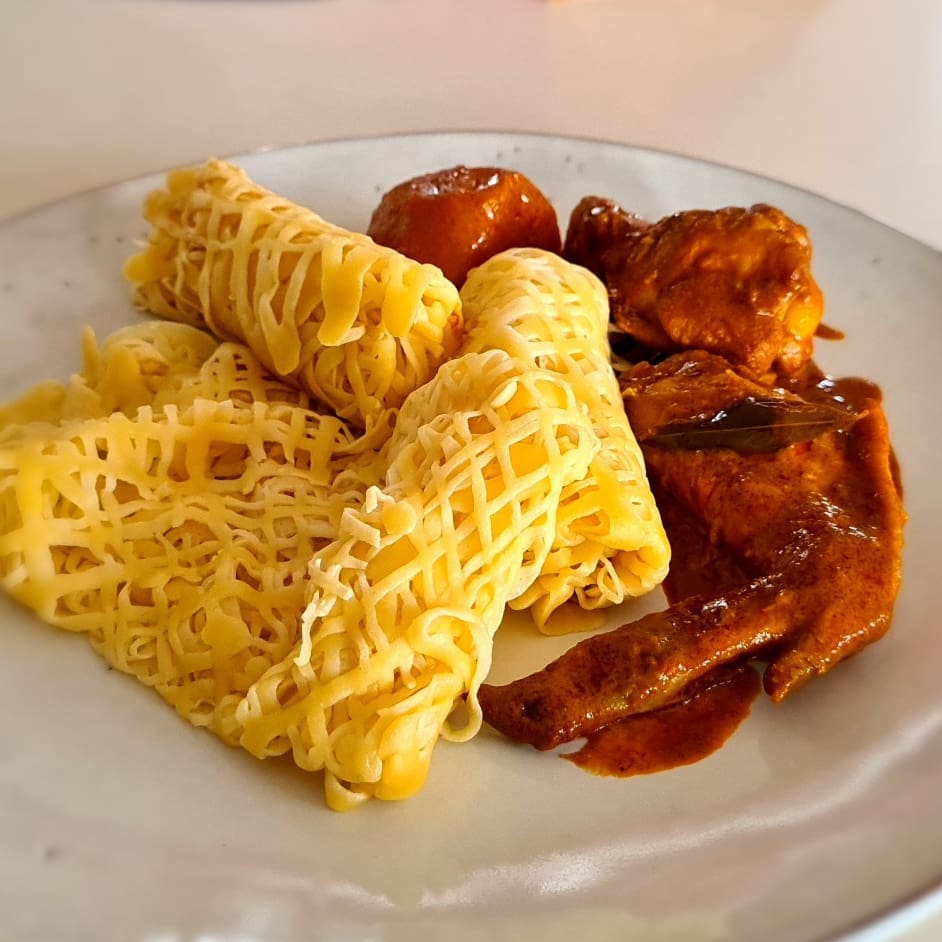 Image credit: @sudhirtv
Whether you call it roti kirai or roti jala, these delicious, lacy pancakes are a rare sight in hawker centres. Best enjoyed for breakfast, roti jala is often served with a spicy bowl of chicken curry, which you can dip these netted pancakes into for extra oomph. Get them while you still can at GS Oli, a prata food stall at Geylang Serai Market and Food Centre, which still makes these fresh.
Address: Geylang Serai Market, #02-138, Singapore 402001
Opening hours: Tue-Sun 5:30am to 3pm
Tel: 8261 5719
---
8. Tau Kwa Pau
---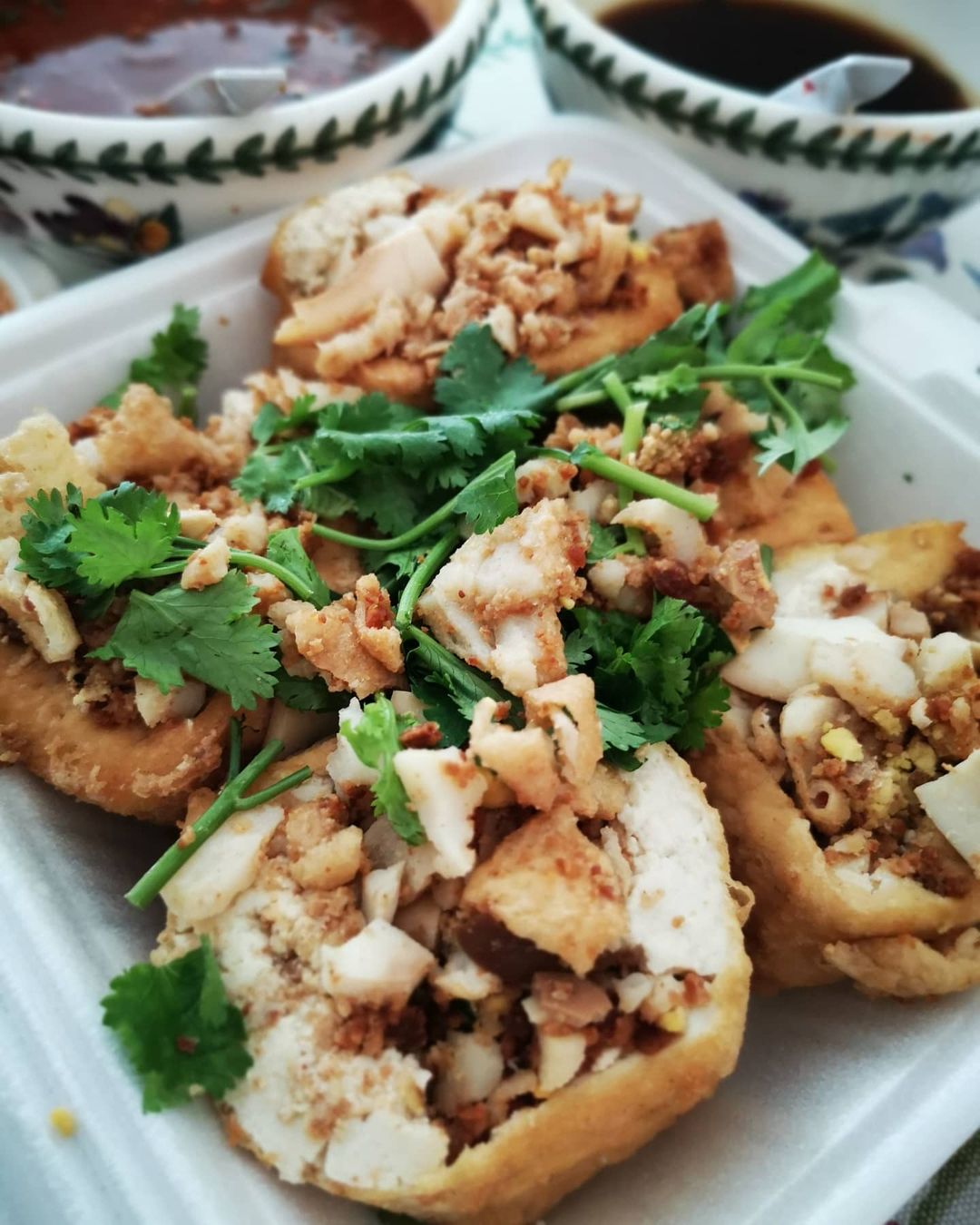 Image credit: @thewonglist
Tau kwa pau used to be a regular fixture at duck rice stalls, but these days, you'll be hard-pressed to find it at more than a handful of hawkers islandwide.
Tau kwa pau features deep-fried tofu stuffed with fried fishcake, cucumber, braised egg, and fried yam, all chopped to a mince. You then dip this piping hot morsel into gravy, as well as sweet chilli, before feasting. You can still get these at the OG inventor of tau kwa pau, Say Seng Tau Kwa Pau, which has been churning out these snackable bites since 1959.
Address: 271 Onan Road, Singapore 424768
Opening hours: Tue-Sat 7:30am to 4pm,
Tel: 9488 7736
---
9. Glutinous Rice
---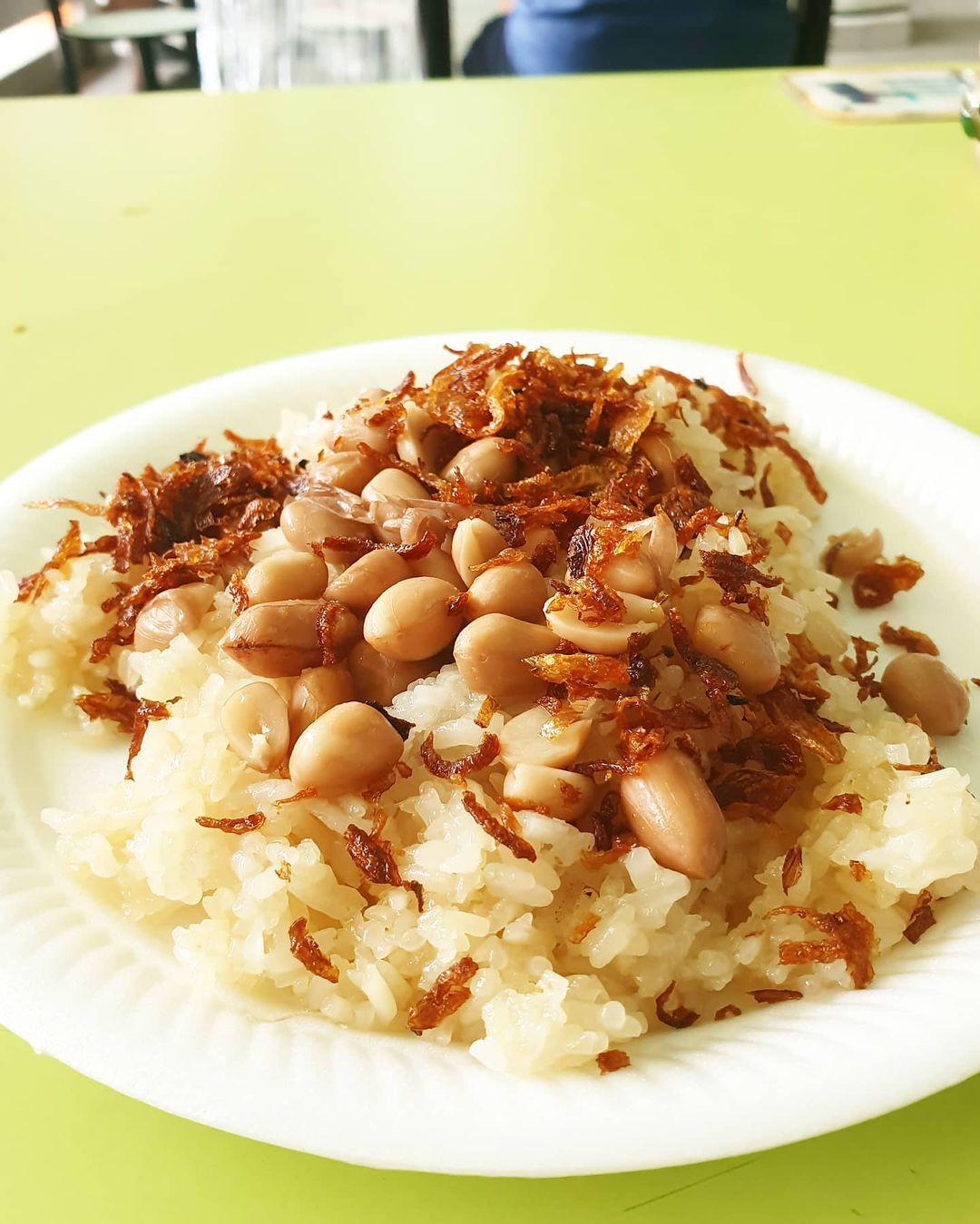 Image credit: @maxisees
No, we're not talking about the glutinous rice in your bak zhang or lor mai gai, but glutinous rice done the traditional Cantonese way: sweet or salty, topped with peanuts and fried shallots. Millenium Glutinous Rice at Chinatown Complex Hawker Centre sells this rare dish for $2 a plate, so the next time you're in the 'hood, get yourself a plateful for snack time.
Address: 335 Smith Street, #02-092, Singapore 050335
Opening hours: Mon-Sat 7:30am to 12pm
---
10. White Rojak
---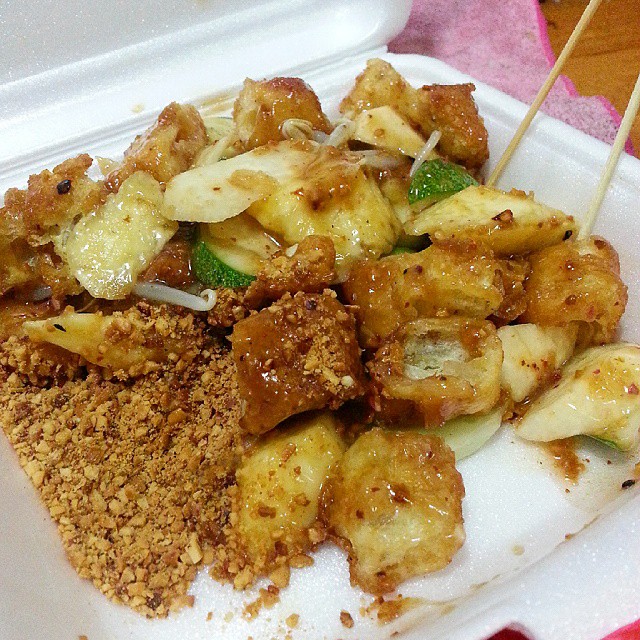 Image credit: @shadowfreak86
We're more familiar with black rojak and Indian rojak, not so much so with white rojak, which comes with sour plum sauce. Try this out for yourself at Black & White Rojak, a stall at Hougang. Each packet (from $4) comes with all the usual suspects found in rojak, from turnips to cucumber, and puffs of you tiao. All of these are drenched in a sour plum sauce that has quite a bit of bite, and it is recommended you try this with chilli for extra kick.
Address: 684 Hougang Ave 8, #01-983, Singapore 530684
Opening hours: Fri-Wed 11am to 8pm
---
Rare and lesser-known hawker food in Singapore
---
We hope this list has inspired you to try out some of the rare hawker dishes in our culinary scene. If you know of any more we should try, let us know your favourite rare hawker dishes in the comments!
Otherwise, check out our guide to old-school kaya toast stalls, and traditional bakeries in Singapore for more heritage eats.
16 Traditional Bakeries In Singapore For Old-School Banana Pie, Orh Nee Tarts And More
The post 10 Rare Hawker Dishes You Should Try Before They Are Gone, Including Wah Kueh, Roti Jala And Tau Kwa Pau appeared first on EatBook.sg – New Singapore Restaurant and Street Food Ideas & Recommendations.