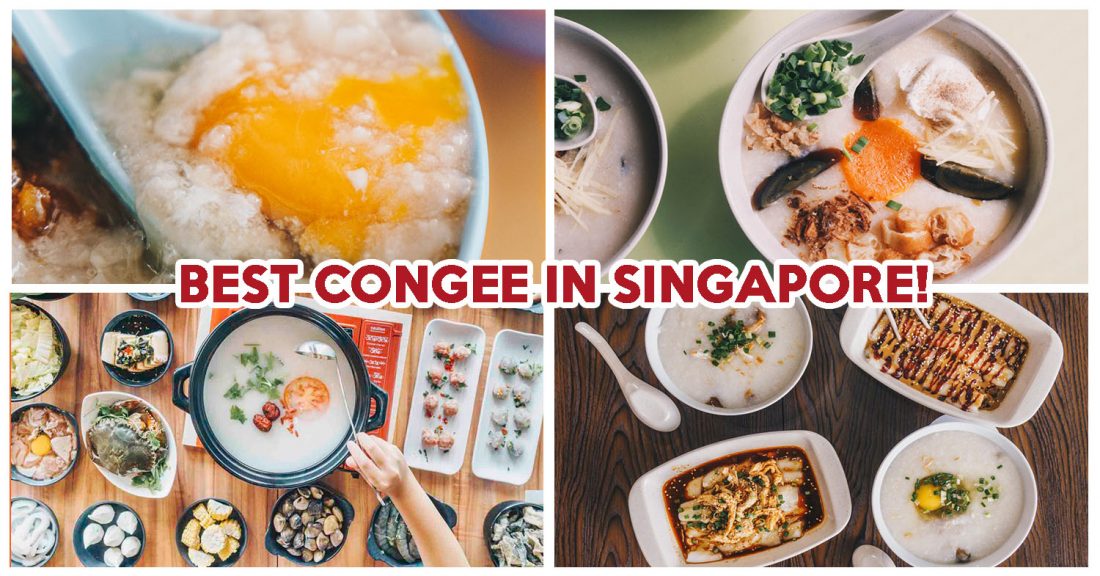 ---
Best porridge in Singapore
---
What looks effortlessly simple in a bowl of porridge actually requires a lot more expertise than you think. A staple comfort food for many of us, here is our selection of 10 porridge stalls in Singapore, selling different styles of congee, from Cantonese to Hainanese.
---
1. Happy Congee
---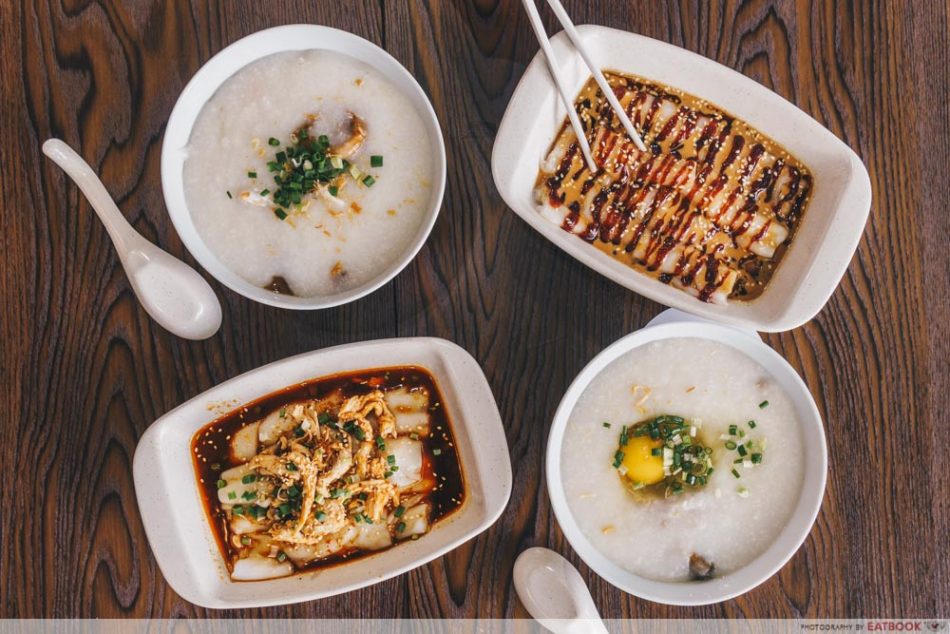 If you happen to be in the Bendemeer area, do drop by Happy Congee for hearty bowls of porridge and unique chee cheong fun creations to go along with. Those preferring the classics can opt for the Black Iberico Pork Congee ($5), while those looking to splurge a bit can go for the Seafood Abalone Congee ($8). 
For chee cheong fun, the Triple Sauce Rice Noodle Roll ($3.50) is on the sweeter side, dressed with peanut, sweet, and light soy sauces. Stans of ma la xiang guo, their Mala Chicken Shredded Rice Noodle Roll ($5) offers that numbing sensation many of us so crave.
Check out our Happy Congee review!
Address: 380 Jalan Besar, ARC 380, Singapore 209000
Opening hours: Daily 8:30am to 2:30pm, 5:30pm to 8:30pm
Happy Congee Review: Handmade Mala Chee Cheong Fun And Abalone Congee At Bendemeer
---
2. Soon Lee Porridge
---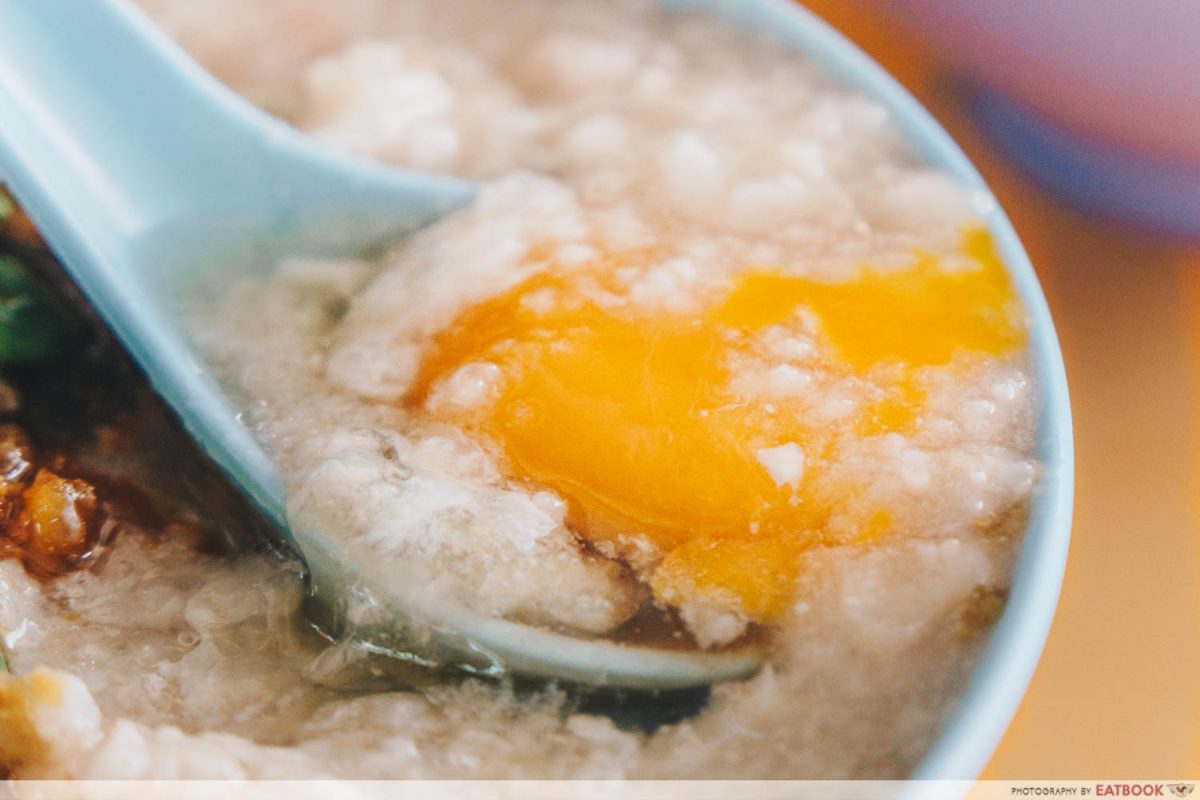 Those preferring their porridge to be more gao should try Soon Lee Porridge, serving theirs Hainanese-style at Clementi Market And Food Centre. Some say simplicity is the ultimate sophistication, and this stall embodies that in their Pork, Fish, and Chicken Porridge. Starting from an affordable $3, do pay them a visit if you're looking for a no-frills dining option.
Read our full Soon Lee Porridge review.
Address: 448 Clementi Avenue 3, #01-50, Clementi Market & Food Centre, Singapore 120448
Opening hours: Mon-Fri 6am to 7pm, Sat 6am to 4pm
Website
Soon Lee Porridge Review: Famous Hainanese Porridge Under $4 At Clementi Food Centre
---
3. Congee Legend Hot Pot
---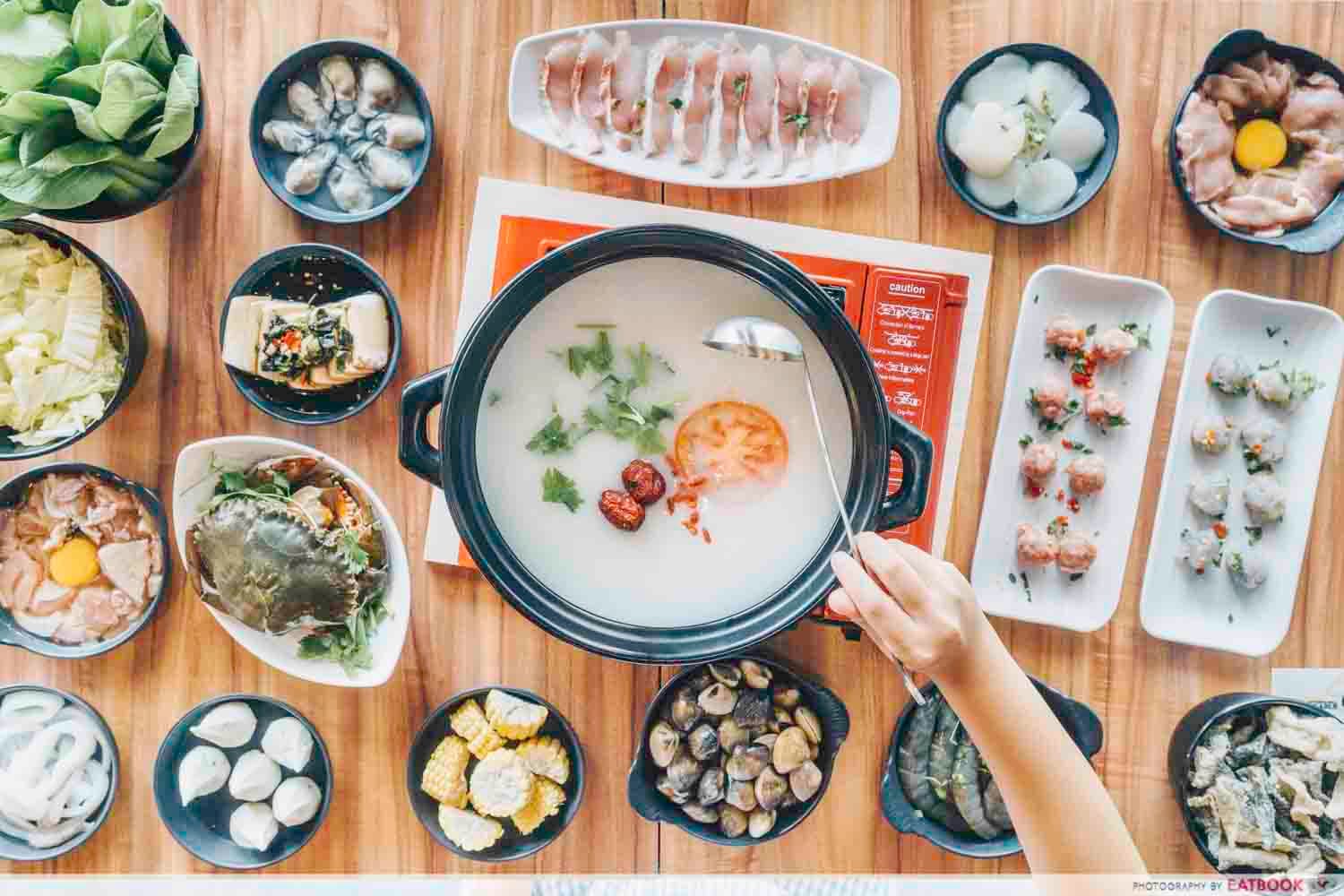 Unlike your conventional steamboat restaurants, Congee Legend Hot Pot is a unique place for porridge in Singapore as they offer a congee-hotpot hybrid. They use mainly Guangdong cooking influences, with a congee-based broth that's lighter on the palate. 
Located around Lavender, their Porridge Base ($3++ per person) goes well with their extensive spread of menu items featuring meat, vegetables and other delicacies like Fishball With Roe ($5++). What sets them apart is their diverse seafood selection including Seasonal Crab (seasonal price), Oysters ($5++) and Scallops ($8++).
Take a look at our Congee Legend Hot Pot review!
Address: 6001 Beach Road, #01-52, Golden Mile Tower, Singapore 199589
Opening hours: Daily 5pm to 5am
Tel: 9115 6524
Website
Congee Legend Review: Unique Congee Hotpot In Singapore With Prawn Head Porridge, Beef Karubi Slices And More
---
4. Weng Kiang Kee
---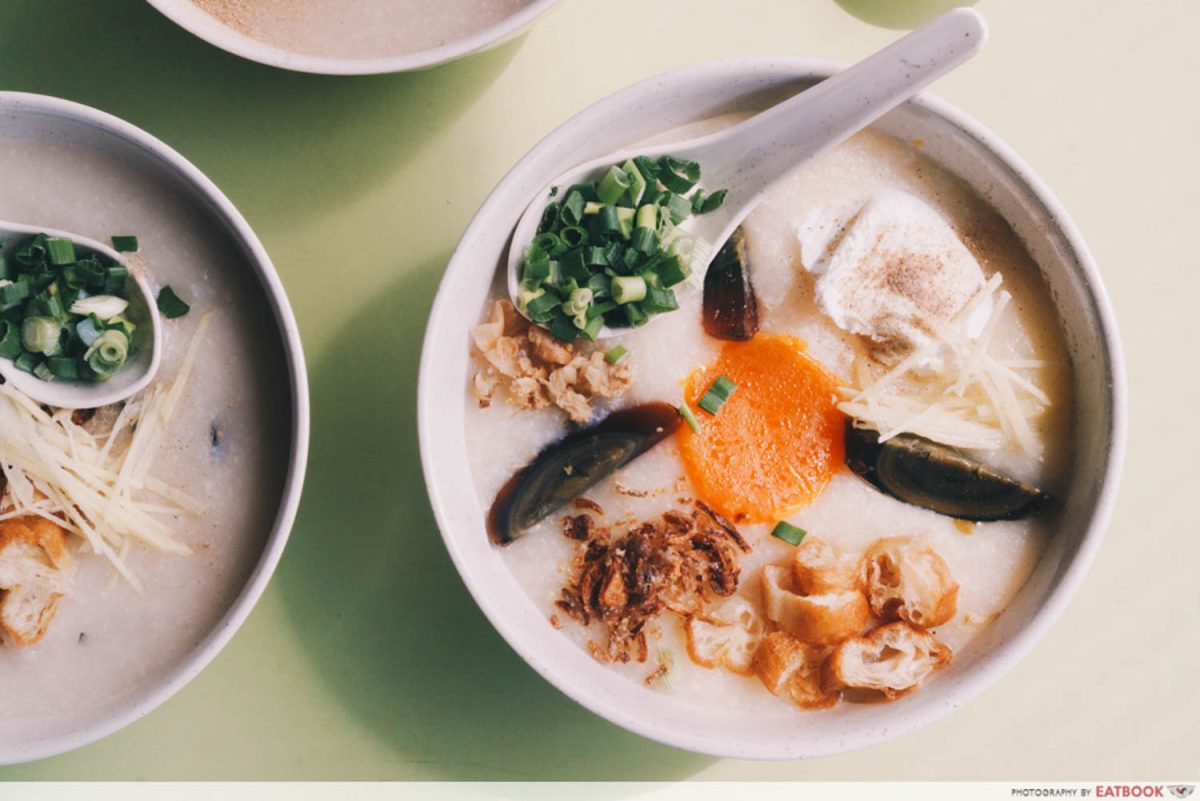 Opened by an ex-hotel chef with numerous years of experience, Weng Kiang Kee focuses on using traditional cooking methods to preserve the high-quality standards of Hainanese-style porridge.
We'd recommend getting the Premium Porridge ($5), including mixed pork like lean pork slices, minced pork balls, liver, and even pig fallopian tubes added in. That's not all, it also has seafood like abalone slices, cuttlefish, and snakehead fish to top it off. 
Those who prefer a more protein-rich choice can go for the Triple Egg Porridge ($3.50). It has salted egg yolk in the middle, together with a poached egg and century eggs to go along with.
Check out our Weng Kiang Kee review.
Address: 335 Smith Street, #02-082, Chinatown Food Complex, Singapore 050335
Opening hours: Wed-Sun 7am to 1pm
Website
Weng Kiang Kee Porridge Review: Traditional Hainanese Porridge By Ex-Hotel Chef At Chinatown
---
5. Botak Delicacy
---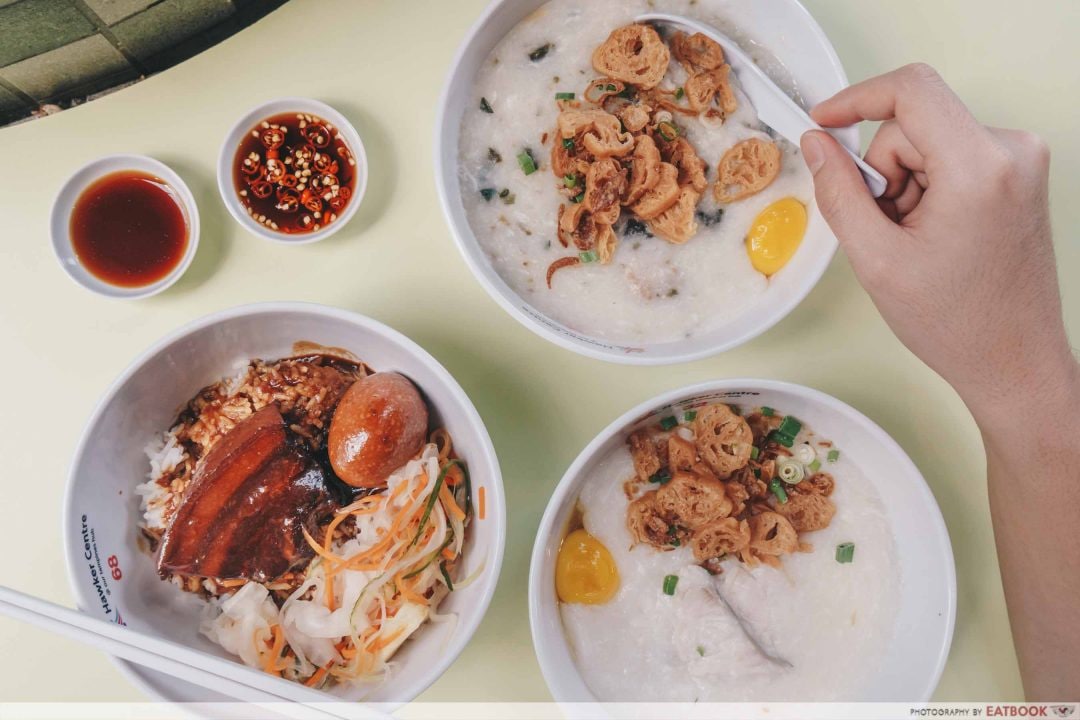 Don't let their humorous name fool you, Botak Delicacy actually specialises in Cantonese-style congee and is run by a family of hawkers in Our Tampines Hub Hawker Centre.
A HK-style favourite would be the Century Egg With Lean Meat Porridge ($3.50), with their handmade meatballs an underrated feature to the dish. What's unique is their alternative Taiwanese Braised Pork Rice ($3.50) option, served with a large slab of braised pork belly for good measure for fans of lu rou fan.
Have a read of our Botak Delicacy review!
Address: 1 Tampines Avenue, #01-65, The Hawker Centre @ Our Tampines Hub, Singapore 529684
Opening hours: Daily 7am to 10.30pm
Tel: 9021 8211
Website
Botak Delicacy Review: Must-Try Cantonese Pork Congee By A 21-Year-Old At Tampines
---
6. Sin Heng Kee
---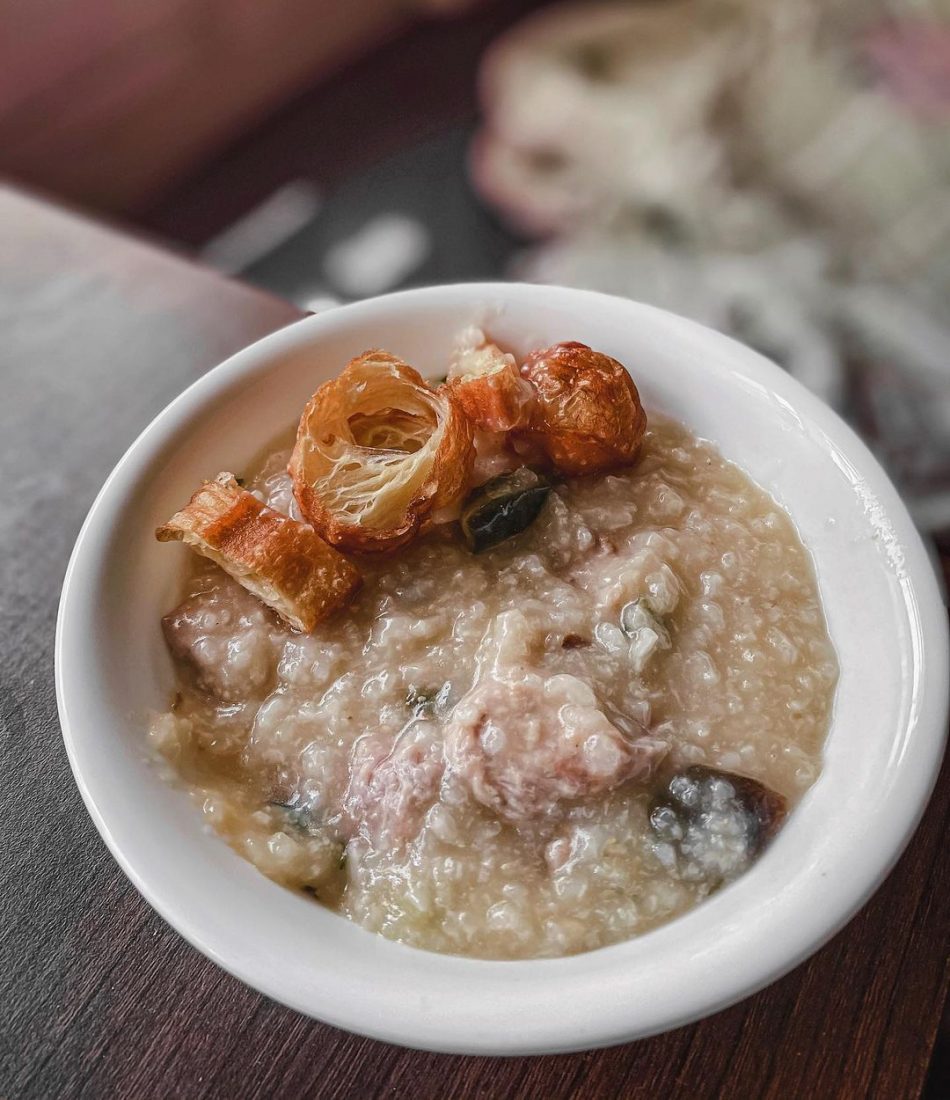 Image credit: @hungrlyn
If you love being spoilt for choice, check out Sin Heng Kee's extensive porridge menu, including claypot options too. Regulars favour their Signature Porridge ($6), which comes with a multitude of ingredients like cuttlefish, fish, chicken, pig's liver, pig's intestines, sliced pork, minced pork, and century egg.
If not, consider their Claypot Frog Porridge ($8) for fans of the local delight, or the Century Egg And Meatball Porridge ($4.50) for a Cantonese classic.
Address: 685 Hougang Street 61, #01-150, Singapore 530685
Opening hours: Daily 7am to 8pm
Tel: 9118 1569
Website
---
7. Chai Chee Pork Porridge
---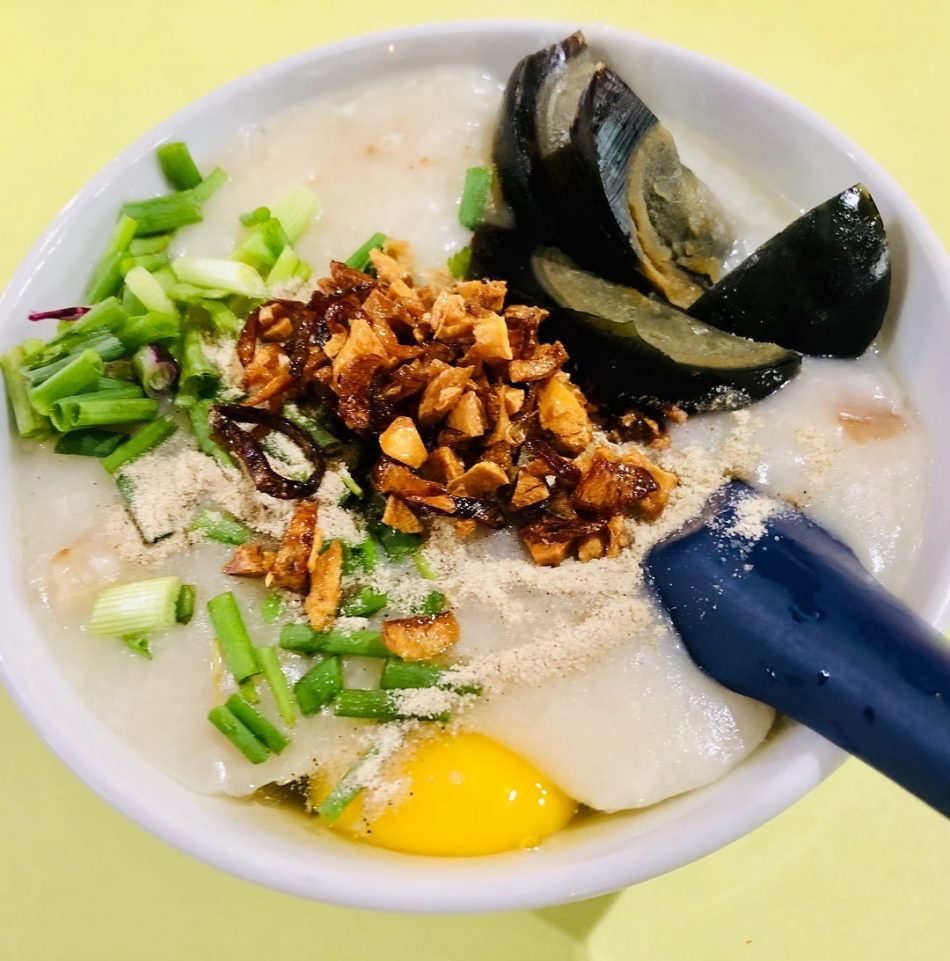 Image credit: @jamietan04
Yet another asset coming from Bedok 85 Fengshan Food Centre, Chai Chee Pork Porridge, is ideal for satisfying your late-night hunger pangs with their tummy-warming congee.
Their specialty Pork Porridge ($3.50) features their juicy pork meatballs and is served with the all-important you tiao. For something lighter on the palate, try the Cuttlefish Porridge ($3.50) or Fish Porridge ($4) for your dose of seafood. 
Address: 85 Bedok North Road, #01-64, Fengshan Hawker Centre, Singapore 470085
Opening hours: Thurs-Tue 5pm to 2am
10 Bedok 85 Fengshan Food Centre Stalls To Visit For Famous Pork Porridge, Satay Bee Hoon And More
---
8. Zhen Zhen Porridge
---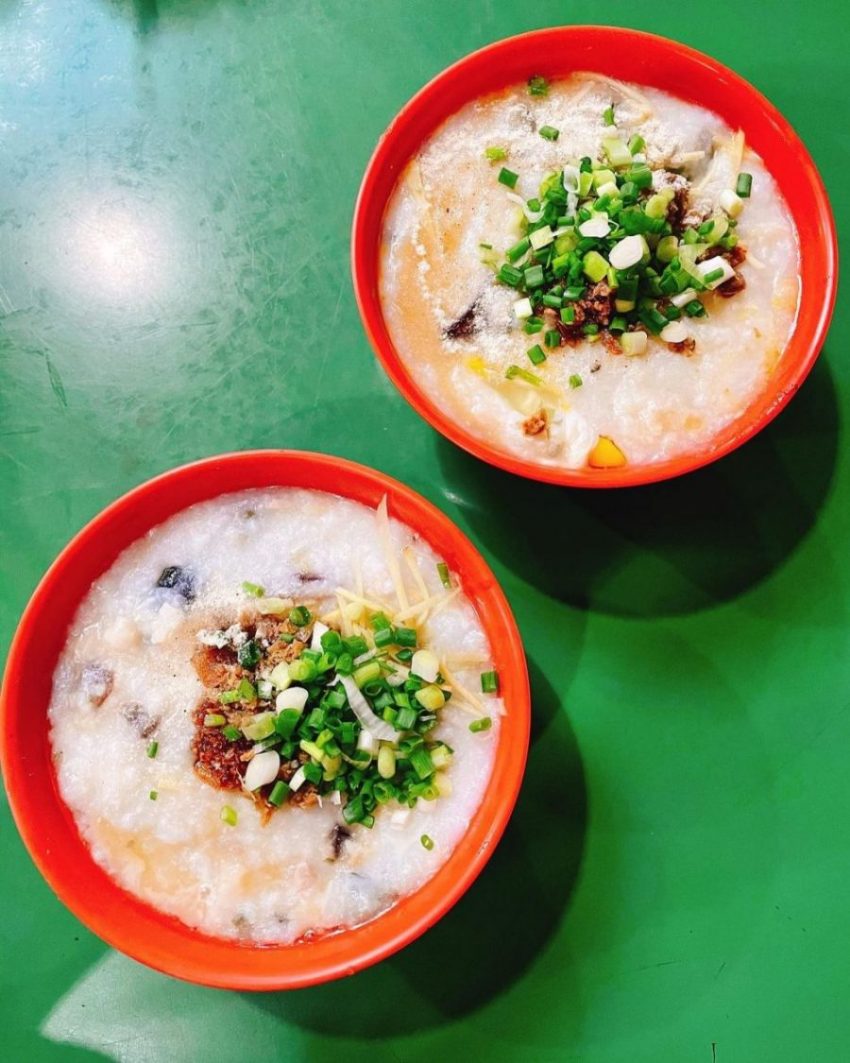 Image credit: @platesofyums
If you happen to be part of the office crowd scouring the CBD for lunch options, consider Zhen Zhen Porridge in Maxwell Food Centre for an appetising bowl of porridge.
What's special is their Fish Belly Porridge ($3), comprising a fat-rich fish part not commonly ordered because of the relatively larger quantity of fish bones than usual that you have to deal with. 
Alternatively, their classics like Sliced Fish, Shredded Chicken And Century Egg Porridge ($3) gives you the best of all three worlds at a wallet-friendly price too.
Address: 1 Kadayanallur Street, #01-54, Maxwell Food Centre, Singapore 069184
Opening hours: Wed, Fri-Mon 5.30am to 2.30pm
20 Maxwell Food Centre Stalls Including $1 Noodles, Curry Chee Cheong Fun, And Ondeh-Ondeh For CBD Lunches
---
9. Mui Kee
---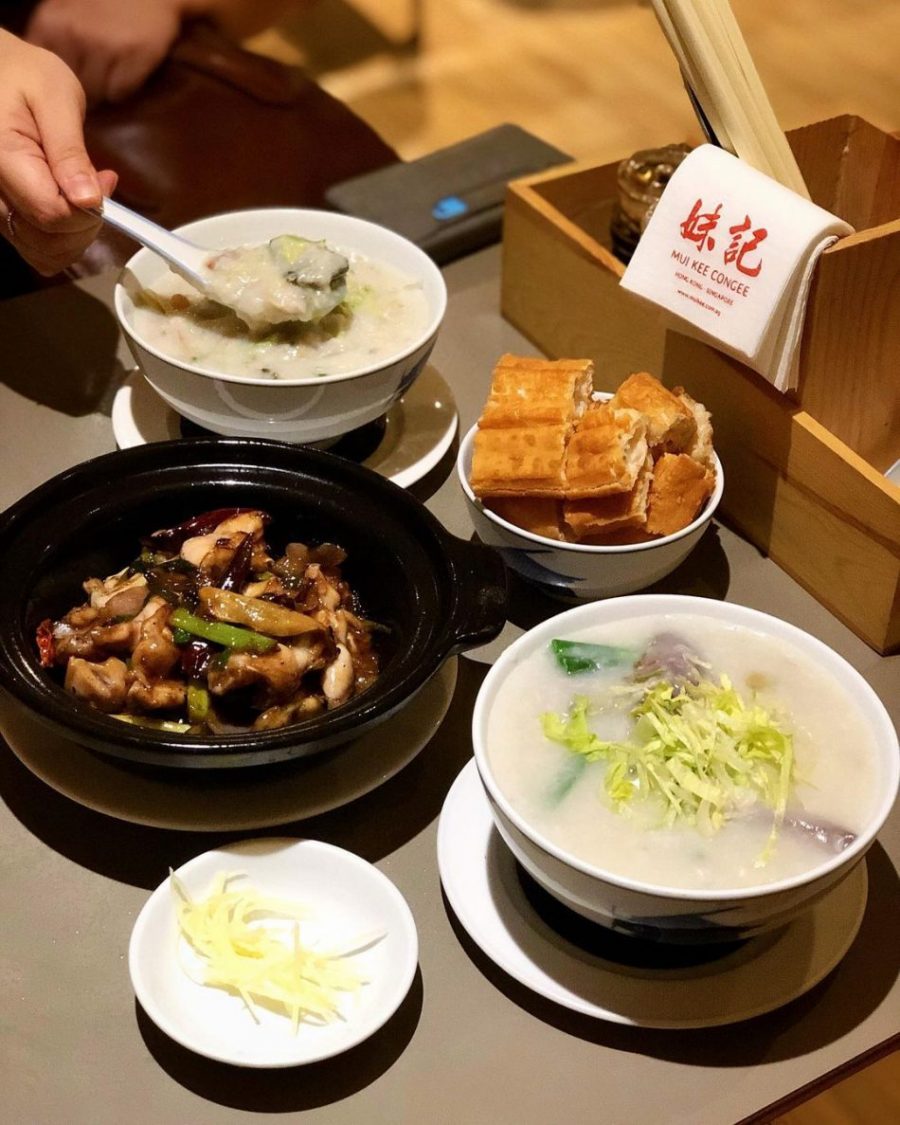 Image credit: @low_winnie
A corner stall success in Hong Kong, Mui Kee has brought their third-generation congee recipe into Singapore, setting up shop at Shaw House in Orchard. Perennial favourites include their Parrot Fish Belly ($11.80++) and Dace Fish Balls ($9.80++) congee, which are highly-acclaimed. 
If you're feeling slightly more boujee than usual, opt for the Alaskan Crab Legs ($22++) or Hokkaido Scallops And Braised Baby Abalone ($20++), which are their premium offerings. Apart from that, they sell a wide variety of noodles, cheong fun, claypot, desserts, and side dishes as well, so there's something for everyone here.
Address: 1 Scotts Road, #01-12, Shaw House, Singapore 228208
Opening hours: Mon-Fri 11.30am to 2.30pm, 5.30pm to 9pm, Sat-Sun 8am to 9pm
Tel: 6737 2422
Website
---
10. Xian Ji Porridge
---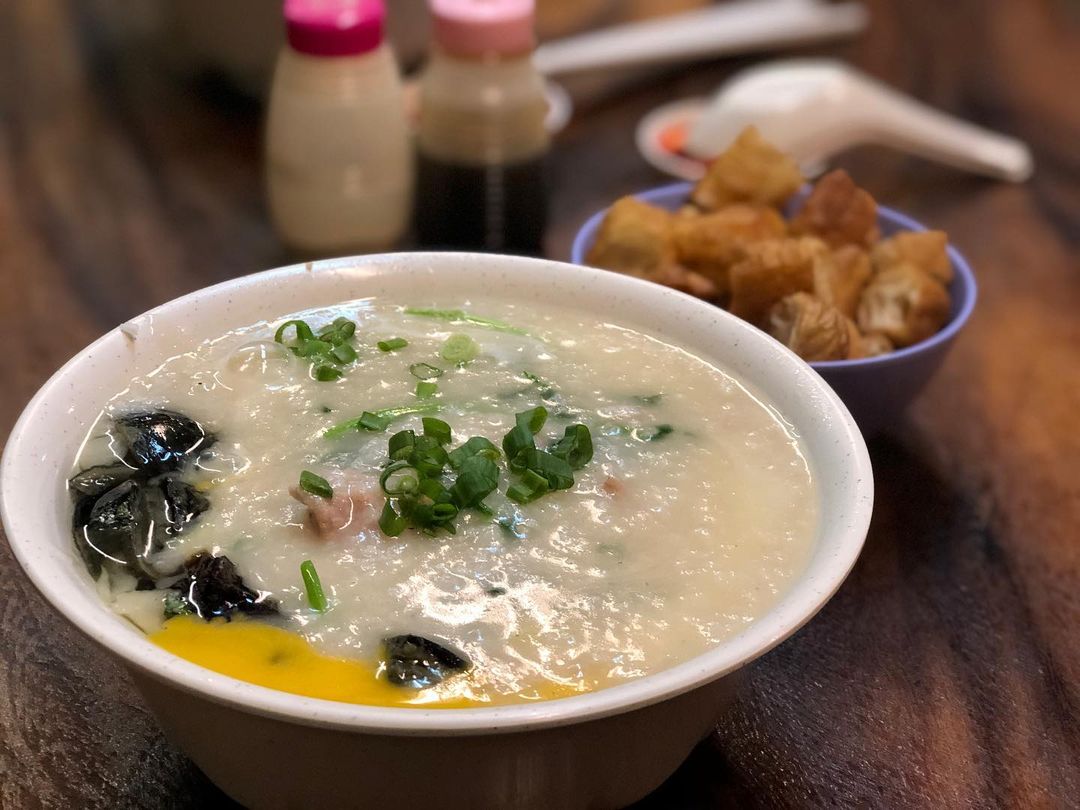 Image credit: @marketkitchentable
Apart from the never-ending series of cafes popping up in Tiong Bahru, Xian Ji Porridge's old-school and no-nonsense approach to their Cantonese porridge are what makes them tick. A crowd favourite is the Century Egg Minced Pork Porridge With Watercress ($7), due to the abundance of ingredients making it filling enough for most people. 
Most of their dishes are slightly pricier than usual, but with that, you are assured of the absolute freshness and high quality of toppings used in their bowls of goodness.
Address: 57 Eng Hoon Street, Singapore 160057
Opening hours: Tue-Sun 7am to 9.30am
Website
---
Congee and porridge in Singapore
---
This list encompasses a solid range of eateries serving tasty bowls of porridge around Singapore, from famed hawker stalls to established overseas porridge specialty restaurants, so do share it with your congee-crazy homies!
12 Jjajangmyeon In Singapore To Try, Including Hawker Options From $7
If rice is your preferred carb, check out our guide to briyanis in Singapore featuring XXL platters and Michelin-approved stalls. Alternatively, if you adore noodles more, read our guide to jjajangmyeon in Singapore, including hawker ones starting at $7.
10 Briyani In Singapore To Try, Including XXL Platters And Michelin-Approved Stalls
The post 10 Porridges In Singapore For HK-Style Congee, Congee Hot Pot And More appeared first on EatBook.sg – New Singapore Restaurant and Street Food Ideas & Recommendations.