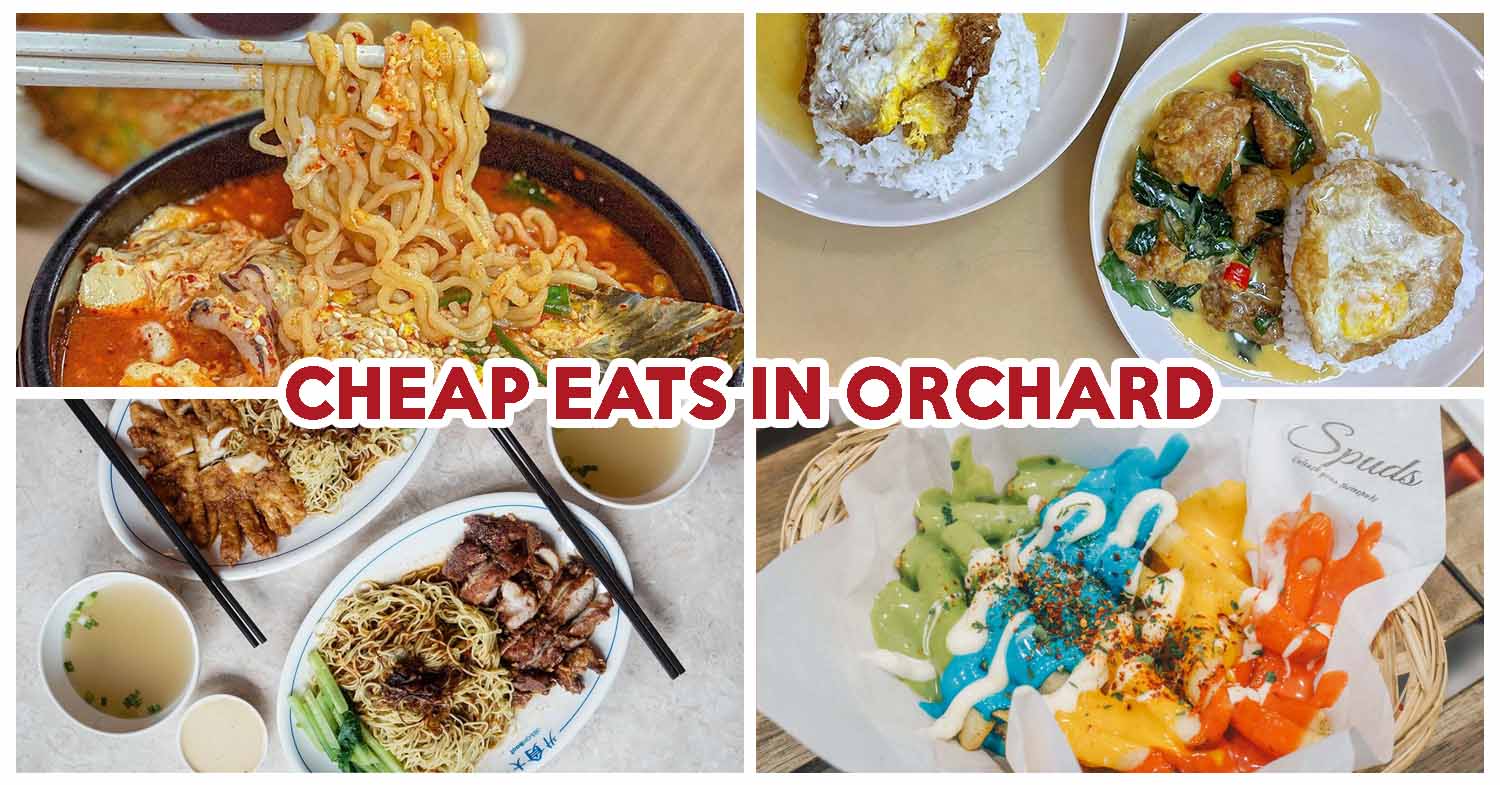 ---
Orchard food
---
Meeting up with my friends in Orchard for a meal used to mean eating at Genki Sushi. But as the food writer among my group of friends, they started asking me for recommendations instead. If you're always looking out for new places to dine at on Singapore's shopping belt, here's our list of 10 low-key Orchard food gems!
---
1. Spuds
---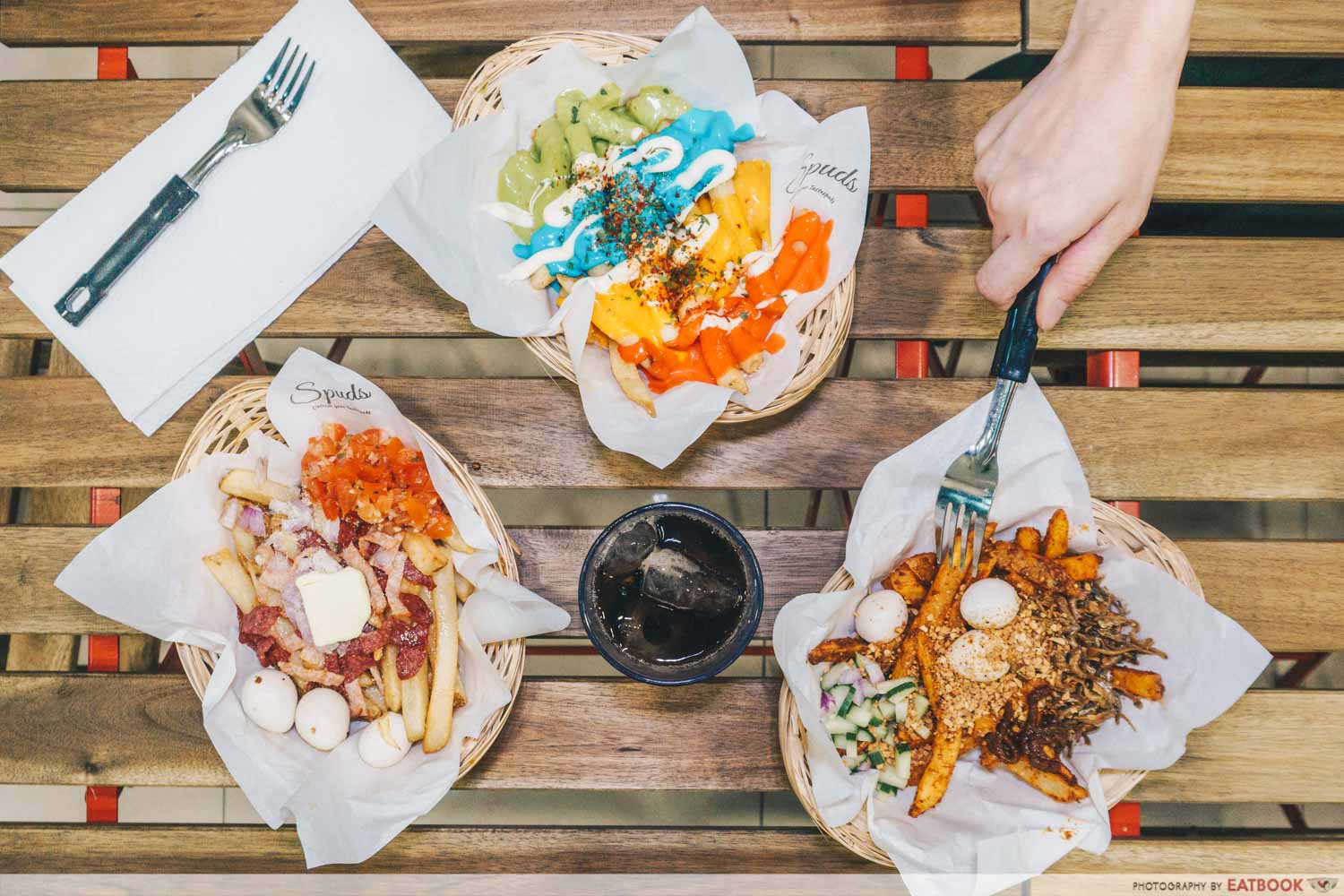 We wouldn't blame you don't know where Midpoint Orchard is. The little-known building is home to Spuds, a Muslim-owned cafe that specialises in French fries, drenched in various sauces. The Unicorn ($7.90) sees the fries covered in rainbow-hued nacho cheese, while there are also locally inspired versions such as Krusty Krab ($6.90), with a chilli crab sauce, and Bolobolo ($7.90), for their take on nasi lemak fries.
Check out our Spuds review!
Address: 220 Orchard Road, Midpoint Orchard, #B1-07, Singapore 238852
Opening hours: Tues-Sun 12pm to 9:30pm
Website
---
2. New Station Snack Bar
---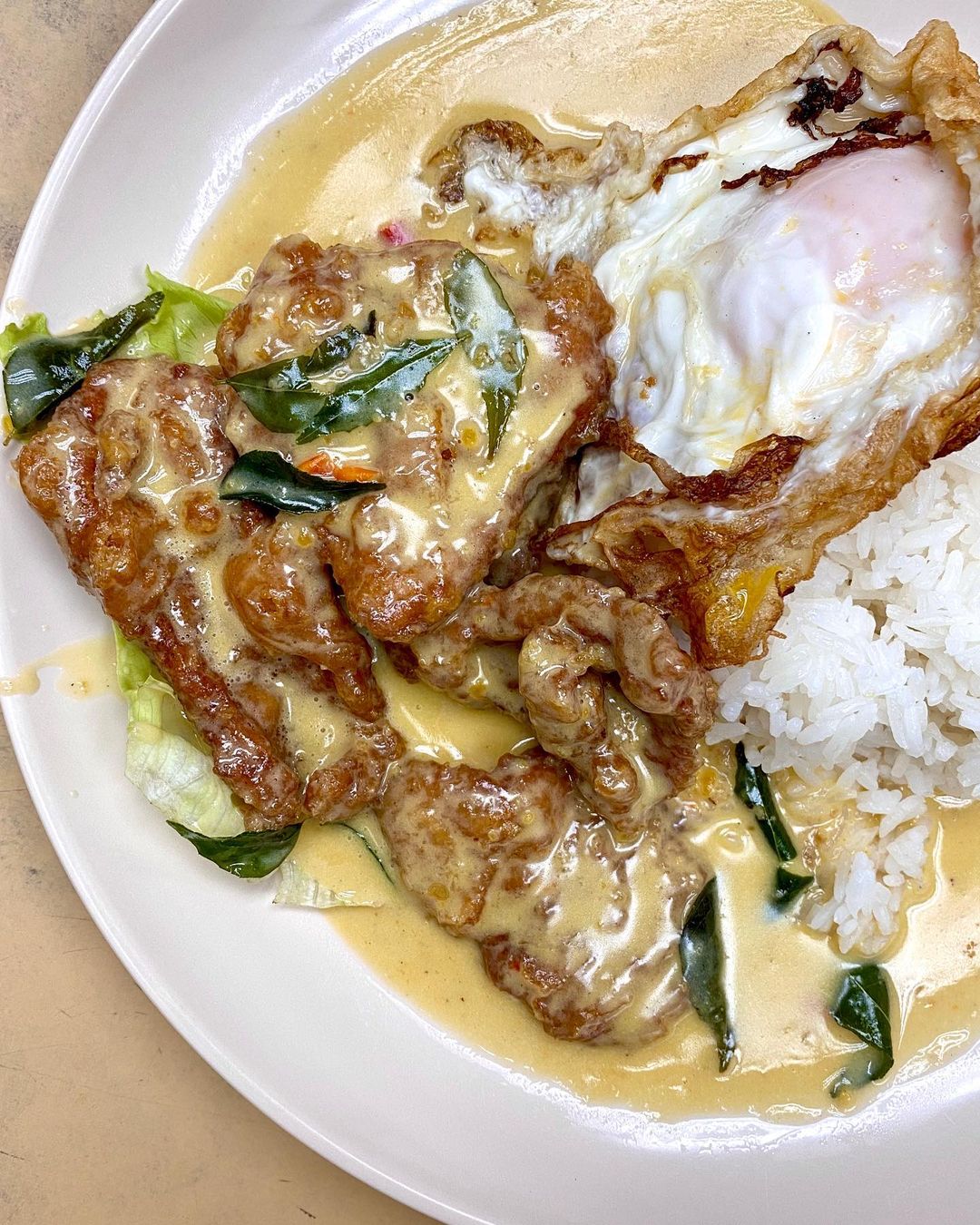 Image credit: @imsohhungry
Nothing seems to go wrong with salted egg yolk, and New Station Snack Bar does a smashing version of Salted Egg Pork Rice ($6.80). Redolent of curry leaves, the creamy and savoury sauce adds depth to the juicy fried chicken. Don't worry about the dish being jelak, as the hints of chilli padi cut through the rich gravy with a fiery kick. If you aren't a salted egg fan, they've also got a signature Marmite Chicken Rice ($6.30) and other zi char dishes.
Unit number: #05-95
Opening hours: Wed-Mon 11am to 9pm, Tues 9am to 9pm
Tel: 6734 2862
Website
---
3. Da Shi Jia
---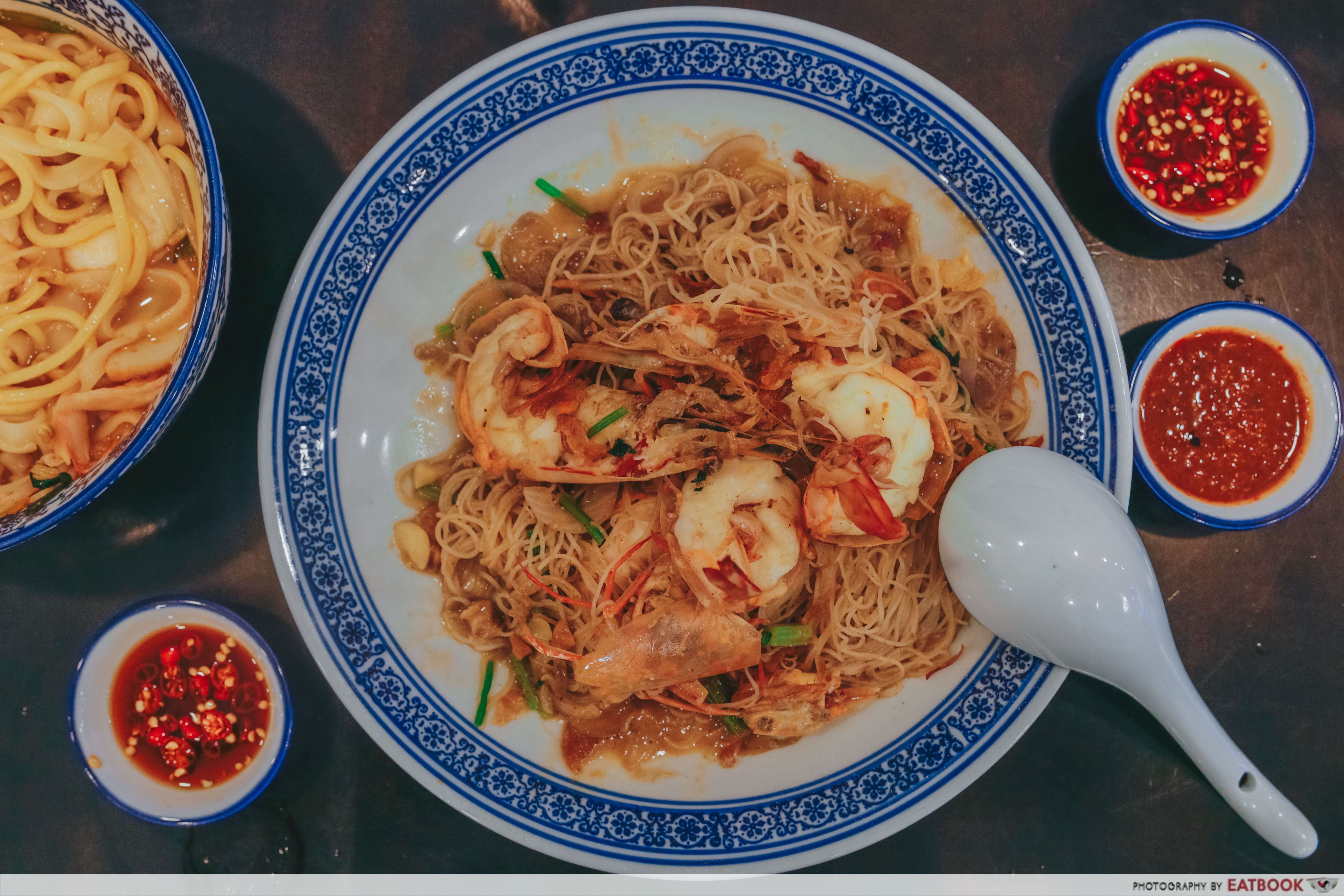 Seafood white bee hoon is a dish most of us have heard of or tried at least once in our life. Da Shi Jia has changed the game by adding big prawns into white bee hoon that is simmered in prawn stock. For $17.80, you can get yourself a plate of their Wok-Fried Big Prawn White Bee Hoon.
Expect three fleshy and springy big prawns, drenched in a flavour-packed gravy that comes with strong wok hei. One more good thing is that you're able to request for a small dish of pork lard to give your white bee hoon an extra oomph.
Check out our Da Shi Jia review!
Address: 89 Killiney Road, Singapore 239534
Opening hours: Daily 11am to 9pm
Tel: 6732 1085
Website
---
4. Hans Im Gluck
---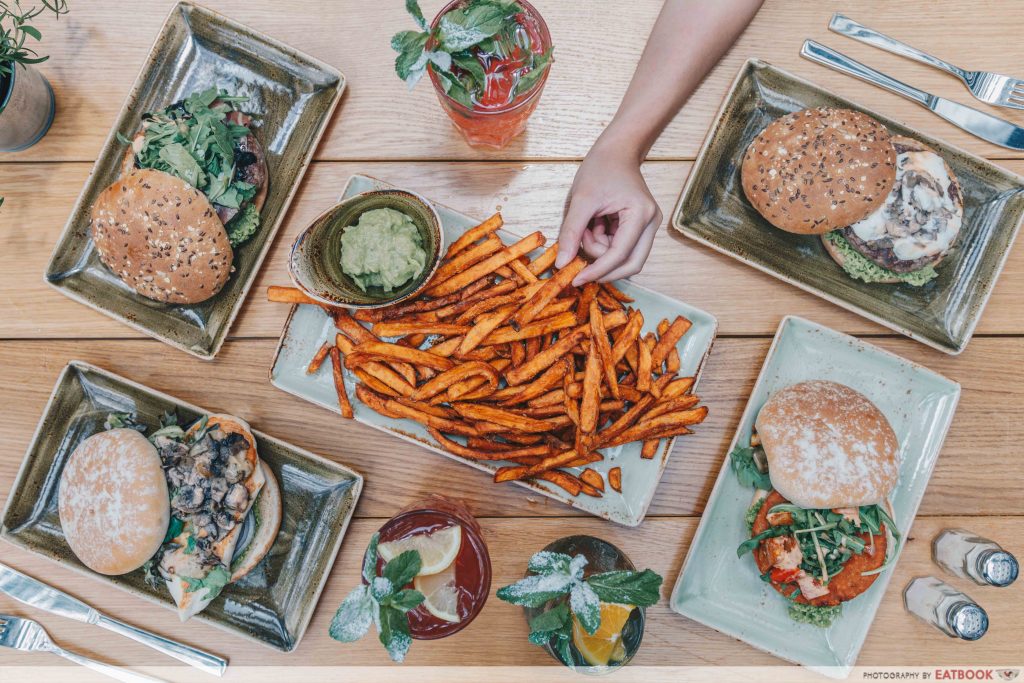 Hans Im Gluck is a burger-and-bar joint that hails all the way from Germany, adding some variety to your Orchard food options. Bearing the restaurant's name, the Hans Im Gluck ($19++) is one of their most popular burgers. A juicy grass-fed beef patty, slices of Parma ham, a mountain of rocket leaves, and Parmesan cheese shavings are sandwiched between two multigrain buns. If you've got a non-meat-eating friend, you'd be glad to know that they have a range of vegan, and vegetarian burgers as well!
Check out our Hans Im Gluck review!
Address: 362 Orchard Road, International Building, Singapore 238887
Opening hours: Daily 7am to 3am
Tel: 9750 1488
Website
Hans Im Gluck Review: Whimsical Burger Restaurant From Germany At Orchard Road
---
5. My Favourite Cafe
---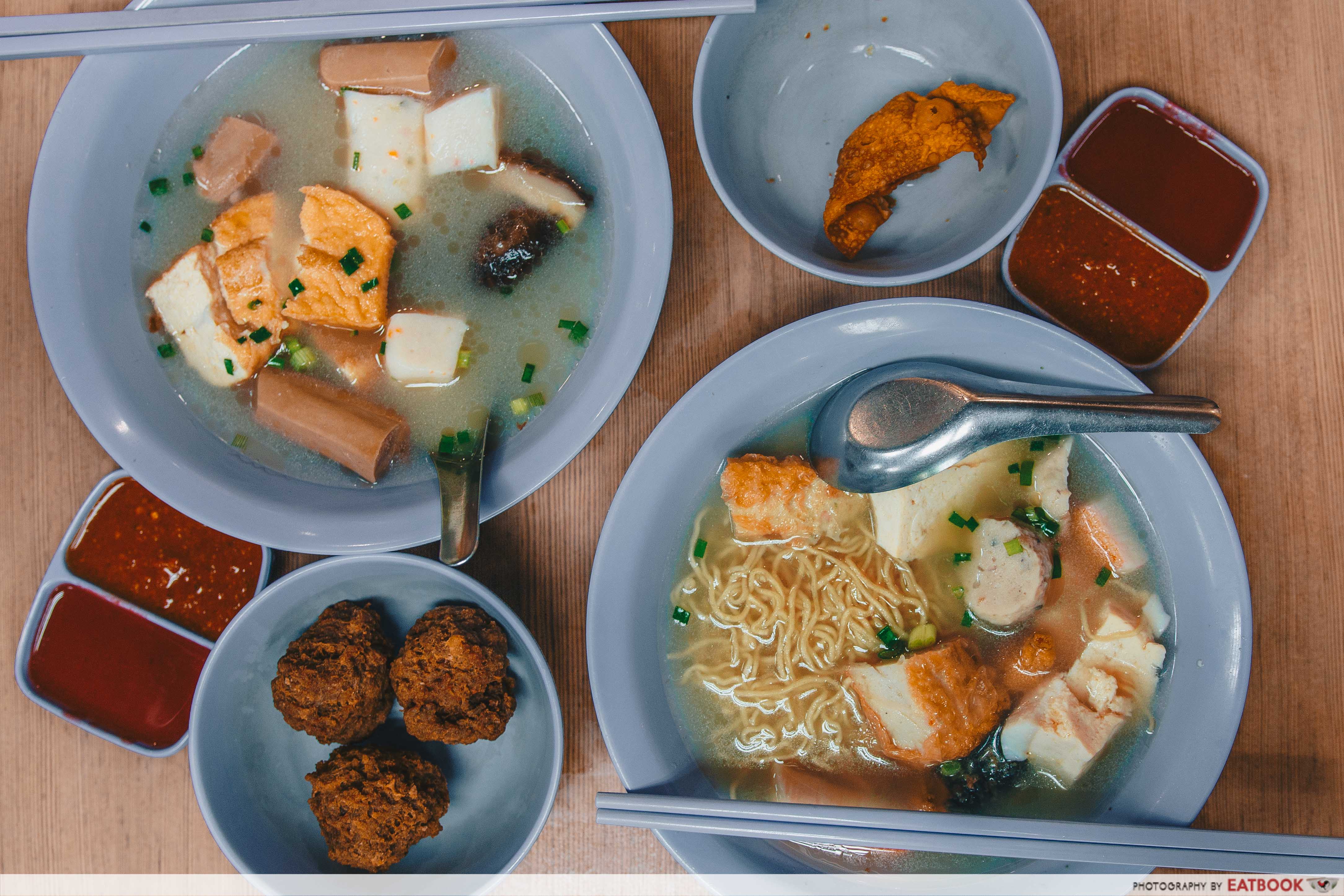 While I often pop by 313 Somerset and ION Orchard, I seldom visit Lucky Plaza. But that is not the case now with the discovery of My Favourite Cafe.
Have your own pick of ingredients for your bowl of yong tau foo, before you're charged accordingly. One thoughtful gesture by the chefs is that they'll put your deep-fried ingredients in a separate bowl to prevent it from turning soggy in the soup. Like most yong tau foo stalls, My Favourite Cafe offers both soup and dry versions. The fried meatballs and braised mushrooms are must-haves here!
Check out our My Favourite Cafe review!
Address: 304 Orchard Road, #06-046/047, Lucky Plaza, Singapore 238863
Opening hours: Mon-Sat 9am to 3pm
Tel: 6734 6935
My Favourite Cafe Review: Affordable And Tasty Yong Tau Foo At Orchard Road
---
6. RedRing Treasures
---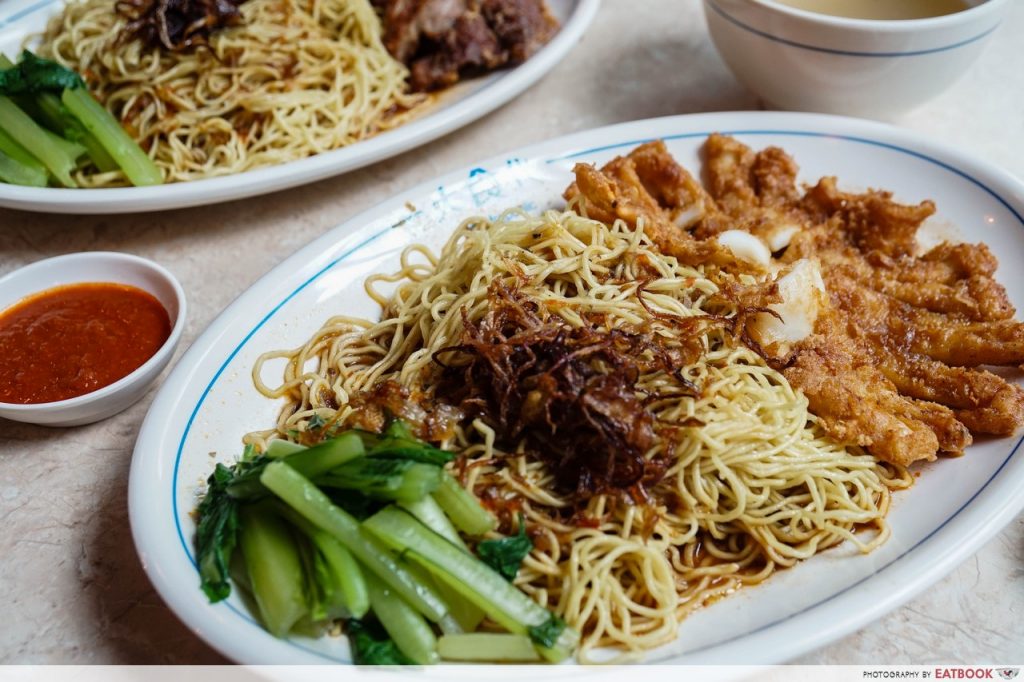 If you're in the Wisma Atria Food Republic, or Takashimaya Food Village, and are at a loss for choices, try RedRing Treasures for some delicious fried food that's made with ancestral recipes. Our favourites here are the RedRing Chicken Cutlet Noodle ($5.50) and RedRing Squid Cutlet Noodles ($7). The chicken cutlet undergoes 24-hour marination, and the QQ noodles are custom-made to their specifications, cooked for precisely 18 seconds.
Check out our RedRing Treasures review!
RedRing Treasures Review: Popular Chicken Cutlet Noodles Found In Orchard
---
7. I Want My Noodle
---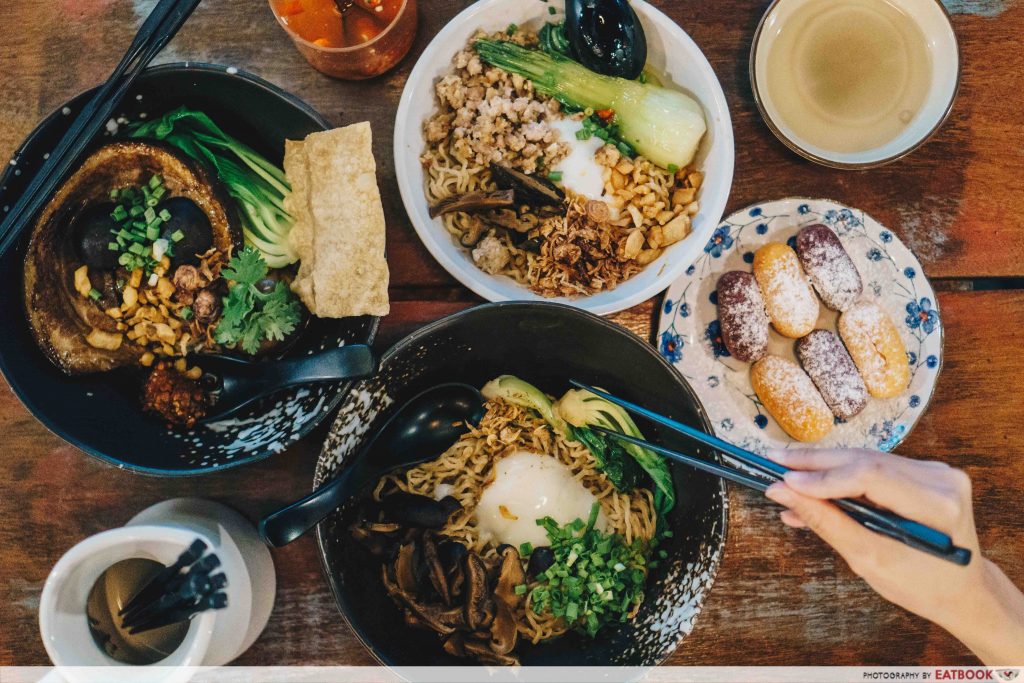 Another low-key but good restaurant to check out in town is I Want My Noodle, which serves up Indonesian bak mie. Some of their interesting dishes are My Lor Bah Noodle ($13.90) and My Truffle Oil Noodle ($10.90). The former comes with a gigantic slab of Japanese-style braised pork belly, while the latter wafts with the aroma of truffle oil, matched with their springy noodles.
Check out our I Want My Noodle review!
Address: 1 Scotts Road, 03-14/15, Shaw Centre, Singapore 228208|
Opening hours: Daily 10am to 10pm
Tel: 6235 2331
Website
---
8. The Rice Table
---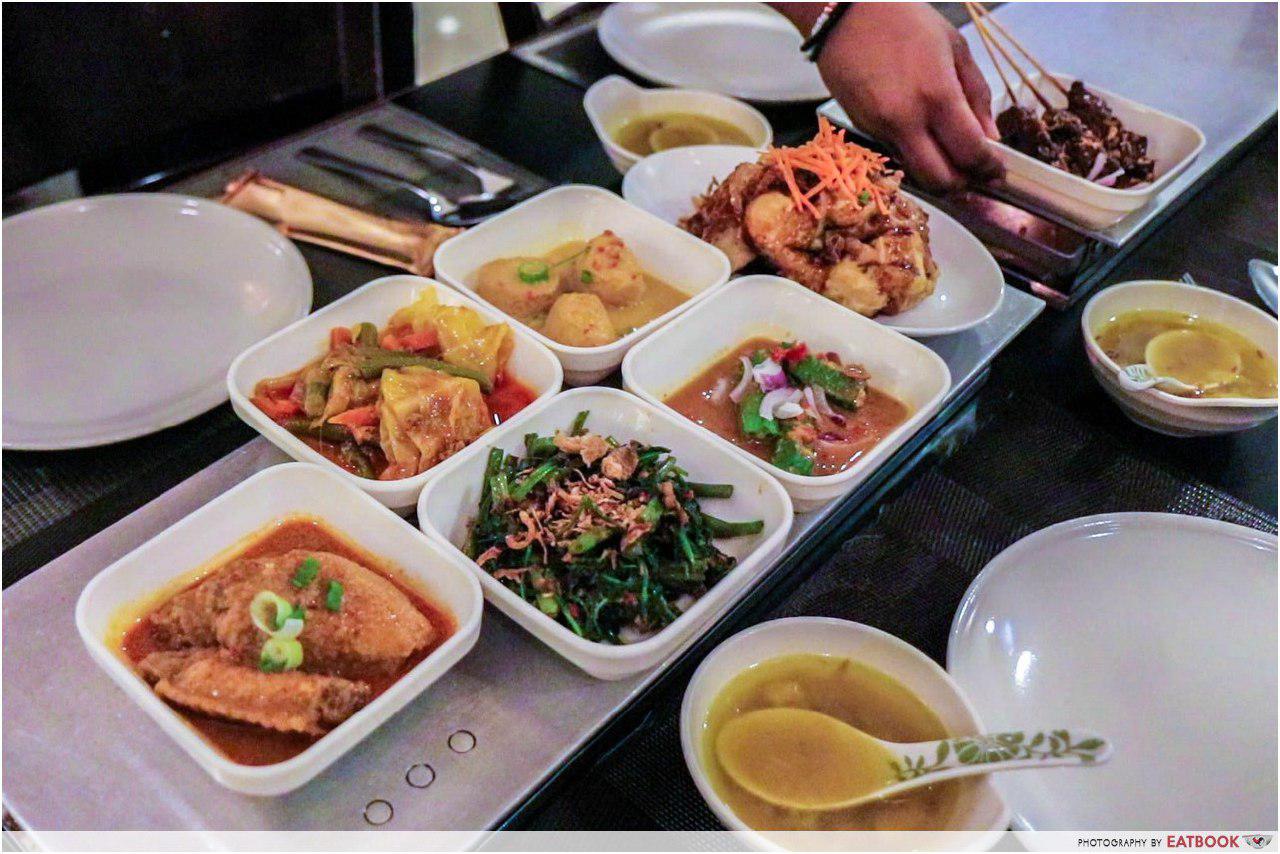 The Rice Table is an Indonesian restaurant that offers a sumptuous buffet for just $21.80 nett at lunch, and $32.80 nett at dinner! They're the only restaurant in Singapore that offers the Dutch rijsttafel experience, where traditionally, an array of as many as 40 Indonesian dishes is presented to the table.
Some dishes you'll definitely order over and over again are Tahu Telor, Sate Ayam (chicken satay), and Daging Rendang (beef rendang). The dishes are placed on a hot metal surface to keep them warm, so you can take your time to savour your food.  
Check out our The Rice Table review!
Address: 360 Orchard Road, #02-09, International Building, Singapore 238869
Opening hours: Daily 12pm to 2:30pm, 6pm to 9:30pm
Tel: 6835 3782
Website
The Rice Table Review: 14-Course Indonesian Lunch Buffet At $18.95 Nett At Orchard
---
9. Kim Dae Mun
---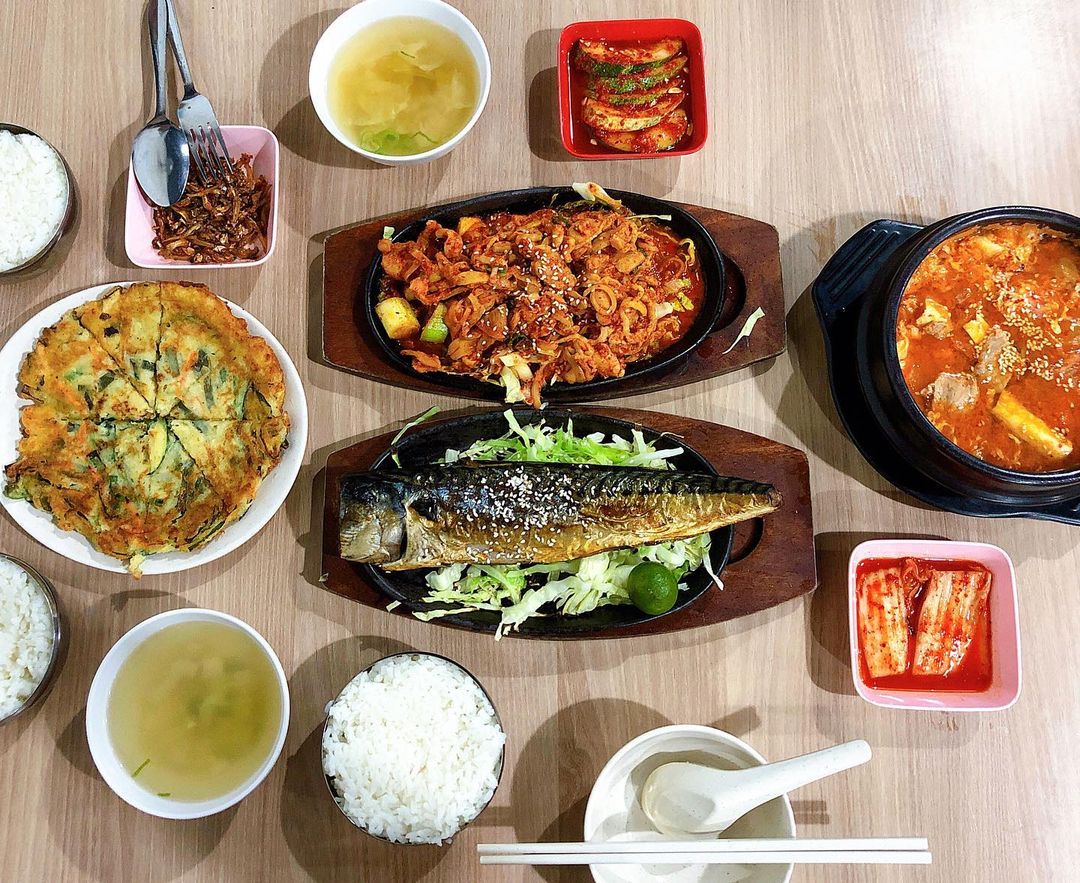 Image credit: @low_winnie
Yet another lesser-known locale along Orchard Road, you may have walked past Concorde Hotel on your way to Plaza Singapura. Here lies Kim Dae Mun, an affordable Korean joint run by a whole family of Koreans! The Bibimbap here is priced at just $8.50, and their Tender Sliced Beef is $10.50.
Top up $0.50 to get a bowl of red bean rice, rather than plain white. If you like Korean pancakes, the Garlic & Chives Pancake at Kim Dae Mun costs only $4.50!
Address: 100 Orchard Road, #01-03A, Concorde Hotel, Singapore 238840
Opening hours: Tues-Sun 11am to 8pm
Tel: 6737 6857
Website
---
10. Nantsuttei
---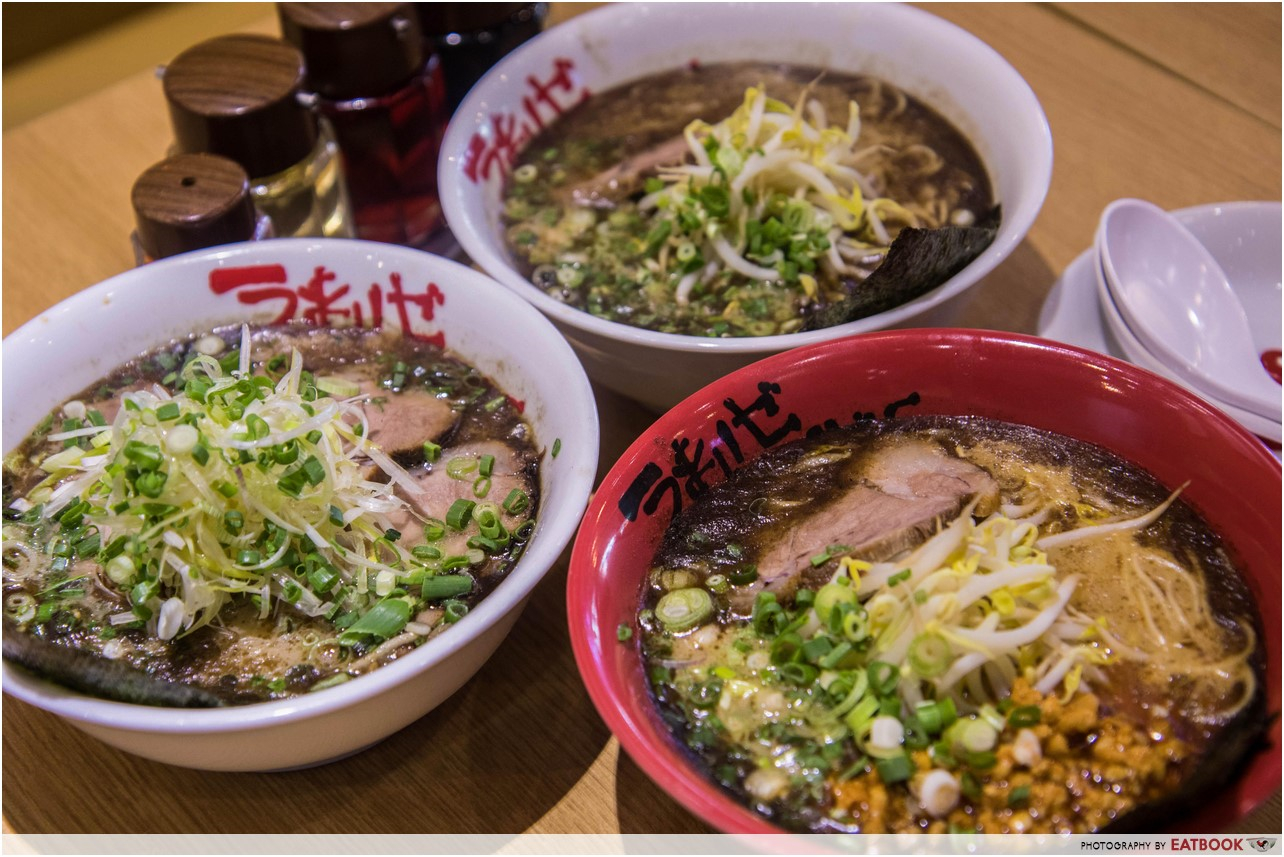 Although I'm a huge fan of ramen, I don't eat it frequently as the prices at most popular ramen shops can easily go over my budget. When the cravings hit, however, Japanese ramen restaurant Nantsuttei saves the day with their affordable Nantsuttei Ramen ($12++). The broth at Nantsuttei is slightly darker and bears a strong garlic flavour. Even at such an affordable price, you can expect a decent portion of ramen with chashu.
Check out our Nantsuttei review!
Address: 181 Orchard Road, Orchard Central, #07-12/13, Singapore 238896
Opening hours: Daily 11am to 10:30pm
Tel: 6337 7166
Website
---
Orchard food options
---
If your friends ever pass you the baton to choose a place for dinner in town, this list will help you sort the meal out. For more grub in the area, check out our guide to ION Orchard food, or guide to dining at Plaza Singapura!
ION Orchard Food Guide: 20 Places For Matcha Parfaits, High Tea, Truffle Ramen And More
This post was originally published on 27 June 2018.
The post 10 Low-Key Orchard Food Gems To Impress Your Friends At Your Next Gathering appeared first on EatBook.sg – New Singapore Restaurant and Street Food Ideas & Recommendations.