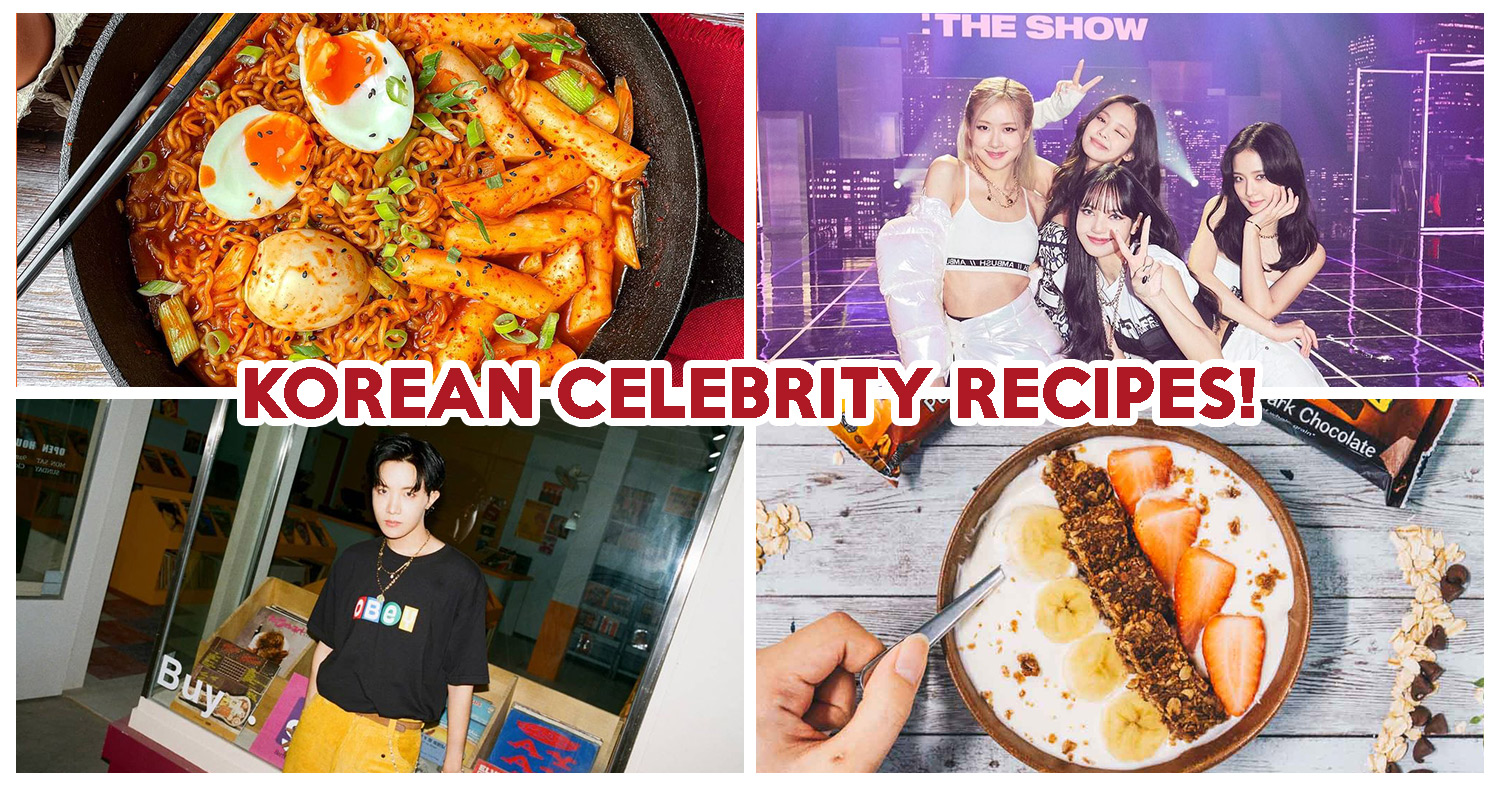 ---
Korean celebrity recipes
---
Take my love for Korean pop, marry that with my passion for food, and you'll get this—a list of Korean celebrity recipes that allows us to have a taste of our favourite idols' favourite food. These include a savoury-sweet breakfast toast by J-Hope from BTS, if you're an ARMY like me, and easy recipes by NCT members, if you're an NCTzen. 
This stay-home period gives you all the more incentive to brush up your culinary skills, with an extra push from your favourite Korean celebrities.
---
1. Hope Toast By BTS' J-Hope
---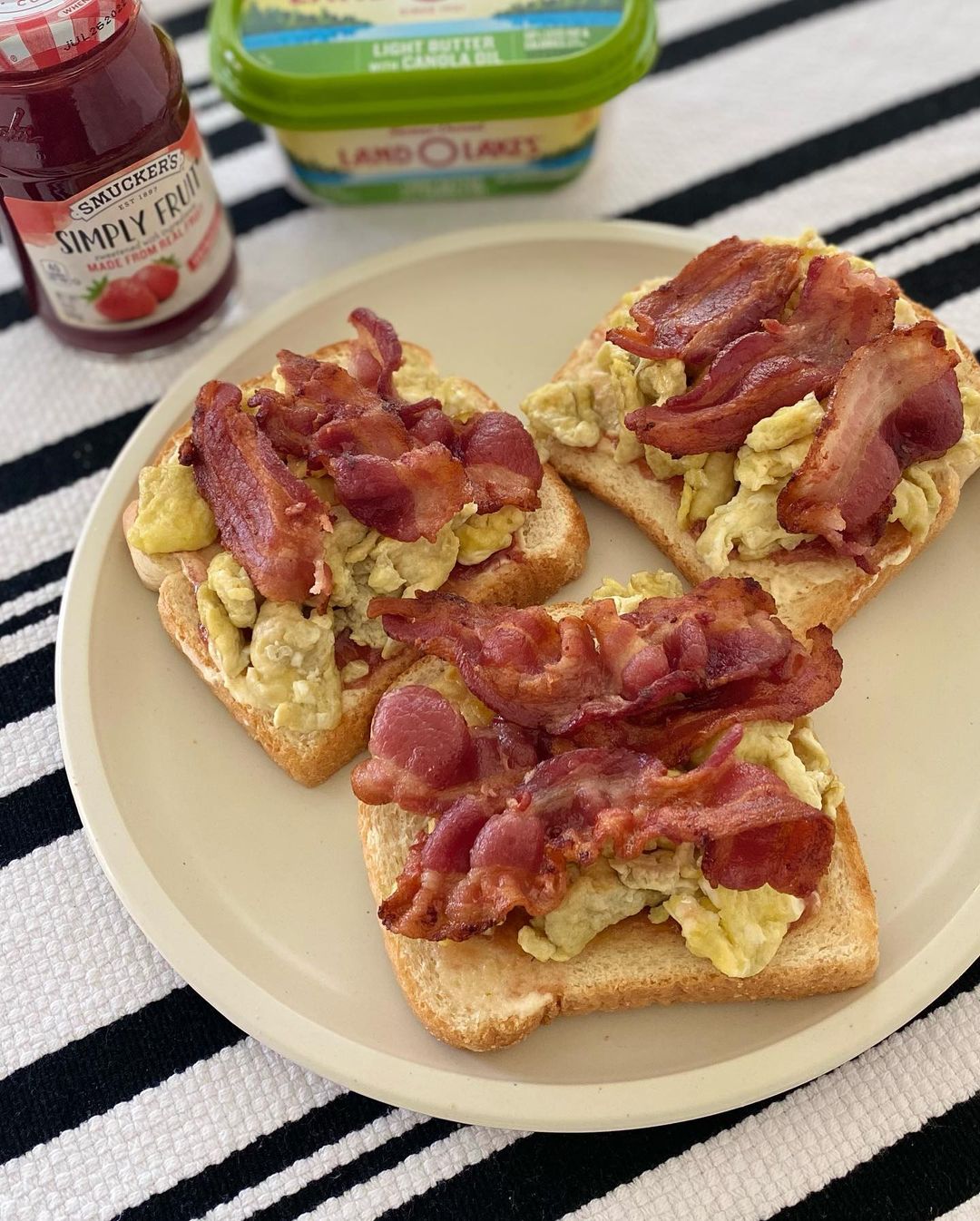 Image credit: @hellolei
The cutely named Hope Toast is a breakfast toast idea by J-Hope from BTS, first introduced in his vlog during his stay in Los Angeles. If you'd like a no-frills, savoury-sweet breakfast, this recipe is just for you.
Yield: 1 serving
Time needed: 10 minutes
Ingredients:
1 strip of bacon
1 egg
1 slice of white bread
1 tbsp butter
1 tbsp strawberry jam
Directions:
Cut the strip of bacon into three equal parts.

Fry the bacon on a pan until it's crisp and set it aside to cool.

Scramble an egg with the bacon oil in the pan.

Toast the slice of white bread.

Spread the bread with butter.

Add another layer of strawberry jam.

Top the toast with bacon and eggs. 
Recipe adapted from J-Hope's vlog.
---
2. Bad Girl Pizza By Lee Hyori
---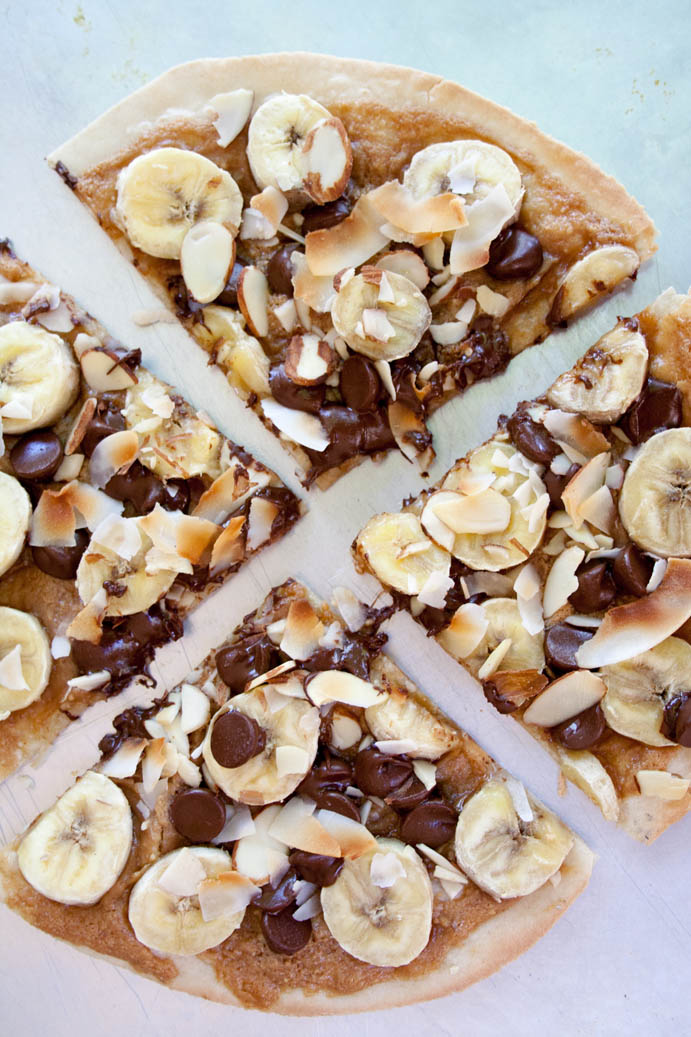 Image credit: Create Mindfully
Lee Hyori is a legend in the K-pop world, and she has shared her dessert tortilla pizza recipe on the equally legendary variety show, Happy Together. This recipe for her Bad Girl Pizza is a quick, easy, and inexpensive way to fulfil your sweet tooth at home.
Yield: 1 serving
Time needed: 15 minutes
Ingredients:
1 tortilla
1 tbsp peanut butter
1 tbsp chocolate syrup
1 banana
Almond flakes
50g shredded mozzarella cheese
Directions:
Spread a layer of peanut butter on the tortilla.

Add another layer of chocolate syrup.

Thinly slice the banana.

Top tortilla with banana slices and your desired amount of almond flakes.

Top the tortilla with mozzarella cheese.

Bake in the oven at 180°C for six to seven minutes.
Recipe adapted from Happy Together: Late Night Cafeteria.
---
3. Tomato Ramen By NCT's Chenle
---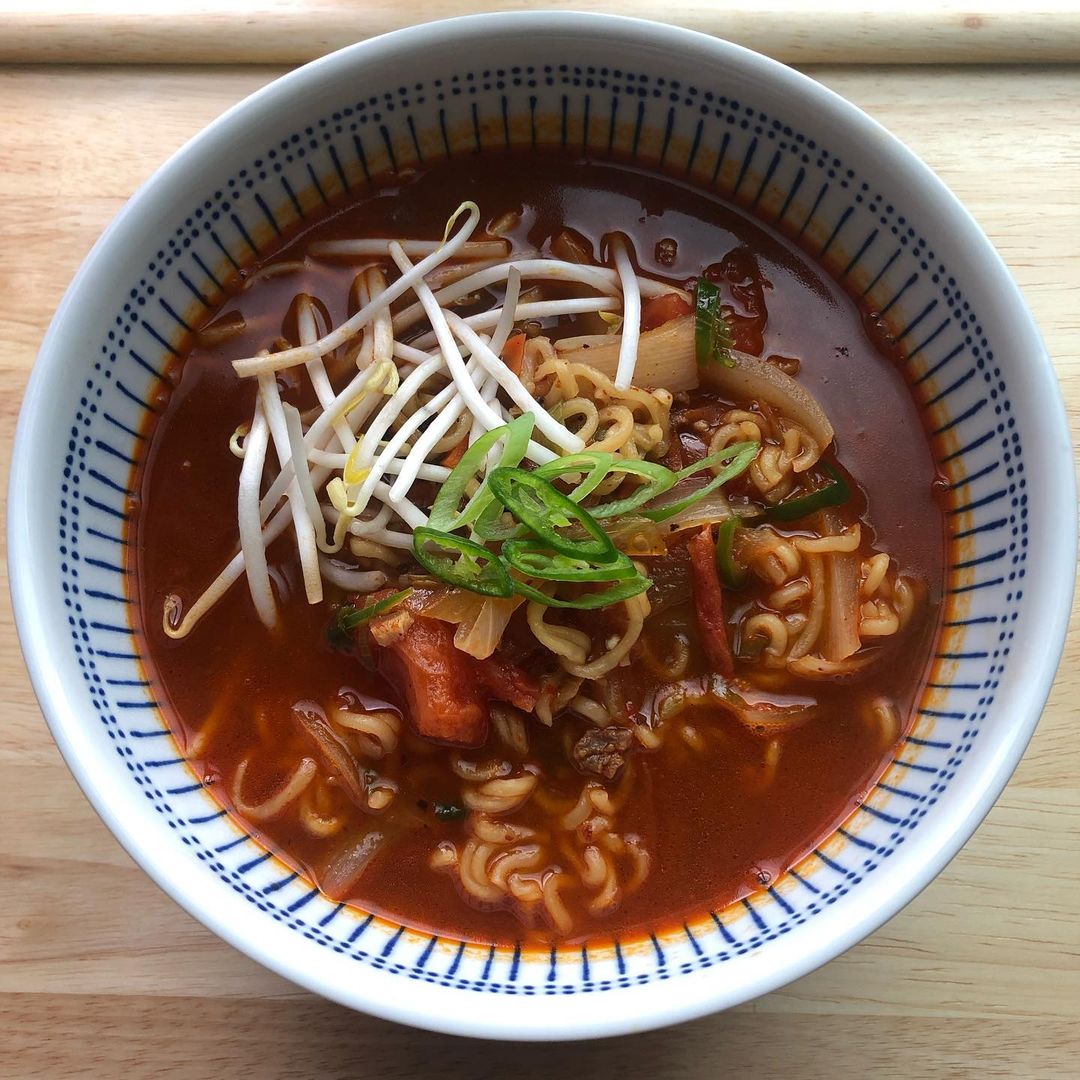 Image credit: @sparrow_tweet
Instant ramen, or ramyeon, is a well-loved dish by many Koreans. It's no wonder that there are numerous Korean celebrity ramen recipes out there, made with the idol's own twist on the dish. One of them is Tomato Ramen by Chenle from NCT, inspired by his love for the Kang Shi Fu beef-flavoured instant noodles. While the recipe below is a basic one, feel free to customise this dish with whatever veggies and toppings you'd like!
Yield: 1 serving
Time needed: 10 minutes
Ingredients:
1 tomato, finely diced
1 tbsp Lao Gan Ma chilli sauce
1 packet of Kang Shi Fu beef instant noodles
Directions:
Boil a pot of water, according to the instructions on the packet, and add the chopped tomatoes.

Add one tablespoon of Lao Gan Ma chilli sauce.

Add the Kang Shi Fu instant noodles and seasoning.
Recipe adapted from Chenji's This And That.
---
4. Spam Mayo Rice Bowl By NCT's Jaemin
---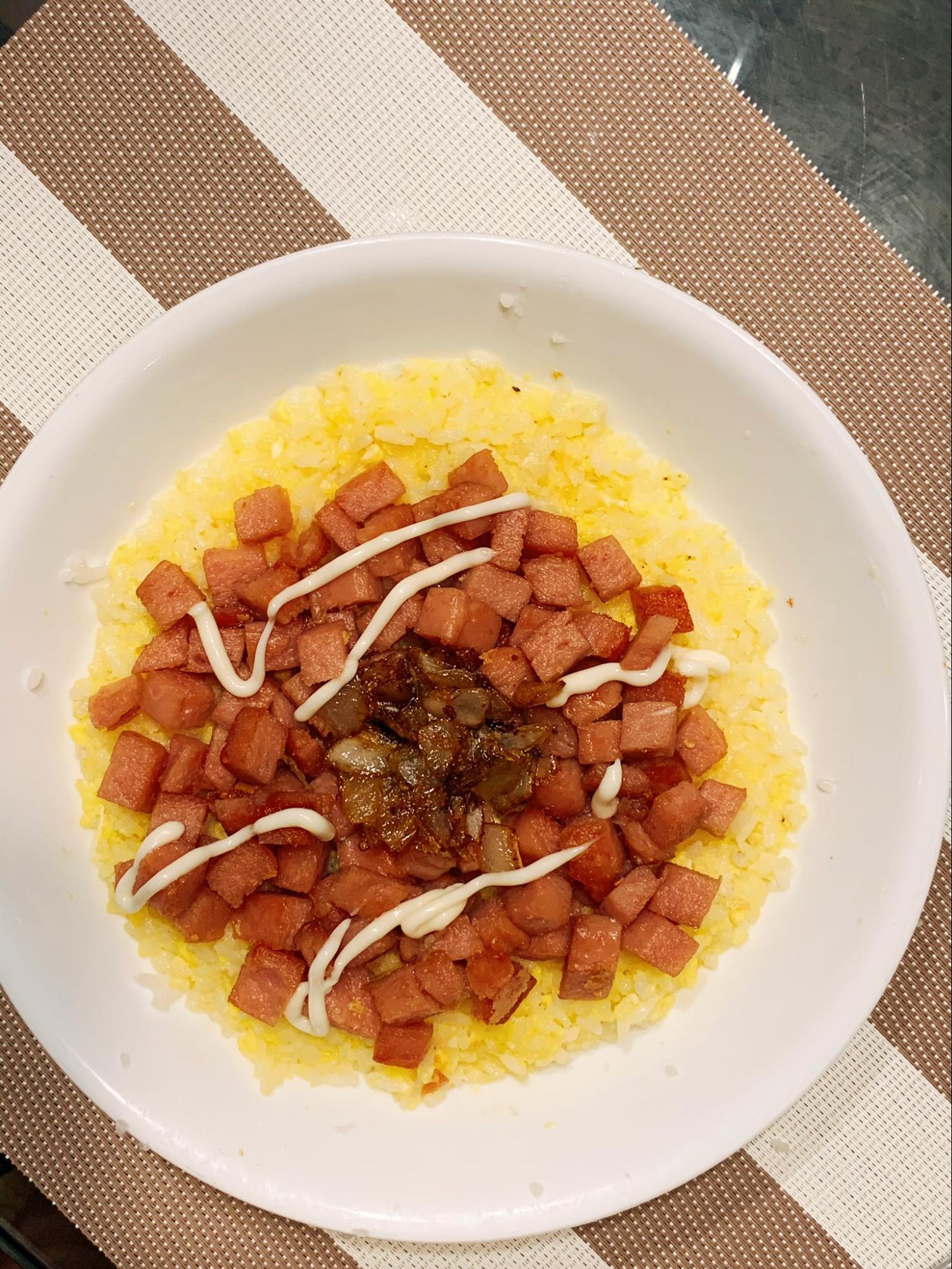 Image credit: @LTYKAI
Spam, rice, and eggs make the perfect combination for a comfort meal, and NCT Jaemin's recipe has elevated that with caramelised onions and mayonnaise to make his favourite Spam Mayo Rice Bowl. Most of these ingredients can be easily found at home as well, and if you do not have Spam on hand, feel free to substitute it with other brands of luncheon meat.
Yield: 1 serving
Time needed: 25 minutes
Ingredients:
56g Spam, cubed
½ onion, thinly sliced
1 tbsp soy sauce
1 tbsp sugar
½ cup cooked rice
2 eggs
Kewpie mayonnaise
Directions:
Lightly fry Spam cubes. 

Fry onion with soy sauce and sugar until caramelised.

Scramble eggs on a pan.

Add cooked rice and fry together with the eggs.

Top the fried rice with caramelised onions and Spam cubes.

Drizzle with the desired amount of Kewpie mayonnaise.
Recipe adapted from @jaeminpic.
---
5. Stir-fried Ramen Porridge By Seventeen's Mingyu And Jeonghan
---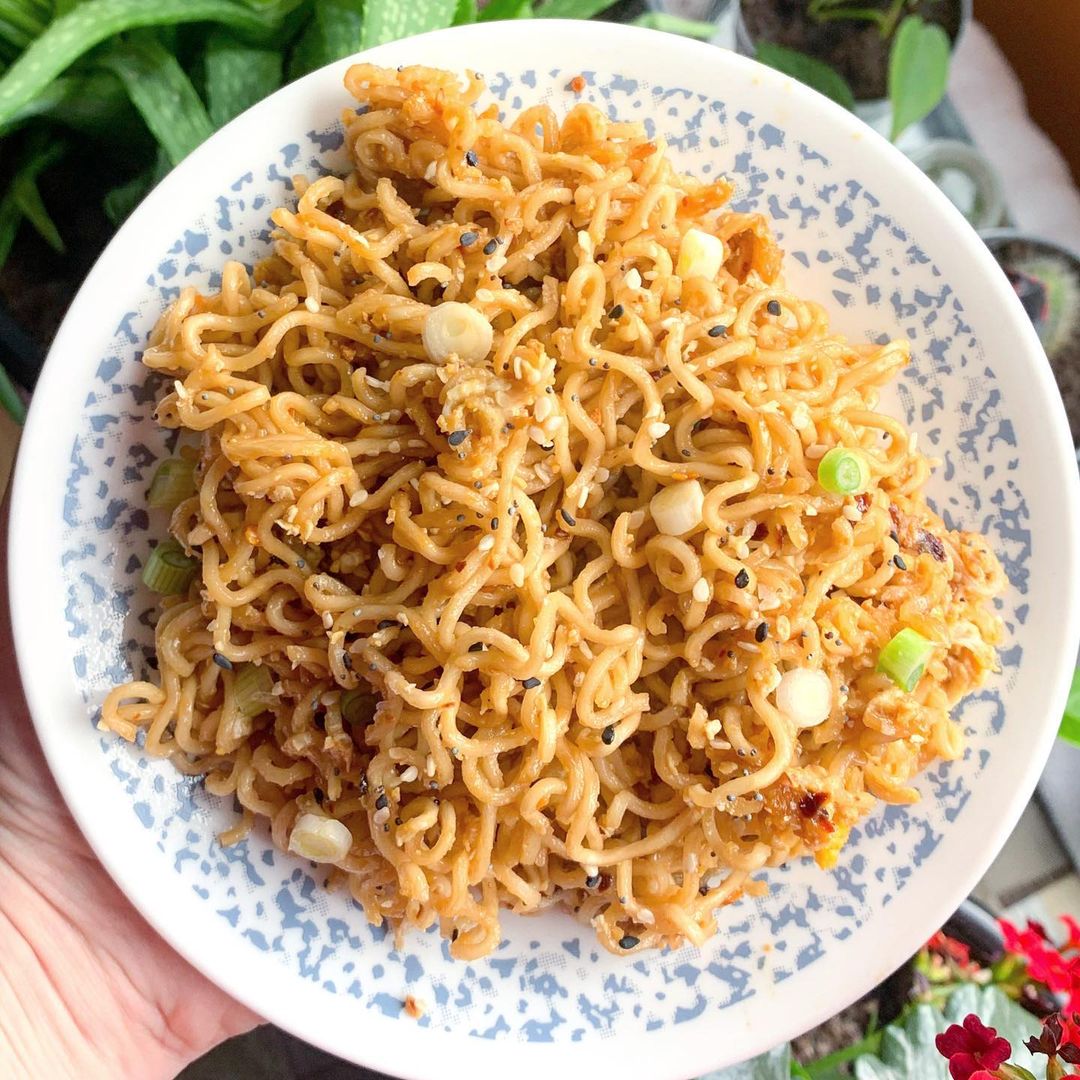 Image credit: @nourishandbloom_
Here's another ramen recipe to try out—Stir-Fried Ramen Porridge by Seventeen's Mingyu and Jeonghan, one way to zhng up your usual instant ramen. Plus, the ingredients used here, such as minced pork and kimchi, make these noodles feel more like a filling meal than an instant snack.
Yield: 2 servings
Time needed: 20 minutes
Ingredients:
1 tbsp oil
100g minced pork
Spring onion, finely chopped
150g kimchi, chopped
Water
2 packets of instant ramen noodles
2 eggs
Directions:
Stir-fry minced pork with oil until browned, then add spring onions and kimchi, and fry.

Add in some water until it forms a slightly thickened gravy.

Add in the instant noodle seasoning powder.

When the sauce has boiled down, strain the solid ingredients, and set aside.

In a separate pot, boil the instant ramen noodles according to the package instructions.

Strain the instant ramen noodles, and mix into the sauce

Crack two eggs in, and stir-fry with the noodle sauce mixture.

Top the noodles with the solid ingredients.
Recipe adapted from SVT Noodle Challenge.
---
6. Rabokki By TWICE
---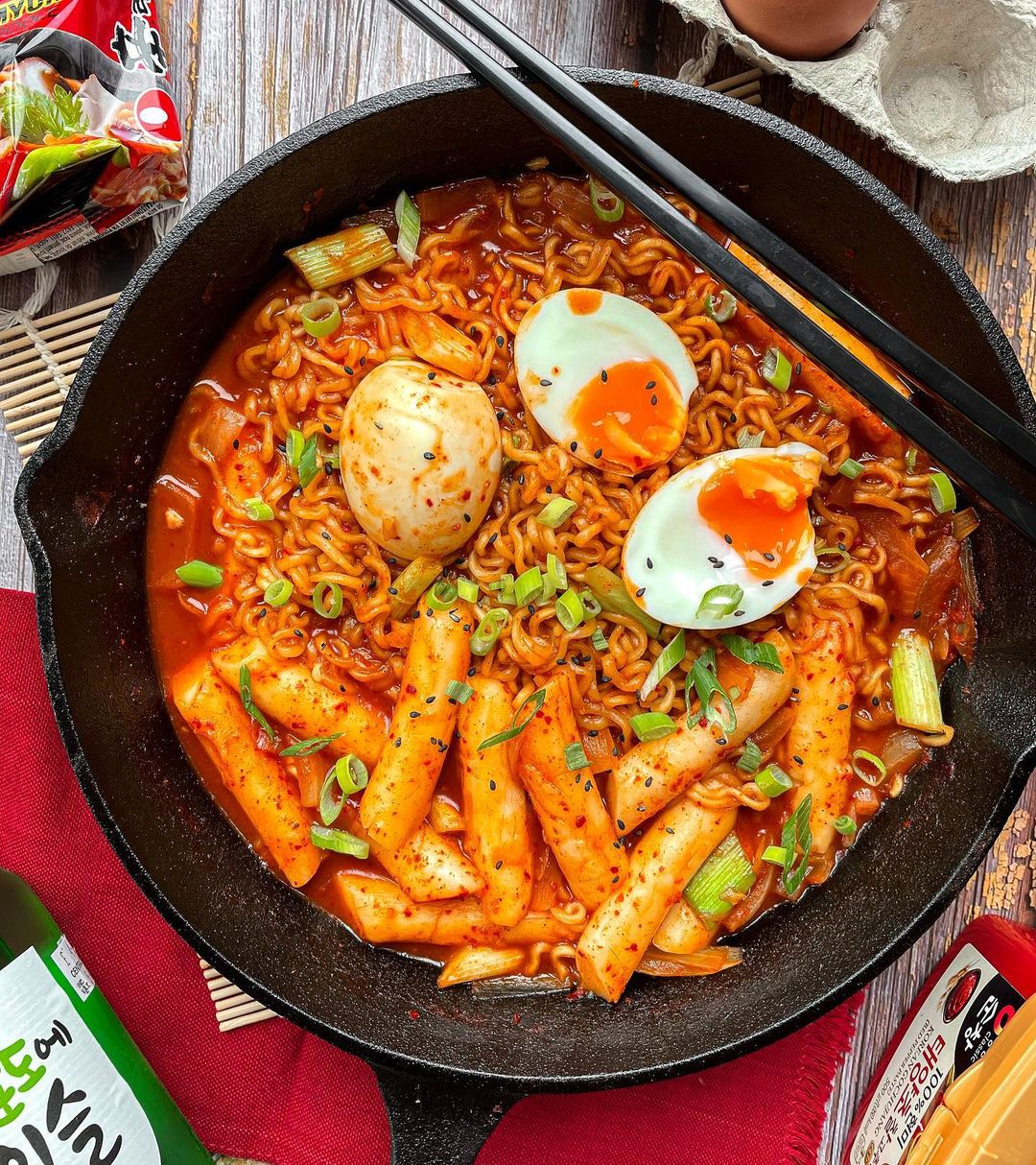 Image credit: @thatfoodiejess
Rabokki is a popular Korean dish that marries ramen and tteokbokki. Girl group TWICE has come up with an elaborate rabokki recipe that involves pizza sauce, yoghurt, and more—creating a hearty dish that's good for sharing between friends and family.
Yield: 4 to 6 servings
Time needed: 30 minutes
Ingredients:
200g pork belly, sliced
4 eggs
6 cups water
2 tbsp gochujang
2 tbsp honey
2 tbsp ketchup
300g tteokbokki rice cakes
8 quail eggs, boiled and peeled
200g canned corn
150g fish cakes, sliced
1 onion, sliced
100g cabbage, chopped
3 tbsp pizza sauce
½ cup plain yoghurt
2 packets of instant noodles
Directions:
Pan fry pork belly slices till browned, and set aside.

Fry eggs sunny-side-up, and set aside.

Add water, gochujang, honey, and ketchup into the pan, and allow it to come to a boil.

Add rice cakes, fried pork belly, quail eggs, canned corn, fish cakes, onion slices, and chopped cabbage. Boil for nine minutes.

Add pizza sauce, and yoghurt into the broth.

Add the instant noodles and your desired amount of instant noodle seasoning, and cook according to package instructions.

Top the finished rabokki with fried eggs to serve.
Recipe adapted from We Like Zines!.
---
7. Mark's Meal By GOT7's Mark
---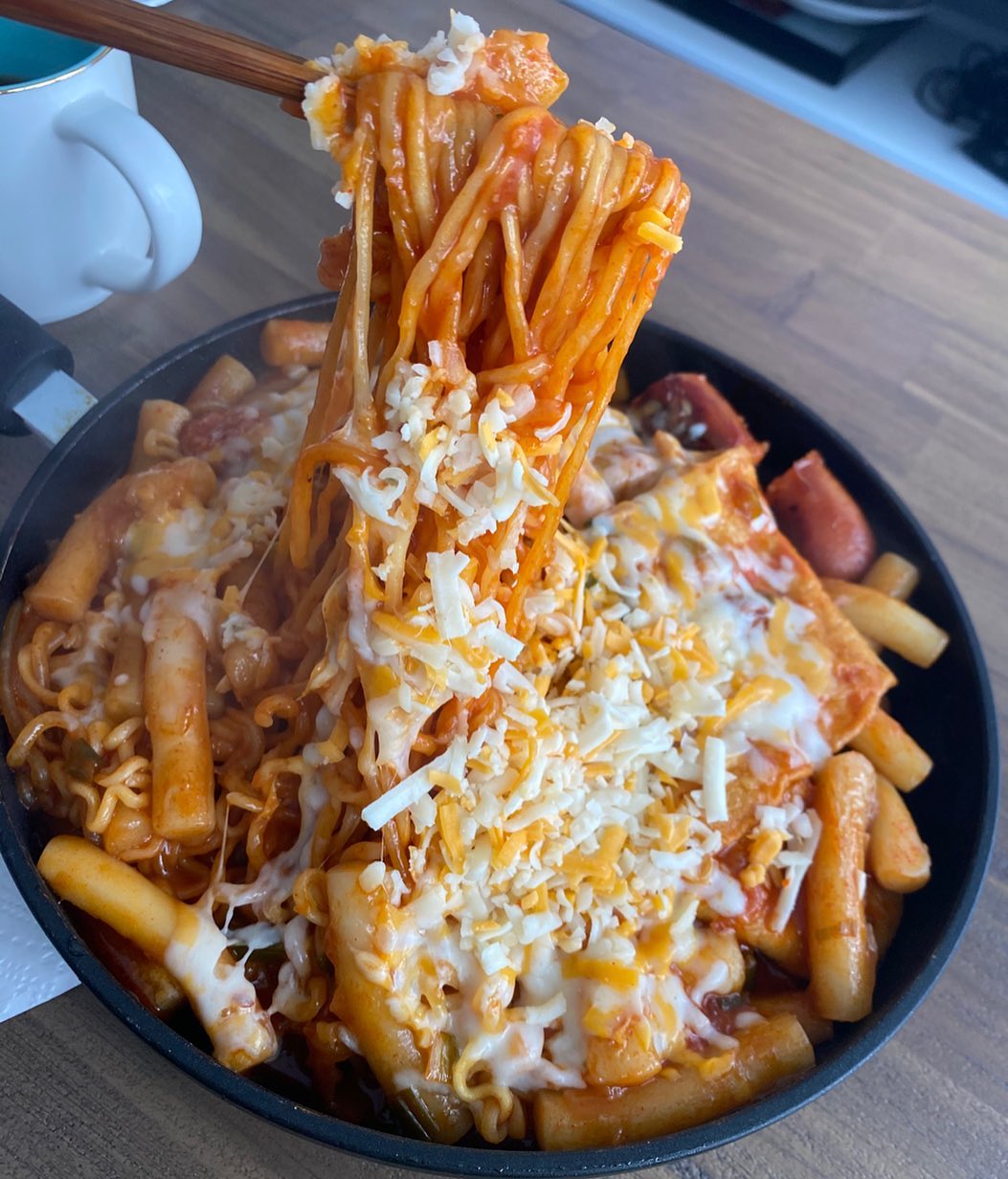 Image credit: @chefjunstable
Mark's Meal is yet another popular rabokki recipe by GOT7's Mark. This instant dish is super fuss-free to make, requiring little ingredients, yet indulgent to eat, with its addition of melted cheese and baby sausages.
Yield: 1 serving
Time needed: 15 minutes
Ingredients:
1 packet of spicy-flavoured instant noodles
1 packet of instant rice cakes
50g baby sausages
30g shredded mozzarella cheese
Directions:
Cook instant ramen noodles and rice cakes according to package instructions.
Boil the baby sausages until they're cooked through.
Mix everything together and top with mozzarella cheese.
Microwave for one minute.
Recipe adapted from GOT7 Golden Key.
---
8. Gukbap By EXO's D.O.
---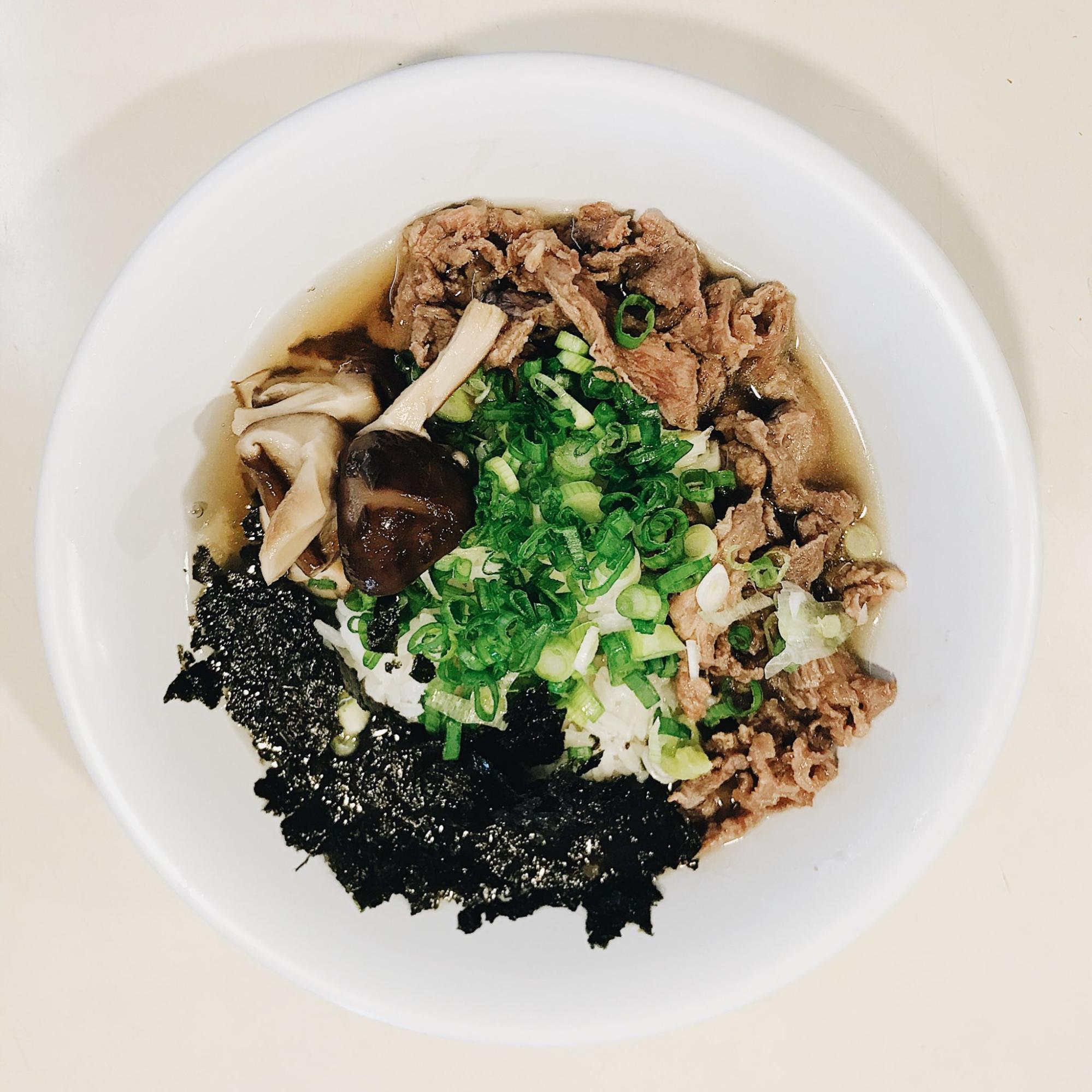 Image credit: @hergurlc
Gukbap literally translates to 'soup rice'. It is a lesser-known Korean dish made by adding hot soup to cooked rice. D.O. from EXO came up with his own recipe, using beef and mushrooms, and first introduced this dish on their show, EXO's Travel the World on a Ladder.
Yield: 3 to 4 servings
Time needed: 45 minutes
Ingredients:
1l water
10g dried kelp
15g dried shrimp
15g dried anchovies
5g spring onions, chopped
5 shiitake mushrooms, chopped
4 green chilli peppers, chopped
200g beef brisket, sliced
Salt
Pepper
1 tbsp oyster sauce
Seaweed flakes
2 cups of cooked rice
Directions:
Add water, dried kelp, dried shrimp, and dried anchovies in a pot and boil over low heat.

When the broth comes to a boil, add in the spring onions, mushrooms, and green peppers.

Season the beef brisket with salt and pepper.

Lightly fry the beef with oyster sauce. When the beef is still pink, but not cooked through, add a ladle of broth, and continue sauteing till the beef is cooked through.

Top a bowl of cooked rice with the beef brisket, and mushrooms and green peppers from the broth.

Finish with seaweed flakes and broth as desired.
Recipe adapted from BATE Eats.
---
9. Kimchi Fried Rice By Blackpink's Jennie
---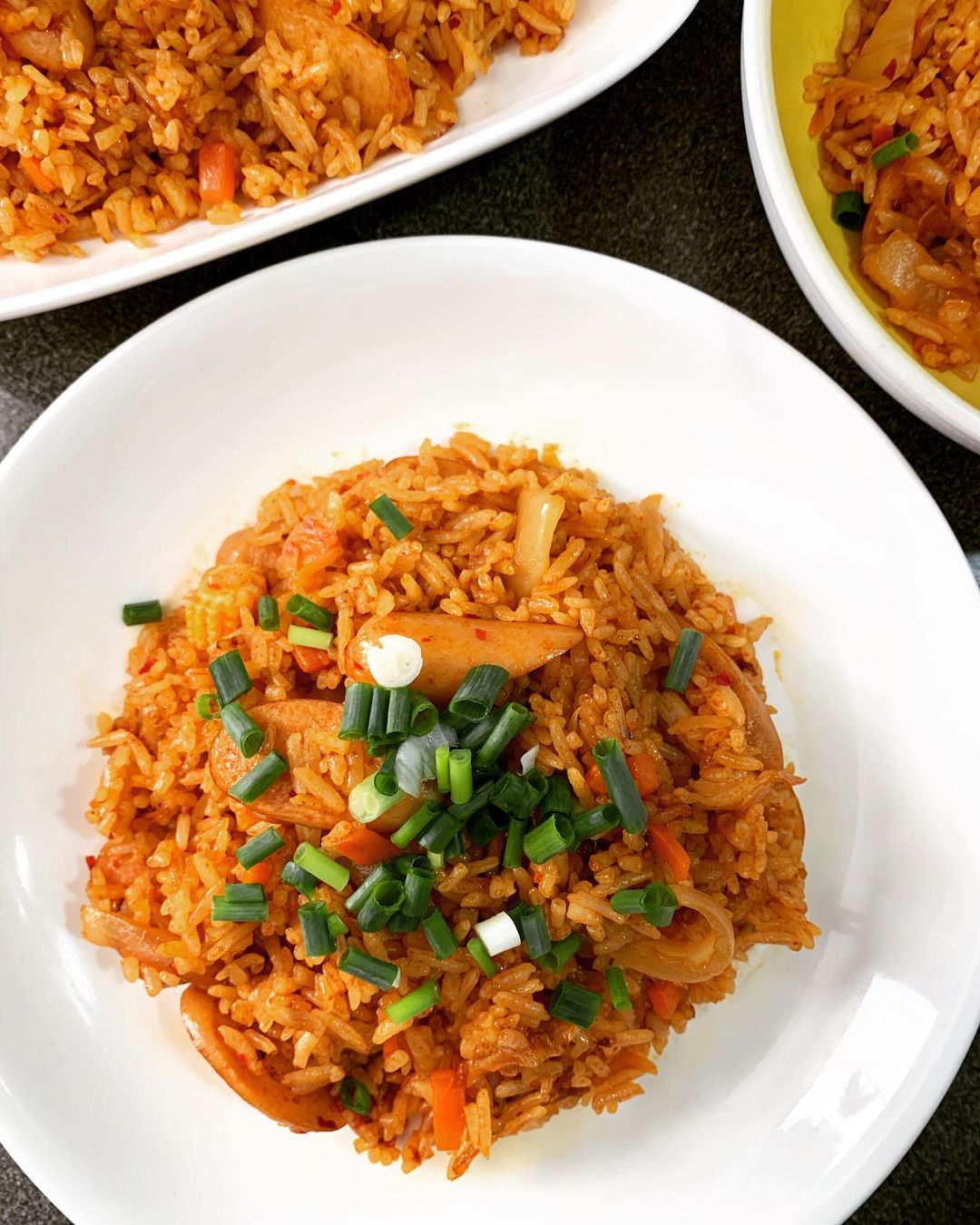 Image credit: @327tinyarea
Kimchi fried rice is a tangy, savoury dish that's also immensely versatile, as you're able to customise it with whatever ingredients that you fancy. Jennie from Blackpink enjoys having her kimchi fried rice with grilled pork belly, aka samgyeopsal. To make this dish even heartier, you can top yours with a sunny-side-up. 
Yield: 2 servings
Time needed: 20 minutes
Ingredients:
100g pork belly, sliced
150g kimchi
Spring onion, chopped
1 cup of cooked rice
1 tbsp gochujang
Salt
Pepper
Directions:
Saute pork belly in a pan until brown.

Throw in the kimchi and spring onions, followed by cooked rice, salt and pepper to taste, then gochujang, stir-frying all the while

Top the fried rice with spring onions to serve.
Recipe adapted from BuzzFeed.
---
10. Granola Bowl By Blackpink's Rosé
---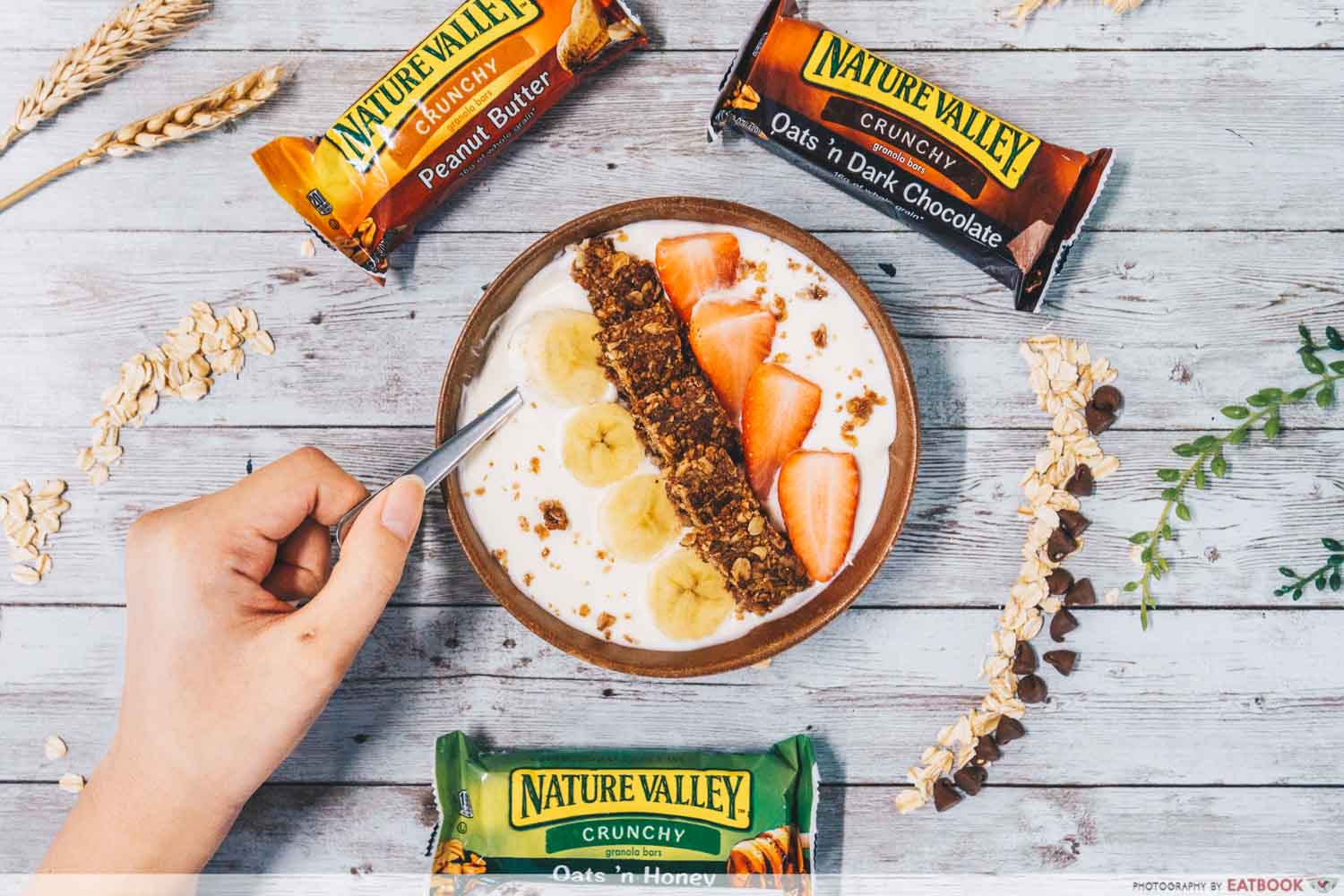 Granola bowls are a delicious way to get your nutrients in, and Blackpink's Rosé has put her own spin on it by adding honey. This recipe has gotten the rest of the girl group members hooked as well, as Jisoo, Jennie, and Lisa have all tried and claimed to love it.
Yield: 1 serving
Time needed: 5 minutes
Ingredients:
½ cup granola of your choice
¾ cup yoghurt of your choice
75g strawberries, chopped
75g blueberries, chopped
1 tbsp honey
Directions:
Top a bowl of yoghurt with granola, and chopped berries.

Drizzle with honey, and serve.
---
Try these Korean celebrity recipes
---
We've rounded up a list of Korean celebrity recipes for you to try at home, so you can take your fanfare to the next level when you eat just like them.
For more recipes, check out our air fryer recipe guide to make roast pork, prata curry puff, and more. There's also our soju cocktail recipe guide, the perfect Korean beverage accompaniment to your celebrity recipes.
10 Air Fryer Recipes To Make Roast Pork, Prata Curry Puff, "McMuffins" And More
The post 10 Korean Celebrity Recipes Including BTS J-Hope's Breakfast Toast And Blackpink Jennie's Kimchi Fried Rice appeared first on EatBook.sg – New Singapore Restaurant and Street Food Ideas & Recommendations.