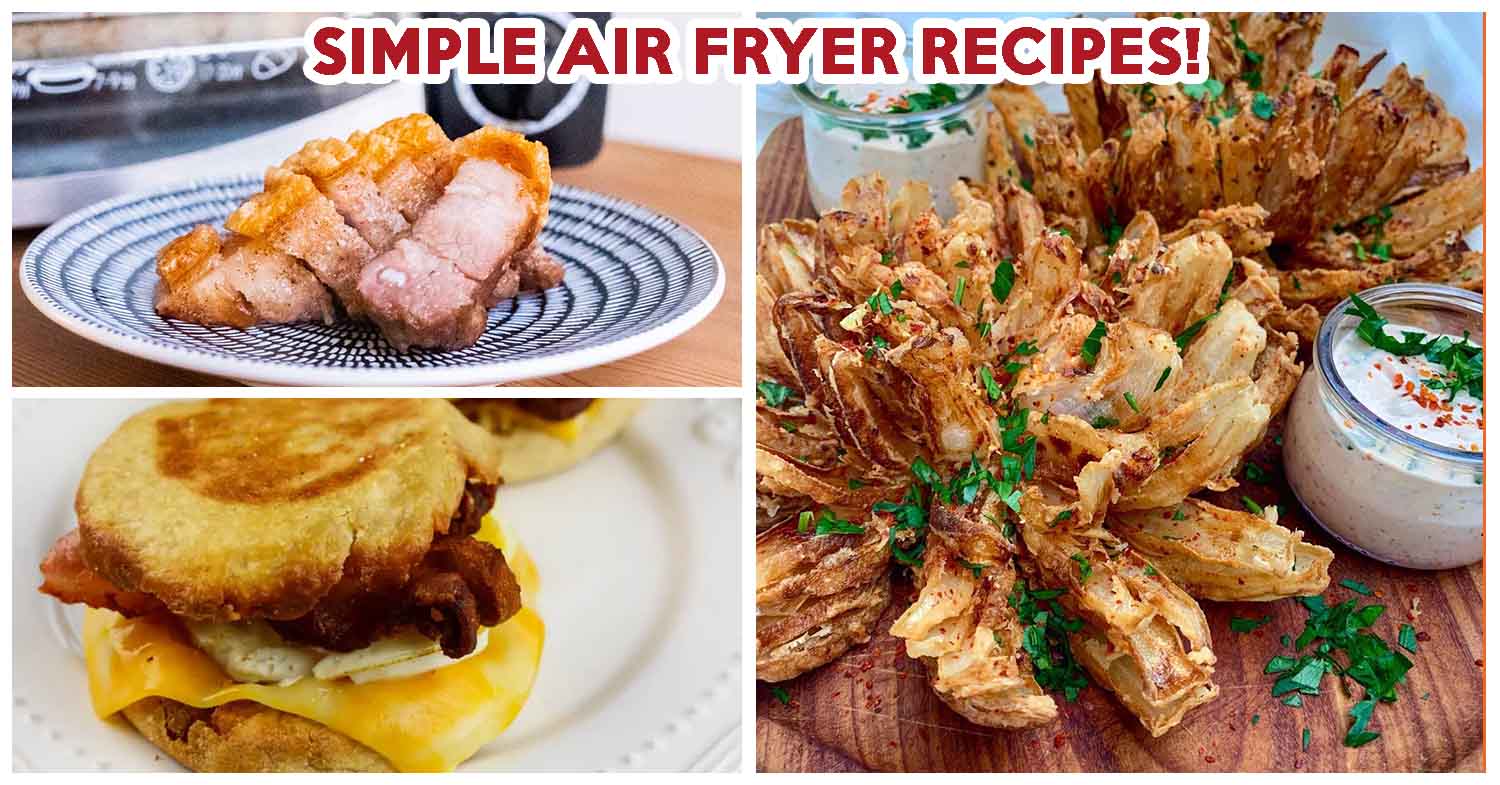 ---
Savoury air fryer recipes
---
When it comes to modern kitchen appliances, the air fryer is a total gamechanger. You can get one for cheap, and with it in your arsenal, there's a world of fuss-free meals to unlock. Though we all know about air fryer broccoli, air fryer salmon, and the like, there are plenty more easy air fryer recipes to really spruce up your culinary game, which we have rounded up for you.
From 3-ingredient air fryer bagels to air fryer roast pork with ASMR crackling, here are some air fryer recipes you should try.
---
1. Blooming Onion
---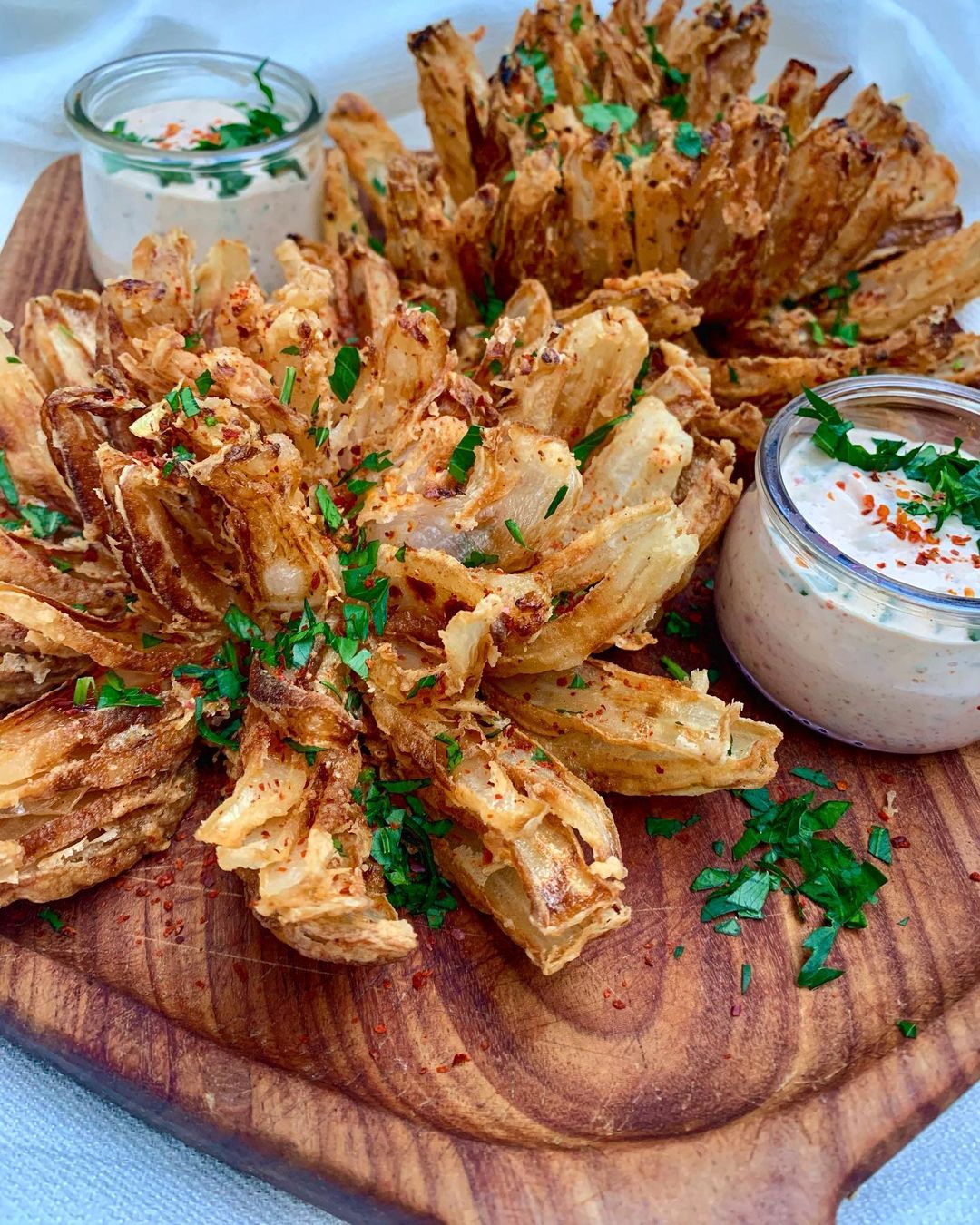 Image credit: @blissful.table
Fans of onion rings ought to give the blooming onion a try. Less complex to prepare than onion rings, the blooming onion is crispy, moreish, and great to have as a side or over drinks. Here's an easy way to prepare it!
Yield: Feeds 3-4 
Time needed: 25 minutes
Ingredients:
1 large yellow onion, peeled
2 ½ cups flour
2 eggs, beaten
½ cup milk
4 tsp cajun seasoning
Directions:
To prepare the onion, leave the base intact, but cut off the top of the onion. Then, proceed to slice the onion into eighths to create the "blooming" petals that will unfurl when you fry it. Be sure not to cut all the way through.

Place the onion in a bowl slightly larger than the onion, and pull the petals apart slightly.

Preheat the air fryer to 210

°

C

.

In a separate bowl, whisk together the flour and spice. 

In another bowl, mix in your eggs and milk.

Pour the flour mix over the onion, and shake slightly to make sure the onion is entirely coated with flour. Dust off the excess flour.

Then, transfer the onion to the bowl with the egg mixture, and coat the onion entirely.

Remove, and then dust more flour on the onion to make it extra crispy.

Place the onion in the air fryer, and fry for 8 to 10 minutes, or until golden.
Recipe adapted from The Sugar Free Diva.
---
2. Potato Chip Chicken
---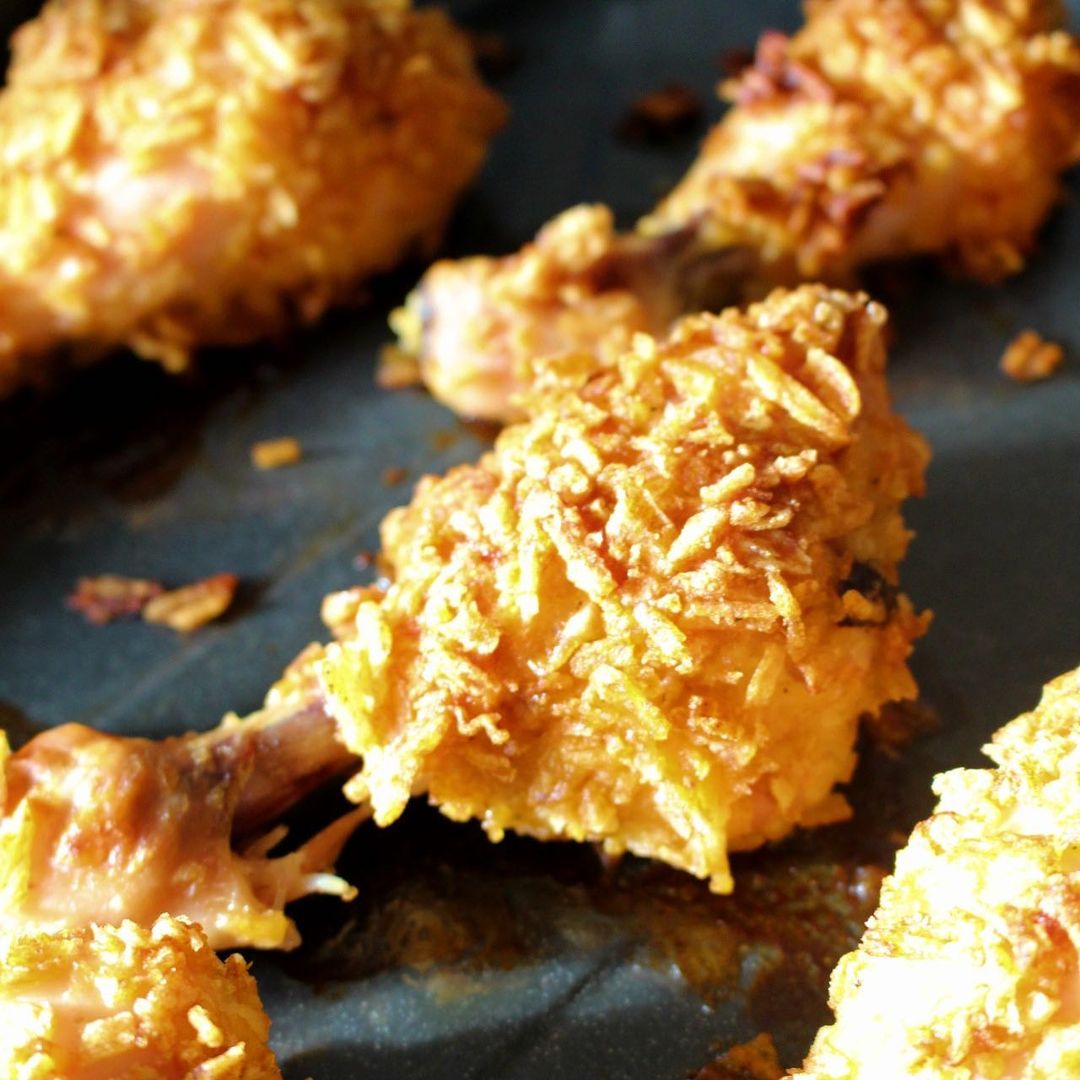 Image credit: @gohankitchen
Give your fried chicken a level up with an extra-crunchy crust made with potato chips. You can really use any chip flavour you prefer, but we'd recommend staying away from extra-strong ones like salt and vinegar. Using an air fryer also ensures that there's no oil you need to clean up after, making the process of enjoying deep-fried food extra easy.
Yield: Feeds 4
Time needed: 30 mins
Ingredients:
450g chicken tenders
2 eggs, beaten
120g kettle potato chips, crushed till fine
¼ tsp paprika
¼ tsp salt
¼ tsp garlic powder
¼ tsp pepper
Directions:
Preheat your air fryer to 200

°

C

.

Spray the basket with non-stick cooking spray.

Place crushed potato chips into a bowl. Mix the seasonings into the chip crumbs.

Dip chicken pieces into the egg, then the potato chip crumbs. Coat evenly on all sides.

Add to the air fryer and cook for 7 to 8 minutes, then flip and cook till golden brown.
Recipe adapted from Garnished Plate.
---
3. Easy Mozzarella Sticks
---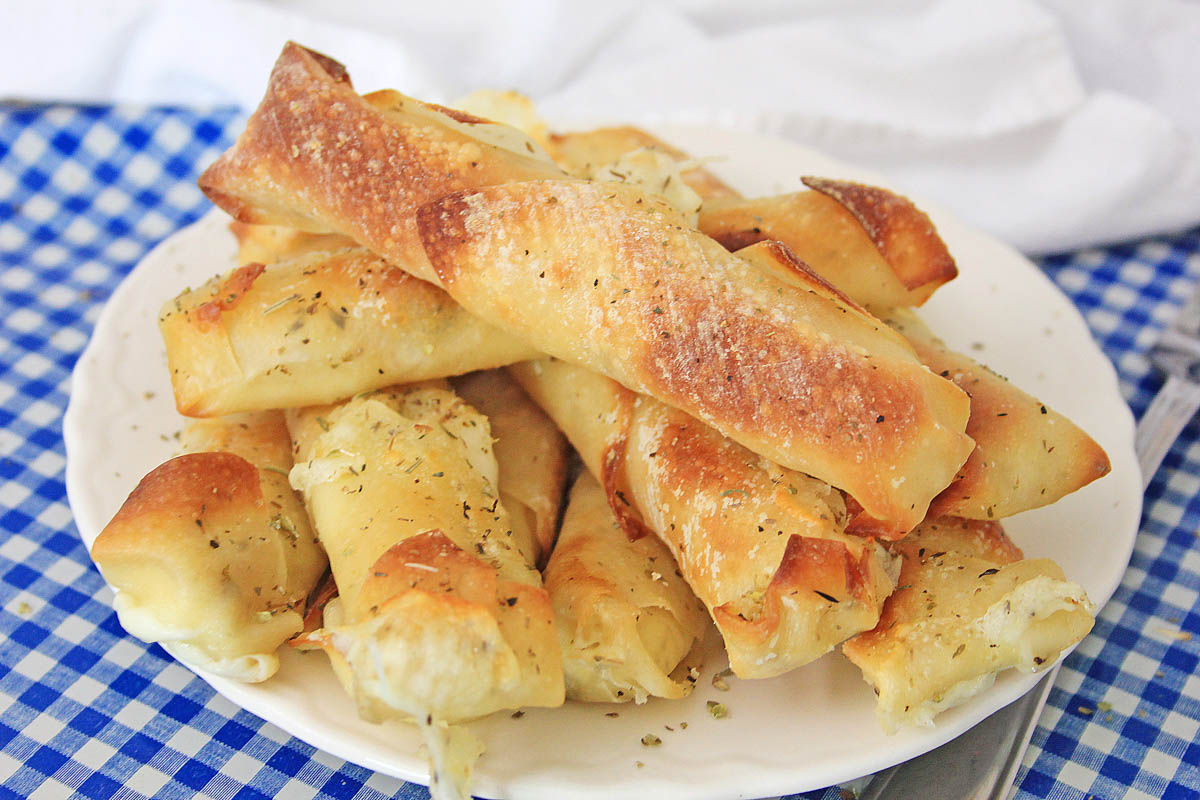 Image credit: Savor and Savvy.
Mozzarella sticks are a snack everyone enjoys, and the air fryer makes it extra-easy to make. This one uses wonton or spring roll wrappers in place of breadcrumbs, so you don't have to bread and crumb the crust prior to frying, saving you prep time.
Yield: Feeds 4
Time needed: 25 mins
Ingredients:
12 mozzarella sticks
12 premade spring roll or wonton wrappers
½ tsp garlic salt
½ tsp Italian herbs
Non-stick cooking spray
Directions:
Preheat the air fryer to 180

°

C

.

Lay the wonton wrapper on a flat surface and spray lightly with oil. Lay a mozzarella stick in the middle. Sprinkle a touch of garlic salt and Italian herbs on it.

Roll up the spring roll and seal all sides so that the cheese doesn't spill out.

Cook the spring rolls in the air fryer till golden brown, for about 10 minutes.
Recipe adapted from Savor and Savvy.
---
4. Air Fryer Prata Curry Puff
---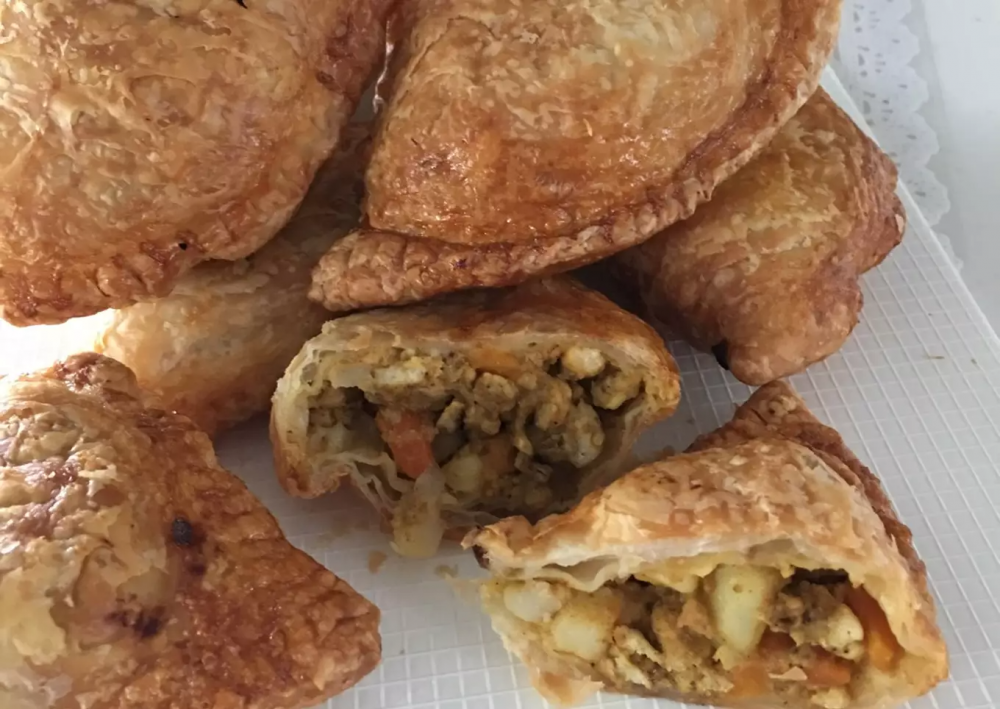 Image credit: leemichelle.sg
Curry puffs are time-consuming to make, but this recipe makes it doubly easy by using frozen roti prata as the crust, and an air fryer to take away the pain of deep-frying.
Yield: Feeds 4-5
Time needed: 30 mins
Ingredients:
250g minced chicken
2 sprigs of curry leaves
30g minced garlic
70g finely diced onions
2-3 small potatoes, diced
1 carrot, diced finely
1 tbsp curry powder
1 tbsp garam masala
½ cube of chicken stock
1 cup water
¼ tsp salt
1 tsp sugar
3-4 tbsp cooking oil
1 pack frozen prata dough, slightly thawed
Directions:
Heat the cooking oil in a pan, and add onion, garlic and the curry leaves till fragrant. Add curry powder, garam masala, and cook for one more minute.

Add chicken and cook till browned. Then, add the potatoes and carrots. Mix, then add the stock cube, water, salt, and sugar. Mix, and cook with the lid covered till the carrots and potatoes are tender. Be sure to stir occasionally.

Remove the lid, and cook till all the liquid has evaporated. Set aside, and let the filling cool.

Take the prata dough out of the packaging and slice each round in half.

Place two tbsp of the meat filling in the top half of each semicircle of prata dough. Fold the dough over and crimp the edges with a fork to seal the filling in.

Preheat the air fryer to 180

°

C

.

Line the air fryer basket with baking paper, and fry the parcels for 8 minutes a side.
Recipe adapted from leemichelle.sg.
---
5. Air Fryer Feta Pasta
---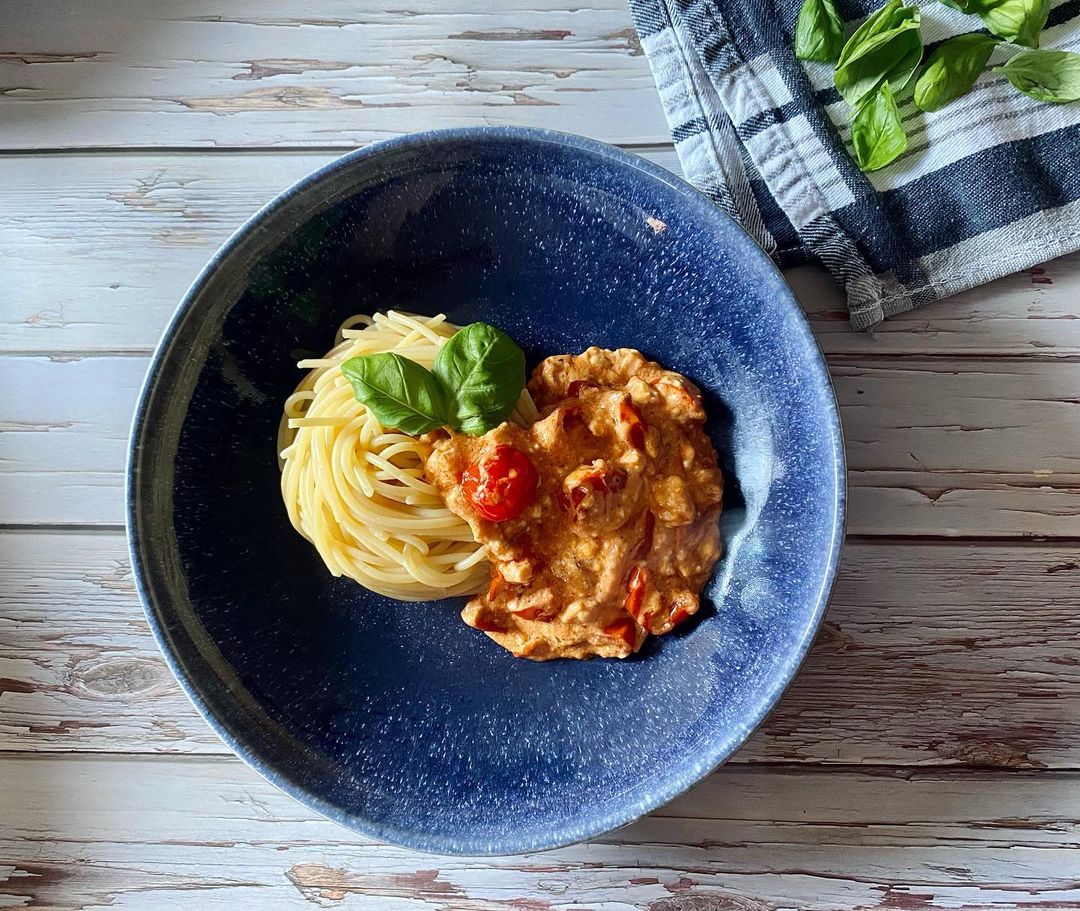 Image credit: @soul.foodiary
The feta pasta with cherry tomatoes has gone super viral on TikTok, but if you don't have an oven, you can easily recreate the same dish in your air fryer, so you can get in on the action too.
Yield: Feeds 2
Time needed: 40 mins
Ingredients:
2 cups cherry tomatoes
⅓ cup olive oil
8oz block of feta cheese
1 tsp dried oregano
250g pasta
1 garlic clove, minced
1 handful baby spinach
¼ cup basil, chopped
Directions:
Preheat the air fryer to 180

°

C

.

In a baking dish, toss the tomatoes with ¾ of the olive oil. Place the feta in the middle of the dish, and drizzle the rest of the olive oil on it. Season with salt and pepper, and the dried oregano.

Place the baking dish in the basket of the air fryer for 30 minutes, stirring every 10 minutes until the feta is browned and the tomatoes have burst.

As you wait for the feta-tomato mix to be ready, cook the pasta according to package instructions. Save a cup of pasta water and drain the rest.

Once the feta is ready, remove it from the air fryer, and stir in the garlic. Then, stir the sauce into the cooked pasta with the spinach and basil. If the feta sauce is too clumpy, add some pasta water.

Add more salt and pepper to taste. Serve.
Recipe adapted from Bestrecipes.co.
---
6. Dynamite Mussels
---

Image credit: @fawn.phom
A staple appetiser in Japanese restaurants is Dynamite Mussels, where mussels are topped with a cheesy mayonnaise crumb for extra oomph. Though they are typically baked, you can air-fry them too, and they cook much quicker.
Yield: Feeds 2
Time needed: 8 mins
Ingredients:
12 green mussels
1-1 ½ tbsp tobiko
6 tbsp Kewpie mayonnaise
3 tbsp Parmesan cheese
1 ¼ tsp salt
1 tsp Sriracha
½ tsp sugar
1 tsp lemon or lime juice
Directions: 
In a bowl, mix the ingredients for the sauce together until well combined.

Line the air fryer basket with aluminium foil, then place the mussels into the basket.

Top each mussel with the sauce mixture.

Air fry at 180

°

C

for 8 minutes, or until the sauce is slightly brown. 

Remove mussels and top with tobiko. Serve.
Recipe adapted from Rack of Lam.
---
7. Breakfast "McMuffin"
---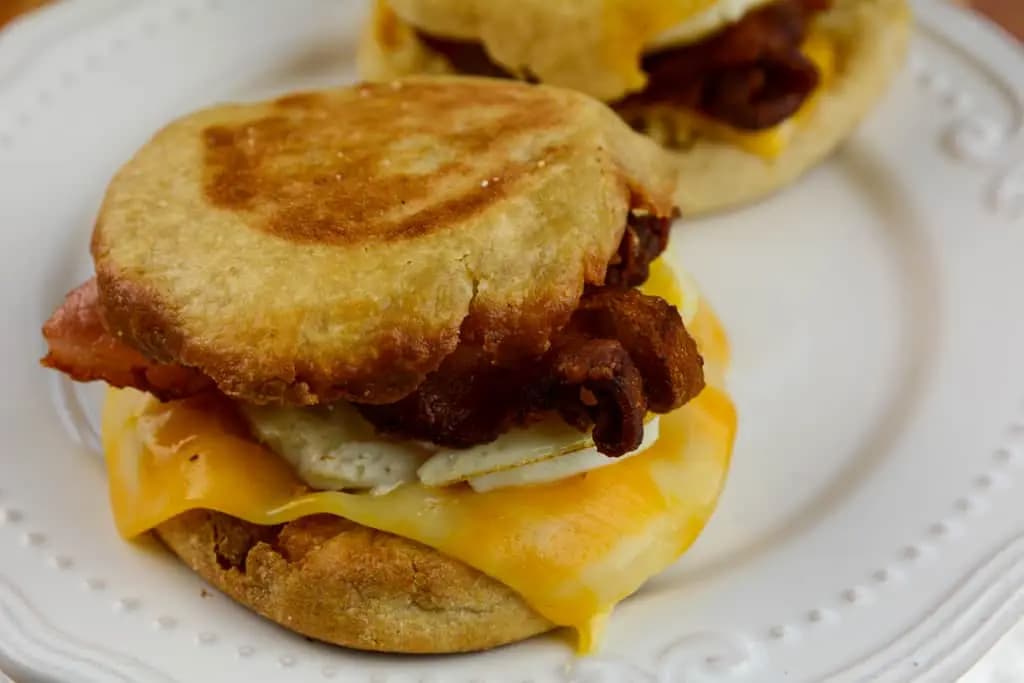 Image credit: Adventures of A Nurse
McDonald's McMuffin is top-tier when it comes to fast-food breakfasts, but sometimes, we could to with a DIY take to feel a little healthier. This air fryer "McMuffin" riffs on the McDonald's Egg McMuffin, and can be put together in a jiffy.
Yield: Feeds 1
Time needed: 8 mins
Ingredients:
1 egg
1 English muffin
2 slices of bacon
1 slice of American cheese
Directions: 
Slice the English muffins lengthwise into two.

Line the air fryer basket with aluminium foil.

Crack the egg into a ring mould in the basket.

Add the bacon to the basket.

Cook at 200

°

C

for 5 minutes, and flip the bacon. Cook for 5 minutes more and remove both.

Place the English muffins in the basket and lightly toast for five minutes.

Assemble the sandwich by layering the cheese, egg, and bacon within the muffin halves.
Recipe adapted from Adventures of A Nurse.
---
8. Katsu Cheese 
---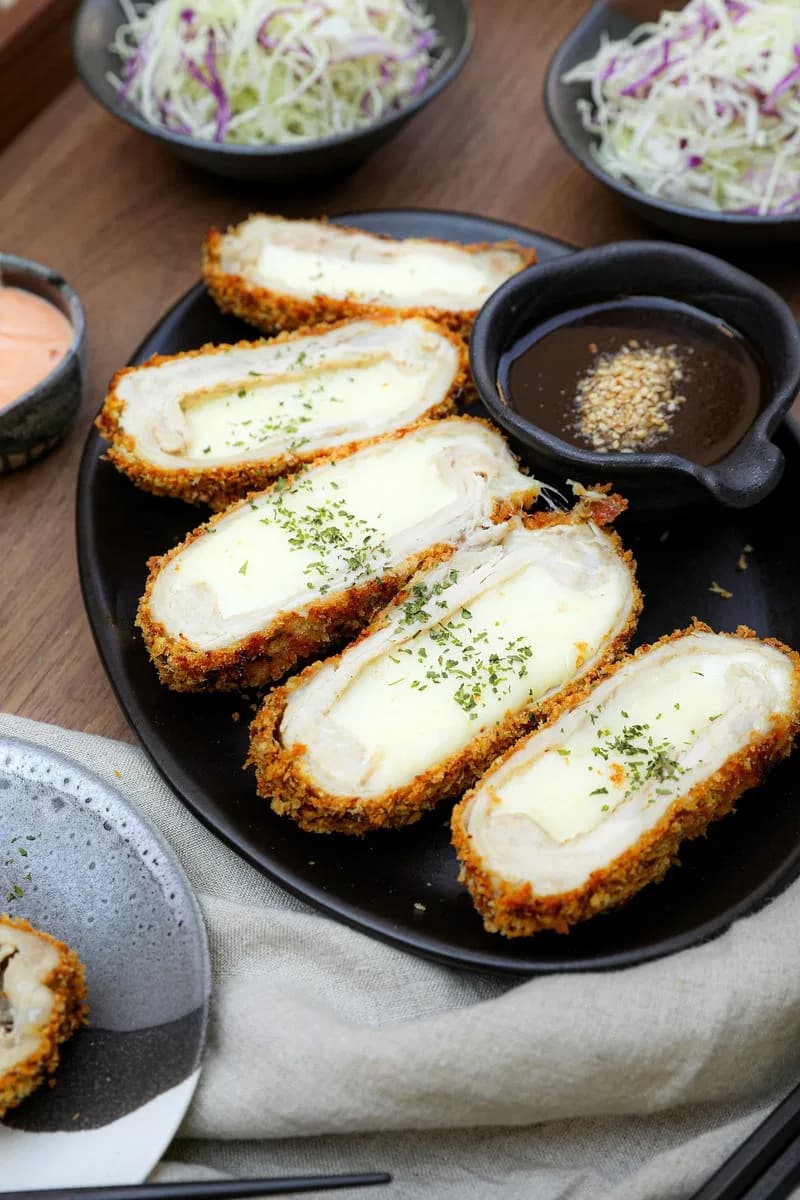 Image credit: Seonkyounglongest
Cheese, especially fried cheese, is always a good idea. Be inspired by this Korean recipe, which sees katsu chicken or pork wrapped around slices of ooey-gooey mozzarella cheese. The air fryer definitely makes the cooking process a lot easier, and less messy too.
Yield: Feeds 1
Time needed: 1 hour
Ingredients:
280g mozzarella cheese, cut into eight 2" long, 1" thick pieces
450g boneless pork loin or chicken breast, cut into eight pieces
3 tbsp cooking oil
3 cups panko bread crumbs
2 eggs
2 tbsp all-purpose flour
1/4 tsp salt
1/4 tsp pepper
Directions: 
Place the piece of pork or chicken in between parchment paper or plastic wrap. Pound pork to flatten to 1/8" thin. Repeat with the rest of the pork loin.
Season each piece of meat with a pinch of salt and pepper, and lay a piece of cheese on top of the meat. Roll aside closest to you and fold right and left sides toward the centre and continue rolling until it's closed. Wrap tightly with a piece of plastic wrap so meat will keep its form. Place in a freezer for 15 to 30 minutes.
Heat a large skillet over medium-high heat. Add oil and breadcrumbs. Toast breadcrumbs until beautifully golden brown, about 10 to 12 minutes. Stir frequently. Set aside.
Beat egg with flour, salt and pepper and set aside.
Preheat air fryer to 180

°

C

.
Unwrap cheese tonkatsu and dip in egg mixture. Coat it evenly then place on toasted breadcrumbs. Coat evenly with bread crumbs by slightly pressing down the breadcrumbs on the surface of the meat. Place cheese tonkatsu into a heated air fryer, fry for 18 to 20 minutes.
Serve cheese tonkatsu with your favourite dipping sauce.
Recipe adapted from Seonkyounglongest.
---
9. Air Fryer Bagels 
---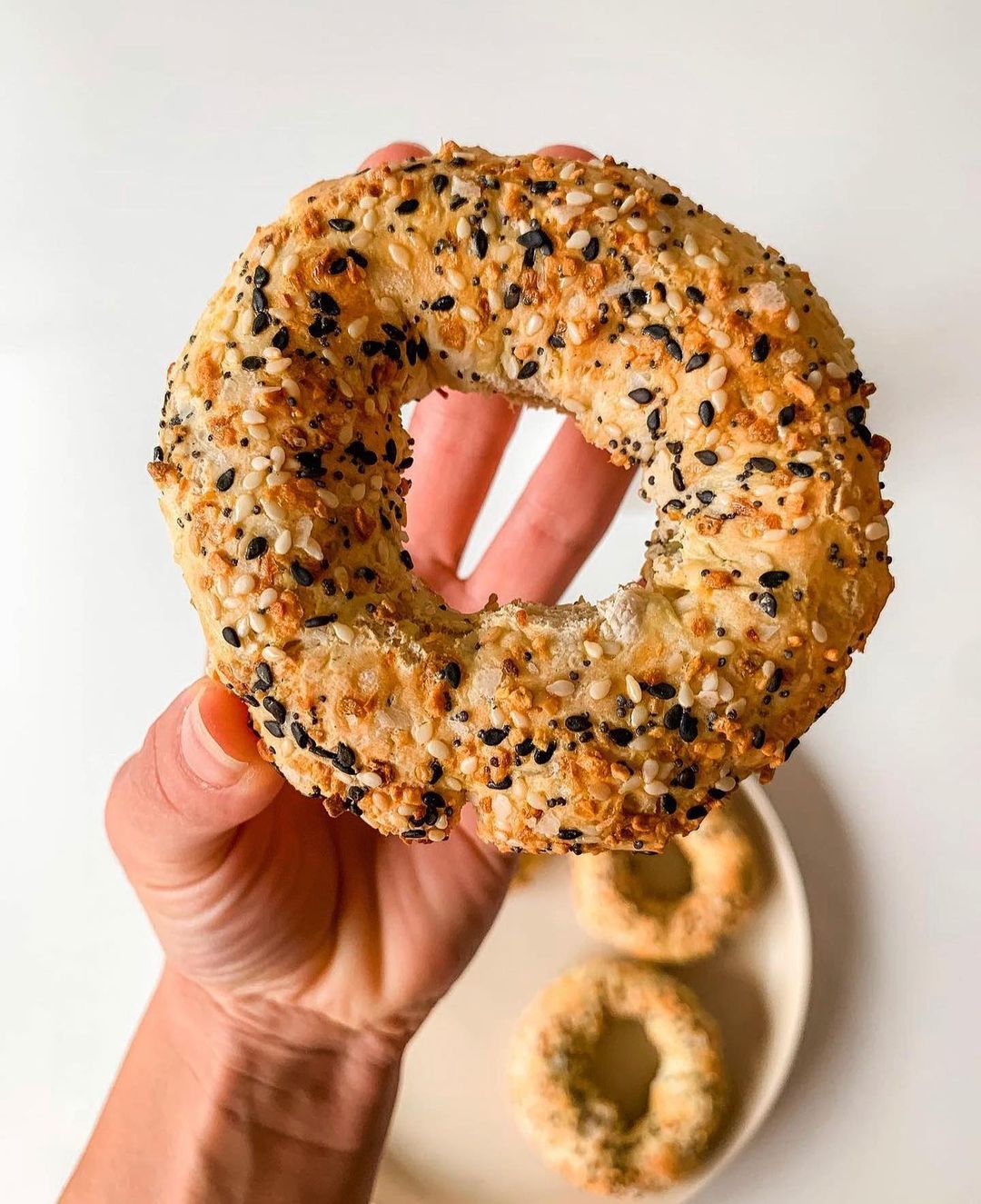 Image credit: @nutrients
Three ingredients, one air fryer, and only 15 minutes is all it takes to enjoy bagels for breakfast. They may not look as uniform as store-bought bagels, but for how easy they are to cobble together, we definitely don't mind.
Yield: 8 bagels
Time needed: 15 mins
Ingredients:
2 cups unbleached all-purpose flour, plus more for dusting work surface
1 tbsp  baking powder
1 tsp kosher salt
2 cups plain nonfat Greek yoghurt
1 egg, beaten
Directions: 
In a bowl, add the flour, baking powder, and salt. Whisk to combine.
Add in the greek yoghurt, stir until combined. Shape dough into a ball and turn it out onto a floured surface.
Divide the dough into eight equal parts. Roll each piece into an 8-10 inch rope and pinch edges together to make a bagel shape. Brush with beaten egg and sprinkle with your favourite bagel toppings, if you wish. This could include seeds, cheese, raisins, and more.
Set the air fryer to 180

°

C

. Air fry bagels for 10 to 12 minutes, or until golden.
Cool for five minutes before slicing.
Recipe adapted from Gimme Delicious.
---
10. Roasted Pork Belly
---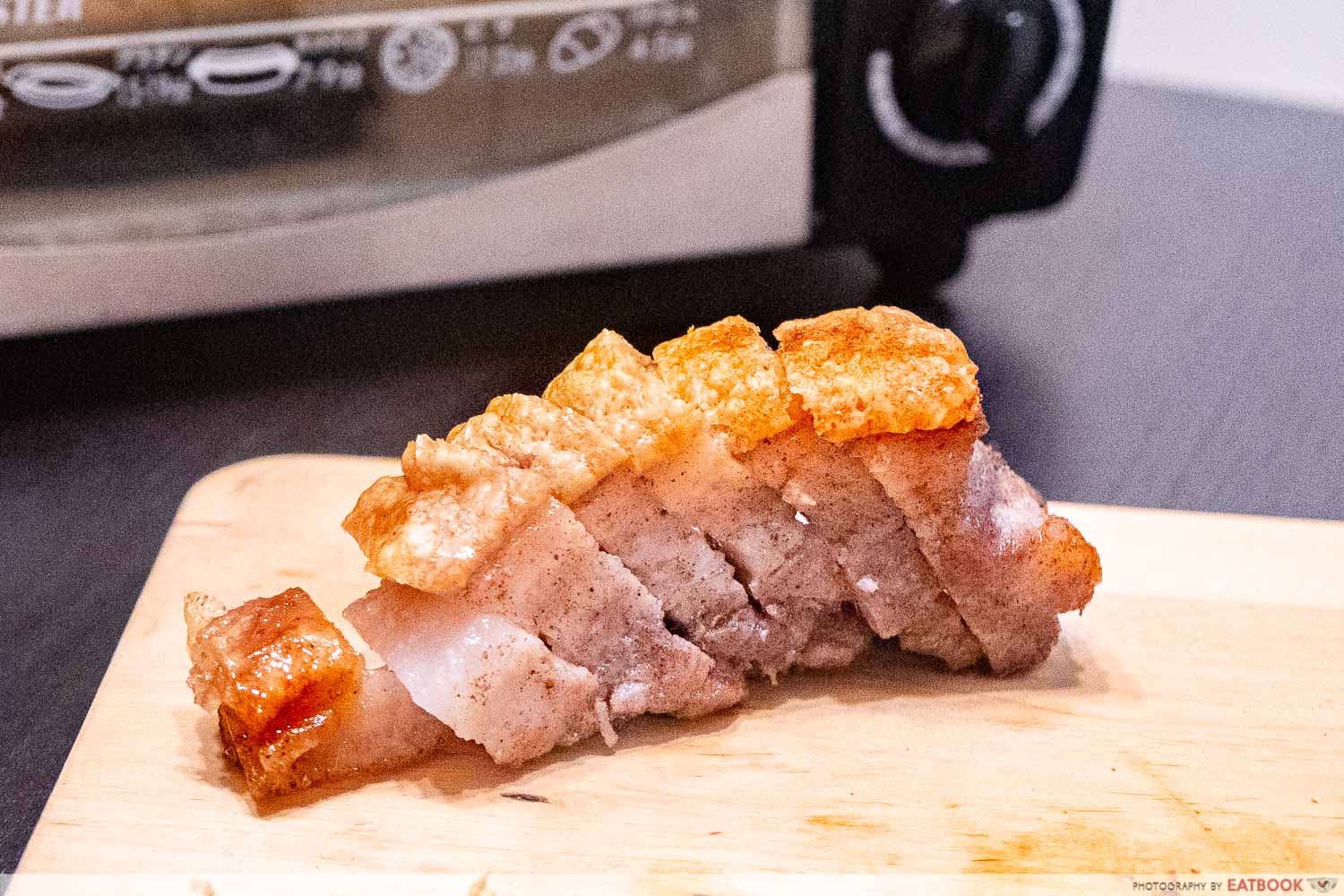 Make your very own roasted pork with delicious, ASMR-worthy crackling with either an air fryer or a toaster oven. This is bound to impress your friends and family, in spite of how easy it is!
Yield: Serves 2
Cooking time: 45 mins
Ingredients:
400g pork belly
1 tbsp shaoxing wine
1 tsp five spice powder
1 tsp white pepper
1 tsp salt
1 tsp sugar
1 tbsp rice vinegar
1 tsp salt
1 tsp baking soda
Sea salt to salt bake
Directions:
Score the pork belly skin as much as you can with a knife or a meat tenderiser. Be careful not to go too deep as any rendered fat might cause your crackling to lose its crunch.
Combine shaoxing wine, five-spice powder, white pepper, salt, and sugar. Massage the mixture all over the meat, avoiding the skin.
Combine rice vinegar, salt, and baking soda, and rub them into the skin.
Wrap the meat with aluminium foil, leaving the skin exposed.
Place it in the fridge uncovered for at least four hours, but preferably overnight.
Remove from the fridge and make more cuts onto the skin.
Preheat your toaster oven or air fryer (at 180°C) and pop the pork belly in for 30 minutes.
Remove the layer of salt, scrape down any remnants at the sides, and cook for another 15 minutes without the foil.
The roast pork is ready when the skin has crackled up. Lay it sideways and slice to your desired thickness. Serve immediately.
Roast Pork Recipe: Easy Air Fryer Or Toaster Oven Recipe For An ASMR-worthy Crackling
---
Easy air fryer recipes
---
Create next-level savoury dishes at home with your air fryer, all of them with minimal fuss and clean-up.
For more items to cook at home, check out our easy pancake recipes, as well as our cookie recipes!
20 Cookie Recipes To Try Including Fudgy Brookies, Mochi Cookies, And Miso Butter Cookies
The post 10 Air Fryer Recipes To Make Roast Pork, Prata Curry Puff, "McMuffins" And More appeared first on EatBook.sg – New Singapore Restaurant and Street Food Ideas & Recommendations.